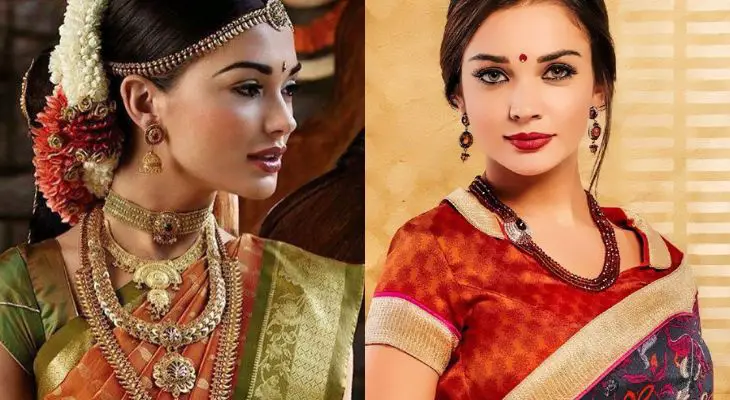 The South Indian traditional saree look of Amy Jackson is trending everywhere. The latest collection of her pics are selectively given below for unique saree pics .
Here are some fascinating images of Amy Jackson in saree. These will definitely help you know the Indian customs that are being followed by Hollywood actresses.
15 Gorgeous Pics of Amy Jackson in Saree
1. Stunning Pink And Blue Saree Of Amy Jackson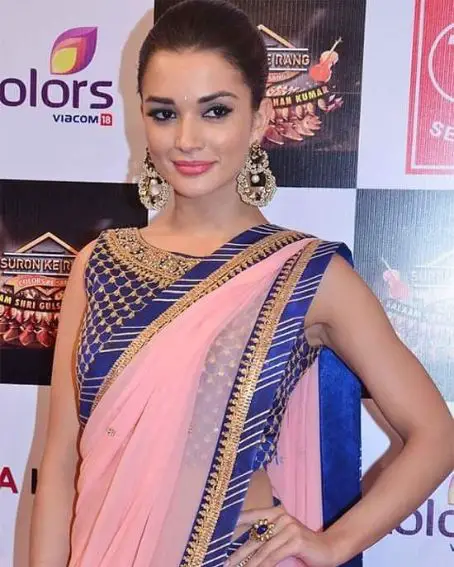 The cute Amy Jackson in pink saree gives a fancy glamor. This beautiful silk saree has golden lace on blue border with sleeveless blue embroidery blouse.It is preferred for parties and functions
[ Read: Trendy Manipuri Sarees ]
2. Beige Color Netted Saree With Embroidery Pattern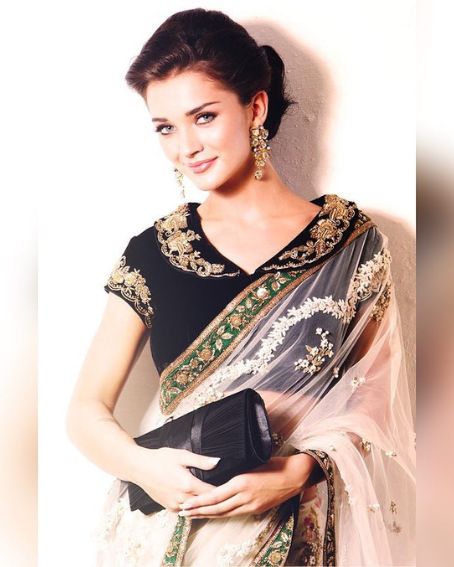 The glamorous saree of Amy Jackson is in peach netted saree with chikan embroidery work along with green lace border. The artistic handloom embroidery works on black velvet and collar neck blouses.
[ Read: Largest Collection of Hand Batik Sarees ]
3. Beautiful Yellow Shaded And Lace Border Saree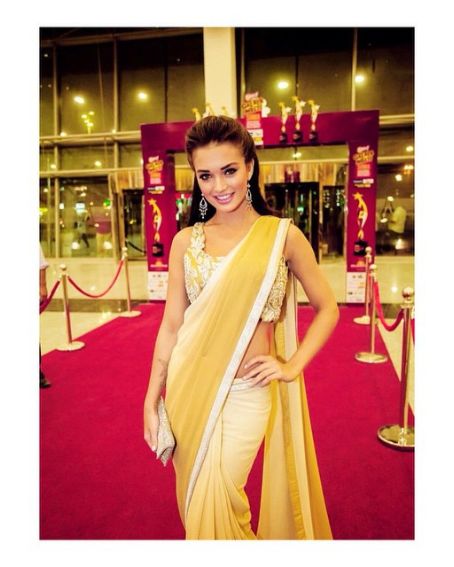 The adorable dual shaded saree of Amy Jackson is in yellow and cream with stone work lace border and the blouse is with heavy and thick cottony soft embroidery work all over. This saree gives a graceful look with a pretty sleeveless blouse.
[ Read: Beautiful Designs of Ganga Jamuna Sarees ]
4. Gorgeous Amy Jackson In Maroon Wedding Saree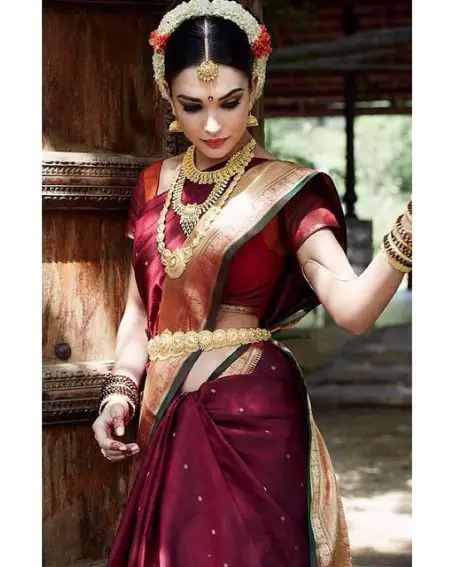 Amy Jackson looks gorgeous in this bright maroon wedding saree which looks traditional with a zari finishing border along with a self design pattern pattu saree with a regular maroon blouse. This saree suits Amy very well with her jewelry set.
[ Read: Beautiful Pics of Lavanya Tripathi in Saree ]
5. Radiant Red Embroidery Pattern Saree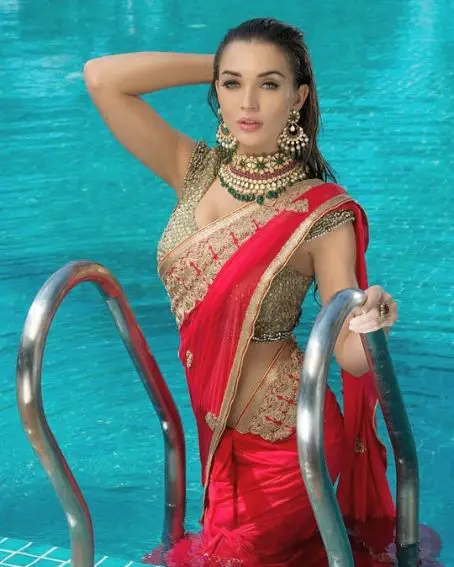 The bright and elegant cherry red chiffon saree with a heavy golden threaded embroidery on borders along with short sleeves golden color blouse which also has a beaded work. The jewelry set adds a classy look for saree.
6. Beautiful Embroidery Amy Jackson Saree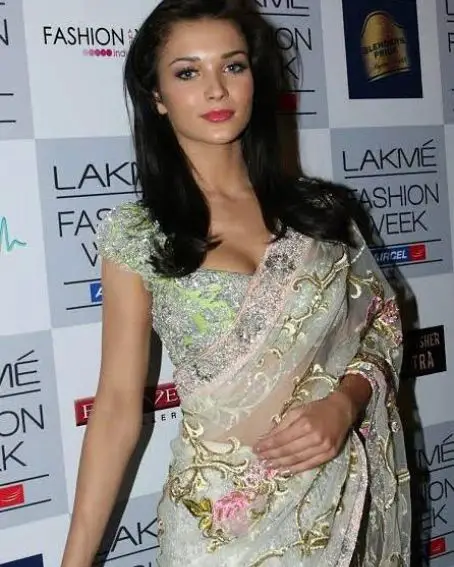 The bright and elegant cream color netted saree which has a very glossy texture, golden embroidery work on saree and beaded and stone work blouse looks classy.
7. Amazing Wedding Saree Of Amy Jackson
This is a traditional red saree mostly worn on weddings which has netted pallu decorated with zari work lace border along with golden thread embroidery all over the saree with short sleeves maroon blouse. The saree looks very bright and elegant on Grand occasions.
8. Amy Jackson In Black And White Printed Pattern Cotton Saree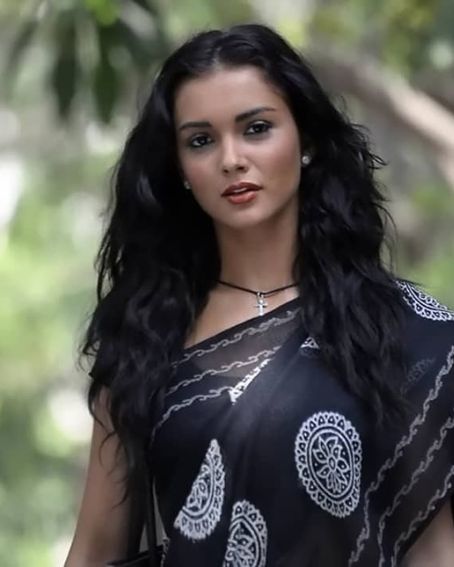 The divine look of black and white cotton texture saree of amy jackson is mind blowing with mirror embroidery work and elbow length sleeves blouse. She looks cute and beautiful in this saree.
9. Trendy Peach Saree With Yellow Blouse
The unique fancy saree look of Amy Jackson in peach color is very good looking. The yellow blouse with silver embroidery work looks amazing.
10. Baby Pink Orange Silk Saree Of Amy Jackson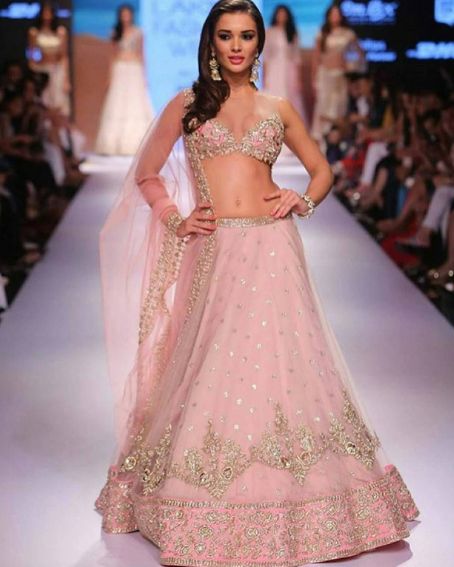 The unique pink half saree style of Amy Jackson is very attractive with silver finish. The traditional attire suits her very well to be a good looking actress. This is the handloom of kundun work all over to give to the rich.
11. Traditional Green Wedding Saree And Blouse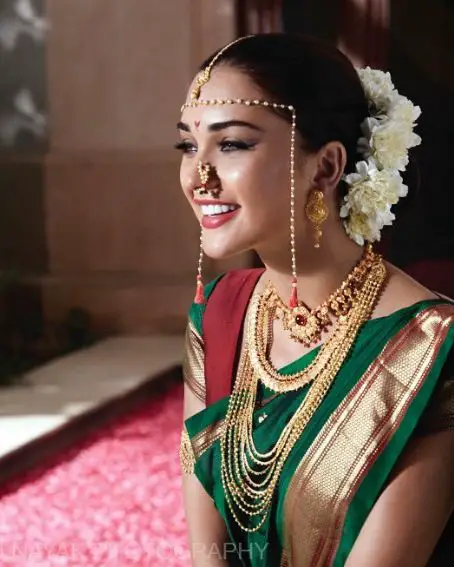 The traditional saree look of Amy Jackson is in green pattu saree. This lovely saree has gold and maroon border. The beautiful blouse matches the saree color.
12. Beautiful Amy Jackson In Printed Saree With Coloured Blouse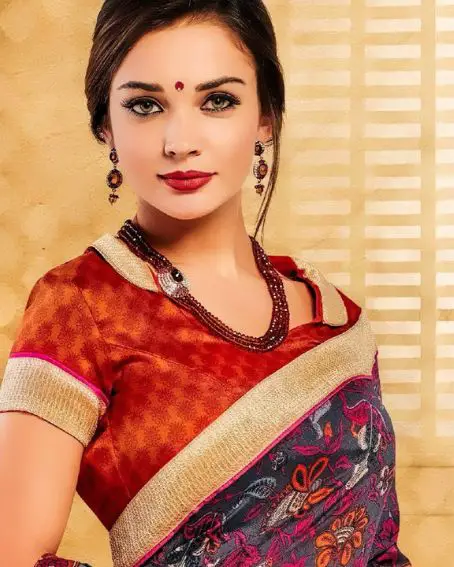 Amy Jackson's fancy gray saree is stunning. The embroidery work done on it is mesmerizing her. This saree has been loved by many women because of its orange collar blouse.
13. Gorgeous Amy Jackson In Orange And Green Wedding Saree And Blouse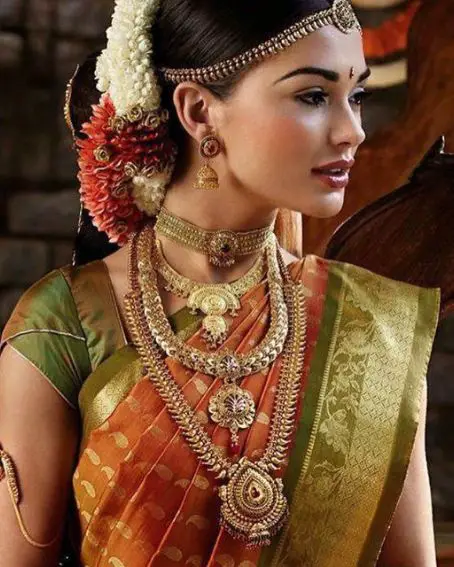 The grand look of Amy Jackson has Orange saree with an olive green border. This saree has a lustrous shine with silver color. It is preferred for weddings and cultural programs.
14. Pretty Amy Jackson In Black And White Saree And Blouse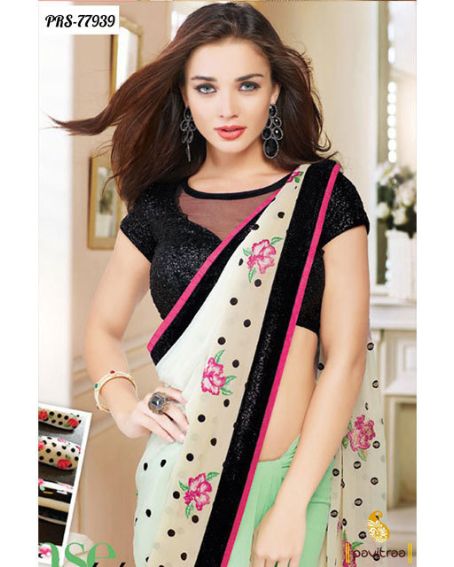 The coolest appearance of Amy Jackson in black and white is just mind blowing. This is the fancy saree look with black netted and embroidery blouse.
15. Green Saree Of Amy Jackson
The cultural look of Amy Jackson is in green silk fabric saree. It is awesome with the gold lace as its border. The cute look of Amy is so adorable with this green saree.
You Might Also Like: