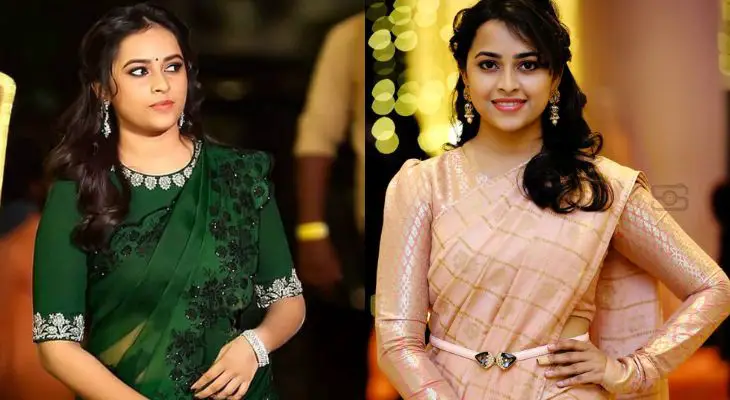 Saree is the universal wear and it is traditional as well as suited for all occasions like marriage, festivals, and parties. Sri Divya is from the south Indian film industry. She appears predominantly in Tamil and Telugu. On most occasions, you can see her in sarees only. She loves to drape saree and wants to be unique in the film industry. There are some of the best saree collections of Sri Divya are listed below,
18 Beautiful Pics of Sri Divya in Saree
1. Sri Divya Palam Silk Saree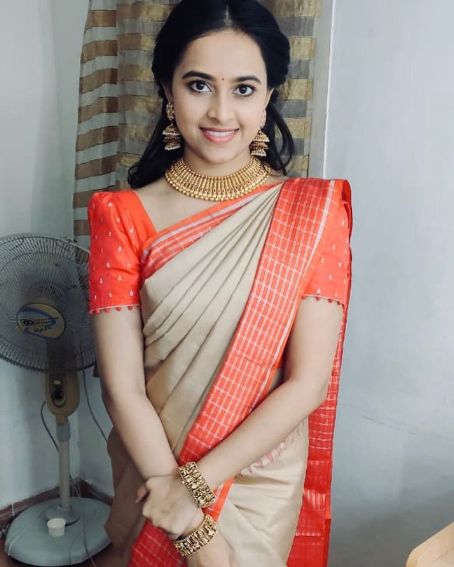 A Palam silk saree is nothing but a traditional silk saree that comes from Kanchipuram. It is a classic one and adding a saffron border with checked renders a excellent view. For the light shade the combination of the dark border gives an elegant and classic look to Sri Divya.
[ Read: 14 Awesome Pics of katrina kaif in saree ]
2. Sri Divya In Blue Saree With Green Blouse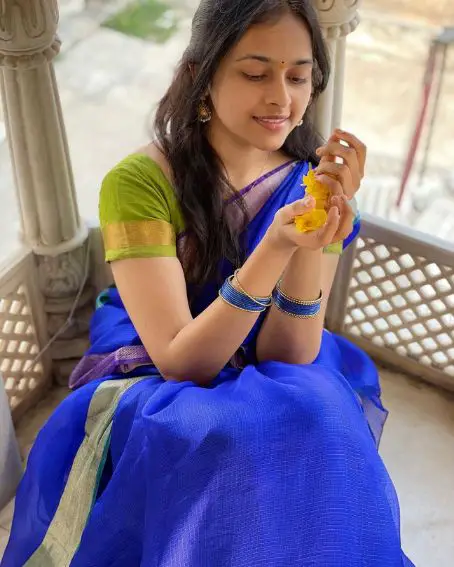 This blue color saree is the super vibrant color saree for actor Sri Divya. It is a weightless saree and the combination of a green blouse with a golden border is fabulous for her look.
[ Read: Awesome Images of Slim Sarees ]
3. Sri Divya In Orange Silk Saree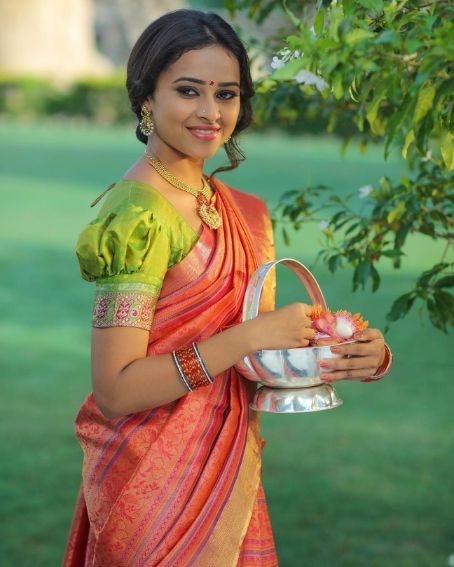 Women mostly prefer silk saree for the festival occasion, because it can only give a celebratory mood, here the orange printed silk saree gives grand look to Sri Divya. The model of the blouse shows her in a traditional look.
4. Sri Divya In Leaf Printed Saree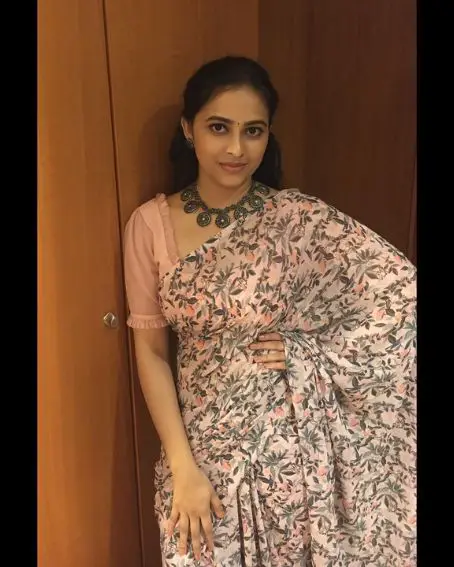 This peach floral saree is giving pleasant look to Sri Divya. In this saree, small leaves are printed and it is fully covered and the flow of the saree is so light. It's a perfectly good choice to wear for parties.
[ Read: Amazing Pics of Sonakshi Sinha in Saree ]
5. Sri Divya In Hand-loom Cotton Saree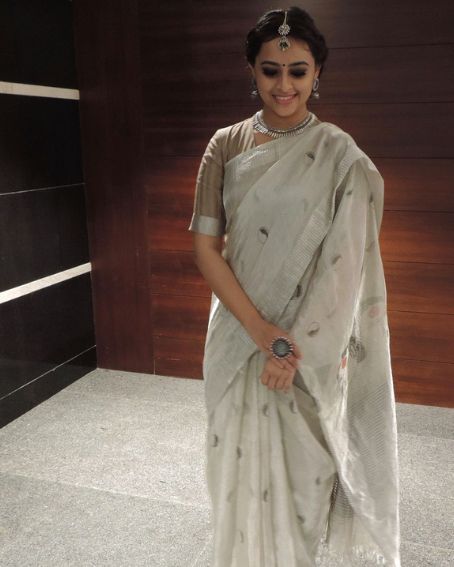 The hand-loom cotton saree is the traditional one. For Sri Divya, this hand-loom saree shows her style from a different angle. The silver border of the saree gives a mild look and lightweight saree too.
[ Read: Awesome Pics of Nayantara In Saree ]
6. Sri Divya In Full Sleeve Blouse With Banarasi Saree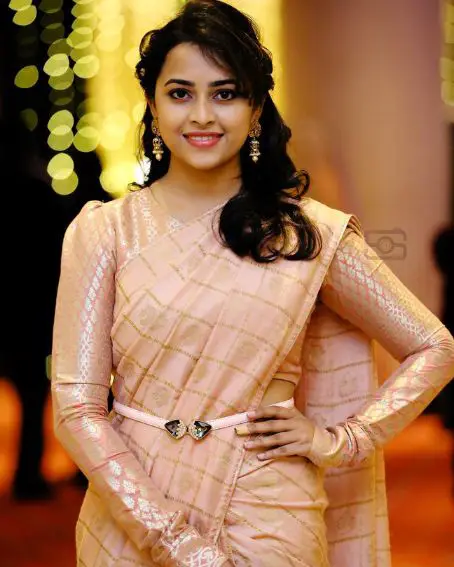 Banarasi saree is one of the types of silk saree. Banarasi saree with full sleeve blouse gives versatile look to Sri Divya. The silver pattern of the saree shows a simple and elegant style for her.
7. Sri Divya In Silk Saree With Golden Border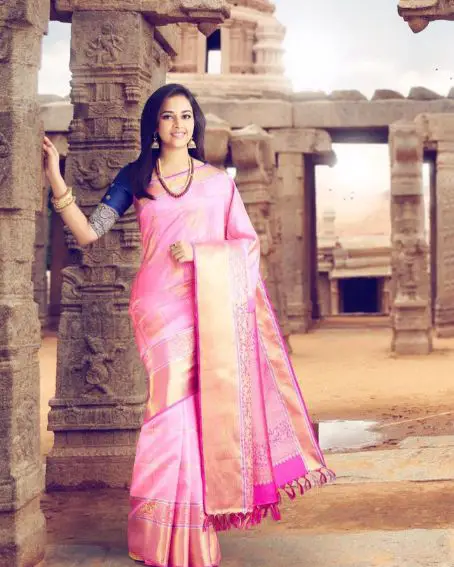 When we wear silk saree it shows our cultural and traditional look. Here the silk saree is in pink color with a big golden border is pretty for Sri Divya. The size of the border in the saree is important because it highlights the saree Mundi and fleets. The contrast blue blouse is beautiful.
8. Sri Divya In Tri- Color Combination Saree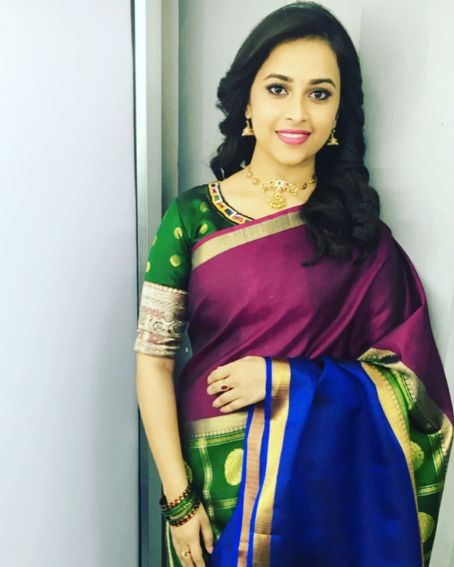 In this saree, you can see Tri-color. The purple, green, and blue three-color combination saree gives different look to Sri Divya. The three-fourth green blouse with a silver printed border gives a fine look to her outfit.
9. Sri Divya In Grey Printed Saree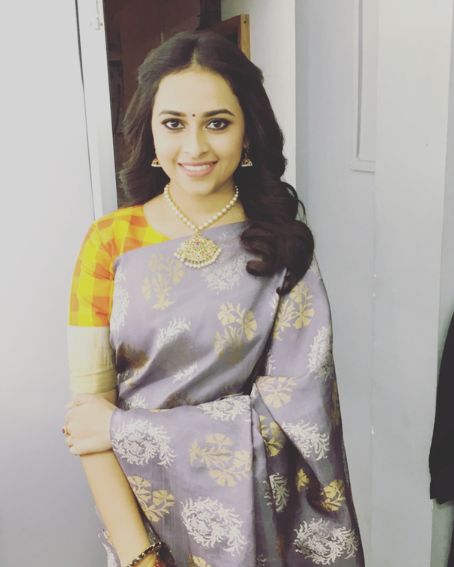 This saree is different from others. The special thing about this saree is the big silver pattern is printed widely and the yellow-orange checked blouse is beautiful for it. For actor Sri Divya this saree gives a perfect outlook.
10. Sri Divya In Black Saree With White And Gold Border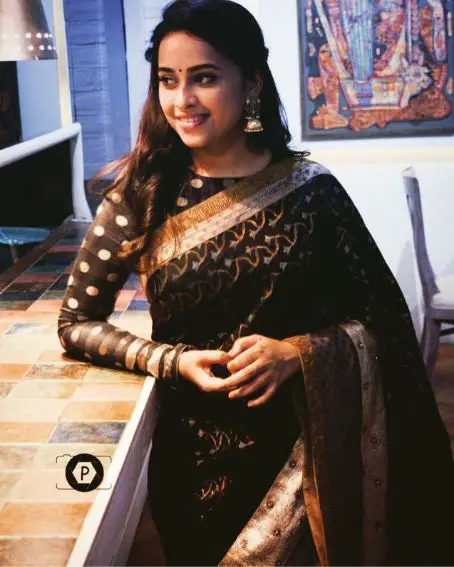 Black lovers surely love this black saree with a white and gold border. For actor Sri Divya this saree shows an amazing look and to attend the parties simple function this is a perfect one.
11. Sri Divya In Pink Pattu Saree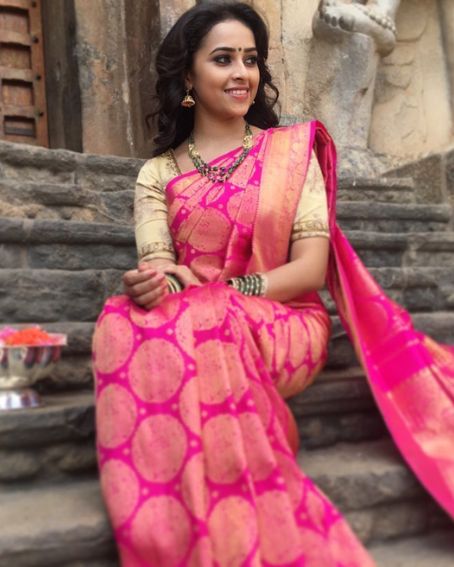 This pink pattu saree with sandal blouse is the super combination for actor Sri Divya. The saree is fully covered with a round design pattern, to attend the temple celebration this saree is the right choice.
12. Sri Divya In Pink Saree With One Side Border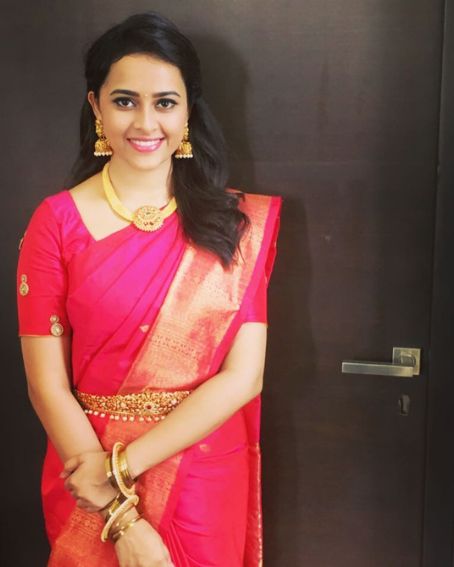 Most sarees have both side borders, but in this type of pink saree, you can see one side's broad golden border which shows the actor, Sri Divya, in a simple and elegant look.
13. Sri Divya In Half Saree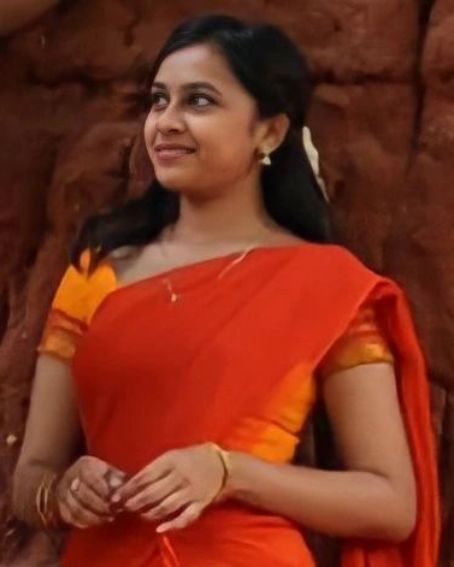 The half saree is a traditional outfit for young girls. The actor Sri Divya wearing this saree to show her young look. Half saree always has two color combinations. It gives her a amazing style.
14. Sri Divya In Red Saree With Copper Color Border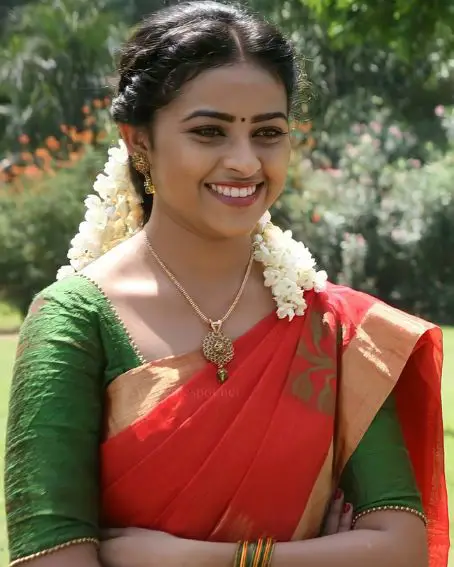 This type of saree has a copper border which gives a different style to Sri Divya. The red color saree with the green blouse is a super combination that gives pleasing look to Sri Divya.
15. Sri Divya In Plain Saree With Heavy Work Blouse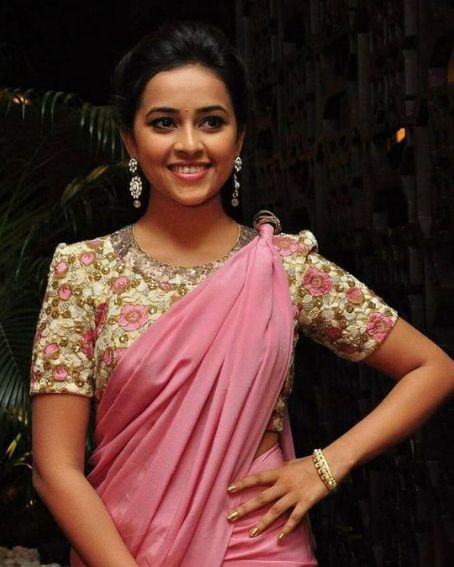 Nowadays, girls give importance to the blouse more than the saree. Here, Sri Divya wears a heavy work blouse that includes, stones, beads, and golden threads. It simply highlights the beauty of the saree. It is the best outfit for night parties.
16. Sri Divya In Hot Green And Orange Half Saree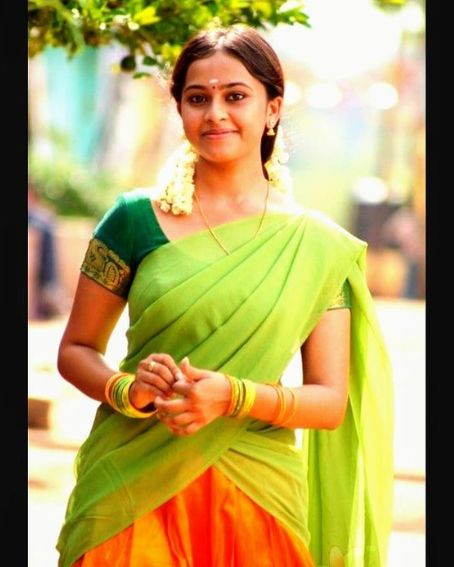 There are many types of half saree with more color combinations. Mostly contrast color will the highlighted. Here Sri Divya wearing a green and orange color half saree which shows her uniqueness.
17. Sri Divya In Green Transparent Saree With Black Embroidery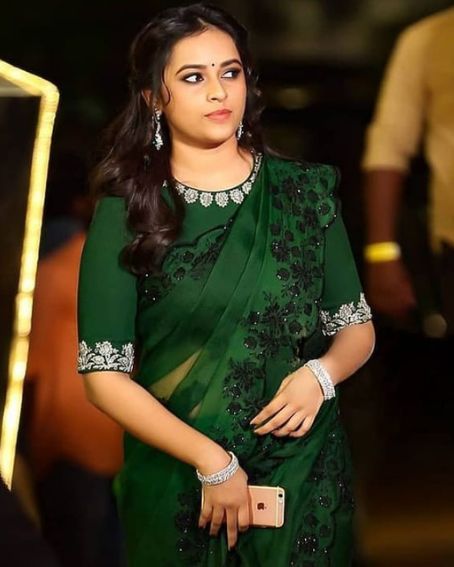 The green transparent saree with black embroidery gives a vibrant feeling to actor Sri Divya. The embroidery pattern is done on both sides, which includes bright stones. It is one of the unique collections in her saree list.
18. Sri Divya In White Pink Saree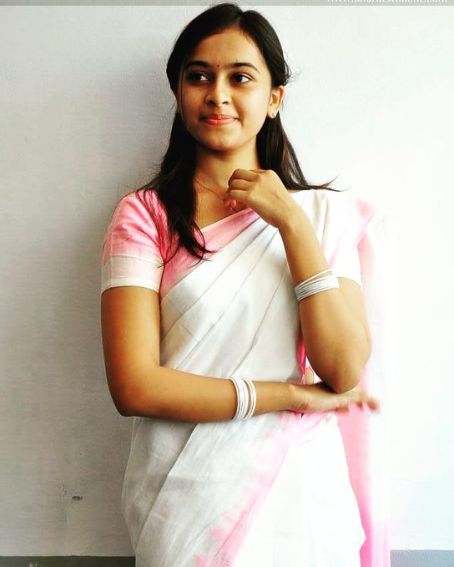 The contrast color of the white pink saree is a beautiful combination. It gives presentable look for actor Sri Divya. The blend of both colors shows a gorgeous and trendy style.
You Might Also Like: