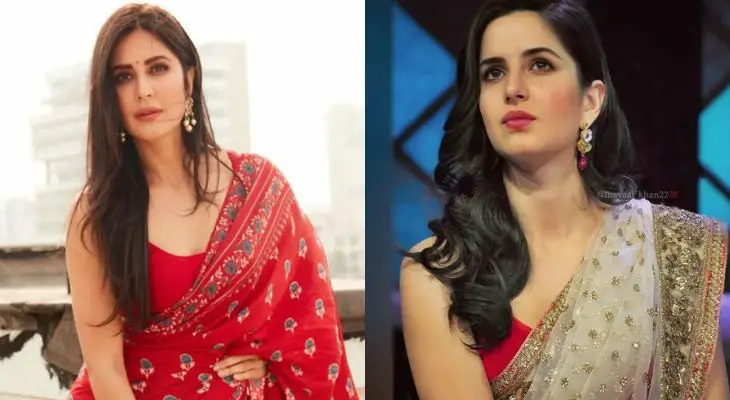 A well-known veteran actress Katrina Kaif embellishes with her beauty and outfits. This Bollywood glamorous versatile actress and model give many ideas to the fashion world. She is always very conscious about her costumes, especially with her traditional saree. Here, we see some of the saree styles she followed.
15 Awesome  Katrina Kaif Pics in Saree
1. Katrina Kaif In Her Bridal Sabayachi Saree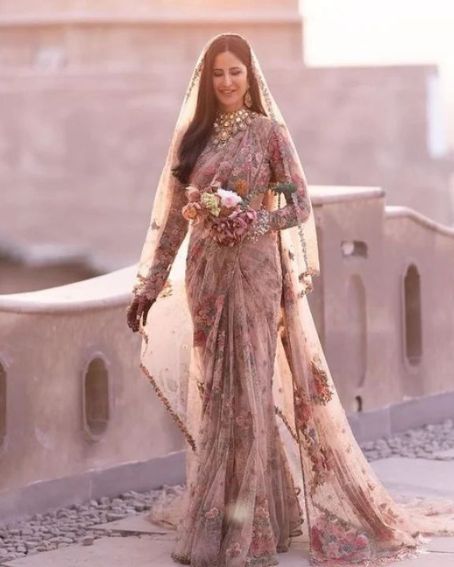 Katrrina Kaif was in stunning appearance in her wedding with the Sabayachi saree. The saree was weaved vintage-looking with a floor-sweeping veil. The saree is full of hand-cut flowers and embellished with crystals and gems. Everyone looks at her with deep breaths in the gleaming costumes.
[ Read: Aishawarya Rai in Saree ]
2. Katrina Kaif Wear The Modest Floral Piece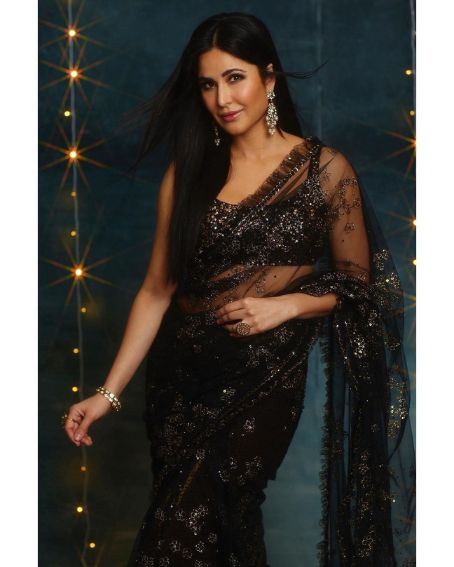 Katrina always loves this floral saree wearied in for the promotion of movie functions. She looks make everyone stunned with her outlook and costumes. She kept all her costumes with subtle Smokey eyes.
[ Read: Amazing Pics of Shriya Saran in Saree ]
3. Katrina Dressed In A Sequined Shimmery Peach Saree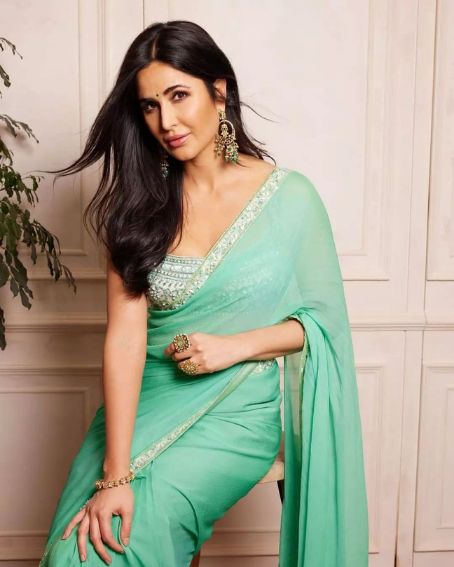 Everyone speaks about this sequined shimmery and all head turns towards her outlook. This peach-colored saree is designed by a western ensemble with ethnic ideas. The costumes used with this saree were tremendous and fabulous with a smart tweak.
[ Read: Most Beautiful Pics of Shruti Hassan in Saree ]
4. Katrina In Dark Green Shimmery Semi-sheer Saree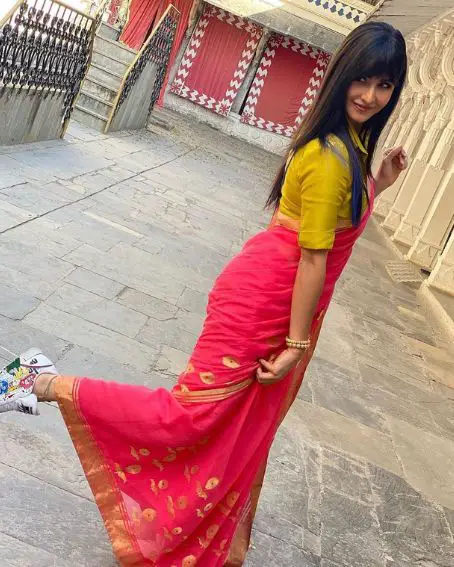 Gorgeous Katrina in her transparent shimmery saree is undeniable, which is full of subtle work. There is a sleek floral print in pink color to make embellishments. The sleeveless blouse gives enchanting look and a meandering border present on both sides of the saree.
[ Read: Beautiful Pics of Amala Paul In Saree ]
5. Enchanting Katrina Kaif In Dark Pink With Gota Border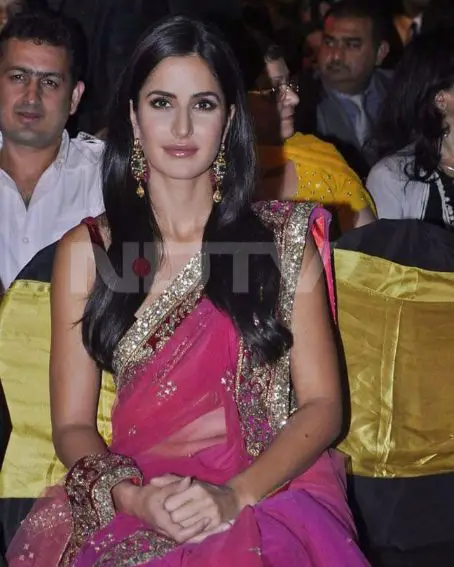 Embellished with fabric dark pink saree along with gota border always stunning outlook. The light weighted visibly saree shows the elegance of a sleeveless blouse.
[ Read: Amazing Pictures of Shraddha Kapoor in Saree ]
6. Simple Katrina Kaif In White Net Saree With Red Sleeveless Blouse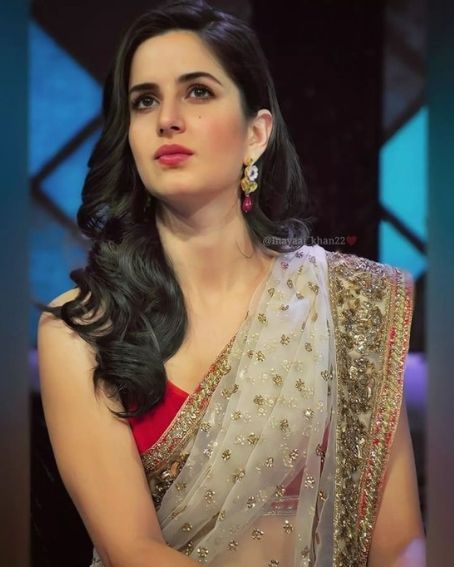 An angel in a white net saree is defined with a draping saree. She looks like a Barbie doll in this view, because the glittering silver stone with a silver border gives elegance. The red sleeveless blouse gives a contrast combination, which is always best for everyone.
7. Katrina In Semi-sheer Chiffon Blush Pink Saree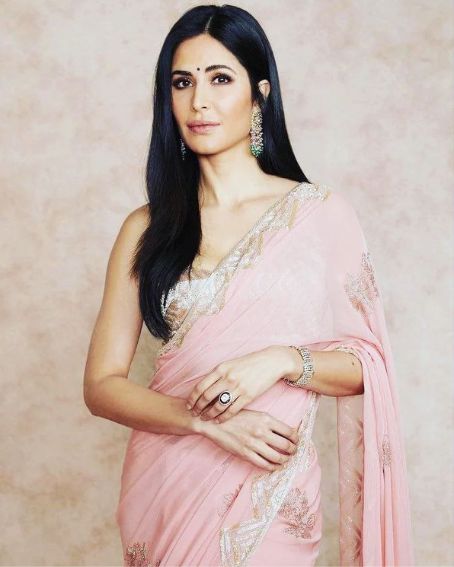 The stunning sequined border in a triangular silver border and floral design throughout the saree. Katrina featuring a scooped neckline which is matching to gold and silver color blouse is fabulous. Katrina matched all the accessories in a reviving manner.
8. Katrina In An Ivory Ruffle White Saree
Katrina, again and again, proves that she has an impeccable sense of style. She was stunning with the ivory georgette pure white saree with a sleeveless blouse. Which is an embellished one with a plunging headline. She is matching this costume with her pretty bangles and earrings.
9. Katrina In A Heavy Embroider 'Aaina' Saree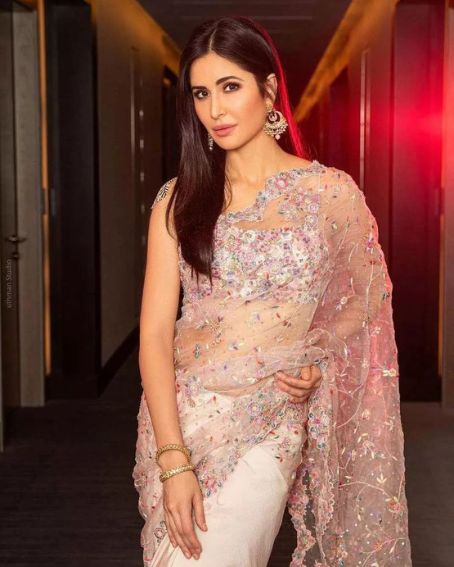 Illustrious and beautiful actress Katrina makes all her outlook and costumes popular. This Aaina saree, which is from the couture collection, gives a slaying attitude. The color combination is awesome and subtle with embroidery.
10. Katrina Inspired With This Light Blue Saree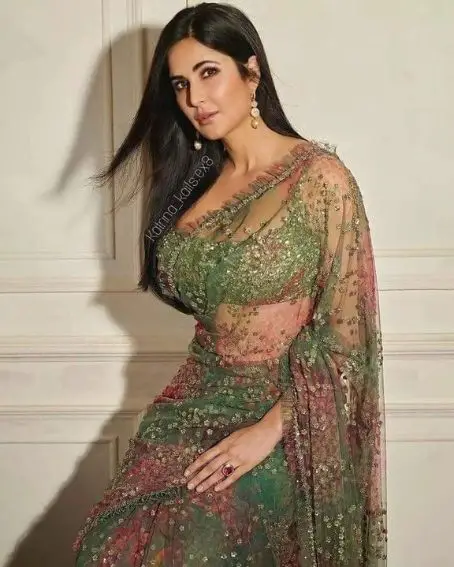 The sensational beauty of Katrina Kaif is shown in this simple and beautiful saree. The saree and blouse are the same light blue color with huge accessories.
11. Katrina In Red Printed Saree With Sleeveless Blouse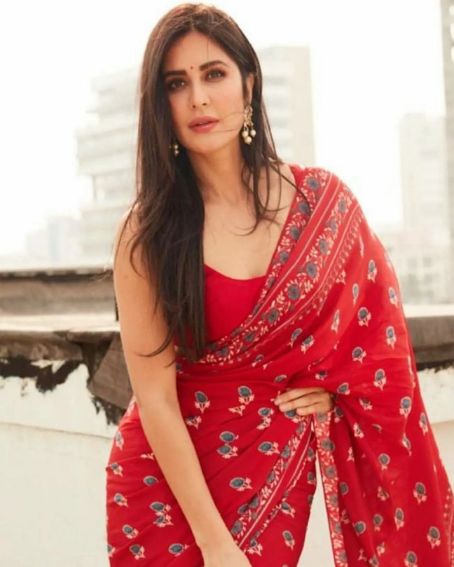 Beautiful Katrina Kaif starred in a red and green printed saree that is gorgeous. She is also pretty with a bindi on the forehead and matching up with the pair of earrings. An attractive pose she gave with this outlook is stylish.
12. Grand Look In Pink With Golden Border In Katrina Kaif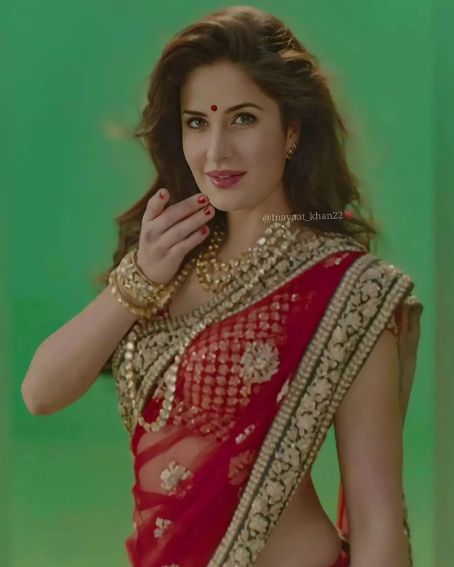 Elegant beauty in her saree makes full sleek golden embroidery work in this saree. Rich and jardhosi gold work is handled subtly. The sleeveless blouse is fully embroidered with intricate touches. The ornaments and costumes are perfectly matched.
13. Katrina Flashed With An Orange Color Floral Saree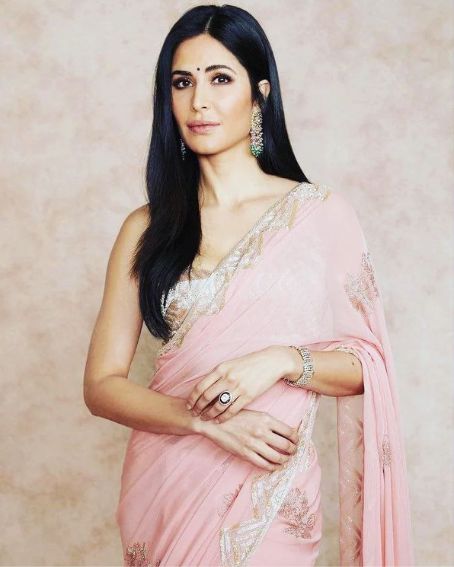 Katrina was enchanting with this orange gold sequin work and a floral silhouette underneath the sheer saree. And she was comfortable with a full sleeved blouse and shimmer make-up. The saree is lightweight and gorgeous anyway.
14. Katrina Kaif Looked Drop-dead In A Red Saree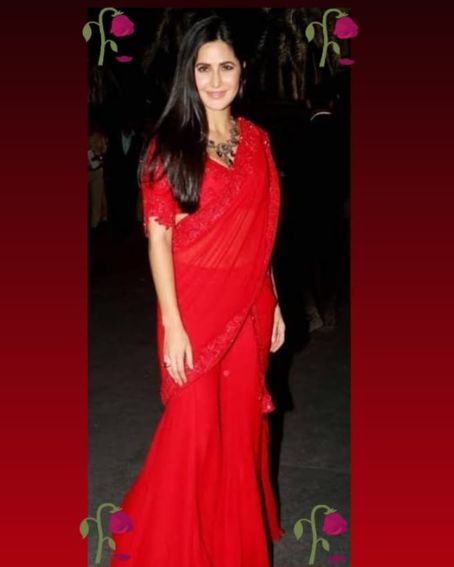 This drop-dead gorgeous red saree wore by Katrina at an event. Everyone turns their head to Katrina, because of her stunning beauty in this appearance. The accessories are embellished with her in an elegance way. Overall she looks romantic and classy.
15. Pink Color Georgette Saree For Katrina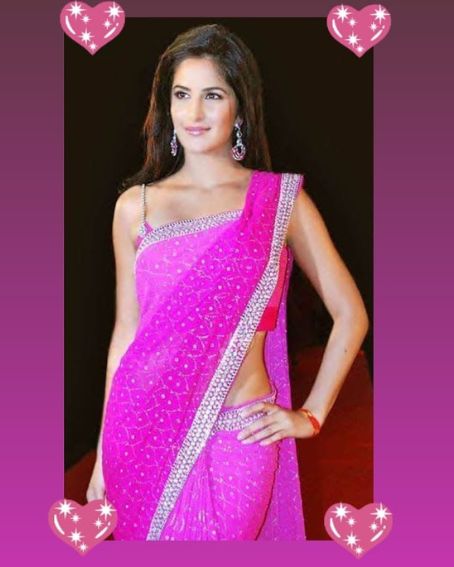 The versatile actor, model, and business woman always give importance to her appearance. Especially with saree, she gives importance to both outfits and ornaments. This pink color georgette fabric saree with sleeveless blouse was draped in an enchanted way.
You Might Also Like: