When searching for the perfect look, the celebrity saree is the most stylish as well as easy to pick. Beautiful actress Shriya Saran is popular for her experimenting with fashion with designer saree. She likes to express her personality and individuality through her wardrobe. Saree works great to express such things because it is elegant, classy, and sophisticated. You can style it in any manner you want and also it is a comfortable one. Many of the beauties are bringing saree back into the fashion game. Here find some trendy Shriya Saran sarees for you.
20 Amazing Pics of Shriya Saran in Saree
1. Shriya Saran In Beautiful Black Saree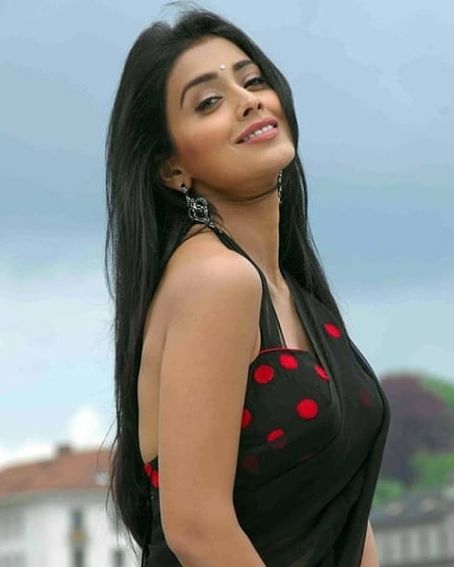 Black is one of the favorite colors for many fair girls including celebrities. Simple yet elegant are the best words to describe Shriya saran's marvelous black saree. The actress looked splendid as ever in this super comfortable and subtle look.
[ Read: Awesome Images of Slim Sarees ]
2. Shriya Saran In Elegant Pink Saree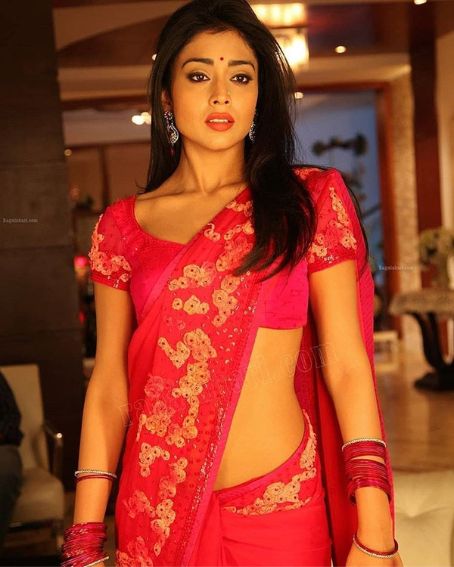 When in doubt, go for this elegant pink gold embroidery saree for an ace fashionable wear like never before. Shriya saran's pretty pink saree is great proof that this shade can glam up any appearance.
[ Read: Beautiful Pics of Amala Paul In Saree ]
3. Shriya Saran In A Red Saree Gown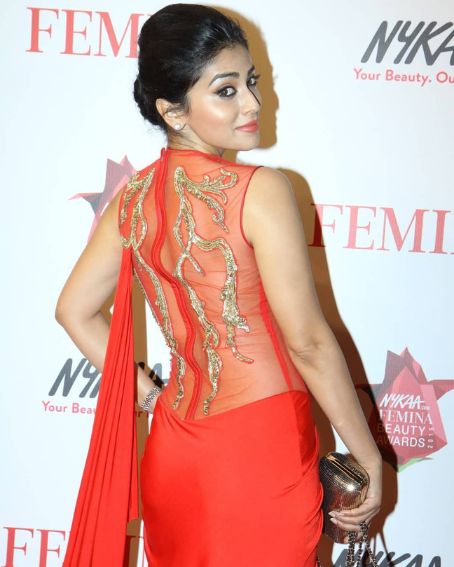 Shriya Saran's modern saree look is what we all need to slay trendy wear in style. The actress was seen donning a mesmerizing net blouse with a red color saree. Everyone loves how she accentuates the look with this modern wear.
[ Read: 20 Most Beautiful Pics of Shruti Hassan in Saree ]
4. Shriya Saran In Silk Saree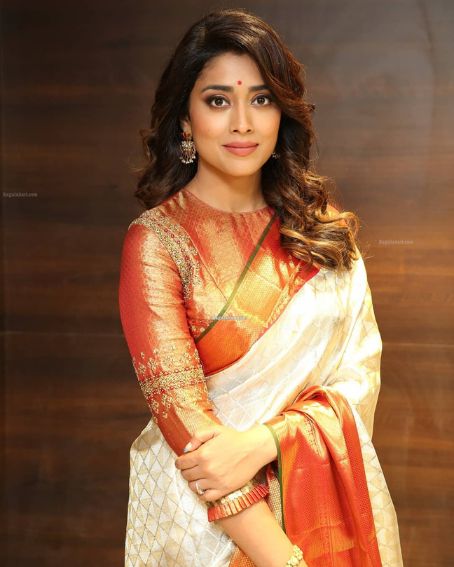 Pretty Shriya Saran will make your heart miss a beat with her elegant pattu saree. This style always has uniqueness on its own. Wear a pattu saree with a grand blouse to rock the occasion.
[ Read: Amazing Pics of Sonakshi Sinha in Saree ]
5. Shriya Saran In Gold Saree With Grand Blouse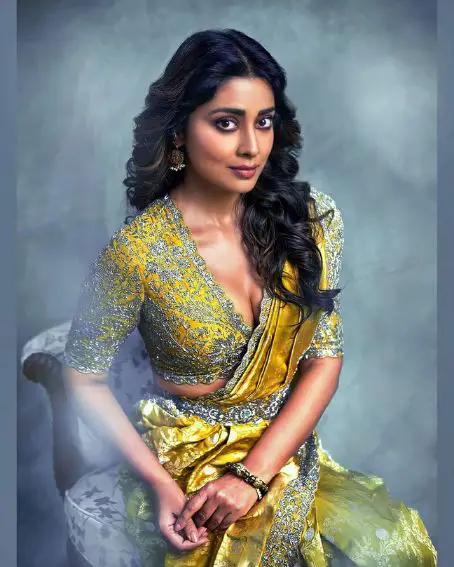 In a pretty gold-tone saree, actress Shriya saran looked ethereal. She paired this awesome saree with a grand elbow sleeve blouse which gives a wow look. This overall outfit matches her face and body structure amazingly.
[ Read: Awesome Pics of Nayantara In Saree ]
6. Shriya Saran In Awesome Red With Mirror Work Border Designed Saree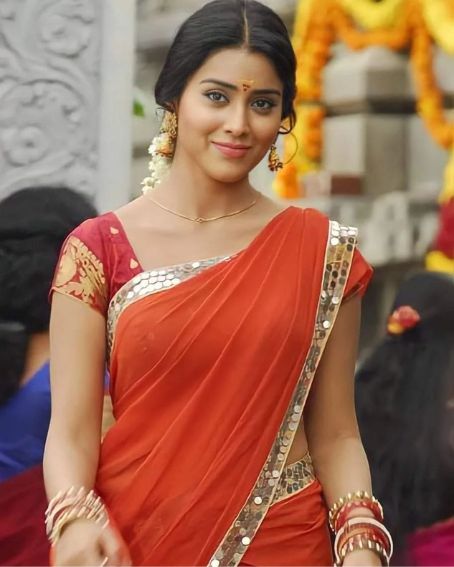 Shriya Saran's saree style is absolutely worth adoring as well as this electrifying red color with mirror work border on its proof of being a desi girl at heart. It perfectly suits any festive season.
7. Shriya Saran In Fashionable Saree With Contrast Blouse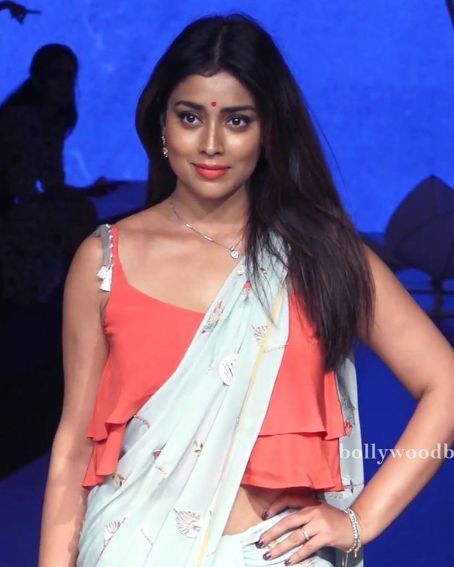 This saree she has worn at Lakme fashion week winter edition. Her fashionable saree with a modern blouse rocked the show. She draped her saree freely which let her look utmost beautiful.
8. Shriya Saran In Kancheepuram Saree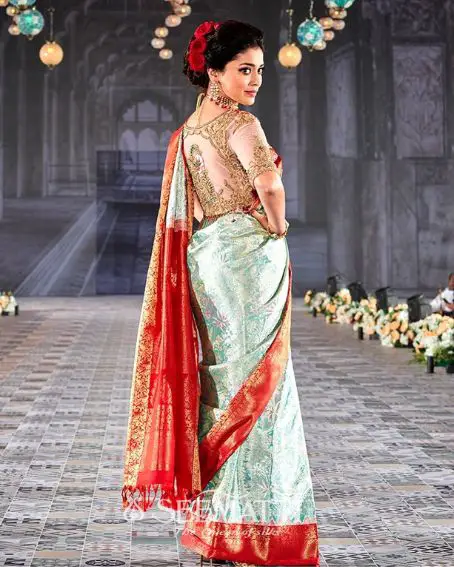 In traditional wear, Shriya saran is all the style inspiration that we want to look your stylish best. She wearing a sleeve boat neck blouse, overall it is the best one for special festivals or home functions.
9. Shriya Saran In Multi-color Saree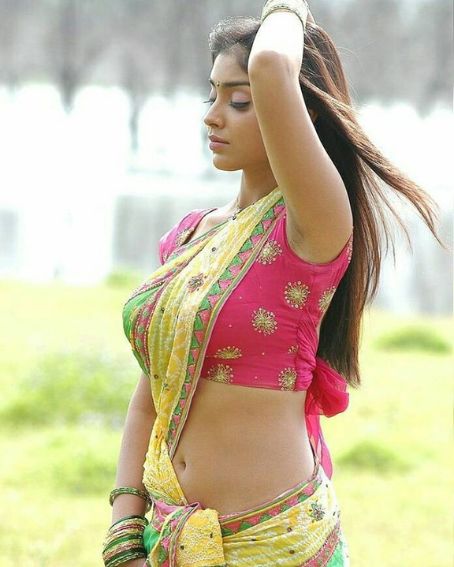 Shriya saran looked magnificent with this multi-color saree in every bit. She paired it pink designer blouse and kept the entire look classy and simple. If you want to go for a casual outfit then choose this to grab other attention.
10. Shriya Saran In Dark Green Saree With Sleeve Blouse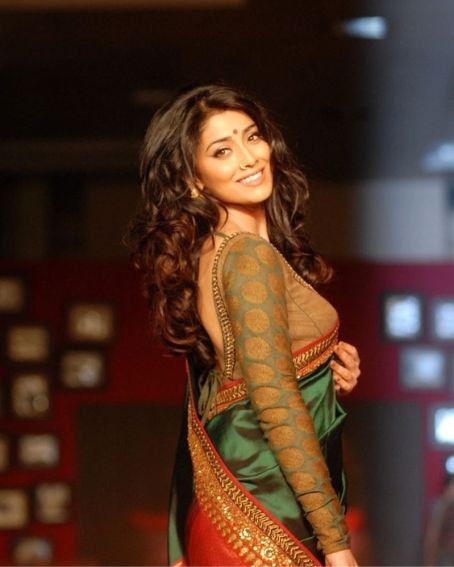 In a beautiful dark green saree, actress Shriya Saran looks elegant. She opted for the matching full-sleeve blouse to accentuate the look. With this traditional look saree, she stole the show.
11. Shriya Saran In Light Green With Gold Border Saree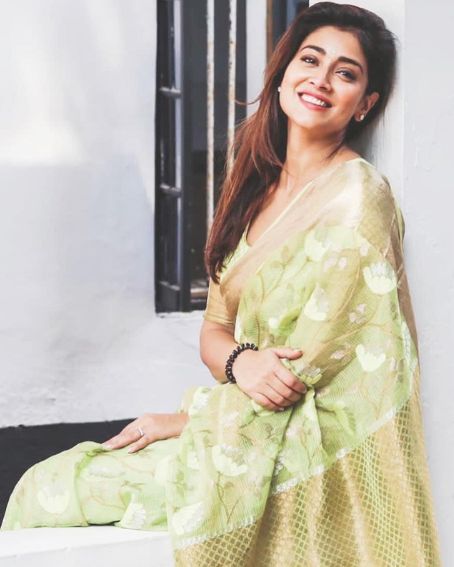 This gold border saree worn by Shriya Saran has floral designs all over and golden lace work. This saree will make your moments special while wearing this saree during the wedding ceremony and festive season.
12. Shriya Saran In Simple Floral Printed Saree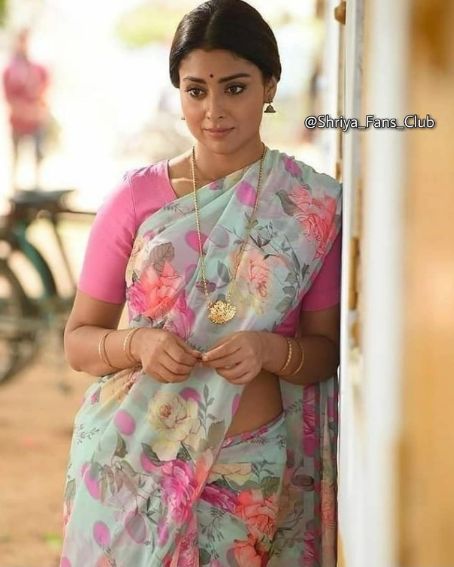 This floral printed saree gives Shriya Saran an elegant and serene look. It is very lightweight and also, it gives a very comfortable feeling to wear. Although this saree looks casual, it will clearly show off your beauty when you wear it.
13. Shriya Saran In White Net Saree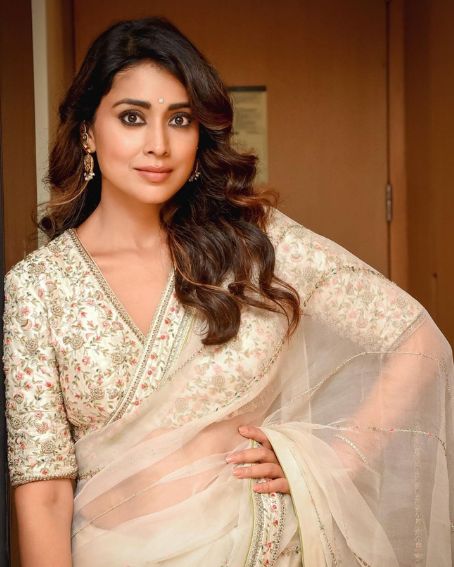 This light white net saree gives Shriya Saran a gorgeous look. Although this saree looks simple, it will make you look younger and extra attractive. There is no doubt that you will attract the attention of others when you wear this.
[ Read: 15 Beautiful Pics of Amala Paul In Saree ]
14. Shriya Saran In Gold And Black With Pink Border Saree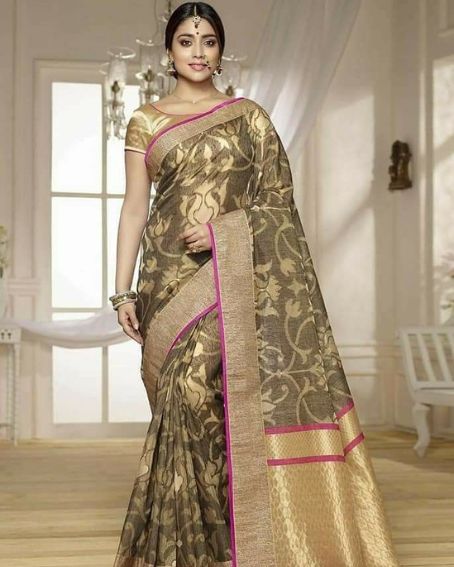 This black shade with golden floral silk saree worn by Shriya Saran will give you a beautiful and very happy feeling when you wear it for weddings, festivals, and special events.
15. Shriya Saran In Hot Pink Saree With Velvet Blouse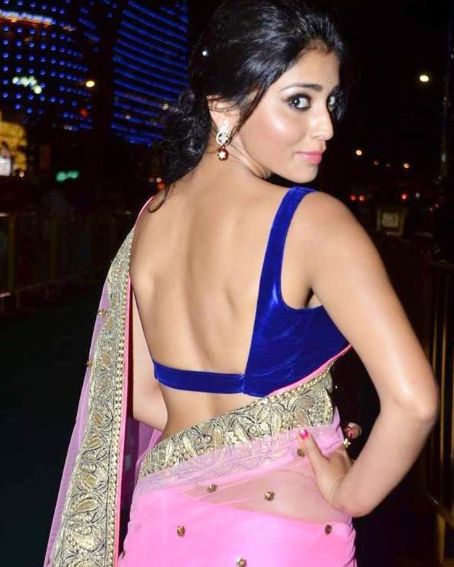 A velvet sleeveless blouse with a beautiful onion pink net saree worn by Shriya Saran gives a very sexy look. This type of saree is perfect for day and night parties.
16. Shriya Saran In Glamorous Blue Saree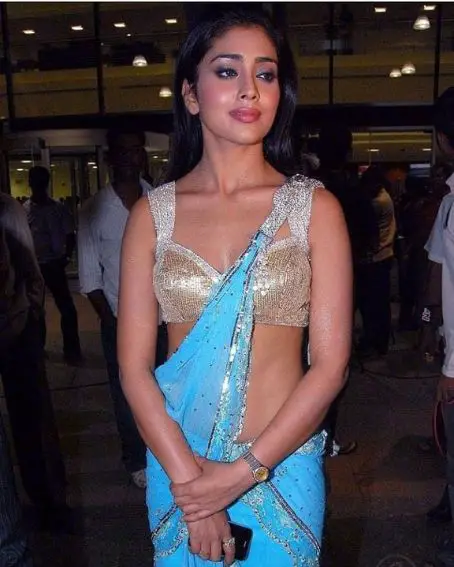 Shriya Saran's blue saree with a shimmering border is sure to grab everyone's attention. The elegant look of this saree adds more charm to her.
17. Shriya Saran In Beautiful Paisley Designed Saree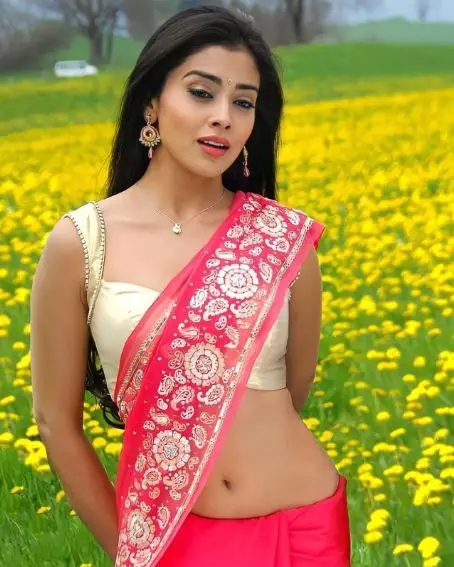 This pink-colored paisley saree gives Shriya Saran an alluring look. The paisley designs done on this saree further enhances Shriya's cute look.
18. Shriya Saran In Floral Net Saree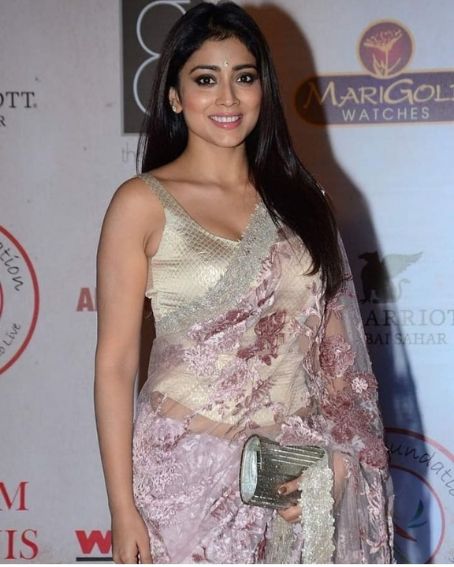 This beautiful floral net saree occupies an irreplaceable place in every woman's wardrobe. The floral embroidery done by the thread gives Shriya Saran a very pretty and sophisticated look.
19. Shriya Saran In Gorgeous Embroidery Designer Saree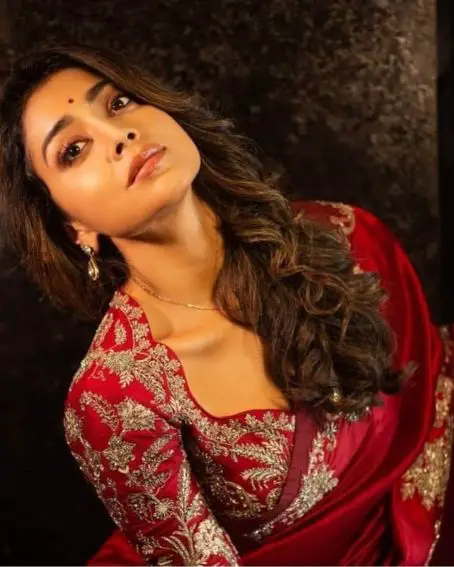 This saffron color saree with embroidery work gives a ravishing look. The intricate embroidery done on this saree and blouse gives the Shriya Saran a unique splendid look, eliminating the need to accessorize it.
20. Shriya Saran In Traditional Look Yellow Saree
If you want traditional yet classy saree, then have this particular style.This auspicious yellow saree by Shriya Saran gives a traditional look. Its look is simple and gives an alluring beauty that cannot be described in words.
You Might Also Like: