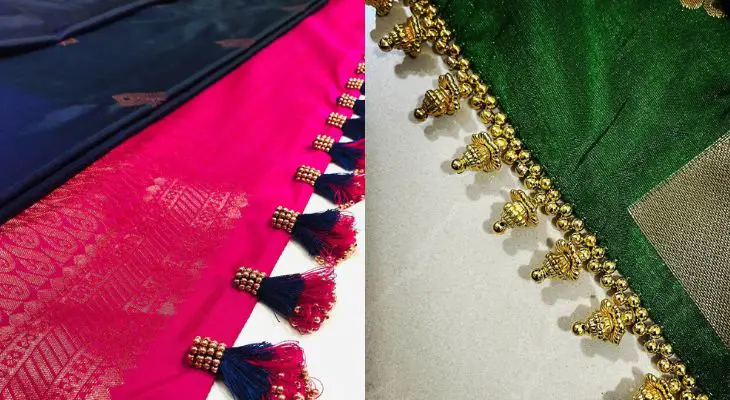 The old fashion of wearing a saree has evolved to a new trend of decorating with saree kuchu designs. Here are the modern ideas of saree kuchu designs which will admire the one who looks at a saree .
Presenting brand new models of saree kuchu designs which will enhance the quality of the appearance.
15 Awesome Pics of Saree Kuchu Design Patterns
1. Knotted Beads And Tassels Kuchu Design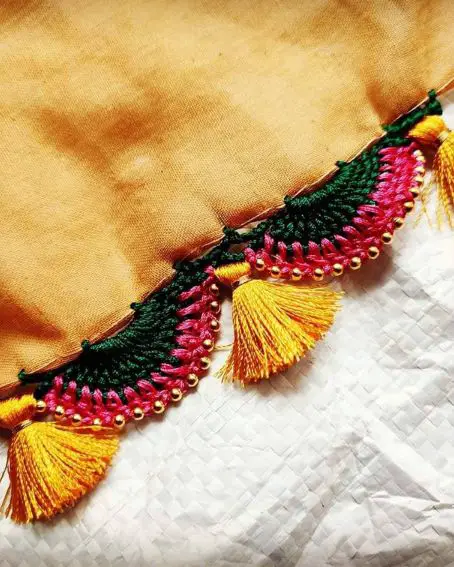 This is a beautiful saree Kuchu design that has been decorated with green beans and a little color threads along with yellow hangings. This is the best saree Kuchu design that's ready for trail on pattu sarees as well as on fancy sarees.
[ Read: Best Handloom Sarees ]
2. Gold Bell Shaped Hanging With Threads And Beads Saree Kuchu Design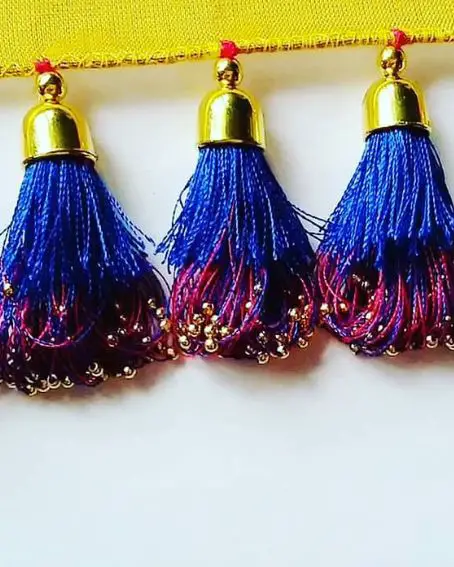 The awesome look of saree kuchu design has come with a single bead attached to the saree and the golden bell is hung to it. The royal blue threads are fixed into the bell and along with pink and blue mix threads, beads are curled up into them.
[ Read: Special Kalamkari Sarees ]
3. The Small Hanging Of Beads Saree Kuchu Designs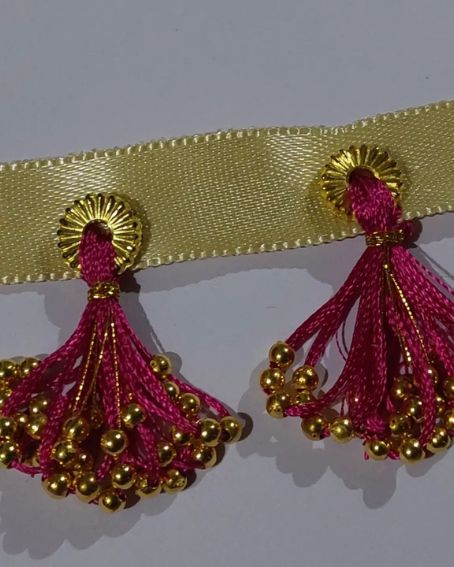 The stylish pink color threads are weaved along with beads for a beautiful saree look. The threads are mixed with golden color to give a bright look. This design of kuchu is used for pattu sarees to make them more beautiful.
[ Read: Trendy Lavender Colour Sarees ]
4. Blue And Pink Flower Tassels Of Gold Beads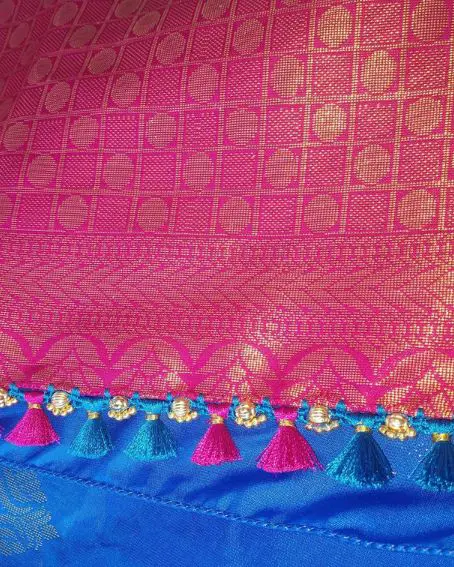 The classy blue and pink tassels for Kuchu saree are assembled alternatively. The big and small beads are placed side by side for a rich look of saree. These designs are used for traditional and pattu sarees.
[ Read: Fresh Designs of Venkatagiri Sarees ]
5. Beads Embedded saree Kuchu Work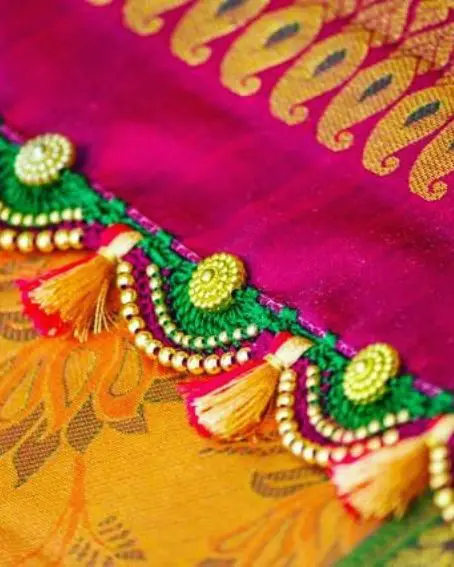 The amazing green and gold kuchu designs are very pretty. This model is trendy with two swings of bead pattern. Mostly women love to use them for their stylish look.
[ Read: Most Beautiful & Elegant Phulia Sarees ]
6. Threads And Ring Kuchu Saree Design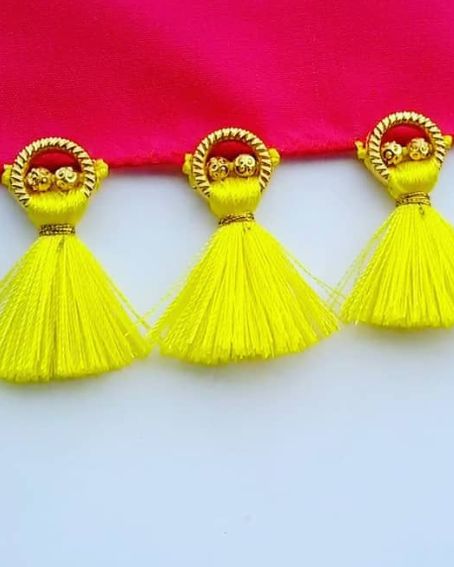 The best way of designing a saree is to decorate it with a bright yellow color thread that has a cap top. The two beads placed inside a ring form a doll appearance which look so realistic for Kuchu design of a saree.
7. Saree Tassels And Beads Saree Kuchu Design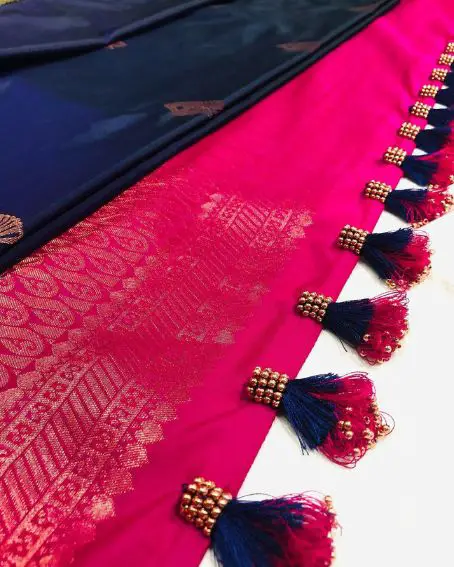 The unique saree kuchu idea is of three bead patterns which form a heap. The wavy threads of navy blue come out of beads. The finest pink curls of thread are attached with round golden beads in between for a fancy look.
8. Crochet Kuchu With Tassels Kuchu Design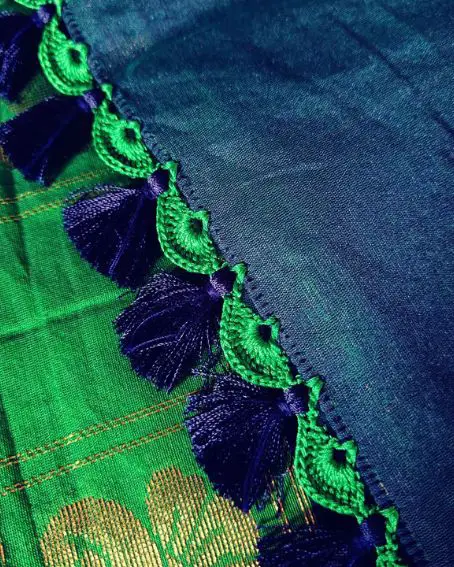 The authentic look of saree comes when they are arranged in green crochet form. The blue threads hang all over for a modern glance.
9. Bead Balls Hanging Kuchu Designs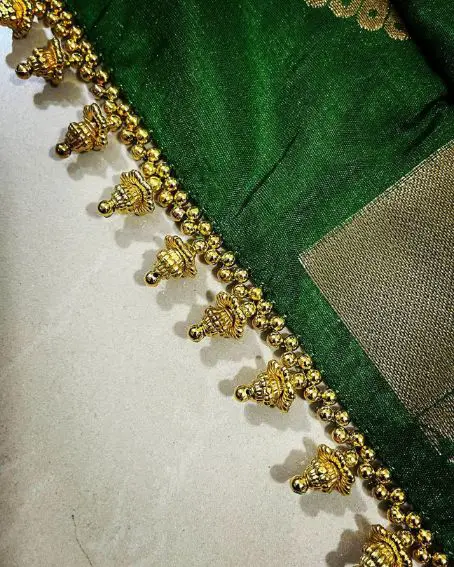 The attractive golden beads are fixed with two rows. The artificial bead of reverse cone shaped is attached to very neatly for clear appearance. This model makes a saree unique with bead balls.
10. Gold Beads And Tassels Kuchu Saree Design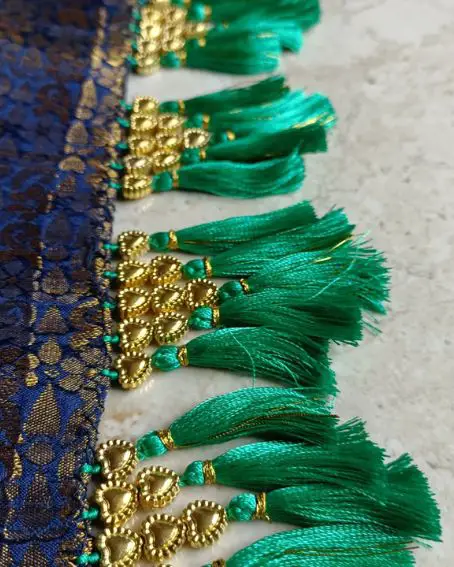 The special bead pattern of the love symbol is arranged in a triangular shape to appear ethinic. The green hangings are impressive on a kuchu saree.
11. Threads And Ring Form Kuchu Design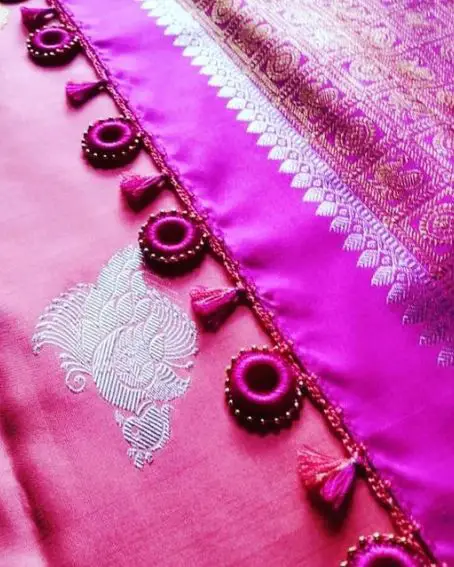 The small pink tassels are the perfect placement of the kuchu saree. The rings are covered with pink fabric threads that add as an additional element.
12. Crochet and Beads Kuchu Design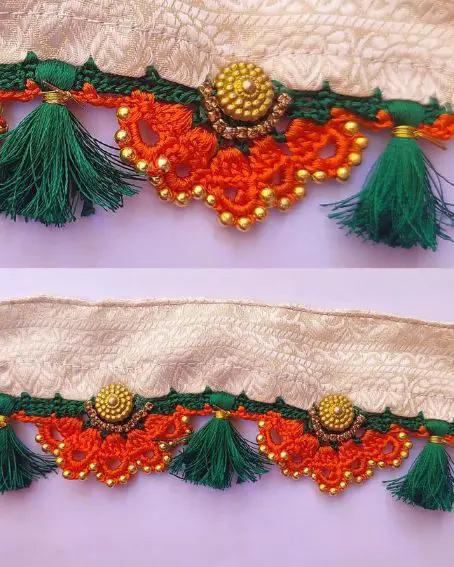 The fusion of crochet pattern and beads create a new attire for a kuchu saree. The orange and green mixed kuchu design has a pretty look. This can be weaved on pattu sarees for modern glance.
13. Thread and knots Kuchu Designs With Beads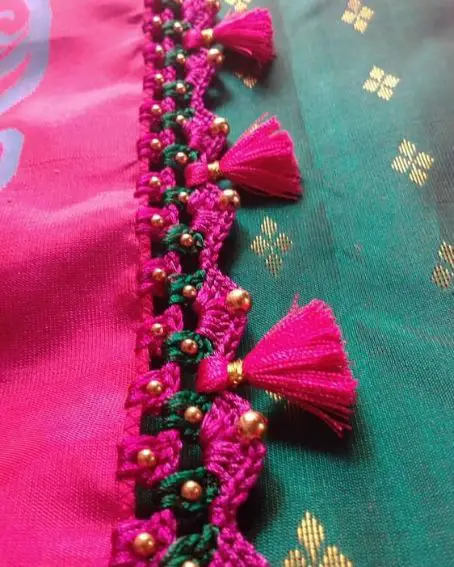 The versatile design of kuchu saree is now interlocked with beads and knots. The pink and green combination looks very nice. This pattern is used for fancy and traditional sarees.
14. Unique Beads And Thread Saree Kuchu Design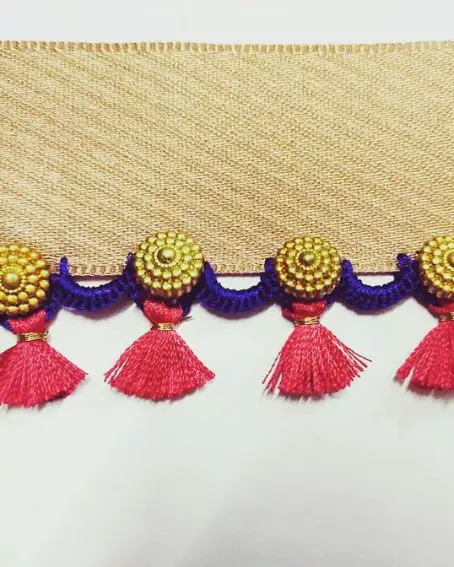 The fine detailing of big flowered beads is admired so much. This is a violet and peach mix creation of kuchu design. This has two different contrasts of colours for various mix and match of a saree.
15. Hanging Bead And Tassels Kuchu Design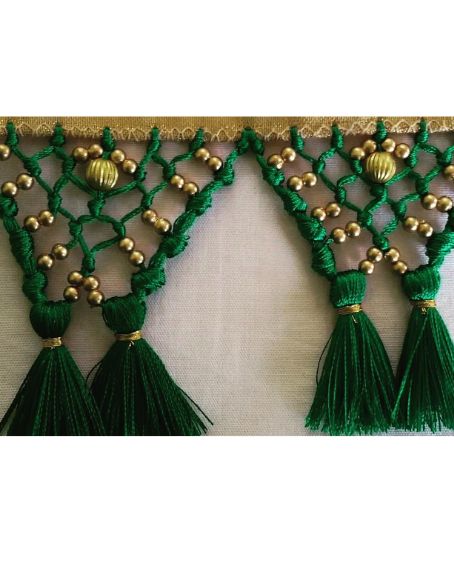 The grand occasional sarees are designed with hanging tassels of beads dropped in between. The threads are finely stitched in triangle shape. This design is highly recommended for bridal sarees for a classy traditional look.
You Might Also Like: