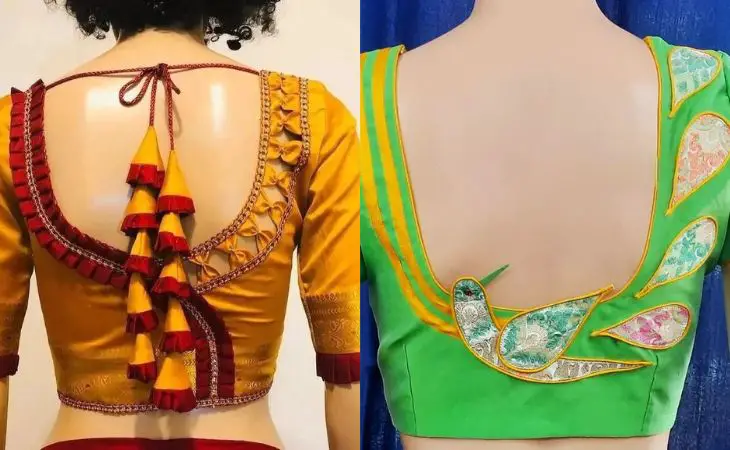 Sarees are enduring and the blouse you wear brings it extra charm, to make a more beautiful you can get designs and patterns to the blouse necks going on with Trend. you can make them style and different look with the trend of patch work blouse neck designs. 
Patch work blouses are very attractive because of the work designs usually with layers of fabric, stones, kundans and designs of birds, flowers and with different chick designs and patterns. Most of womens wanted to have patch work for their ethniq and festive wear, which are suitable on sarees and lehengas. Hence we have listed some of the beautiful patch work for blouse neck designs which you may like and try them.
15 Latest Patch Work Blouse Designs
1. Green Color Floral Petal Pattern Patch Work For Back Neck Blouse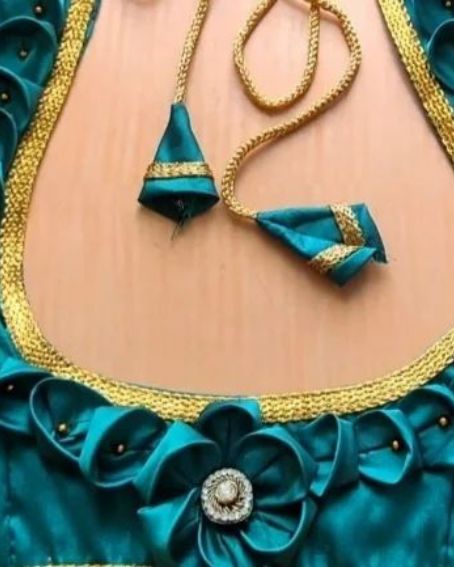 This is a beautiful green color patch work for fancy sarees which look trendy and fashionable. This patch work comes in floral patterns and gotta work along with latkans.
[ Read: 20 Simple Patchwork Blouse Neck Designs ]
2. Pink Flower Pattern Blouse Patch Work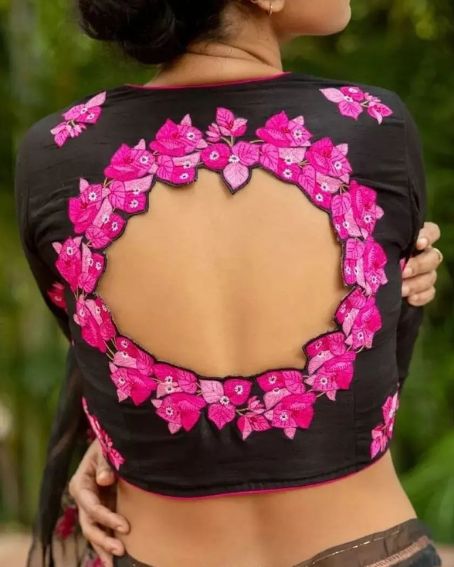 This is a wonderful patch work design on black blouse with pink color flowers pattern and open in a circle. This patch work is simple and sweet, suitable on all kinds of sarees.
3. Exclusive Modern And Trendy Blouse Patch Work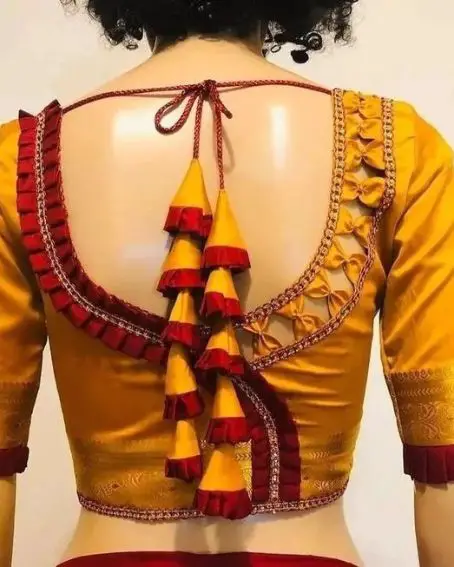 Trendy and fancy design of patch work comes with bow model work and pleats with golden lace work and hangings, which looks great in all occasions on fancy sarees.
4. Maroon Blouse With Floral And Stripes Patch Work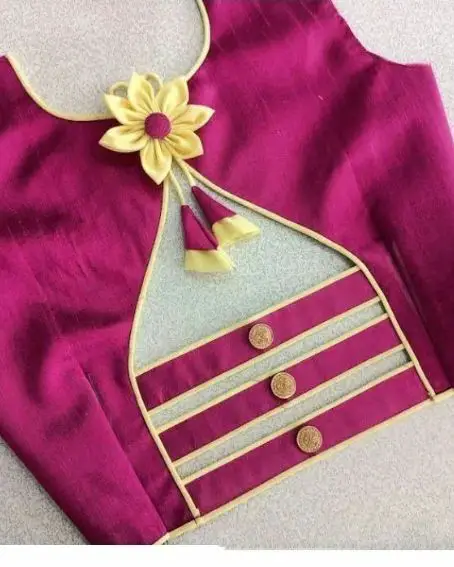 This is a wonderful patch work design which is best for fancy as well as pattu sarees. This patch work is with floral patterns and stripes along with hangings.
[ Read: 35 Traditional Arani Pattu Sarees ]
5. Latest Flower Pattern Patch Work Blouse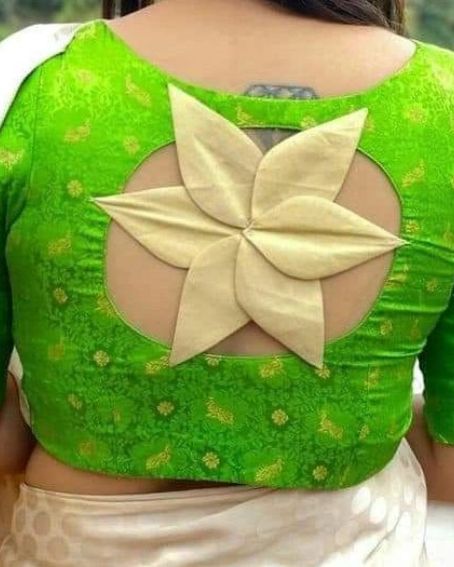 Here comes a beautiful cream color flower pattern patch work on a green blouse. This designer patch work is best for fancy and pattu sarees
6. Trendy And Fancy Blouse Patch Work
This is a trendy and fancy patch work with cloth latkans and decorated with golden lace borders placed at bottom, this blouse looks amazing in fancy sarees.
[ Read: 41 Traditional & Fancy Saree Blouse Back Neck Designs ]
7. Fancy Bird Patch Work Blouse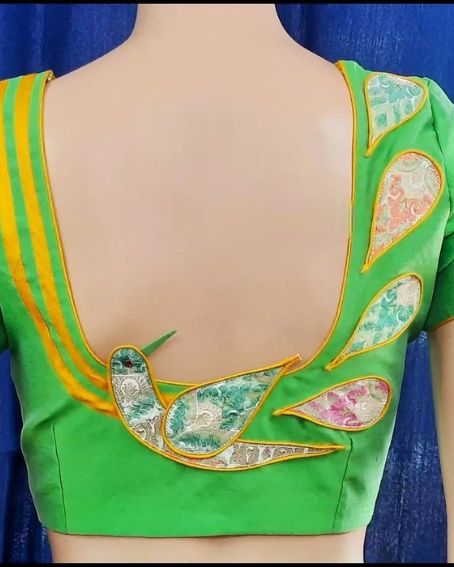 This is a fancy patch work which is patched to green blouse, a bird and leaf shaped patch work are joined along with gotta work which looks great on fancy and cotton sarees
[ Read: 25 Latest Collection of Bhagalpuri Cotton Sarees ]
8. Massive Designer Patch Work For Pattu Saree Blouse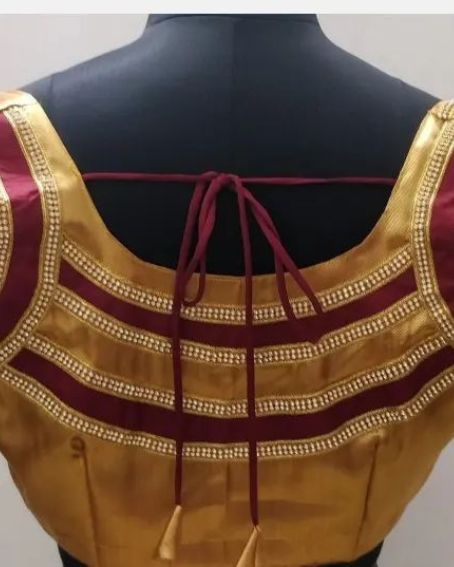 This is a tremendous designer patch work which is suitable for both fancy and traditional sarees. This patch work is joined semi curve shaped with beads lace and hangings.
[ Read: 20 Latest Aari Work Blouse Hand Designs ]
9. Feather Cut Patch Work Blouse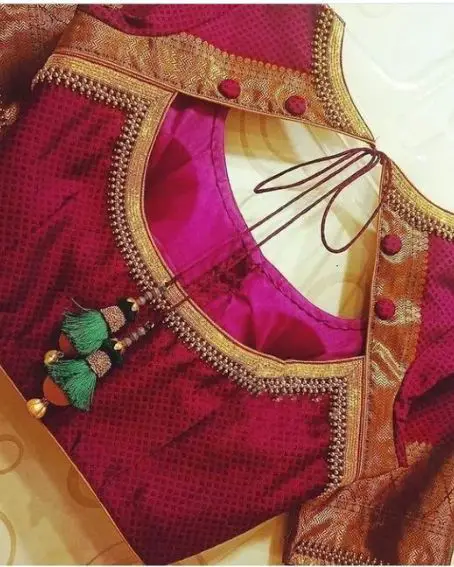 The beautiful feather cut patch work looks like wings on the shoulder with a doori neck designer blouse. This blouse looks amazing on pattu sarees.
10. Modern Stylish Checks Work Patch Blouse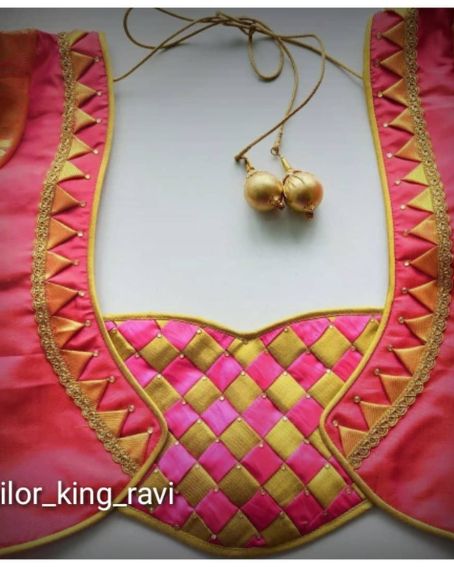 Most trendy and fashionable checked work is patched to the back neck blouse which also has a gota, motifs and lace patch work. This blouse pattern also has a ball hangings.
11. Y Shaped Pink Color Patch Work Blouse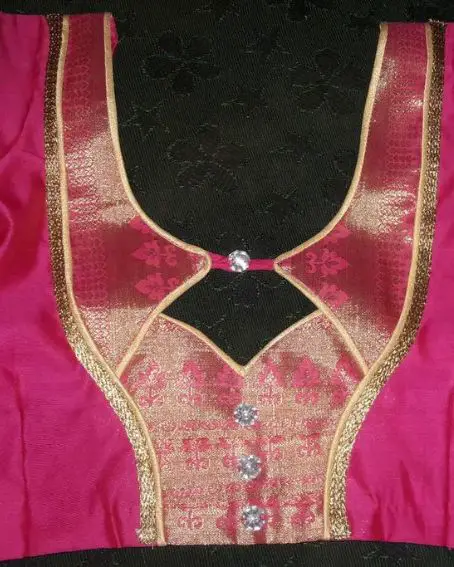 This is a pink color half pattu blouse which is done patch work in Y shape with golden bordered lace material and decorated with stones on the middle line to look classy.
[ Read: Top 20 Latest Silk Saree Blouse Designs (With Borders) ]
12. Heart Shaped Pleated Patch Work Blouse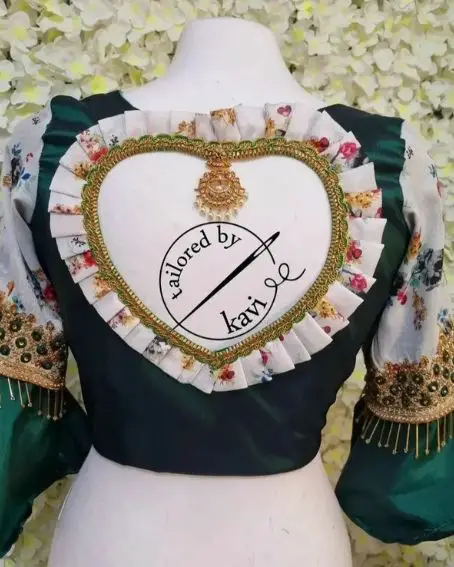 Beautiful and best contrast white and green combination patch work looks great ever with pleated and gota patch work along with big kundan hanging. This blouse is suitable for fancy and pattu sarees.
[ Read: 20 Patchwork Pink And Green Blouse Design ]
13. Maroon Color Beautiful Pattern Patch Work Blouse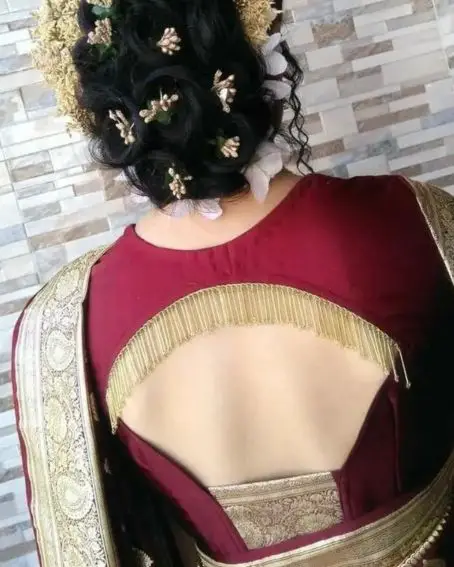 Wonderful maroon color blouse has a cube patch along with beads hanging in a semi circle shape which look fabulous. This patchwork looks great in pattu as well as on fancy sarees.
14. Orange Sunflower Design Patch Work For Blouses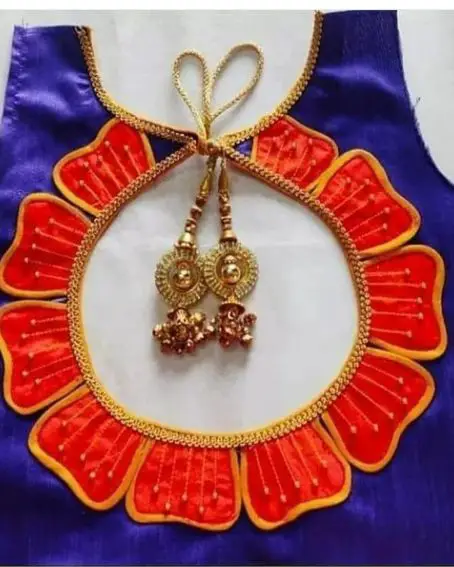 Most beautiful and attractive sunflower design patch works are along with kundan and beads hanging. This blouse is suitable for all types of sarees.
15. Gorgeous Festive Wear Patch Work Blouse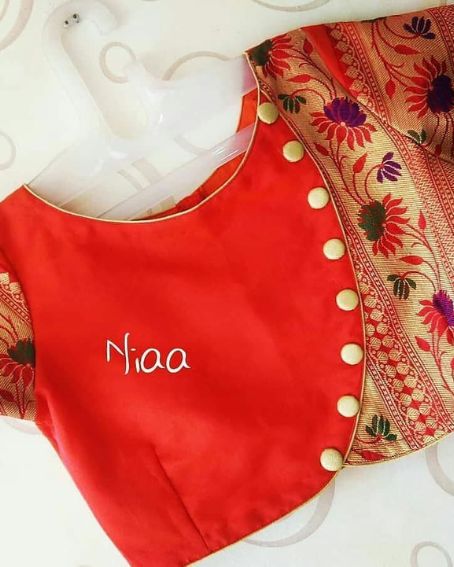 Tremondes patch work blouse looks gorgeous in parties and festivals. This blouse is with a semi moon shaped patch along with button patch work suitable for pattu sarees.
You Might Also Like: