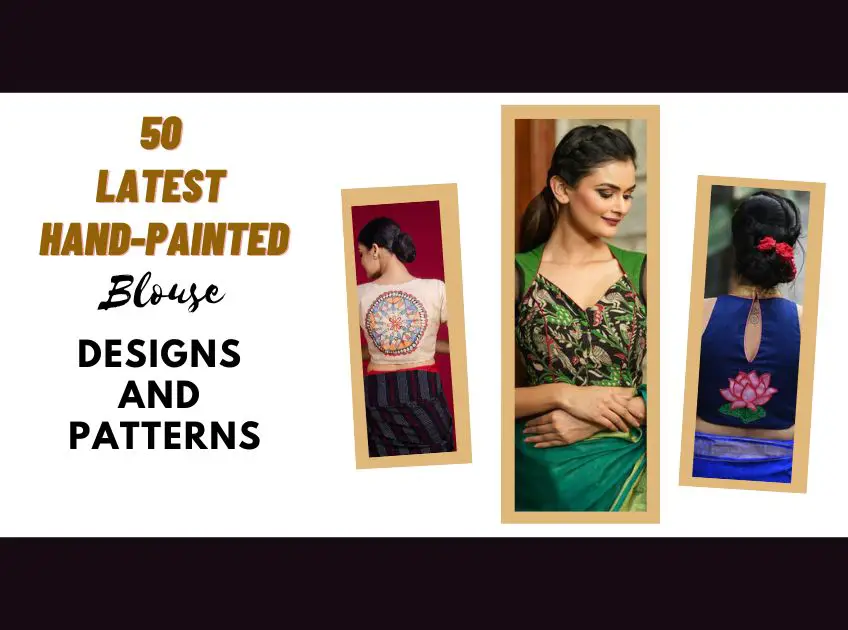 Hand-painted blouse designs are blouses that people paint with their hands. They use different methods like using a brush, sponge, or even an airbrush to make beautiful designs.
These blouses can be made from fabrics like silk, cotton, or linen. What's cool about hand-painted blouses is that each one is unique, which means they're not the same as anyone else's.
People often wear these special blouses for big parties like weddings, but you can also wear them every day if you want.
50 Latest Hand-Painted Blouse Designs and Patterns
1. Indian Handmade Hand Painted Cotton Blouse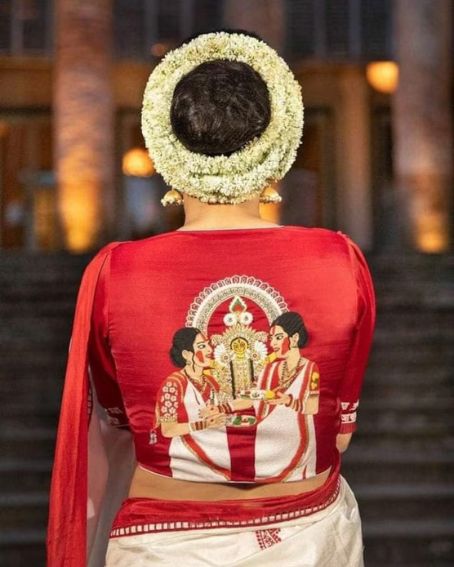 A traditional cotton blouse, meticulously hand-painted with intricate Indian motifs, offering a blend of culture and fashion.
2. Hand Painted With Zardozi Work Round Neck Blouses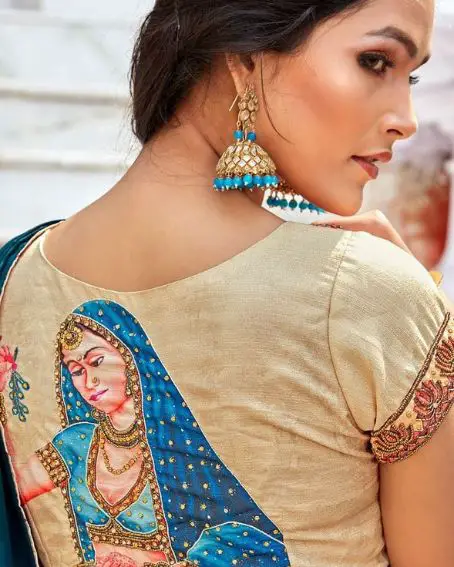 Blouses with round necklines beautifully embellished with Zardozi work, combining elegance and opulence.
3. Handblock Print Cotton Blouse With Hand-painted Kalamkari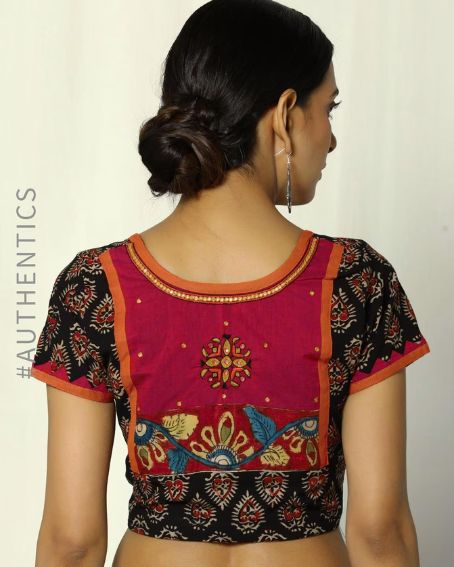 Cotton blouse showcasing the rich art of hand block printing and Kalamkari painting, a perfect fusion of heritage and style.
4. Gubbaro Hand Painted Madhubani 'gopiyaan' Tussar Silk Blouse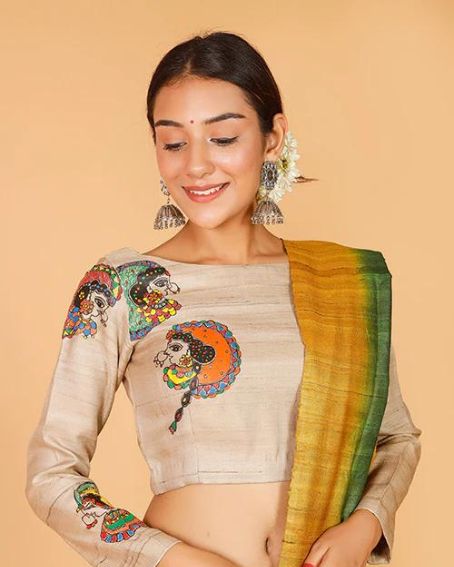 Tussar silk blouse adorned with Gubbaro hand-painted Madhubani art featuring 'gopiyaan' from Indian mythology, a symbol of grace and tradition.
5. Lavender Bloom – Hand Painted Blouse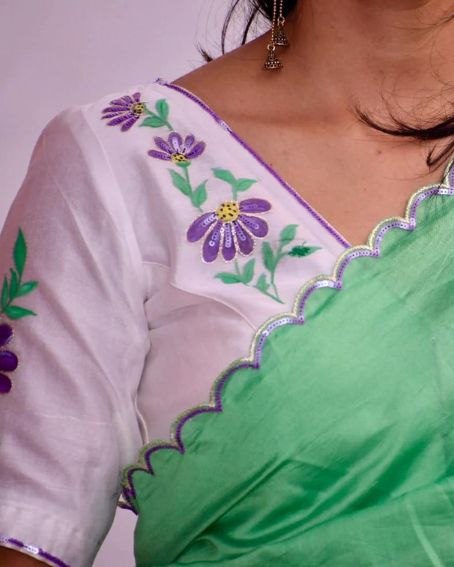 This blouse is a canvas of lavender-themed hand-painted artwork, exuding charm and serenity.
6. Yellow Color Unique Hand Painted Blouse Design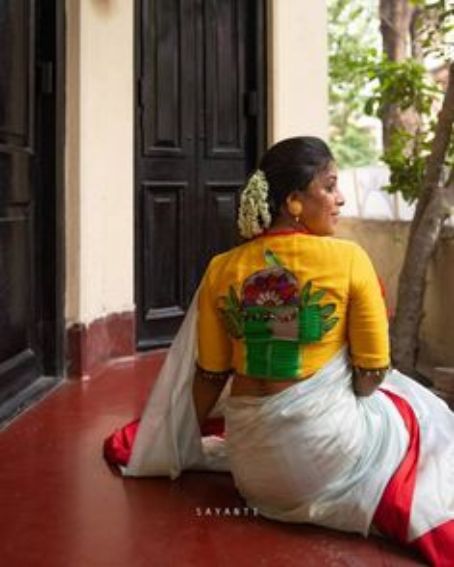 A unique yellow blouse with an artistic hand-painted design that radiates vibrancy and individuality.
7. Off-white Blouse With Traditional Hand Painted Blouse Design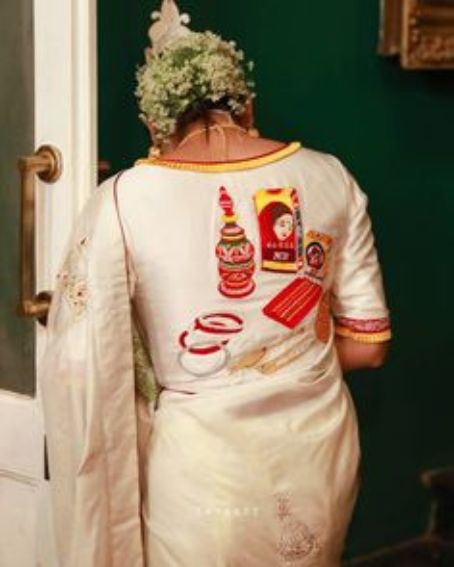 An off-white blouse with a classic, hand-painted design that exudes timeless elegance.
8. Red Color Hand Painted Blouse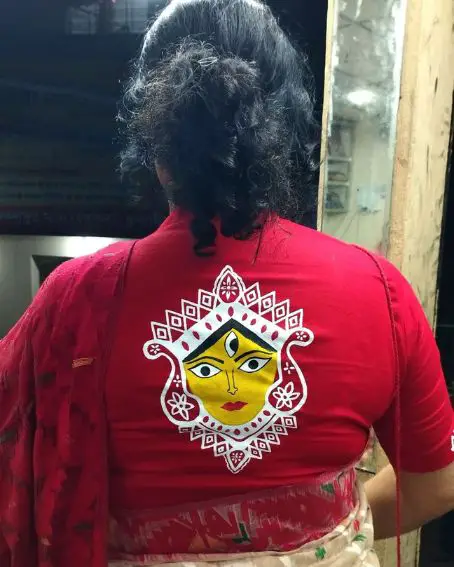 A red blouse adorned with hand-painted artistry, symbolizing passion and beauty.
9. Blue Blouse With Flower Style Hand Paint Design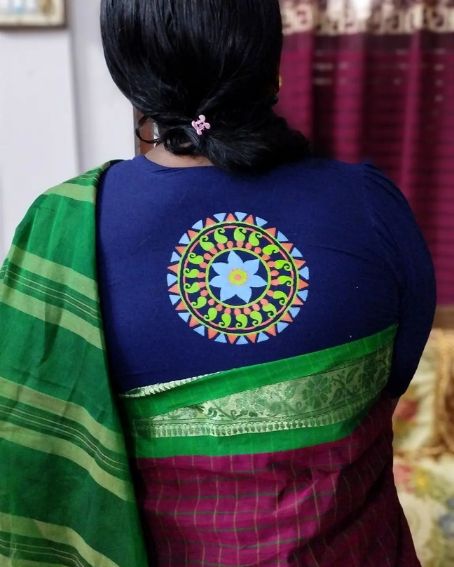 A blue blouse featuring hand-painted floral patterns, adding a touch of nature's beauty to your attire.
10. Fluorescent Green Blouse With Hand Paint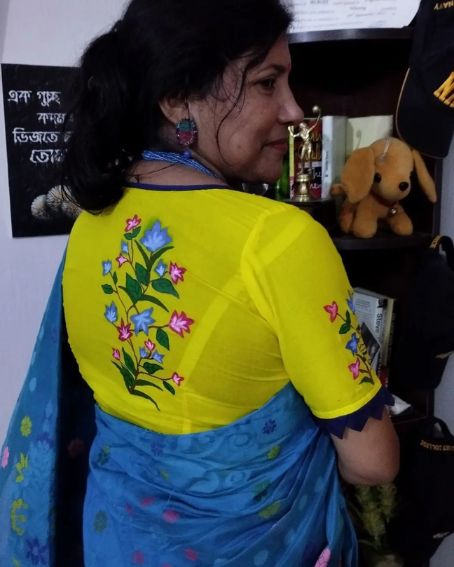 A vivid fluorescent green blouse with striking hand-painted elements that catch attention effortlessly.
11. Tulips – Hand Painted Blouse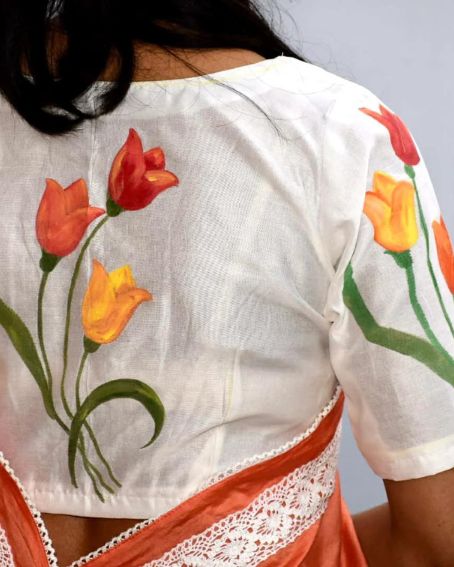 This blouse is a canvas of hand-painted tulip flowers, bringing a touch of nature's charm to your wardrobe.
12. Royal Blue Blouse With Flowers Hand Paint Design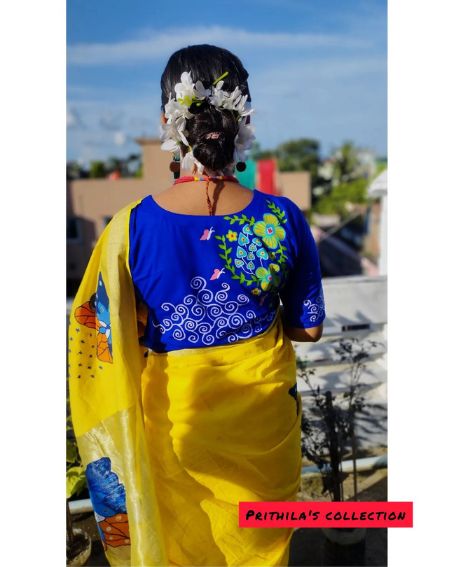 A royal blue blouse adorned with hand-painted flowers, infusing regal beauty into your attire.
13. Titian Flower Hand Painted Sharara Set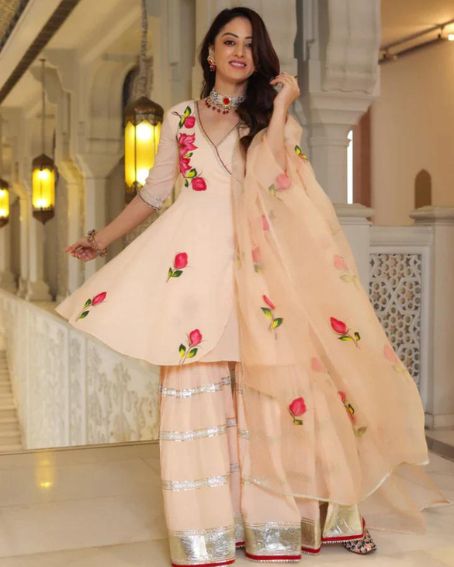 A Sharara set featuring Titian flower hand-painted motifs, radiating a warm and luxurious aura.
14. Bengali Saree With Pink Hand Painted Blouse Design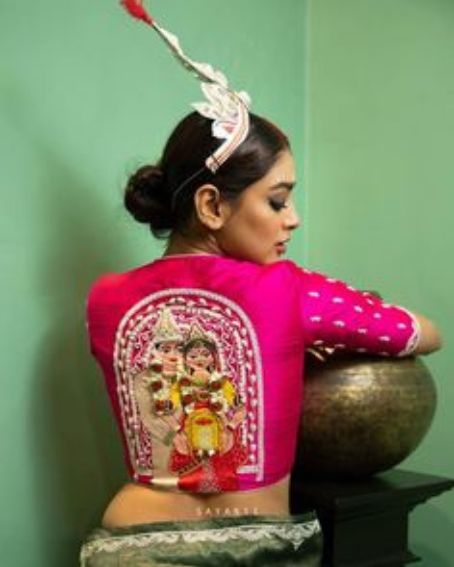 A Bengali saree paired with a pink hand-painted blouse, showcasing the cultural richness of Bengal.
15. Bengali Bridal Saree Blouse With Hand Paint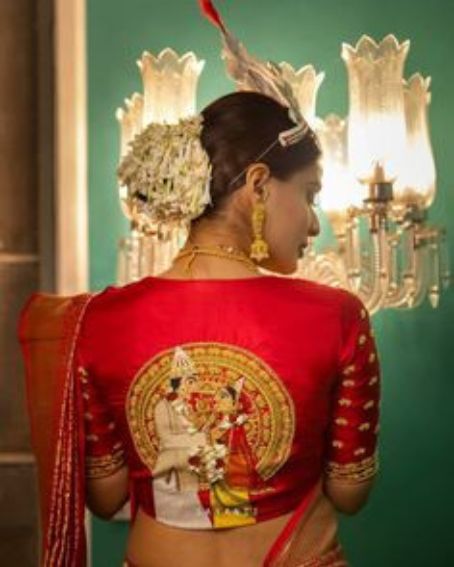 A bridal saree blouse inspired by Bengali traditions and adorned with hand-painted artwork.
16. Brown Hand Painted Kalamkari Vintage Inspired Blouse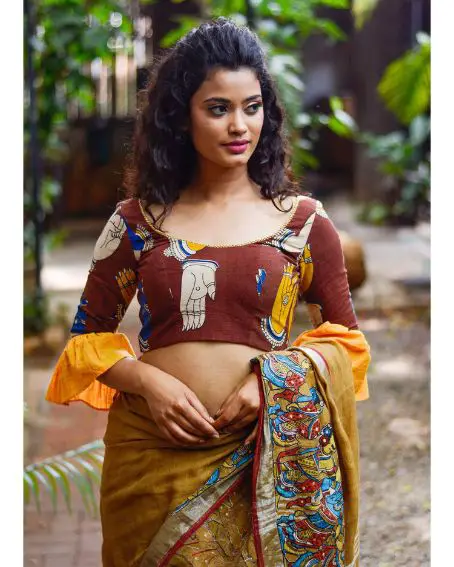 A vintage-inspired brown blouse with Kalamkari hand-painted patterns, echoing the charm of bygone eras.
17. Brown-blue Hand Painted Kalamkari Cotton Blouse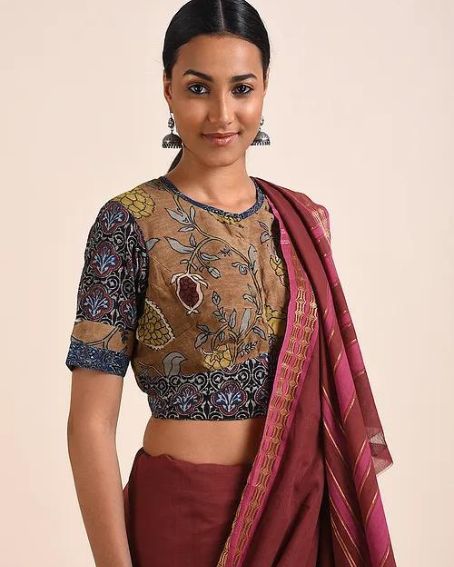 A Kalamkari cotton blouse in shades of brown and blue, capturing the essence of Indian artistry.
18. Ivory Kalamkari Silk Saree With Hand Painted Blouse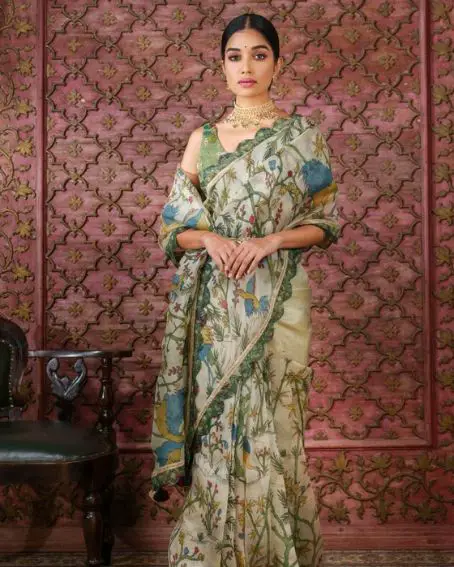 An ivory silk saree paired with a hand-painted Kalamkari blouse, blending luxury and tradition.
19. Sky Blue Unique Hand Painted Blouse Design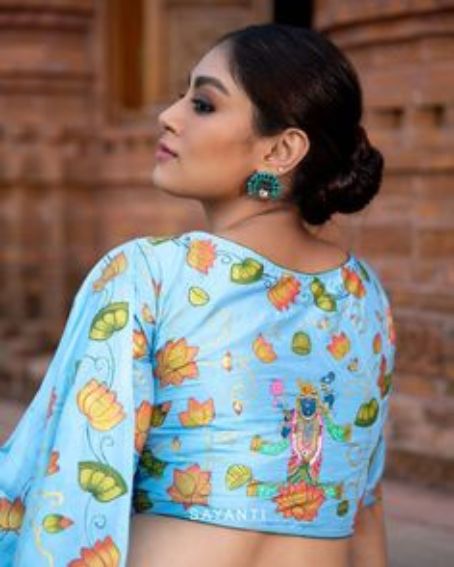 A unique sky blue blouse with a captivating hand-painted design, reflecting elegance and individuality.
20. Hand Painted Blouse Design With High Neck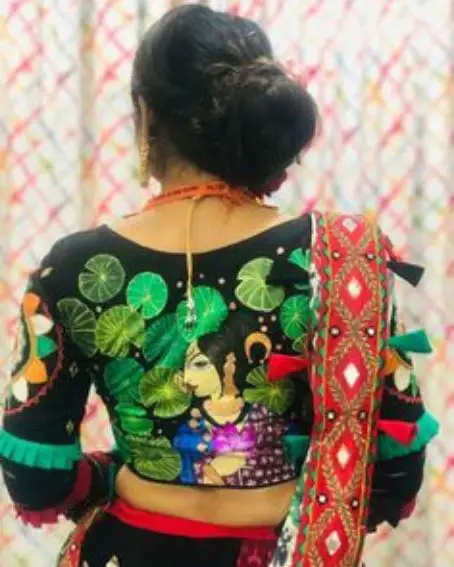 A blouse with a high neckline and a hand-painted design, adding sophistication and style to your outfit.
21. Hand Painted Blue Blouse Design With High Neck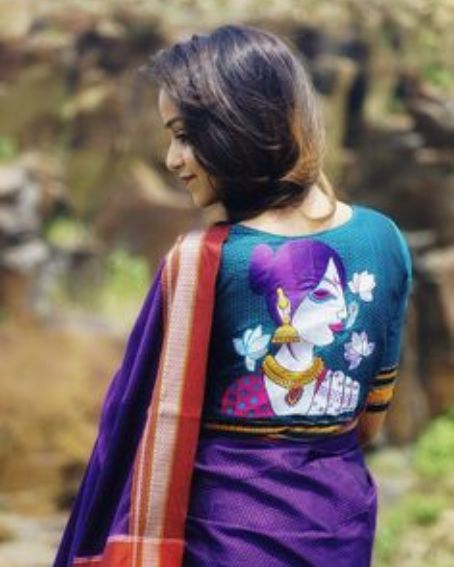 A blue blouse with a high neck and hand-painted artwork, combining elegance and modern fashion.
22. Yellow Color Blouse With Red And Blue Flowers
A yellow blouse featuring hand-painted red and blue flowers, creating a vibrant and striking look.
23. Blue Blouse With Frill Style Hand Paint Design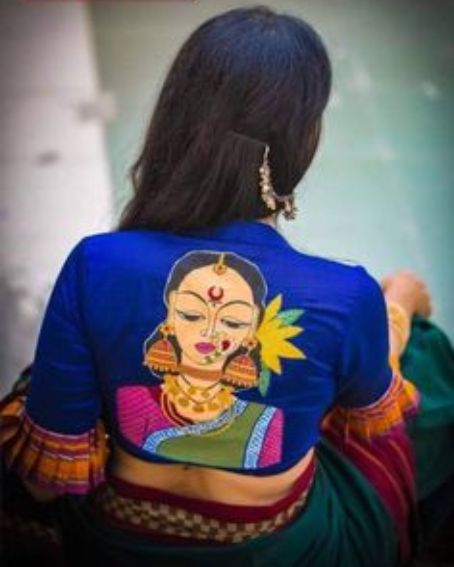 A blue blouse with a frill-style design and hand-painted elements, adding a touch of flair to your attire.
24. Hand Painted New Look Saree Blouse Design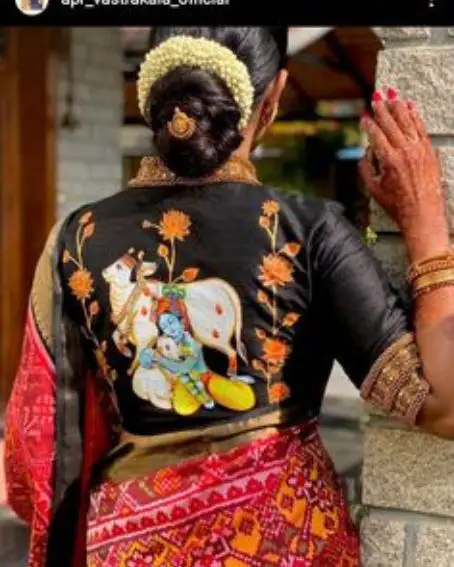 A saree blouse with a fresh and contemporary hand-painted design, offering a modern twist to traditional attire.
25. Hand Painted Blue Blouse Design With High Neck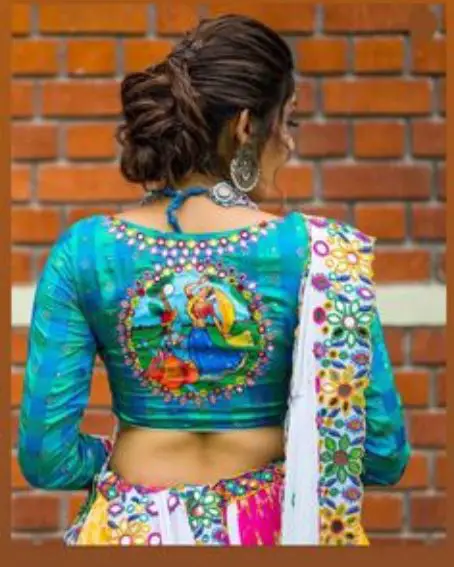 This blouse features intricate hand-painted designs on a high-neck silhouette, combining artistry with fashion for a unique and elegant look.
26. Hand Painted Art On Traditional Kerala Saree With Blouse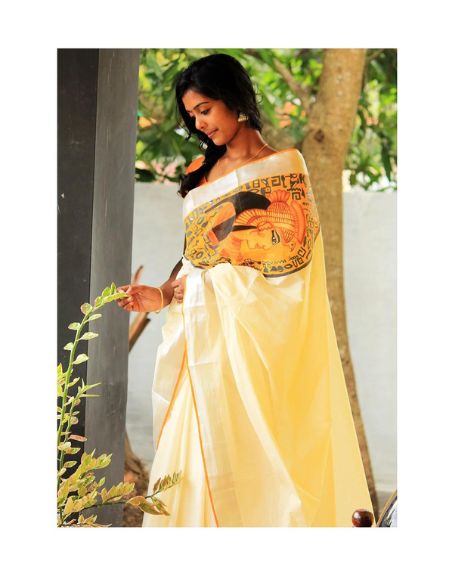 Traditional Kerala sarees come to life with hand-painted art, creating a fusion of cultural heritage and contemporary style in this ensemble.
27. Black Hand Painted Kalamkari Cotton Blouse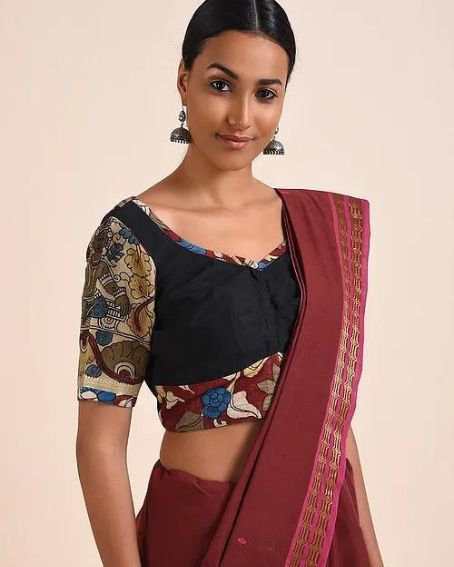 This black blouse showcases the timeless Kalamkari art form, hand-painted on cotton, offering a graceful and cultural touch to any outfit.
28. Gold Color Blouse with Hand Painted Design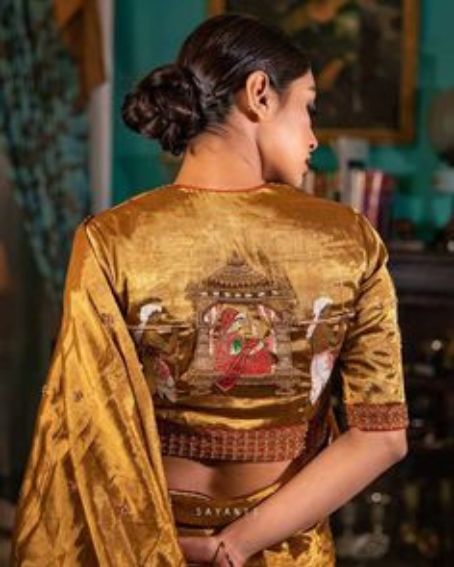 A gold-colored blouse with hand-painted designs exudes opulence and creativity, making it a stunning addition to any saree or lehenga ensemble.
29. White Pure Silk Hand Painted Saree with Blouse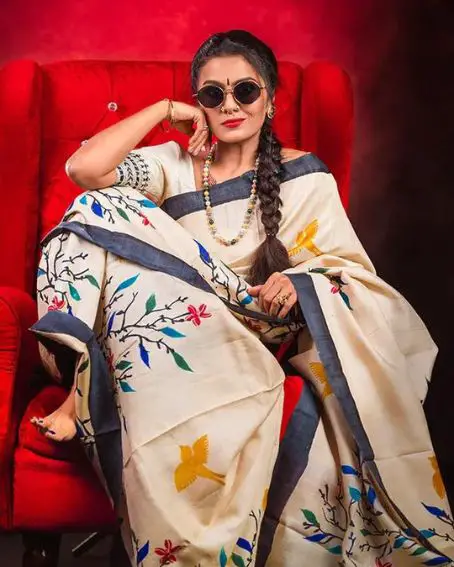 The elegance of pure silk meets hand-painted artistry in this white saree and blouse combo, creating a sophisticated and artistic statement.
30. Honey brown handloom V neck blouse with hand-painted Kalamkari band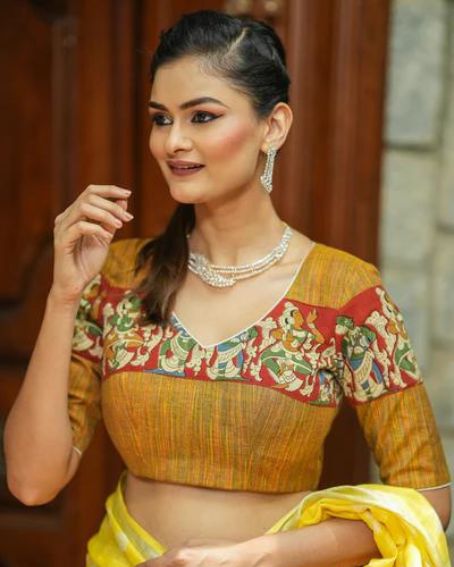 A honey brown handloom blouse with a V-neck and hand-painted Kalamkari band adds a touch of tradition and grace to your wardrobe.
31. Ocean Blue Handloom V Neck Blouse with Rose Pink Hand Paint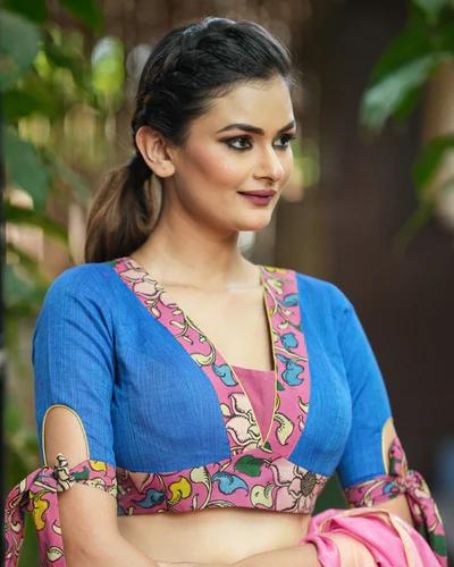 An ocean blue handloom blouse with a V-neck and rose pink hand-painted details captures the serenity of the sea and the vibrancy of flowers.
32. Maroon Handloom Sleeveless Blouse with Kalamkari Band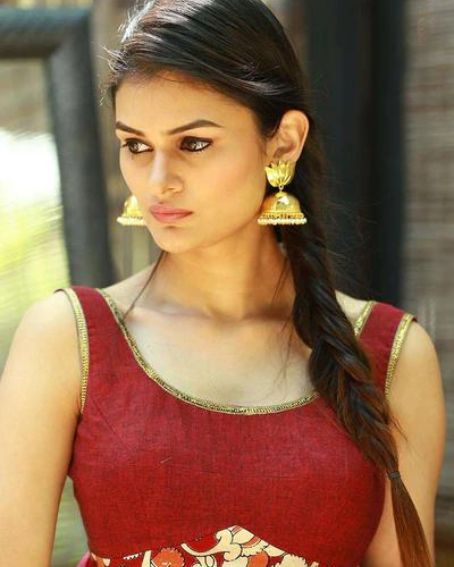 This maroon handloom sleeveless blouse features a Kalamkari band, combining a rich color with traditional artistry for a timeless appeal.
33. Printed Blouse for Durga Puja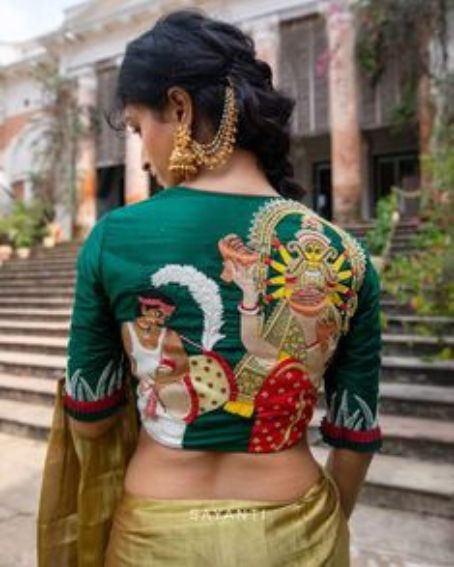 A printed blouse designed specifically for Durga Puja reflects the spirit of the festival with intricate patterns and vibrant colors.
34. Fuchsia Bloom – Hand Painted Blouse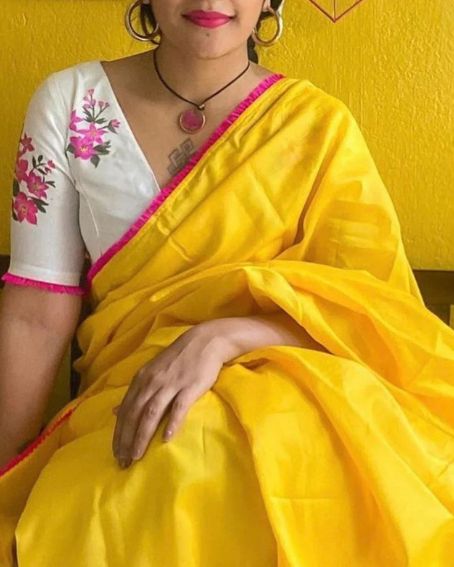 The "Fuchsia Bloom" hand-painted blouse is a burst of vibrant pink, showcasing artistic floral designs that add a pop of color to your attire.
35. Yellow Raw Silk V Neck Blouse with Hand Painted Mandaram Poovu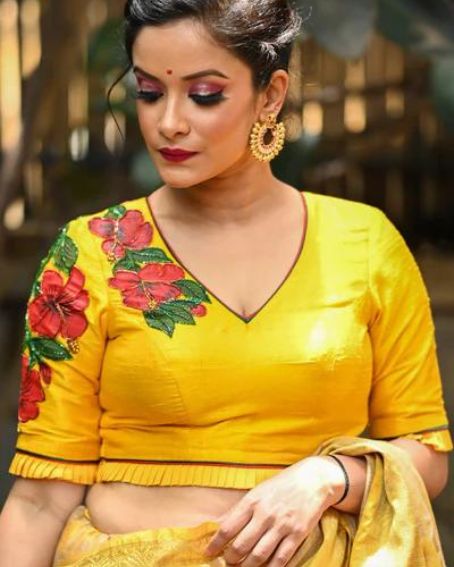 A yellow raw silk V-neck blouse with hand-painted Mandaram Poovu motifs encapsulates the beauty of nature in a contemporary fashion piece.
36. Black Hand Painted Pure Silk Pichwai Blouse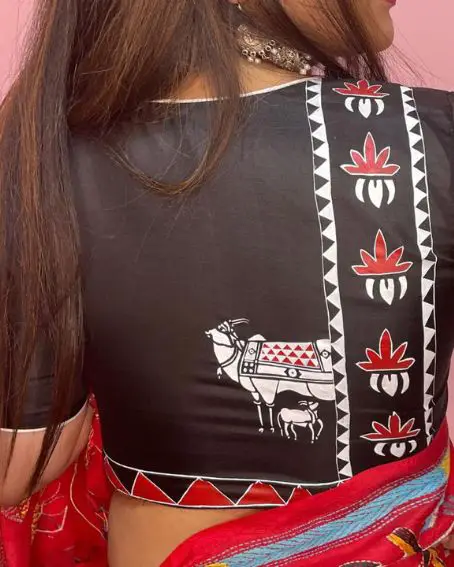 This black blouse features hand-painted pure silk Pichwai art, infusing an aura of culture and heritage into your wardrobe.
37. Off White U Neck Blouse With Hand Painted, Embroidered Sampige Poovu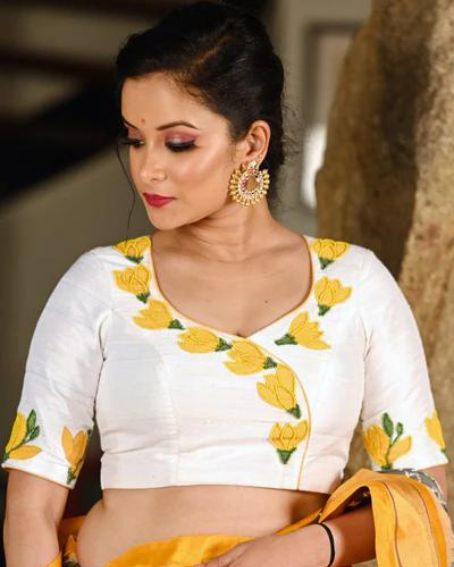 The off-white raw silk U-neck blouse with hand-painted and embroidered Sampige Poovu designs combines artistry and craftsmanship.
38. Parameswari Hand-Painted Madhubani Tussar Silk Blouse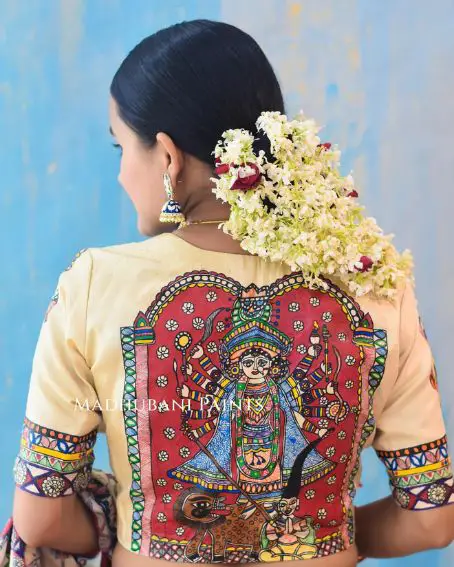 A Tussar silk blouse hand-painted with Madhubani art, dedicated to Parameswari, showcases the cultural richness and artistic finesse of the region.
39. Lemon Yellow Hand Painted Red Rose Screen Print Cotton Blouse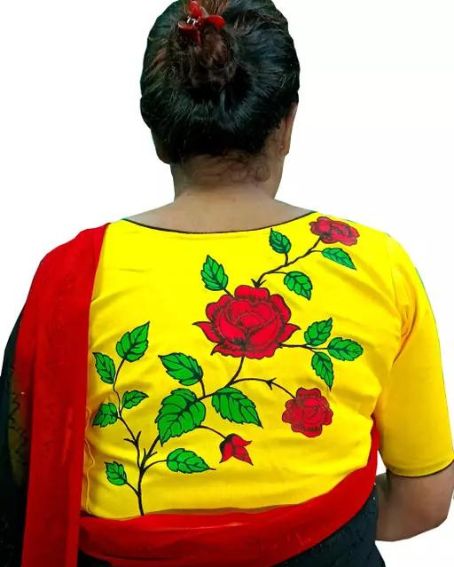 A lemon yellow cotton blouse adorned with hand-painted red rose screen prints offers a refreshing and artistic touch to your wardrobe.
40. Pure Tussar Hand Madhubani Painting Blouse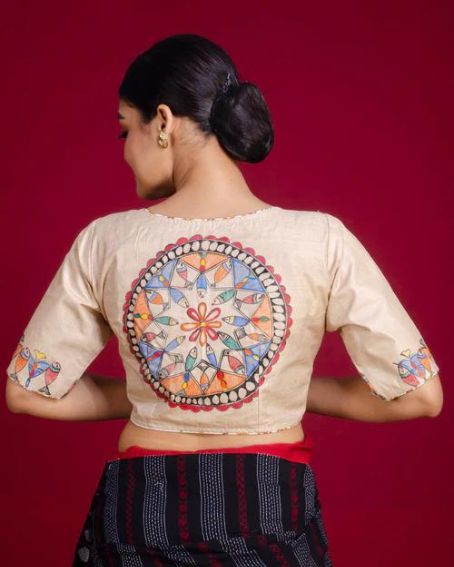 The pure Tussar blouse featuring hand-painted Madhubani art is a testament to fine craftsmanship and artistic tradition.
41. Navy Blue Raw Silk Racer Back Blouse with Hand Painted Tamara Poovu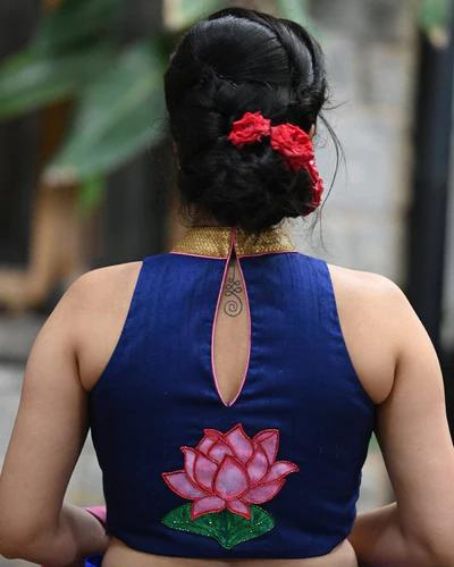 A navy blue racer-back blouse with hand-painted Tamara Poovu motifs strikes a balance between contemporary style and traditional artistry.
42. Forest Green and Black Hand Painted Kalamkari Sweetheart Neck Blouse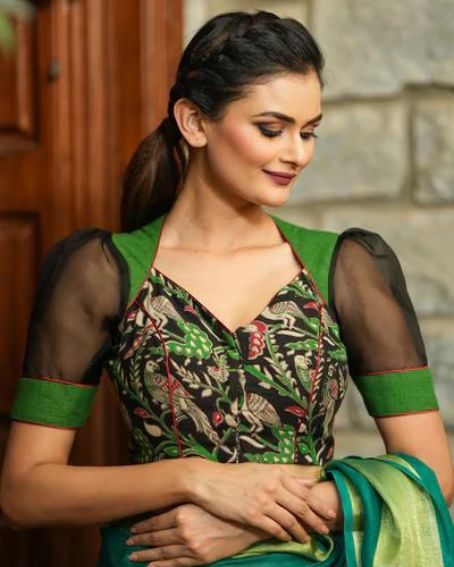 The forest green and black Kalamkari blouse with a sweetheart neck combines earthy colors and traditional patterns for an enchanting ensemble.
43. Madhubani Paintings Hand Painted Madhubani 'Vishnu Avatar'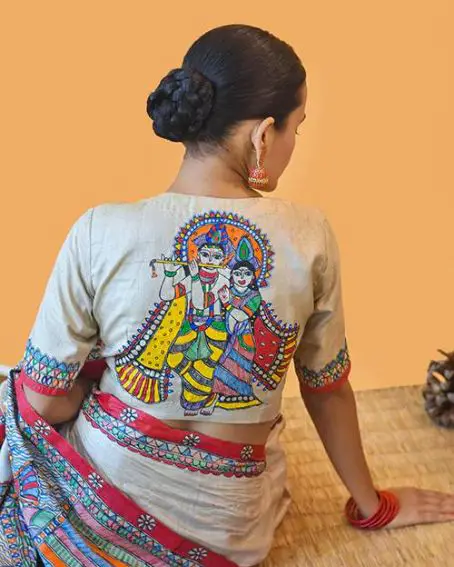 Hand-painted with a 'Vishnu Avatar' theme, this Madhubani blouse celebrates mythology and artistry, adding a spiritual touch to your attire.
44. Raas Leela Hand-painted Madhubani Tussar Silk Blouse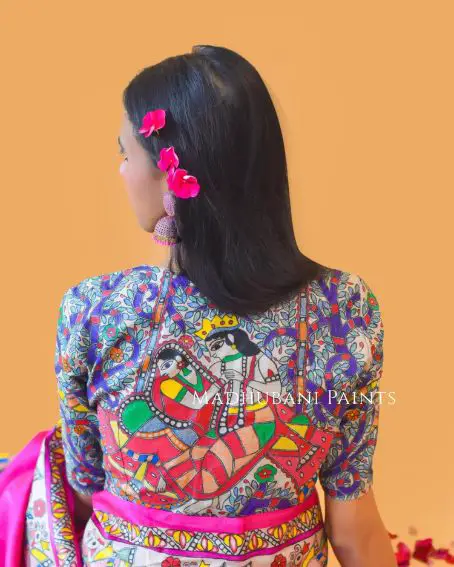 The Raas Leela-themed Tussar silk blouse, hand-painted with Madhubani art, tells a divine story through intricate designs and rich fabric.
45. Magenta Pink with Hand Painted and Embroidered Banthi Poovu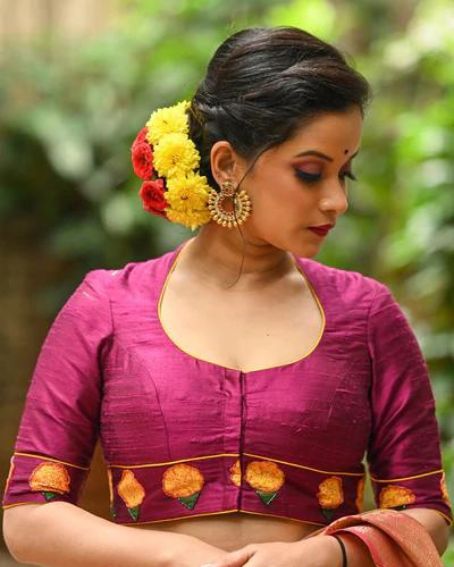 A magenta pink blouse adorned with hand-painted and embroidered Banthi Poovu motifs brings a splash of color and texture to your wardrobe.
46. Shilpa Shetty Kundra in Pink Leheriya Saree with Hand Painted Blouse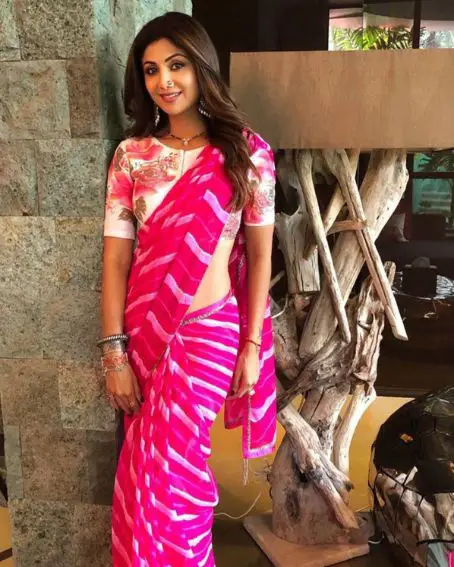 Shilpa Shetty Kundra's pink Leheriya saree with a hand-painted blouse combines celebrity style with artistic flair for a glamorous look.
47. Silk Madhubani Painting Blouse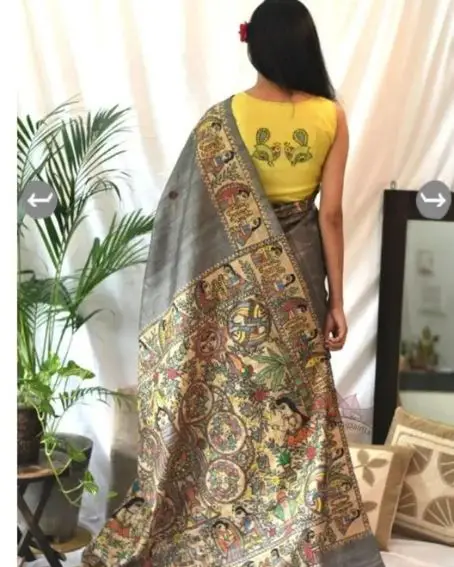 The silk blouse with Madhubani painting exemplifies elegance and tradition, making it a timeless addition to your collection.
48. Blue Beautiful Hand Painted Design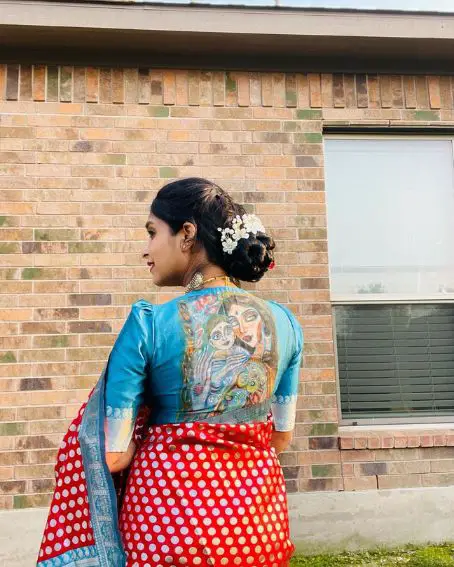 This blue blouse with beautiful hand-painted designs captures the essence of artistry and style in a single garment.
49. Beige Hand Painted Blouse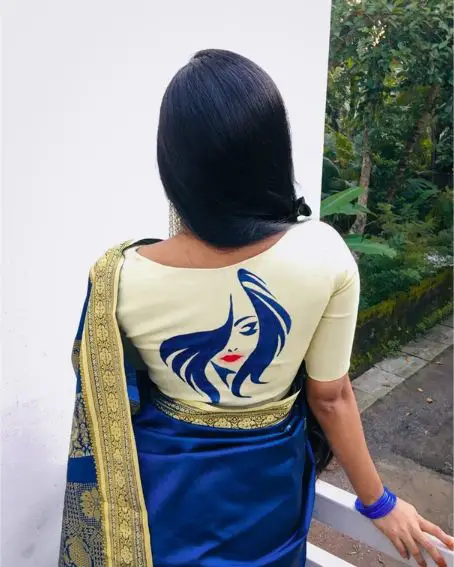 A beige hand-painted blouse offers a neutral canvas for intricate artwork, creating a versatile and elegant addition to your attire.
50. Fuchsia Bloom – Hand Painted Blouse Design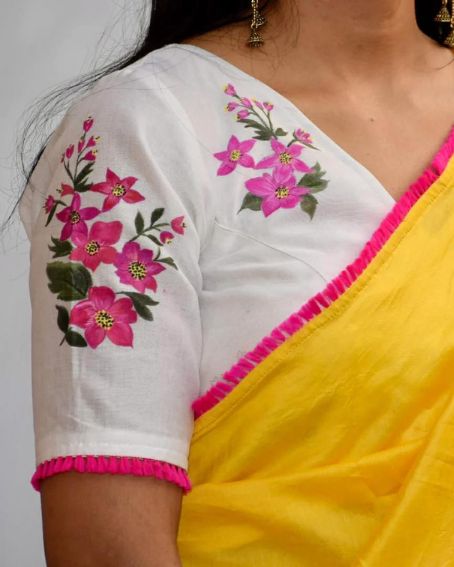 Once more, the "Fuchsia Bloom" hand-painted blouse presents a burst of vibrant pink, celebrating artistic floral designs for a colorful and fashionable statement.
Which Fabrics Used To Make Hand Painted Blouses?
Hand-painted blouses can be made from a variety of fabrics, but the choice of fabric often depends on personal preference and the type of paint or dye being used. Here are some common fabrics that are suitable for hand-painted blouses:
Cotton: Cotton is a popular choice for hand-painted blouses. It's breathable, comfortable to wear, and provides a smooth canvas for painting. It's also easy to maintain.
Silk: Silk blouses can be luxurious and are often chosen for special occasions. They have a beautiful sheen and can hold paint or dyes well. However, silk can be more delicate, so care is needed when washing and handling.
Linen: Linen is another breathable and comfortable fabric. It has a natural texture that can add a unique element to hand-painted designs. Linen blouses are great for casual wear.
Rayon: Rayon blouses can mimic the look and feel of silk but are often more affordable. They can be a good choice for a range of hand-painted designs.
Polyester: Polyester is a synthetic fabric that can be used for hand-painted blouses. It's durable and easy to care for, making it a practical choice.
Chiffon: Chiffon is a lightweight, sheer fabric often used for elegant and delicate designs. It can be a bit trickier to paint on due to its sheerness, but the results can be stunning.
Georgette: Georgette is another lightweight, semi-sheer fabric that can be used for hand-painted blouses, especially for more formal or semi-formal occasions.
Canvas: Some artists prefer to paint on a canvas fabric, which is a heavier, sturdy material. This is more common for artistic, one-of-a-kind, or statement pieces.
What Types Of Images Were Typically Painted On Blouses?
The types of images painted on blouses can vary widely depending on the culture, fashion trends, and personal preferences of the wearer. Here are some common types of images and designs that have been painted on blouses in different contexts:
Floral Patterns: Flowers, vines, and other botanical elements are popular choices for blouse designs. These can be realistic or stylized and may include a variety of colorful blooms.
Geometric Designs: Geometric patterns, such as stripes, checks, and abstract shapes, are often painted on blouses to create a modern and eye-catching look.
Animal Motifs: Some blouses feature images of animals, such as birds, butterflies, or exotic creatures, either in a realistic or artistic style.
Traditional or Cultural Patterns: In many cultures, blouses may be decorated with traditional or cultural motifs, which could include tribal symbols, motifs from indigenous art, or other meaningful designs.
Abstract Art: Some individuals may opt for abstract and contemporary art designs, which can be highly creative and personalized.
Personalized or Custom Designs: Many people choose to have custom images or designs painted on their blouses to express their individuality. These can range from personal messages to portraits of loved ones.
Religious or Spiritual Symbols: In some cases, religious or spiritual symbols and imagery may be painted on blouses as a form of personal expression or devotion.
Landscape or Scenic Imagery: Beautiful landscapes, seascapes, or other scenic imagery may be painted on blouses for an aesthetic appeal.
Text and Calligraphy: Some blouses feature words, phrases, or calligraphy, which could be inspirational quotes, names, or other text-based designs.
Pop Culture References: Blouses may also be painted with images or references to popular culture, such as movie characters, music icons, or famous artwork.
Traditional Embroidery: While not painting, traditional embroidery techniques are often used to embellish blouses with intricate patterns, designs, and motifs.
For Which Occasions Do Women Prefer To Wear Hand-painted Blouses The Most?
Hand-painted blouses are often chosen for a variety of occasions and events, depending on the style of the blouse, the cultural context, and the wearer's personal preferences. Here are some occasions and events where women may prefer to wear hand-painted blouses
Weddings: Hand-painted blouses are a popular choice for brides and bridesmaids, especially in traditional and cultural weddings. They can be customized to match the wedding theme and colors.
Festivals and Celebrations: Many women opt for hand-painted blouses during festive occasions, such as Diwali, Eid, Christmas, and other cultural or religious celebrations. These blouses may feature festive motifs or symbols.
Cultural and Traditional Events: Hand-painted blouses are often worn at cultural events, including traditional dances, ceremonies, and festivals. They can feature motifs and patterns specific to a particular culture.
Parties and Social Gatherings: Women may choose to wear hand-painted blouses to add a unique and artistic touch to their outfit for parties, social gatherings, and special events.
Art and Fashion Exhibitions: For events related to art or fashion, where creativity and style are celebrated, hand-painted blouses can be a way to showcase one's individuality and artistic taste.
Casual Outings: Depending on the design, hand-painted blouses can also be worn for casual outings, providing a touch of personal style to everyday wear.
Cultural Performances: Dancers and performers often wear hand-painted blouses as part of their costumes for cultural and artistic performances.
Special Anniversaries: Some women choose hand-painted blouses for special anniversaries or romantic dates to make the occasion more memorable.
Art and Craft Shows: When attending art and craft shows or exhibitions, women might opt for hand-painted blouses to support local artists and to align with the artistic theme of the event.
Summer and Beach Wear: Light, hand-painted blouses with beach-themed designs or vibrant summer patterns are suitable for vacations, beach outings, and other warm-weather activities.
At What Age Do Women Prefer Hand-painted Blouses The Most?
The preference for hand-painted blouses can vary among women of different ages. Some factors that might influence this preference include personal style, cultural background, and the specific occasion or event they're attending. While there is no strict age restriction for wearing hand-painted blouses, here are some general trends:
Young Adults and Teens: Younger women and teenagers often embrace hand-painted blouses as a way to express their individuality and stay on-trend. These blouses can be a popular choice for casual outings, college events, or parties.
Working Professionals: Women in their mid-20s to 40s may prefer hand-painted blouses for a creative and stylish twist to their work attire. These blouses can add a unique touch to business casual or smart-casual outfits.
Mature Women: Older women may also appreciate hand-painted blouses, particularly for special occasions such as family gatherings, weddings, or cultural festivals. They may opt for more sophisticated designs that suit their age and the formality of the event.
Art Enthusiasts: Women of any age with a passion for art and craftsmanship may choose hand-painted blouses as a way to support artists and showcase their appreciation for handcrafted pieces.
Conclusion
Hand-painted blouse designs add a unique artistic style to women's fashion. They come in various styles, from traditional to modern, influenced by personal preference, culture, and the occasion. These blouses are suitable for women of all ages, whether for everyday wear, work, or special events, showcasing individuality and supporting talented artists. They're a versatile and creative way to express oneself in women's fashion.