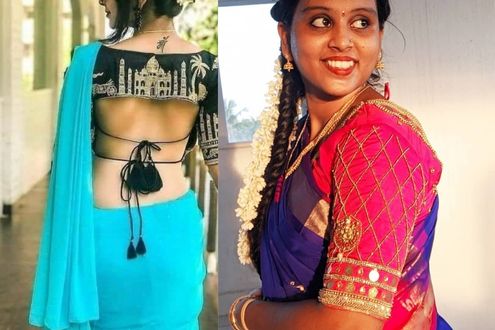 When most people plan an ethnic outfit around a saree, palazzo, or lehenga, the blouse is the essential component of the entire process. It acts as an element of the outfit and has the potential to pull the whole outfit together. The blouse offers all the freedom with various types of embroidery blouse designs, in fact, you can try to complement your wedding saree or bridal lehenga with the newest and most popular hand embroidery blouse designs. Hand embroidery blouse designs have several styles and varieties but picking a single one to be dressed in with your saree is a very difficult task. Check out the pile of photos and designs to discover your favorite hand embroidery blouse designs in this blog.
15 Best Hand Embroidery Blouse Designs
1. Layered Sleeve Embroidery Design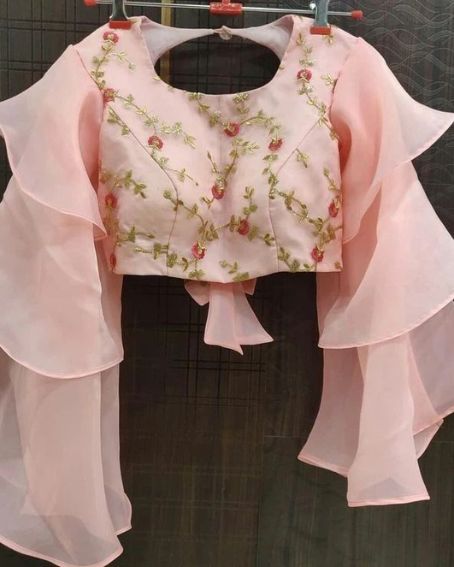 Layered sleeve embroidery designs are important among the blouse designs that are admired by most women everywhere. For weddings and other grand events, layered sleeves are very famous. There are various designs of layered sleeve embroidery is available and it is really hard to select the favored one.
2. Multicolor Sleeveless Hand Embroidery
This blouse looks rich and royal. It features beautiful hand embroidery work on the full blouse. It can be paired with sarees, plus size skirts as a crop top style to add beauty. This beautiful multicolor sleeveless embroidered blouse is suitable for the occasions like weddings and receptions.
3. Black And White Flower Leaf Blouse Design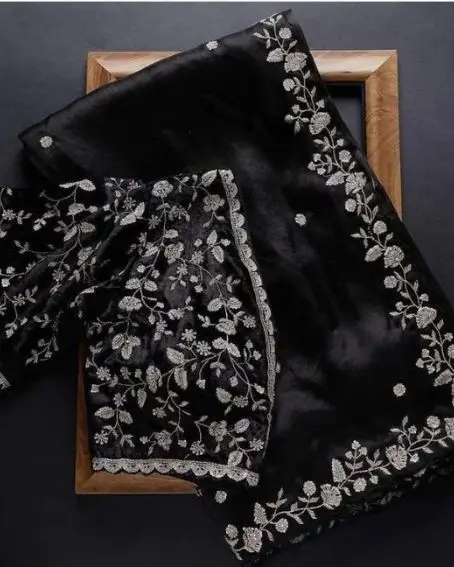 Black and white flower leaf embroidery is a beautiful designer blouse suitable for all types of sarees. It is stitched neatly and stretched to fit well as well as breathable, comfortable, easily washable, and easy to wear, specially designed for sarees.
4. High Neck Elbow Sleeve Hand Embroidered Design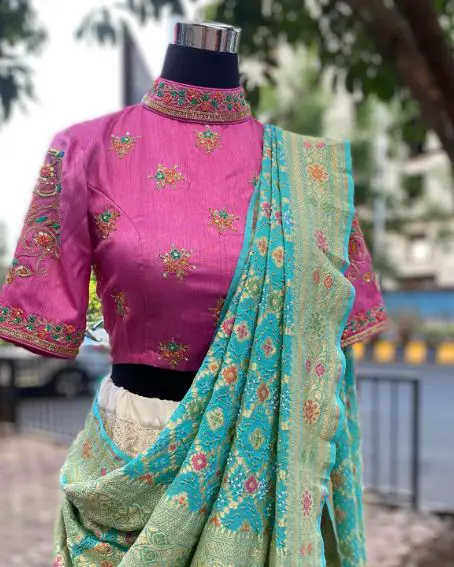 High neck elbow sleeve hand embroidered is an extraordinary fashion design. It can be created beautifully by professional people. High neck embroidery designs can be done only with proper practice and effort. With more training and good effort, a beginner can create this variety of designs very beautifully and easily.
5. Bridal Blouse With Lakshmi Pendants And Coins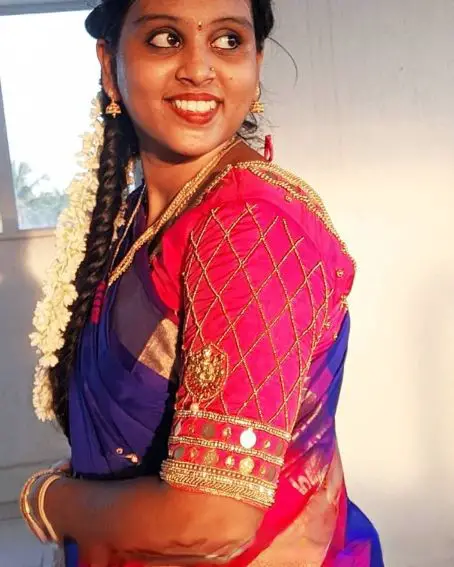 A bridal blouse with Lakshmi pendants and coins will really make any blouse you choose to look amazing. This type of blouse is suitable for all age groups of women as well as it can be worn with heavy sarees. If you are slim, then the blouse with Lakshmi pendants and coins designed is perfect for you.
6. Simple Thread Embroidery Blouse Design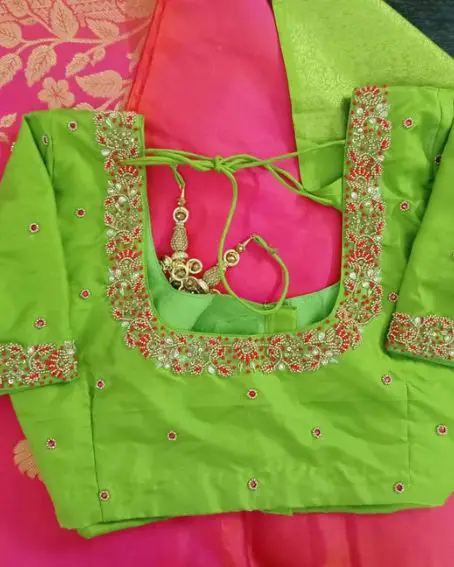 This simple thread embroidery elegant blouse design is the right choice for day or night parties as well as best paired with sarees or lehengas. Thread embroidery work adds more beauty to this blouse. Its entire work and exclusive design provide the look of gorgeous sexy vibrant.
[ Read: 25 Latest Lehenga Sarees with Blouse Designs ]
7. Green Hand Embroidery With Puff Sleeve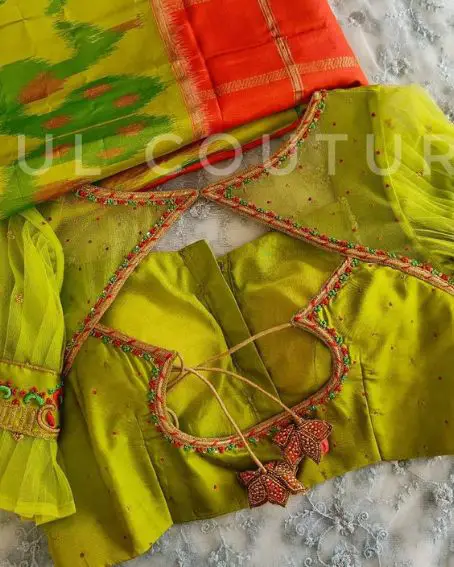 Green hand embroidery with puff sleeves is great when wearing with its suitable saree, whether heavy or designer saree. This green embroidery blouse has a beautiful look with tiny red and parrot green embroidered on the neck and hand. It also has unique embroidery designs on the puff hands.
8. Bridal Look Hand Embroidery Design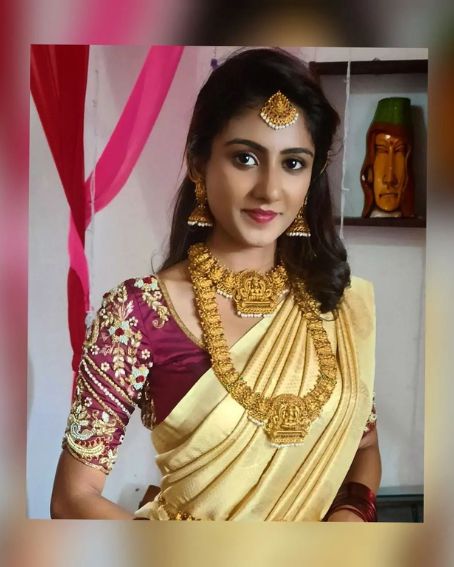 This Bridal hand embroidery design is something you have never seen before. When paired with a beautiful jewel give you a ravishing look. This embroidery bridal blouse can be matched with sarees like silk, chiffon, georgette, etc. It is also suitable for occasions like day and night parties.
9. Pink Heavy Embroidery Handwork Design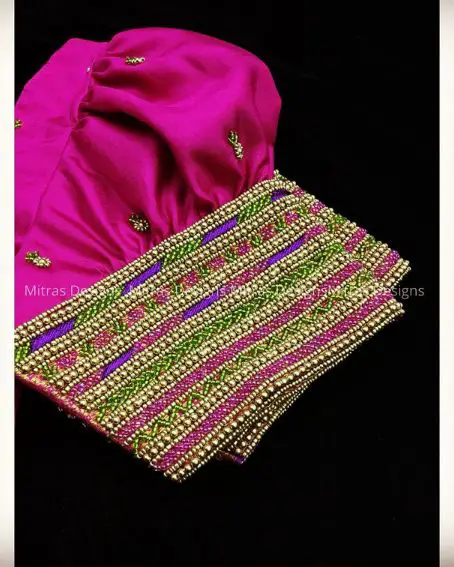 You can get a wide range of designs and patterns in embroidery handwork design Blouses. Pink embroidery intricate designs with heavy gold beads render a stunning appearance. This beautiful blouse looks great and attractive when paired with a cotton saree.
10. Fully Customized Blouse Design With Coins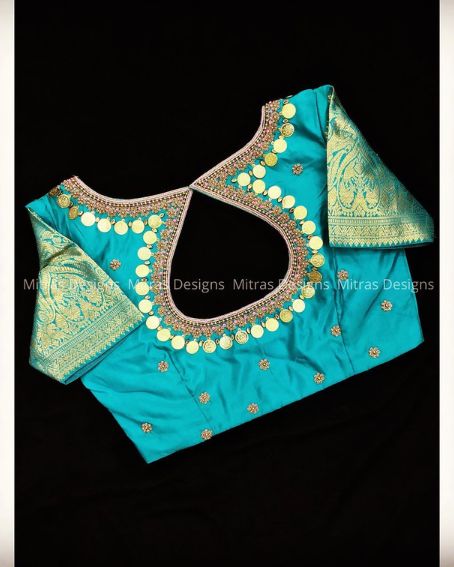 This is a unique blouse that comes with an amazing embroidery design. If you want to show embroidery work on your blouse, you may go for a fully customized embroidery blouse design with coins to get a mesmerizing look. This simple embroidery blouse is highly recommended for slim physique women.
11. Floral Neckline Hand Embroidery Blouse Design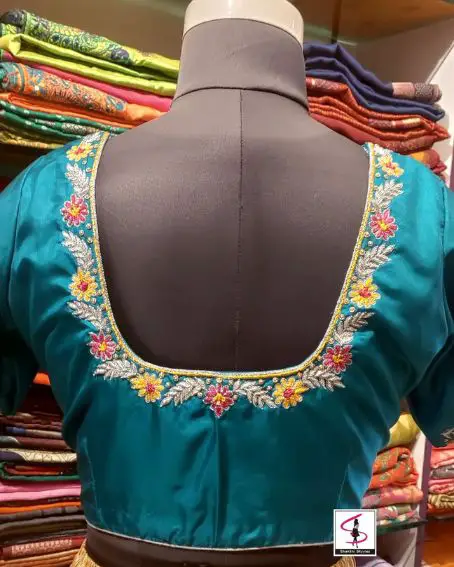 A trendy floral neckline hand embroidery blouse is a simple yet beautiful design. The blouse has a cute floral neckline, which bestows an elegant appearance when paired with a grand saree and it is highly suitable for any special occasion.
12. Peacock Embroidery Design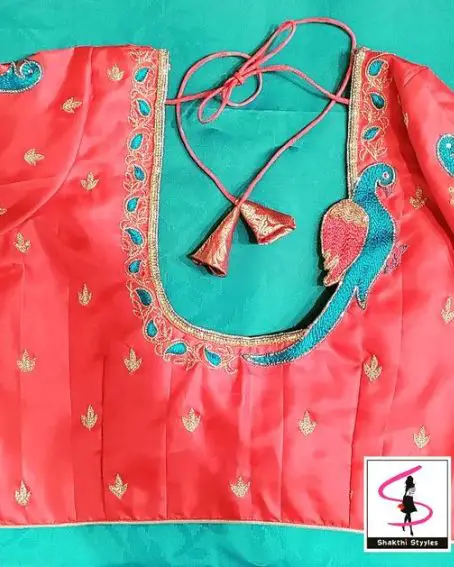 If you are a bride or planning to attend a wedding, all eyes are sure to fall on you when you wear this intricately embroidered blouse. This peacock embroidery blouse, when worn with a wedding saree, will give you the unique and amazing charm you've been looking for in your wedding ceremony.
13. Tajmahal Embroidery Blouse With Double Back Knot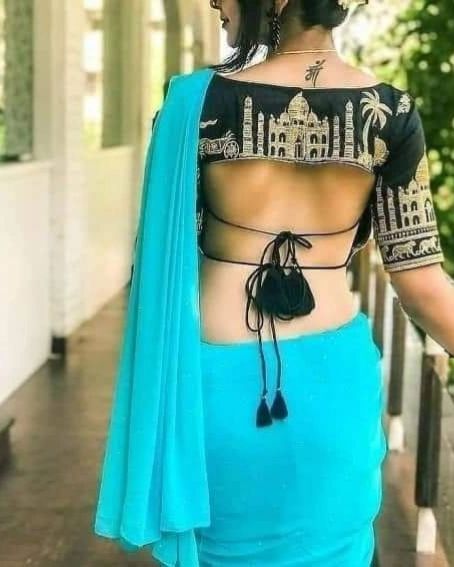 Tajmahal embroidery blouse with double back knot has an exquisite embroidery design. As you all know black is perfect for any type of sarees, and this black Tajmahal embroidery won't cheat you if you wear it for any evening party. This will be a wonderful outfit for women who like to wear a trendy blouse with sarees.
14. Net Back Beautiful Embroidery Design With Beads On The Edge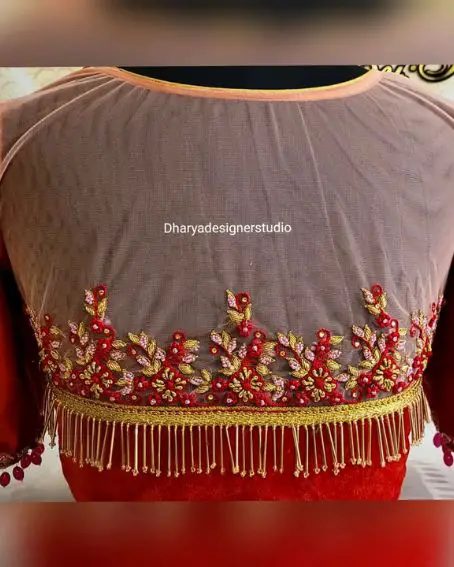 This netback beautiful embroidery design with beads on the edge is loaded with a modern look and it is fitting for the one who likes to be a fashionista. Supernet sarees have a charming design with beads giving alluring look overall. When it comes to colors, the black and red net blouse is the most popular.
15. Hand Embroidery Design With Front Keyhole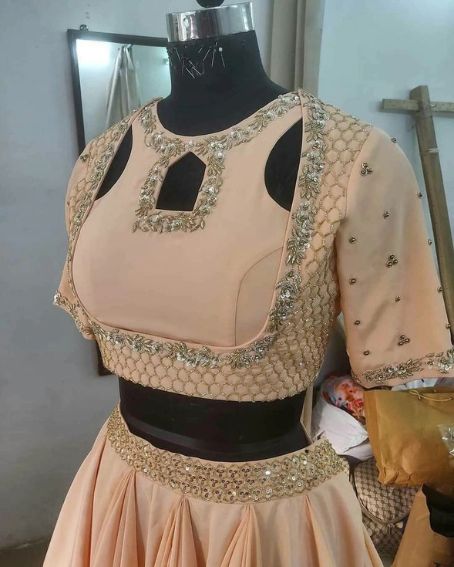 Hand embroidery design with a front keyhole is very popular among women. Pairing a blouse with its suitable saree renders a chance to look neat and classic and it is a favorite choice for many ladies. This pair is suitable for the occasions like day events, day, and night parties.
You Might Also Like:
Images: 1,2,3,4,5,6,7,8,9,10,11,12,13,14,15