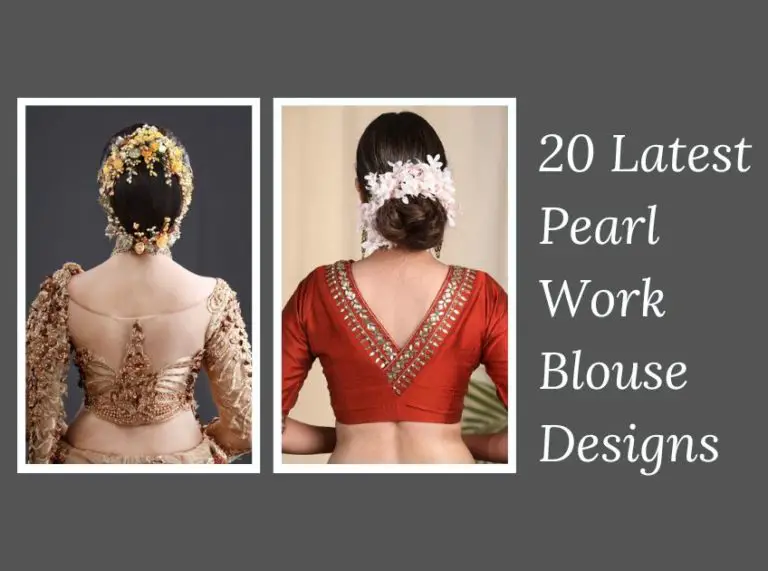 Pearl back blouse designs are not just pieces of clothing; they are expressions of your personality, your style, and your inner grace. These designs take the concept of blouses to a whole new level, transforming them into works of art that enhance your overall look. With pearls adorning the back, these blouses are unique in their appeal, making them stand out from the crowd of ordinary designs. Trendy options like pearl straps or tassels offer youthful charm for young girls and women, perfect for casual outings or fun events
20 Latest Pearl Work Blouse Designs
1. Luxurious Wedding Netted Bridal Pearl Work Blouses in Lemon Green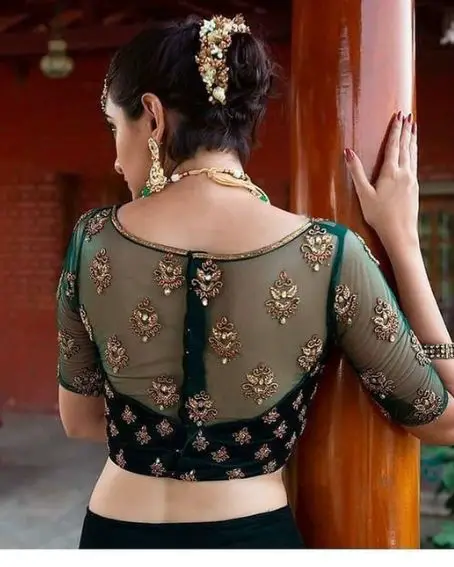 The Lemon Green Pearl Work Bridal Blouse is a testament to how pearls can elevate any outfit. The delicate netted design adorned with pearls creates a luxurious and sophisticated look, perfect for a bride's big day. A luxurious wedding blouse with pearl work in lemon green can be a stunning choice for teenagers, young girls, and women who want to make a fashionable statement at a wedding or any special occasion.
2. Women's White Pearl Blouse Design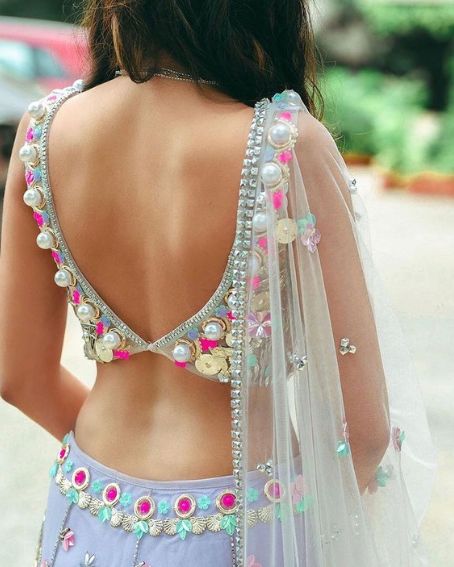 The Women's White Pearl Blouse Design is a prime example of how simplicity can be adorned with elegance. The pearls accentuating the back of the blouse add a touch of opulence to an otherwise modest design.
3. Beige Color Stone Work Blouse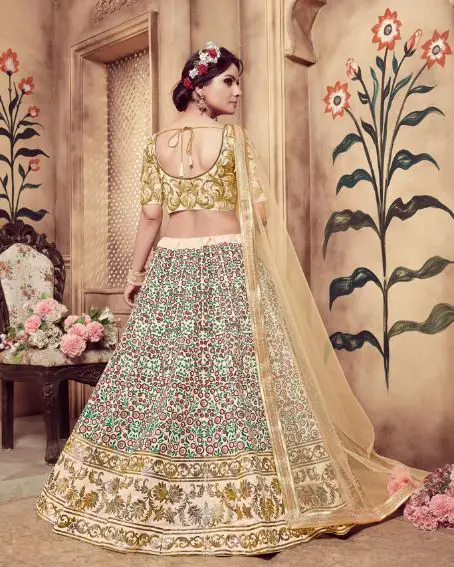 A beige color stone work blouse can be a versatile and elegant choice for teenagers, young girls, and women. The pairing of pearls and stones creates a captivating texture that's both modern and timeless.
4. Embroidery and Stone Work Bridal Designer Blouse in Rose Color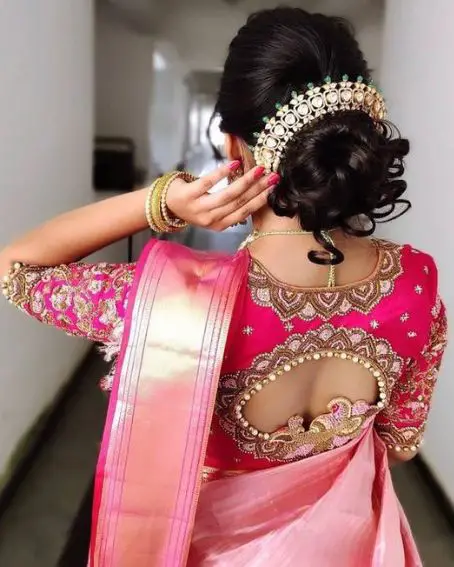 The Rose Color Bridal Designer Blouse masterfully marries embroidery, stones, and pearls. The delicate placement of pearls amidst intricate designs showcases the fusion of traditional artistry with contemporary elements.
5. Back Neck Design Bridal Blouse with Stone and Embroidered Work in Orange Color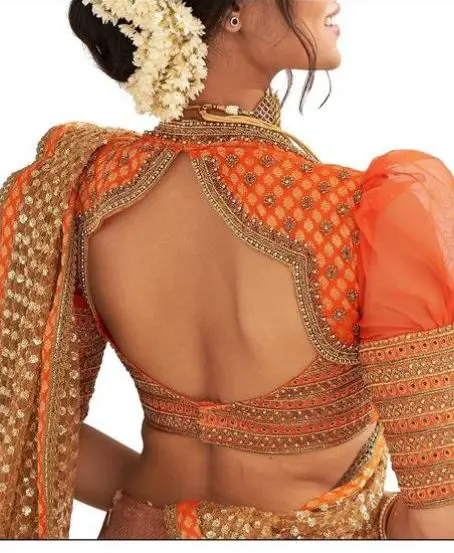 In the Back Neck Design Bridal Blouse, pearls add a touch of grandeur to the elaborate stone and embroidered work. The pearls infuse an air of sophistication into the vibrant orange blouse.
6. Navy Blue Blouse with Pearl Design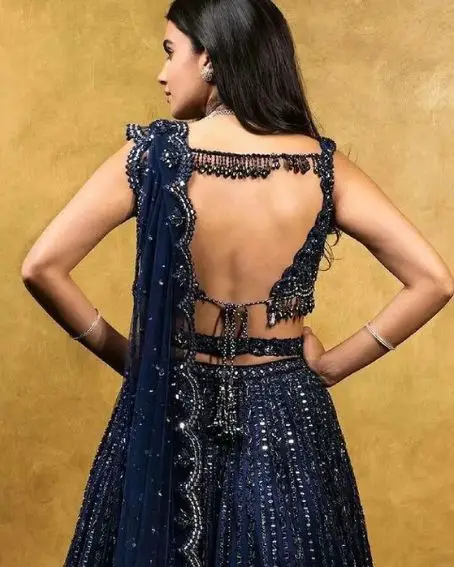 The Navy Blue Blouse with Pearl Design is a true embodiment of elegance. The understated blue hue acts as the perfect canvas for the pearls to shine, making a statement without being overpowering.
7. Pearl Work Luxurious Wedding Netted Bridal Blouses in Light Sandal Color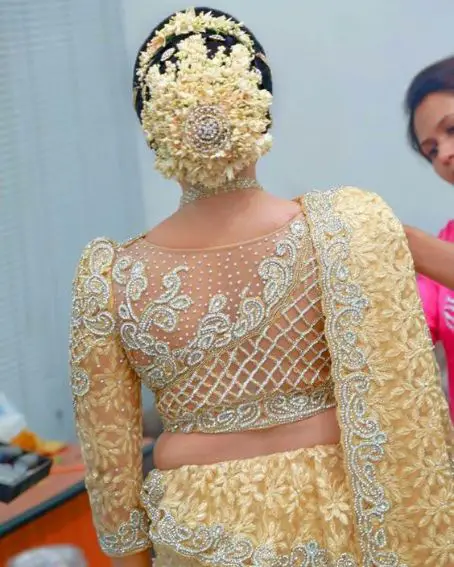 The Light Sandal Color Pearl Work Bridal Blouse showcases the versatility of pearls. Set against a sandal-colored backdrop, the pearls elevate the blouse's allure, making it fit for a wedding extravaganza.
8. Party Wear Maroon Pearl Work Blouse with Front & Back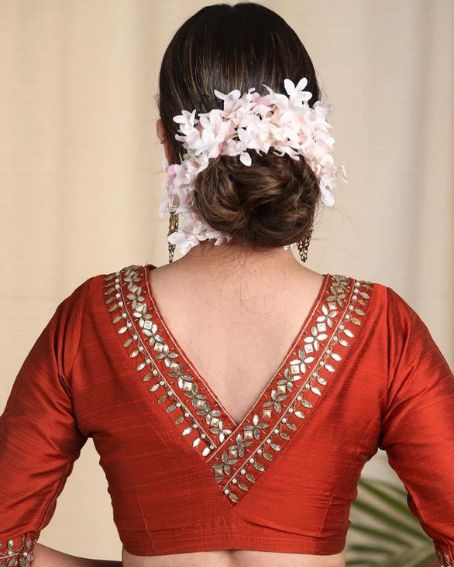 A maroon pearl work blouse with front and back detailing can be a stunning choice for both young girls and women when it comes to party wear. This type of blouse can add elegance and style to various traditional and semi-formal outfits, such as sarees, lehengas, or even skirts..
9. Beautiful Bridal Blouse Golden Stone Work Designs in Gold Color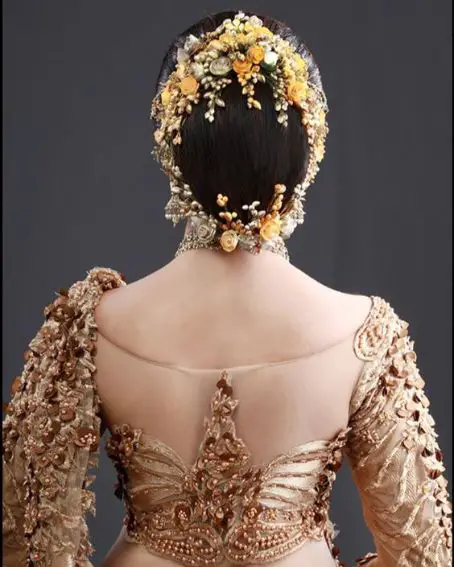 The Beautiful Bridal Blouse in Gold Color radiates opulence. Golden stones and pearls coalesce to create a bridal masterpiece that captures the essence of timeless beauty.
10. Pearl Embroidered Maroon Art Dupion Silk Blouse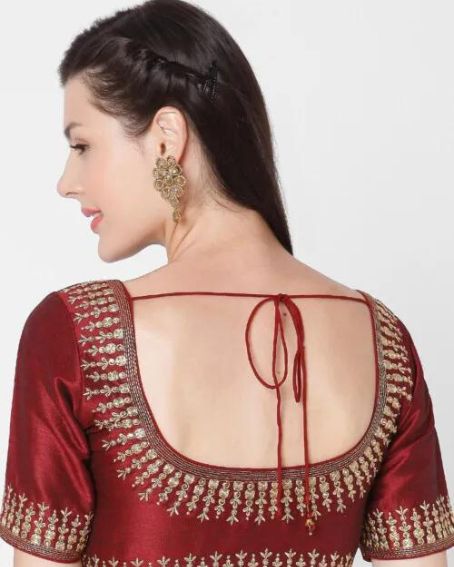 Maroon Art Dupion Silk Blouse, adorned with embroidered pearls, exemplifies the regal charm of pearls. The intricate patterns of pearls on silk create a mesmerizing visual effect.
11. Red Pearl Work Designer Blouse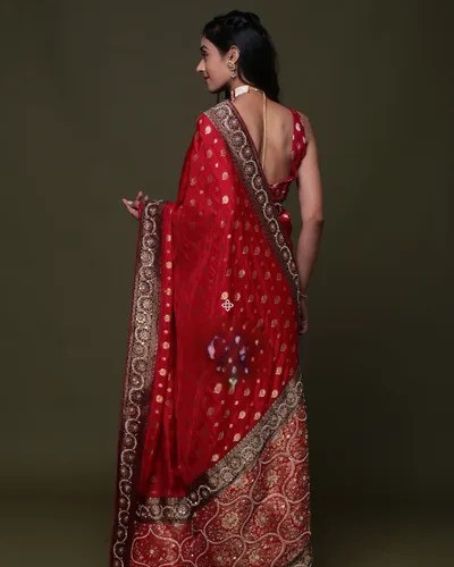 The Red Pearl Work Designer Blouse speaks volumes about the allure of simplicity. The red hue coupled with subtle pearl detailing makes for an elegant yet understated statement piece.
12. Pink and Dark Green Maggam Work Aari Work Handmade Saree Blouse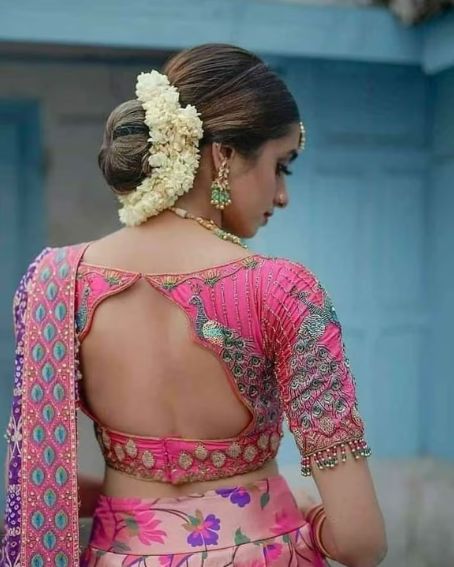 The Pink and Dark Green Maggam Work Aari Work Handmade Saree Blouse showcases the intricate craftsmanship of maggam and aari work combined with pearls, adding texture and charm.
13. Pearl Work Blouse Back Embroidered Work Design in Red Color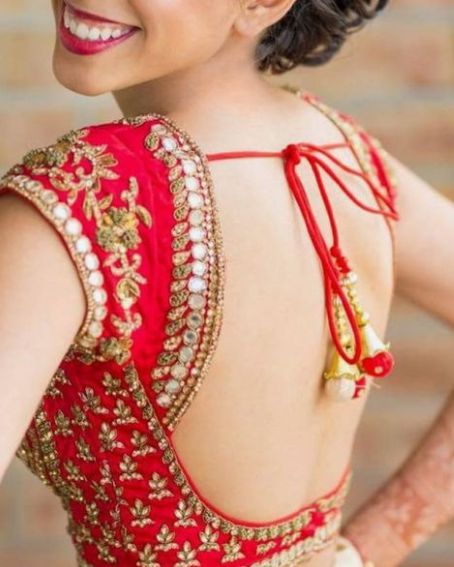 The Red Pearl Work Blouse with Embroidered Design strikes a perfect balance between minimalism and luxury. The placement of pearls enhances the blouse's appeal without overwhelming its design.
14. Pearl Netted & Thread Work Bridal Blouses in Dark Green Color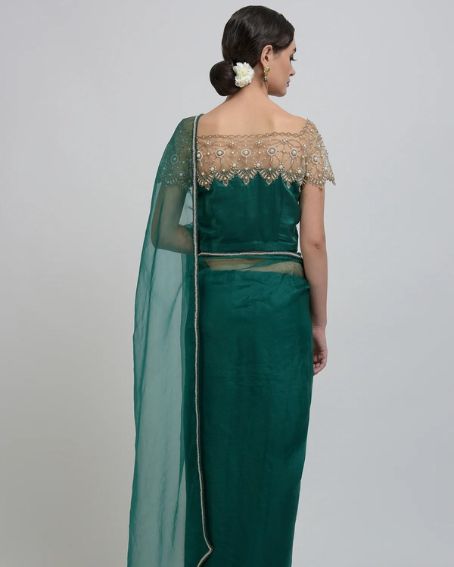 The Dark Green Bridal Blouse, featuring pearl netted and thread work, embodies the rich heritage of Indian craftsmanship. Pearls seamlessly complement the intricate thread patterns.
15. Bridal Blouses Stone and Embroidered Work Design in Green Color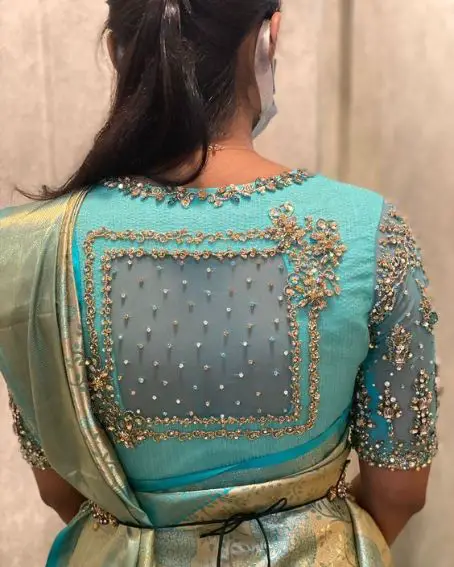 The Green Bridal Blouse embellished with stones and pearls is a true masterpiece. The harmonious blend of traditional motifs and pearls creates an ensemble fit for a royal wedding.
16. Pearl Work Netted Bridal Blouse Gold Flower Design in Gold Color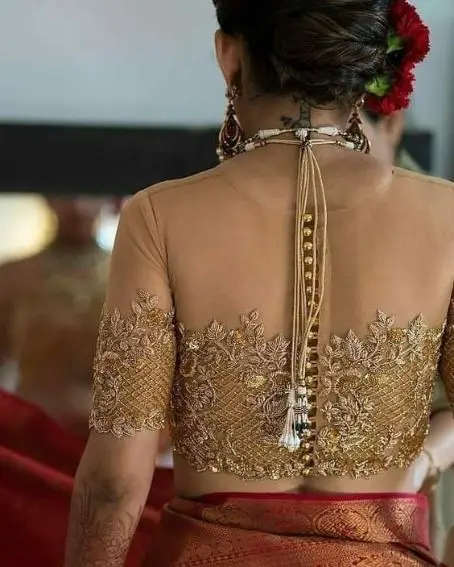 The Gold Flower Design Bridal Blouse adorned with pearls is a symphony of artistry. The delicate placement of pearls mimicking floral patterns adds a touch of romance to the design.
17. Lavender Multi-Color Cut-Work Back Elasticated Blouse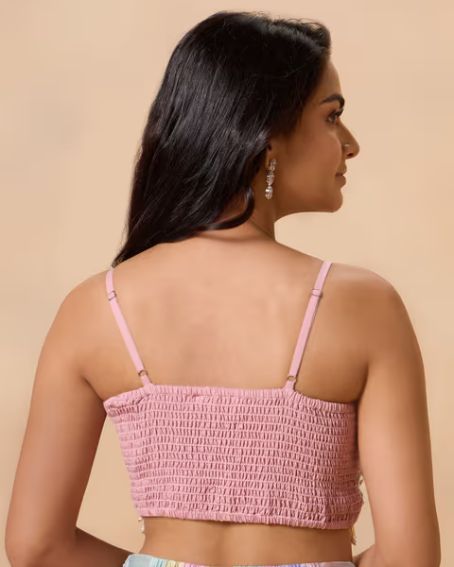 The Lavender Cut-Work Back Elasticated Blouse introduces pearls in a modern context. The cut-work design is given a sophisticated twist with the addition of pearls. It  is a stylish blouse designed for young girls and women.
18. Unique Bridal Blouse Back Designs with Pearls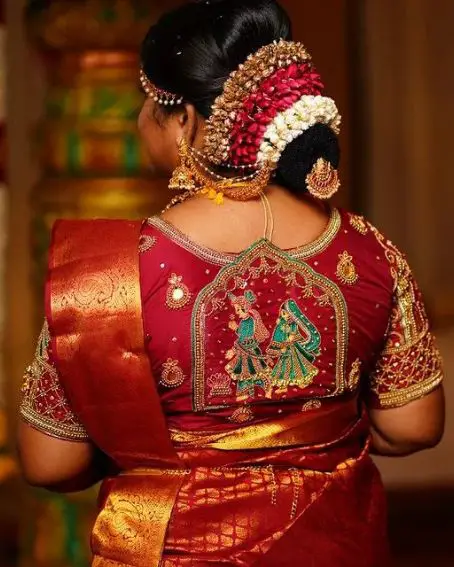 The allure of unique designs is evident in the Bridal Blouse Back Designs with Pearls. Each design showcases the creative potential of combining pearls with innovative blouse patterns.
19. Trending Back Embroidered Work Designer Blouses in Red Color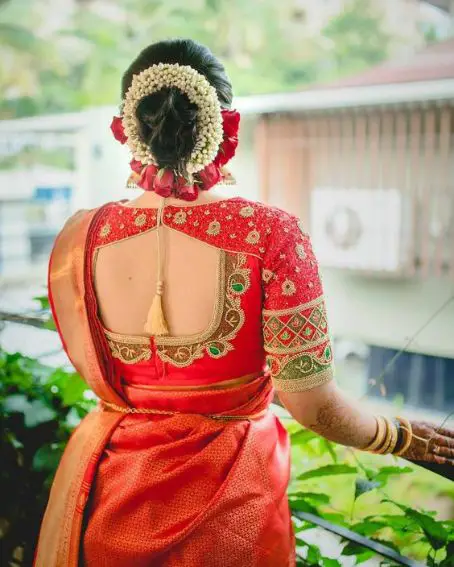 Trending Back Embroidered Work Designer Blouses in Red Color feature pearls as a focal point.   This design trend adds an element of surprise and luxury to the back of the blouse.
20. Maroon Work Blouse With Pearl Blouse Design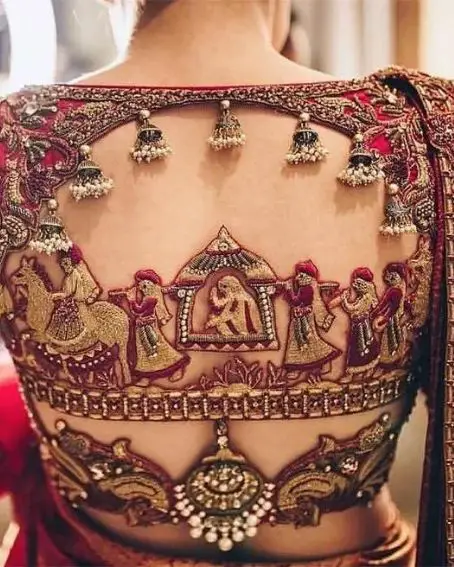 The Maroon Work Blouse with Pearl Design is a perfect harmony of color and texture. The pearls  enhance the rich maroon hue, creating an exquisite and fashionable look.
What Are the Features of Pearl Work Blouse Designs?
Pearl back blouse designs often combine pearls with embroidery, sequins, beads  or other embellishments. This fusion adds texture and depth to the blouse, making it   visually appealing.

Tassels adorned with pearls can be added to the back of the blouse for a playful and stylish look. These tassels can hang from the back neckline or dangle from the lower edges of the blouse.

Pearl back blouses come with various neckline options, such as boat neck, round neck, sweetheart neckline, and V-neck. The pearls can be used to outline the neckline or create intricate patterns within it.

Cutout designs on the back are quite popular in modern pearl back blouse designs. These cutouts can be in various shapes like keyholes, teardrops, or geometric patterns, with pearls accentuating the edges.

Pearl back blouse designs can be customized to suit individual preferences. You can work with a designer to choose the placement, density, and arrangement of pearls based on your outfit and personal taste
Is "Unique in Comparison" a distinctive concept or quality?
Pearl blouse designs can be unique in various ways, depending on the creativity and craftsmanship of the designer. Here are some ways in which pearl blouse designs can stand out as unique:
Placement and Pattern: The way pearls are placed on the blouse can create unique patterns and designs. Whether they are arranged in a specific motif, scattered randomly, or follow a particular sequence, the placement of pearls can significantly impact the overall look of the blouse.
Intricate Embellishments: Unique pearl blouse designs often involve intricate embellishments that combine pearls with other elements such as beads, sequins, crystals, or embroidery. These combinations can result in captivating and multifaceted designs.
Color Contrast: Playing with the contrast between the color of the blouse fabric and the pearls can create a unique visual effect. For instance, white pearls on a dark-colored blouse or colored pearls on a light-colored blouse can add an eye-catching dimension to the design.
Innovative Necklines and Back Designs: Unique pearl blouse designs can feature innovative necklines and back designs that incorporate pearls. This could include halter necks, keyhole backs, crisscross patterns, or pearl-adorned straps.
Combination with Other Fabrics: Mixing pearls with different fabrics, such as lace, velvet, or sheer materials, can result in distinctive and textured designs that stand out.
Layering and Dimension: Layering pearls in different sizes and lengths can add depth and dimension to the blouse design. This layering effect can create a unique tactile and visual experience.
Personalized Details: Adding personalized elements such as monograms, initials, or specific motifs that hold meaning to the wearer can make the pearl blouse design truly unique and special.
Innovative Closures: Unique pearl blouse designs can feature creative closures, such as pearl-studded buttons, ties, or even concealed closures that maintain a seamless pearl-adorned appearance.
Cultural and Historical Influences: Incorporating cultural or historical elements into the design can result in a unique blouse that tells a story or pays homage to a particular heritage.
Ultimately, the uniqueness of a pearl blouse design lies in the designer's ability to combine pearls with other design elements in a fresh and innovative way, creating a garment that stands out and captures attention.
When Can We Prefer These Pearl Blouse Designs?
Pearl blouse designs can be a great choice for various occasions, as their elegance and versatility allow them to complement different types of events. Here are some occasions where you might consider opting for pearl blouse designs. Younger girls and teenagers  might have different style preferences compared to adult women. Some younger individuals may prefer more trendy and modern designs, while others may appreciate classic and elegant styles with pearls
Weddings: Whether you're the bride, a bridesmaid, or a guest, pearl blouse designs can add a touch of sophistication to wedding attire. They work well for both traditional and contemporary wedding ceremonies.
Formal Parties: Pearl blouses are ideal for formal parties, galas, and black-tie events. They bring a refined and upscale look that suits the dress code of such occasions.
Anniversary Celebrations: Celebrate special milestones in style with pearl embellished blouses. Anniversaries often call for a more polished and elegant appearance, making pearls a fitting choice.
Cocktail Receptions: For cocktail parties and evening receptions, pearl blouses can help you achieve an alluring yet graceful look. Their subtle shimmer stands out under ambient lighting.
Cultural and Religious Events: Pearls hold cultural significance in various traditions. If you're attending cultural or religious events, a pearl blouse can pay homage to the traditional values associated with pearls.
Award Ceremonies: When you're attending award ceremonies, conferences, or recognition events, a pearl blouse can project professionalism and confidence.
High-End Dinners: Pearl blouses are appropriate for upscale dinners at fine dining establishments or private clubs. They enhance your overall appearance in a refined setting.
Charity Galas: Charity events often involve dressing up to show support for a cause. Pearl blouse designs convey elegance and a sense of caring for the occasion.
Fashion Shows: If you're attending fashion-related events, a pearl blouse can showcase your style awareness and appreciation for classic fashion elements.
Graduations: Graduation ceremonies and related events call for a slightly more polished appearance. A pearl blouse can be a tasteful choice for these moments.
Holiday Parties: During festive seasons like Christmas and New Year's, pearl blouses can be a festive yet elegant addition to your wardrobe. A pearl-back blouse design for young girls, teenagers, and women, it's essential to consider factors such as age, personal style, and the occasion for which the blouse will be worn. Pearls can add a touch of elegance and sophistication to a blouse, but the design should also align with the wearer's preferences and the overall outfit.
Corporate Events: For company gatherings, product launches, and networking events, a pearl blouse can help you make a lasting impression with its refined aesthetics.
Engagement Parties: If you're celebrating an engagement, a pearl blouse can symbolize the beginning of a new chapter in a sophisticated way.
Bridal Showers: Pearl blouses can be an excellent choice for bridal shower events, as they offer a gentle and feminine touch that's well-suited for such occasions.
Tea Parties: For more quaint and charming events like tea parties, pearl blouses can add to the overall vintage and graceful atmosphere.
Remember that the appropriateness of a pearl blouse design for a specific occasion can also depend on the color, style, and embellishments of the blouse. It's essential to consider the overall theme and tone of the event when choosing your outfit.
"What Are Some Special Designs for Bridals?"
Certainly, there are numerous pearl blouse designs for brides that can add an elegant and timeless touch to their bridal outfits. Pearls are often associated with sophistication and grace, making them a popular choice for bridal wear. Here are a few pearl blouse design ideas for brides:
Classic Pearl Embellishments: A classic approach involves using pearls as embellishments on the blouse. You can have pearls intricately hand-sewn onto the blouse in patterns like vines, florals, or scattered designs. This adds a touch of luxury without being overpowering.
Pearl Neckline and Sleeves: Pearl necklines and sleeves can be incorporated into clothing for teenagers, young girls, and women of various age groups to create stylish and elegant looks. A high neckline with delicate pearl embroidery can create a regal look, while pearl-trimmed sleeves can add a subtle shimmer.
Pearl Button Back: Replace traditional fabric buttons with small pearl buttons for a delicate and sophisticated back detailing. This can be a great addition to blouses with sheer fabric or low back designs.
Pearl Choker Collar: Create a choker-style collar using pearls, which can give a modern yet elegant twist to your blouse. This design can work particularly well with off-shoulder or sweetheart neckline blouses.
Pearl Work on Sheer Fabric: If you're opting for a sheer or net blouse, consider having pearls embellished directly onto the sheer fabric. This can create an ethereal and floating effect.
Pearl Tassels: Incorporate pearl tassels along the back or sides of the blouse for a unique and eye-catching detail. These tassels can add movement and visual interest to the outfit.
Pearl Borders: Add a border of pearls along the edges of the blouse, such as the hemline, neckline, and sleeves. This can create a polished and finished look.
Pearl Motifs: Design pearl motifs like flowers, paisleys, or intricate patterns on the blouse. These motifs can be strategically placed to enhance the overall bridal look.
Pearl and Lace Combination: Combine pearl embellishments with delicate lacework for a romantic and vintage-inspired blouse design.
Pearl Cluster Embroidery: Create clusters of pearls in different sizes for a rich and textured look. This design works well on blouses with a simple base fabric.
Remember to choose a design that complements your overall bridal attire and personal style. Whether you're looking for a traditional, contemporary, or fusion bridal look, there's a pearl blouse design that can perfectly match your vision. It's a good idea to consult with a skilled bridal designer or tailor who can bring your ideas to life and ensure a flawless finish.

The Pearl blouse design elegantly captures the essence of timeless beauty and sophistication. The delicate placement of pearls adds a touch of opulence to the blouse, creating a harmonious balance between classic and contemporary aesthetics. Whether worn as a statement piece for formal occasions or to elevate everyday attire, the Pearl blouse design is sure to exude charm and grace. Its versatile nature and exquisite detailing make it a must-have for those seeking a refined and luxurious wardrobe staple. Embrace the allure of pearls and embrace the Pearl blouse design as a symbol of refined elegance and enduring style.
Related Articles