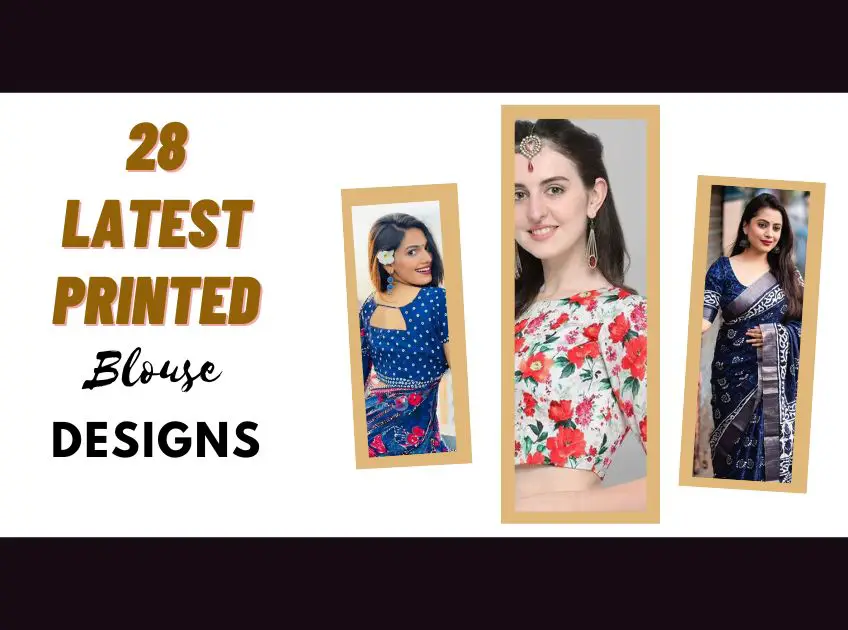 A blouse is a blouse that has a printed design on it. The design can be anything from florals to geometric patterns to abstract designs. Printed blouses are a great way to add some personality to your outfit. They can be dressed up or down, depending on the occasion. Printed design blouses can be worn for a variety of occasions, depending on the design, fabric, and overall aesthetic of the blouse.
28 Latest Printed Blouse Designs
1. Green Color Printed Design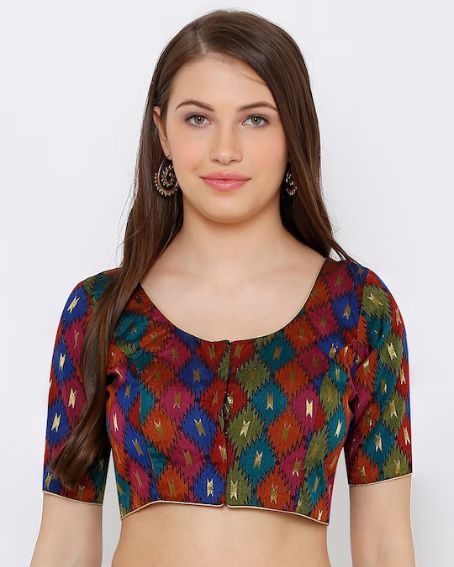 A vibrant green printed design adds a refreshing touch to your outfit, elevating your style with its eye-catching patterns and shades of green.
2. Geometric Printed Saree With Blouse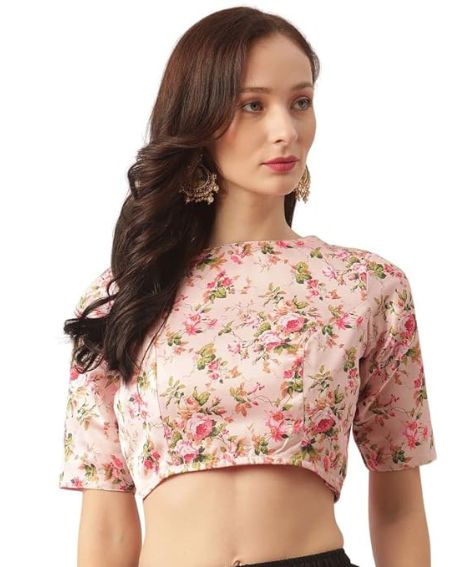 Embrace modernity with a geometric-printed saree and matching blouse. This chic ensemble showcases bold shapes and lines for a trendy look.
3. Ethnic Motifs Foil Printed Square Neck Cotton Saree Blouse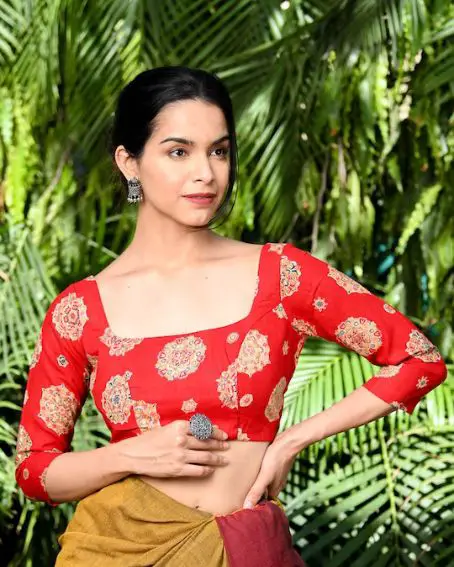 This cotton saree combines the best of both traditional and modern styles. It features shiny ethnic patterns printed on it. The blouse with a square neck goes perfectly with the saree, giving it a classy look. Women, young girls, and teenagers can all enjoy wearing this elegant outfit.
4. Red Printed Round Neck Saree Blouse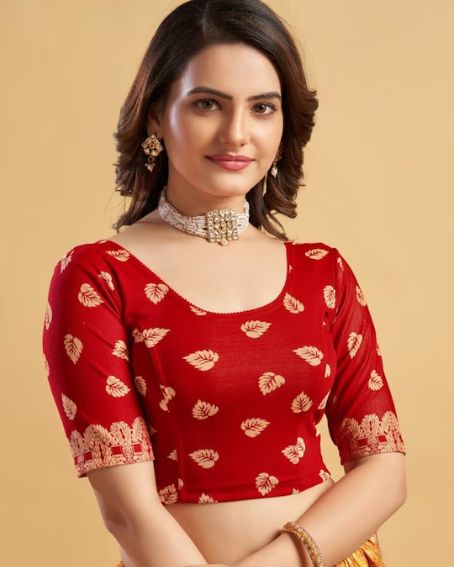 Show your confidence by wearing a red printed saree blouse with a round neckline. This timeless option adds charm and pairs well with different types of sarees. It's a great choice for women, young girls, and teenagers alike.
5. Tie Dye Print Boat Neck Saree Blouse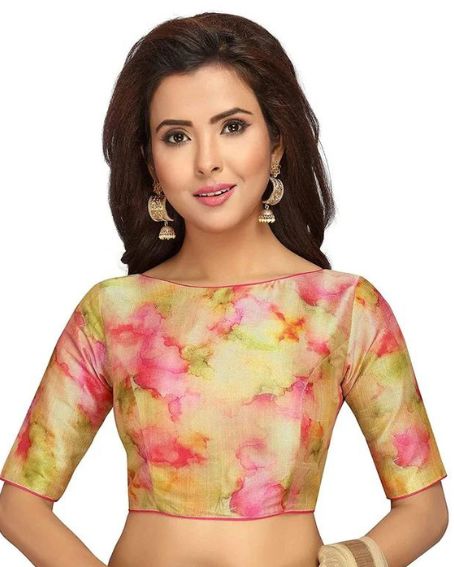 Get an artistic edge with a tie-dye print boat neck saree blouse. The blend of colors and patterns creates a unique and bohemian-inspired look.
6. Multi Color Georgette Printed Saree With Blouse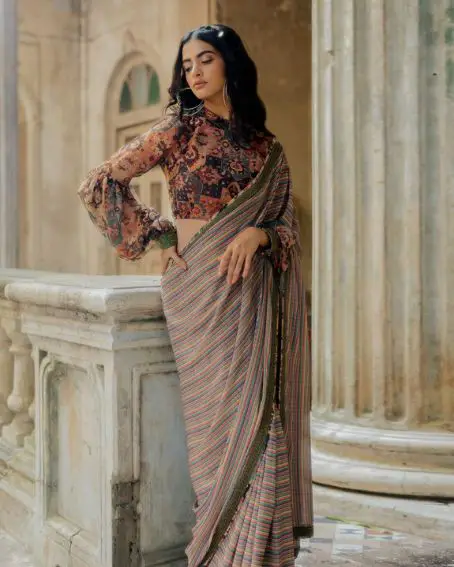 Drape yourself in a multi-color georgette saree with a matching blouse. This ensemble is a burst of colors, perfect for festive occasions.
7. Multi Color Floral Pattern Saree With Printed Blouse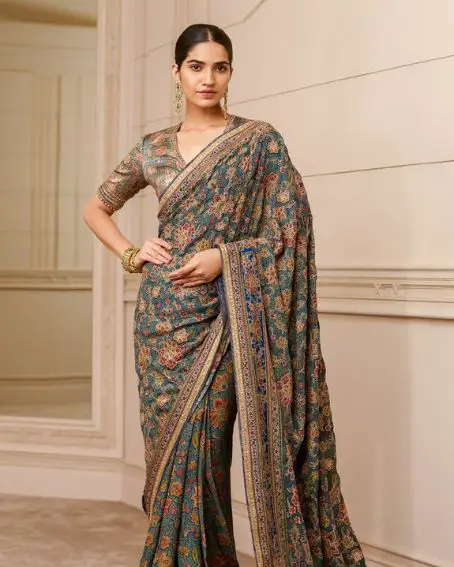 Experience the beauty of florals in a multi-color saree with a printed blouse. The floral pattern adds a touch of nature's charm to your attire.
8. Pure Soft Georgette Printed Saree with Mirror Work – Maroon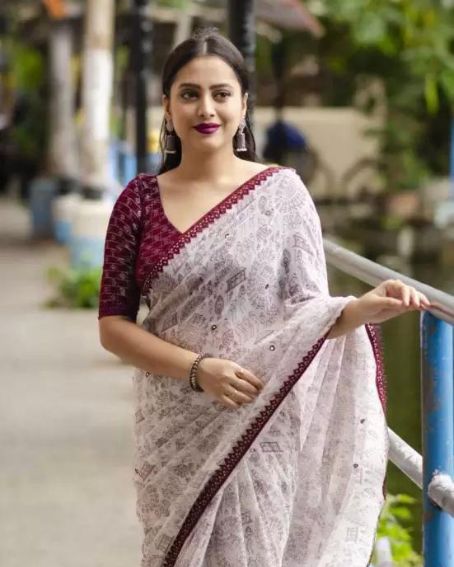 Elegance meets sophistication in a maroon georgette saree with intricate mirror work. This saree exudes grace and is perfect for special occasions.
9. Blue Raw Silk Printed Saree With Blouse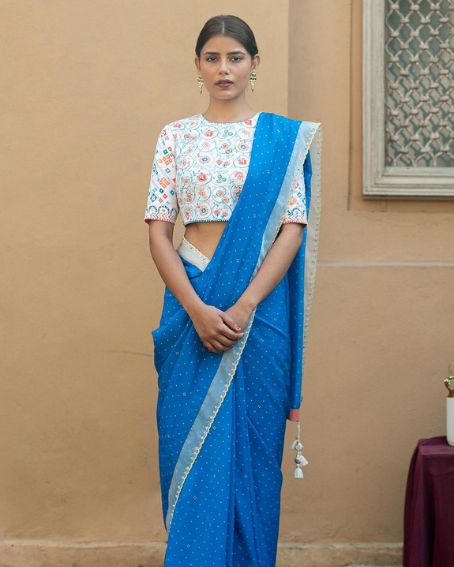 Opt for a unique style with a blue raw silk printed saree and blouse. The raw silk fabric and print create an intriguing texture.
10. Poly Satin Floral Print Readymade Blouse for Saree with Boat Neck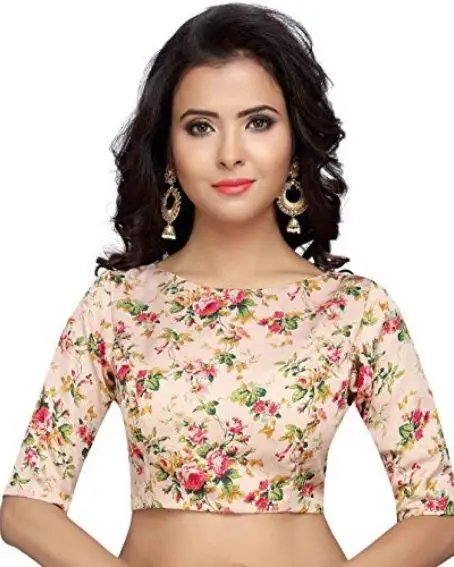 A poly satin blouse with a floral print, boat neck, and elbow-length sleeves offers a convenient and stylish pairing for your saree.
11. Boat Neck Floral Print Blue Color Short Sleeve Blouse For Saree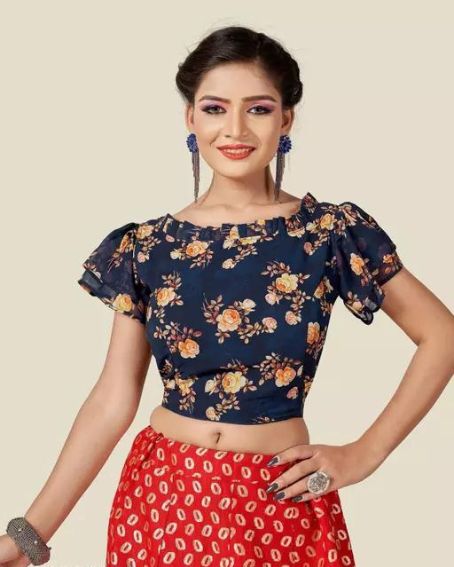 Stay chic with a boat neck, short-sleeved blouse in blue with floral print. It's a versatile option that complements different saree hues.
12. Floral Print Back Open Blouse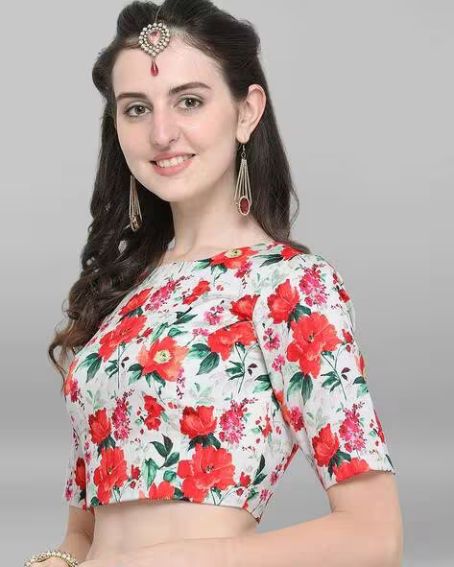 Add a touch of allure with a back-open blouse featuring a floral print. This design is sure to turn heads and make a statement.
13. Pink Boat Neck Chanderi Printed Blouse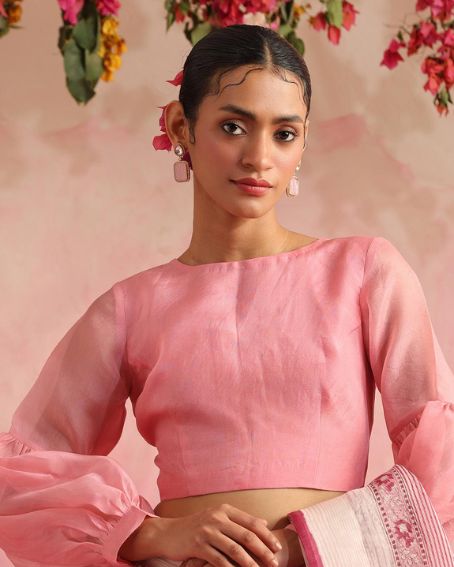 A pink chanderi blouse with a boat neck and print exudes femininity and charm, making it an ideal choice for traditional occasions.
14. Kalamkari Printed Silk Saree Blouse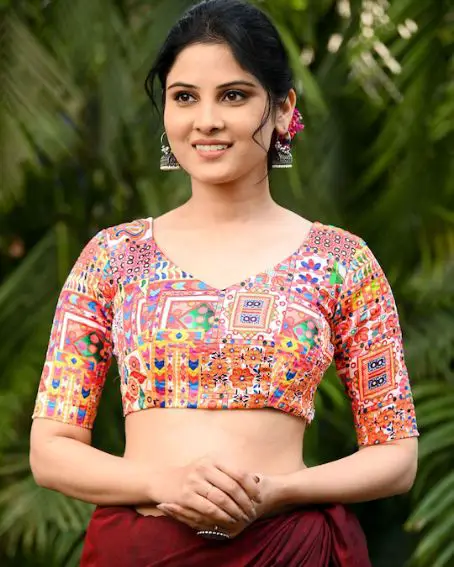 Elevate your ethnic style with a Kalamkari printed silk saree blouse, showcasing intricate hand-painted designs for a timeless look.
15. Black Color Printed Work On Black Blouse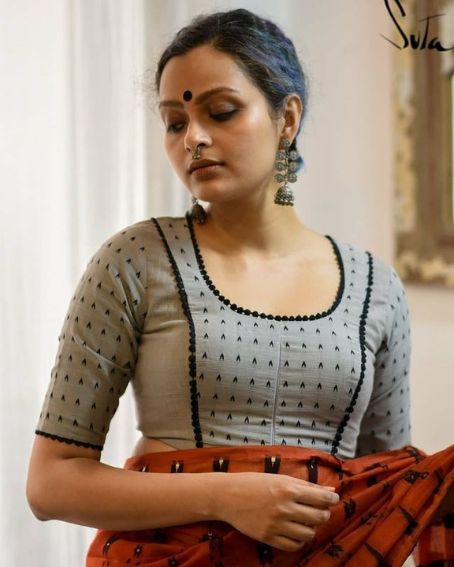 Make a stylish statement by wearing a black blouse with black printed designs. This all-black look adds a classy touch to your outfit, and it's a great choice for women, young girls, and teenagers who want to look chic and sophisticated.
16. Blue Color Printed Saree With Blouse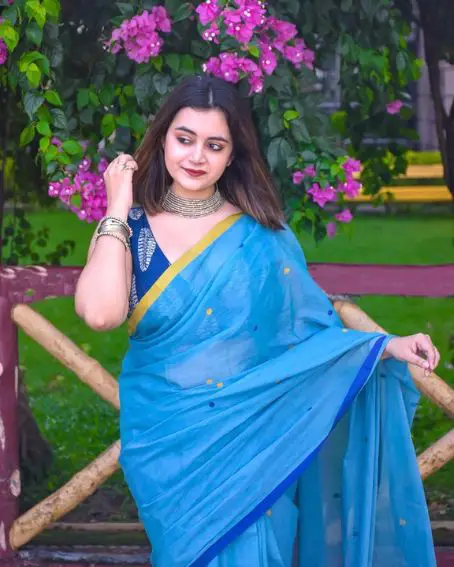 Stay classy in a blue printed saree with a matching blouse. The blue hues create a serene and timeless look.
17. Black Color Floral Printed Work On Black Blouse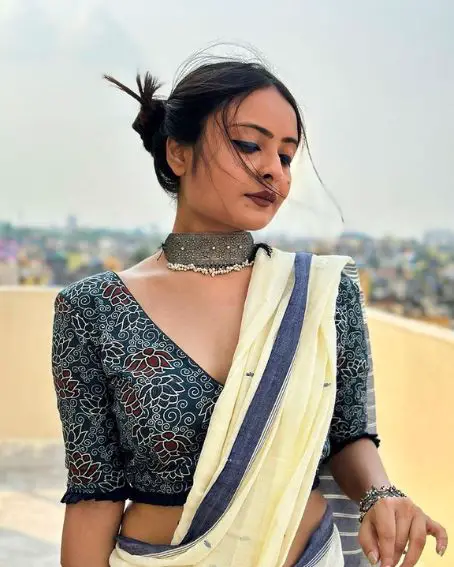 Flaunt a sense of mystery with black floral-printed work on a black blouse. This choice exudes elegance and intrigue.
18. Bricks Red Cotton Printed Blouse Design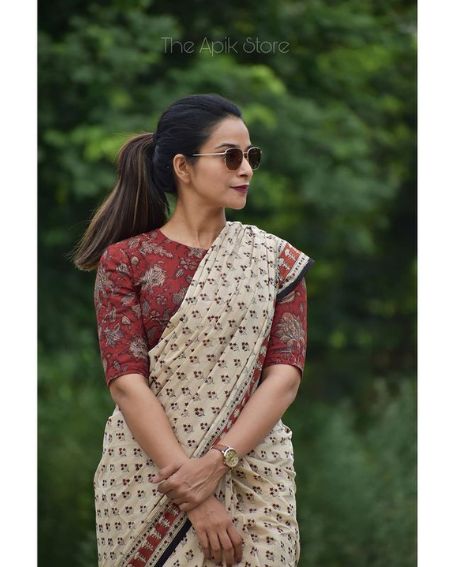 Choose a brick red cotton blouse with printed designs for a warm and traditional touch to your saree ensemble.
19. Red Color Blouse with Floral Printed Blouse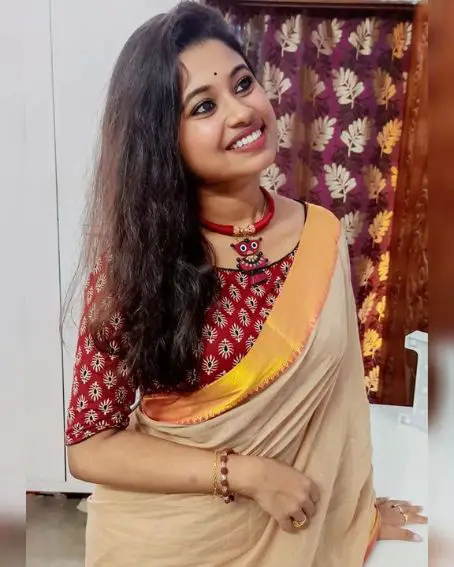 Make a bold statement with a red blouse featuring floral prints. The contrast adds a playful element to your attire.
20. Navy Blue Color Printed Blouse Design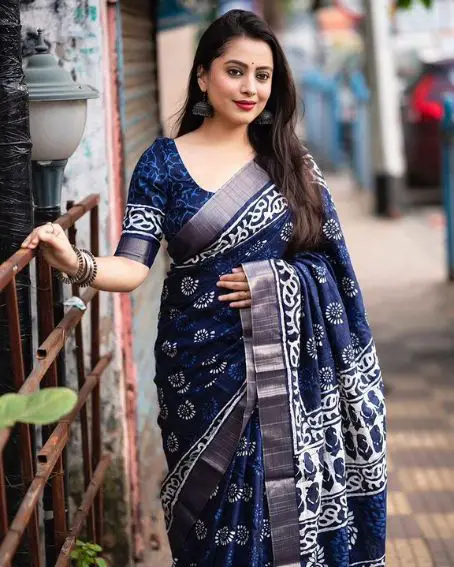 Elevate your style with a navy blue blouse featuring intricate prints. This deep hue adds richness and sophistication to your look.
21. Bricks Red Floral Cotton Printed Blouse Design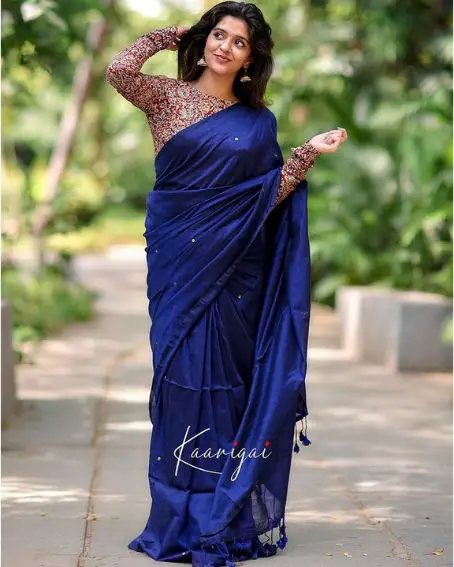 A brick red cotton blouse with floral prints offers a traditional yet vibrant touch to your saree ensemble.
22. Sky Blue Color Printed Blouse Design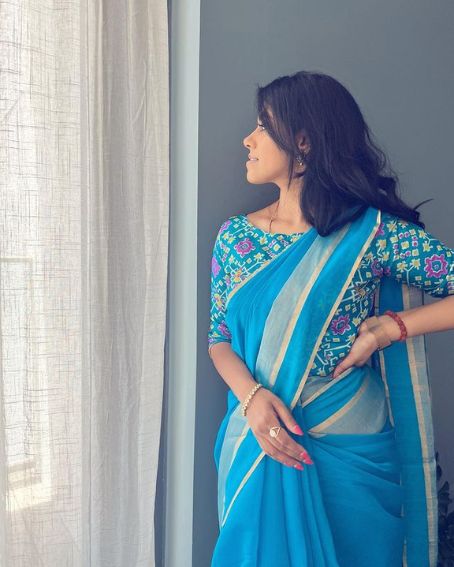 Stay breezy and elegant with a sky blue blouse adorned with charming prints. This choice is perfect for a serene and fresh look.
23.
Blue Color Floral design Printed Saree With White Dots Blue Blouse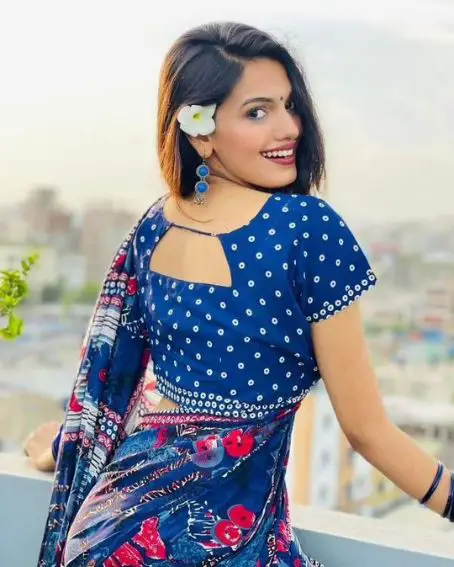 This ensemble features a blue saree with a floral design and white dots, paired with a matching blue blouse, creating a harmonious and stylish look.
24. White Printed Blouse Design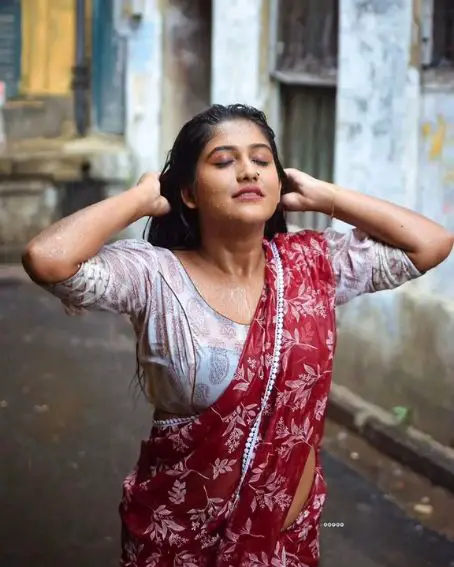 Exude simplicity and grace with a white blouse featuring subtle prints. White is always in style, offering timeless appeal.
25. Green Color Printed Blouse Design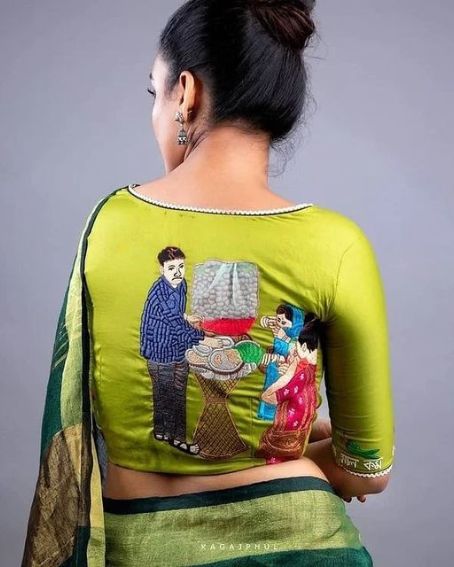 Infuse vibrancy into your outfit with a green printed blouse. This design choice showcases your love for nature's hues.
26. Purple Color Printed Blouse Design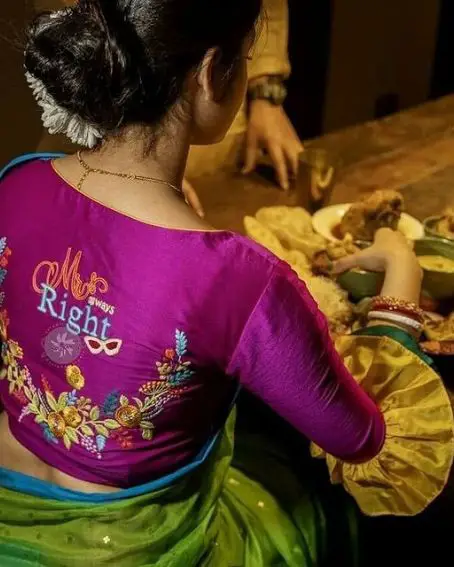 Create a classy look with a purple patterned blouse. The color and design give off a stylish and elegant vibe that's perfect for women, young girls, and teenagers.
27. Bottle Green Color Printed Blouse Design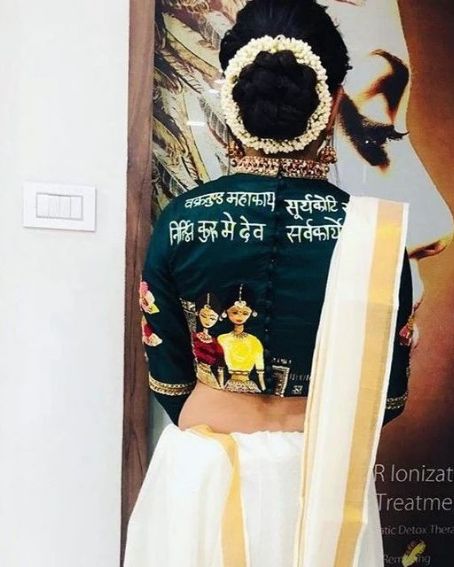 Choose a bottle green printed blouse for a unique and rich color that complements various sarees.
28. Printed Rangoli Work on White Blouse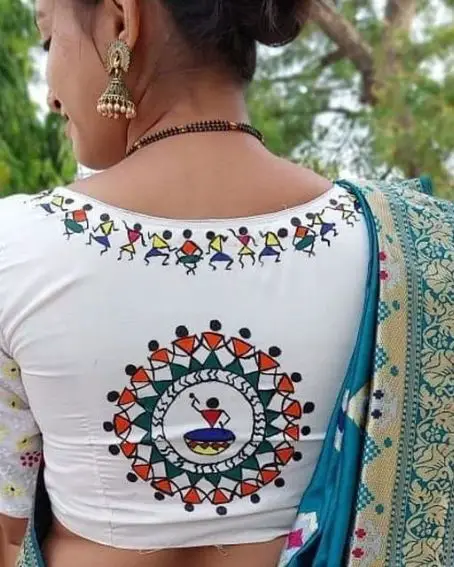 Elevate your style with a white blouse featuring intricate rangoli-inspired prints. This design adds an artistic touch to your ensemble.
What Fabrics Are Commonly Used To Make Printed Design Blouses?
Fabrics used to make printed design blouses, they can vary widely, but some common choices include:
Cotton: Cotton blouses are comfortable and breathable, making them suitable for casual and everyday wear. They can feature block prints, floral designs, or geometric patterns.
Silk: Silk blouses exude elegance and are often adorned with intricate printed designs. They are suitable for formal events, weddings, and festivals.
Chiffon: Chiffon blouses have a lightweight and sheer quality, making them ideal for special occasions. They can have delicate floral or abstract prints.
Georgette: Georgette blouses are versatile and drape well. They can feature a range of prints, from traditional to contemporary.
Crepe: Crepe blouses are known for their texture and can be printed with various patterns for different occasions.
Velvet: Velvet blouses with printed designs are luxurious and are often worn for evening events or winter occasions.
When Do Women Wear A Printed Design Blouse?
Casual Wear: You can wear printed blouses for everyday casual occasions, such as running errands, meeting friends, or going shopping. Lighter and breathable fabrics work well for this purpose.
Office Wear: Depending on the workplace dress code, printed blouses can be appropriate for a semi-formal or business casual look. Opt for subtle prints and professional fabrics like cotton or silk.
Festivals: Printed blouses with vibrant and festive designs are perfect for celebrating festivals like Diwali, Holi, or Eid. You can choose rich fabrics and embellished prints for these occasions.
Cultural and Traditional Events: Women, young girls, and teenagers can wear printed blouses at various occasions like cultural events, family gatherings, and traditional ceremonies. Just make sure to pick a fabric and print that match how formal the event is.
Parties and Special Occasions: Depending on the style and fabric, printed blouses can be suitable for parties, birthdays, and other special occasions. Consider trendy prints and fashionable fabrics for a more stylish look.
Which Type Of Garments Can Be Paired With Printed Blouse Designs?
Printed blouse designs can be paired with a variety of garments to create stylish and versatile outfits. The choice of pairing depends on the specific print, the occasion, and personal style. Here are some common garments that can be paired with printed blouse designs:
Saree: Printed blouses are often paired with sarees, adding a pop of color and pattern to the traditional attire. The print can complement or contrast with the saree's design.
Lehenga: Printed blouses can be paired with lehengas to create a fusion look, combining traditional and contemporary elements.
Skirt: Printed blouses can be paired with skirts, whether they are long, flowy maxi skirts or shorter A-line or pencil skirts.
Jeans: For a more casual and modern look, printed blouses can be paired with jeans, creating a chic and comfortable outfit.
Palazzo Pants: Palazzo pants and printed blouses make a trendy and comfortable combination, suitable for various occasions.
Culottes: Culottes paired with a printed blouse offer a stylish and relaxed look, perfect for casual outings.
Shorts: Printed blouses can be matched with shorts for a fun and summery ensemble, ideal for beach vacations or casual events.
Pants: Printed blouses can be paired with pants, such as straight-leg trousers or wide-legged pants, for a more formal or business-casual appearance.
Jumpsuits: A printed blouse can be worn with a jumpsuit, creating an effortlessly chic one-piece outfit.
Dresses: Some printed blouses are designed as part of dresses, but they can also be layered under sleeveless dresses for added style and modesty.
Jackets or Blazers: Printed blouses can be layered under jackets or blazers to add a pop of color and pattern to a more formal ensemble.
Salwar Kameez: In traditional Indian attire, printed blouses can be paired with salwar kameez, offering a versatile and stylish look.
Trousers: Printed blouses can be tucked into trousers, whether they are tailored pants or more relaxed styles.
Printed blouse designs are a versatile and fashionable choice for individuals looking to enhance their wardrobe with unique and eye-catching pieces. These designs offer a wide range of options, from traditional to contemporary, allowing individuals to express their personal style and creativity.
Related Articles