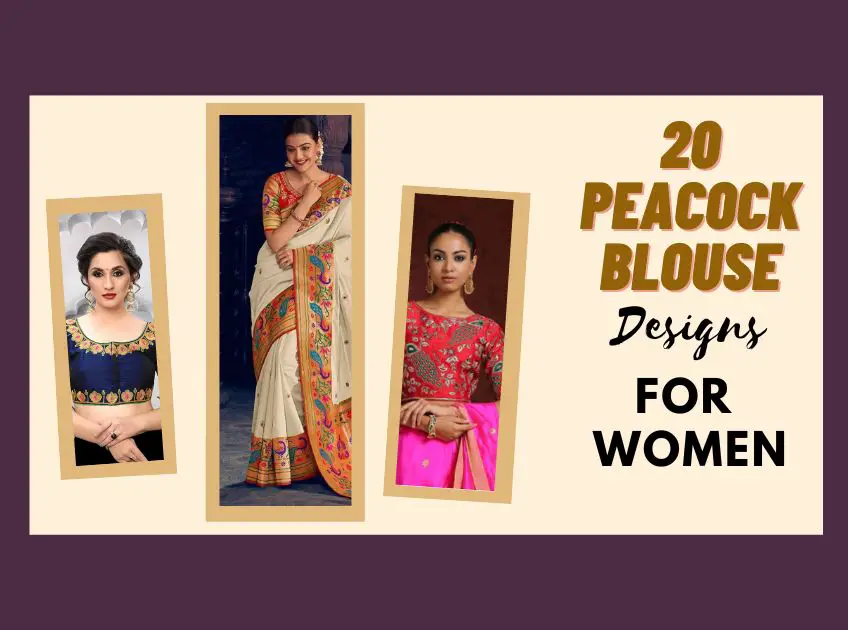 Peacock designs are a mixture of trendy and traditional. In this design, the women look royal and beautiful.
Peacock blouse designs have taken the world of women's fashion by storm, seamlessly merging tradition with contemporary styles. These exquisite creations hold a special place in ethnic wear fashion, capturing the essence of intricate artistry and cultural aesthetics. Originating from India, these designs have evolved into a diverse range of styles suitable for various occasions, including weddings and festivities.
20 Attractive Designs Of Peacock Blouse Designs
1. Red Color Peacock Feathers Intricately Embroidered Blouse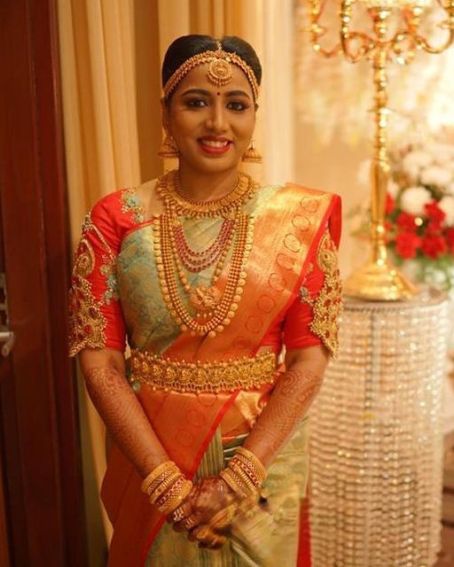 Radiating charm, the red blouse boasts intricate peacock feather embroidery that adds a regal touch. This traditional yet stylish pattern celebrates India's rich cultural heritage.
2. Cotton Peacock Printed Blouse with Red saree with black border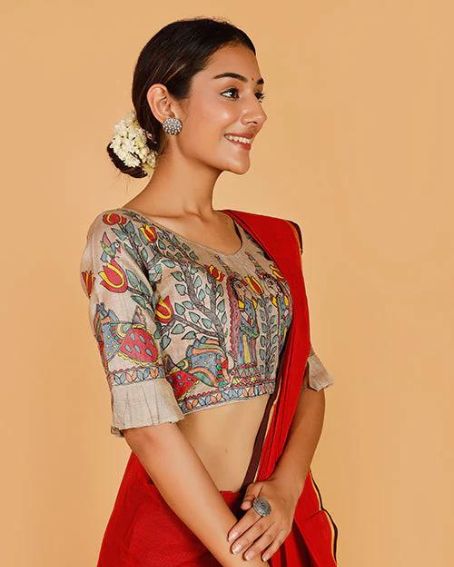 Comfort meets style with the cotton peacock printed blouse. Its vibrant print showcases the beauty of peacocks and reflects the fusion of tradition and modernity.
3. Peacock Embroidered Bridal Design Blue blouse with yellow silk saree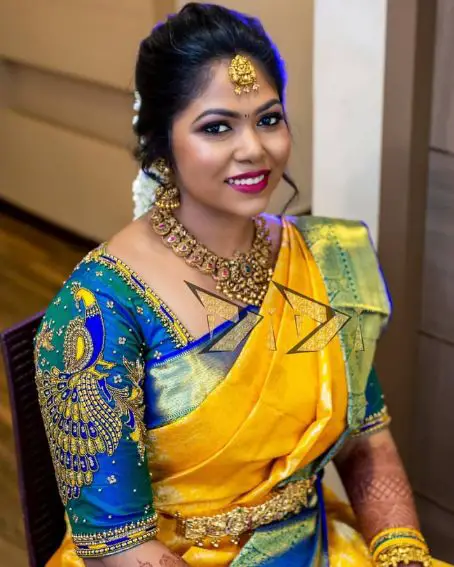 The yellow peacock embroidered bridal blouse exudes grandeur, making it a popular choice among brides. The intricate embroidery and rich color combine to create a truly stunning ensemble.
4. Royal blue Aari work saree blouse cream color saree for brides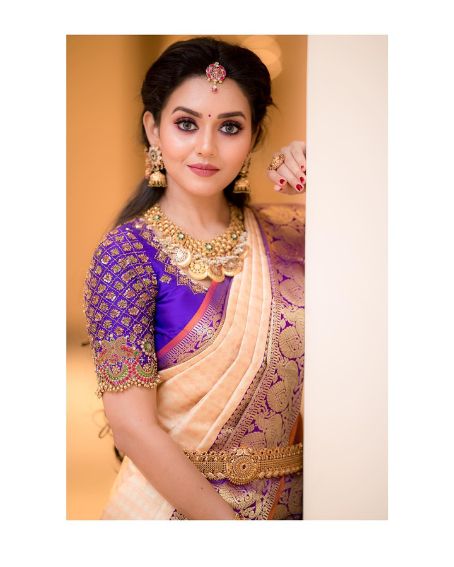 Intricate royal blue maggam work complements the peacock design, forming an exquisite combination. This type of blouse is a testament to the meticulous craftsmanship of Indian artisans.
5. Blue Hand Painted Cotton Silk Peacock Design Blouse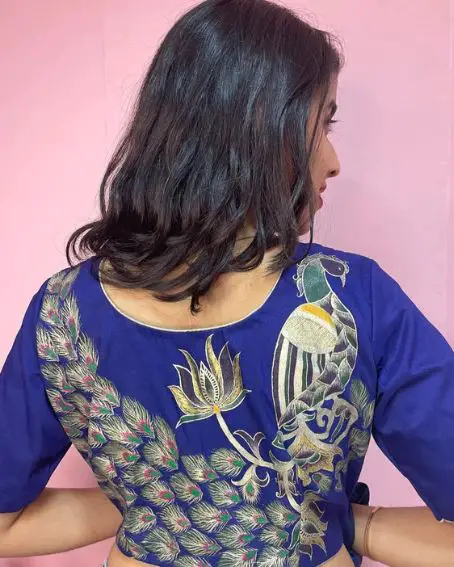 Hand-painted with precision, this cotton silk blouse captures the grace of peacocks. The artistic blend of colors and patterns adds a touch of uniqueness to the traditional design.
6. Red Peacock Embroidered Bridal Design Blouse Yellow Color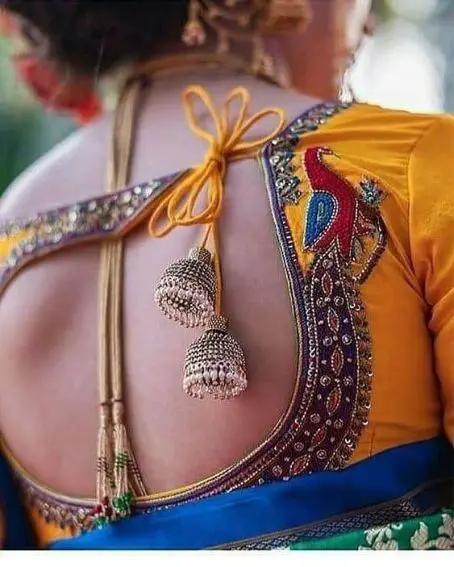 The red peacock style blouse radiates elegance through its unique combination of style and tradition. Its eye-catching design makes it a must-have for special occasions.
7. Dark Pink Color Peacock Blue Kanjivaram Blouse with Green saree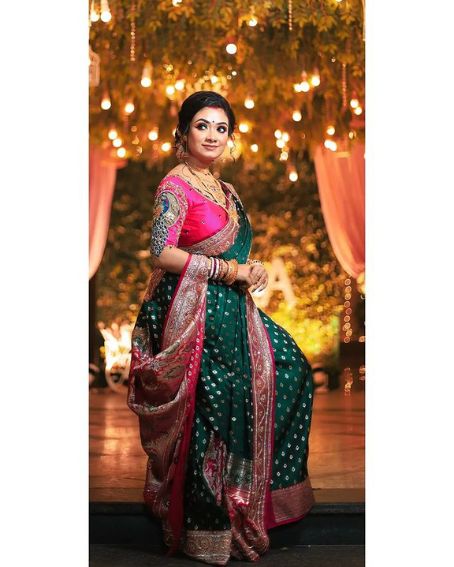 A dark pink color blouse paired with a peacock blue Kanjivaram saree can make a stunning and vibrant outfit choice for teenagers, young girls, and women. The contrast between the dark pink and peacock blue creates a visually appealing combination.
8. Dark Green blouse with Peacock Heavy Designer Blouse for traditional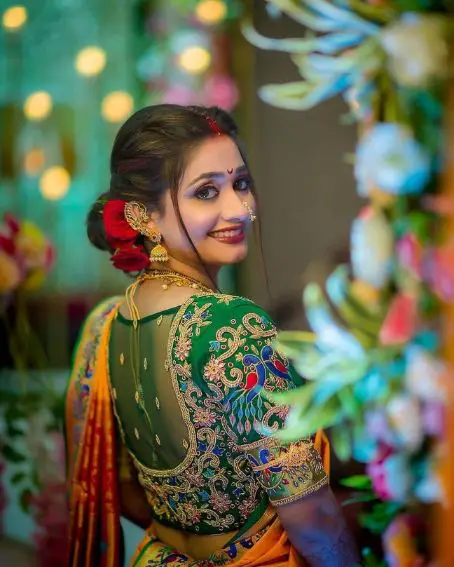 For those seeking opulence, the dark green heavy designer blouse is a perfect fit. Its heavy embellishments and intricate peacock detailing make it a masterpiece.
9. Amazing Peacock Embroidered Design Pink Color with violet saree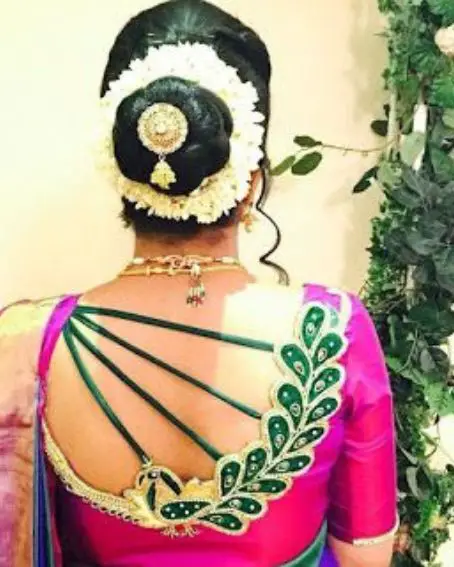 The pink peacock designer blouse is a fusion of contemporary and traditional elements. Its stunning design captures attention and reflects modern fashion sensibilities.
10. Simply Thread Work Party Blouse Red Color with back side peacock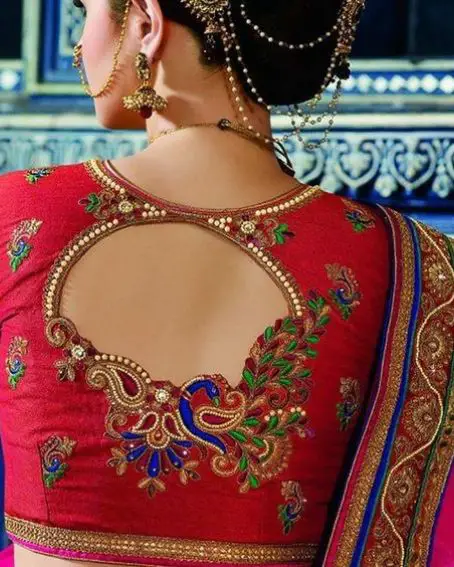 Simplicity meets elegance in this blouse featuring a peacock design adorned with stone work. The delicate balance of design elements creates a charming aesthetic.
11. Pink Color blouse with green Peacock design and kundans work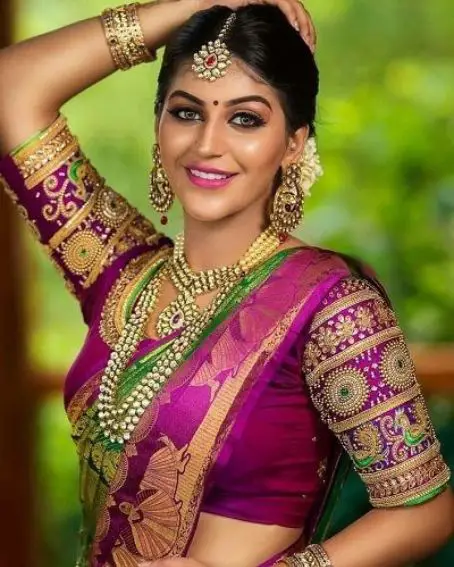 The pink peacock blouse exudes grace and femininity. Its color palette and intricate peacock motif make it an excellent choice for various events.
12. Red Color Handcrafted Border Blouse with Intricate Peacock Motif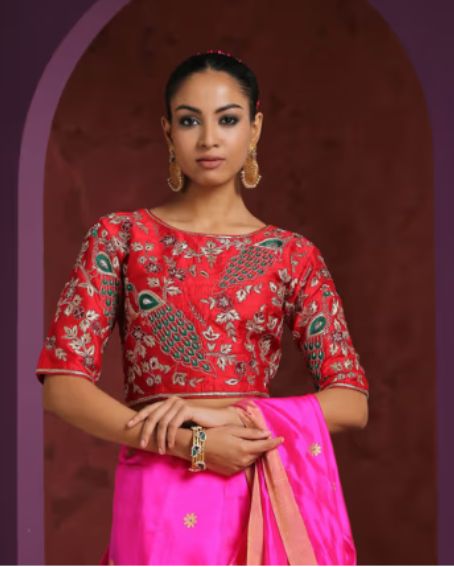 A red color handcrafted border blouse with an intricate peacock motif can be a beautiful and stylish choice for teenagers, young girls, and women. Such a blouse can be customized and designed in various ways to suit different preferences and occasions.
13. Bridal Blue Color Peacock design on Sleeve Blouse with Red saree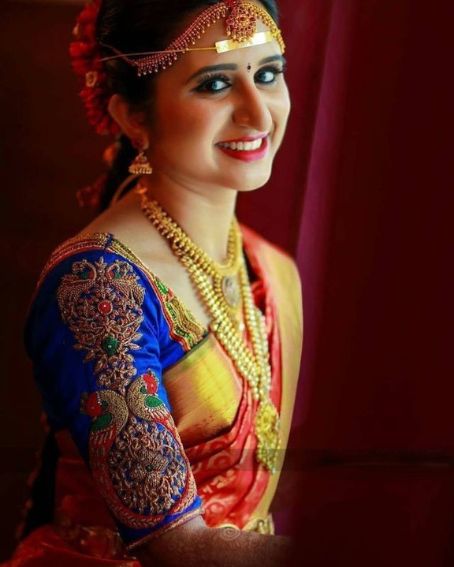 The red peacock sleeve doli blouse showcases creativity in sleeve design. This unique variation adds a touch of modernity to the timeless peacock motif.
14. Pure Paithani Weaving Soft Silk with Beautiful Rich Pallu and Work Blouse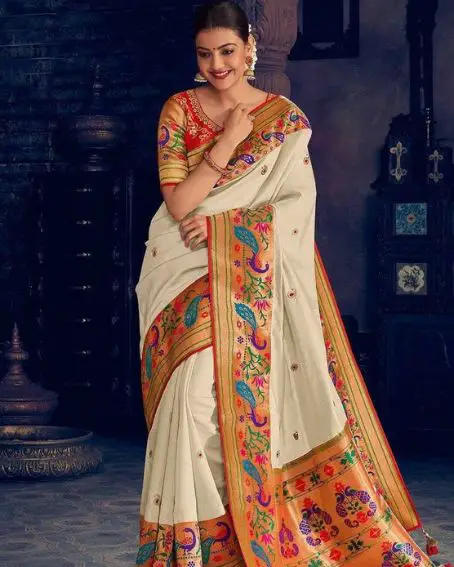 Paithani silk paired with a peacock motif work blouse reflects Maharashtrian elegance. The rich pallu and intricate blouse design form a harmonious ensemble.
15. Morbagh Peacock designs Rose Pink Embroidered Blouse with tassels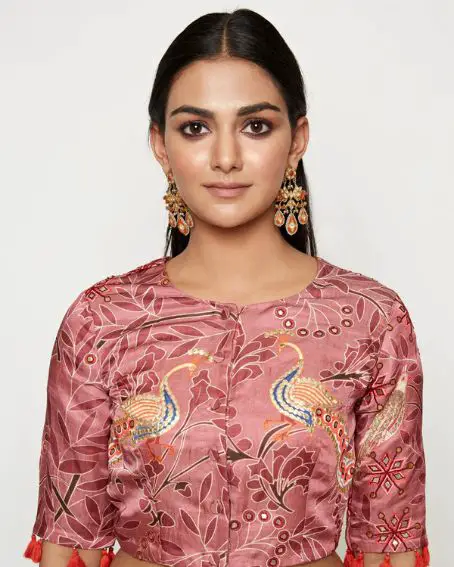 The Morbagh rose pink embroidered blouse pays homage to the fusion of floral and peacock motifs. This elegant combination is a nod to nature's beauty.
16. Dull Gold peacock Maggam work blouse with short sleeves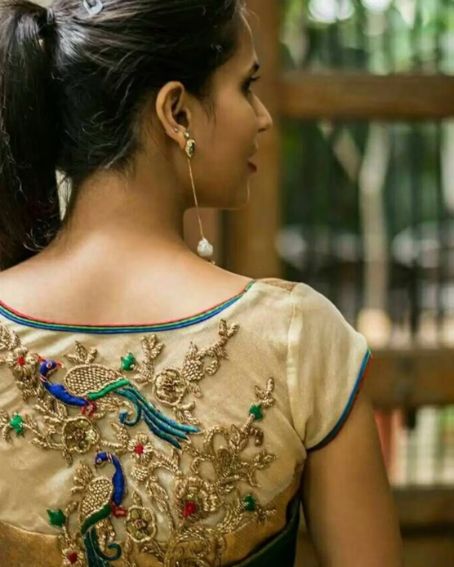 The dull gold peacock maggam work blouse resonates with those who prefer subtle opulence. Its muted tones and exquisite maggam work make it a versatile choice.
17. Dark blue peacock Maggam work blouse with Red silk saree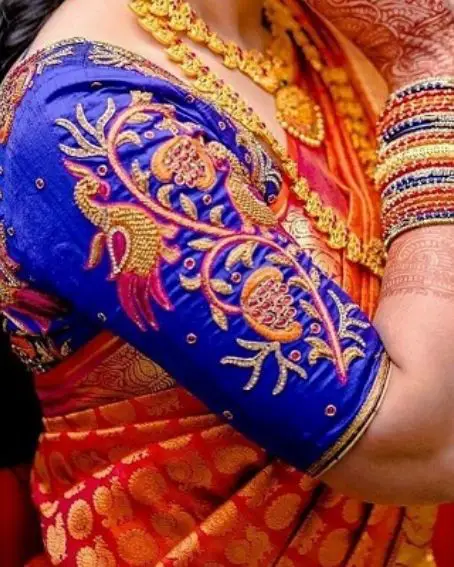 The "Dark Blue Peacock Maggam Work Blouse" is a versatile and stylish clothing item designed to cater to the fashion needs of young girls, teenagers, and women alike. Its rich dark blue color exudes elegance and complements a wide range of outfits.
18. Amazing Peacock Coding Work Navy Blue Fully Stitched Blouse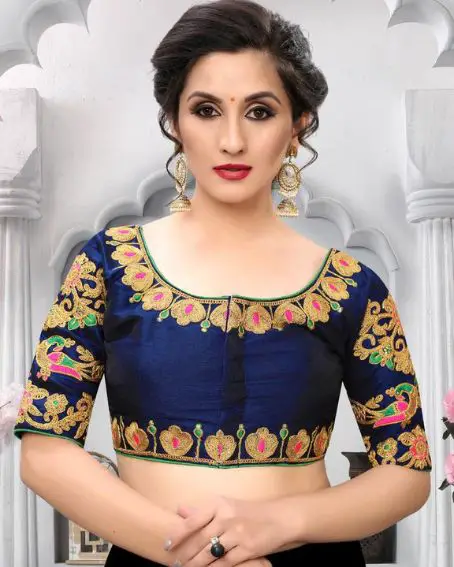 Navy blue fully stitched blouse with peacock coding work exudes modern elegance. The coding work adds a contemporary touch to the traditional peacock design.
19. Gorgeous Green Color Peacock Designer Blouse with pink saree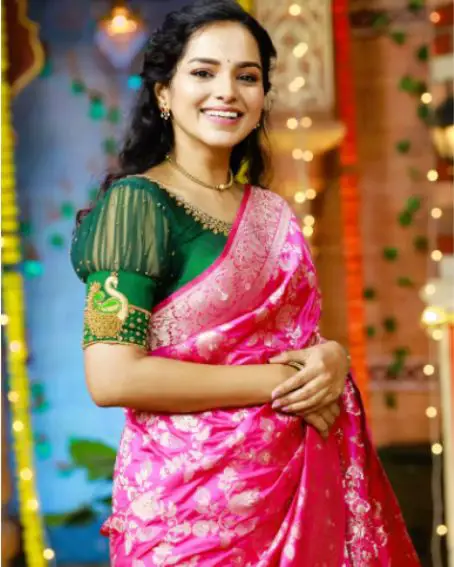 The gorgeous green peacock designer blouse epitomizes elegance. Its vibrant color and intricate design elements make it a standout choice.
20. Peacock Design Green Color Blouse With red si;lk saree for Brides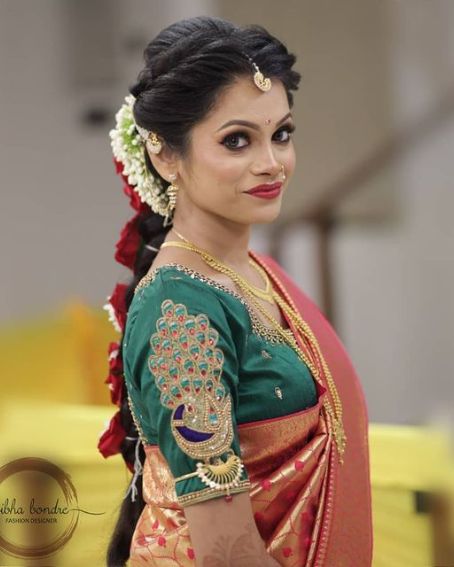 The green peacock design blouse captures the essence of the graceful bird. Its monochromatic design adds a touch of sophistication.
These peacock work blouse designs celebrate the intricacies of Indian craftsmanship and fashion sensibilities. By blending rich cultural heritage with modern aesthetics, they offer women, teenagers and young girls an array of choices for various occasions. Whether it's a wedding, festive celebration, or a casual event, these blouse designs enable individuals to express their personal style while paying homage to tradition.
What Are The Features Of Peacock Blouse Designs?
Peacock blouse designs are popular choices for traditional Indian attire, particularly sarees and lehengas. These designs often incorporate motifs and patterns inspired by peacocks, known for their vibrant and intricate plumage. Here are some common features of peacock blouse designs:
Embroidery: Peacock blouse designs usually feature intricate embroidery depicting peacock feathers, motifs, and even the entire peacock bird. This embroidery can be done using various techniques, such as zari work, thread work, sequins, beads, and mirrors, to create a rich and detailed look.
Color Palette: The color palette of peacock blouse designs typically includes deep and rich colors like emerald green, royal blue, turquoise, and shades of purple, resembling the colors found in a peacock's plumage. These colors help capture the essence of the peacock's beauty.
Peacock Feather Motifs: Peacock feather motifs are a staple in these designs. These motifs can be placed on the back, neckline, sleeves, or all over the blouse. The feathers are often depicted in a graceful and flowing manner, replicating the natural pattern of the feathers.
Neckline and Back Designs: Peacock designs are often incorporated into the blouse's neckline and back. The neckline might have an intricately embroidered peacock design extending onto the shoulders or collar. Similarly, the back of the blouse might feature a peacock-inspired pattern, creating an elegant and captivating look.
Sleeve Embellishments: The sleeves of peacock blouses are also adorned with peacock motifs, whether it's a single feather running along the length of the sleeve or a cluster of feathers near the cuffs. This attention to detail adds charm to the overall design.
Use of Accessories: Some peacock blouse designs incorporate elements like peacock-shaped buttons, brooches, or even small hanging ornaments resembling peacock feathers to enhance the aesthetic appeal.
Mixed Materials: Designers often use a mix of materials like silk, velvet, net, and organza to create contrasting textures, adding depth to the design. These materials also allow for a variety of embellishment techniques.
Intricate Patterns: Peacock designs can be quite intricate, featuring detailed patterns that capture the elegance and beauty of the bird. These patterns may include curves, swirls, and paisley motifs, which are common in traditional Indian design.
Blouse Length and Cut: The length and cut of the blouse can vary, from traditional full-sleeve blouses to modern sleeveless or halter neck designs. The choice of blouse style can also impact how the peacock motifs are incorporated into the overall design.
Styling: Peacock blouses are often paired with sarees, lehengas, or skirts that complement the color scheme and overall design. The peacock blouse can be the focal point of the outfit, and accessories like statement earrings and bangles can complete the look.Women, young girls, and teenagers enhance their beauty and look.
The peacock blouse designs can vary greatly based on individual preferences and the creativity of the designer. Whether you prefer a bold and vibrant look or a more subtle and delicate design, peacock motifs offer a wide range of options for creating stunning traditional attire.
What Is The Origin Of Peacock Blouse Designs?
Origin
It originated in south India of Andhra Pradesh. The blouse design is typically made from cotton or silk fabric. It incorporates qualities to women's outfits.
Peacock work blouse designs serve as a testament to the timeless beauty of traditional Indian motifs. These intricately crafted creations beautifully blend heritage and modernity, making them essential pieces in every woman's ethnic wear collection. From the delicate handcrafted embroidery to the bold maggam work, each design tells a story of culture, artistry, and individual expression. With a rich palette of colors and styles, these blouses are a celebration of diversity within the realm of fashion, reminding us of the intricate threads that weave our sartorial heritage.
Related Articles