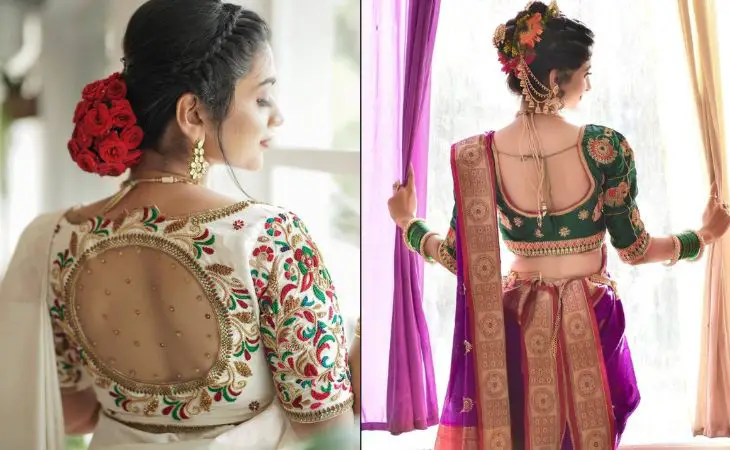 In today's world the trend is to look fashionable and trendy in your output for your big day. The most important thing to observe is the saree and its blouse. The blouse is the main part which has to look Grand in all big days. hence the back side of the blouse should be fancy and stylish so that it may hit your day.
Any kind of embroidery looks beautiful on the entire back of your blouse. Go with contrast colors to make it look beautiful and bright by inspiring nature. You can use birds, animals and motifs as an embroidery pattern by using stone work, Gota embroidery, zardosi embroidery and Aari work. These kinds of blouses make you look bold and effortless that will be alluring to your day.
We have fun pic some of the best and latest back neck designs for Pre wedding and wedding ceremonies that will be suitable for any occasion.
15 Different Embroidery Blouse Designs for Back Neck Blouses
1. Beautiful Embroidery Bridal Blouse Back Neck Design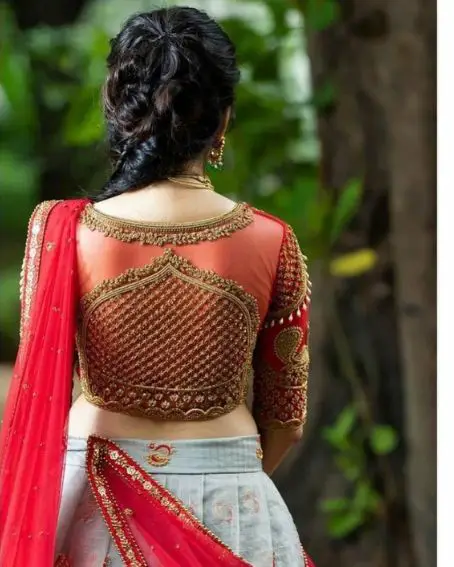 The best choice for a bridal collection saree blouse is with new trendy heavy embroidery work with aari and tassel work which look awesome in weddings.
2. Simple And Elegant Floral Pattern Embroidery Work For Back Neck Blouses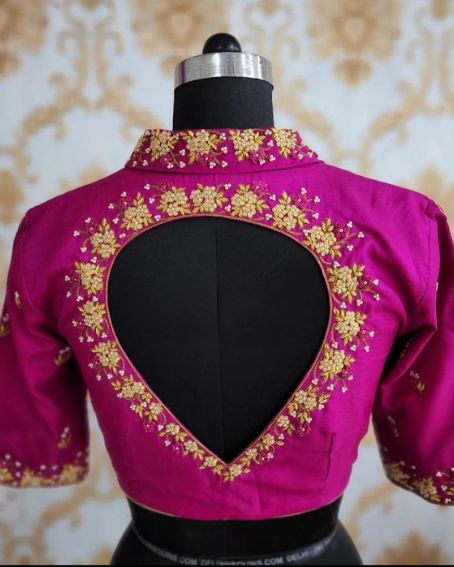 This is a simple and elegant floral pattern embroidery work in pink color. This is a thich and multilayered machine made embroidery back neck design with collar neck blouse.
3. Tradition Blouse Design Of Krishna And Radha For Back Neck Blouses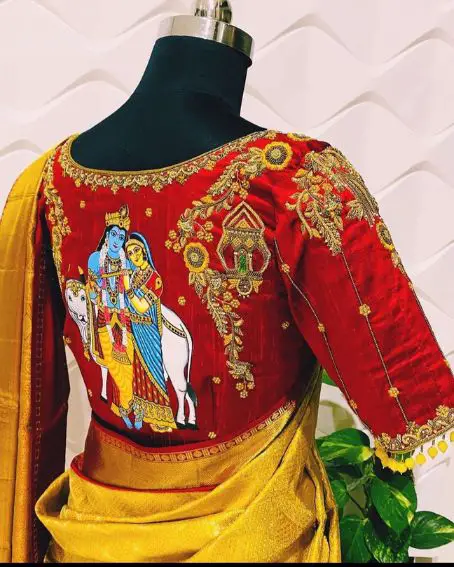 A wonderful traditional embroidery back neck designer blouse is designed with a situation lord krishna and Radha of done with machine made embroidery in gold and yellow combination on red blouse.
4. Embroidery With Aari Work Back Neck Design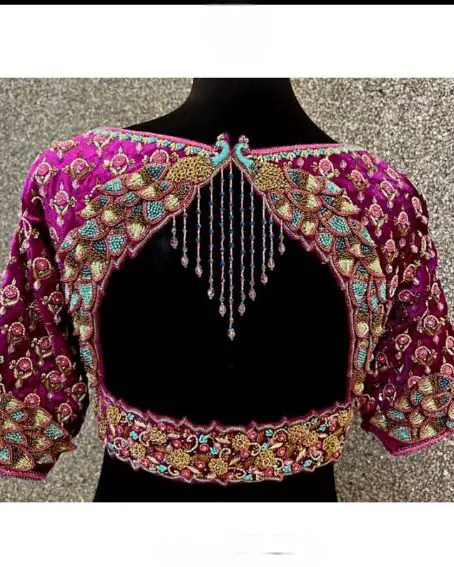 This is a bright and graceful back neck design with peacock pattern embroidery with  golden and blue beads hand made embroidery work along with beads and kundan hangings.
5. Embroidery Work Design For Back Neck Blouses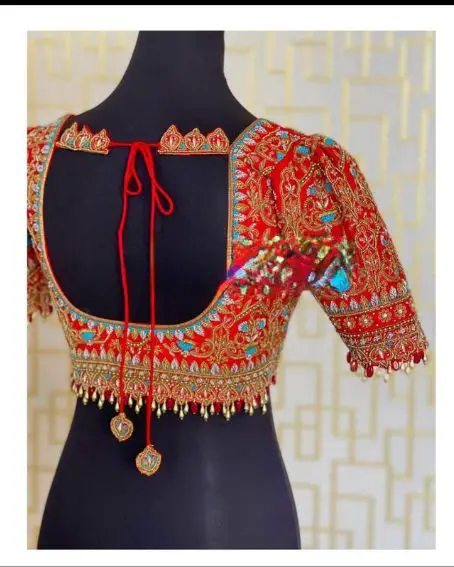 One of the best bridal saree blouse designs collection is with beads, stones and latkans. The design suits for wedding occasions which is a hand made embroidery.
6. Ingenious Embroidery With Aari Work Back Neck Blouse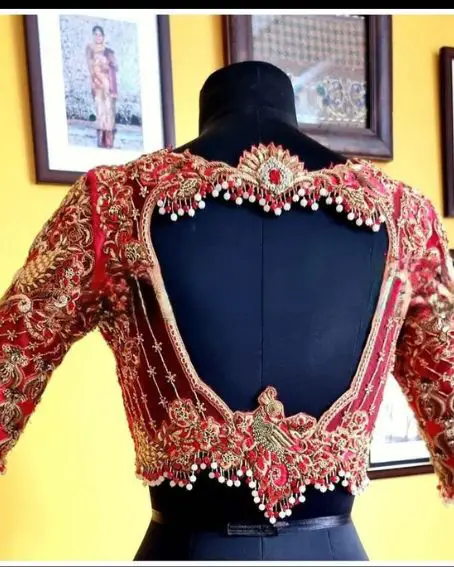 This is a beautiful orange color bridal collection of back neck design patterns which is decorated with aari embroidery work. It also has small hangings with beads and stone work.
7. Simple And Refined Embroidery Work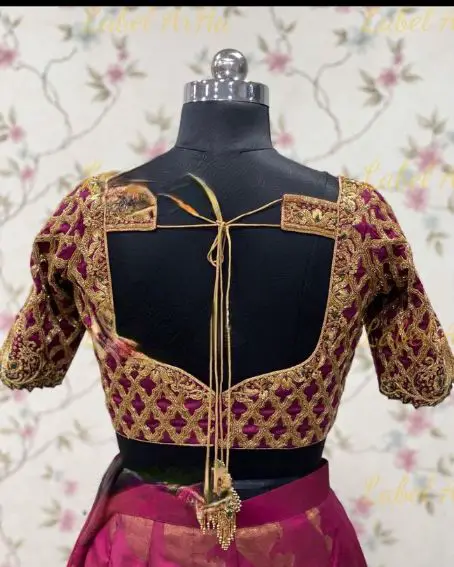 This is an elegant embroidery work with golden threadings designer embroidery work. This is a handmade work done on a pink blouse along with kundan and beads work latkans.
8. Green Blouse With Green Beads Embroidery Work Blouse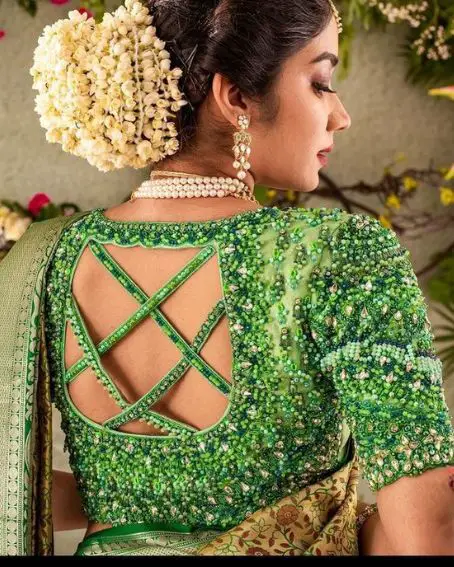 Trendy and classy green blouse is designed with green and white beads embroidery work along the crossing line. This is a hand made work which looks great at all events.
9. Latest Designer Back Neck Blouse With Embroidery Work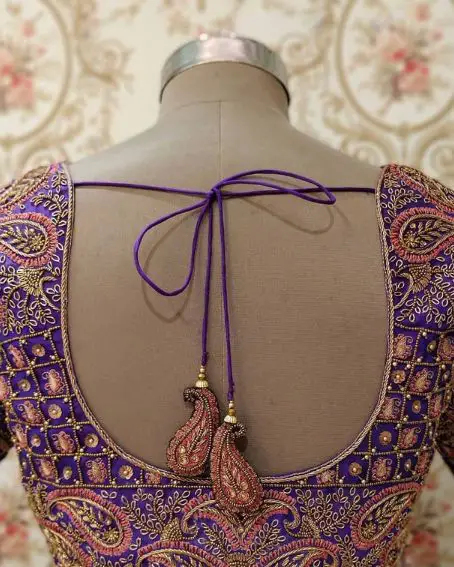 This is the latest designer embroidery work for back neck blouses with floral and checked patterns along with latkans. This is a handmade embroidery work done with golden threadings and beads
10. Floral Pattern Simple And Sweet Embroidery Work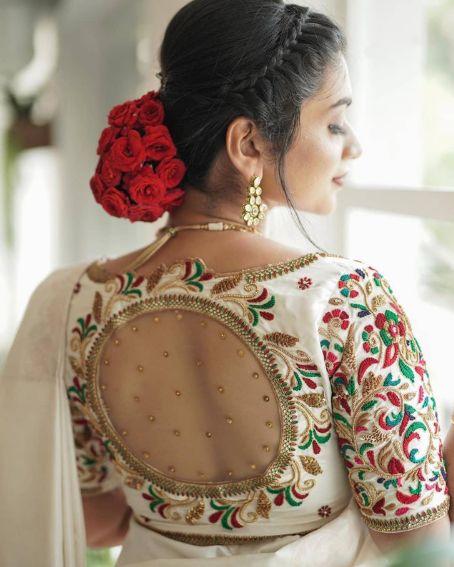 This is a beautiful and simple floral pattern of machine made embroidery work with cotton threadings on a white blouse. These are the best suitable parties and events.
11. Kundan And Stone Embroidery Work On Pink Blouse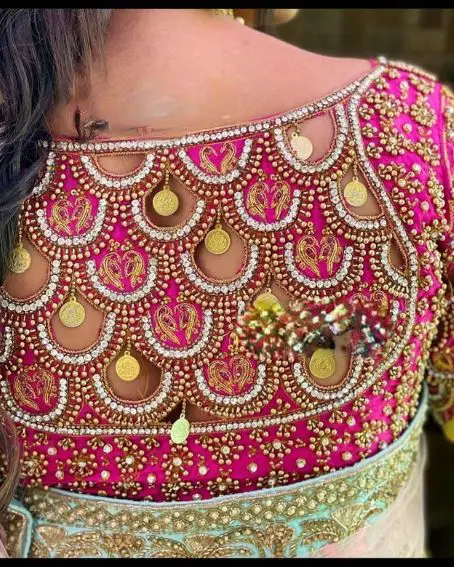 This is fabolous embroidery work which looks classy and trendy in all parties and events. This is a grape pattern embroidery which is handmade using stones, kundans, beads and gold coin hangings.
12. Charming Dark Blue Color Embroidery Design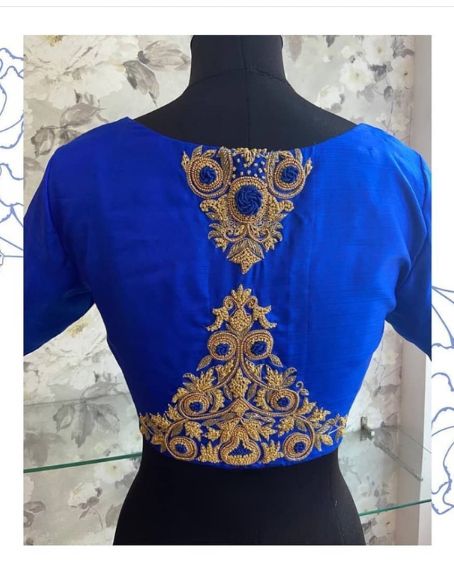 This is a simple and charming embroidery work which is done with blue and golden threadings embroidery designer work back neck blouse for pattu and fancy sarees.
13. Enchantress Pink Color Embroidery Back Neck Blouse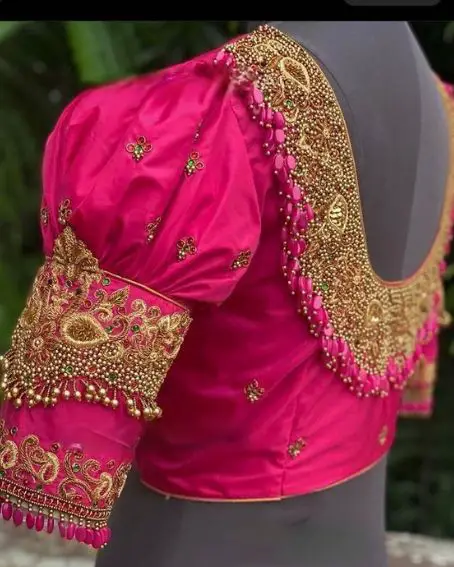 This is a pink color beautiful and heavy embroidery pattern work which is made with beads, kundans and golden threadings. The sleeves are with cuffs and puffs, which is best for weddings pattu sarees.
14. Peacock Design Beautiful Embroidery Work Blouse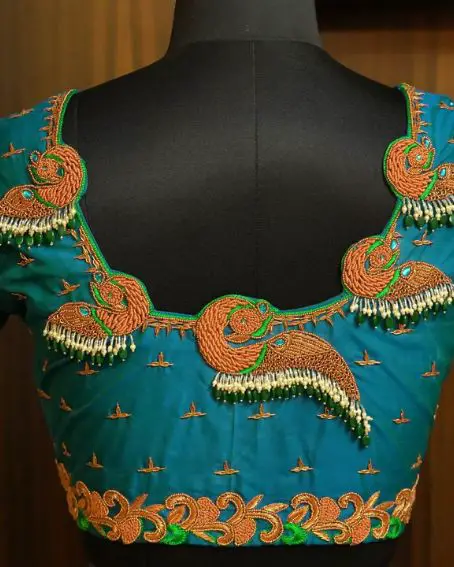 This is a magnificent design which is loved by everyone. This is a handmade peacock embroidery pattern made by using gold color cotton threadings and stone hangings, mostly suitable for wedding seasons.
15. Bright And Beautiful Designer Embroidery Work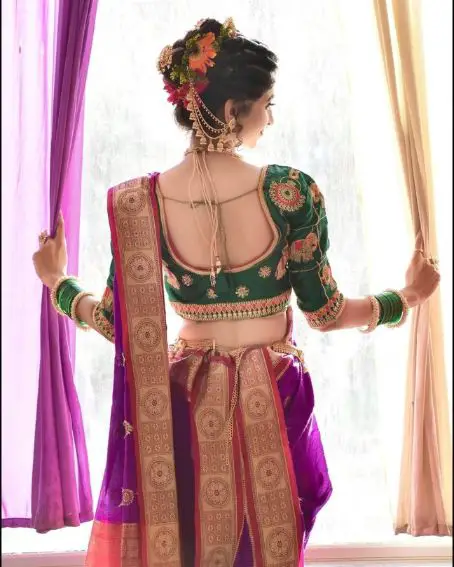 This is a tremendous embroidery pattern design which is a handmade work with a wonderful open cut and hangings. This work is done with cotton and silk threadings which gives the shining appearance to the design.
You Might Also Like: