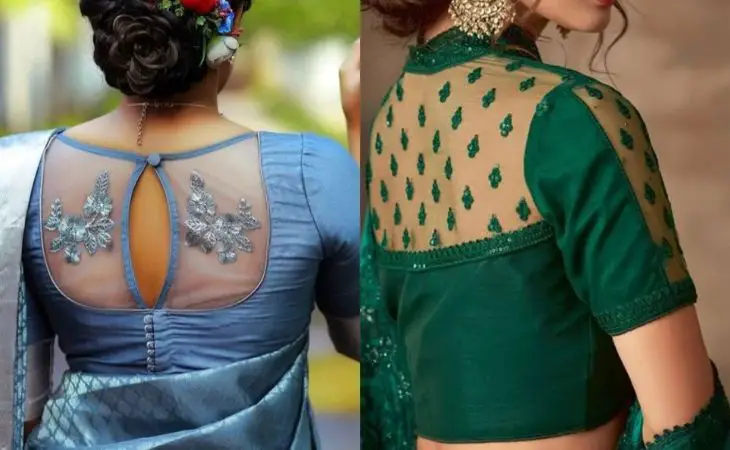 Blouses create a new trend these days. When you want to flaunt yourself in a saree, you love to show some modernism and ethnicity in your blouses. Net blouse design is a new trend in the world of blouses that will look graceful and modern as well. Here is a unique and exclusive collection of various beautiful net blouse designs.
20 Graceful Pics of Net Blouse Designs
1. Popular Sheer Back Buton Style Blouse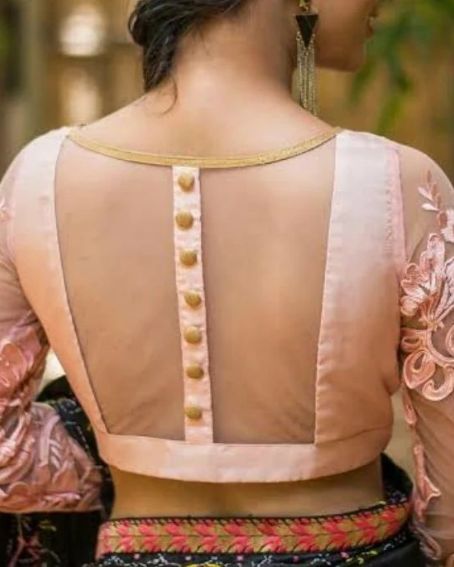 This is the popular net blouse design. The buttons are fitted in the center all through long on the net blouse. This gives an elegant look when paired with the saree.
2. Gold Embroidered Stone Embellished Net Blouse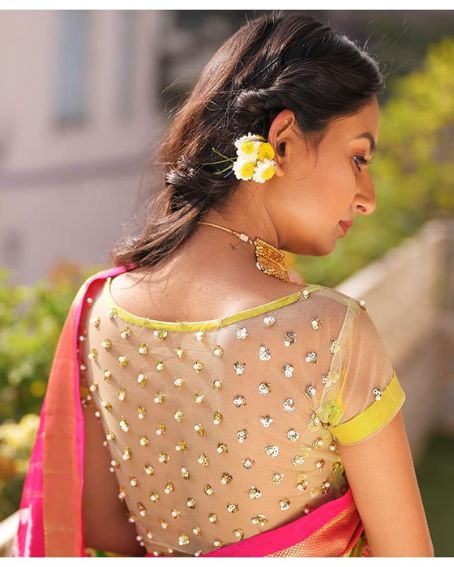 Gold is the favorite color of many ladies. Pairing a gold blouse with such beautiful embroidery and stone embellished net design with a saree or lehenga is the highly favorite choice of many. This blouse is suitable for both simple and grand events and parties.
3. Black Net Blouse With Blue Golden Embroidery And A Round Open Cut On The Back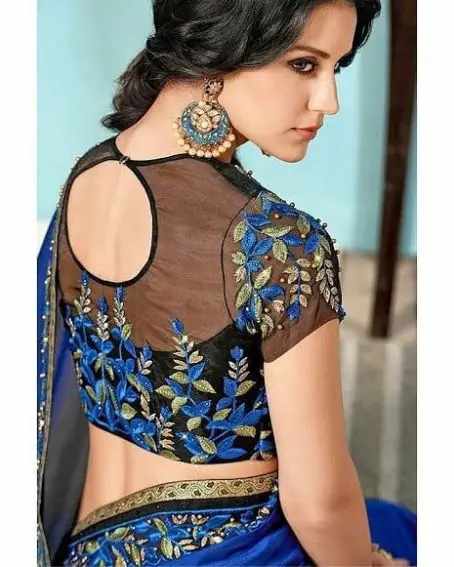 The open round cut net blouse back is the newest trend design, especially with intricate blue and golden flower embroidery embellished. A broad-shoulder woman can wear this net blouse which gives them a neat and well-crafted look.
4. Embroidered Back Of Sari Blouse With All Through Buttons And Keyhole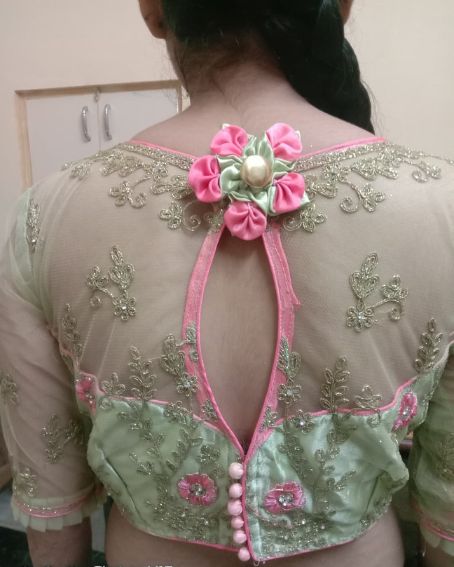 The embroidered net blouse with all-through buttons and keyhole on the back looks so decorative and lovely. It perfectly fits for church weddings and reception parties. The updo hairstyle goes well with this blouse as it enhances the clear visibility of this wonderful embroidery design with all-through buttons in this blouse.
5. Purple Net Blouse With Border Patch Work And Open Back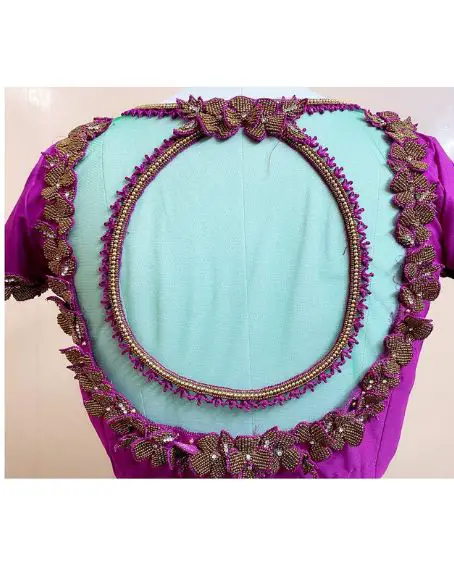 This Purple blouse is preferred by many as it is comfortable to wear. It has exquisite patch works at the borders and when paired with an open-back design, it gives you a fantastic and awesome look.
6. Black Net Blouse With Embroidered Work And Transparent Sleeves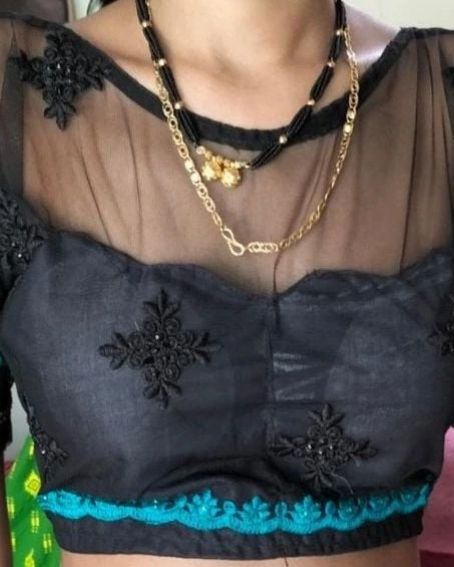 This magnificently looking black blouse with embroidered work and transparent sleeves when paired with sarees or lehengas is apt for day or night parties. The embroidery work on the transparent net sleeves looks trendy and classic as well.
7. White Thread Work Sleeveless Blouse With Net And Lace Sheer Back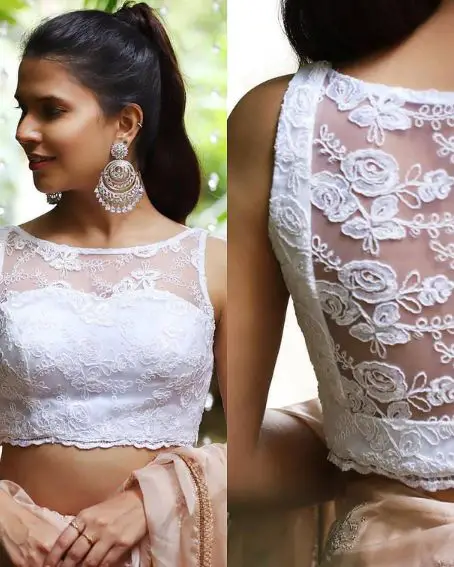 The white thread work sleeveless blouse with Net and lace sheer back is something marvelous you have never seen. This ethnic white thread work looks amazing. This can be worn with white net sarees which will look gorgeous.
8. Boat Neck Net Blouse With Floral Embroidery On The Back And Full Sleeves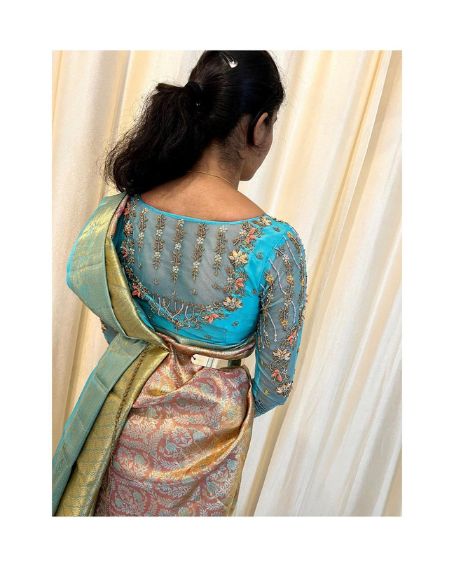 Boat Neck Net Blouse with Floral Embroidery on the back and full sleeves looks splendid on broad-shouldered women. The intricate embroidery works on the back and full sleeves give a modern and chic look. This amazing blouse mostly suits chiffon, satin, and georgette kind of sarees.
9. Colorful Flower Embroidery On The Back And The Short Sleeve Net Blouse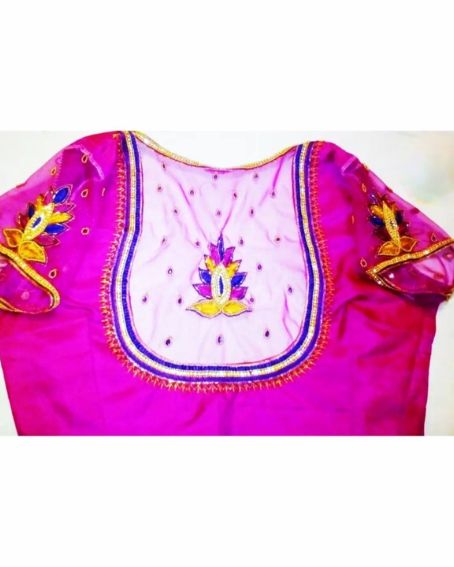 This design is the most unique one that you have not witnessed before. Floral embroidery on the back and the short sleeve of the net blouse is the only highlight that looks tremendously elegant. It can be predominantly paired with a net saree or even with beautiful sequin sarees.
10. High Collar Threadwork Net Blouse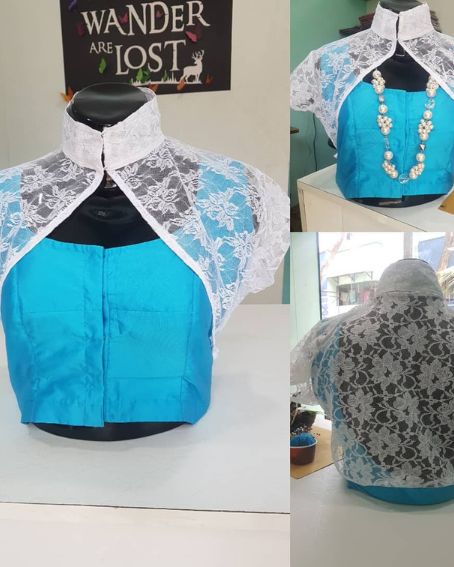 This high collared thread work net blouse obviously gives a bold and fashionable appearance. The intricated thread work of the back net blouse elevates your sexy backbone. This net design suits any kind of modern saree that offers a daring look.
11. Gold Jewel Neck Sequins Work With Sleeveless Blouse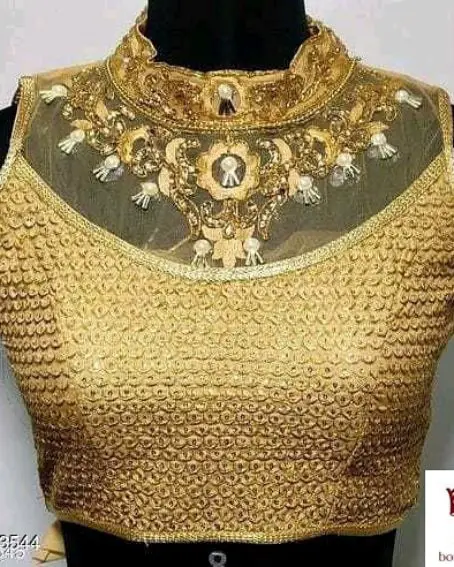 Eliminate the necessity of wearing neck accessories because of the grand jewel work in this blouse. The jewel neck sequins work, and the neck lining of this gold blouse will be adored by those who love to flaunt in a gold saree. Avoid wearing more jewels above this blouse as it will ruin the whole beautiful look of the blouse.
12. Transparent Top Fully Covered With Embellished Flower Embroidery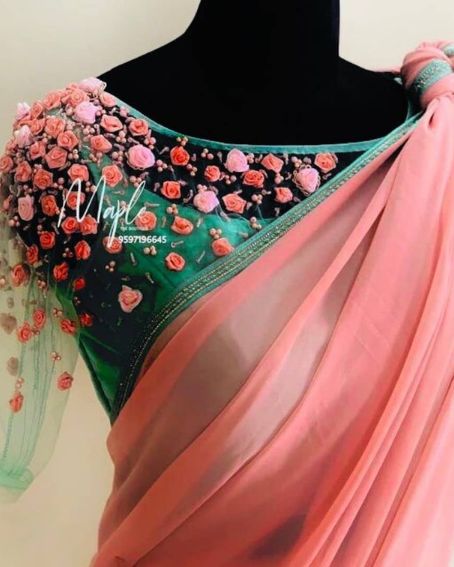 This light work blouse is decorated with embellishing colorful flower embroideries which look adorable and elegant. This embellished transparent blouse matches perfectly with simple light work net sarees.
13. Red Boat Neck Net Blouse With Full Sleeves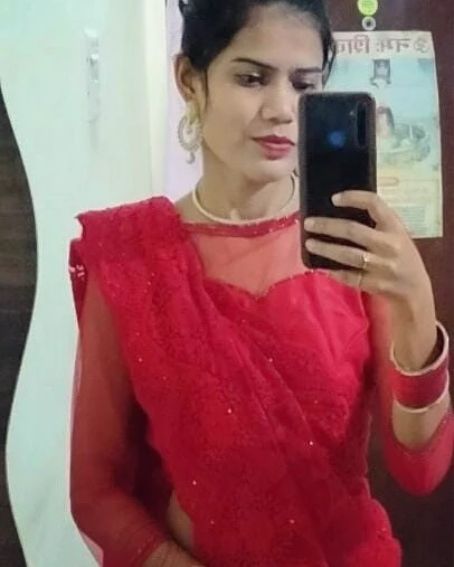 Boat neck net blouse is the forever trend when coming to blouse fashion. The boat neck net blouse enhances your wide shoulder that looks graceful and bold. This pattern offers a casual glimpse when paired with your outfits like sarees, skirts, or lehengas.
[ Read: 20 Latest Full Sleeves Red Net Blouse Designs ]
14. Sheer Yoke Blouse And Sequins Motifs On Back Of Blouse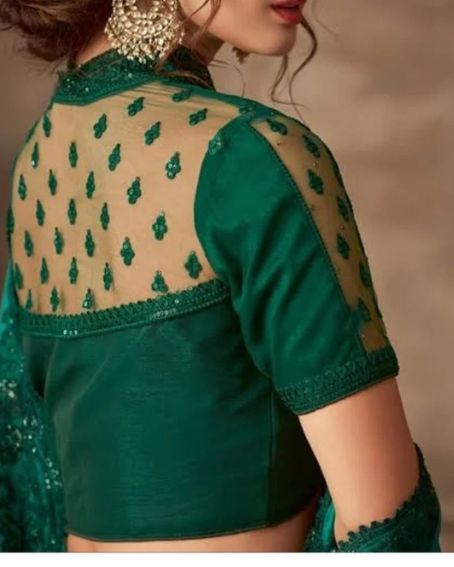 The elegant sequin motifs on the back blouse are the latest trending net blouse design that most young girls love wearing. This blouse is beautifully designed and covers your back entirely from the top with the sequin motifs designed on the net. This can be worn in any simple day or night event.
15. Embellished Embroidery With Single Button Keyhole On Back Side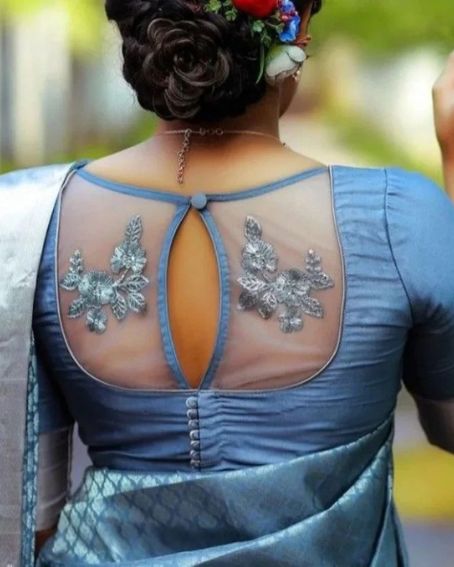 This wonderful net design blouse is something you will fall in love with because of the fabulous embellished embroidery. The keyhole pattern in this blouse elevates its design and looks modernistic and ethnic as well. This net design blouse looks glorious when paired with gorgeous net sarees
16. A Delicate Net Saree With Sequin Motifs Boat Neck Blouse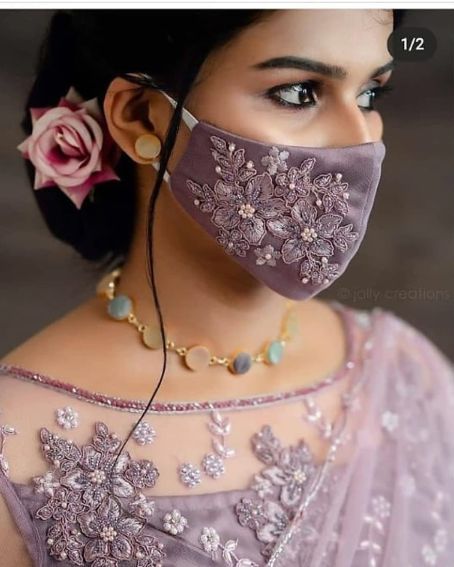 This Bollywood-style saree and blouse are perfectly fit for slim physique women. It features the sequin motif design that is embellished all through the saree and net blouse that looks amazing and glowing.
[ Read: 20 Latest Back Boat Neck Blouse Designs ]
17. Embroidered Back Of Net Blouse With All Through Buttons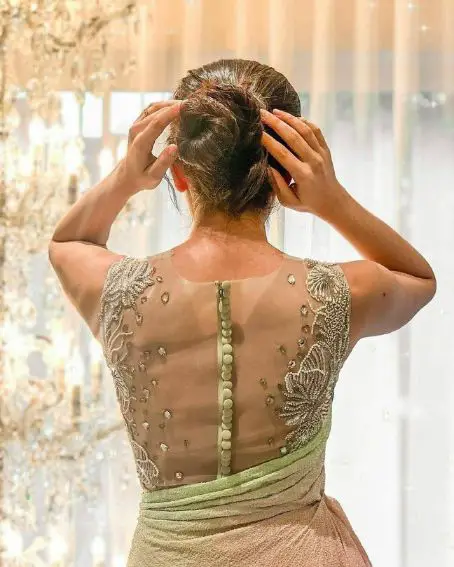 The net blouse itself looks pretty good while the embroidery on it will enhance the blouse's appearance to be more fabulous and lovely. This embroidered back net blouse with all through button goes well on any type of sarees.
18. Half Net And Embroidery Blue Blouse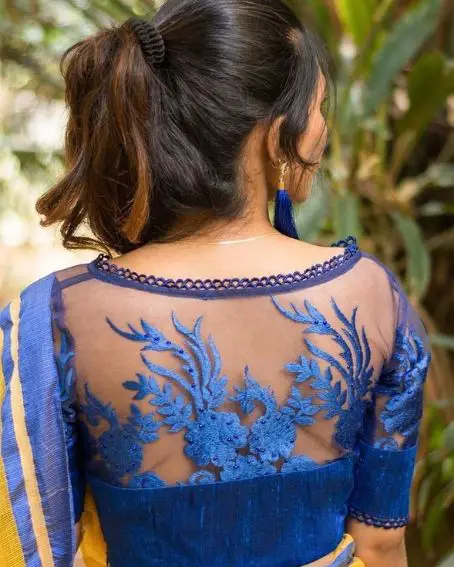 This attractive unique design is a perfect fit for wedding brides. The embroidery designs are made beautifully to look stylish. This blouse when worn with a wedding saree or lehenga will give you the charming and peculiar look that you have been looking for at your wedding functions.
19. Square Type Transparent Net Back With Simple Stone Work Short Sleeve Blouse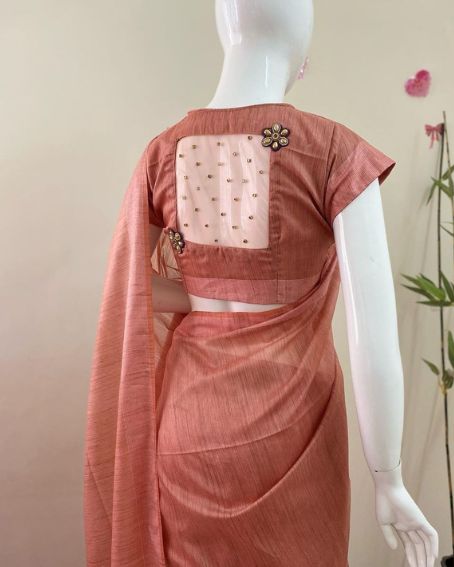 The square type transparent net back blouse with simple stone is designed for those who want to show off blouse back beauty. It gives an elegant look when worn with a soft chiffon saree. This pattern is suitable for slim physique women whose alluring backbone is beautifully enhanced.
20. Green Net Back Button Blouse With Full Sleeves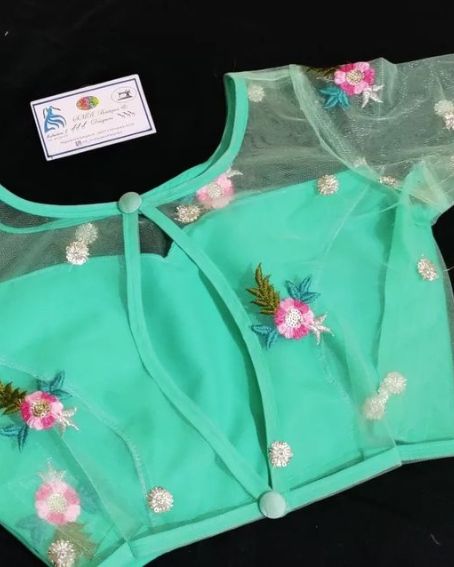 This beautiful Green net blouse is the topmost one among the net blouse design as it can be complemented with any kind of sarees. The netback button adds extra magnificence to this green blouse. This looks great on most types of sarees and skirts.
You Might Also Like: