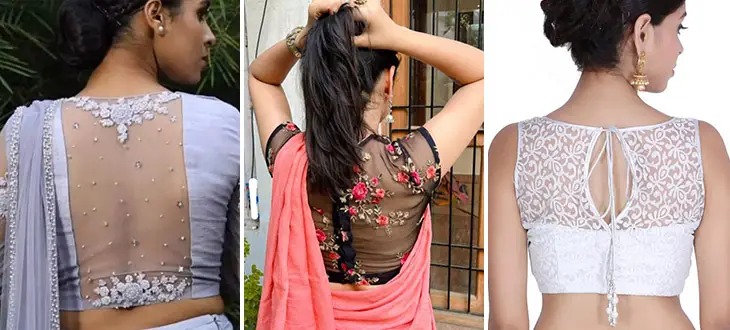 Don't matter what designs of sarees you wear whether cotton, net, nylon and any other fabrics but your saree look gets doubled when you put on matching blouse with your sarees or other combinations that looks further prettier to you. There are numerous blouse designs but we are unfamiliar with names of many unique blouse designs exactly. But numbers of blouse designs for net sarees are available that you can match with your sarees and look more fabulous on you.
12 Simple Blouse Designs For Net Sarees
Blouses are different types those are like net designs also that are too beautiful and give you very smart look. If you are looking for some elegant and exclusive net blouse designs so, you can look at in net blouse designs that are the perfect choices for parties, wedding, functions, events, and other programs. Now you have great platform for ample of net blouse designs with sheer, lace and long blouse designs for net sarees those you can know about blouse designs are:
1. Black Net Blouse Designs
In such black colored net blouse design is superb and will bloom the skin of every lady who will wear this black net blouse design. The front part of the blouse has a gorgeous solid fabric with awesome color blend. This long blouse design with sleeves and also the back portion of the blouse design is designed with net that creates the look special.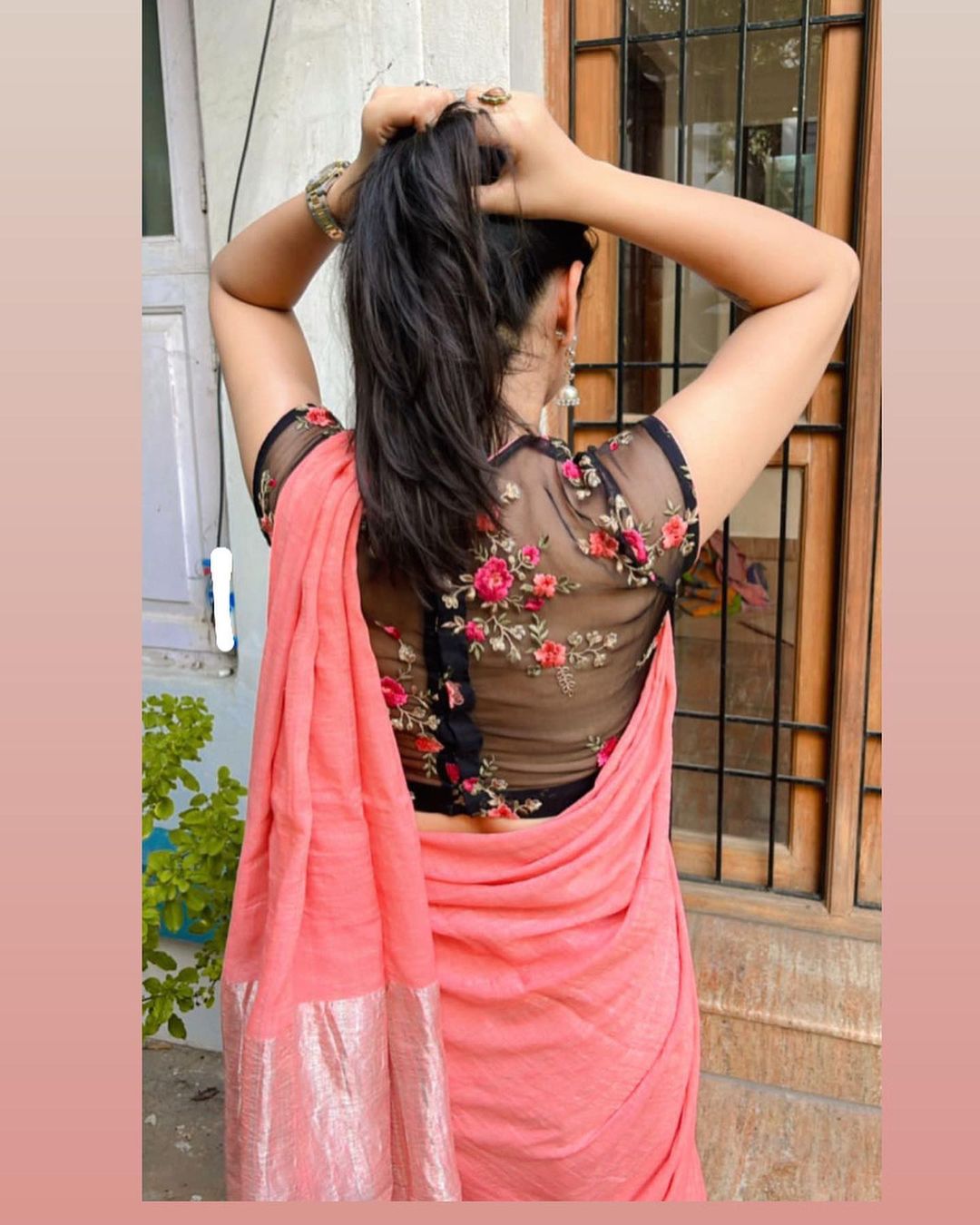 [ Read: Beautiful Collection of Kora Silk Sarees ]
2. Embroidery Net Blouse Design
This black color net sleeves and back blouse looks more fashionable and also gives traditional appearances and when any lady will wear this blouse with perfect match of lehenga choli. If you are going to some marriage party so, this blouse will be right fit for you.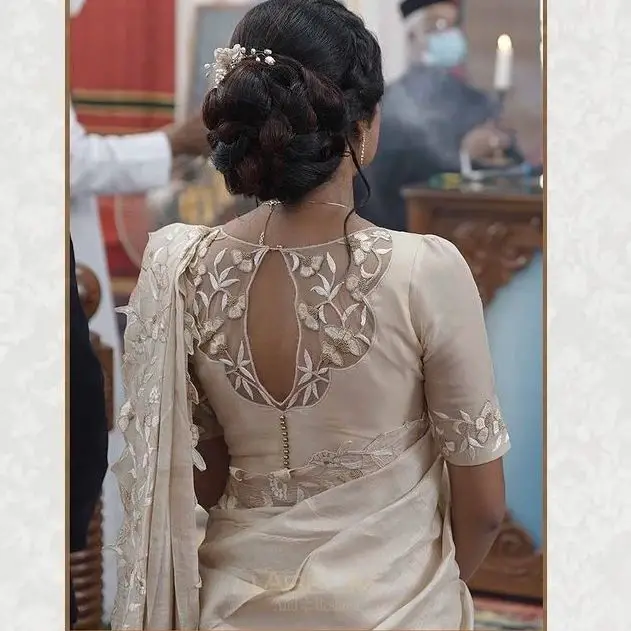 [ Read: Latest Collection of Kora Muslin Sarees ]
3. Back Open and High Necklace Net Blouse Design
This back open with high neckline net blouse design is in vogue that comes with full sleeve hand blouse and its high collars that enhances the beauty of blouse design. This is one among the elite designs with unique look at the back.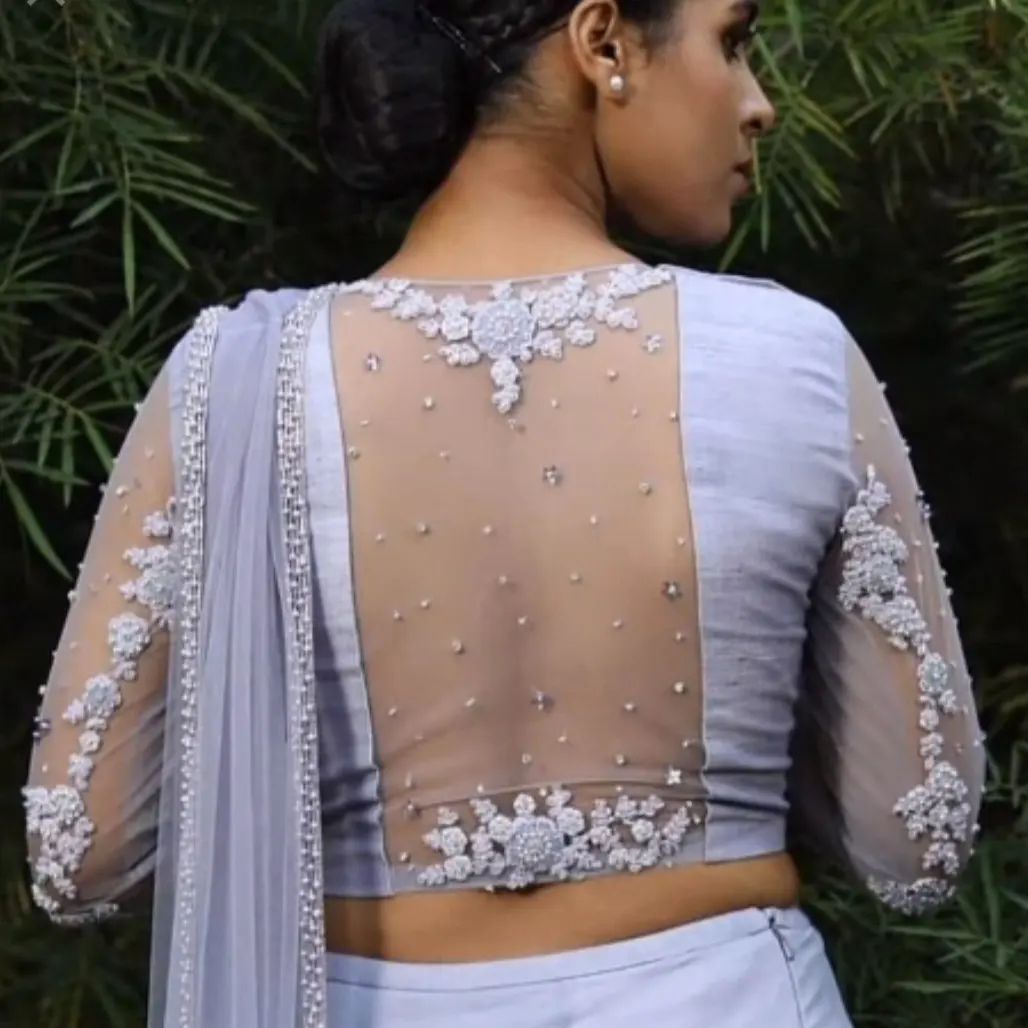 [ Read: Latest Red Color Saree Collection ]
4. Black Net Blouse with Back Tying
The dazzling look of this net blouse design with amazing back tying is incredible whereas, the design portrays with sparkling cloth and the other portion like back and sleeves finishes with elite net design.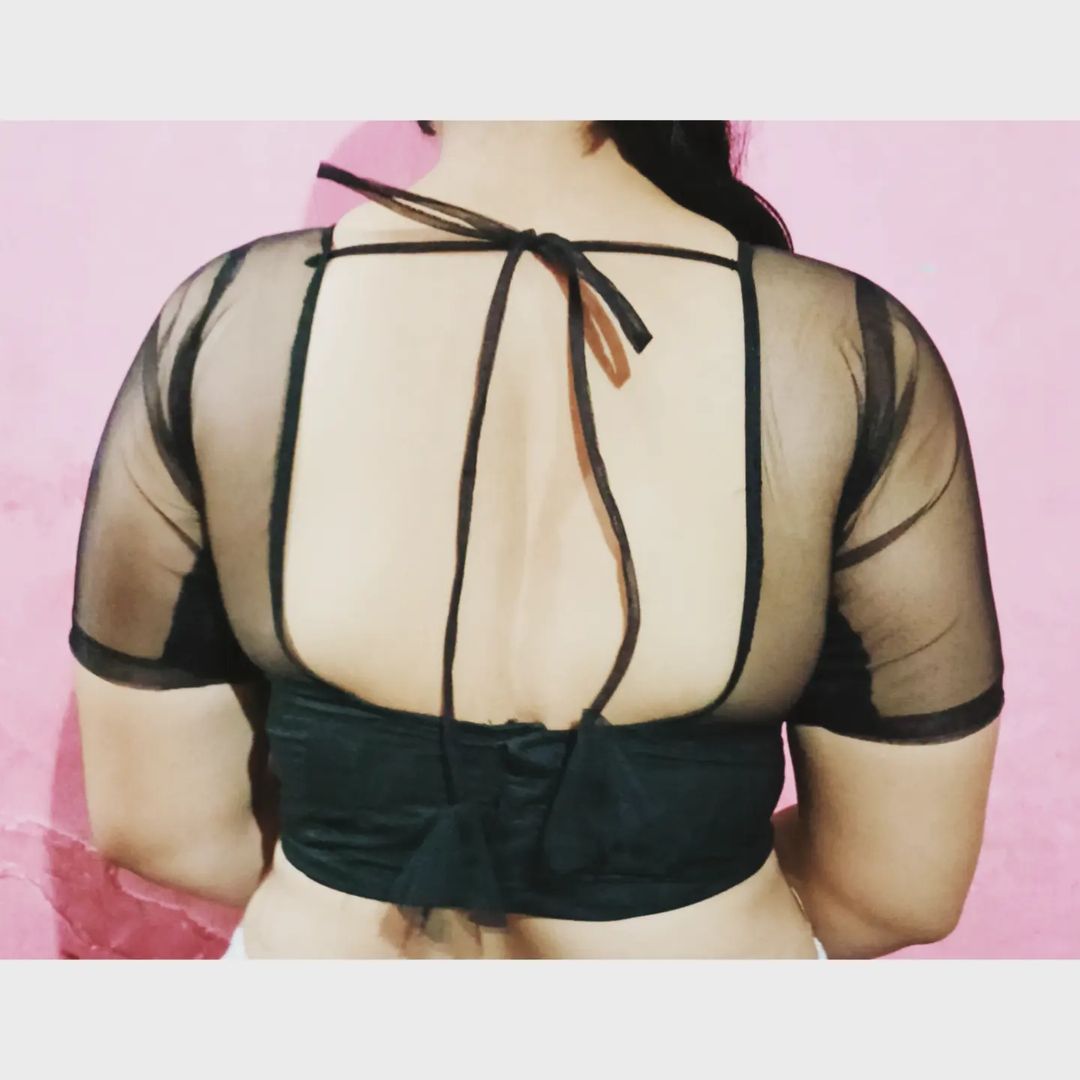 5. White Net Back Blouse Design
This blouse design is depicted with front part is designed with full of embroidery artwork. This blouse design is created with chanderi fabrics that forms a curved V shaped ending the naval. The sleeves and back parts of blouse are designed with off white net.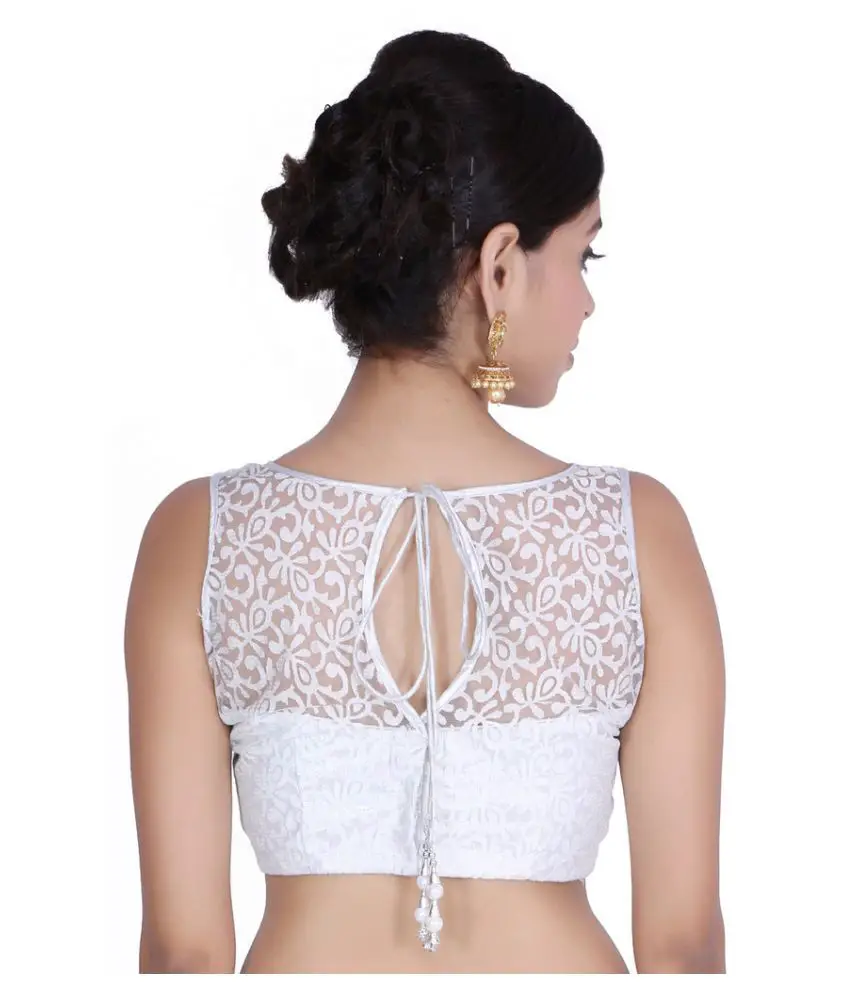 [ Read: Top 20 Front V-neck Blouse Designs ]
6. Ship Neck Net Blouse Design
This awesome combination of ship neck blouse design with sleeves is very comfortable for the ladies and they love to wear this blouse with all sarees. The back portion of this blouse with modest way has been designed with good net design.  Good quality of net is used to design this blouse.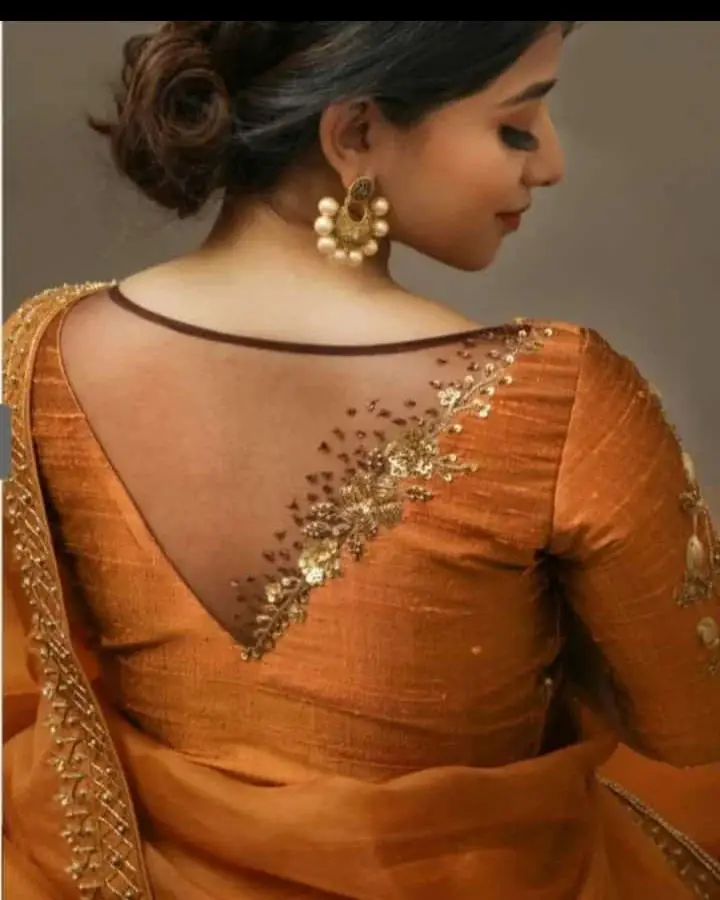 7. Net Hands and Back Blouse Design
This net sleeve blouse design has striking floral image and its hand sleeves beautifully designed with magnificent border at the sleeve. If women wear the blouse with complete royal blue sari gives them graceful gazes.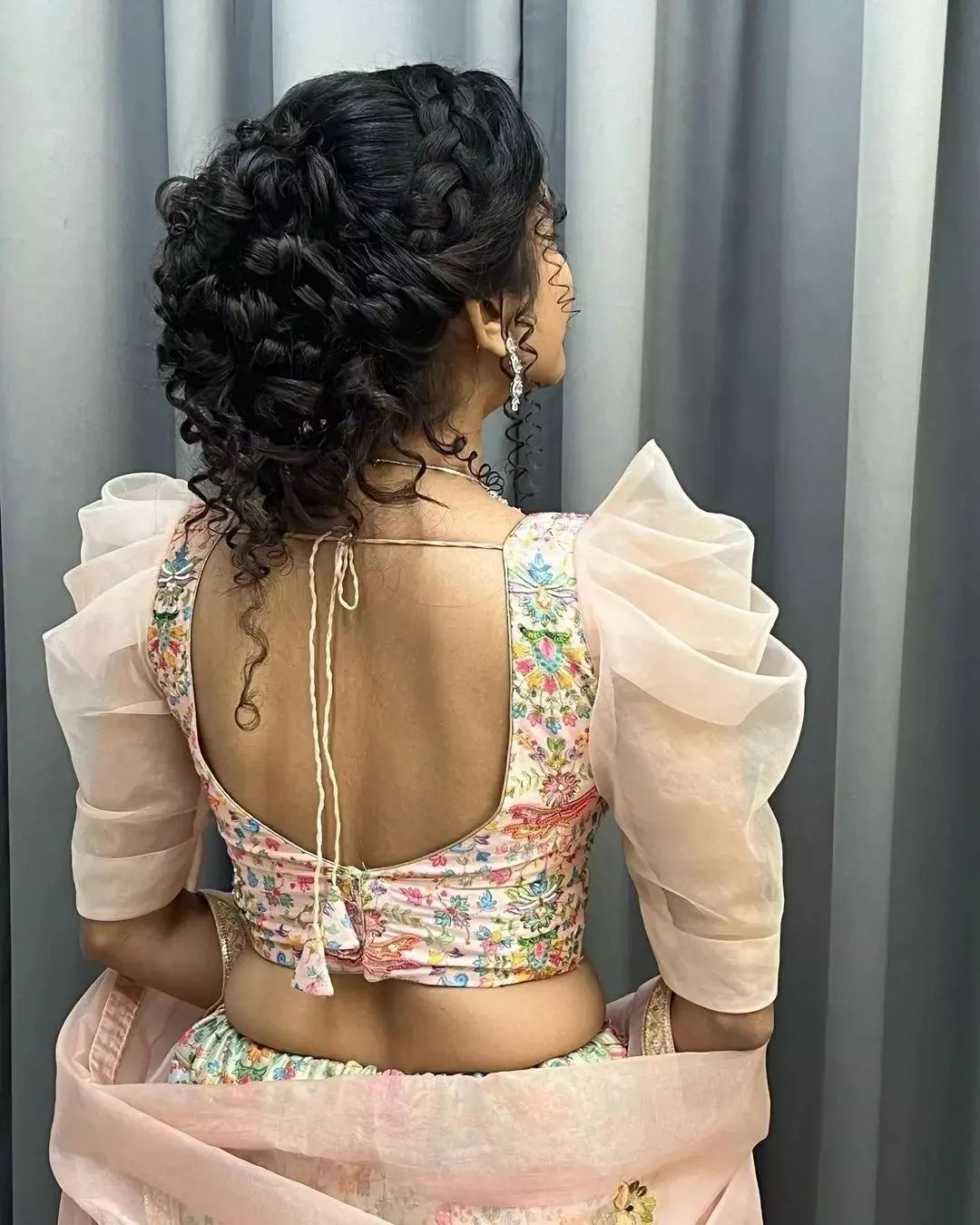 8. Back Open Net Blouse Design
The fantastic back open blouse mesmerizes everyone and the front portion of a blouse with sleeves is too exclusive and makes for every lady with a complete fashionable and stylish. For all casual occasions you can try this blouse.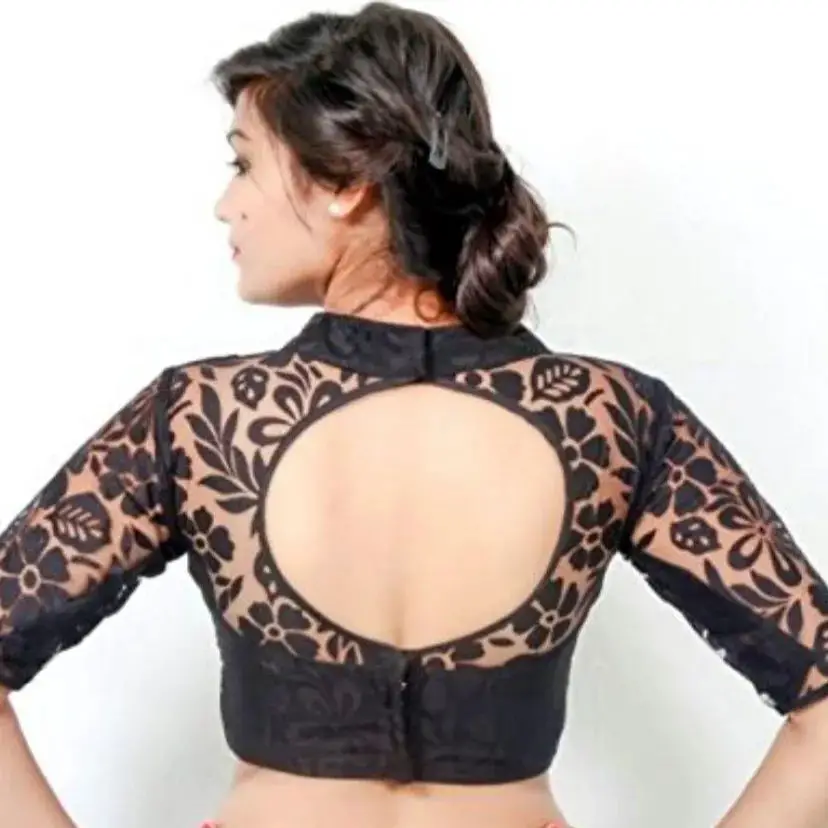 9. Backless Net Blouse Design
Superb design of backless net blouse is crafted with black color net completely with black color leaf designs adjacent to the neck. The hand sleeves and back portion give very flawless look on light color lehenga.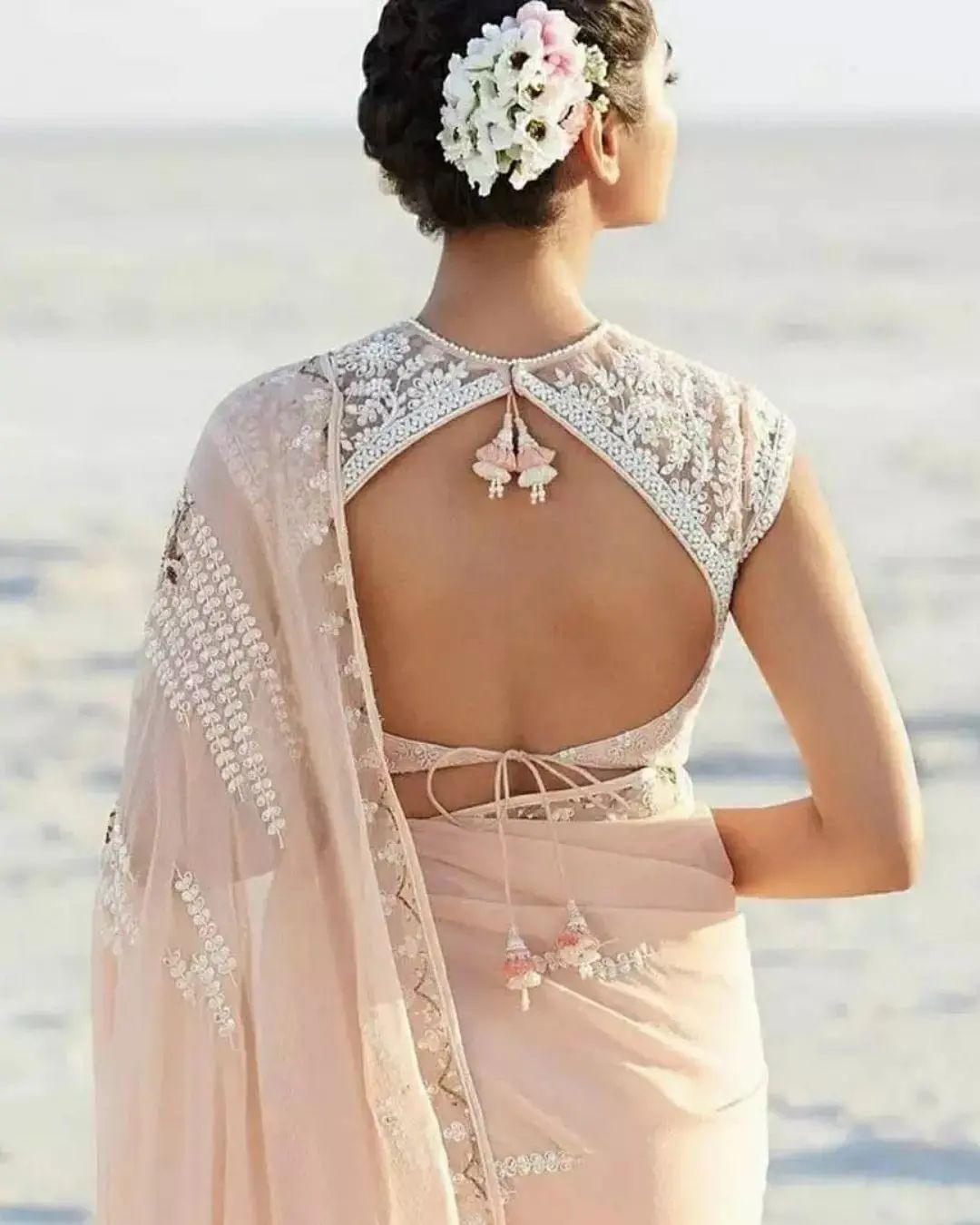 10. Lace Artwork on Net Blouse Design
Lace artwork on such net blouse design is perfect one to provide eye-catching look to every lady. This design is truly unmatched and gives you a very eye-catching presence on any event or any program platform.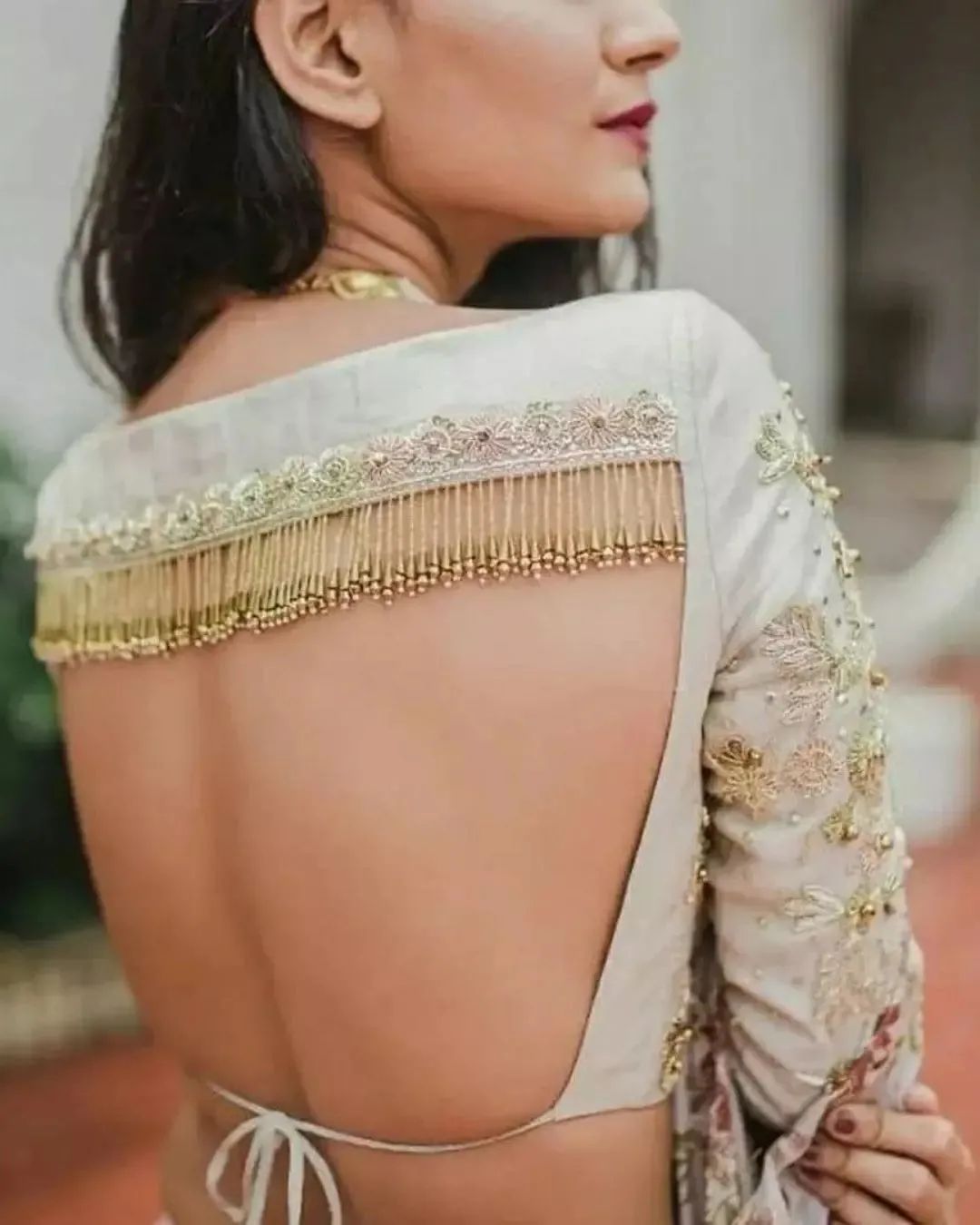 11. Heavy Work Blouse Design with Net Back
In such blouse design the blouse is designed with loads of heavy artwork that look gorgeous on any woman when she attends the wedding function and a cultural program.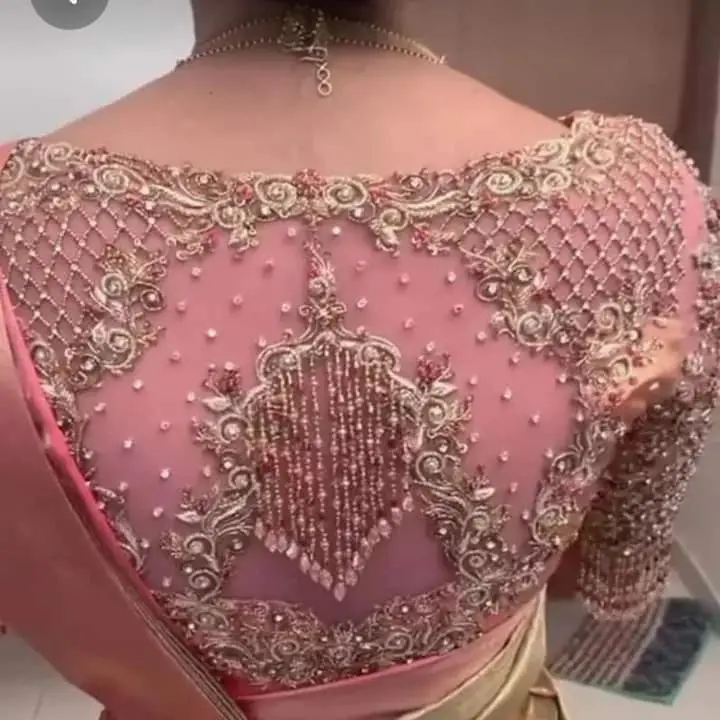 12. Designer High Collar Blouse Design
This blouse design is tremendously smart option for each and every woman. This color blouse is also very sweet and providing graceful appear. You can easily dress-up this blouse with a golden color sari gives stunning gaze.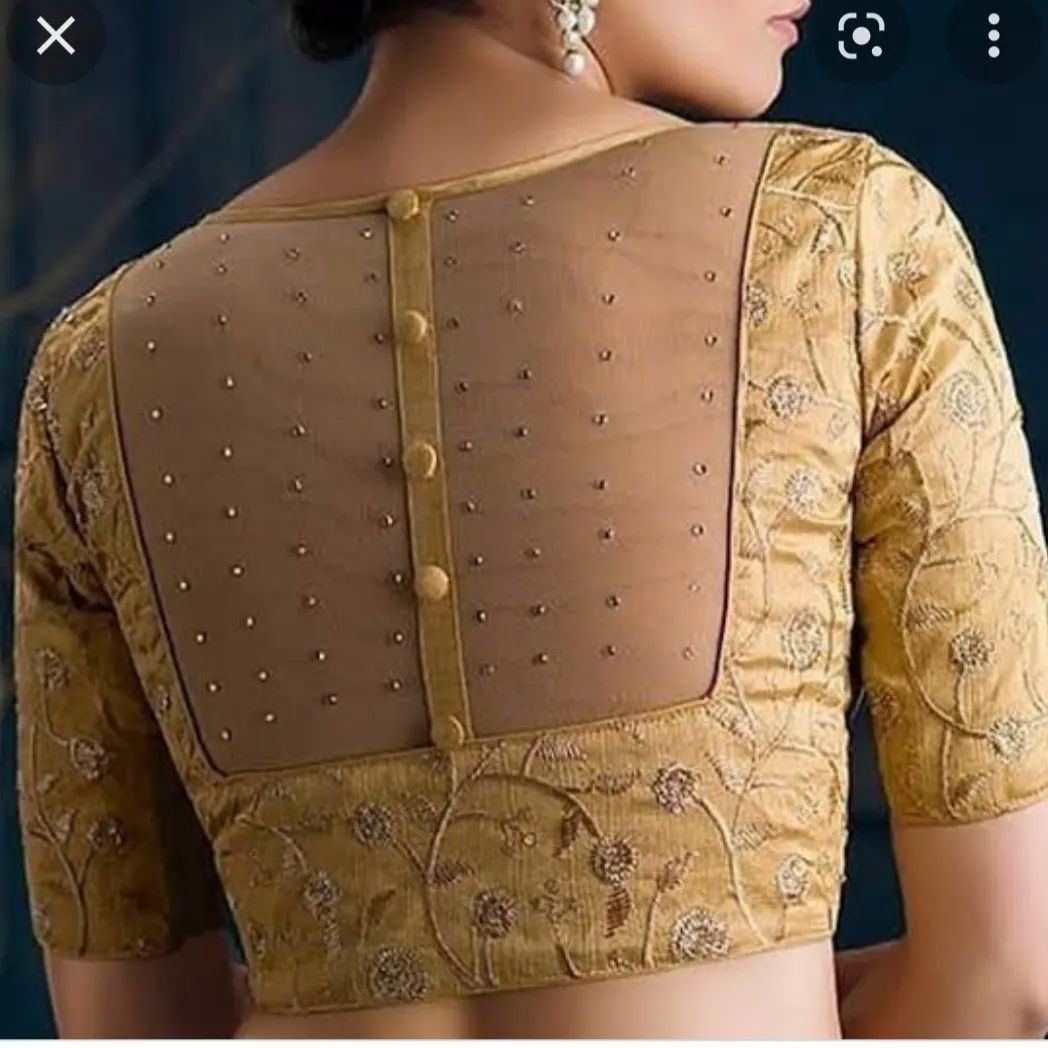 You Might Also Like: