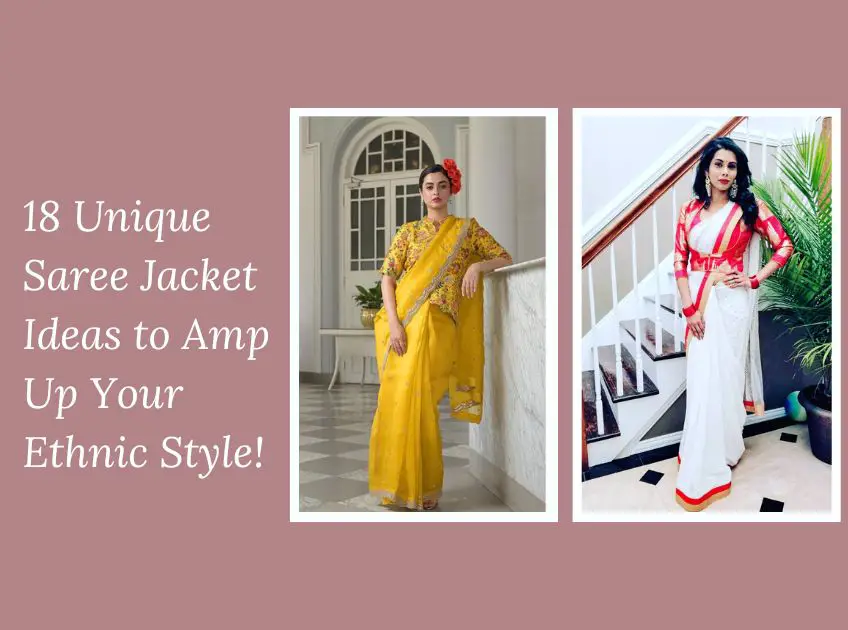 Sarees with jackets are a traditional Indian outfit. A saree is a long piece of fabric draped around the body, and a jacket is a top worn over the saree blouse. This outfit is both stylish and versatile, and it can be worn for many different occasions. The jacket can come in different styles, lengths, and designs, so you can choose one that matches your personal style and the event you are attending. Sarees with jackets are a popular choice for many Indian women because they are both modern and culturally rooted.
18 Unique Saree Jacket Ideas to Amp Up Your Ethnic Style!
1. Olive Green Saree N Blouse With Pink Jacket Festive Wear Party Wear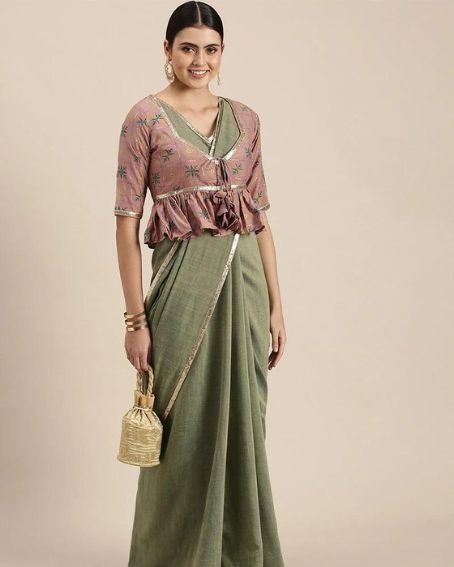 This ensemble combines an olive green saree and blouse with a pink jacket, making it perfect for festive occasions and parties. Young girls, teenagers, and women can embrace its vibrant hues and contemporary design to make a stylish statement.
2. Vidisha BurgundyMaroon Crepe Silk Saree with Blouse & Jacket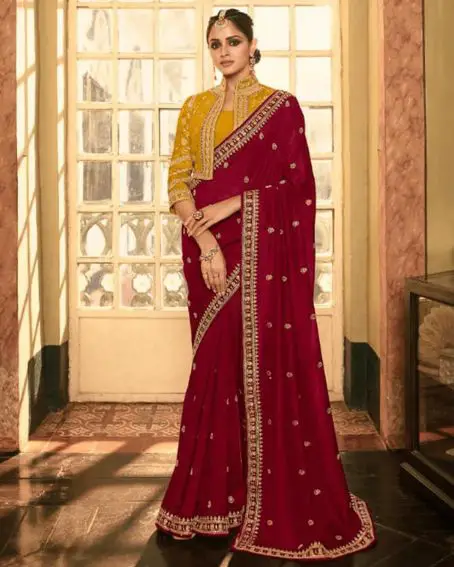 The burgundy and maroon crepe silk saree with a matching blouse and jacket exudes elegance. It's a choice that can appeal to young girls and women alike, offering a timeless look suitable for special events.
3. Ruffled Saree With Embroidered Jacket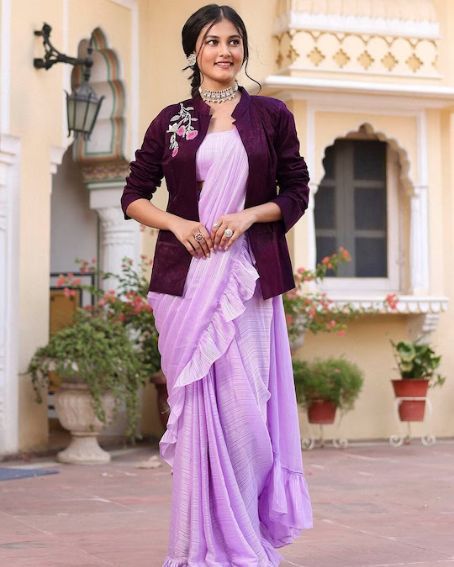 A ruffled saree paired with an embroidered jacket presents a fusion of modern and traditional styles. This ensemble can be embraced by young girls and teenagers looking for a unique, fashion-forward outfit for celebrations.
4. Embroidered Satin Saree with Embroidered Jacket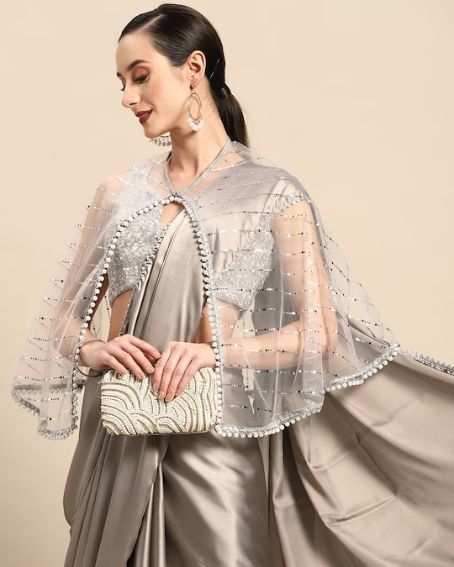 An embroidered satin saree and jacket combo provides a luxurious touch. It caters to the preferences of women who appreciate intricate detailing and opulent fabrics, making it a great choice for various occasions.
5. Pink Aine Pre-draped Saree And Sheer Jacket Set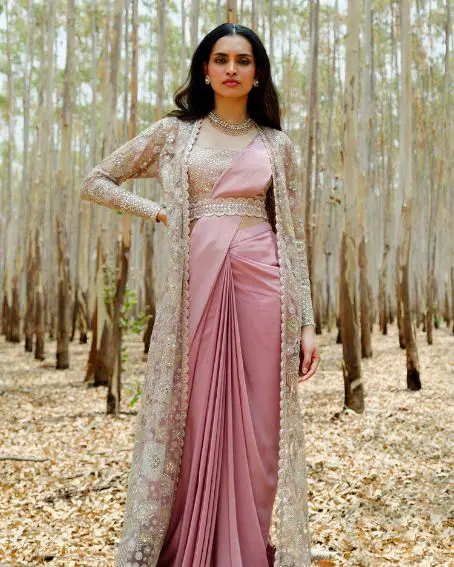 This pre-draped saree with a sheer pink jacket is a contemporary choice for young girls and women seeking a hassle-free yet fashionable look. It's a versatile option for both formal and semi-formal gatherings.
6. Gray Cotton Handloom Saree With Blouse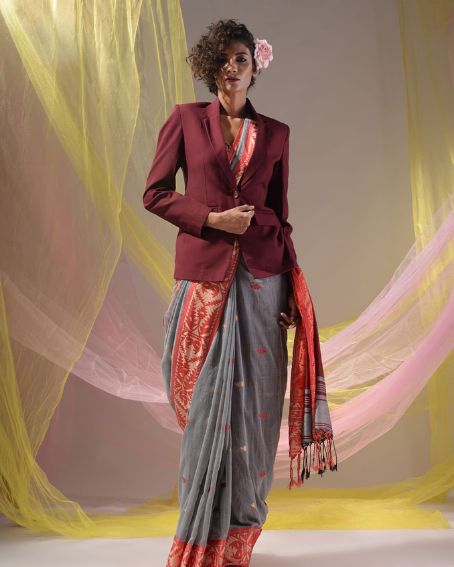 The gray cotton handloom saree with a blouse offers comfort and simplicity. It's an ideal choice for women of all ages, including young girls and teenagers, who prefer a minimalist and elegant style.
7. Red Cotton Handloom Saree With Blouse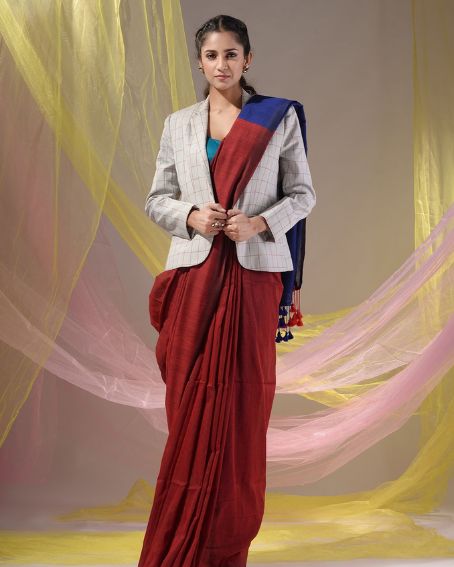 A red cotton handloom saree with a blouse is a timeless classic that suits women of all ages. Its vibrant color and traditional charm make it suitable for various cultural celebrations.
8. Rebel Red Ready Pleated Saree In Satin With Navy Blue Raw Silk Jacket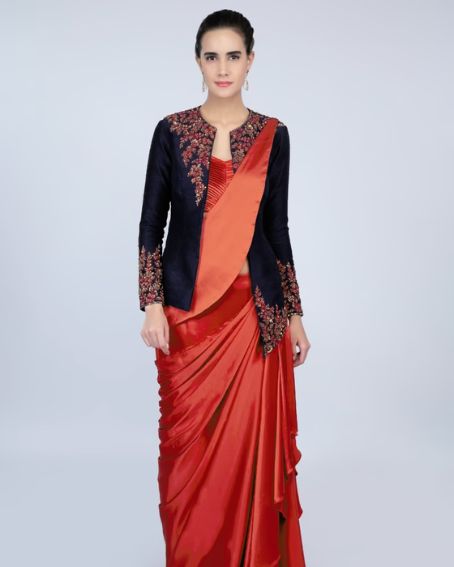 Young girls and women looking to make a bold statement can opt for this rebel red satin saree with a pleated strap blouse and navy blue raw silk jacket. It's a contemporary take on traditional attire, perfect for parties and events.
9. White Cotton Saree with full sleeves Red Jacket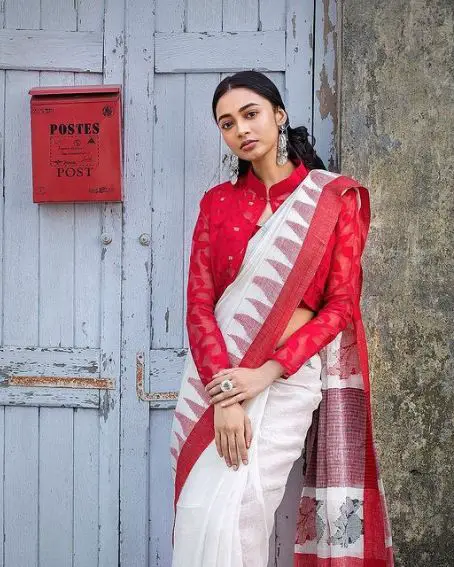 The elegant combination of a white cotton saree paired with a full-sleeved red jacket exudes timeless grace and sophistication. The pristine white saree serves as a canvas, allowing the vibrant red jacket to steal the spotlight, creating a striking contrast that is both classic and eye-catching. This ensemble is a perfect choice for those seeking a fusion of traditional and contemporary style, making a lasting impression on any occasion.
10. White Cotton Saree with Red Jacket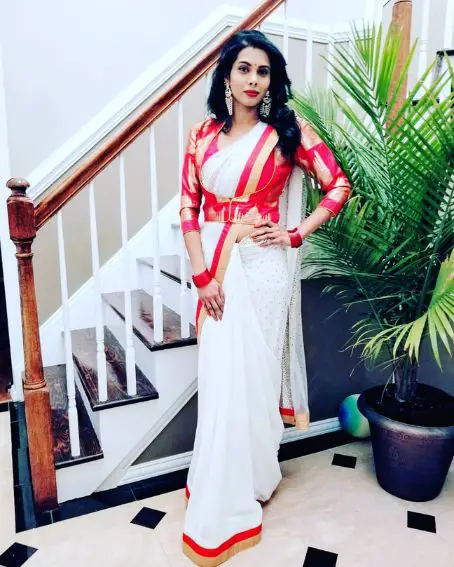 A white cotton saree with a red jacket offers a clean and bright look. Young girls and women can embrace this ensemble for a refreshing and graceful appearance.
11. Yellow Handcrafted Jacket Blouse With Gota Patti Scalloped-border-Saree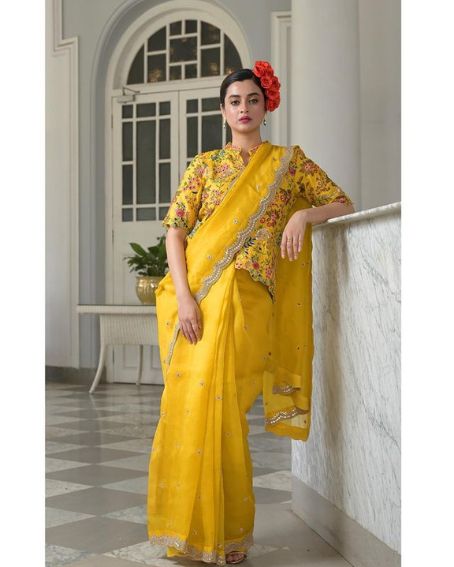 This yellow jacket blouse paired with a gota patti scalloped-border saree is a blend of contemporary and traditional elements. It suits women looking for a vibrant and culturally rich outfit.
12. Red and Green A Dhakai Jamdani Saree with a Bomber Jacket Style Blouse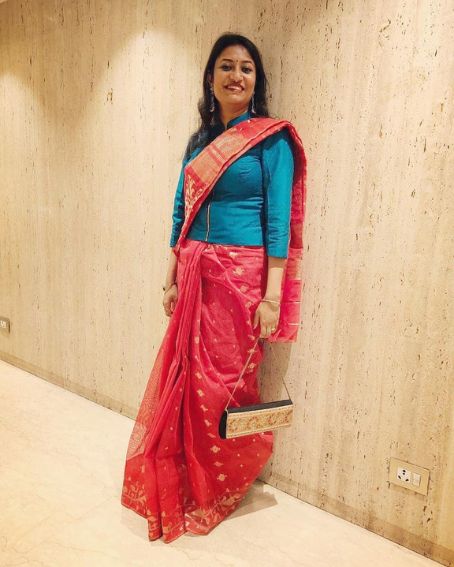 The Dhakai Jamdani saree with a bomber jacket-style blouse in red and green offers a unique fusion of styles. Young girls and women can explore this innovative look for festive occasions.
13. Shimmery White Mirror Work jacket Blouse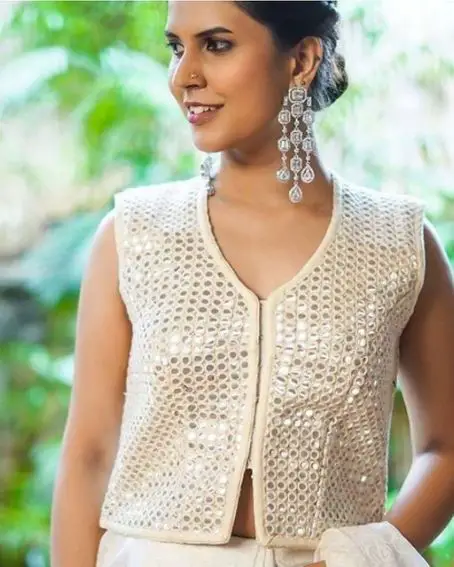 The shimmery white mirror work jacket blouse adds a touch of sparkle to any saree. It's a versatile choice for women of all ages, providing a glamorous edge to their attire.
14. Pink, Polka & Jacket Blouse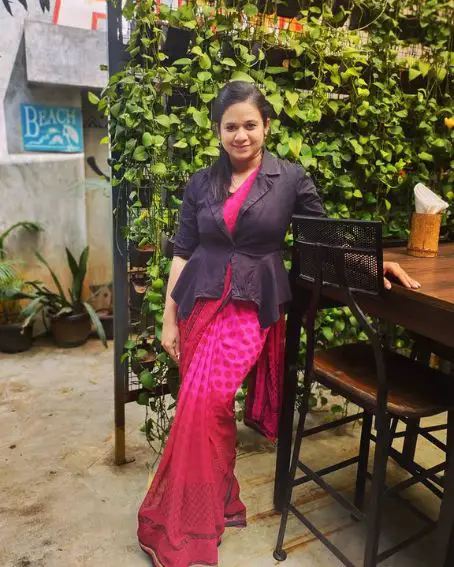 This pink polka-dotted saree paired with a jacket blouse offers a playful and youthful look. It caters to the fashion preferences of young girls and teenagers who seek a fun yet stylish ensemble.
15. Classy Shibori Print Jacket Paired with a Shaded Ready Pleated Saree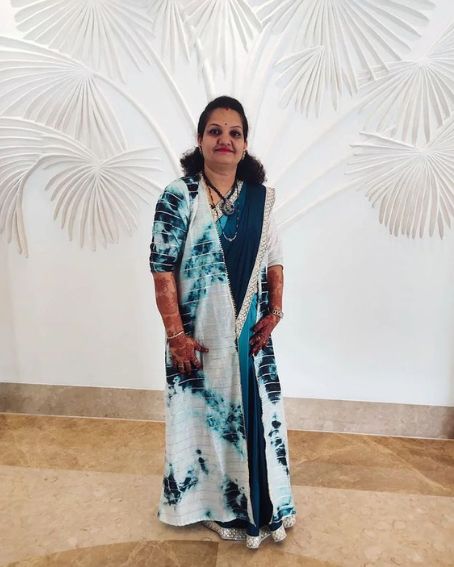 This ensemble combines a classy Shibori print jacket with a shaded pleated saree and Lucknowni lace. It's a sophisticated choice for women attending formal events and gatherings.
16. Black Saree with Red Border Jacket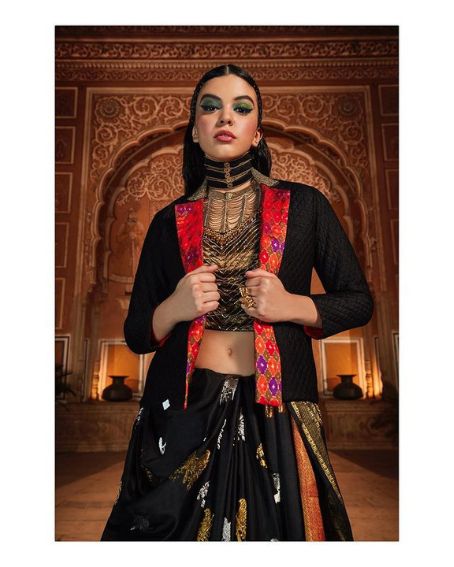 A black saree with a red border jacket creates a striking contrast. Women looking for a bold and elegant look can consider this combination for special occasions.
17. Jacket Blouse with a Shaded Saree Embellished Beautifully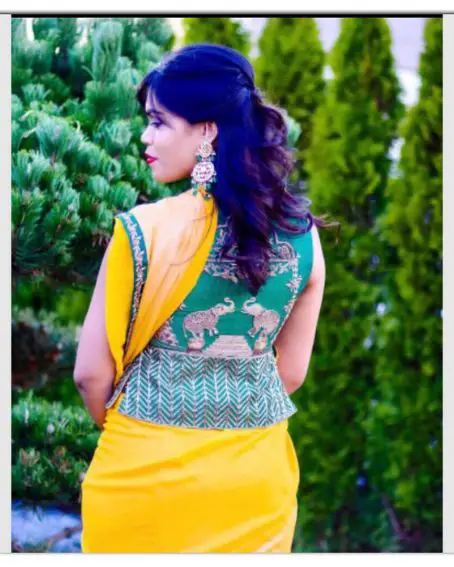 A jacket blouse paired with a shaded saree embellished beautifully offers a refined and artistic appearance. It's suitable for women who appreciate intricate detailing and craftsmanship.
18. Pastel Skirt Paired with a Jacket Top and a Dupatta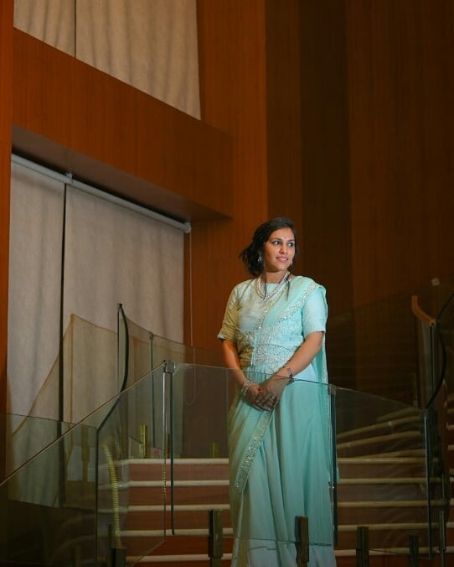 This pastel skirt paired with a jacket top and dupatta provides a chic and modern look. Young girls and women can embrace this outfit for trendy and comfortable party wear.
What is The Importance of Saree with Jacket ?
Style and Fashion Fusion: Sarees with jackets seamlessly blend traditional Indian attire with contemporary fashion, creating a unique and stylish look. This fusion is highly appealing to individuals who want to maintain their cultural identity while embracing modern trends.
Versatility: Sarees with jackets are versatile and suitable for various occasions. The addition of a jacket can transform the saree, making it appropriate for formal events, casual gatherings, or even as everyday wear.
Seasonal Adaptability: Jackets provide an additional layer, making sarees more adaptable to different weather conditions. They can add warmth in colder months while being removable when it's warmer, offering comfort and practicality.
Personalization: Sarees with jackets allow for personalization. Individuals can choose jackets with different styles, colors, and embellishments to match their preferences and make a fashion statement.
Comfort and Ease: Jackets can enhance the comfort of wearing a saree. They often come with sleeves, eliminating the need for an extra blouse, and provide extra coverage, making sarees more accessible to those who may not be accustomed to traditional draping styles.
Contemporary Appeal: Many jackets feature modern designs, prints, and embroidery, making them attractive to younger generations and individuals looking for a trendy yet culturally rooted outfit.
What Are The Features of Saree with Jacket ?
Jacket Styles: Saree jackets come in various styles, including bomber jackets, cropped jackets, long coats, and bolero jackets. These styles cater to different fashion tastes and body types.
Embroidery and Embellishments: Jackets can be adorned with intricate embroidery, mirror work, sequins, beads, or other embellishments, adding a touch of glamour and elegance to the ensemble.
Fabric Choices: The fabric of the jacket can vary, from silk and brocade to georgette and chiffon. The choice of fabric can impact the overall look and feel of the outfit.
Color Coordination: Jackets are often coordinated with the saree's color palette. They can either match the saree or provide a contrasting or complementary color to create a visually appealing contrast.
Layering: Jackets provide an additional layer to the saree ensemble, allowing for creative layering techniques. This layering can be adjusted to suit the wearer's comfort and style preferences.
Functional Details: Some saree jackets include functional details like pockets, which can be convenient for carrying small items, especially in event settings.
Cultural Significance: Saree jackets can be customized to incorporate specific cultural or regional motifs, embroidery patterns, or prints, making them culturally significant and inclusive.
Ease of Draping: Saree jackets simplify the draping process, as they provide structure and stability to the saree. This makes it easier for individuals, including those less experienced with saree draping, to wear this traditional attire.
Conclusion
Sarees with jackets are a beautiful and versatile way to dress. They can be worn for different occasions, and they come in a variety of styles and colors. You can choose a jacket that matches or contrasts with your saree, and you can even find jackets with pockets. Sarees with jackets are also a great way to represent your culture or region. In short, sarees with jackets are a trendy and comfortable way to wear a saree while staying true to your style.
Related Articles