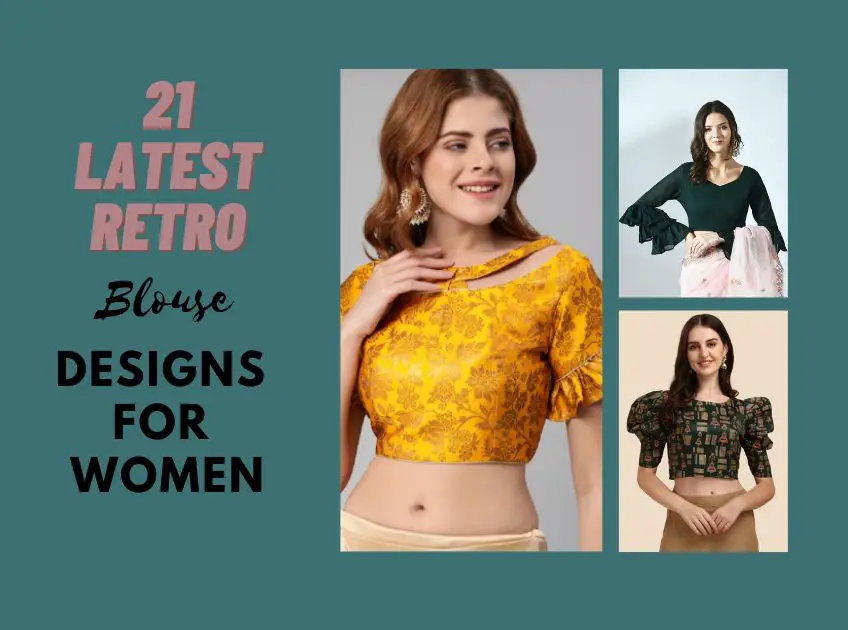 These "Retro blouse designs" were popular in the 1950's, 1960's and 1970's. There are so many designs available such as Puff sleeves, Ruffles , Collars, Embroidery, Peplum. By adding some assets they became trendy and these retro blouses are customized according to the present trending fashion. Now these blouse designs became eye-catching in meetings and women gatherings.
Each design narrates a story of nostalgic clothing trends, offering a window to the past while staying relevant today. Our Retro Blouse Designs celebrate the classic blouse styles that have transcended time, making them a must-have for every fashion-forward woman.
21 Latest Retro Blouse Designs for Women
1. Ethnic Motifs Woven Design Zari Bell Sleeves Padded Retro Blouse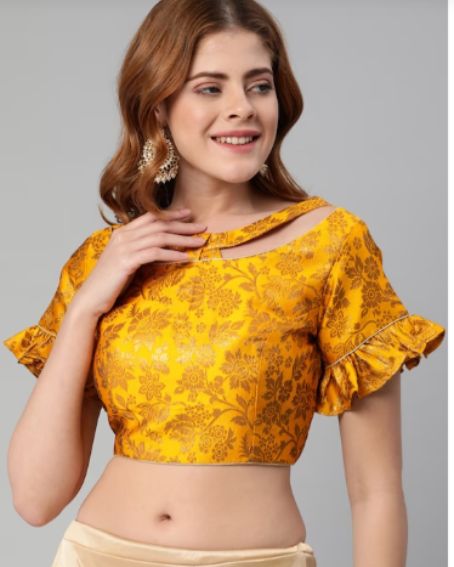 Embrace the regal charm of ethnic motifs woven into the fabric of this blouse. The intricate zari work gleams like stardust, accentuating the bell sleeves that add a touch of dramatic flair. The subtle padding lends a modern twist to this classic piece, creating a harmonious blend of vintage and contemporary.
2. Women's Red and Orange Printed Stretchable Retro Blouse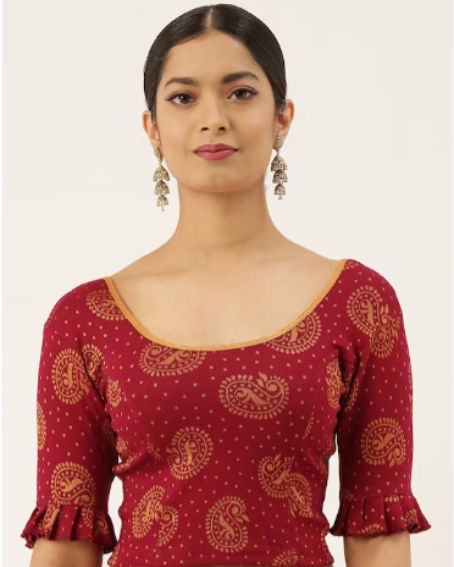 Vibrant and vivacious, this printed stretchable blouse boasts a color palette that dances between red and orange hues. The playfulness of the print is balanced by the retro vibes, making it an ideal choice for those who appreciate a fusion of modern comfort and nostalgic charisma.
3. Printed Elbow Length Sleeves on Gold color Retro Blouse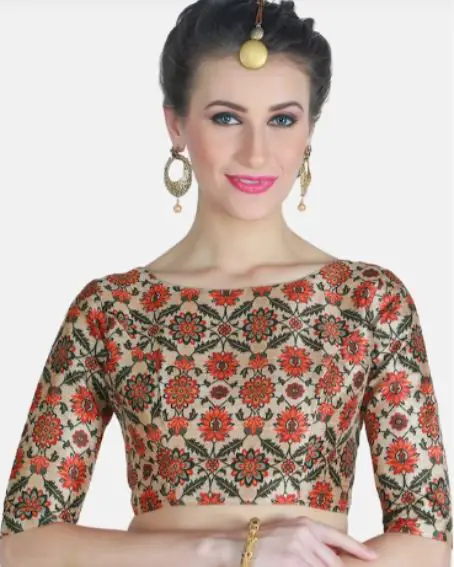 Elbow-length sleeves hold a timeless appeal, and when adorned with intricate prints, they become an epitome of grace. This retro blouse design embraces the elegance of simplicity, with its focus on well-crafted prints that tell stories of the past.
4. Printed Square Neck Cotton Retro Blouse for beautiful Green saree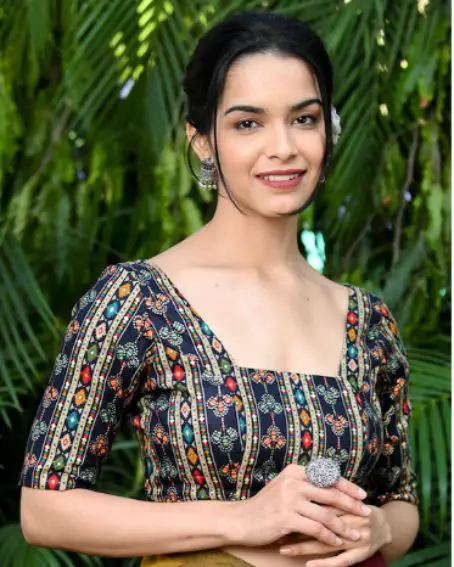 The square neck has a way of capturing attention, and when crafted in cotton with vintage-inspired prints, it becomes a statement piece. The idea that women, young girls, and teenagers can look beautiful in a Printed Square Neck Cotton Retro Blouse is a matter of personal preference and individual style. Beauty is subjective, and what one person finds beautiful, another may not.
5. Women Yellow & Blue Block Printed Cotton Saree Retro Blouse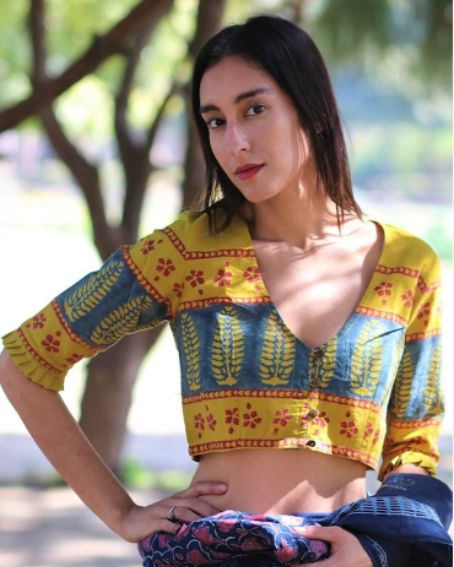 Channeling the essence of traditional craftsmanship, this blouse features yellow and blue block prints on comfortable cotton fabric. It's not just a blouse; it's a piece of art that pays homage to the cultural heritage of yesteryears.
6. Woven Design Sequined Sweetheart Neck Puff-Sleeves Retro Blouse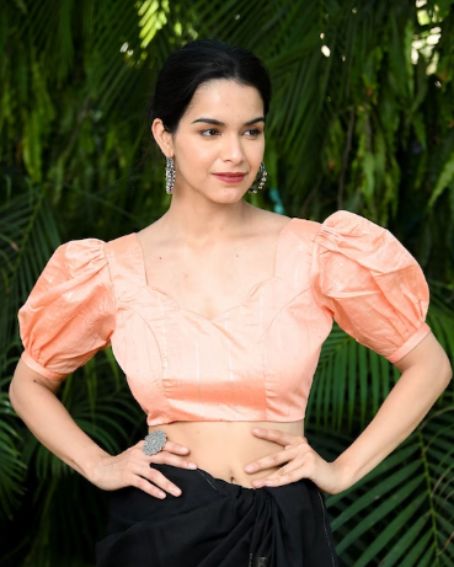 The sweetheart neck is a symbol of timeless romance, and when adorned with woven designs and delicate sequins, it transforms into a masterpiece. The puff sleeves add a touch of drama, reminiscent of a bygone era's opulent fashion.
7. Off White hakoba With Katiabari Lace Puff Sleeve Retro Blouse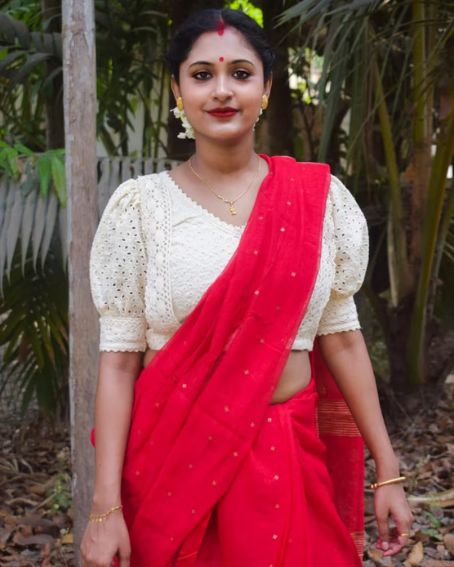 Hakoba and lace are a match made in retro heaven. The delicate intricacies of the hakoba fabric blend seamlessly with the charm of Katiabari lace. Puff sleeves complete the look, creating an ensemble that's as dreamy as it is nostalgic.
8. Polka Dots White Color Georgette Retro Blouse with blue saree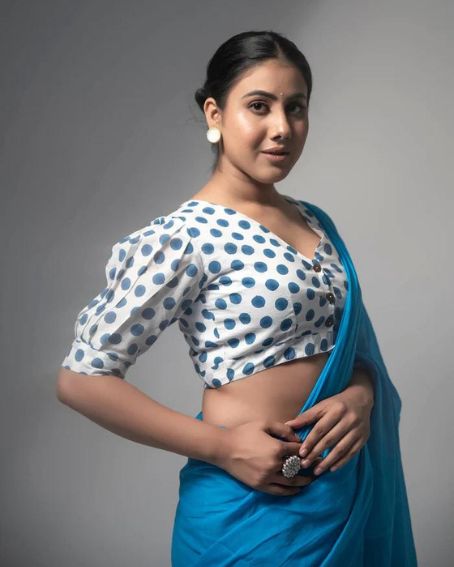 Polka dots have an everlasting charm, and when combined with the fluidity of georgette fabric, they create an ethereal retro blouse design. It's a piece that captures the essence of carefree yet elegant fashion sensibilities.
9. Dark Green Color Printed Top with Puff Sleeves Retro Blouse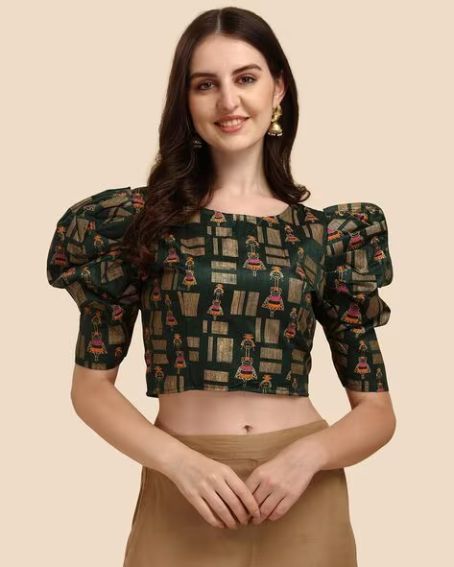 Dark green exudes a sense of mystery and allure, and when showcased in a printed top with puff sleeves, it becomes a symbol of timeless elegance. This retro blouse design pays homage to the bygone era's fascination with enchanting hues.
10. Women's Black Organza Polka Dot Readymade Retro Blouse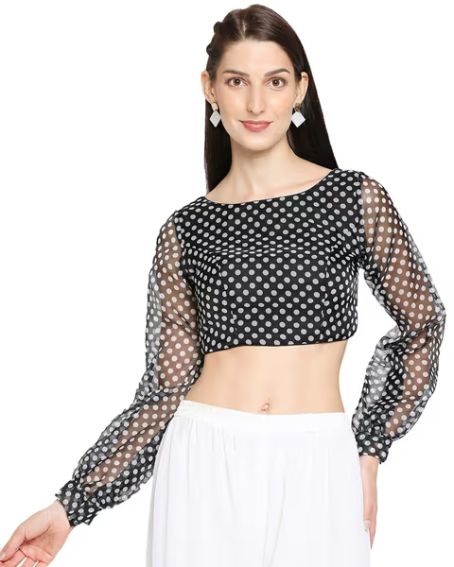 The mystique of black organza meets the playful charm of polka dots in this readymade retro blouse. Women of all ages, from young girls to teenagers, radiate timeless beauty when adorned in the Women's Black Organza Polka Dot Readymade Retro Blouse.
11. Stunning vintage Pink Bell Sleeve Retro Blouse for Women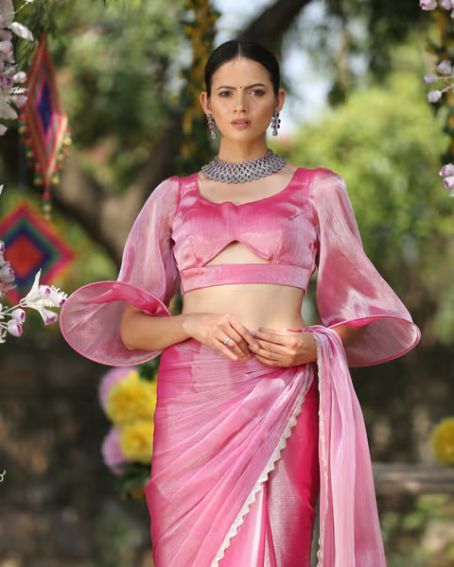 Emanate elegance with a touch of glam in this pink bell sleeve retro blouse. The color embodies femininity, while the bell sleeves harken back to a time when flair and sophistication were paramount.
12. Georgette Frilled Bell Sleeves Green Retro Blouse By Estonished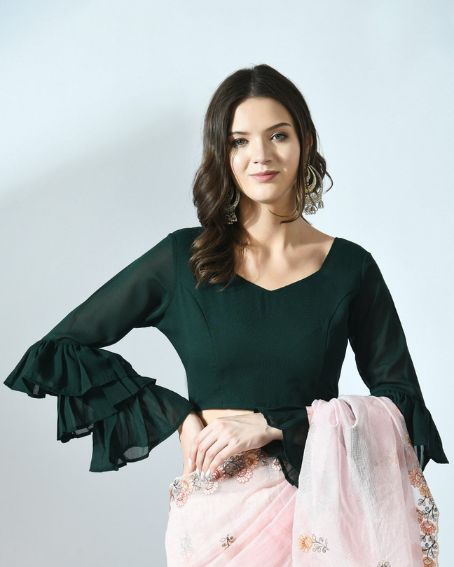 Frills and bell sleeves take center stage in this georgette retro blouse. The delicate green hue adds a refreshing twist, making it a versatile piece that can be effortlessly styled for both casual and formal occasions.
13. Hand-Embroidered Ruffle Sleeve Paired with Gold Satin Retro Blouse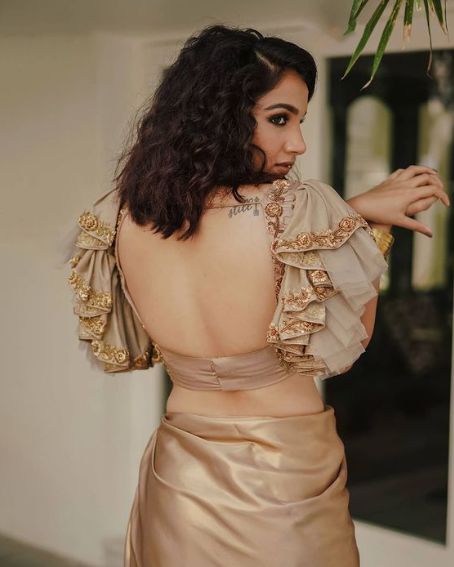 Hand-embroidery evokes a sense of artistry that transcends time. Paired with the opulence of gold satin, this retro blouse design is a testament to the intricate craftsmanship that defined fashion in eras gone by.
14. Blue Color Pure Tussar Silk Retro Blouse with Kantha Stitch Lines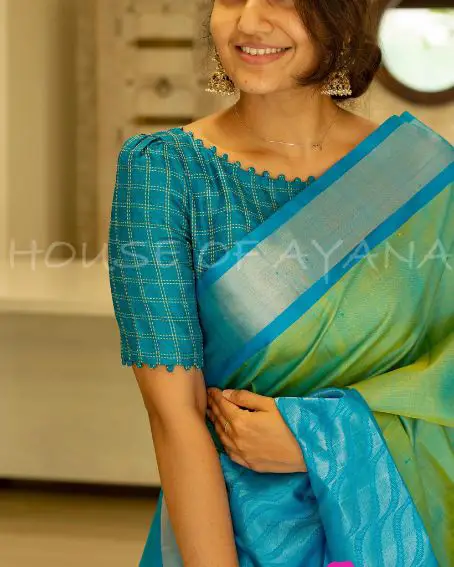 Pure Tussar silk exudes luxury, and when adorned with Kantha stitch lines, it becomes a canvas for storytelling through design. This retro blouse design whispers tales of tradition and artistry.
15. Navy Blue Chikan Embroidery Retro Blouse for Cotton saree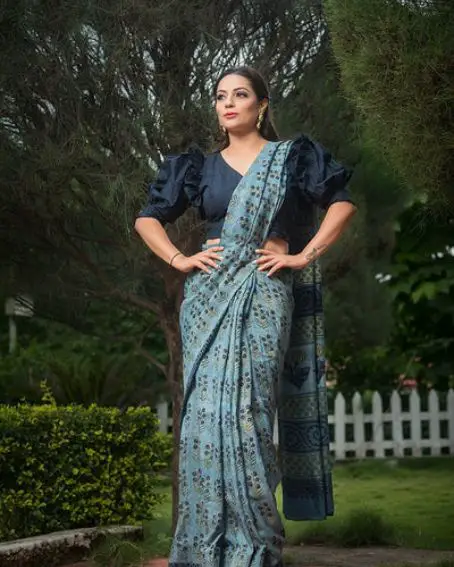 Chikan embroidery is a symbol of timeless elegance, and in navy blue, it takes on a new level of sophistication. This retro blouse design pays homage to the classic craftsmanship that has withstood the test of time.
16. Batik Polka dot Saree Styled With Mustard Yellow Ghoti Sleeve Blouse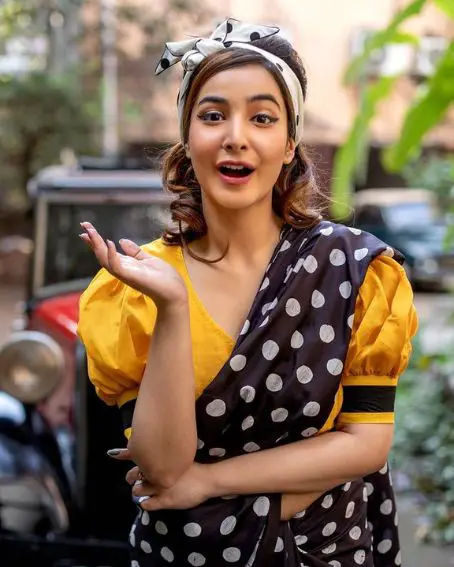 Batik polka dots and mustard yellow ghoti sleeves intertwine in a symphony of colors and patterns. This retro blouse design is a celebration of unconventional pairings that defy norms and embrace uniqueness.
17. Amazing Maroon Color Designer Retro Blouse with White Sleeves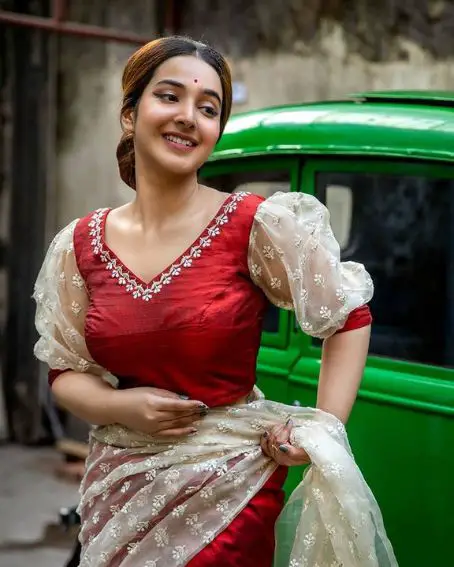 Maroon exudes a sense of opulence and depth, making it a perfect canvas for a designer retro blouse. The intricate details and thoughtful design elements make this piece a true work of art.
18. Red Color Designer Retro Blouse With White Lace 70's fashion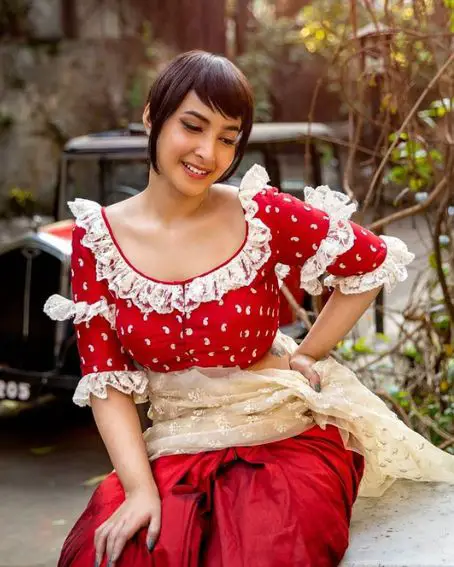 Red and white create a striking contrast that never goes out of style. This designer retro blouse combines the fiery allure of red with the delicate charm of white lace, resulting in a captivating masterpiece.
19. Batik Polka dot Saree Styled with Embroidered Polka Dot Retro Blouse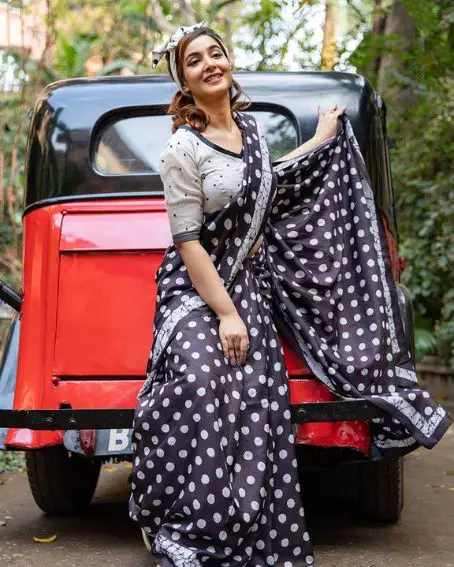 Batik polka dots find new life when paired with an embroidered polka dot retro blouse. It's a play on textures and patterns that adds depth and dimension to the ensemble.
20. Hand Embroidered Yellow Color Retro Blouse with Organza saree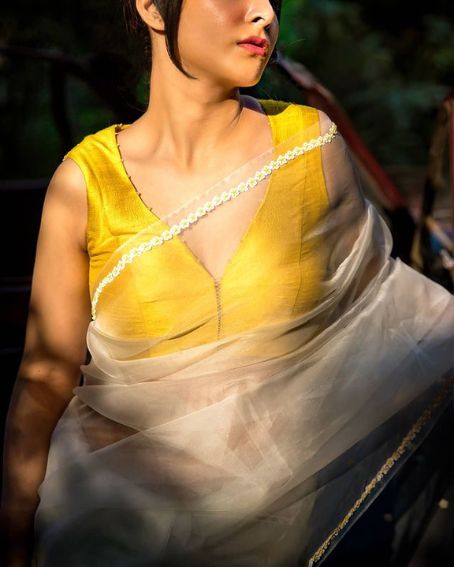 Hand embroidery tells stories of painstaking craftsmanship and attention to detail. In a cheerful yellow hue, this retro blouse design brings vibrancy and artistry to the forefront.
21. Yellow Color Retro Blouse with Printed Work saree with Gold Hoops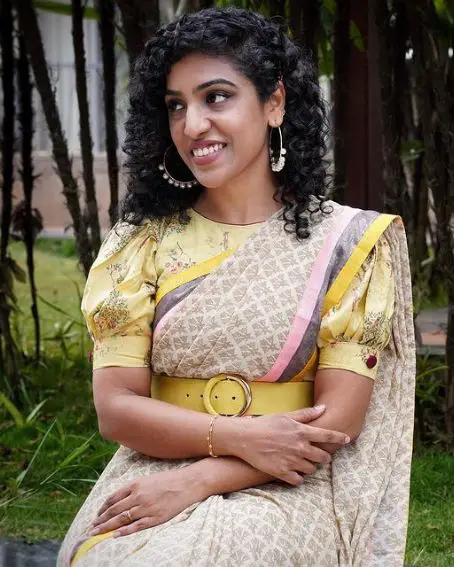 Yellow is the color of sunshine and positivity, and when adorned with intricate printed work, it becomes a canvas for expression. This retro blouse design captures the essence of joyful fashion.
What are the features of Retro Blouse Design?
Retro blouse designs are like time capsules that carry the essence of the 1960s and 1970s right into your closet. These blouses are known for their unique features that set them apart from contemporary styles:
Playful Patterns: Retro blouses often boast vibrant and playful patterns that were all the rage during the swinging 60s and the groovy 70s. Think about bold florals, geometric shapes, and psychedelic swirls that add a burst of energy to your outfit.
Vintage Necklines: The neckline of a blouse can transform its entire look. Retro blouses feature classic necklines like the Peter Pan collar, tie-neck, and keyhole designs, evoking a sense of nostalgia and timeless elegance. Vintage necklines can add a touch of timeless elegance to a young girls or teenagers outfit
Statement Sleeves: One of the most iconic features of retro blouses is the statement sleeves. Bell sleeves, bishop sleeves, and puffed sleeves take you back to the era of free spirits and self-expression.
Tailored Silhouettes: These blouses often embrace a tailored and fitted silhouette, celebrating the natural curves of a woman's body while maintaining an air of sophistication.
What is the importance of Retro Blouse Design?
Retro blouse designs hold a special place in the modern fashion landscape, and here's why they deserve a spot in your wardrobe:
Timeless Elegance: These blouses exude a timeless elegance that transcends trends. Wearing a retro blouse allows you to connect with the past while maintaining a contemporary flair.
Self-Expression: Just like in the 60s and 70s, today's retro blouses encourage self-expression. They empower women and young girls to embrace their individuality and showcase their personality through fashion.
Conversation Starters: Wearing a retro blouse is like wearing a piece of history. It becomes a conversation starter, allowing you to share stories of the past and your unique sense of style.
Versatility: Retro blouses can be dressed up or down, making them incredibly versatile. Whether you're headed to a casual brunch or a chic evening event, these blouses have got you covered.
What Fabrics and Colors Are Typically Used in Making Retro Blouse Designs?
Fabrics
Silk: Luxurious and elegant, silk blouses with their soft drapes were a favorite back then and remain popular today.
Chiffon: Light and airy, chiffon blouses often feature in retro designs, adding a touch of femininity.
Cotton: Comfortable and versatile, cotton blouses with intricate lace details harken back to the bohemian spirit of the 70s.
Colors
Earth Tones: Think warm browns, rust oranges, and olive greens that bring out the natural beauty of retro designs.
Bold Hues: Vibrant colors like electric blue, fiery red, and sunny yellow capture the boldness of the era's fashion choices.
Pastel Palette: Soft pastels like baby pink, mint green, and light lavender evoke a sense of nostalgia and sweetness.
As you embark on your journey to embrace the charm of retro blouse designs, remember that fashion is an art of self-expression. Let your style tell your story, and let the allure of the past blend seamlessly with the present. So, whether you're stepping out for a special occasion or adding a dash of vintage flair to your daily outfits, let retro blouses be your fashion companions on this delightful adventure through time.
The return of retro blouse designs isn't just about fashion; it's like taking a journey back in time, celebrating the beauty of past eras. When women, teenagers, and young girls embrace these vintage blouse styles, we honor the craftsmanship and artistry of those times. These classy retro blouses aren't just clothes; they let us feel the grace and charm of a different era in our modern lives. So, let's step into the world of timeless blouses together
Related Articles