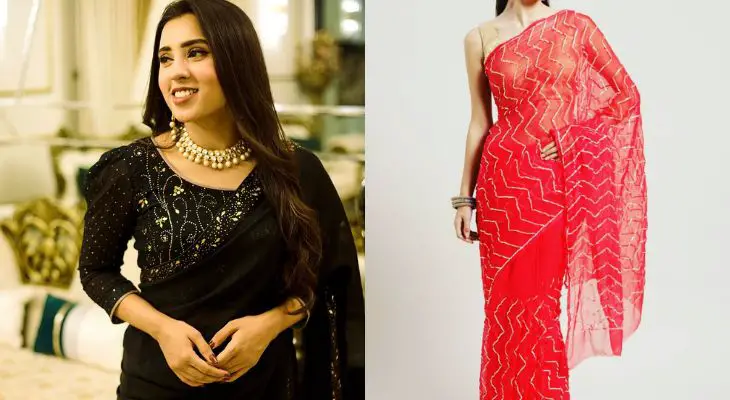 Chiffon is a translucent airy fabric and it is the best choice for the sunny day and summer season. It consists of tightly twisted fine threads. The chiffon saree blouse is one of the most famous products made from fabric. The elegance in the fabric of this chiffon saree blouse has become very popular in recent years. Not only because of the seasonal preference for this light material but also because of the grace has it offered to the women who wear it. The material falls tightly around women's curves. In this blog, you are going to view the best stylish blouses for chiffon sarees.
20 Latest and Stylish Blouse Design Patterns for Chiffon Sarees
1. Green Elbow Sleeve Chiffon Saree Blouse This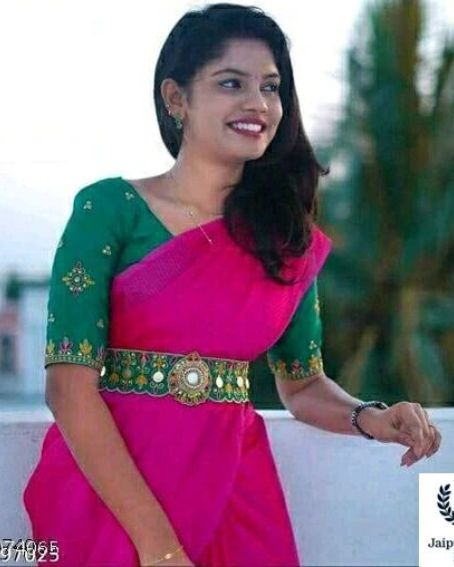 Rose and green color matching chiffon saree blouse is very pretty to look at. Elbow-length sleeves give a sophisticated and classy look.
[ Read : Top 20 Collection of Mesmerizing Banarasi Sarees ]
2. Black Boat Neck With Net Hand Blouse
Today's trendiest blouse neck design is the boat neck which starts from the shoulder and goes all the way to the chest giving an elegant look. Net full sleeves with a black boat neck give a fabulous look.
[ Read: Latest Coimbatore Cotton Sarees ]
3. Gorgeous And Grand Purple Chiffon Saree Blouse Design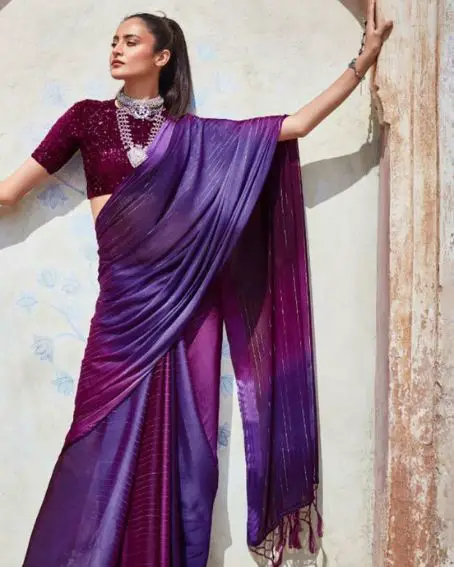 If you want your saree to be very comfortable, grand, and beautiful, then this gorgeous chiffon saree will fulfill your expectations. Its purple color gives a unique beauty to the saree.
[ Read: Latest Jamdani Cotton Sarees ]
4. Plain Pink Full Sleeve Blouse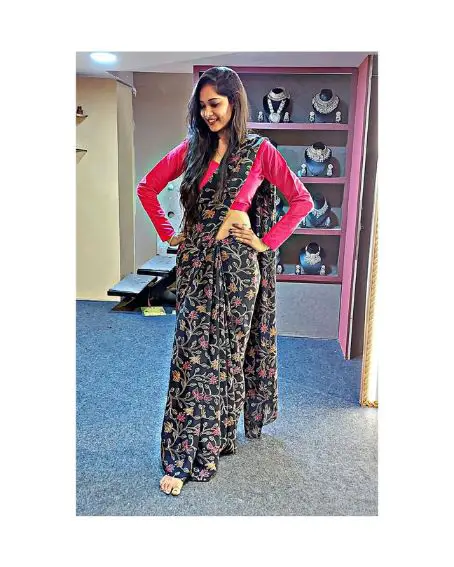 A plain pink chiffon saree with full sleeves is a very beautiful blouse design. Its appearance is very trendy and elegant, which attracts everyone.
5. Green Shaded Chiffon Saree With Sequence Blouse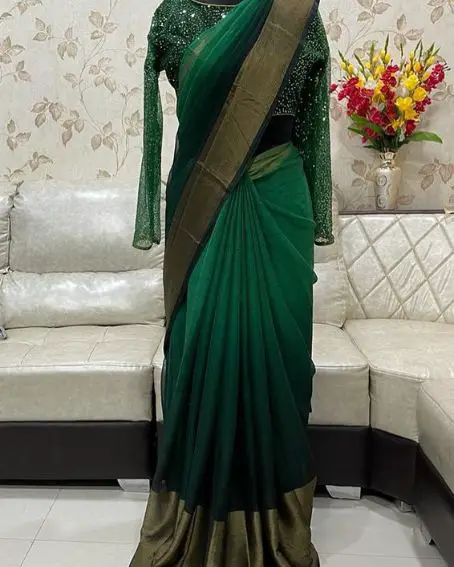 A round neck sequence blouse with sheer sleeves is stylish and feminine. The green shaded look of the chiffon saree gives it a chic appeal and suitable design. Its sleeves look good while being casual
6. Sleeveless V-neck Sequins Spaghetti Strap Tank Blouse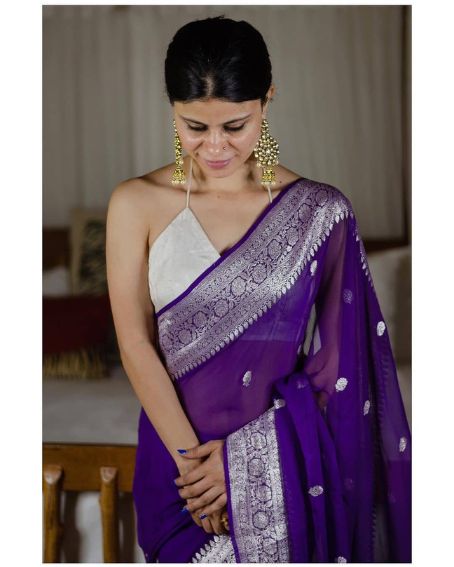 A Sleeveless V-Neck spaghetti strap blouse is a blouse for women with a collar bone. A chiffon saree design with this blouse will give you a perfect view while going to an evening function or party. Pairing this look with a sparkling necklace will make you look more beautiful and grab everyone's attention.
7. Zari Chiffon Saree With Designer Net Blouse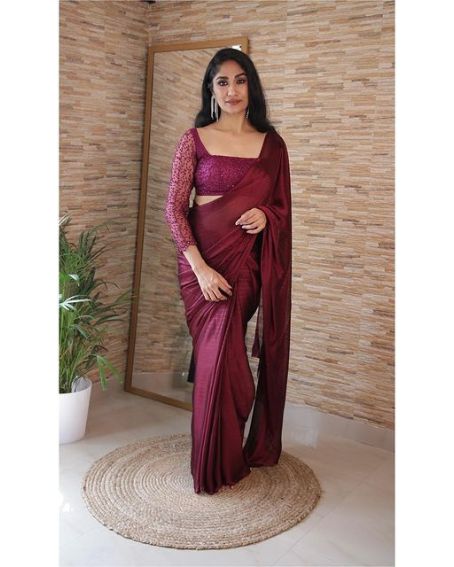 No doubt you will definitely choose a zari chiffon saree for your next function or party. Its elegant design is eye-catching and the net blouse with full sleeves gives you a glamorous look. Women with broad shoulders will look extraordinary and unique when worn with this saree and blouse.
8. Chiffon Floral Saree With Full Sleeve Blue Closed Neck Blouse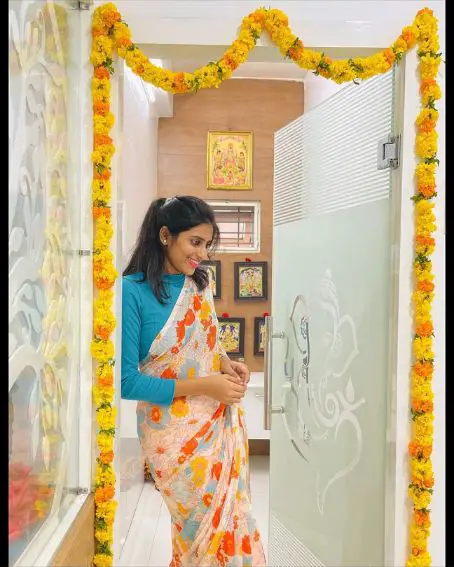 A closed neck full sleeve blouse when paired with this floral design chiffon saree will give you a perfect and outstanding appearance. Wearing a chiffon saree and blouse with this combination is one of the best for your office parties and day occasions.
[Read:25 Trendy Backless Blouse Designs For Sensual Appeal]
9. Floral Chiffon Saree With Green Sequence Blouse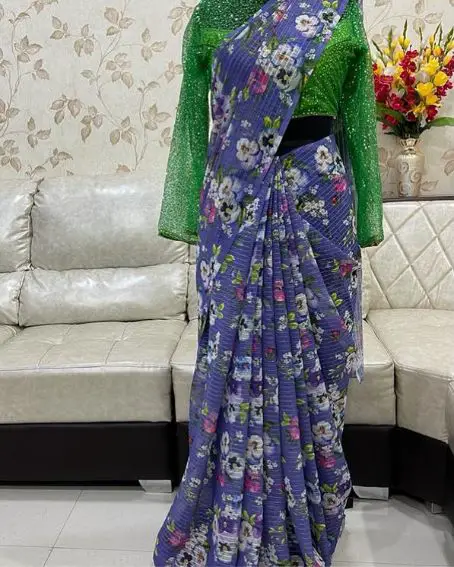 This green color transparent full sleeve floral patterned chiffon saree is the best pair. The elegant floral design of the chiffon saree gives you a rich look when you wear it.
10. Fascine Red Chiffon Saree With Half Halter Neck Full Sleeve Blouse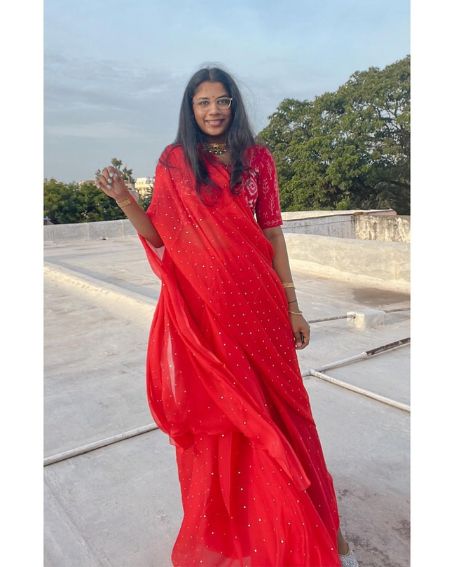 When you wear this beautiful red chiffon saree you will leave more gorgeous than you have used ever. If you have this saree for house functions, it gives you a traditional and royal look.
11. Full Chiffon Embroidery Bridal Saree And Blouse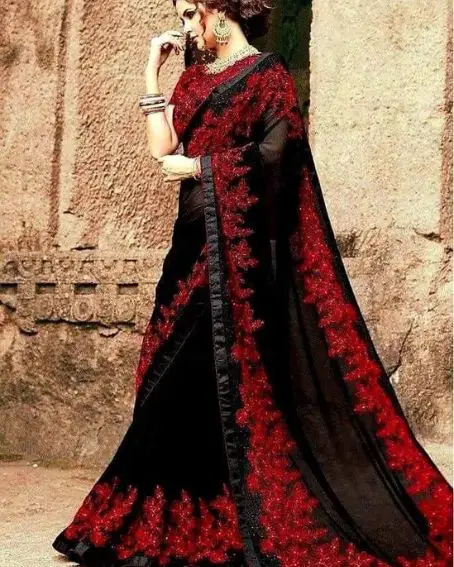 The black saree with red color embroidery in this pattern is very popular among women. A fully embroidered chiffon blouse gives an elegant and stunning look. You can wear this chiffon saree at weddings, receptions, and special occasions. 
12. Plain Chiffon Saree With Blue Lace Type Puff Elbow Sleeve Blouse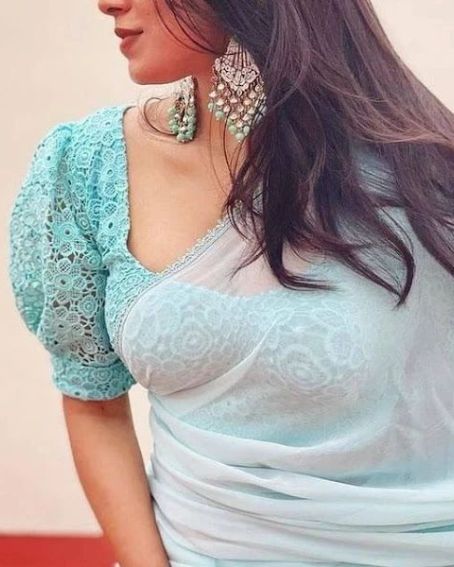 Although this type of chiffon saree looks casual, this chiffon saree is very comfortable to wear. You can also get an elegant look by choosing the right blouse for this saree. There is no doubt that all eyes will be on you when you wear this saree with a blue lace-type puff elbow sleeve blouse at evening parties.
13. Soft Chiffon Georgette Saree With Deep U Front Blouse Design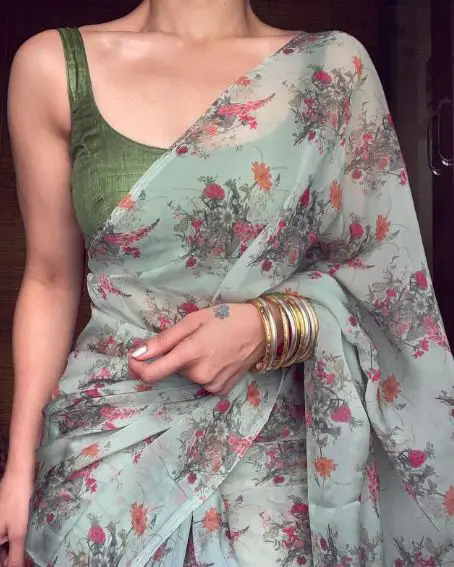 The soft chiffon georgette saree which is shimmery and soft is widely used as a dress for women. The beautiful soft chiffon curtain of georgette blends perfectly with traditional Indian designs. The beauty of this soft saree when worn with a deep U-front blouse can be said to be unique.
14. Black Chiffon Kamdani Saree With Floral Jaal-based Blouse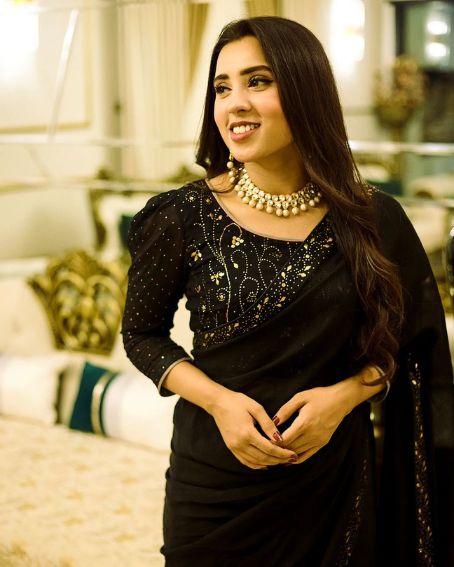 You can get the desired look when you choose this stylish black color floral jaal blouse to go with this black chiffon kamdani saree. The floral jaal fine work on this blouse gives a mesmerizing look to the exquisite design.
[ Read:17 Latest & Trend Collar Neck Blouse Designs]
15. Chiffon Black Saree With Floral Black Saree With Hip Belt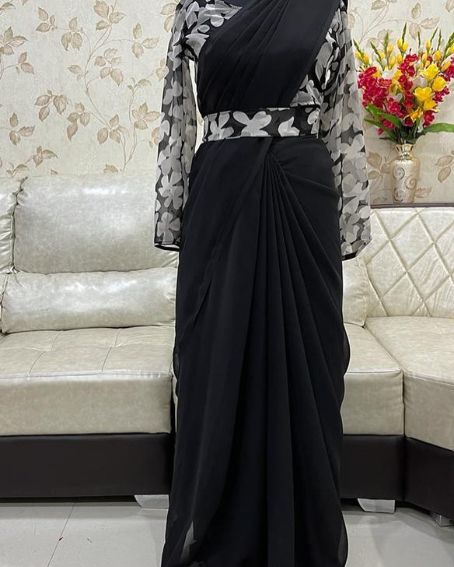 This black chiffon saree is very easy to wear than other sarees. This ash-colored full-sleeve blouse has printed flowers that attract the viewer. It also gives an elegant look without being too bulky. It will be the right choice for day occasions.
16. Pure Chiffon Saree Enhanced With Beautiful Sequin Roses Embroideries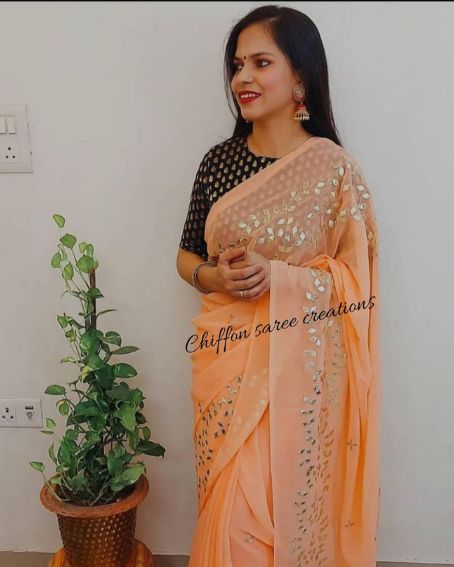 Silver color sequin roses embroideries in this saree are very bright and look beautiful. This black blouse with sequin roses embroideries adds more beauty to this saree. When you have this combination you will feel a new kind of happiness in your heart.
17. Chiffon Zari Saree With Golden Puff Short Sleeve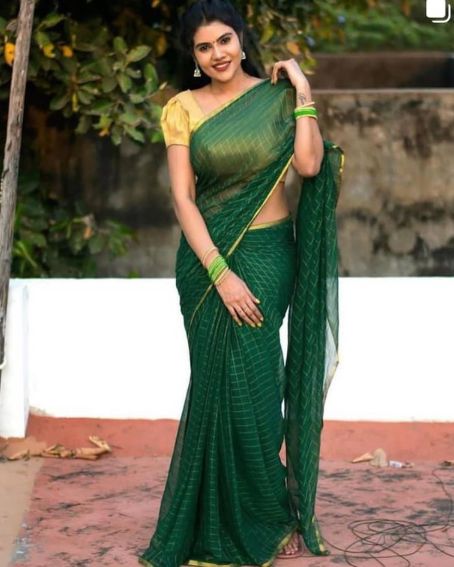 Although this saree has a simple design, the golden zari work on the border and other places of the saree adds a new charm to this saree. The combination of Chiffon zari saree with golden puff short sleeve will be loved by everyone when you wear it for all kinds of special occasions.
[ Read: 20 Simple Blouse Back Neck Designs With Borders ]
18. Gotta Patti Work Red Transparent Chiffon Saree With Sleeves Blouse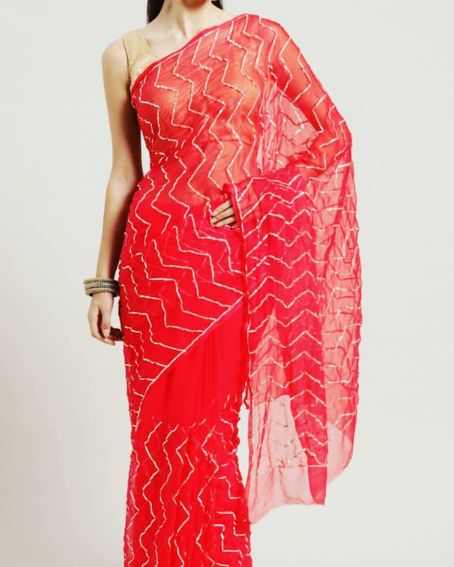 This transparent red chiffon gotta Patti saree has a beautiful design that will win the hearts of many women. Its gold-colored sleeveless blouse adds extra beauty to this saree. It is suitable for night and office parties.
19. Organza Handwork Chiffon Saree With Spaghetti Blouse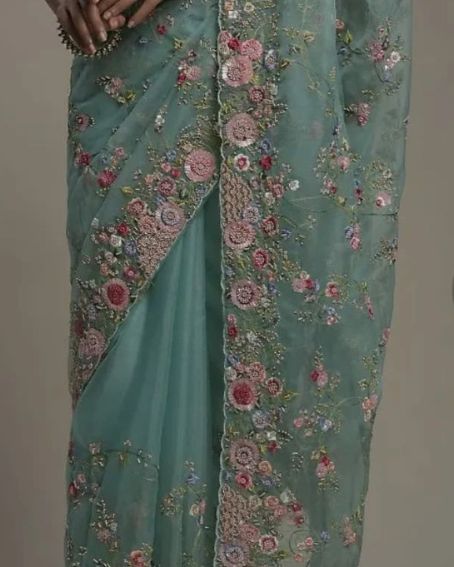 Wearing a floral hand-worked Organza chiffon saree can bring many magical moments and experiences with natural artistic beauty. This chiffon saree is made with delicate organza floral work. Also, it can be paired with a Spaghetti blouse for an astonishing look.
20. Colorful Georgette Chiffon Saree With Closed Neck Sleeveless Blouse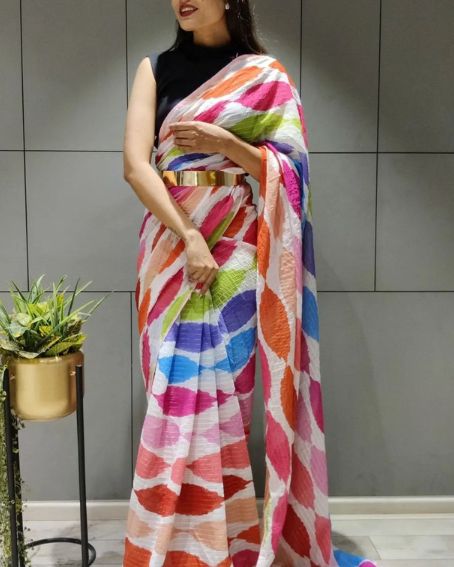 A georgette chiffon saree in general is a traditional outfit. This colorful chiffon georgette saree can be worn during the festive season. You can have this saree with a closed-neck sleeveless blouse for day or night parties. You can also choose this outfit for any sort of occasion.
You Might Also Like: