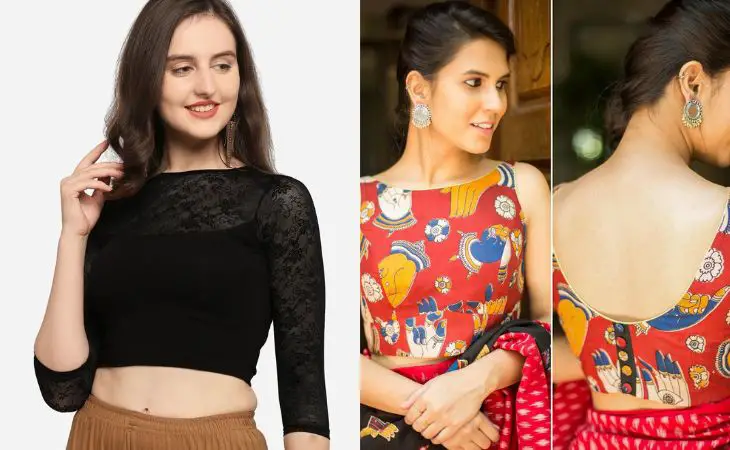 In today's age, do you want to keep your outfit trendy, add fashion and get a different look that everyone likes with the changing styles every year? Are you a follower of design, fashion, and style in every blouse especially worn with sarees? If you are tired of wearing the same round and square design blouse neck, these boat neck designer blouses will give you all the variety you are looking for. Read below to know more details about it.
20 Latest Boat Neck Blouse Designs
1. Boat Neck Silk Blouse Design with Maggam Work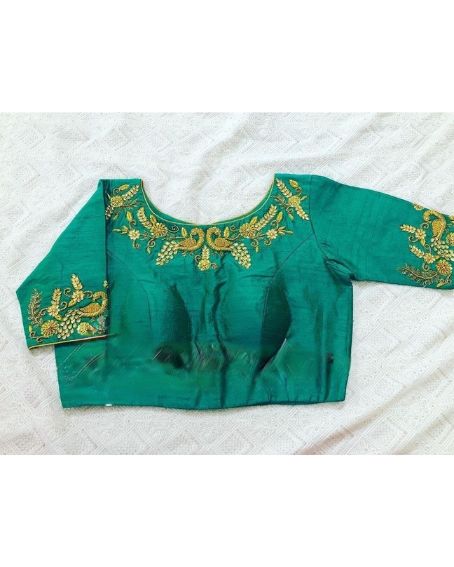 This kind of boat neck silk blouse design makes you look outgoing and modern. Perfect for pairing with silk sarees, this blouse with Maggam work is a great-looking embroidered blouse and also a beautiful designer blouse
2. Boat Neck Blouse With Mirror Work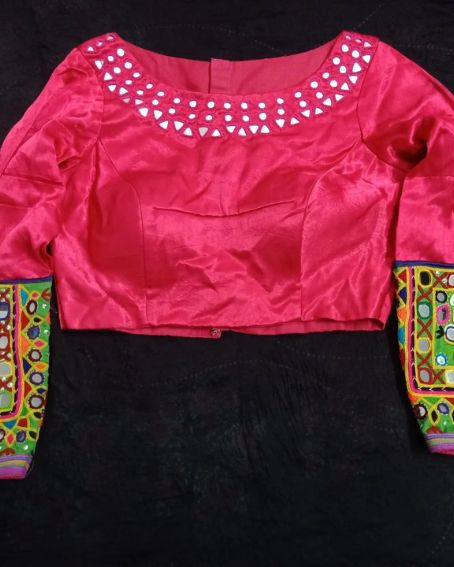 Mirror work blouse designs are now in fashion. The Boat Neck with mirror work design blouse will definitely make you look stunning. You can wear it with any kind of skirt you have and with all kinds of sarees.
3. Baby Pink And White Gota Work Boat Neck Blouse With Quarter Sleeves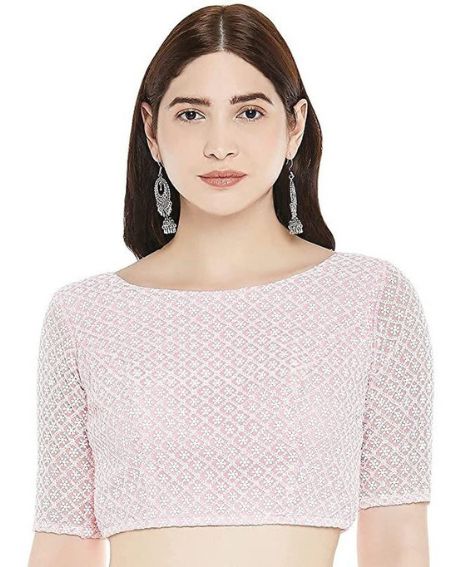 Baby pink and white gota work boatneck blouse is so romantic and very pretty. An all-over white gota work blouse in famous boatneck style with quarter sleeves. Sophisticated in style, but always so simple.
4. Boat Neck With Intricate Work Designer Blouse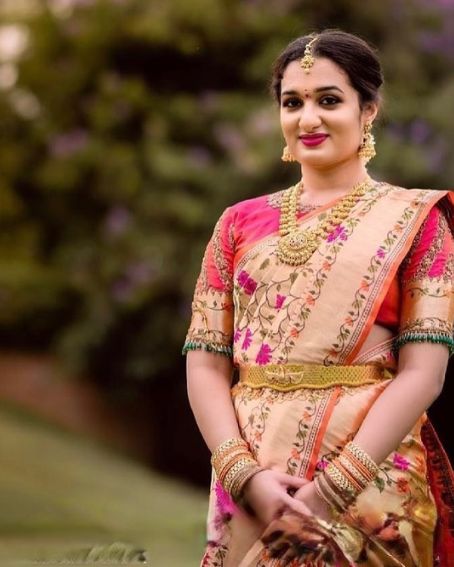 A full intricate work boat neck blouse has the ability to make even a plain saree look gorgeous. If you're not into jewelry, this boat neck blouse with an intricate neckline design is a great choice. This blouse will turn heads when worn at office parties or festive celebrations.
[ Read: Top 20 Beautiful Boat Neck Kerala Saree Blouse Design ]
5. Yellow Color Boat Neck Puff Blouse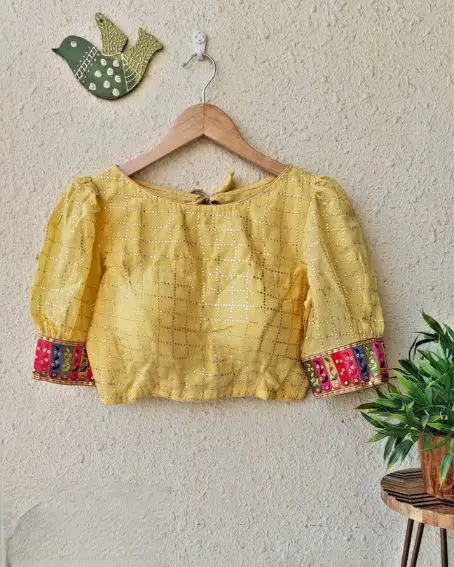 The yellow color boat neck and puffed sleeve in this blouse shape make it look very elegant and feel very fresh to wear. This boat neck saree blouse with puff sleeves is very simple but the pattern and design create a royal and rich look to be paired with your costly silk sarees.
6. Net Blouse Design With Transparent Hands And Top With Boat Neck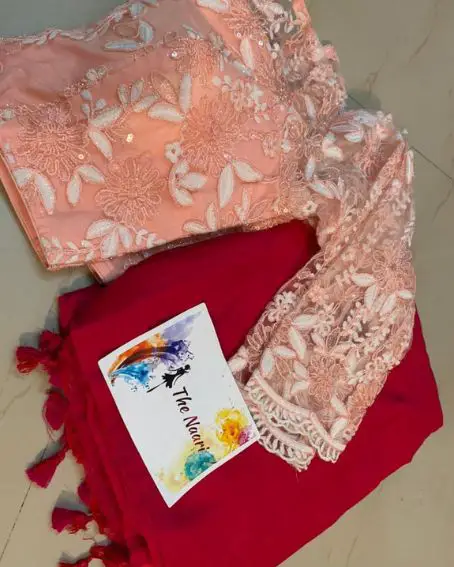 In this modern age, this type of blouse gives the beauty and uniqueness that every woman is looking for. It has a very modern look and a full netback design with a transparent net on the top. Outgoing ladies love to wear this modern-looking boat neck latest designer blouse with their saree in style.
7. Circular Cutting Open Back Blouse Design With Boat Neck And Heavy Embroidery
This beautiful boat neck blouse with heavy embroidery has a round open back blouse design. This blouse is very attractive as well as classy, and it is very beautifully designed with heavy embroidery. This can be easily paired with any lehenga or saree. The blouse allows you to show off your back in a very stylish fashion.
8. Black and Golden Zari work full Sleeve Boat Neck Blouse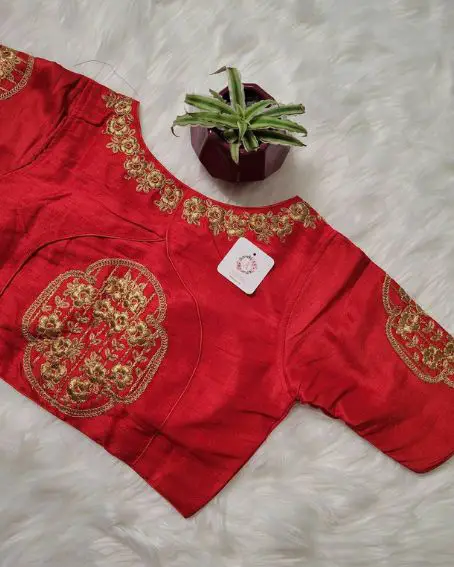 This full sleeve chili red color boat neck blouse has  golden zari work. You will definitely look elegant and classy when you wear this. Also great for parties and festivals. This boat neck blouse with sleeves can be worn with a saree or lehenga.
9. Boat Neck Blouse design with Transparent Sleeves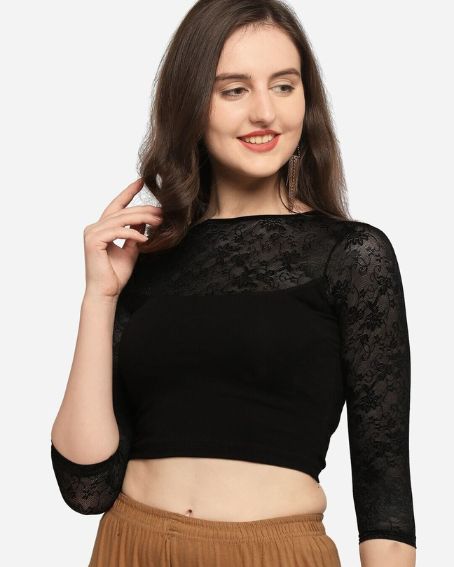 These days, a boat neck blouse with transparent sleeves is very popular. This boat neck blouse design will make you feel comfortable, and it is breathable and stylish as it is designed using soft fabric for the neck and sleeves.
10. Sleeveless Sheer Net Yoke Net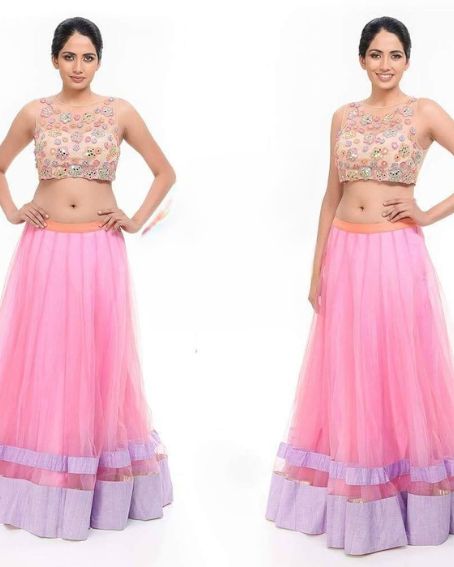 Sleeveless Sheer Net Yoke Net blouses not only reflect a glamorous look but also accentuate class as the skin is visible but not. And its sheer embroidered fabric exudes charm.
11. Green Boat Neck Blouse Design With Eyelet Keyhole Back Pattern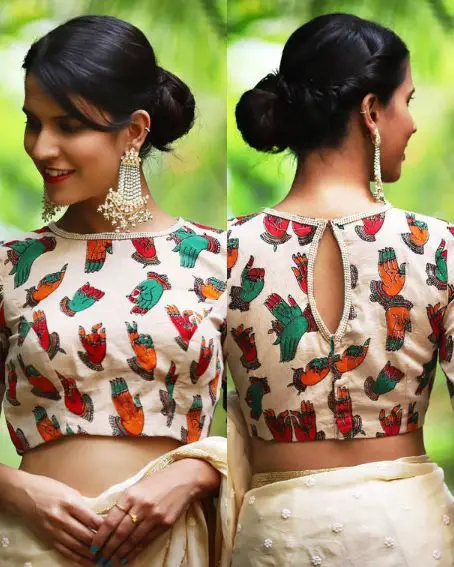 You will look attractive by wearing this type of boat neck blouse. This Boat Neck Blouse Design with Eyelet Keyhole Back Pattern Blouse paired with silk saree is suitable. It is also suitable for occasions like day and night parties.
12. Kalamkari Boat Neck Blouse Design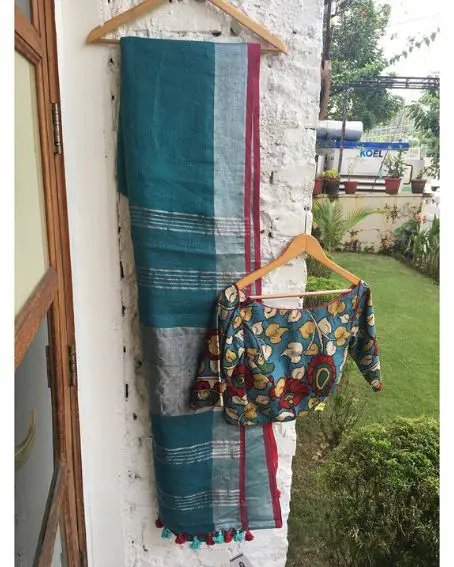 This kalamkari boat neck blouse design looks incredibly beautiful. It looks very gorgeous on people with broad shoulders. This beautiful blouse looks great and attractive when paired with a plain or printed saree.
13. Sleeveless And U Shape Deep Cutting Back Boat Neck Design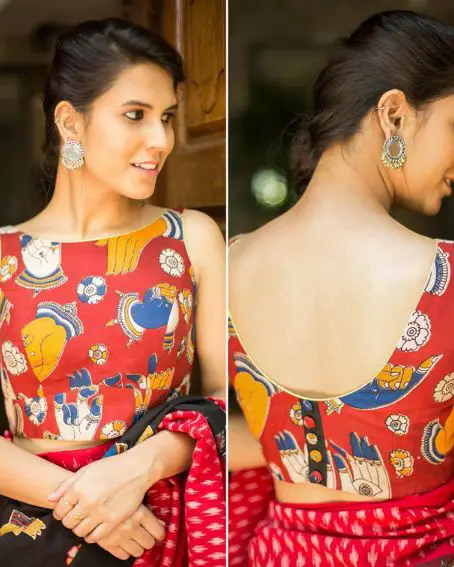 A deep "U" shape cut in the back of the blouse, Sleeveless, and a boat cut in the front will make your back perfect for any occasion. This deep U shape back cut will help make the look more elegant.
[ Read: 20 Modern Boat Neck Blouse Design Front And Back ]
14. Blue Color Sleeveless Sheer Net Yoke Blouse With Boat Neck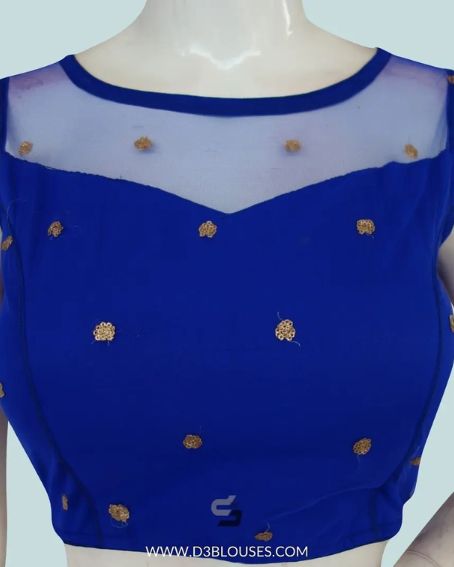 A boat neck blouse with Sleeveless Sheer Net Yoke is quite trending. This Sleeveless Sheer Net Yoke boat neck blouse gives you a wonderful look while attending day or night parties. It can be easily paired with georgette or net sarees.
15. Boat Neck Blouse design with Stone Embellishment at Back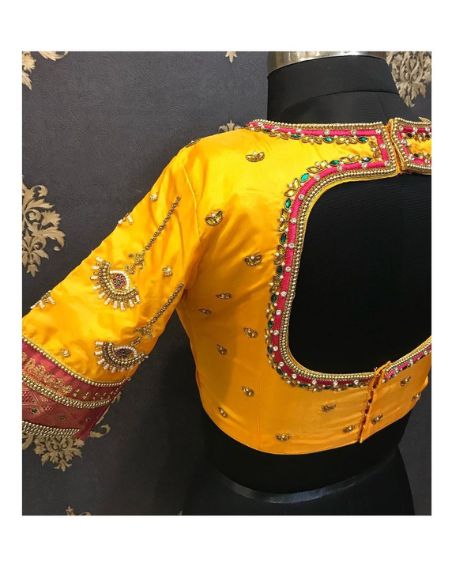 Talking about beautiful boat neck blouses, a boat neck blouse with stone embellishment work on the back gives a modern and elegant look to your look. This blouse looks very elegant and classy when paired with a saree. It gives a wonderful feeling while wearing the dress for events like weddings, and receptions.
16. Black and Gold Transparent Boat Neck Style blouse design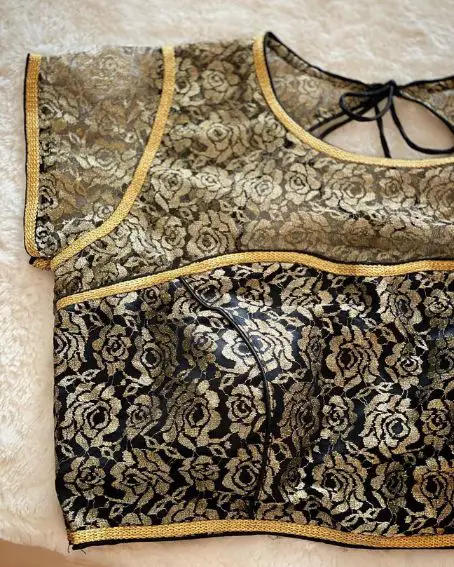 Generally, modern people choose this black and gold transparent boat neck style blouse to make it look unique. If you are looking for a beautiful and attractive transparent boat neck blouse, then it is the best and most stylish blouse for your search.
17. Yellow And White Embroidery boat Neck Blouse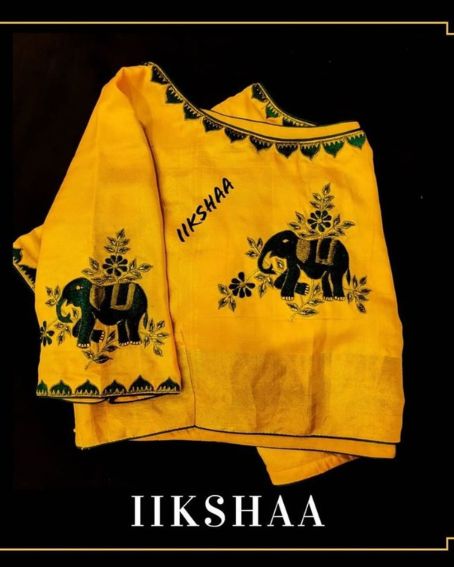 The embroidery work on the plain boat neck blouse is amazingly simple and stylish. The combination of beautiful pastel colors of  yellow with green makes for a classy and much-loved combo. This Embroidery boat neck blouse looks amazing paired with any kind of saree.
18. Peach Pink Zardozi Embroidery Designs Blouse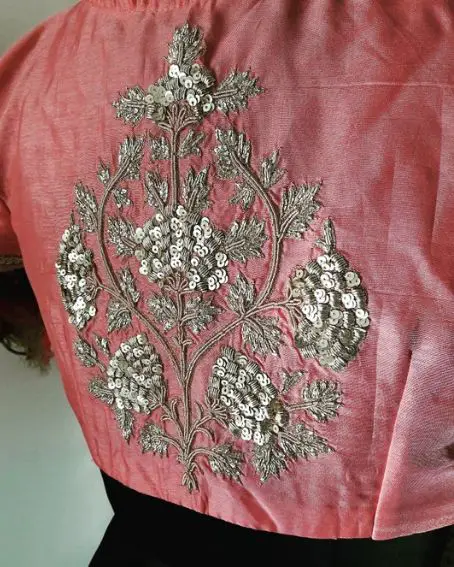 Zardosi sarees are sarees with beautiful intricate embroidery work. Intricate Zardozi embroidery is done with gold or silver threads. When wearing this blouse, it gives you a traditional, rich, and royal look.
[ Read: 20 Threadwork Blouse Designs For Silk Sarees ]
19. Cream And Gold Simple Boat Neck Blouse design with Net Top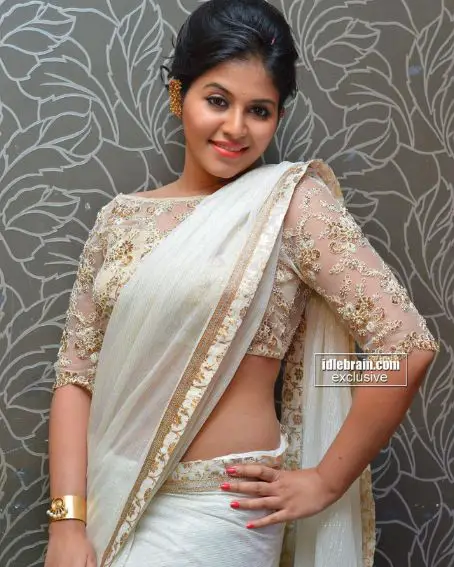 In this fashion era, if you want to wear a stylish boat neck blouse then try this beautiful boat neck blouse in gold and cream color which will give you a classy experience.
20. Pink Short Sleeves Boat Neck Blouse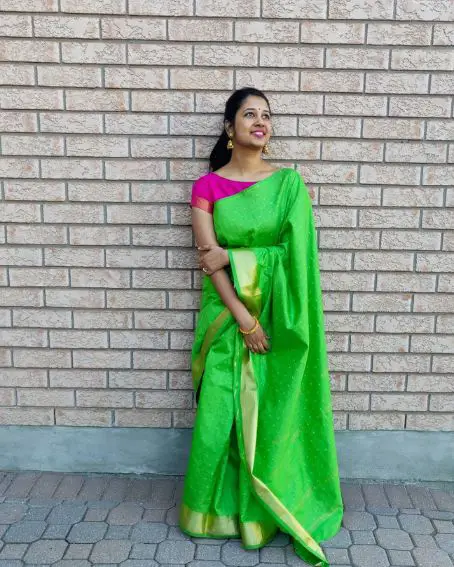 This type of  boat neck short sleeve blouse is very royal looking. If you wear this blouse with cotton sarees it will look very elegant and will attract everyone's attention.
You Might Also Like: