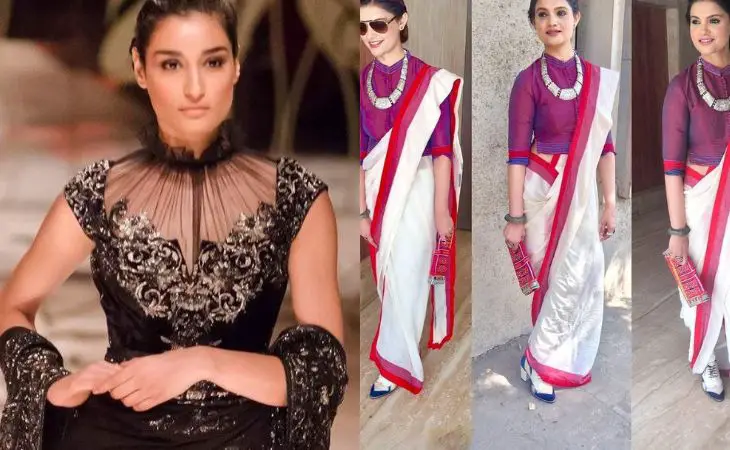 The royal high neck blouses are hot in trend as well as a class apart. Get the high neck with fantastic along with innovative collars design that will make you to obtain a number of great compliments. This excellent style looks amazing on girls with slimmer silhouettes and it is well suitable if you need to flaunt a stylish, sophisticated yet comfortable look. Be it for party wear, formal office wear, or wedding occasion, the collar neck saree blouse will glam up the saree look efficiently compared to other blouse designs. What's even better, this versatile design can be worn by anyone at any age and occasion. A Collar saree blouse can be matched and styled in many different ways for several different occasions. Scroll more to know the various kinds of collar neck blouses.
17 Latest & Trend Collar Neck Blouse Designs
1. Chinese Collar Yoke Blouse With Full Sleeves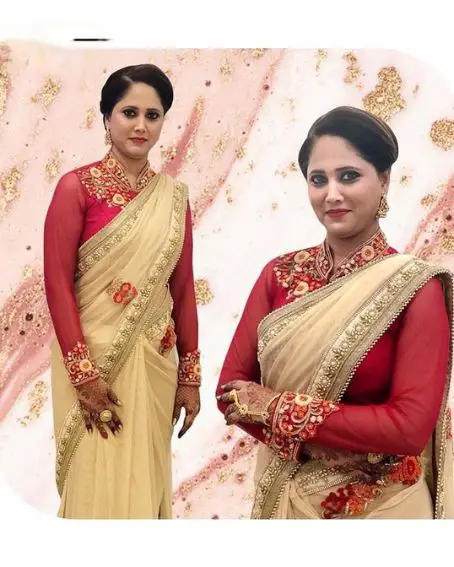 If you are looking for the most attractive, unique, and charming Chinese collar blouse, then this Chinese collar yoke blouse with full sleeves will no doubt be your choice. Its embroidered neck collar and full sleeves add to the beauty of the Chinese collar blouse.
2. Chinese Collared Keyhole Neck Design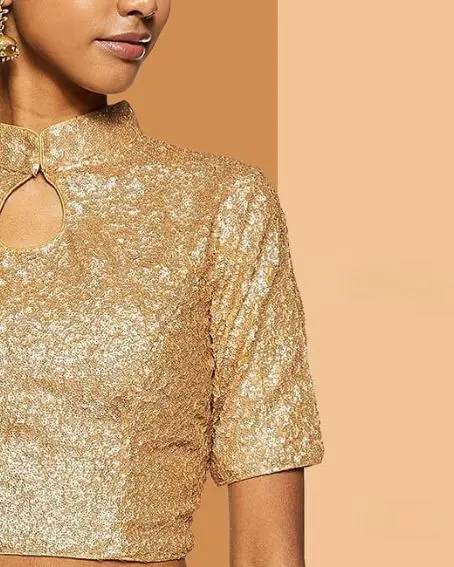 This Chinese colored shimmery blouse with keyhole design is the best pick for any of your favorite outfits, be it a crop top, saree, or lehengas. These types of Chinese collar blouse designs can be worn for parties.
3. Silk Jacket Style Collar Blouse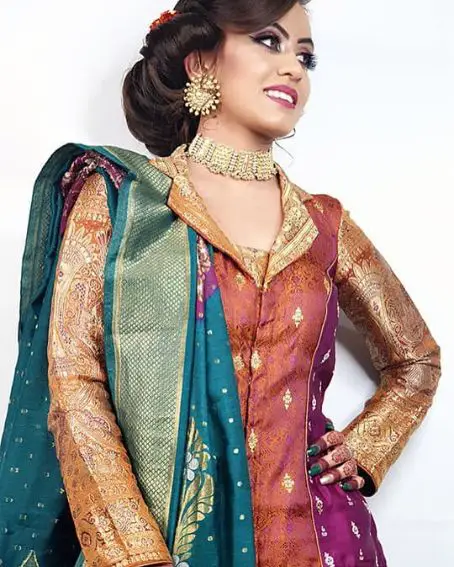 One of the most popular blouse designs these days, the silk jacket style collar blouse is one of the must-have blouses. This style  blouse doesn't need to be paired with a necklace. A jacket-style collar blouse will complement your casual saree.
4. Chinese Collar Yoke Blouse with Full Hand Sleeves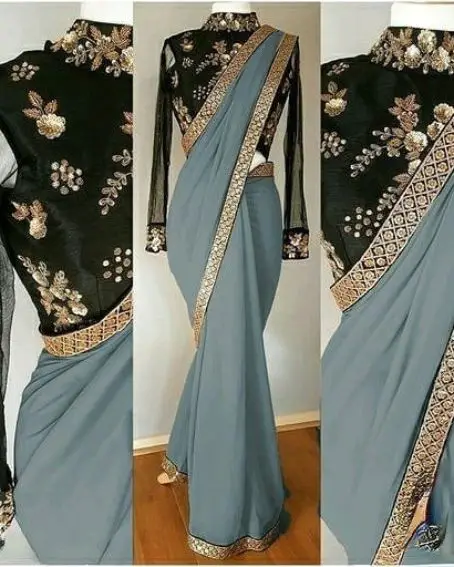 This Chinese Collar Yoke Blouse with Full Hand Sleeves is one of the attractive Chinese collar blouse designs that look beautiful. It can be worn with all kinds of sarees. This blouse makes you feel unique and beautiful when you wear it.
[ Read: Back Neck Blouse Designs ]
5. Grey Ikkat Chinese Collar Blouse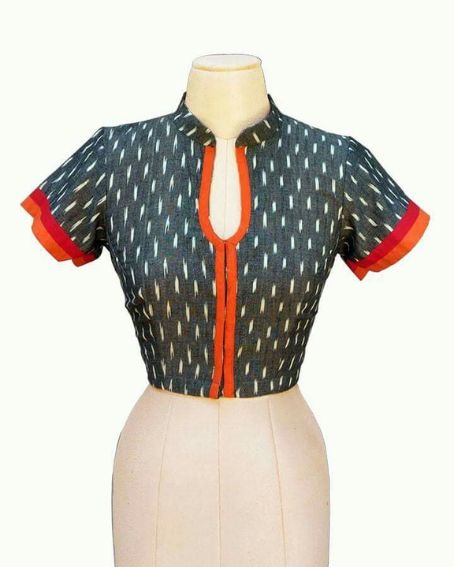 Grey ikkat Chinese collar blouse is done in elegant style. The design of this blouse and the collar design of the neck especially the back neck with embroidery work will attract everyone. This type of ikat cotton hand loom Chinese collar blouse with aari work goes well with different types of cotton sarees.
[ Read: 20 Latest Blouse Design For Ikkat Saree ]
6. Chinese Collar Closed Full Neckline with Short Sleeves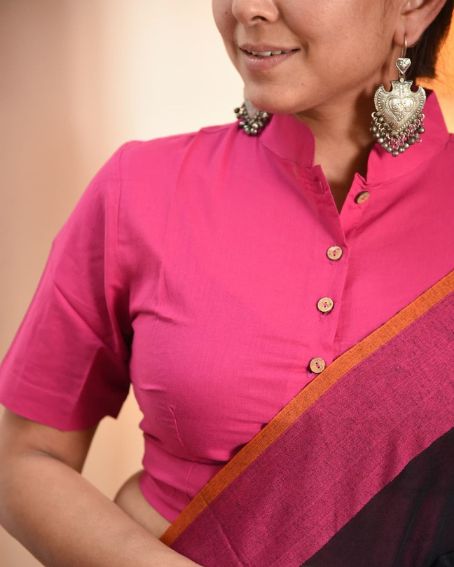 The Chinese collar closed full neckline with short sleeves is one of the easiest and prettiest designs to incorporate in outfits. If you want to render a sheer look to your cute appearance then select this one to get wonders.
7. Chinese Collar Saree Blouse Design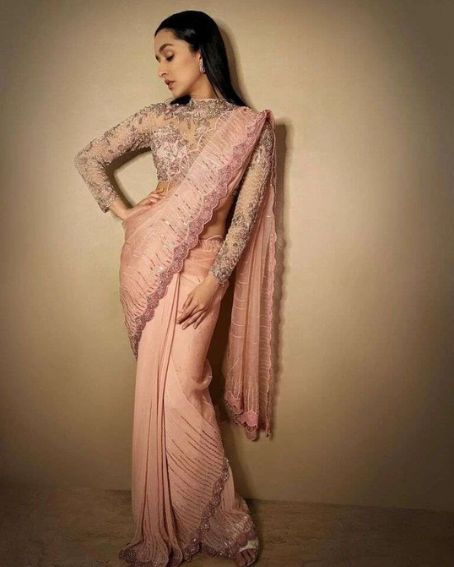 Nice embroidery is done on the collar as well as at the end of the blouse. Embroidery present in this Chinese collar saree blouse design helps to highlight the neck area, Depending on the occasion, you can choose simply to heavy designs 
8. Collar Neck Saree Blouse Designs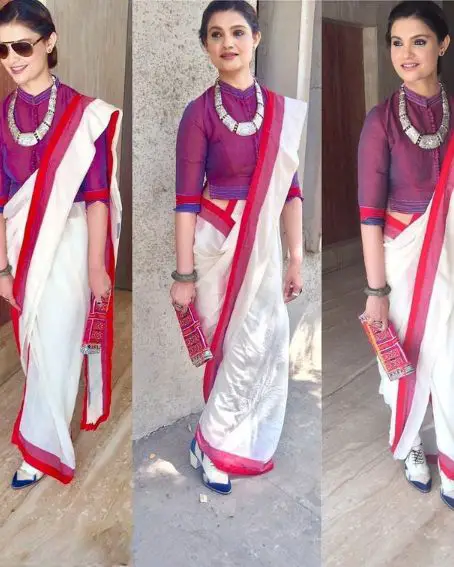 A Collar neck blouse assists to create a striking look and enhances your appearance so well. While wearing this type of style don't forget to wear long danglers and it will turn into a perfect outfit for a wedding.
9. Green Peter Pan Collar Blouse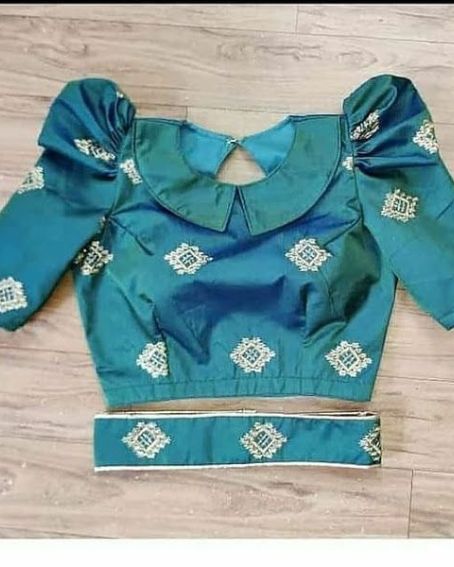 It is always the best idea to experiment with the proper outfits. If you are planning to attend a grand party, the latest green Peter Pan collar blouse front and back will do and apt this one to look grandeur and beauty.
10. Simple Collar Neck Sleeveless Blouse Design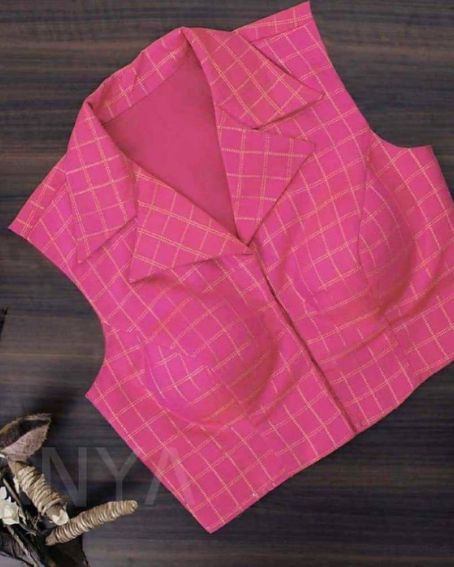 Do you want to try a traditional as well as modernistic simple collar neck blouse design, then this type is the right one for you. It is usually perfect for pre-wedding functions as well as slay when paired with the attire.
[ Read: Neck Blouse Designs for Half Sarees ]
11. Black Saree With A Ruffled Blouse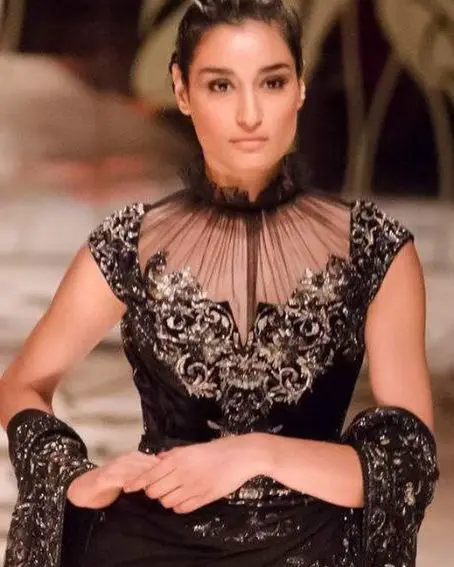 Picking a pretty along with complementing neckline is the key to a flattering blouse or choli. When it comes to adding a touch of drama, a black saree with a ruffled blouse design gives you a charming look.
12. String Model Blouse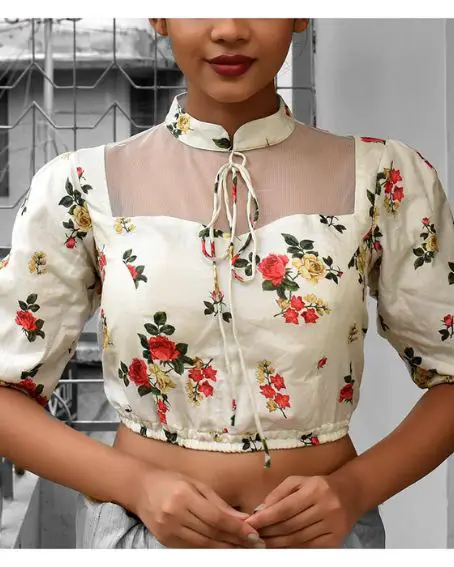 This string model blouse is more than perfect for girls who love to do little bit of mixing and matching. The embellished neckline renders this blouse a decorated look, so you can eliminate the jewelry.
13. Halter Neck Half Blouse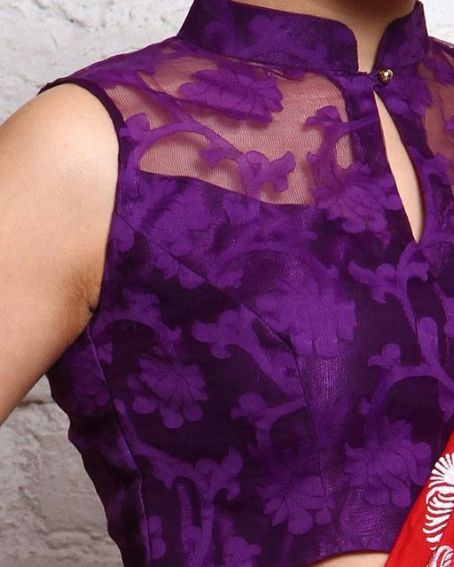 Want to get yourself feel good and look gorgeous? This halter neck half blouse is a stunning option to ramp your lehenga or saree. The style of the halter neck is a mesmerizing yet chic one for millennial brides.
14. Orange And Pink Saree With Peter Pan Collar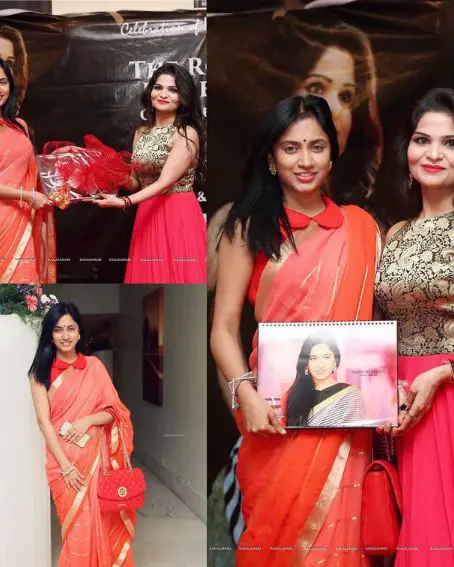 Peter Pan collar designs are one of the oldest trends that are still in vogue. The rounded shape style makes it very sweet and girly, hence it is apt for saree blouses. Orange and pink saree with Peter Pan collar sleeveless blouse is quite a beautiful one for you.
15. Chinese Collar Front Zip Blouse
Do you looking for a trendy yet traditional blouse? This Chinese collar sleeveless red color blouse with front zip is an absolute choice. This pattern can goes well with silk sarees and any of your outfits.
16. Embroidered Saree with Full Sleeve Floral Jacket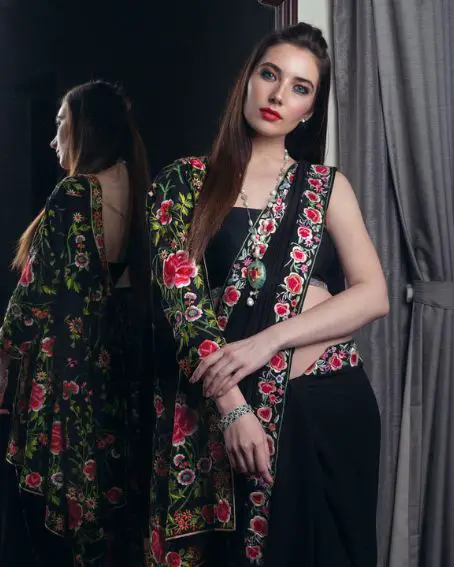 Shoutout to one of the most beautiful embroidery saree with a full sleeve floral jacket you have ever come across. Do you have a destination wedding to attend or want to look magnificent? This style will do wonders for any outfit.
17. Black Floral Bomber Jacket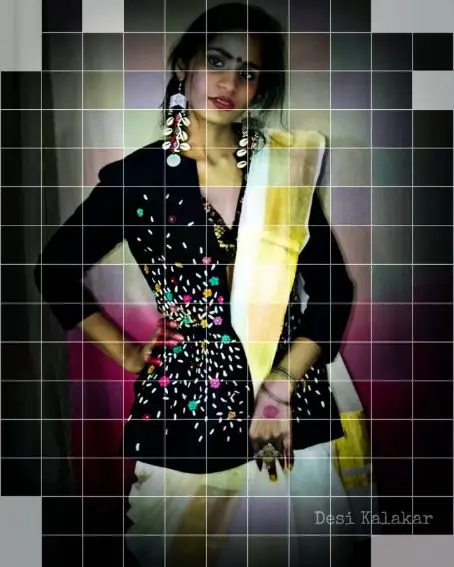 No one can take their eyes off this masterpiece black floral bomber jacket. This trendy and latest style is a gorgeous choice for the fashionistas who like to rock the day and night party look.
You Might Also Like: