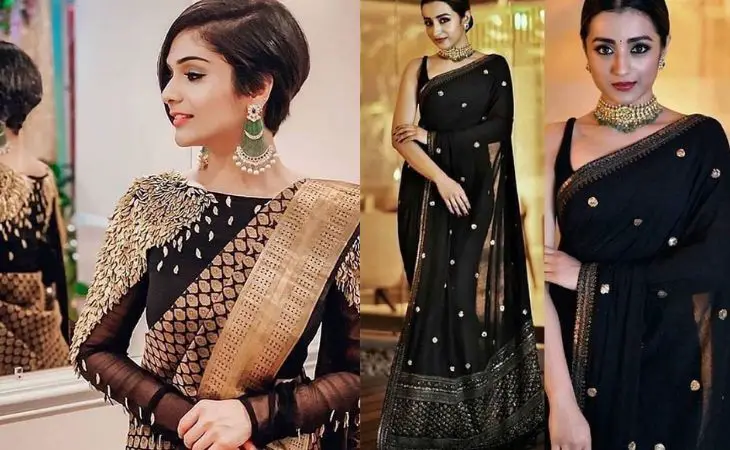 The saree with the fine blouse is the most significant when you want a beautiful and best look. The latest design update below helps you to avail yourself of a great look at the wedding or festive function. A black saree with a readymade blouse is always in trend. If styled in a magnificent black saree in the correct way, it radiates sheer elegance. Whenever you have got confused about what color to carry for the best wedding or any party, a black saree with a different blouse design is the all-time best solution. It has the charm to fit any skin tone and it is highly helpful to look slim which you always want at functions. However, the black saree is said to be the easiest saree to style and it literally looks like a black canvas. Some of the ravishing black saree with beautiful blouse designs are given below for you, just scroll down to view them.
20 Beautiful Black Saree Blouse Designs
1. High Neck Designer Black Blousee
Women keep on looking for the trendy as well as latest blouse designs for themselves. High neck designer black blouse design is quite alluring and you may get satisfied with this blouse's distinctive features.
[ Read: Latest Collection of Peach Color Sarees ]
2. Black Chanderi Saree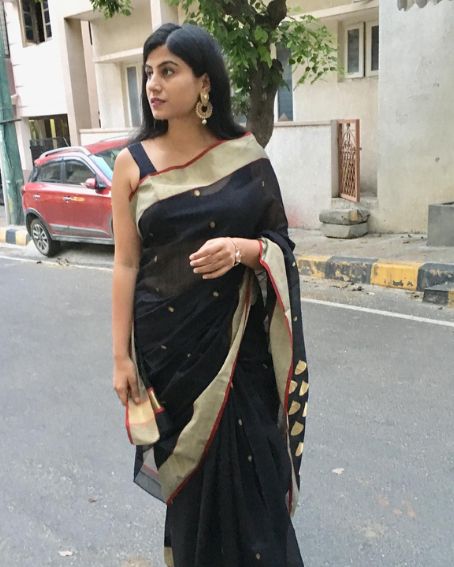 Go for monochrome black on black and sure you will turn heads. This black chanderi saree with black blouse techniques renders you plenty of room to experiment with a plethora of styling.
[ Read: Variety of Off White Sarees ]
3. Black Georgette Saree With Sequin Embroidery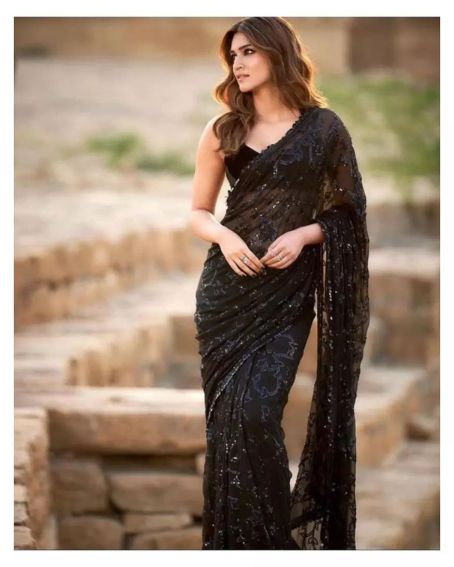 You will look almost beautiful if you wear a black Georgette saree with a sequin embroidery design. The saree and blouse are simple ones with a smart design that matches you very well on all occasions.
[ Read: Gorgeous Celebrity Low Waist Sarees ]
4. Bridal Saree With Designer Blouse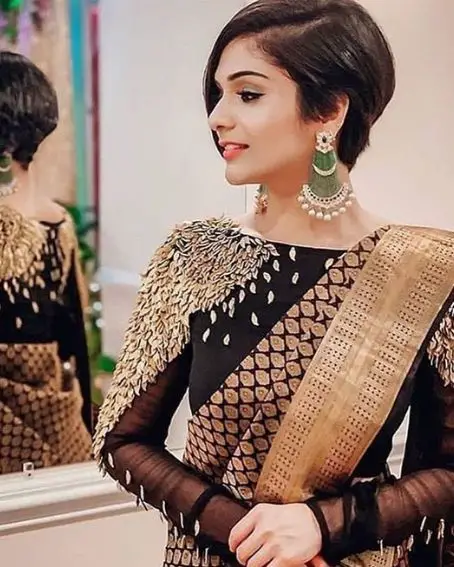 Wedding is around the corner and needs a sophisticated and stylish look with Indian attire saree, then pick a bridal saree with a designer blouse to make your party ravishing.
[ Read: Amazing Nauvari Sarees With Images ]
5. Black Net Saree With High Collar Halter Designer Blouse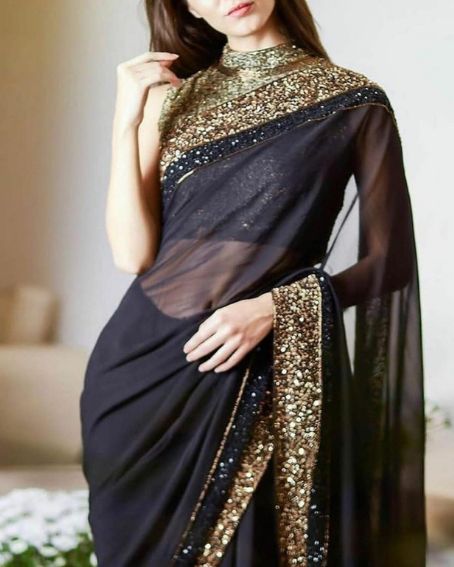 When you think of party or wedding saree style, black color net saree with high collar halter designer blouse is the right option to prefer at the night party. The simple high collar halter adds beauty to the overall look.
[Read: 20 Awesome Pics of Saree for Farewell Party]
6. Casual Black Saree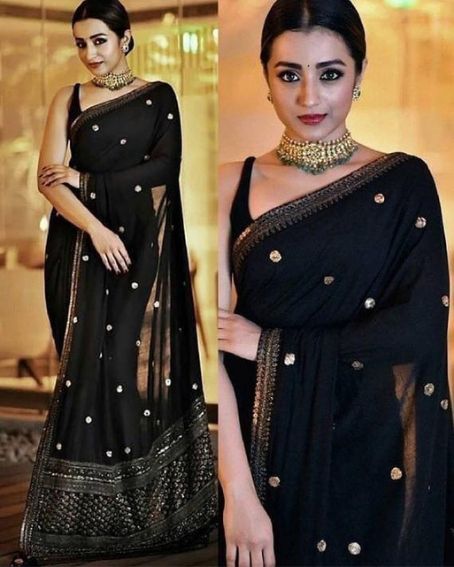 The latest Bollywood style black saree trend is crazily followed by the girls nowadays. The light work on the black saree adds the right touch for the evening party and gives even more beauty than other attire.
7. Designer Full Sleeve Blouse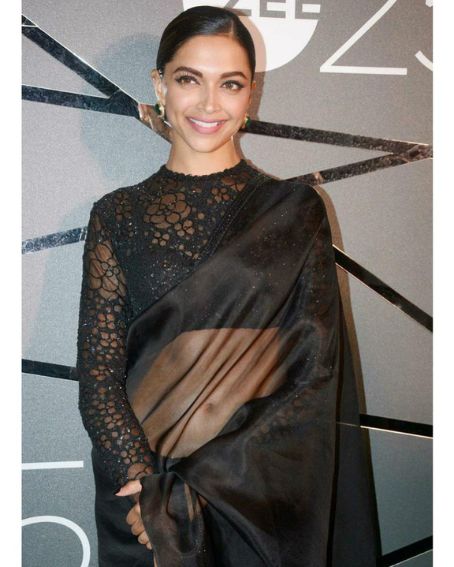 Here you can find a marvelous designer full-sleeve blouse. The intricate designs done on the sleeves make this whole design wearable. Not only it is stylish but also gives high comfort.
8. Black And Silver Simple Boat Neck Blouse Design
If you don't know the design which suits you best, but looking for trendy, then choose a black and silver color simple boat neck blouse, it will serve you very well in a modern way.
9. Black Silk Saree With Folar Designer Blouse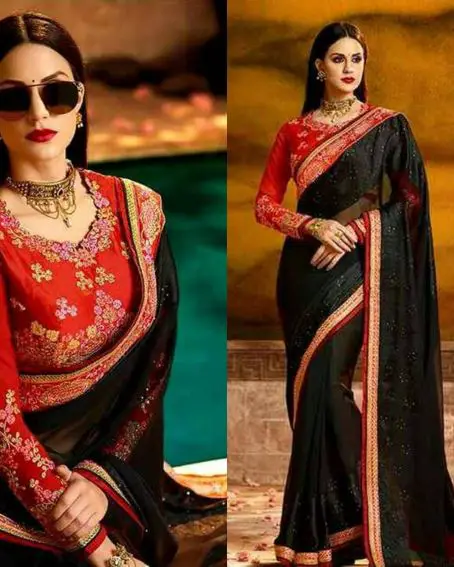 When all fails, still want to have a simple and elegant, pick a black silk saree with folar design blouse to attain a complete look. This style is proof that a pretty design on a sheer fabric always does wonders
10. Black Designer With An Embellished Blouse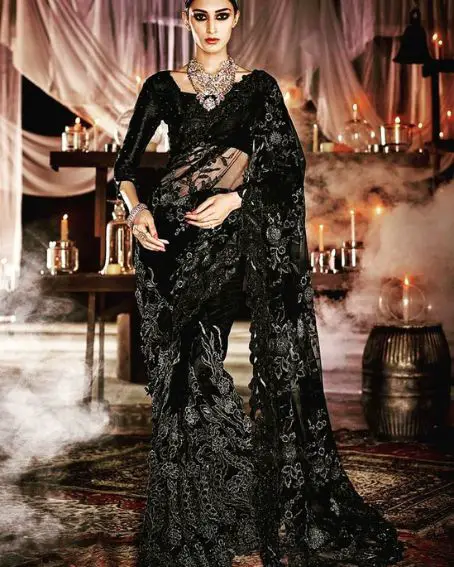 Who knew a black designer saree with an embellished blouse design would result in such a stylish look? If you got a perfect black combination, then you are ready for the day.
11. Black Raw Silk Saree With Gold Embroidery Blouse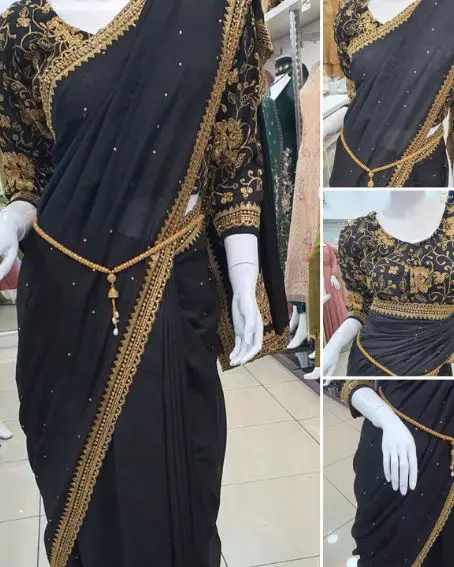 When you are looking for the latest and gorgeous design, this black  raw silk  saree with the gold embroidery blouse will be a treat for your eyes. Take a good look at the design and specification to make an identical attire for you.
12. Sleeveless Transparent Black Saree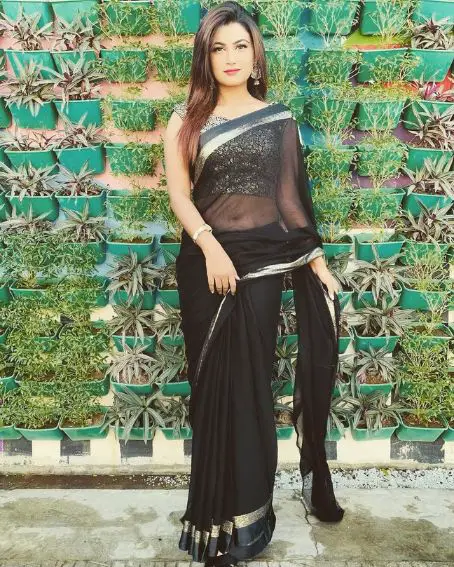 If would you like to be completely trendy, then this particular sleeveless transparent black saree with the net blouse will be your finest styling companion. It helps you get the modern Indian look and will do all the talking for you.
13. Black Color Net Saree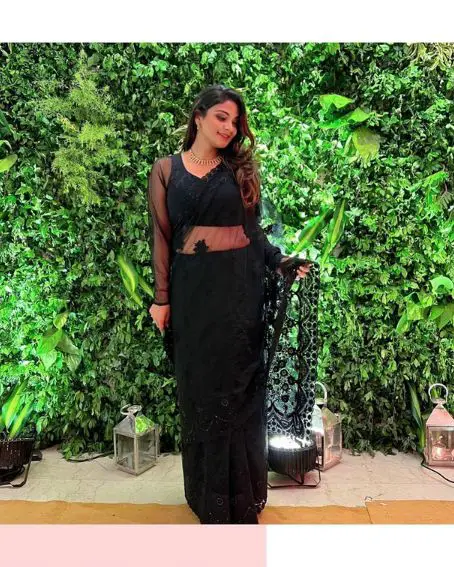 With this splendid black color net saree, almost everyone will fall in love with this pretty design. It bestows comfortable and stylish simultaneously as well as it is one of the best-looking designs of all time.
14. Gorgeous Black Halter Blouse And Lace Saree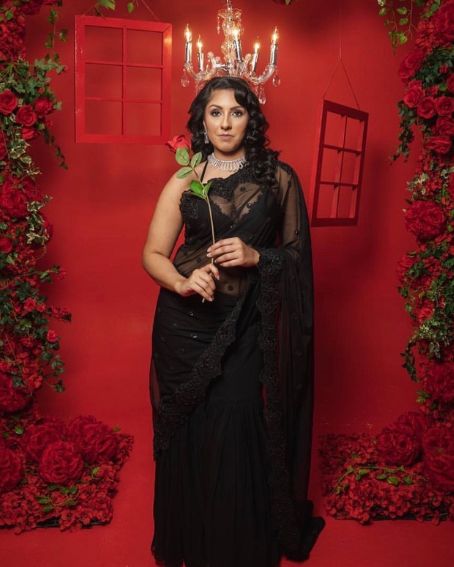 Doesn't this black halter blouse and lace saree deliver a royal effect? Of course, yes. Not only it is lightweight but also grants a fashionable look to you. Pick this one to get a chic look.
[Read:13 Stunning Pics of Hollywood Celebrities in Saree ]
15. Voguish Black Saree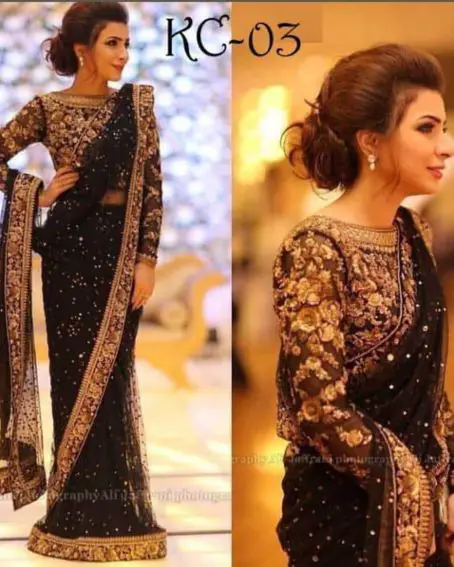 Steal the show with this shiny and heavenly black saree. This gorgeous saree in black is a simple yet sensational one. The design on both the saree and blouse makes the look even more attractive and impart quite good looking as well.
16. Cute Black Saree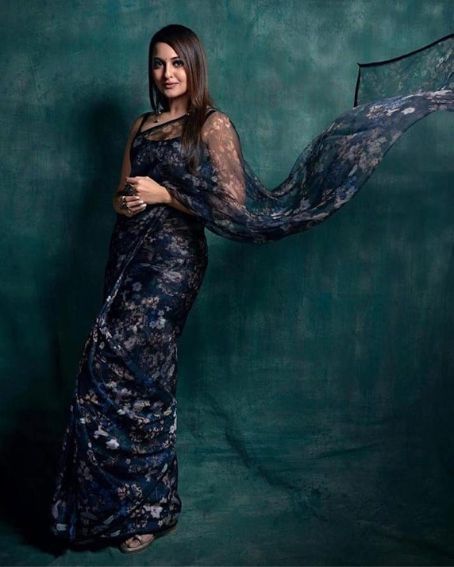 Why stick to the boring and normal outfit always when you can able to create something unique? Check this lovely saree with a blouse to get a dashing look at the party or any event.
17. Gold Zari Border In Black Silk Saree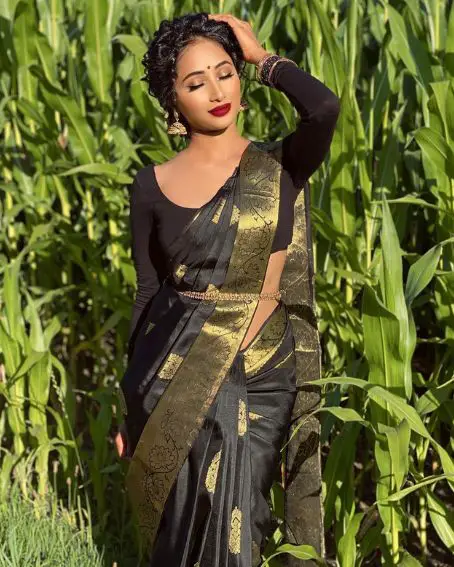 If you are in need of simple zari work, then this particular gold Zari border in black silk saree will make your dreams come true. Zari's work pattern on the black saree and blouse is very eye-catching and suitable for all types of girls.
18. Black Saree Design With Short Sleeves And Golden Border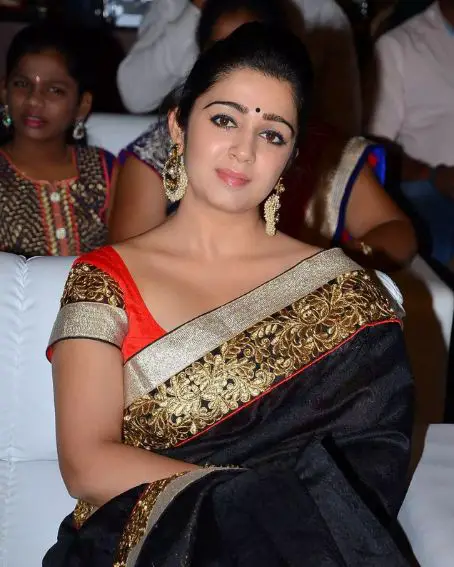 Change up your style with a black saree with short sleeves and a golden border. A simple black saree works superbly on short sleeves. It is the one you need to make a fancy statement at any wedding or party you are attending this year.
19. Black Saree With Pink Border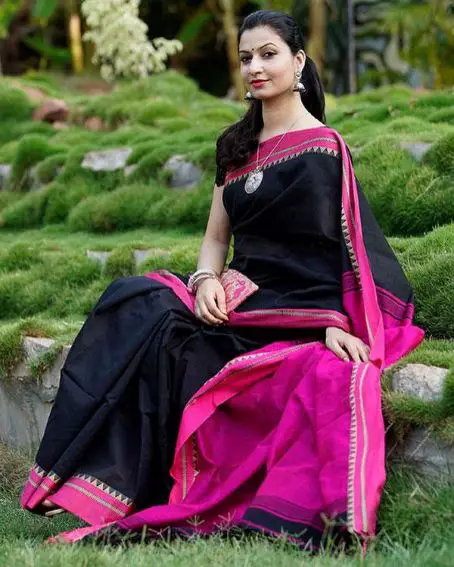 A black saree with a pink border is one of the best outfits that can be sported almost anywhere you go. For days, when you are bored with a basic style, then this black with pink design is for you.
20. Black Half Net Blouse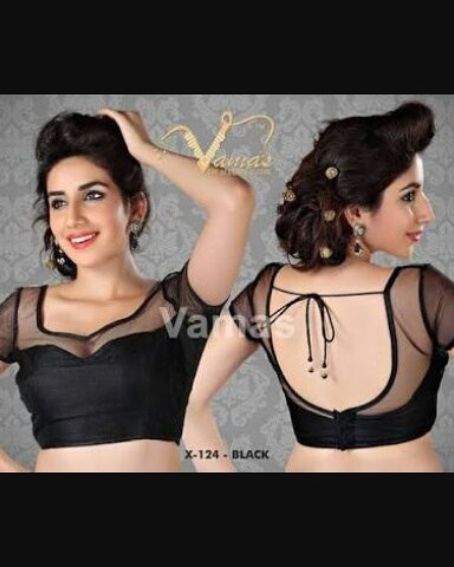 This black half-net blouse is quite simple but very effective. When you have a stunning and beauteous black saree like this, you just need a simple half net blouse to go with it to give you a tremendous appearance.
You Might Also Like: