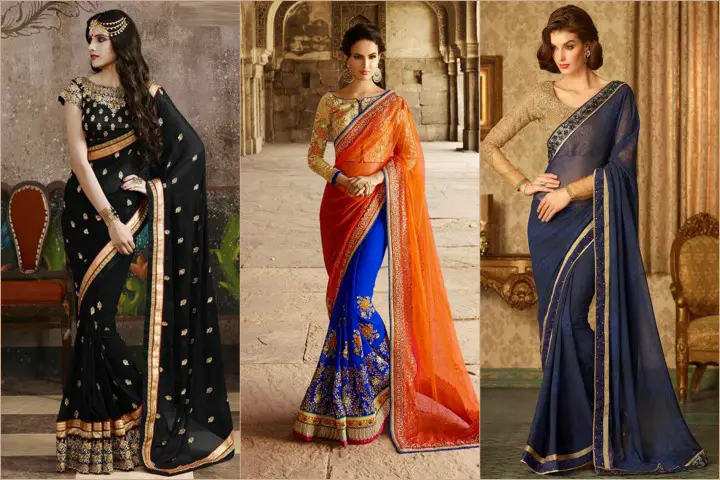 The Georgette sarees are well known for Grace and are easy to wear. The sarees are transparent and lightweight which can be worn hours together without any discomfort or any hesitation. The sarees are suitable for all kinds of Ages. hence here are some of the Georgette sarees for you to choose with floral print, hand print, embroidery and block print which looks very decent and elegant.
20 Best Georgette Saree Designs For Women
1.Black Satin Designer Georgette Party Wear Saree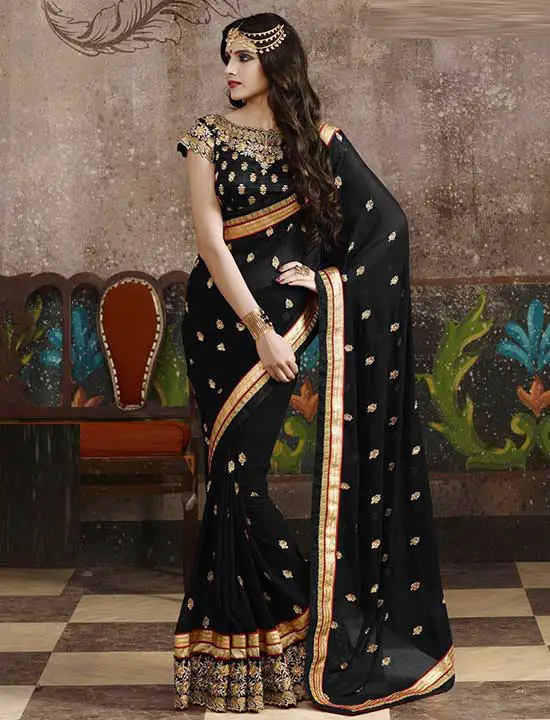 The latest fashion designer Georgette Saree comes in black satin saree with gold finishing border and is best for party wear.
2.Blue and Orange Pure Georgette Designer Bridal Sarees

Best bridal designer saree now in Georgette textile. This saree has an orange and blue color combination attached with a golden color blouse.
[ Read: Designer Chantilly Lace Sarees ]
3.Girlish Orange Georgette Saree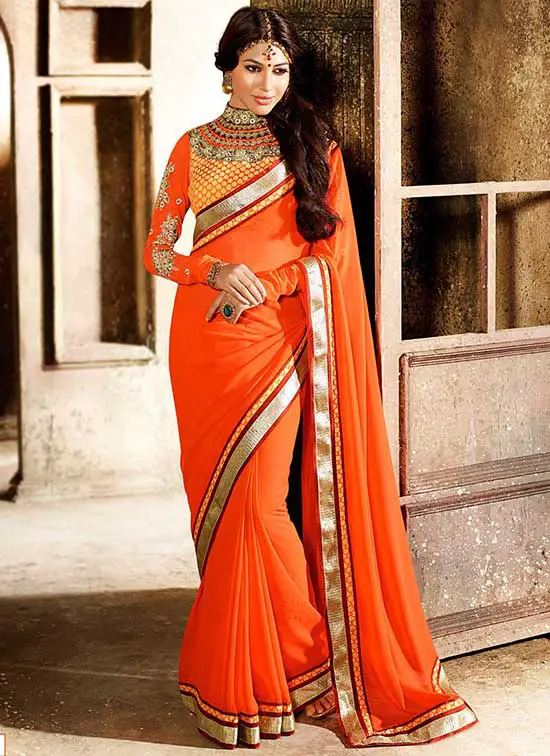 This is a beautiful collection of sarees in Georgette which comes in orange running all over the saree with golden border along with a full sleeve blouse.
4.Turquoise and Sea Green embroidered Georgette Saree

Greenish blue and sea green saree with embroidery work on the border georgette saree looks so classy with golden color georgette blouse.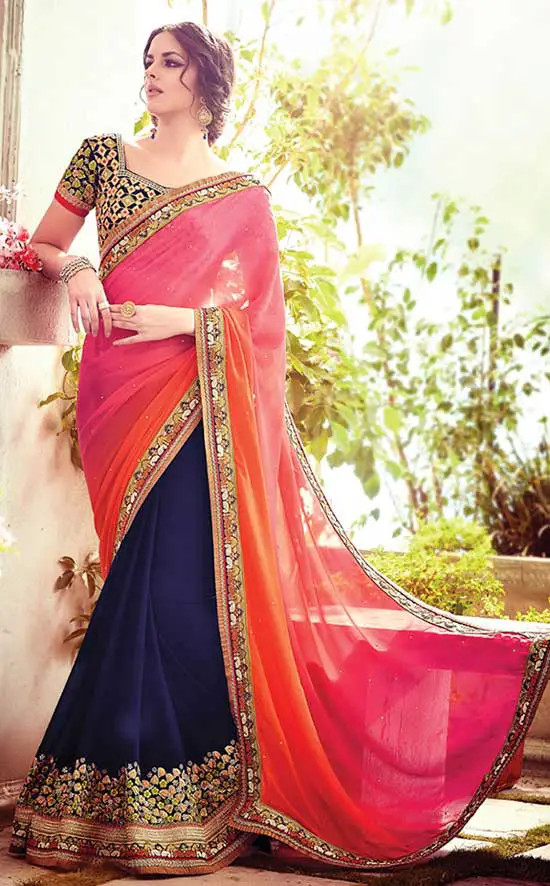 The most trending designer georgette saree in pink and navy blue combination looks so amazing with multicolor blouse.
6.Gratifying Georgette Red Embroidered Work Designer Saree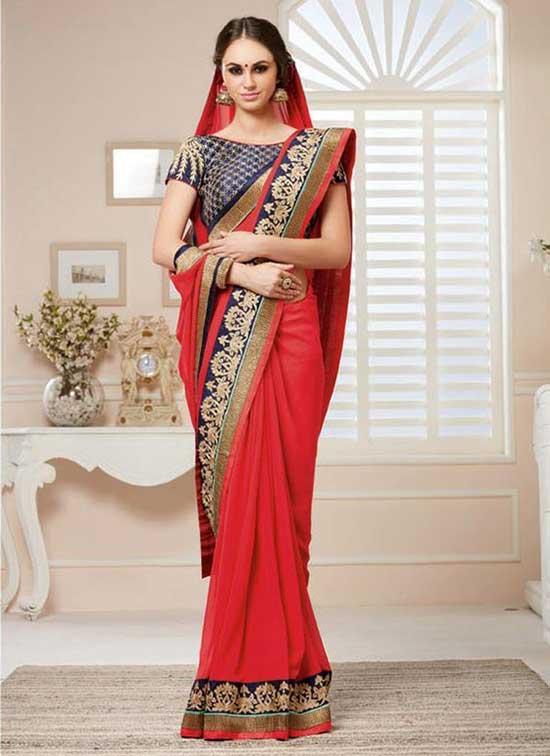 Satisfying red color Georgette designer saree with embroidery work looks so amazing for party wear along with navy blue designer blouse.
[ Read: Ikkat Cotton Sarees ]
7.Royal Red And Grey To Black Shaded Georgette Stone Work Sarees

New trending georgette saree with different shades of color work saree. This saree has royal red gray and black stone work saree with black blouse.
8. Black Georgette Floral Print Fancy Saree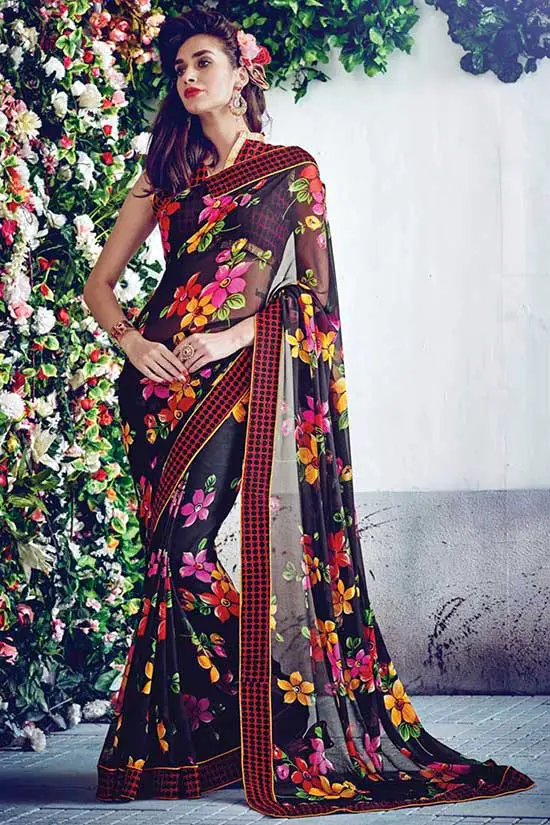 Black color floral print georgette saree with maroon and black combination border fancy saree is the best for party wear.
9. Blue Georgette Fancy Saree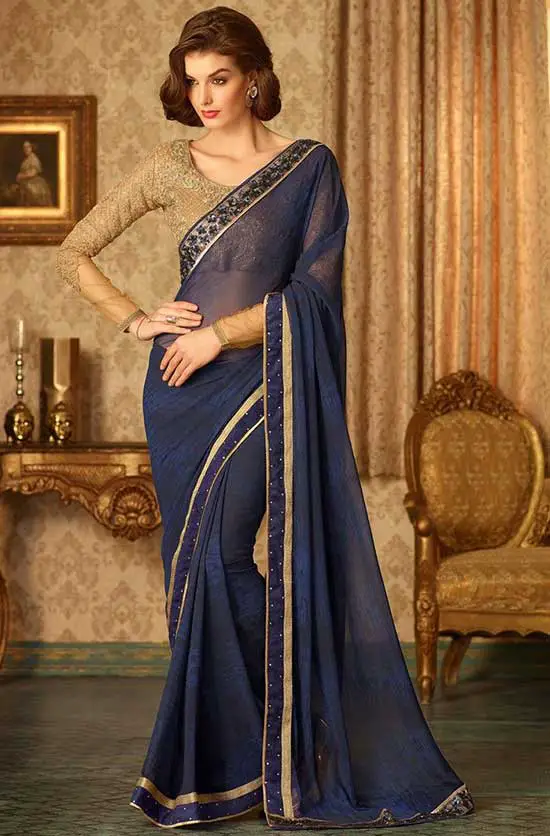 This is the fancy saree in georgette textile which is in blue color embellished with crystal stone lace on borders with golden lace blouse.
10. Cream Georgette Printed Saree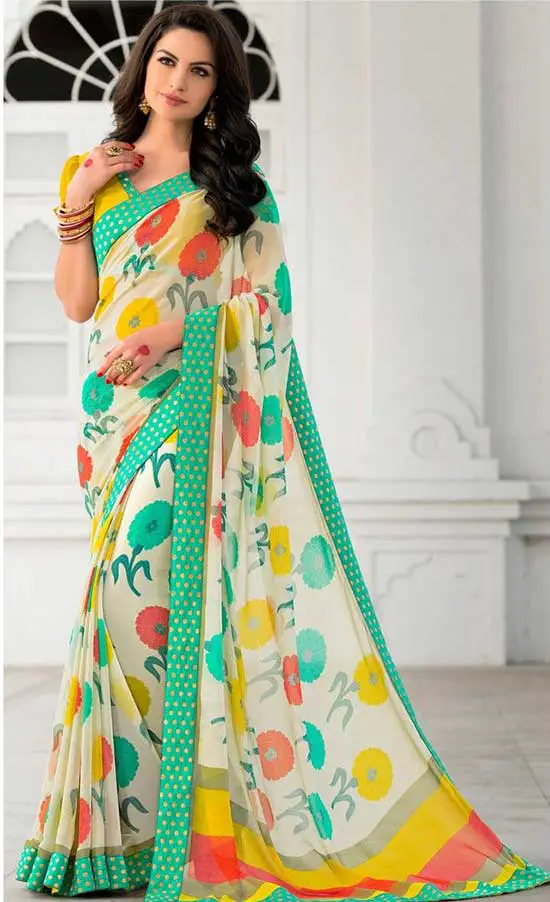 This is a cream colored Georgette saree with flower pattern print on it and embellished with green lace border looks simple and classy.
11. Embroidered Border Georgette Saree in Coral and Fuchsia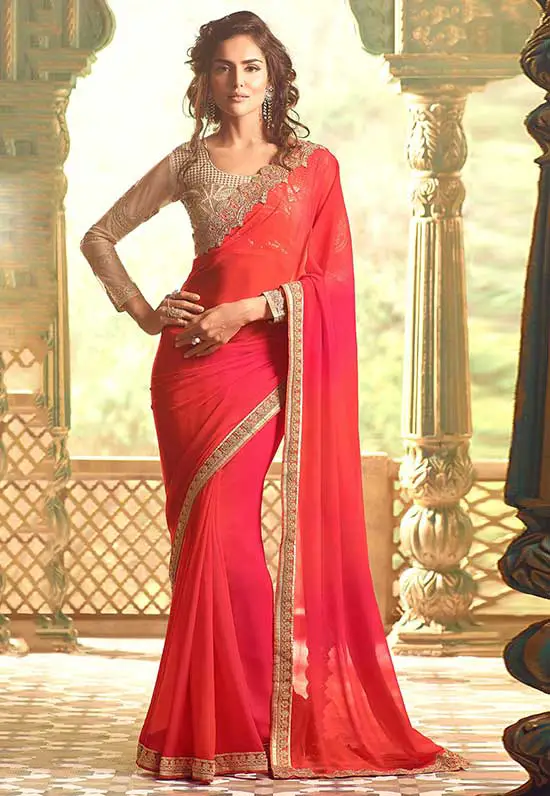 Fuchsia and coral color georgette saree with embroidered golden lace borders looks so simple and classy for party wear.
12. Pink embroidered Multicolored Georgette saree with blouse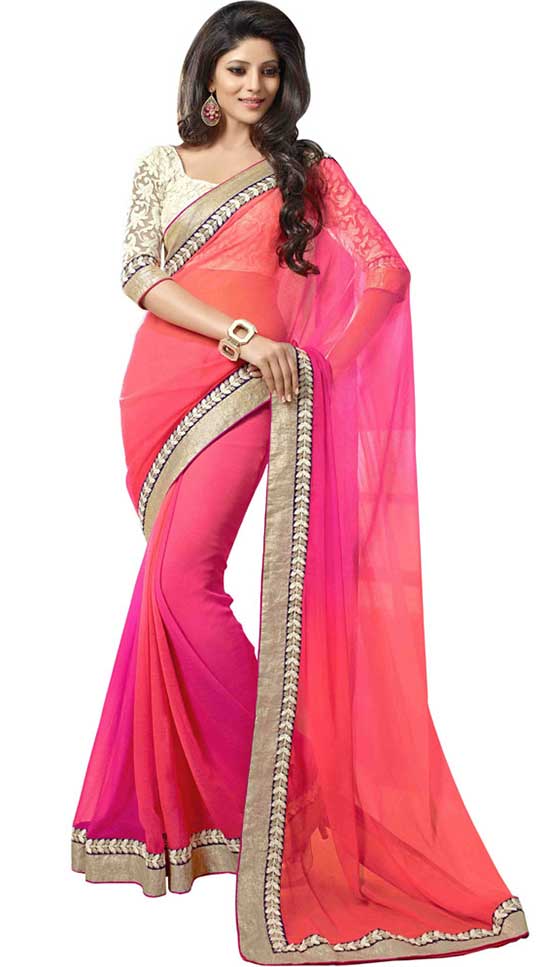 Another party wearing a georgette saree in pink color with embroidered worked lace on border saree along with a blouse is the best choice.
13. Lime Turquoise Faux Georgette Saree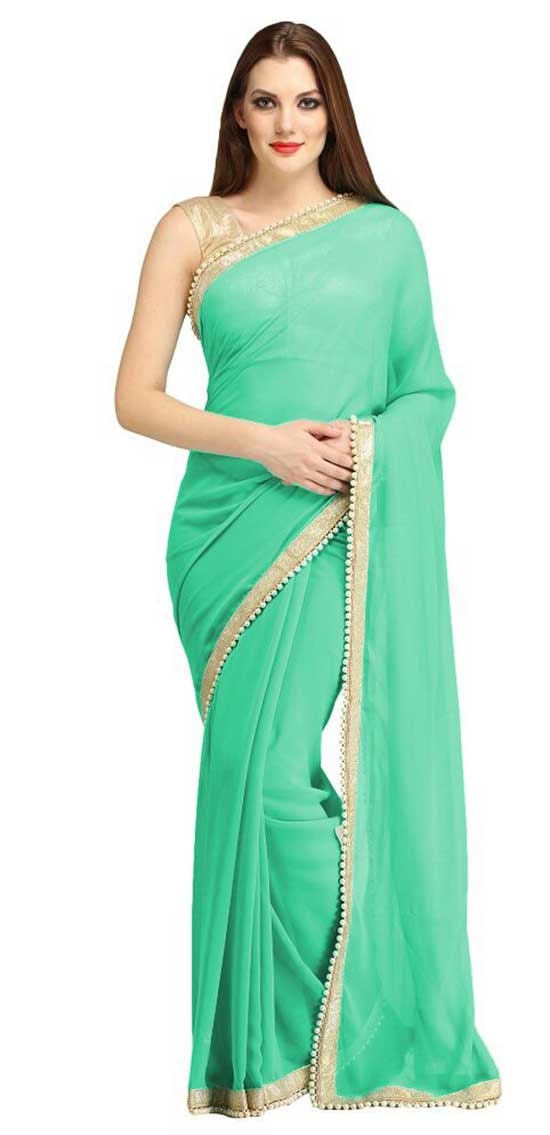 Here comes the fancy georgette saree in lime turquoise color with Faux pearls on the lace border that looks gorgeous and a trending saree with blouse.
14. Half And Half Georgette Saree in Beige and Mustard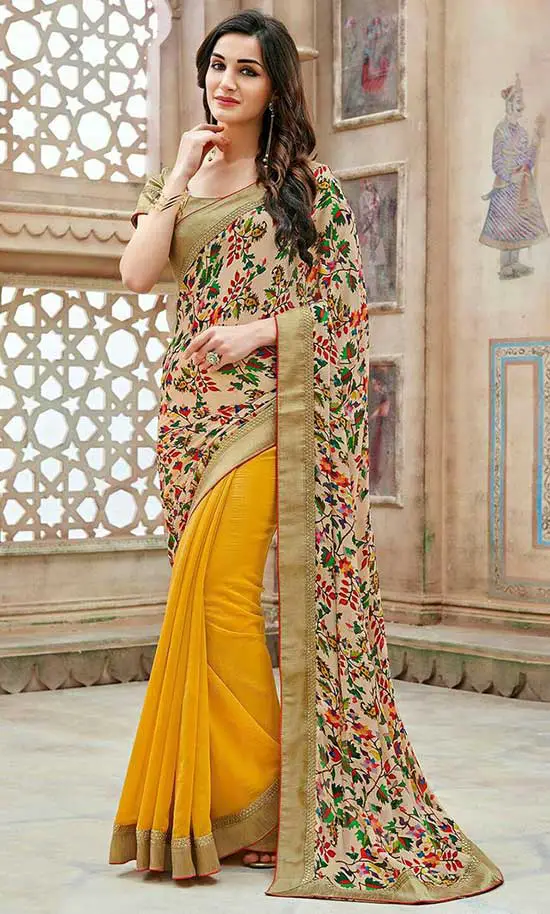 Special georgette saree with half and half in beige and mustard color saree with blouse. The beige color has a floral pattern design which is loveable.
15. Black Printed Faux Georgette Saree with Blouse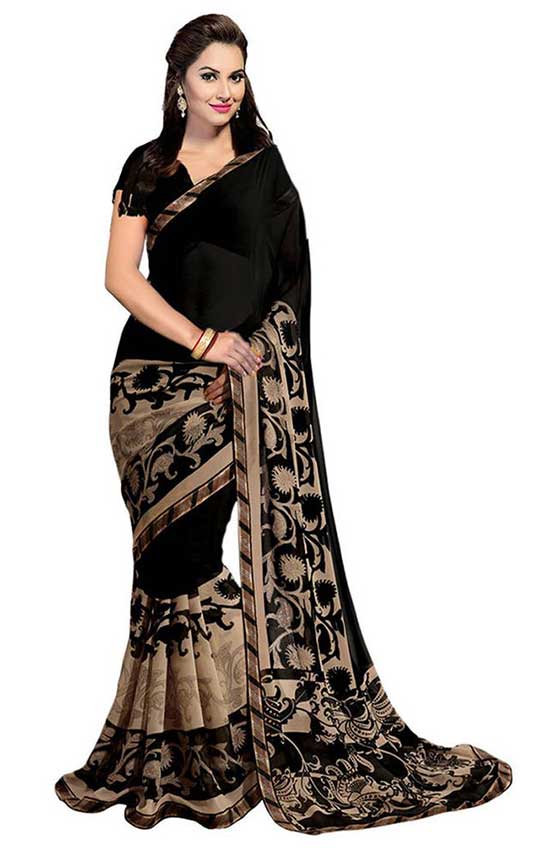 This is a plain simple classy black faux Georgette saree with print along with blouse suits for party ware.
16. Blue Cream Color Designer Georgette Jacquard Fabric Saree with Embroidery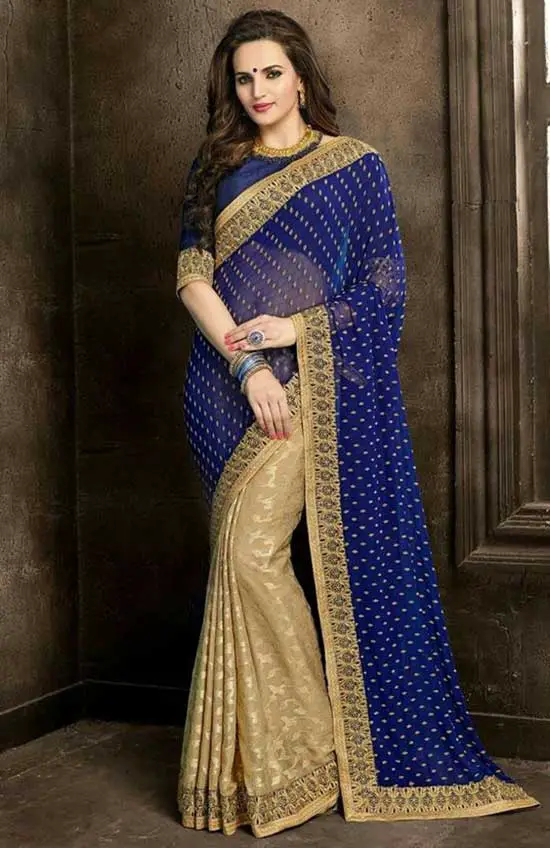 17.Red Color Embroidered Georgette Saree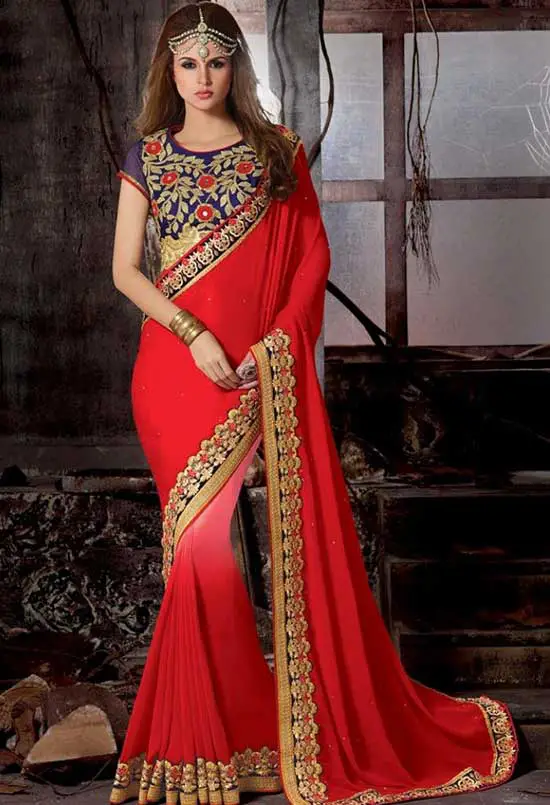 18.Sparkle Silk Georgette Pink & Grey Saree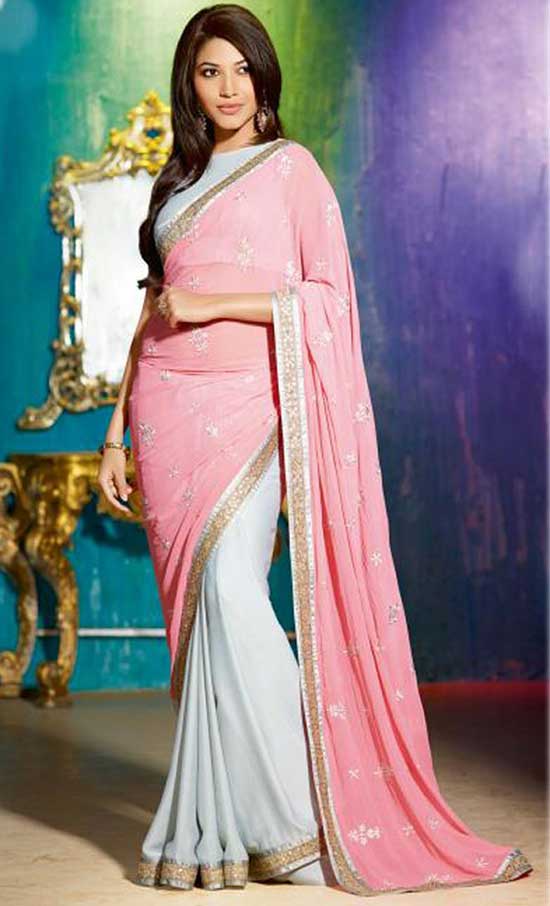 19.Pink Georgette Saree with Embroidery Work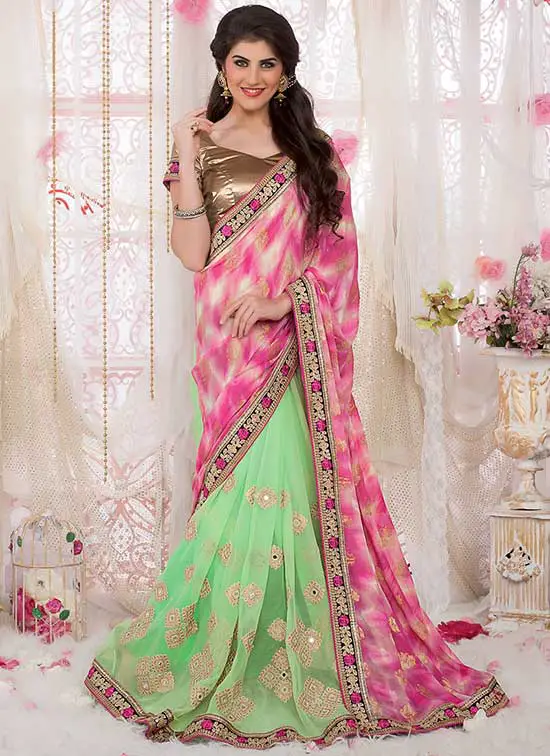 20.Dignified Print work Multi Colour Printed Saree
You Might Also Like: