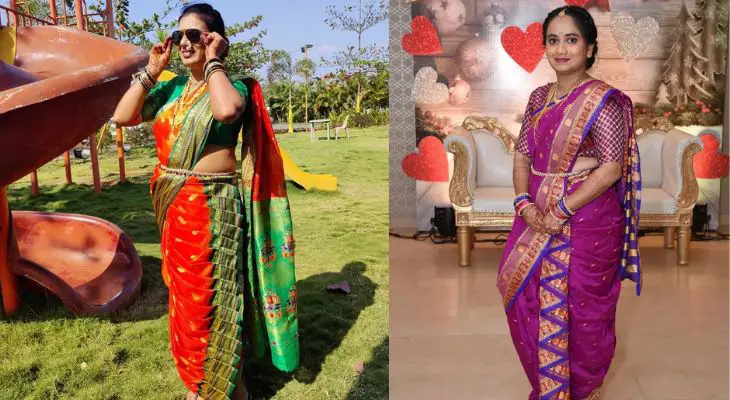 The traditional saree drape of Maharashtraian style is being recollected on every occasion. The Nauvari sarees are very pretty with a different way of designing. Here are some of the following models of nauvari saree.
The Nauvari saree collections are best picked for giving a new attire of saree drape. Go through the images below and try having this kind of look.
15 Best Nauvari Sarees With Images
1. Traditional Peshwai Dark Green Color Nauvari Saree With Pink Pallu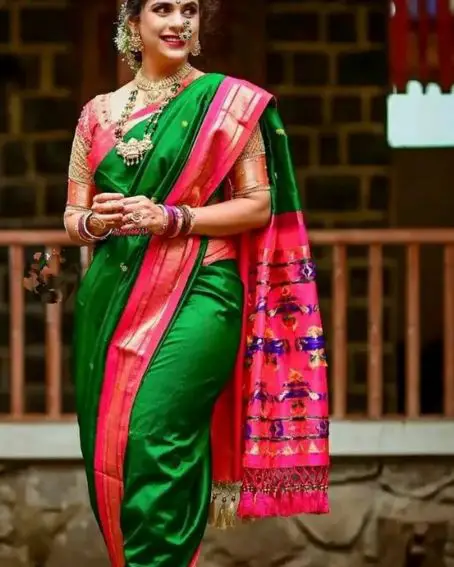 The peshwai dark green saree has a beautiful look with a pink pallu of hanging tassels. This is a traditional saree drape for attraction in devotional events.
[ Read: Trendy Backless Blouse Designs For Sensual Appeal ]
2. The Enlightening Bright Blue And Gold Embellished Nauvari Saree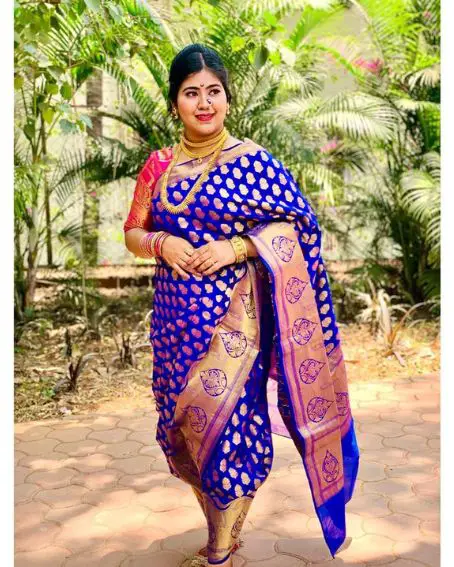 The divine glimpse of Maharashtraian style is fascinating with bright blue color along with gold embellished all over the saree. It is the most loved saree for women in cultural programs.
[ Read: 25 Attractive Sultry Blouse Designs For Silk Sarees ]
3. Fancy Pink And Gold Border Nauvari Saree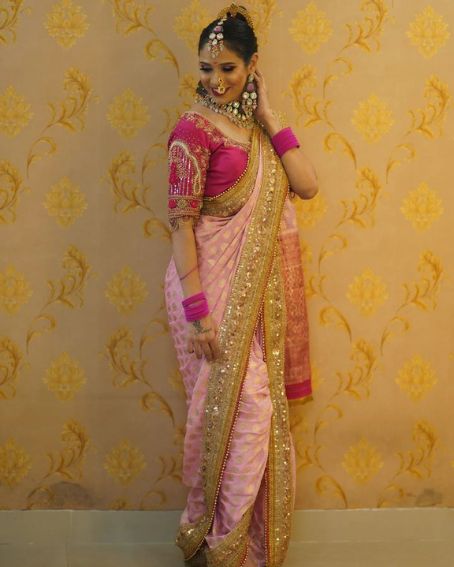 The stylish pink color fancy nauvari saree has gold borders. This is the best collection of all the models which have trendy looks. The gold border of the saree grabs the attention of every woman.
[ Read: 20 Latest Blouse Designes Mirror Work Patterns For Women ]
4. A Vibrant White And Maroon Nauvari Saree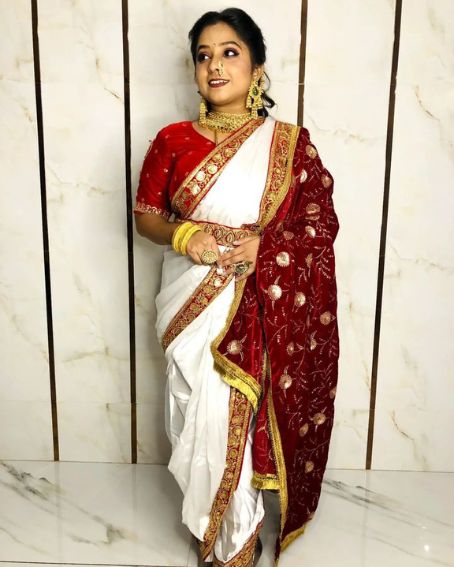 The best ever combination is white and maroon color nauvari saree. This has a modern glance with the gold finish on the shall. Women crave to have this kind of sarees that gives a rich look.
[ Read: 9 Different Style Of Wearing Saree With Images ]
5. Beautiful Red And Silver Nauvari Saree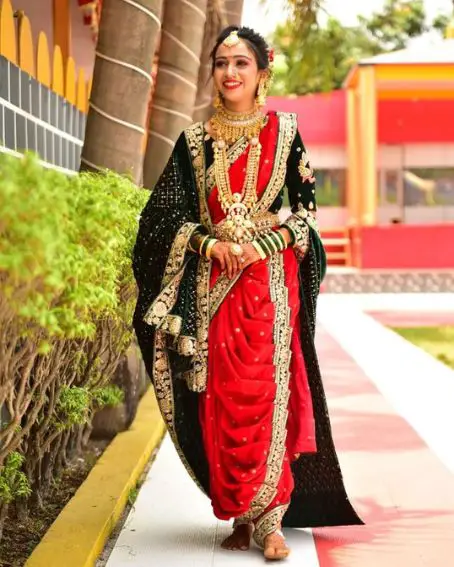 The royal glam of nauvari saree is in red color with heavy embroidery work of gold color border. It has a classy black blouse which suits any event.
[ Read: Beautiful Collection of Coimbatore Silk Sarees ]
6. Classy Red And Green Nauvari Saree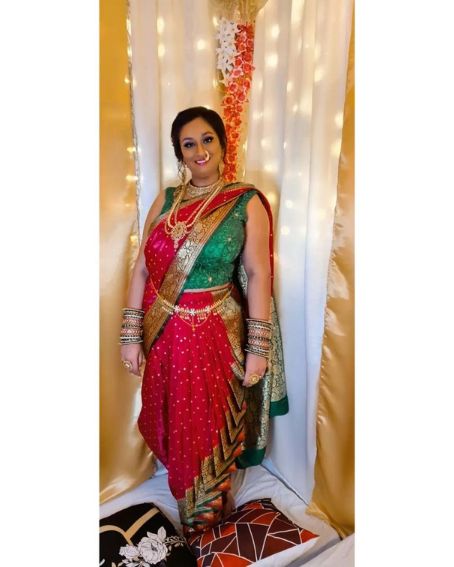 The unique nauvari saree is in red and green mix. It has neatly draped frills in the front. This saree is chosen for grand occasions and ceremonies.
[Read:13 Latest Blouse Designs With Patch Work]
7. The Royal Look Of Nauvari Saree In Bright Red And Green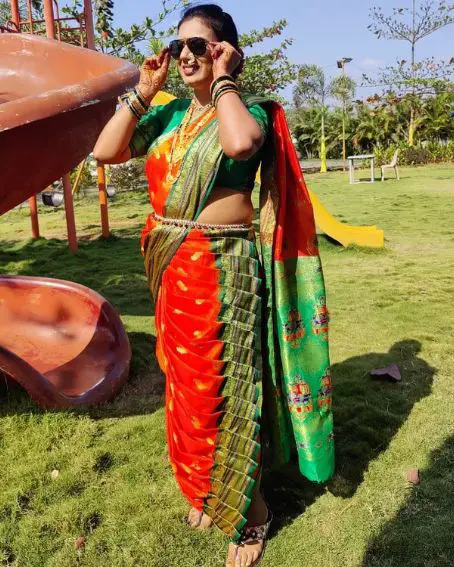 The lustrous bright red saree with green combination has pattu fabric with a glamorous look. It is embellished with gold finishing and formally draped frills look trendy .
8. The Dazzling Yellow And Purple Nauvari Saree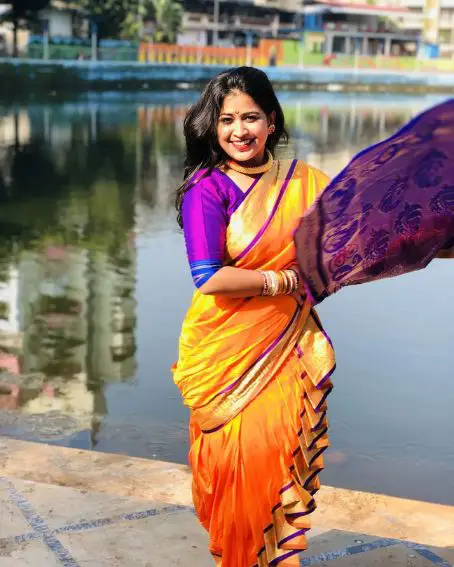 The coolest appearance of the yellow and purple nauvari saree has a beautiful look. The charming pallu design is highly recommended for parties and events.
9. The Lovely Orange And Green Nauvari Saree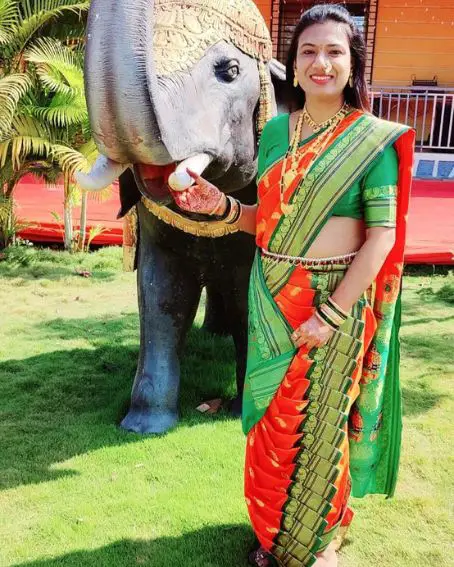 The grand look of nauvari saree comes in orange and green color. The awesome texture of pallu gives the best finishing. This is mostly chosen for ceremonies and functions.
10. The Divine Yellow And Pink Nauvari Saree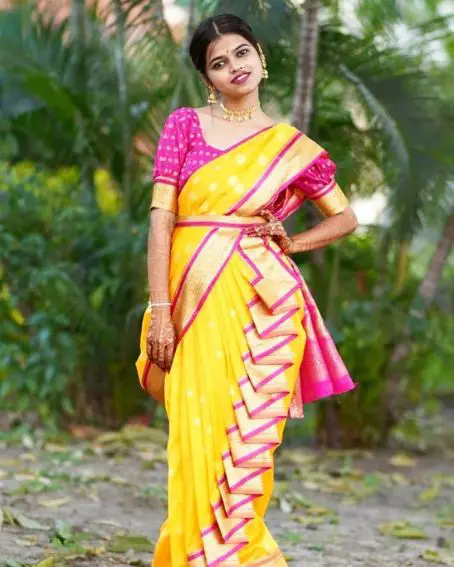 The gorgeous look of nauvari saree is in pink and yellow color. It specially has gold finishing all over the saree. This saree is preferred mostly in the functions and traditional events.
11. The Unique Maharashtrian Sea Blue Nauvari Saree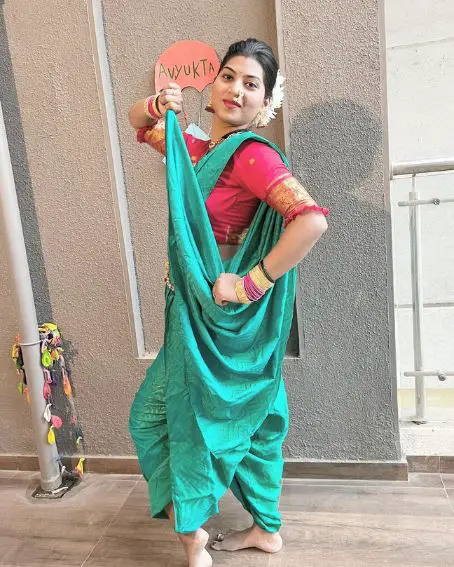 The traditional nauvari saree look comes in a sea blue color that pairs with a red blouse. This saree is simple and classic for events and Kitty parties.
[Read: 40 Latest Back Neck Blouse Designs ]
12. The Radiant Yellow And Gold Maharashtrian Nauvari Saree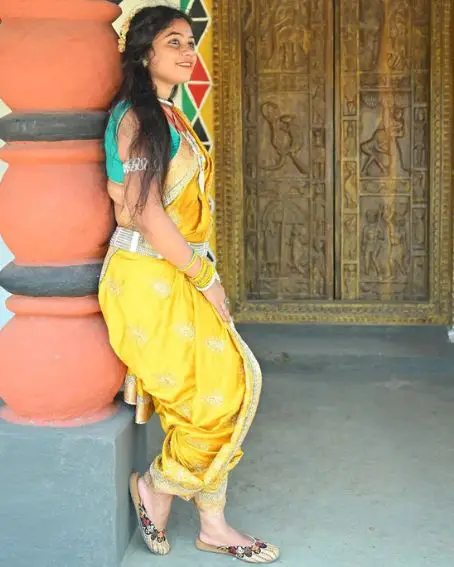 The fantastic choice of nauvari saree is in yellow and gold border. The rare color of blue shade blouse is very much preferred for weddings and cultural programs.
13. Amazing Pink And Green Nauvari Saree With Gold Border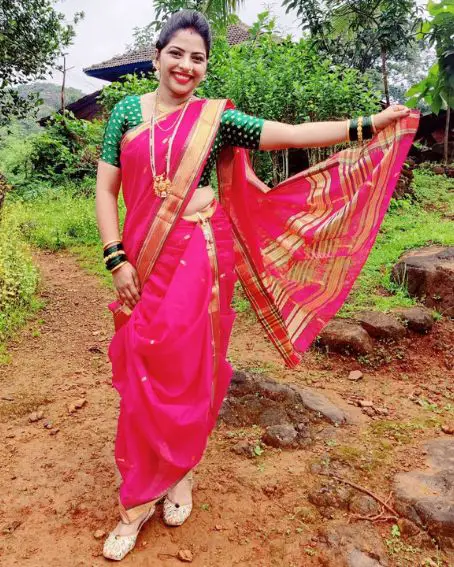 The marvelous saree of bright pink and gold finish is very good looking. It has a green blouse with gold patches on it. The simple draping of saree is preferred for weddings and events.
14. Good Looking Purple And Pink Nauvari Saree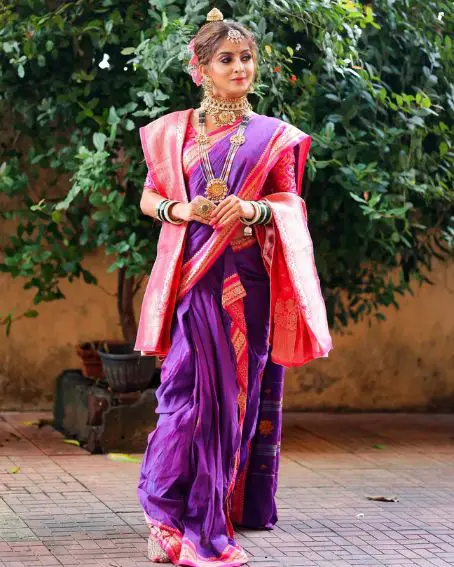 The classic purple nauvari saree comes in combination with pink color. This is truly amazing in the devotional events and programs. Must try to enhance the beauty of saree attire.
15. Fabulous Purple And Gold Finish Nauvari Saree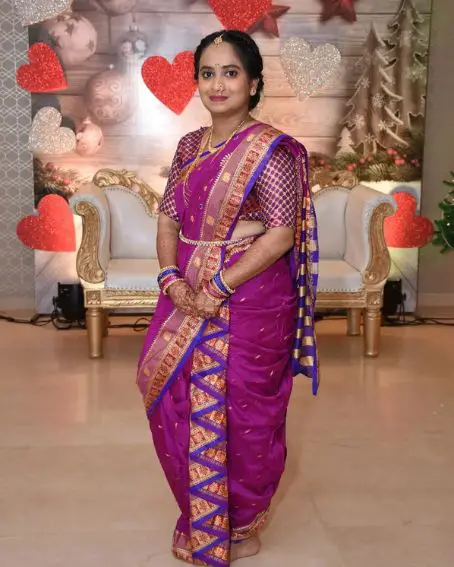 The most trending purple and gold finishing nauvari saree has been loved by many women. This is a good choice for traditional functions and kitty parties.
[Read: 20 Beautiful Black Saree Blouse Designs ]
You Might Also Like: