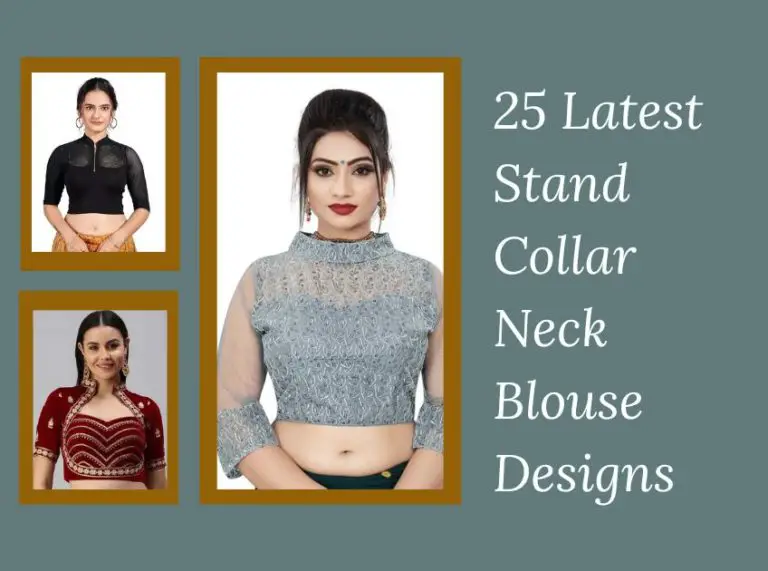 Stand collar blouse is a type of blouse that comes with a high neck that covers around your neck. Because of their style, they are popular.
The fabrics, which are used to make Collar blouses are silk, cotton, and satin. Also, they can have different sleeves from short to long. These are good options for formal events.
They can be paired with any outfits such as skirt, lehenga and pants.
25 Latest Stand Collar Neck Blouse Designs
1. Sea Green Art Silk Kanjivaram Color Blouse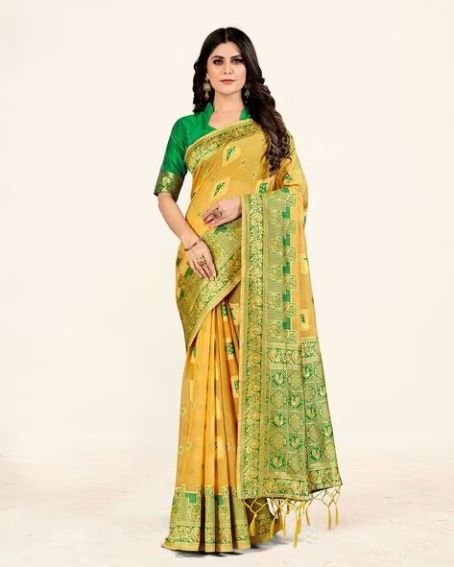 This exquisite variation adds a touch of traditional charm to the stand collar design. The delicate art silk fabric, combined with the opulent Kanjivaram color palette, creates a blouse that's perfect for festive occasions and cultural celebrations.This is a simple and elegant blouse design that is perfect for young girls and teenagers.
2. Green Color Band Collar Women Blouse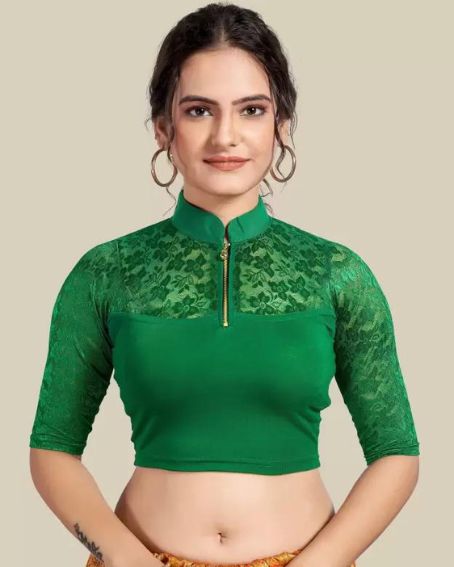 A subtle twist on the classic stand collar, the band collar variation offers a more streamlined and modern look. The solid green hue adds a pop of color, making it an ideal choice for both formal and semi-formal events.
3. Jalpaibon Women's Green Checkered Collar Neck Sleeveless Saree Blouse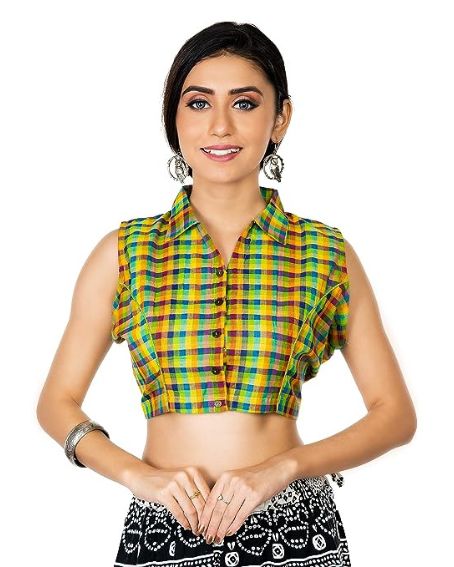 Checkered patterns bring a playful vibe to the stand collar design. This sleeveless blouse with a green checkered pattern adds a touch of youthfulness while maintaining the sophistication of the stand collar.
4. Designer Handmade Mustard Color Silk Blouse with High Neck Short Sleeves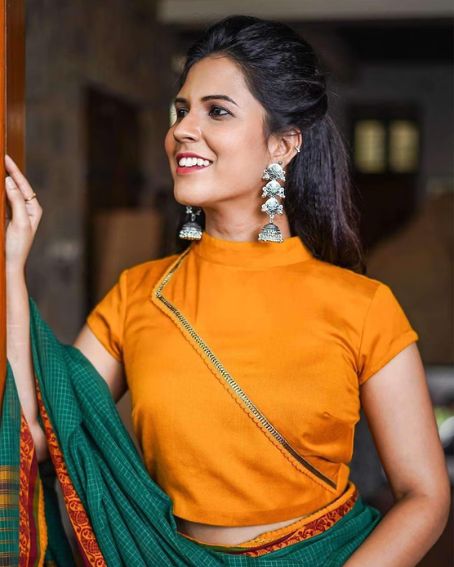 Handmade craftsmanship meets contemporary design in this mustard silk blouse. The high neck short sleeves offer a fusion of elegance and modernity, making it suitable for upscale gatherings.
5. Sky Blue Viscose Rayon Readymade Blouse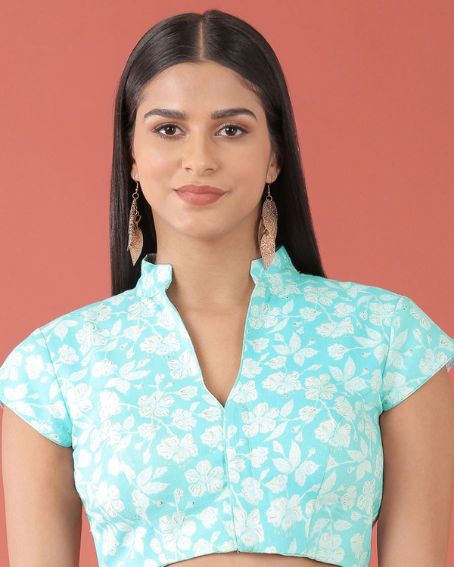 The comfort of viscose rayon meets the elegance of a stand collar in this readymade sky blue blouse. Ideal for casual outings and daytime events, this blouse showcases the versatility of the design. A sky blue viscose rayon readymade blouse sounds like a fashionable and comfortable choice for teenagers, young girls, and women.
6. Dull Gold Floral Brocade V Neck Collared Blouse with Criss Cross Back Detailing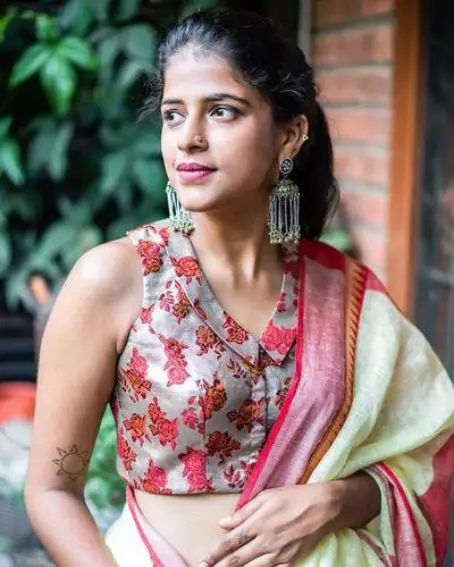 This fusion design marries the stand collar with a V-neckline and intricate criss-cross back detailing. The dull gold floral brocade adds a touch of opulence, making it a head-turning choice for weddings and parties.
7. Green and Red Combination Collar Blouse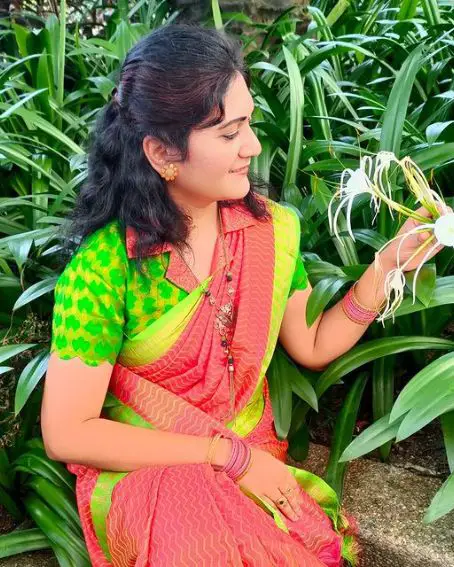 The fusion of green and red in this collar blouse adds a unique contrast. Perfect for cultural events and festivities, this design captures attention with its harmonious yet striking color pairing.
8. Suta Women's Black Kalamkari Cotton Blouse with Collar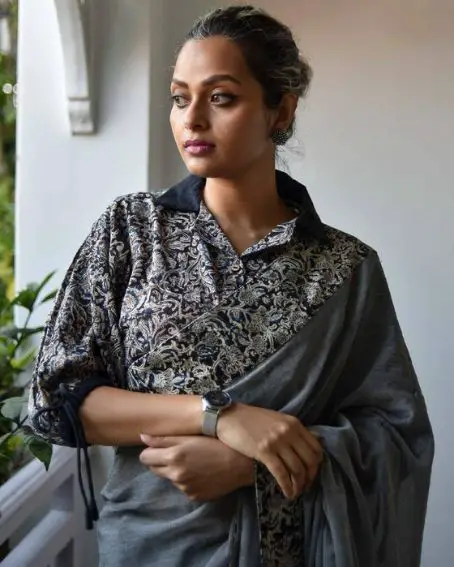 Embracing traditional Indian artistry, the Kalamkari print takes center stage in this black cotton blouse. The stand collar complements the intricate patterns, creating a blend of cultural heritage and modern style.
9. Neck Collar Velvet Embroidery Jacket Un-Stitched Blouse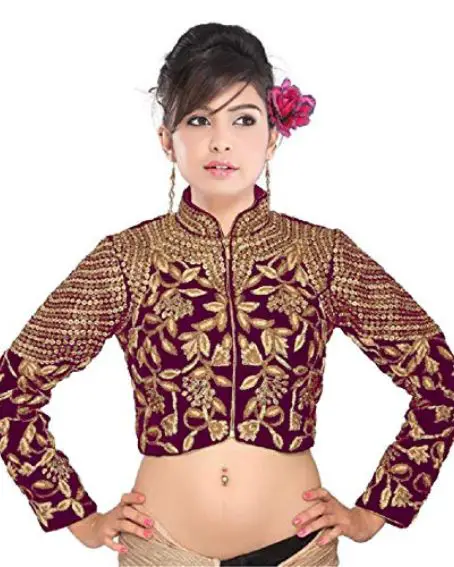 For colder seasons, the stand collar gets a luxurious upgrade with a velvet embroidery jacket. This un-stitched blouse provides a canvas for customization, enabling wearers to infuse their personal style.
10. Multicolor Incredible Collar Blouse Design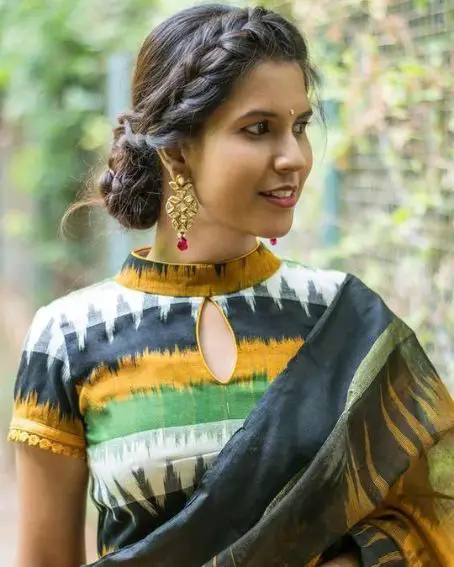 This vibrant and eclectic option showcases the beauty of the stand collar in a multitude of colors. A multicolor incredible collar blouse design can be a stylish and vibrant choice for teenagers, young girls, and women who want a trendy and eye-catching blouse style
11. Elegant Black Cotton Printed Blouse with Collar Neck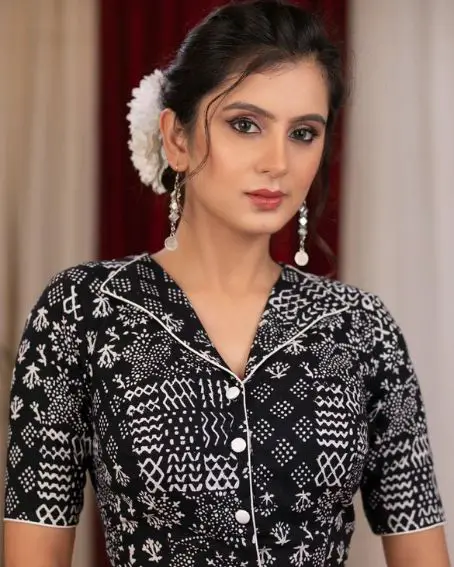 Black cotton with delicate prints combines the classic stand collar with subtle elegance, making it suitable for both casual and semi-formal occasions.
12. Collar Front and Back and High Neck Blouse Design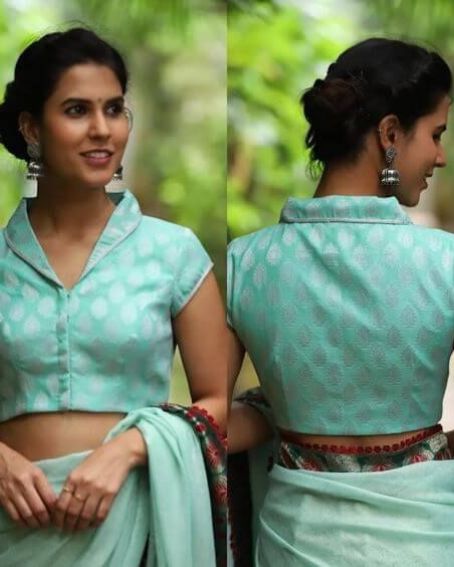 A unique combination of collar styles—front, back, and high neck—creates a blouse that is as innovative as it is stylish. This design is ideal for those seeking a modern twist on the traditional.
13. Black Color Collar Neck Blouse Designs for Indian Wear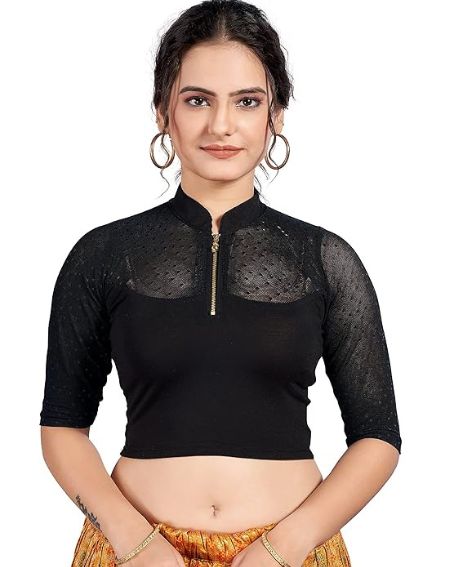 This variation of the stand collar design caters specifically to Indian wear, offering a modern touch to traditional outfits.
14. Gray Color Collar Neck Designer Blouse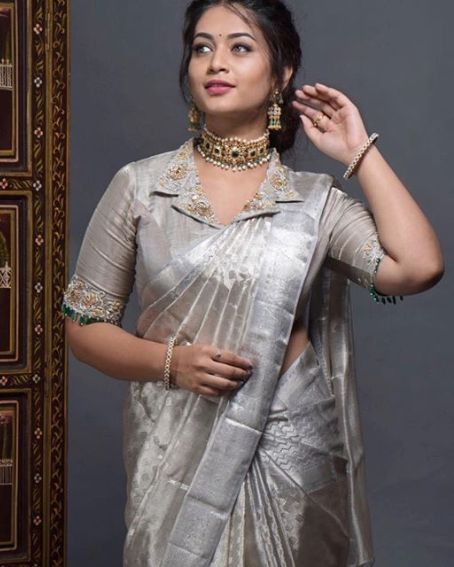 Gray is synonymous with understated elegance. Paired with a stand collar, it becomes a canvas for intricate designs and embellishments.
15. Off White Color Collar Neck Blouse Design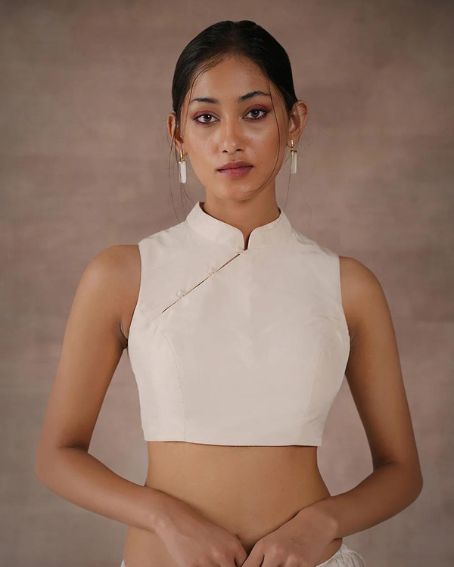 The off-white hue exudes sophistication. This design can be effortlessly dressed up or down, making it a versatile addition to any wardrobe.
16. Light Pink Sleeves Collar Neck Blouse Design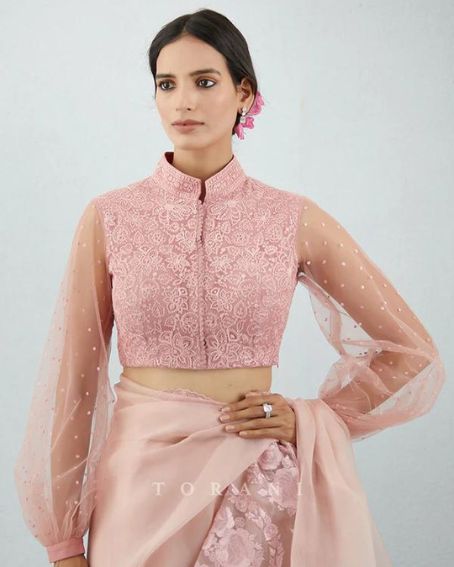 A soft and feminine option, the light pink sleeves combined with a collar neck offer a delicate yet stylish look.
17. Red Jacquard Readymade Collar Neck Blouse Design
The intricate texture of jacquard fabric meets the sleekness of a collar neck, creating a design that is both visually appealing and comfortable.
18. Embroidered Gray Color Full Sleeve Collar Neck Blouse Design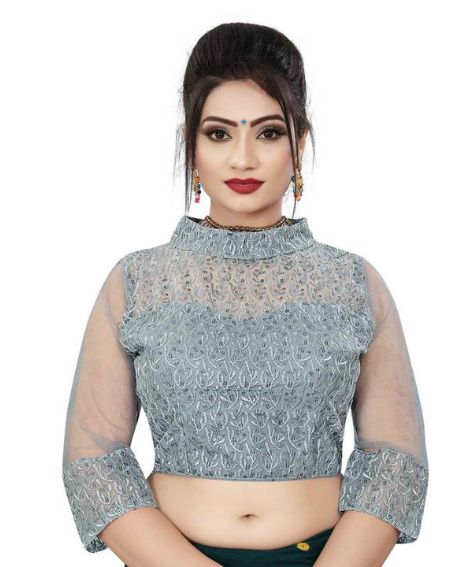 Full sleeves and embroidered gray fabric create a blend of modesty and elegance. The stand collar adds an extra layer of sophistication.
19. Stitched Net Sifly Work Readymade Blouse with Collar Neck Design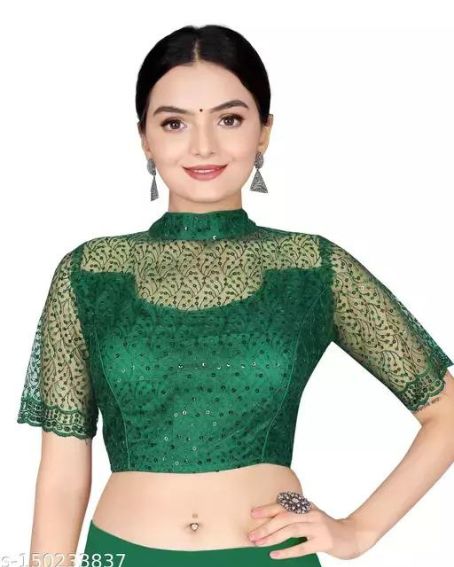 Net and sifly work come together in this readymade blouse, showcasing intricate detailing that perfectly complements the stand collar.
20. Embellished Embroidery Collar Neck Blouse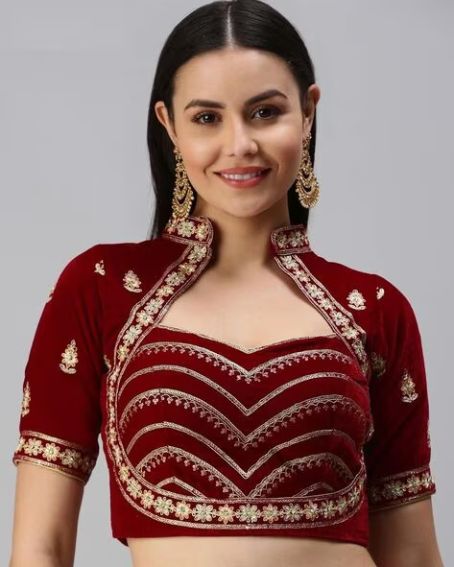 This design speaks of opulence, with embellished embroidery enhancing the charm of the collar neck. Perfect for celebratory occasions.
21. White-Pink Block Printed Cotton Blouse with Collar Neck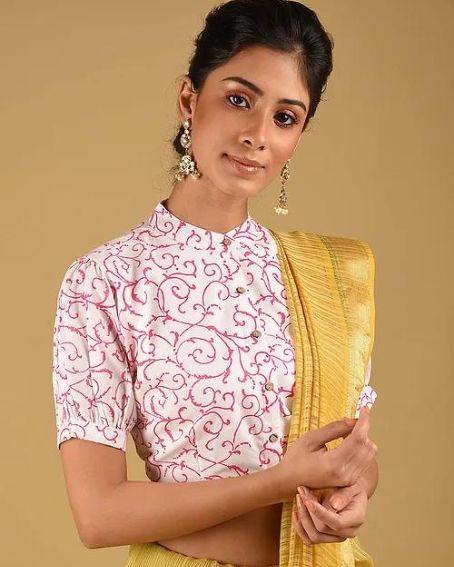 Block prints in white and pink hues create a blend of tradition and modernity, perfectly represented through the collar neck design.
22. White Cotton Color Collar Neck Blouse Design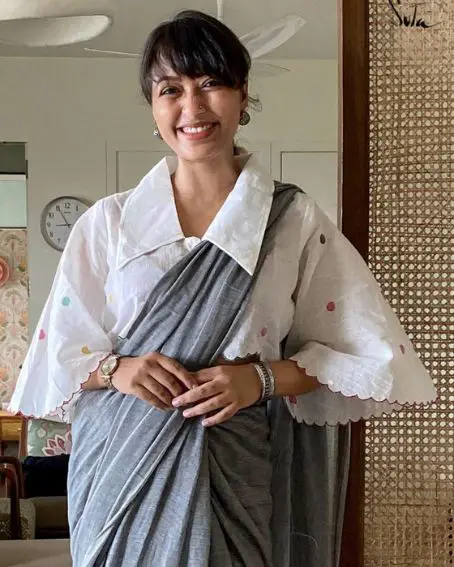 The timeless appeal of white cotton meets the modern touch of a collar neck, making this option a must-have in any wardrobe.
23. White and Gray Combined Collar Neck Blouse Design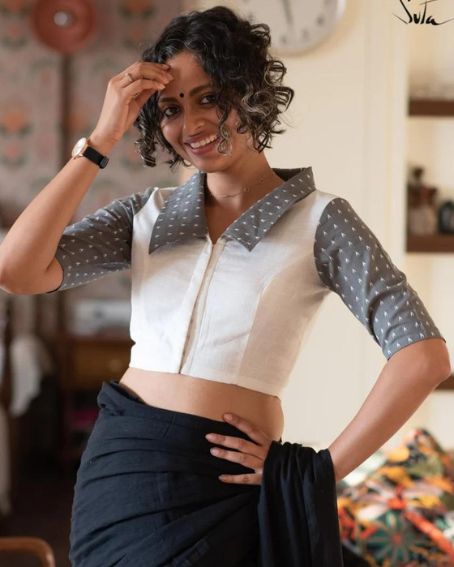 White and gray create a sophisticated combination, further enhanced by the collar neck design. Ideal for achieving a polished look.
24. Gold Crushed-Tissue Chinese-Collar Blouse with Raw Silk Sleeves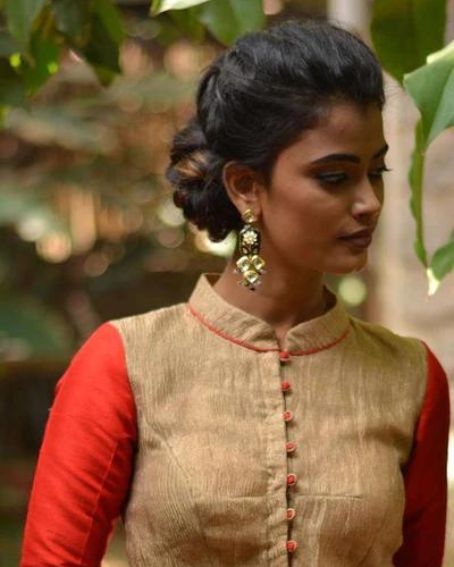 A fusion of fabrics and collar styles, this blouse adds a touch of the East with a Chinese collar. The gold crushed-tissue fabric exudes luxury.
25. Rama Green Collar Neck Princess Cut Blouse Design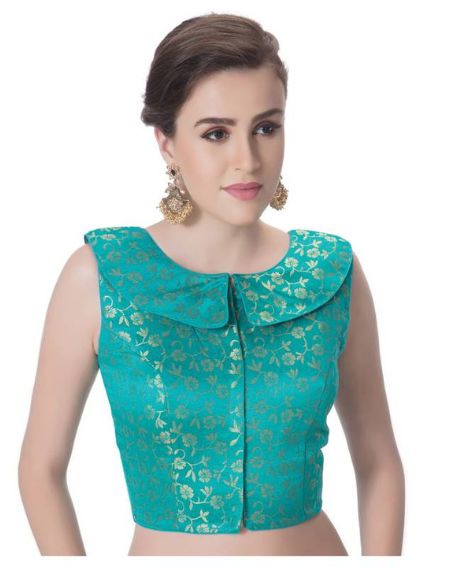 The rama green color combined with a collar neck and princess cut design creates a regal yet contemporary look, perfect for festive occasions.
What Are the Key Features That Define Stand Collar Neck Blouse Designs?
Cotton or silk are used as fabric to make this Collar blouse design.
Stand collar blouses are stylish and comfortable .
They have a stiff collar around the neck.
They look beautiful with many different outfits.
They make you look graceful.
They are different in color.
What Is the Variety of Fabrics Available?
Art Silk and Kanjivaram: Stand collar blouses crafted from art silk and Kanjivaram fabrics evoke a sense of traditional richness. The intricate motifs and vibrant colors inherent to these fabrics perfectly complement the stand collar design. These blouses are often chosen for cultural celebrations, weddings, and festive occasions, where their opulent texture adds a touch of glamor.
Cotton: For a more casual and comfortable appeal, cotton stand collar blouses are a popular choice. The breathable nature of cotton makes it suitable for everyday wear, and the variety of prints and patterns available ensures that these blouses can be worn with different bottom wear styles.
Silk: Silk is synonymous with luxury and elegance. Silk stand collar blouses are often chosen for upscale events and formal gatherings. The smooth and shiny texture of silk beautifully accentuates the collar design, making a statement while maintaining a sense of sophistication.
Viscose Rayon: Viscose rayon is a versatile fabric that can be shaped into various styles. Stand collar blouses made from this fabric are comfortable and drape well, making them suitable for both casual and semi-formal occasions.
Brocade: Brocade fabrics bring an element of grandeur to stand collar blouse designs. The intricate weaving patterns and metallic threads create a regal look that's ideal for weddings and celebratory events.
What Is the Suitability for Different Outfits?
The adaptability of stand collar blouse designs allows them to be paired with a wide range of outfits, creating stylish ensembles for various occasions:
Sarees: Stand collar blouses paired with sarees add an elegant touch to the traditional attire. Depending on the fabric and embellishments, these blouses can be worn for both formal and casual events.
Lehengas: Stand collar blouses beautifully complement lehengas, offering a modern twist to traditional ethnic wear. The collar design adds structure to the ensemble, enhancing the overall appeal.
Skirts and Pants: For a fusion look, stand collar blouses can be paired with skirts and pants. This combination is perfect for semi-formal events and social gatherings.
Jumpsuits and Palazzos: The versatility of stand collar blouses extends to modern silhouettes like jumpsuits and palazzo sets. This fusion of styles creates a unique and contemporary ensemble.
What Are the Key Elements of Stylish Allure in Collar Blouse Designs?
Achieving a stylish look with a stand collar blouse design is all about embracing the following tips:
Accessory Play: Enhance the collar's appeal with statement necklaces or delicate chains that perfectly frame the collar. Accessories elevate the overall look while accentuating the design.
Contrast Pairing: Pair a stand collar blouse with contrasting bottom wear to create a visual impact. For instance, a bold color blouse can be paired with neutral-toned bottoms.
Experiment with Hairstyles: Updos and hair tied at the back showcase the stand collar's design elegantly. Experiment with hairstyles that draw attention to the neckline.
Flawless Makeup: Emphasize the collar with flawless makeup. A hint of highlighter on the collarbone and neck can add a radiant touch.
Confidence: Ultimately, confidence is the key to looking stylish. Embrace the stand collar blouse with self-assurance, and your poise will amplify the appeal of the design.
It enhances the confidence in young girls, teenagers and women.
In the world of women's attire, where fashion trends constantly evolve, the stand collar blouse design stands as a versatile and timeless choice. These Stand collar blouse designs are suitable for Women, young girls, teenagers. With its wide range of features and variations, it caters to diverse preferences and occasions. From traditional artistry to modern adaptations, the stand collar blouse design seamlessly navigates between the past and the present, capturing the essence of elegance in every stitch. Whether it's a formal event, a casual outing, or a cultural celebration, the stand collar blouse design is a testament to the enduring allure of fashion innovation.
Related Articles