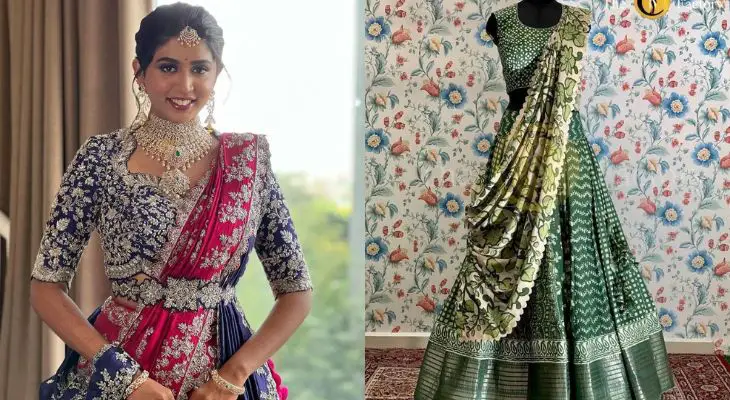 In today's generation half sarees have become more trendy with the styles and Designs of half sarees which include lehenga, dupatta and beautiful neck design blouses. They have been designed with heavy embroidery work with stones, kundan and zari work.  So let's scroll down some of the beautiful neck design blouses that are suitable for lehenga and dupatta.
15 Stylish and Trendy Neck Blouse Designs For Half Sarees
1. Kanjivaram Silk Zari Lehenga With Blouse And Diamond Belt Dupatta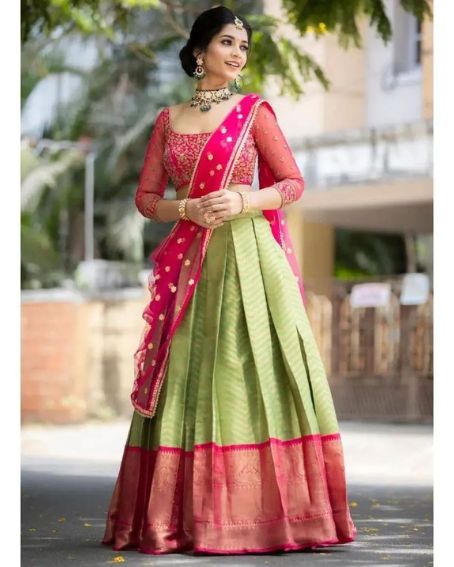 This trendy lehenga is from kanjivaram zari ark silk along with blouse and dupatta. The blouse is very stylish and trendy with embroidered pattern on netted three fourth sleeves with broad neck design.
[ Read: 25 Latest Sexy And Sultry Blouse Designs For Silk Sarees ]
2. Yellow Color Silk Zari Lehenga With Embroidered Blouse And Dupatta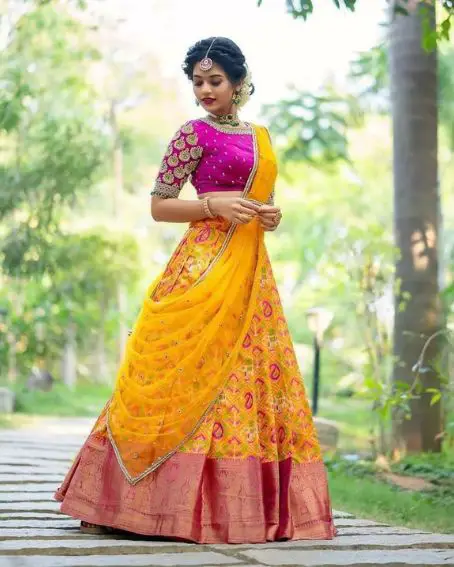 Beautiful bride in yellow lehenga with heavy embroidery pattern sleeve blouse and stone work lace dupatta. The blouse is very attractive with thick embroidery on sleeves and neck shape.
[ Read:  Latest Blouse Designes Mirror Work Patterns For Women ]
3. Full Neck Blouse For Yellow Color Silk Zari Lehenga And Dupatta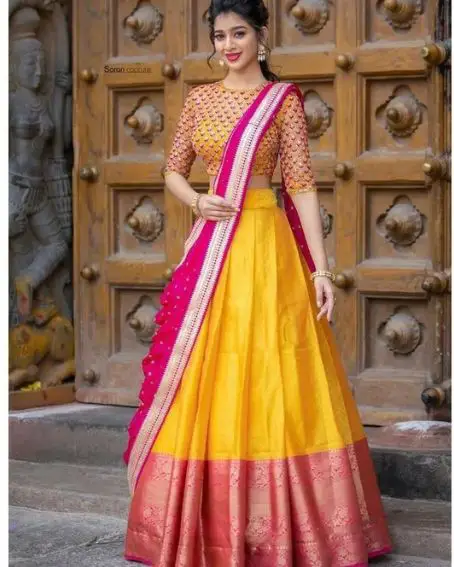 This is a different pattern of blouse design for lehenga which come with fully covered neck design and embroidered pattern on yellow blouse with below length sleeves.
[ Read: 25 Latest Lehenga Sarees with Blouse Designs ]
4. Heart Shape Neck Design Blouse On Purple Lehenga And Dupatta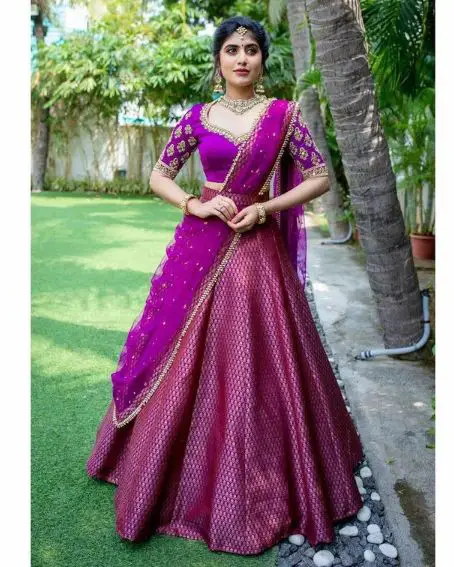 This is a Wonderful neck design for purple lehenga and dupatta. This is in heart shape with stone work border line to it, and the sleeves are with heavy stone work embroidered pattern on elbow length sleeves.
[ Read: 9 Different Style Of Wearing Saree With Images ]
5. Beautiful Green Embroidered Blouse On Kanjivaram Silk Lehenga With Dupatta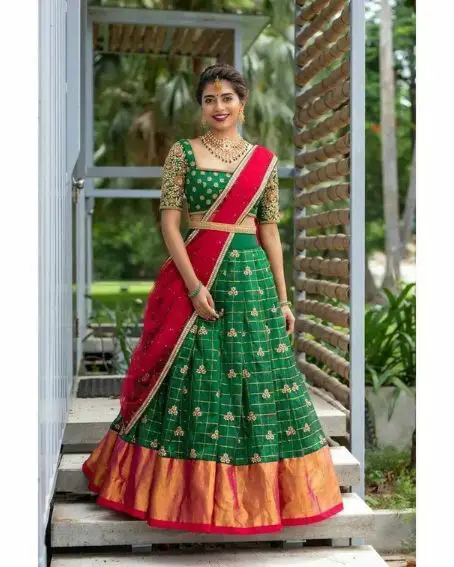 This is a simple sweet blouse neck design on green silk zari lehenga and red dupatta. This blouse is in rectangle shaped neck design with heavy embroidery pattern on elbow length sleeves.
[ Read: Trendy Backless Blouse Designs For Sensual Appeal ]
6. Pink Embroidery Lehenga Blouse With Back Neck Design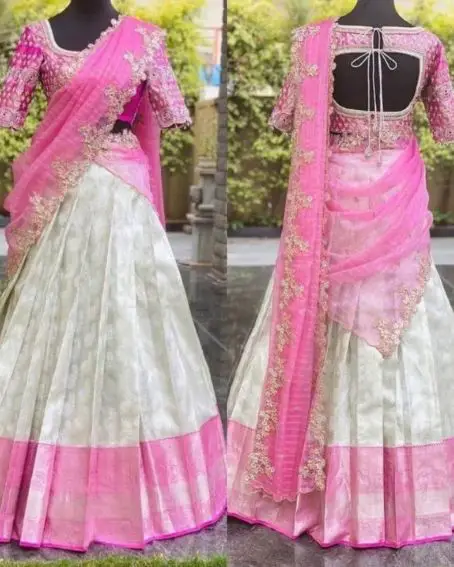 This is a beautiful set of lehenga which is in white and pink combination. The blouse comes with a stone work embroidery pattern and with back neck open design along with latkans.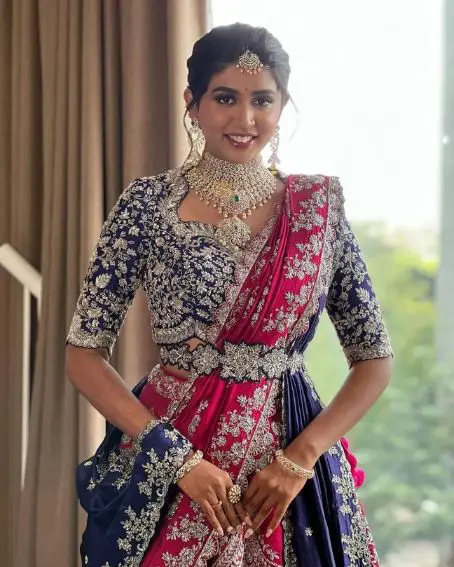 This is a beautiful half saree blouse in navy blue color and heavily embroidered with silver threadings. This beautiful blouse comes with elbow length sleeves with a beautiful neck design.
[Read: 20 Gorgeous Pics of Red Saree Blouse Designs]
8. Beautiful Fancy Pink Lehenga And Blouse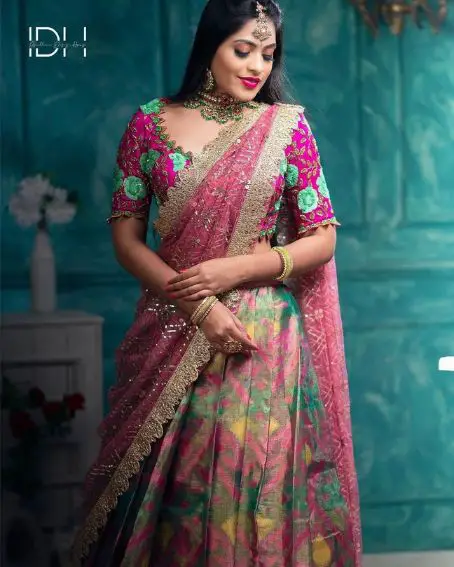 Here is a beautiful fancy lehenga and blouse with golden lace border line dupatta. This blouse comes with green threading floral embroidery work on a pink blouse with a different spike neck design.
9. Back Hook Blue Color Half Saree Blouse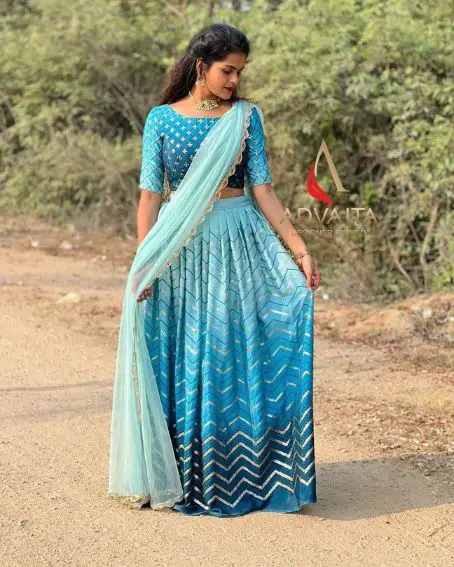 This is a simple and sweet lehenga in blue stripes that comes along with a sequined blouse which is with boat neck design along with a back hook pattern half saree blouse.
10. Fancy V Neck Half Saree Plain White Blouse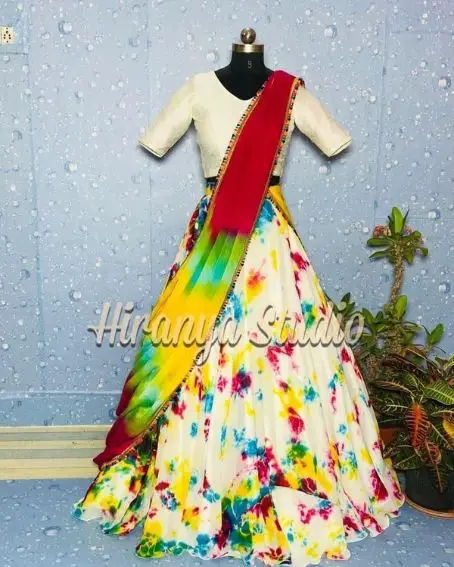 This is a fancy and trendy multi color lehenga and dupatta along with white blouse is Plain White in color with V neck shape and elbow length sleeves
11. Collar Neck Purple Color Half Saree Blouse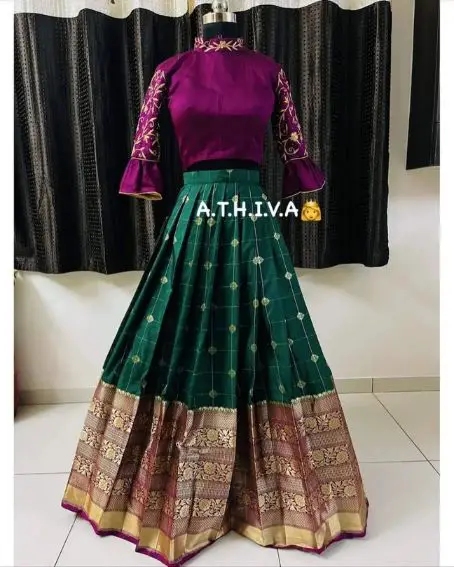 This is a fabulous half saree blouse with collar neck which is an embroidered purple color blouse that comes along with three fourth sleeves and bell pattern at the bottom.
[Read: 14 Gorgeous Pics of sri lankan wedding saree blouse designs]
12. The Classy Lehenga Set Includes Blouse, Lehenga And Dupatta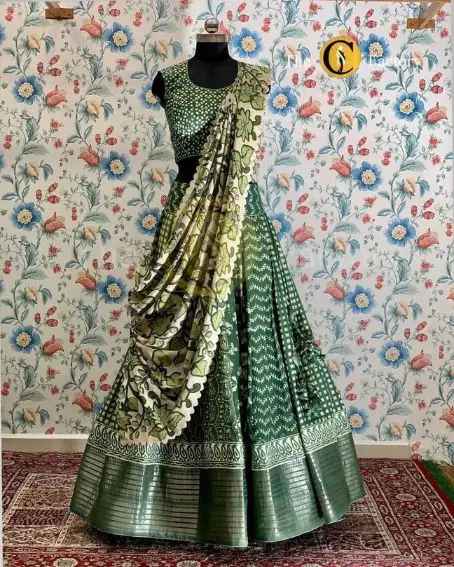 This is a wonderful lehenga set which includes a blouse and dupatta in printed pattern. The blouse comes in sleeveless with a small round neck which looks awesome with the whole set.
13. White Lehenga Set With Blouse And Dupatta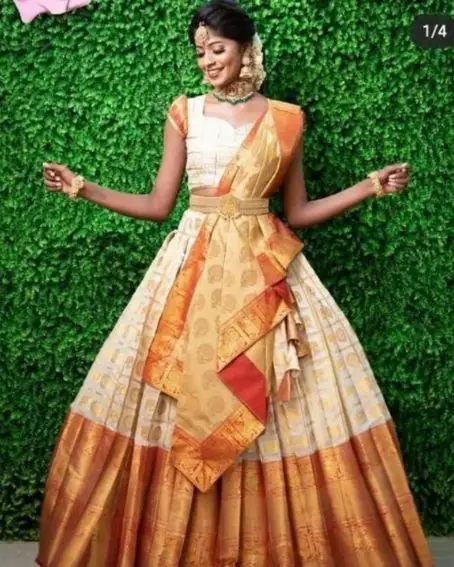 Wonderfully designed Silk Jerry lehenga Dupatta set comes with a sequence blouse which is in short puffed sleeve length along with Diamond shape neck design.
14. Trendy Orange Lehenga Set With Full Sleeves Blouse
This is a trendy Kanjivaram silk zari lehenga set that comes with a trendy blouse which is decorated with stone embroidery and V neck along with full length sleeves.
15. Mint Green Trendy Lehenga Set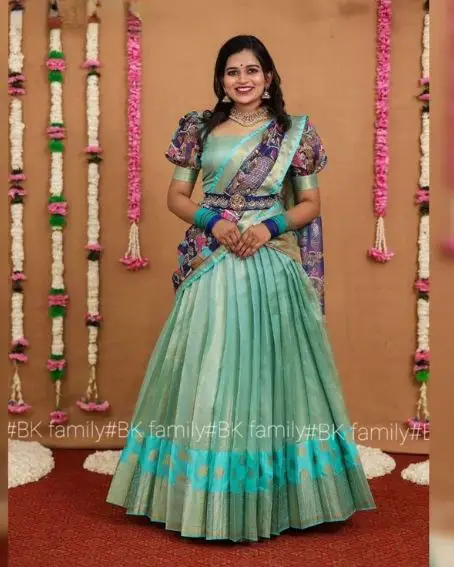 The most attiring mint green color lehenga set comes with the sequence blouse which is with broad neck design along with puffed short sleeves and cuffs at the end looks beautiful with the whole set.
You Might Also Like: