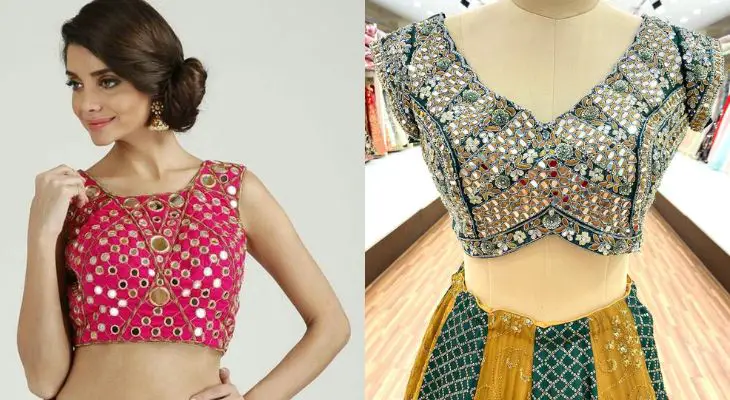 Sarees are traditional ethnic wear in Indian country and the elegance of a saree lies in choosing the correct blouse design to go with it. Any saree without a matching and fitting blouse makes your look incomplete. As fashion trends emerge, most women like to prefer traditional costumes with a modern twist. If you are one among them, go for the Rajasthani mirror work blouse design to make your appearance stunning. Trying out a unique variety of Rajasthani mirror blouse designs can easily impart the most needed modern look. At present, a wide variety of trending blouse designs available. Picking up the right type of blouse design for the saree can assist one in establishing a unique fashion statement. Selecting the most comfortable design to wear confidently is of utmost significance. You may like to wear a designer blouse with ravishing blouse patterns depending on the occasion. For you, here are 20 distinct Rajasthani mirror work blouse designs to suit all occasions.
20 Best Pics of Rajasthani Mirror Work Blouse Designs
1. Colourful Black Mirror Work Blouse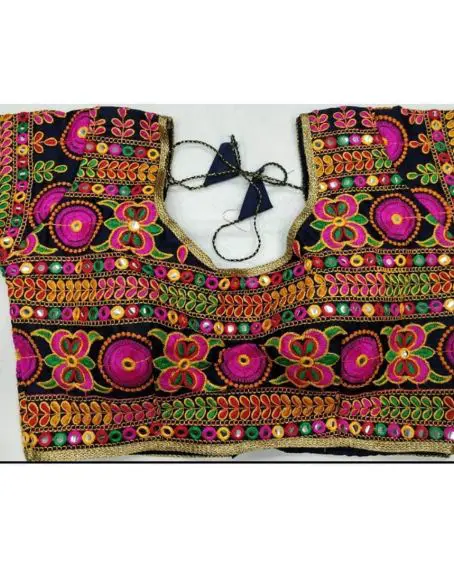 This colorful black mirror work embroidery blouse with traditional design looks royal and it can be worn on several special occasions to gather attention when paired with a suitable attractive saree or plain lehenga to look marvelous.
2. Semi U Shape Pink Rajasthani Mirror Work Blouse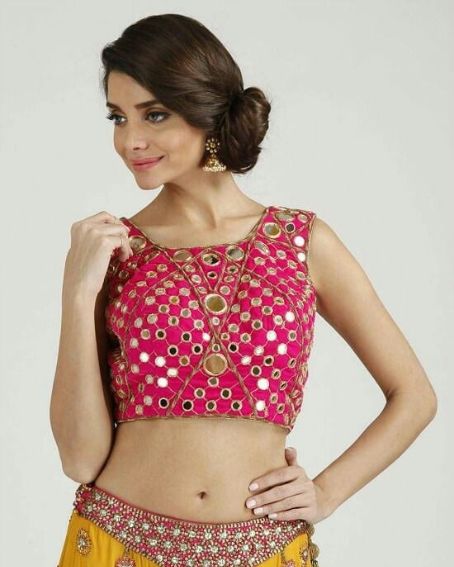 Covering up all of the blouses with a mirror is an excellent way to use mirror work to its best. Semi-u-shaped pink Rajasthani mirror work blouse can make any saree go stunning. Mostly you can choose a green or yellow saree for this pink mirror blouse to obtain an awesome look.
3. Elegant Georgette Blouse Piece With Intricate Thread And Sequin Mirrorwork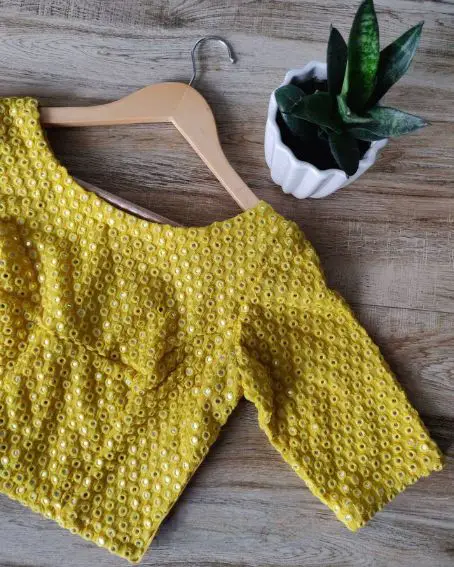 Wearing green mirror work in a beautiful georgette blouse is one of the best choices for any festival. It is really nice to have in Indian function especially when like to show off the shoulder with mirror studded design.
4. Sleeveless Heavy Embroidery Blouse Design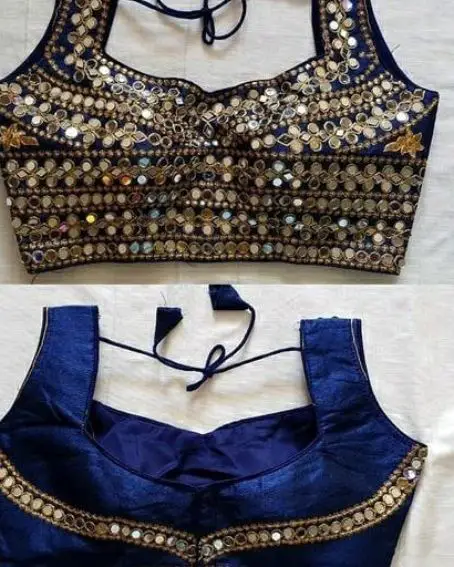 Yet another extraordinary design that leaves you gorgeous is said to be a sleeveless heavy mirror with an embroidery work blouse. Choosing a matching saree helps you to touch the trendy and sure it will turn heads towards you.
5. Peacock Embroidery Rajasthani Mirror Work Blouse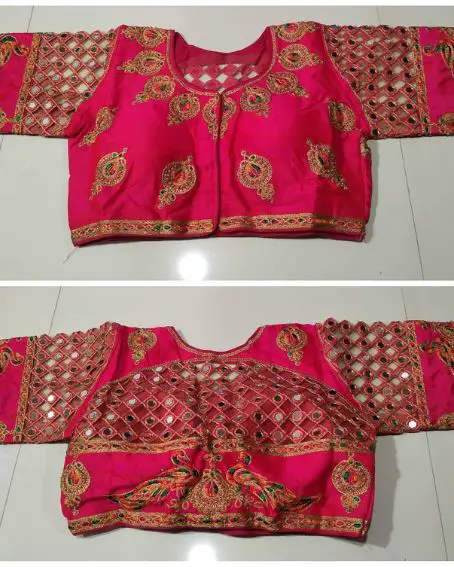 Women always love to wear mirror work blouses that if they choose peacock embroidery Rajasthani mirror work style will add additional beauty to their appearance. It is the best way to stitch a mirror on the back side of the blouse to get an extraordinary style.
6. Rajasthani Kutch Embroidery Mirror Blouse
To add a certain sheen to the saree with a unique look get a Rajasthani kutch embroidery mirror blouse for an evening party. Pair it with a chiffon or net saree to see its cutest look.
[ Read: 20 Best Hand Kutch Work Blouse Designs ]
7. Creamy Classic Mirror Work Design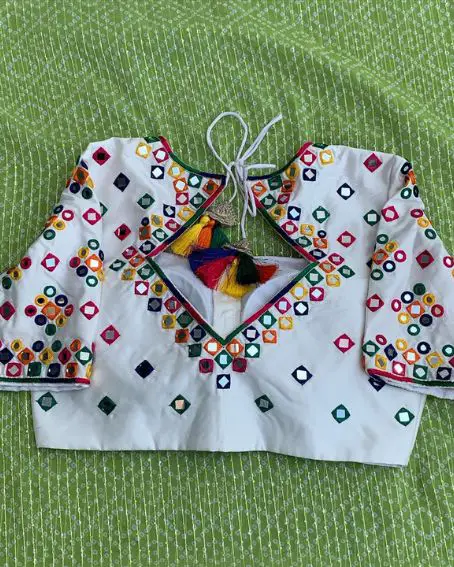 A creamy mirror work blouse always gives some elegance to your outfit. Obtain this style of blouse with a load of mirrors around the neck. The perfect combination with cream mirror work blouse design gives you a ravishing look for all types of occasions.
8. Latest Heavy Rajasthani Mirror Work Design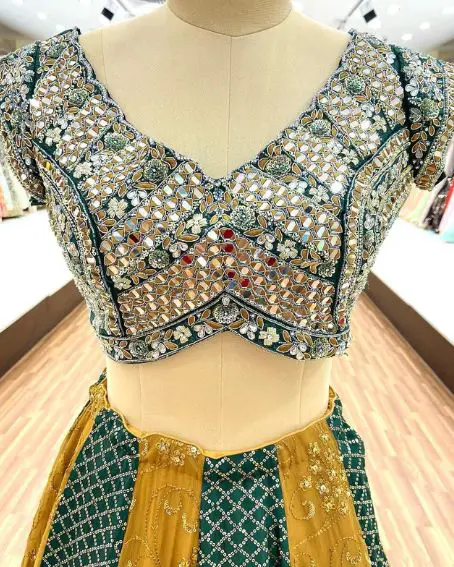 Try out the latest heavy Rajasthani mirror work blouse to look trendy and it won't disappoint at any point. This style is suitable for all age groups so choose your favorite one to stand in a grand way.
9. Kutchi Handwork Work Chanya Choli Blouse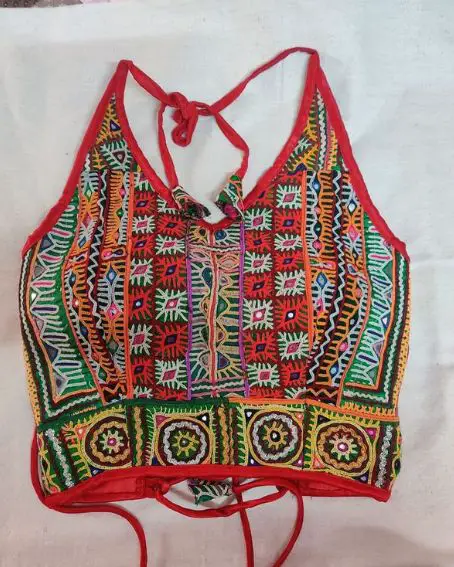 Modern yet traditional, this Kutch multicolor work Chanya choli blouse design has extensive mirror work all over. Multicolour mirror work matches your plains saree or multi hues lehenga. Kutch's work of this style is suitable for all light color sarees.
10. Boat Neck Simple Mirror Work Blouse Design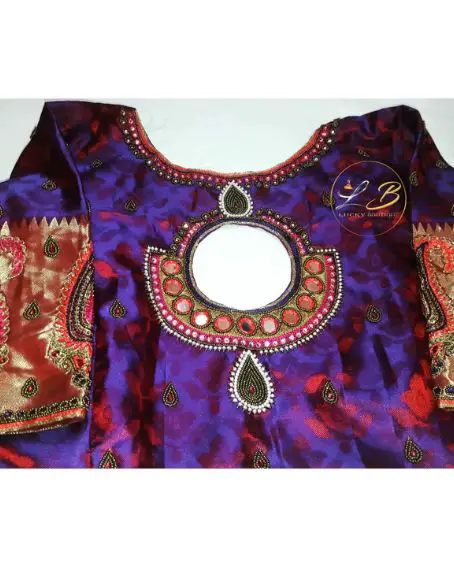 Boat neck simple mirror work is in trend and gathers a lot of attention now when paired with a Georgette saree. This round cut mirror work neckline blouse looks really amazing and it works simply in elevating the style making you stand out.
11. Gold Deep U Shape Mirror Work Blouse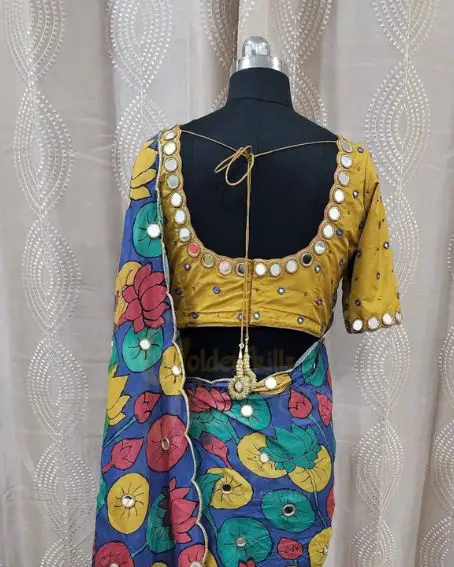 Gold is always a charming color and with the combination of heavy mirror design and hooks, it is one of the best options when pairing with an embroidery saree to look elegant and gorgeous on every occasion.
12. Red With Black Hand Mirrored Work Design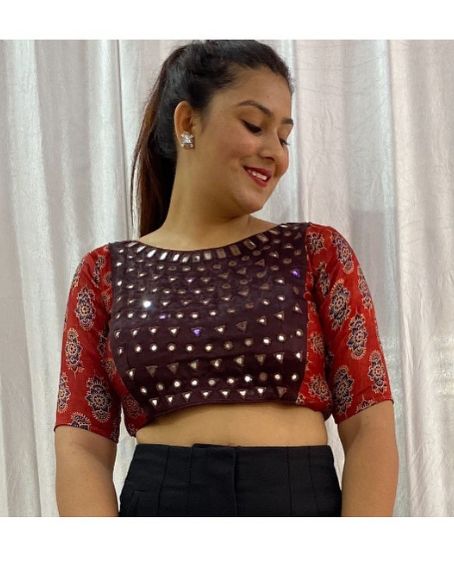 This red with black saree work blouse is very interesting for the ones who like to wear a unique style. Black and red color coupled with embroidery will be extremely stunning on you.
13. Gotta High Neck With Keyhole Mirror Work Design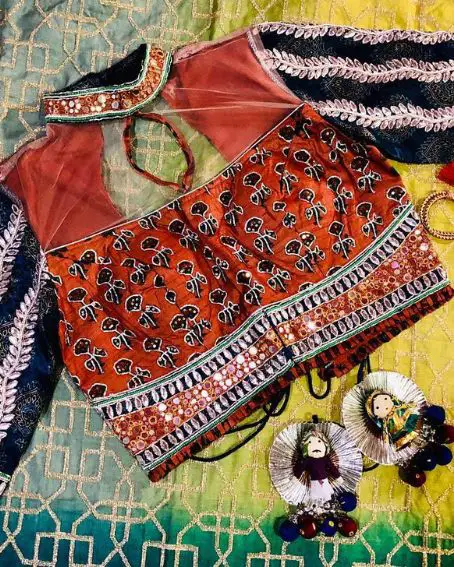 Among the range of designer blouses presented here, this gotta high neck with keyhole mirror work blouse has to be the most stylish and modern one with different sizes of mirrors and embellished artwork that allows wearing any event.
14. Fully Stitched Heavy Work Mirror Blouse
A fully stitched heavy mirror work blouse comes under the beautiful design list. The distinctive mirror design in it is very versatile and considered the best option for any special party.
15. Elbow Sleeve Kutch Embroidery Blouse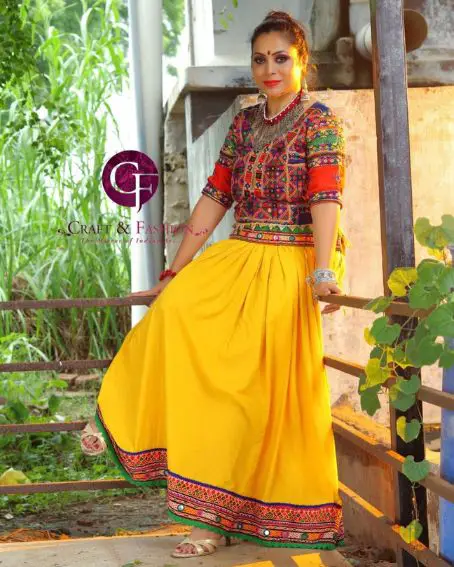 Kutch's work is gaining popularity with Rajasthani designs and this embroidery designer mirrorwork looks glamourous whenever you have them. This style will enhance your personality and appearance in a great way.
16. Pink Large Mirror Blouse Design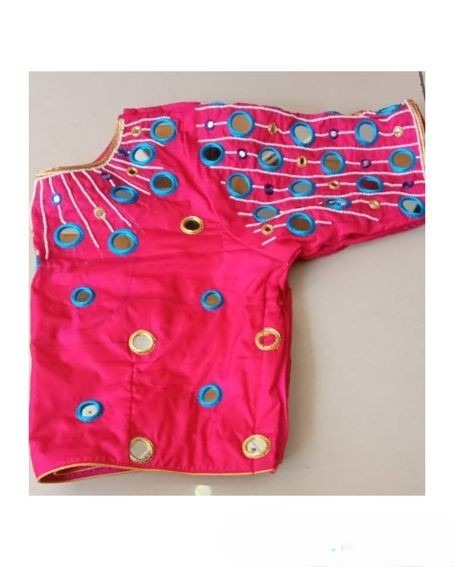 Mirror work is not heavy always and this pink large mirror work blouse is one of the prettiest choices, with a regular pattern you can enjoy wearing this outstanding style with a grand saree.
17. Floral-designed Blouse With Knot Back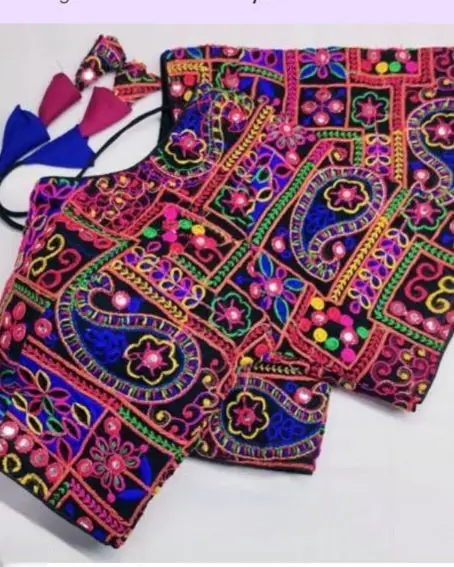 This is for enthusiasts of fashion who like to have a floral-designed blouse with a knot back and it must be present in your wardrobe if you want to wear a modern and traditional one.
18. Rectangle And Square Shaped Mirror Work Design Blouse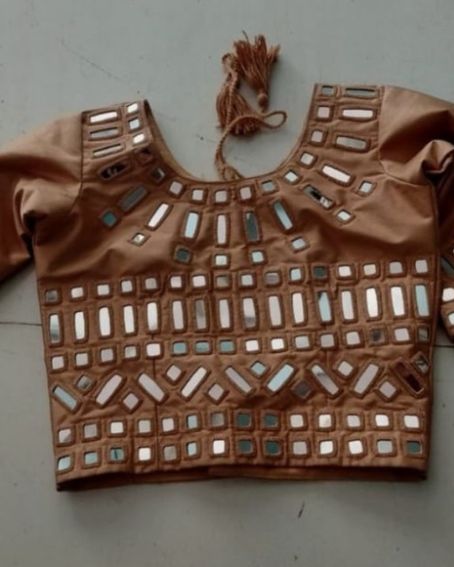 This type of blouse is very stylish especially mirror work on it renders you a ravishing way of appearance. The rectangle and square shape give you confidence when paired with a plain saree.
19. Purple Pearl-designed Mirror Work Blouse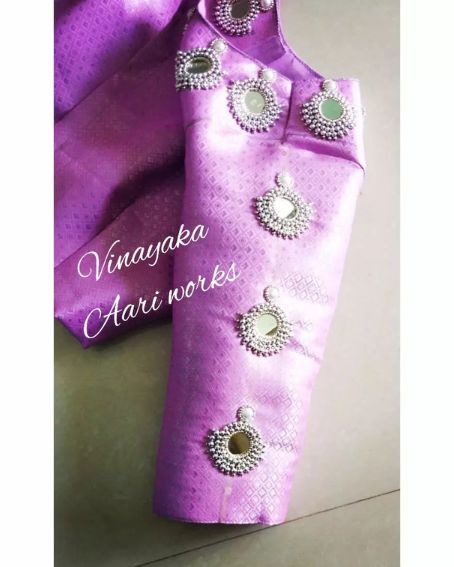 Blouses come in different shapes as well as colors but this purple pearl work blouse is surely one of the best blouses which will impart you the attention you need and it works very well on chiffon sarees and also great lehengas
20. Traditional Sleeveless Mirror Work Blouse Design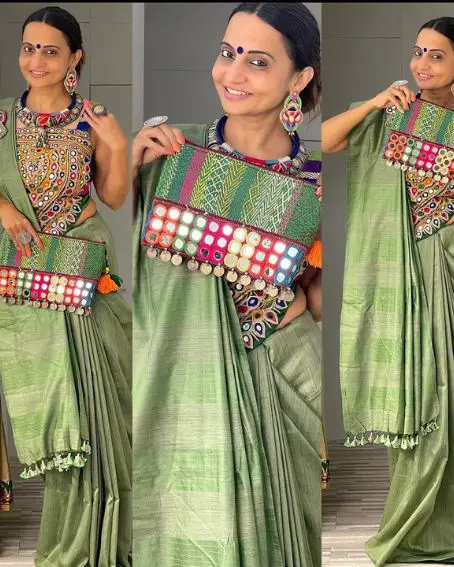 Probably this traditional designer mirror work blouse is the most unique and futuristic blouse design in this catalog. The saree with mirror design on the blouse is absolutely stunning to wear at parties.
You Might Also Like: