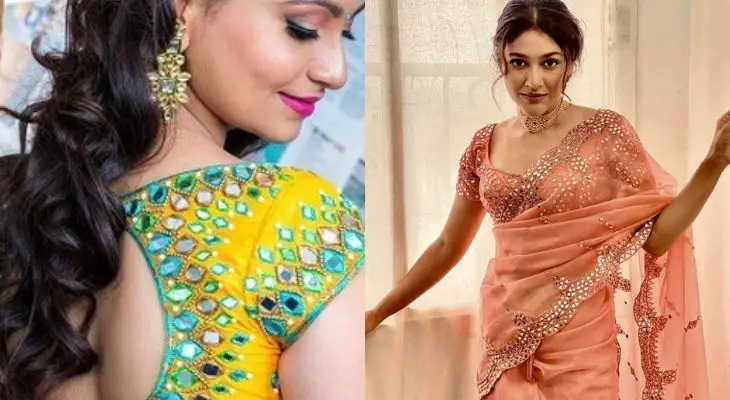 Mirror design on blouse always remains in trend and it is said to be top choices for girls. These types of blouse designs gaining huge popularity nowadays and it is also a simple option for fashion ideas. The significance of mirrors is that they have their unique pattern and make the blouse look elegant, glamourous, and royal. Many structures, colors, and styles of designs are available in mirror work which makes it ideal to wear on different special occasions. You may see mirror work with maggam, zari, thread, and zari work. The real mirror is more beautiful than the fake one, but both give an exclusive feel. Subtle shapes like rectangles, rounds, triangles, and diamonds are commonly seen in mirrorwork designs. As discussed above, mirrors are available in several shapes as well as patterns, so selecting the best fit mirror work blouse is troublesome and hectic. The upcoming chic mirror work style helps you to choose the perfect blouse for your saree.
20 Pics of Simple Mirror Work Blouse & Saree Designs
1. Maggam Work Black Mirror Blouse Design
If you are scared of carrying a heavy embroidery saree to wear during the festive season then check out some simple along with classy maggam work black mirror blouse that will go superb even on a simple solid color saree. 
[ Read: Latest Blouse Designs Catalogue For Net Sarees ]
2. Parrot Green Full Sleeve Mirror Work Blouse With White Cotton Saree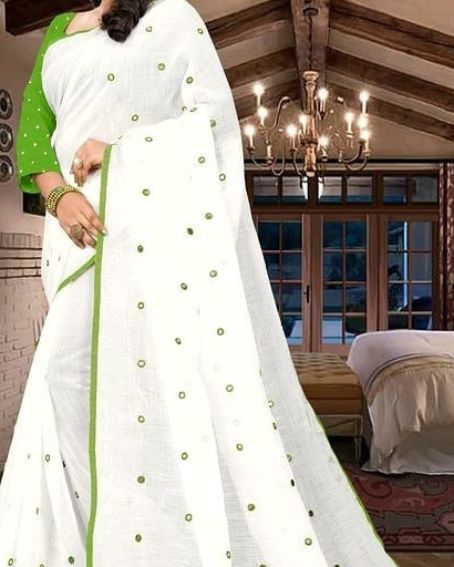 Are you planning to choose a saree with a beautiful blouse for a party? Then definitely pick a parrot green full sleeve mirror work blouse and sure it will add fire to your appearance.
[ Read: Backless Blouse Designs ]
3. Sleeveless Mirror Work Designed Blouse With Net Saree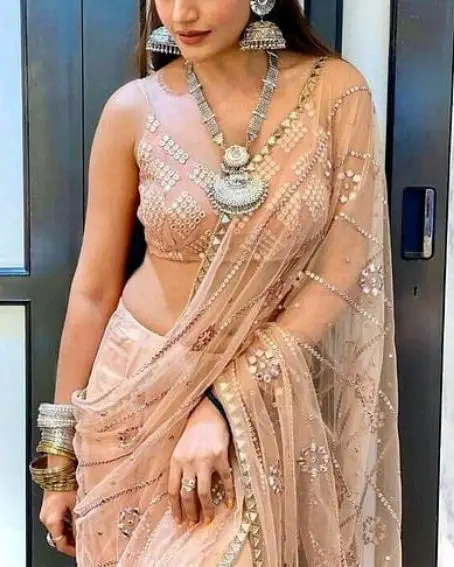 Sleeveless Mirror work-designed blouse for net saree gives a proper feeling of being a bride's sister or friend. Wearing a simple saree or lehenga is said to be a perfect match for this blouse. 
[ Read: Beautiful Pics of Indian Wedding Saree Blouse Designs ]
4. Mirror Work Blouse And Pink Floral Designed White Saree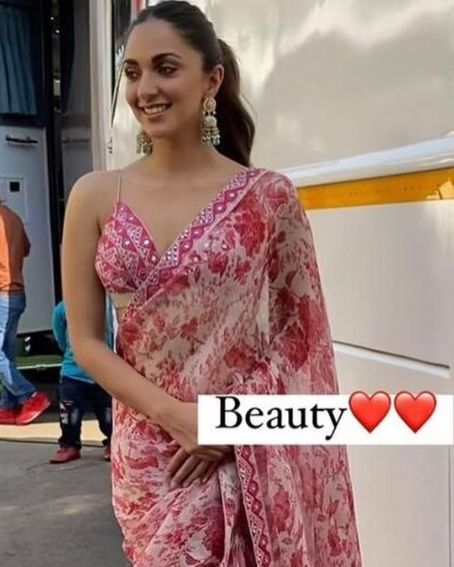 If you are looking for any basic mirror style then this pink floral design with a mirror work blouse is the best one that won't render you too much feeling. This pink blouse can be simply coupled with white is just nice.
[ Read: Gorgeous Pics of sri lankan wedding saree blouse designs ]
5. Yellow Net Saree With Embroidery Mirror Work Border With Short Sleeves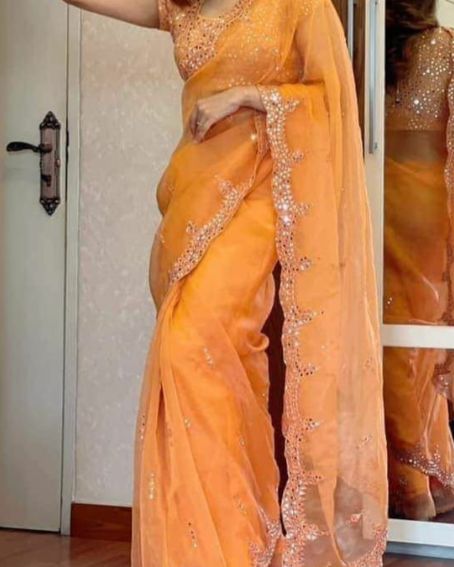 This yellow net saree with embroidery mirror work border with short sleeves is something that will be worn comfortably on Sangeet or Mehendi night to get everyone's attention. 
[ Read: Best Fashion Trendy Blouse Designs for Chaniya Choli ]
6. Gorgeous Embroidery Georgette Saree Mirror Work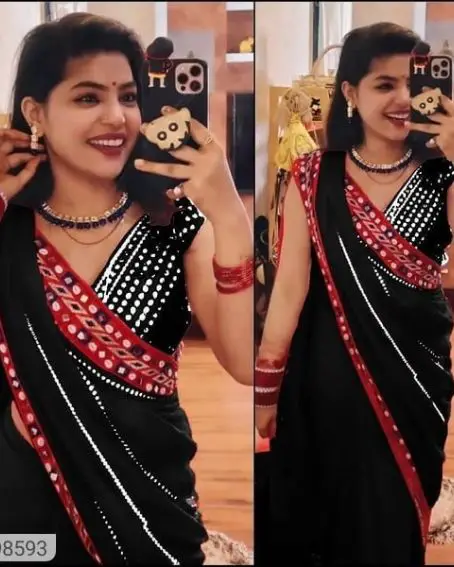 You may think being normal is always boring. And also don't like to copy others but to create your own style. This black mirror blouse with a black saree combo is one of the cutest options to wear for any party. Try this one at least once to see how unique you are.
7. Pallu Saree Embroidery Work With Glass Mirror Designed Blouse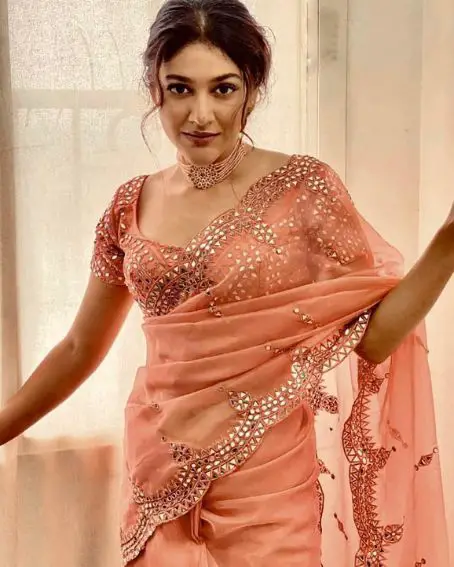 What do you think of showing your blouse beauty and putting some bling on it? This beige color embroidery work glass mirror blouse imparts perfect wedding reception wardrobe goals. It is highly suitable when you wear it with matching sarees.
8. Pink Boat Neck Mirror Work Blouse With Green Saree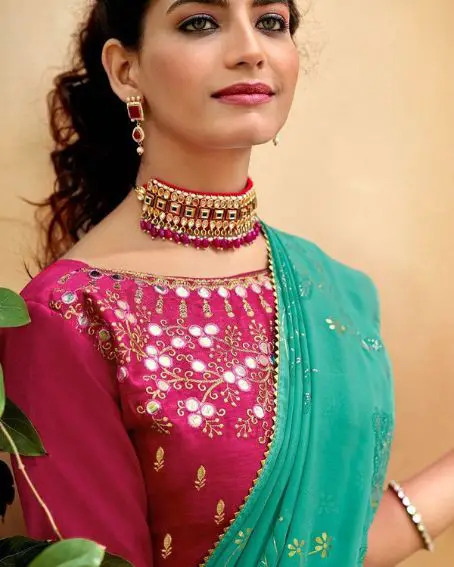 If you are tired of wearing a normal blouse you may try a boat neck mirror blouse. A gorgeous mirror work neckline helps you look splendid. Are you going to attend any fresh parties? Having a pink boat neck mirror blouse with a green saree gives you a wonderful look.
9. White Full Sleeves Mirror Work Blouse With Matching Saree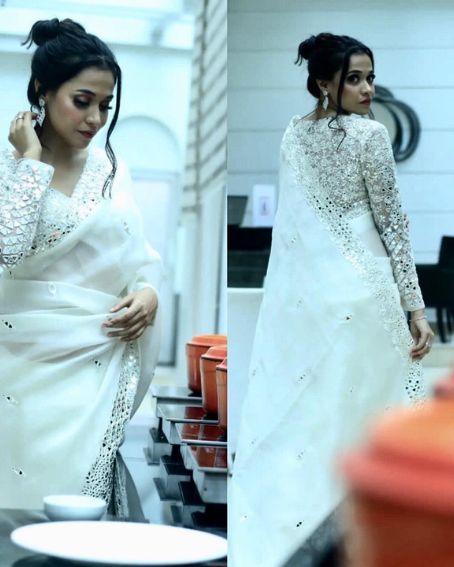 White Full sleeves mirror work blouse is a beautiful choice for a farewell party. Taken more focus on the hand of the blouse in which mirror work is well performed. Leave loose hair while wearing this full sleeve with a white saree to get a stunning look.
10. Fully Stitched Mirror And Koti Work Blouse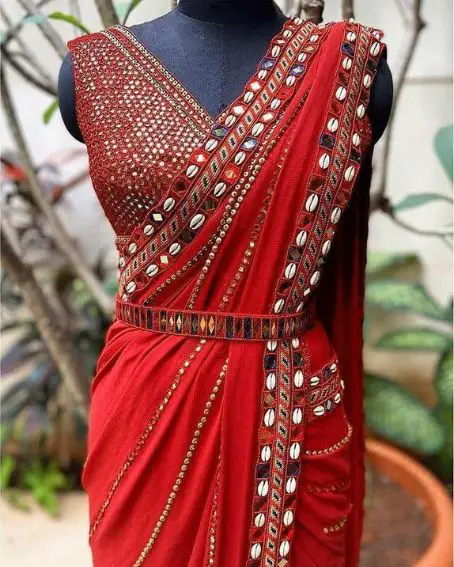 This red tiny and plenty of mirror work is perfect when paired with matched red saree with a mirror. Koti's work in which add some extra elegance to this blouse. Wear this with any embroidery saree to rock the event.
11. Yellow Round Cut Neck Back With Full Mirror Work Blouse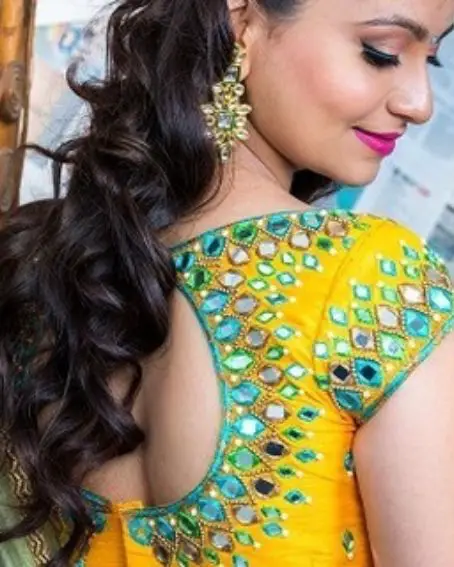 The yellow blouse with mirror work is really good and stylish. It has multiple options to style with, you may pair it with a matching saree, some contrast saree, and lehengas. Round cut neck gives you a glamorous look for the blouse.
12. Black Multicolor Blouse With Front Mirror Work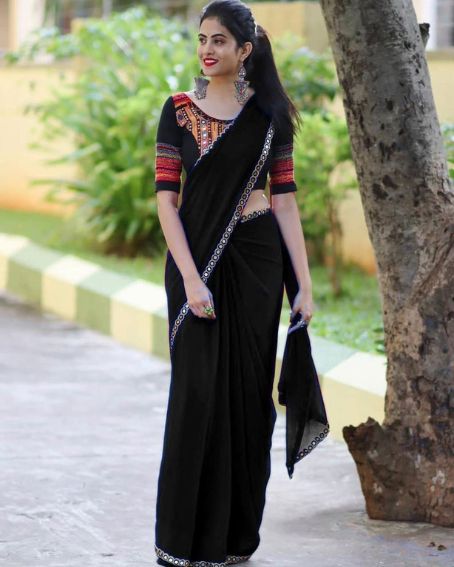 If you think simplicity is the best for you, then this is a perfectly stitched black multicolor blouse with a front mirror work blouse for you. without any hesitation, you can go for it. Mirror work is done only at the front which looks very simple and fabulous.
13. Thin Strapped Full Mirror Work Blouse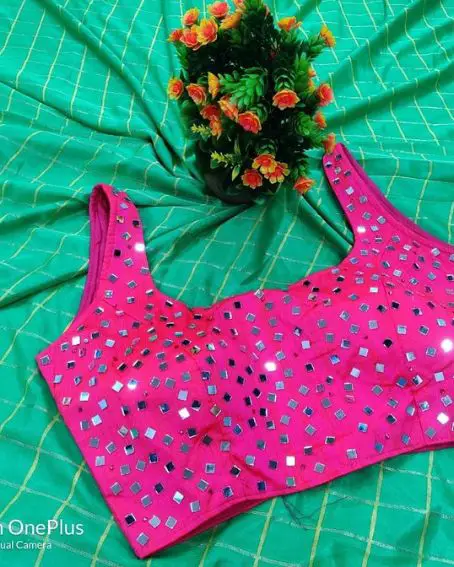 A thin strapped mirror work blouse comes under the stylish list blouse. Most women like to wear this type of blouse in the summer season because it gives utmost comfort and also a great structure to you.
14. Red Printed Saree With Royal Blue Boat Neck Mirror Work Blouse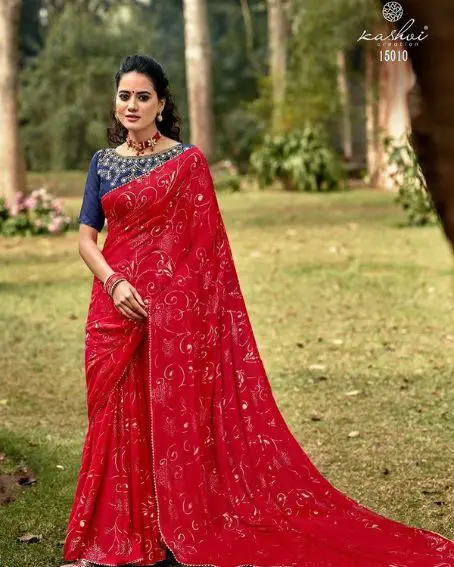 Royal blue is a rich color that attracts many eyes in the event you go. When matching with a red printed saree bestows your confidence and boldness to stand among others. 
[ Read: 20 Latest Back Boat Neck Blouse Designs ]
15. Ash Fully Stitched Lycra Skirt Saree With Mirror Blouse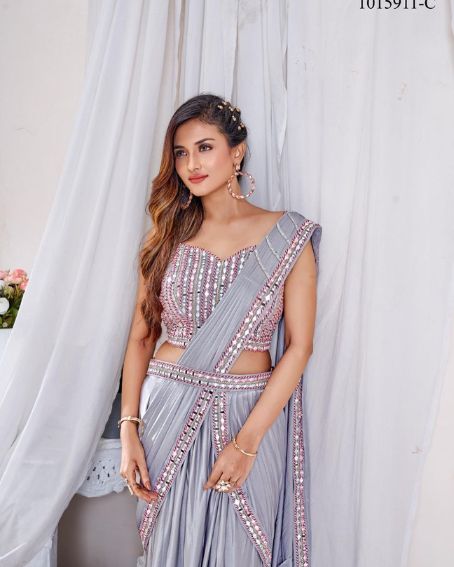 Shiny Ash color is very stylish especially when paired with a red shaded mirror work blouse looks ravishing. If you are well versed with mirror blouses then sure you will be having this style in your wardrobe.
16. Vibrant Black Embroidery Mirror Work Blouse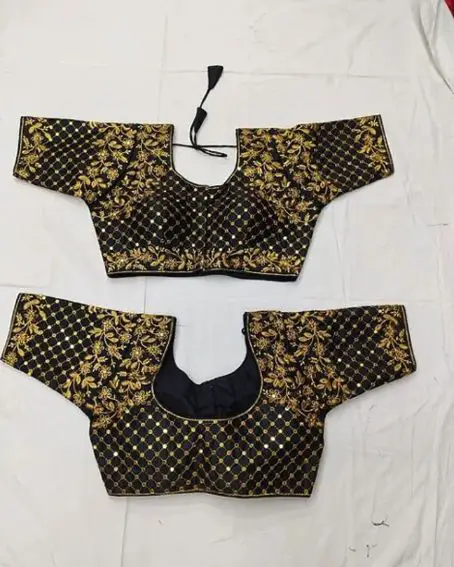 It doesn't matter how much effort you are taking to select a saree or lehenga, but if you don't have a good blouse you might require to reconsider your decision to get a perfect match. This black embroidery mirror blouse is extremely superb and suits any types of sarees.
17. Sleeveless Flower Mirror Work Blouse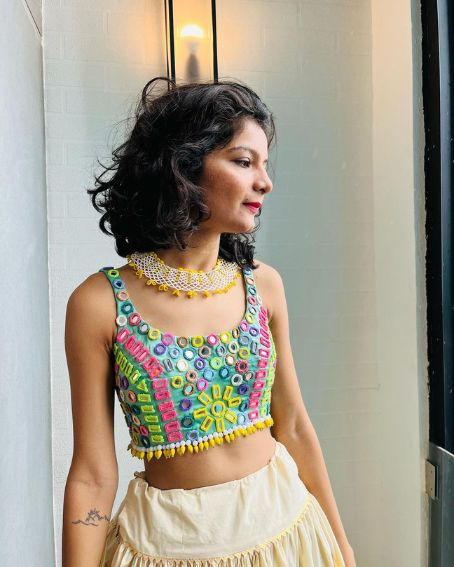 This sleeveless flower mirror work blouse is a stylish blouse, that goes well for a plain saree or skirt. This imparts a proper feel of going for a festive night. It is a perfect way of highlighting your fashion.
18. Beautiful Floral Printed Saree With Heavy Embroidery And Real Mirror Work Blouse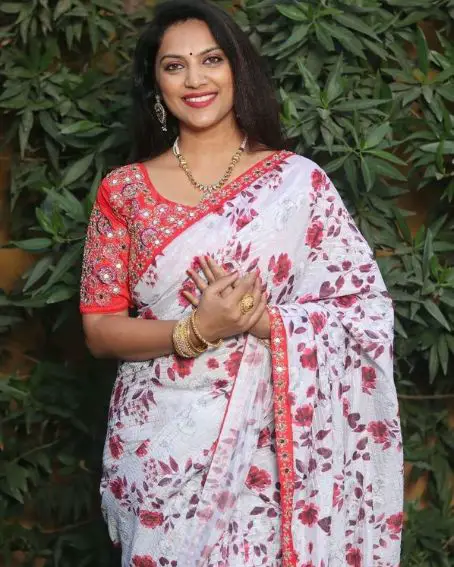 A simple saree with a real mirror work blouse makes this style the most sophisticated outfit. It can be one of the ideal casual wear choices with the blouse being well matched with the correct choice of saree color.
19. Blue Net Mirror Work Blouse Design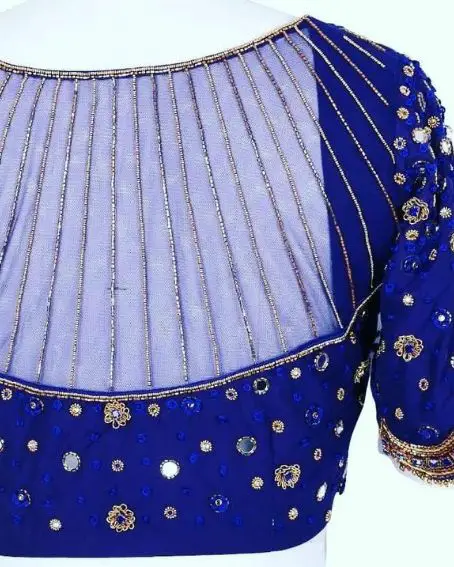 The blue net mirror work design is one of the best choices among the blouse designs. This style is quite different but unique. The interesting network on the blouse gives you an astonishing look. 
20. Black Sleeveless Mirror Work Blouse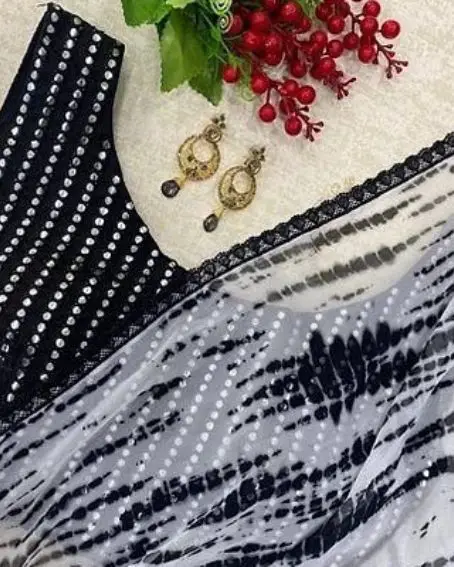 This sleeveless mirror work black blouse would be appropriate for weddings as well as other grand festivals. Straight mirror work on the blouse is very beautiful and go this type of blouse with grandeur saree to look fancy way. 
You Might Also Like: