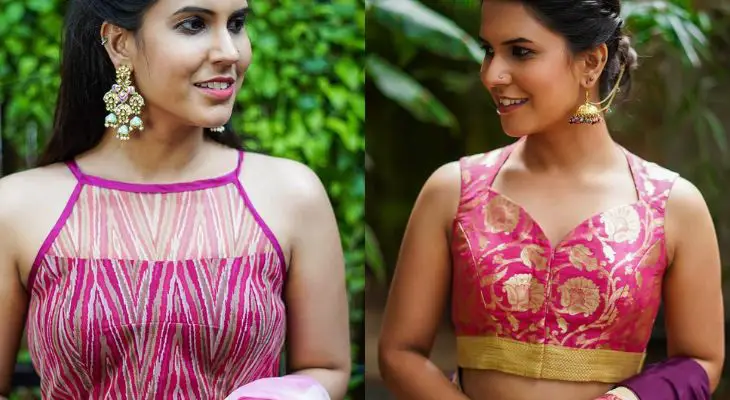 Saree is said to be the favorite attire for South East Asia women and it is usually worn for marriage. Since wearing sarees need some preparation like choosing the saree and stitching the blouse, everything should plan on early. Even more than deciding about a saree, they used to confuse about their blouse to choose. Plenty of styles is available in countless color. Among all colors, lots of women like to choose pink colors for their outfits. Pink blouses are probably one of the most beautiful color blouses of all. Because pink blouses come with a really cool and stylish design as well as pattern in a unique way. If pink is suitable for you, then don't hesitate to select pink-colored ensembles. But learned to jazz up the pink attire by adding stylish touches to it. Some trendy and ravishing pink blouses are given below for you to choose from.
20 Trendy Celebrity Pink Blouse Designs
1. Pale Pink Embellished With Mirror Hand Embroidery Blouse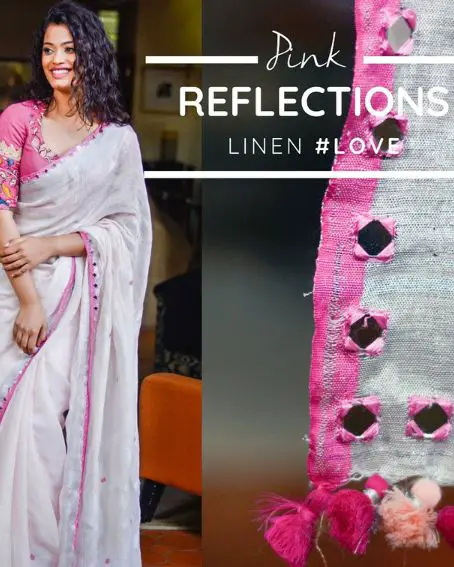 If you are looking for a really cool pink color blouse, then this is apparently one of the good-looking ones out there. It sports a cool design and mirror work on it makes this item look really unique. This pale pink embellished with mirror hand is so beautiful and gives you a rich appearance.
2. Hot Pink Deep Square Neck Brocade Blouse With Chiffon Sleeves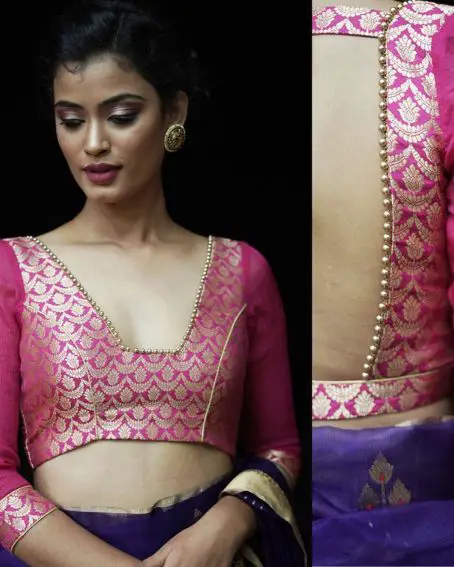 Here we have yet another nice looking pink color blouse, which has equal charm to the first one. This pink deep square neck blouse with a chiffon sleeve fits almost every woman out there. 
3. Net Sleeve Pink Blouse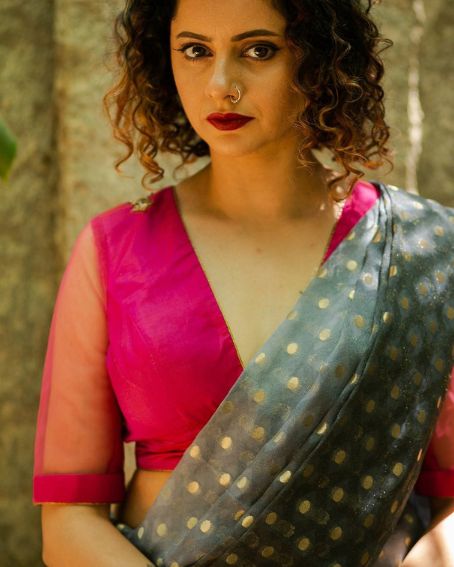 If you found a great saree for a net sleeve pink blouse, then you are going to rock the event for sure. This pink blouse with a matching saree will become one of the best appealing of all time
4. Pink Raw Silk Sleeves Blouse With Gold Threadwork Embroidery And Gold Sequin Border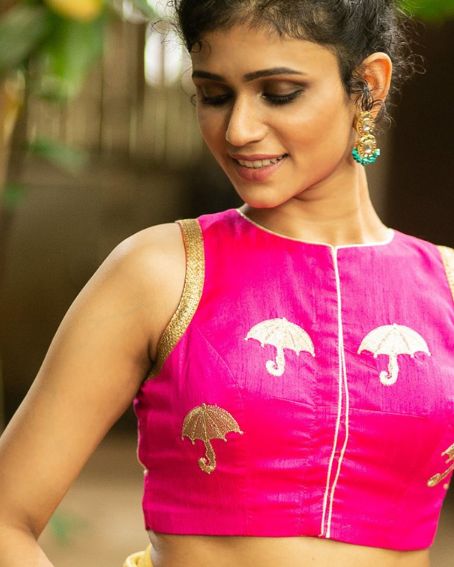 This particular pink raw silk sleeves blouse with gold threadwork and gold sequin border is suitable for any type of saree to go awesome. Embroidery work in which is one of the main reasons why this blouse is so attractive.
[ Read: 20 Threadwork Blouse Designs For Silk Sarees ]
5. Pink And Gold Brocade Boatneck Blouse With Tie-up Back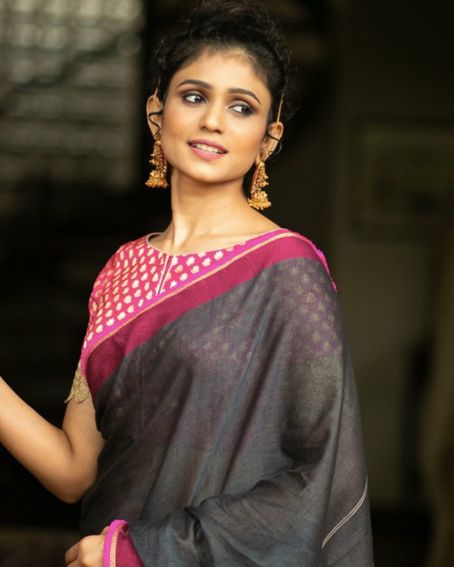 By looking at the alluring pink and gold brocade boatneck blouse design, this particular style can be said to be a decent blouse for a saree. If you want to celebrity look, this pink color tie-up back might be a great thing for you.
6. Pink Dressy Brocade Blouse With Embellished Handlooms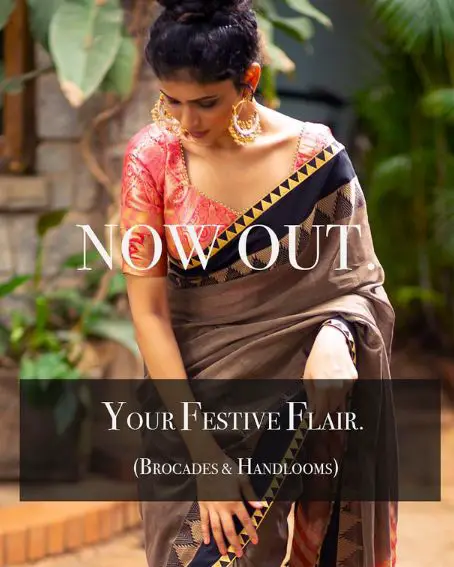 Created a style that is uniquely for you. One should wear a pink dressy brocade blouse with embellished handlooms with a saree of contrast color and judge the suitability of this blouse for different events.
7. Baby Pink With Puff Hand Design Blouse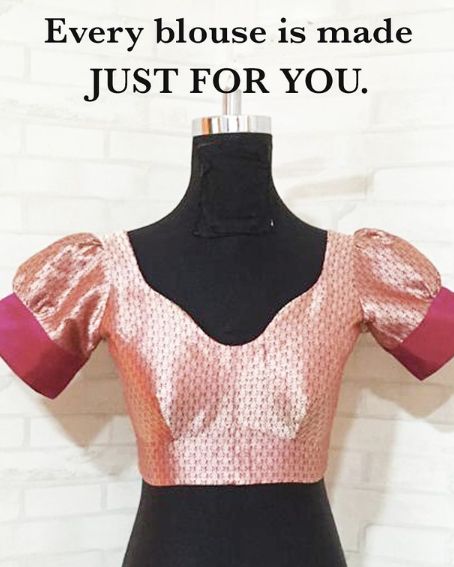 Baby pink with puff hand design blouse is said to be one of the best-looking blouses with great design. This blouse is absolutely adorable and it sports a really good vibe. The way of designing the neck is quite impressive.
8. Pink Sleeveless Soft Type Blouse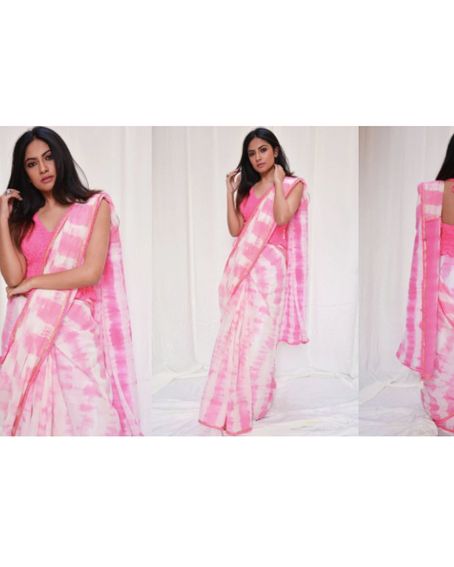 By wearing this particular pink sleeves soft type blouse, you will look like a complete celebrity. The splendid design in which will make any woman look divine. It is perfect for shibori shades mul cotton saree and also suitable for all light sarees.
9. Pink Sleeveless Blouse With Queen Anne Neckline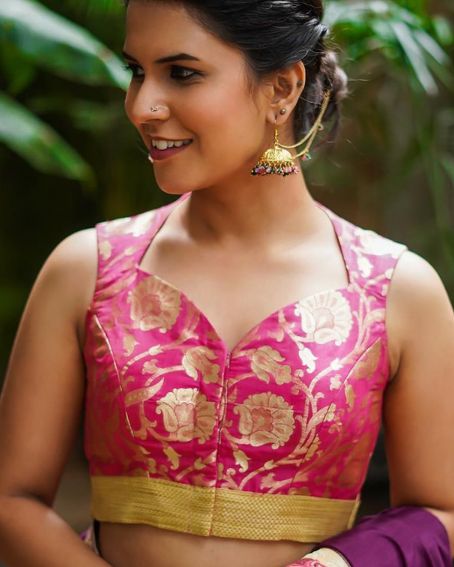 Mostly all women will love this excellent pink sleeveless blouse with queen Anne's neckline at first sight. The perfect saree combination of this style makes the design so alluring and wonderful.
10. Peach Pink Satin Brocade Closed Neck Blouse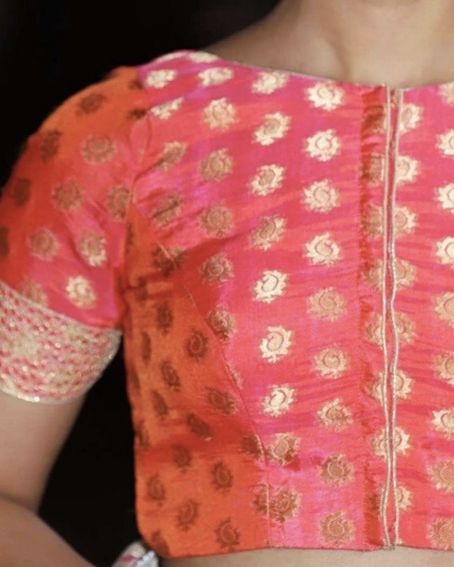 Looking for something trendy? Peach pink satin brocade closed neck blouse just meets the demands. It is highly matched for a traditional girl with fair skin color. The awesome design and neck shape adds extra beauty to this blouse. 
11. Ruby Pink Handloom Cotton And Mustard Floral Kalamkari Frill Blouse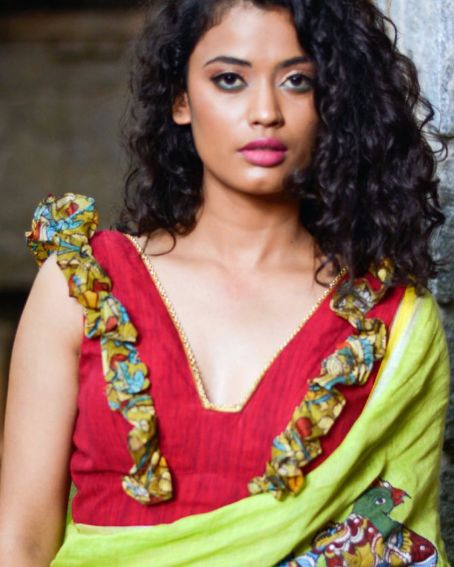 Are you in search of a decent pink blouse? you can wear Ruby pink handloom cotton and mustard kalamkari frill blouse without any hesitation. The floral design is extremely beautiful which makes this blouse so stylish.
12. Peach Pink Silk Blouse With A Net Embroidery Sheer Back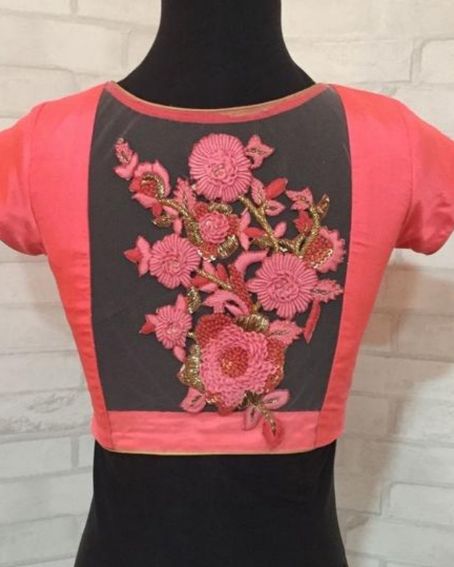 If you are bold, confident as well as love to experiment, here is the sensuous celebrity design for you to try. The net embroidery sheer back is very cute and mostly fit for broad-shouldered women. Suitable for small gatherings or simple outings.
13. Fuchsia Pink Raw Silk Blouse With Puff Sleeve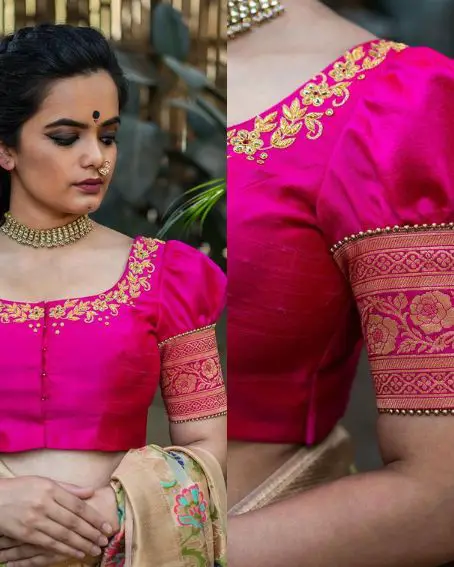 Just go for a Fuchsia raw silk blouse with puff sleeves to get a ravishing look at the event. Its grandeur look with a gold border on the neckline will be perfect for night parties and grand events.
[ Read: 20 Simple Blouse Back Neck Designs With Borders ]
14. Peach Pink Shimmer Georgette Neck Sleeveless Blouse With Applique On Back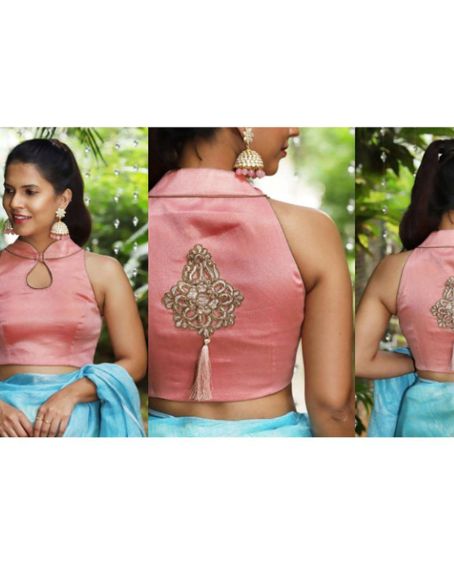 Here is a peach pink shimmer Georgette neck sleeveless blouse with applique on the back. A keyhole is present in the front for elegance. Wear it with a plain or flowing saree allowing you to look gorgeous.
15. Pink Raw Silk Swing Top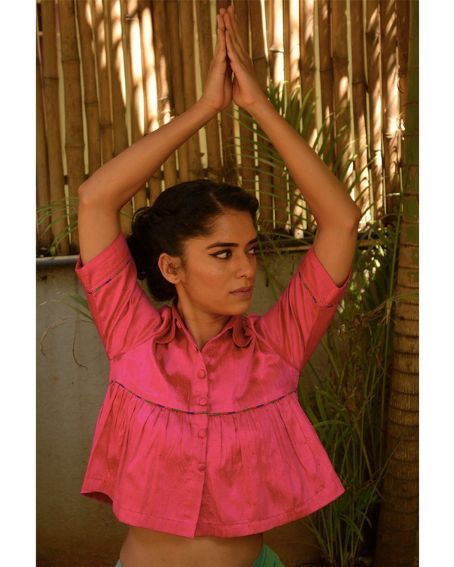 A pink raw silk swing top creates the right definition for the blouse. This simple yet stunning blouse style make helps you to reveal your style. You can wear this blouse with a flowing or plain saree and drape it in several ways to obtain a modern appearance.
16. Neon Pink Lace Halter Neck Crop Top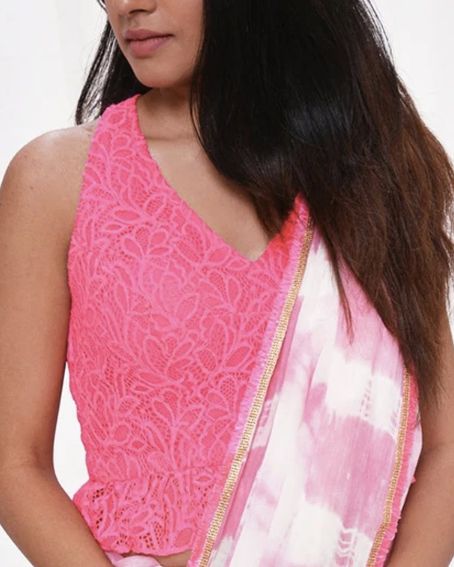 Most girls like to wear a Halter neck, if you are one among them, then try with pink color. Halter neck crop top neon pink lace blouse will deliver a superb image of any woman who wears it. This celebrity style is fit for special wedding occasions as well as ethnic wear.
[ Read: 20 Stone Lacework Blouse Designs ]
17. Peach Pink Lace Sheer Yoke Blouse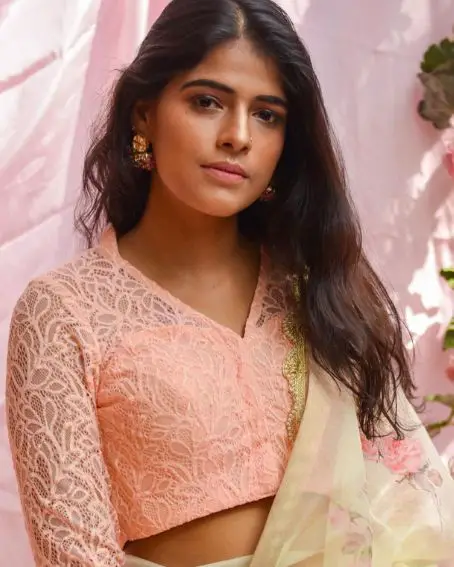 Peach pink lace sheer yoke blouse has a delicate design with enlightened features. This pink design will look wonderful on women if they wear it with Georgette and chiffon saree. Pick this peach pink blouse to improve your beauty.
18. Hot Pink Cross-back Blouse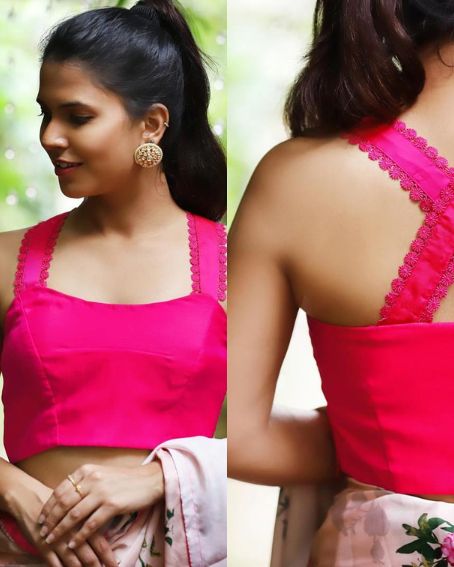 A hot pink cross-back blouse will look traditional and it will appear to be soothing too. This style depicts the boldness of ladies and the pink cross-back adds even more cuteness to the blouse. 
19. Pink Collared Blouse With Front Keyhole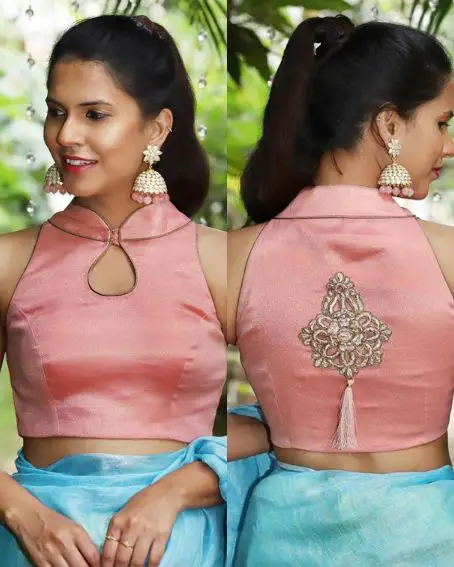 This is an uncomplicated and creative blouse design. Though a pink collared blouse with a front keyhole without much decoration, it has its own significance. Maximum ladies who like to be trendy will surely love this celebrity design blouse.
20. Halter Neck Net Blouse With Tie Up Back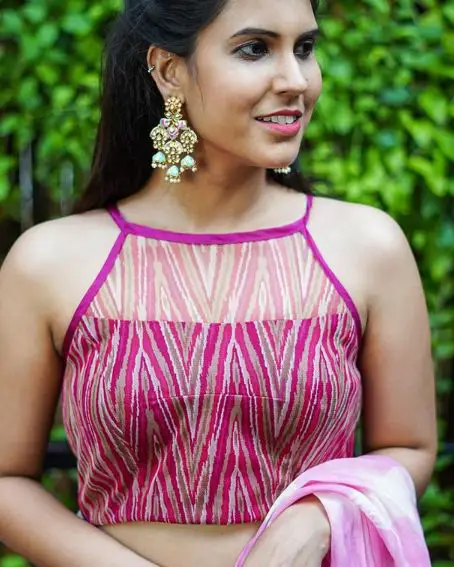 Halter neck net blouse with tie-up back is a fabulous design and it won't disappoint you for any occasion. Drape it differently to look like a showstopper. You may go with a traditional lehenga or plain saree to show its prettiness.
You Might Also Like: