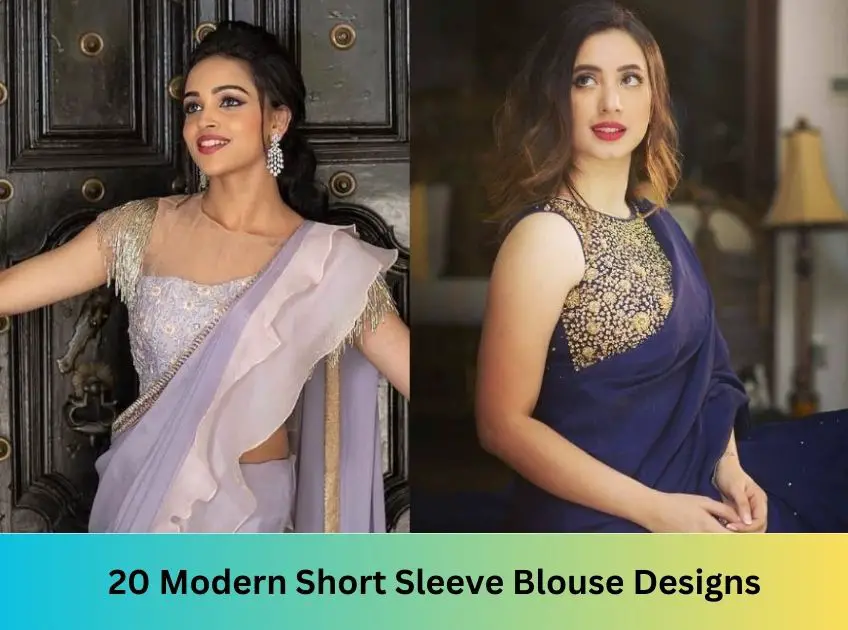 Blouse styles come in a wide variety. Many people tend to like sleeves that are elbow-length, full, or sleeveless only. But, now the idea of short sleeves appears to be blooming right now. Almost all types of sarees look great with short-sleeve blouse designs because they strike the appropriate balance. Here are some examples of short sleeve blouse styles that you ought to have in your collection.
20 Modern Short Sleeve Blouse Designs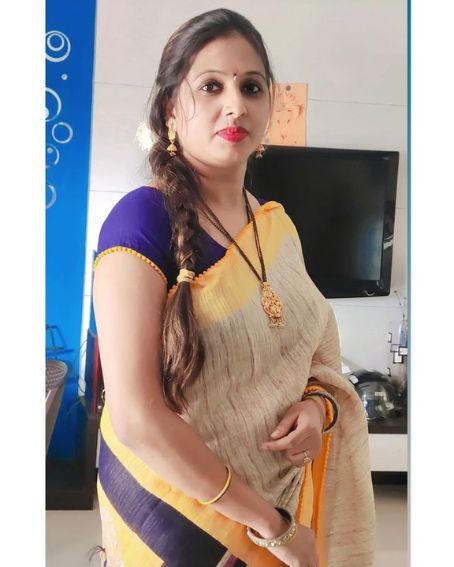 If you want a simple look then choose this type of blouse designed with a yellow small pom on the end of the sleeve. This will make your look gorgeous.
[ Read: 30 Exclusive Collections of Navy Blue Color Sarees ]
2. Boat Neck Modern Short Sleeve Blouse Design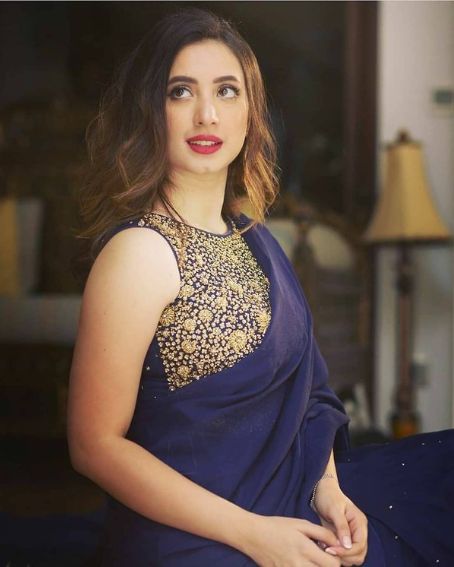 When it comes to function motifs, this delicate gold thread embroidery flower and gold sequin are embellished on the blouse. It gives an attractive look.
3. Crimson Tasseled Modern Short Sleeve Blouse Design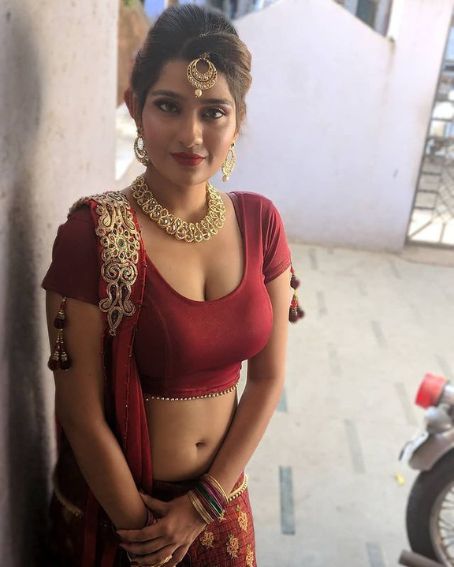 The plain crimson color blouse is established with a deep u neck. The short sleeve is highlighted with red big pearls tassel and the waist is completed with gold beads giving fancy look.
4. Smokey Grey Cut Work Sheer Modern Short Sleeve Blouse Design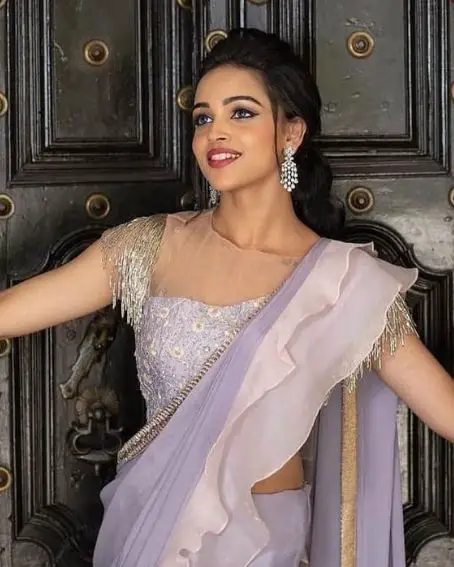 Here, a couple of fabric is used and sheer netted fabric matched with a smokey grey blouse. The sleeve is designed with silver glitter sequin hanging to give mesmerizing look.
[ Read: 25 Beautiful Collection of Grey Colour Sarees ]
5. Chikankari Modern Short Sleeve Blouse Design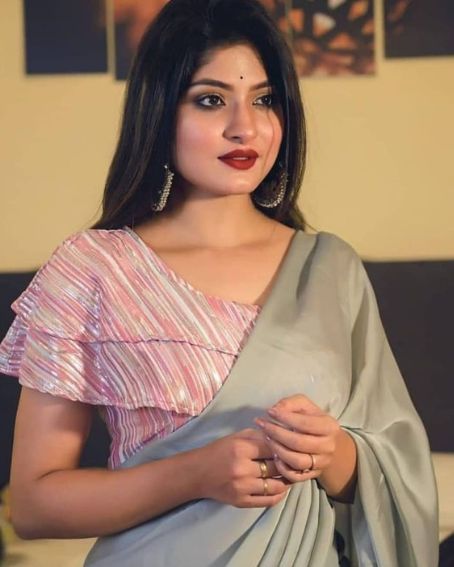 This blouse material is different which is called Chikankari fabric. It is decorated fabric gives rich look, in the short two-layer sleeve is shiny and trendy.
6. Floral Modern Short Bell Sleeve Blouse Design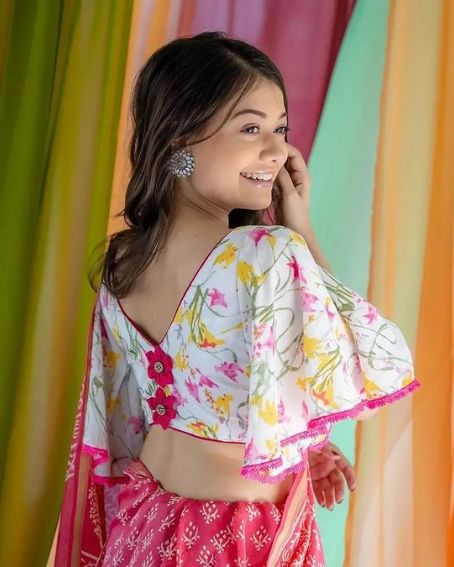 To experience the different styles, you can try this bell-style short sleeve blouse with a floral pattern. The back neck is patched with flowers giving a cool and young look.
7. Bow Tie Knot Modern Short Sleeve Blouse Design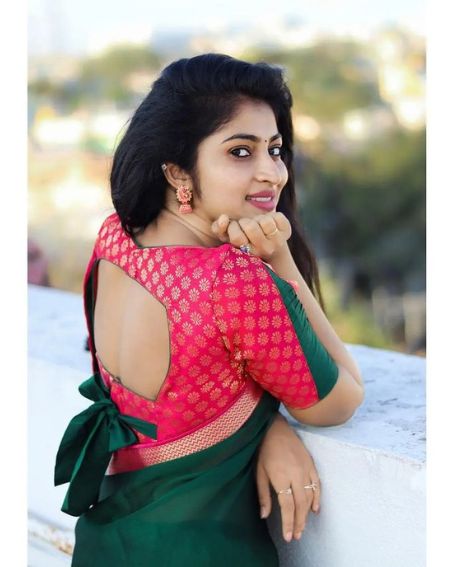 Just look at the back neck designs of this short sleeves blouse. Every time, a gorgeous, sensual back blouse design steals the heart. It gives an attractive look.
8. Beige Mirror Work Modern Short Sleeve Blouse Design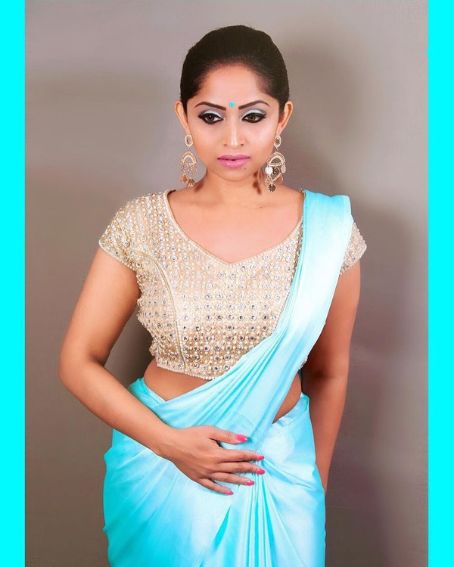 To give grand look to a plain saree, you can choose this mirror work short blouse that gives marvelous look and it enhances your saree look in a good vibe.
9. Modern Blouse Short Puff Sleeve Design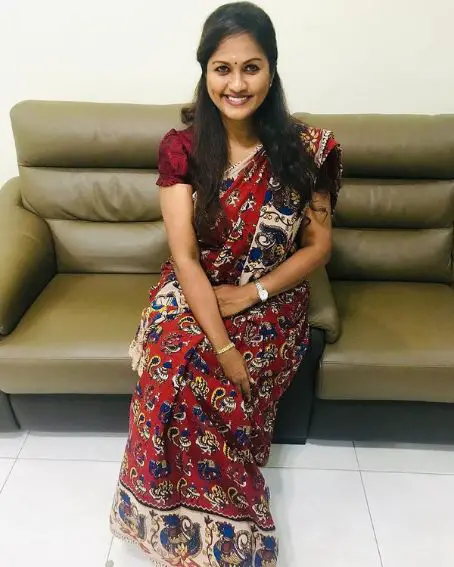 Make a fashion statement with simplicity with a maroon modern puffed short sleeve. This sleeve will give a chic and charming look to the Kalamkari designer saree.
10. Bead Embroidery Modern Blouse Short Sleeve Design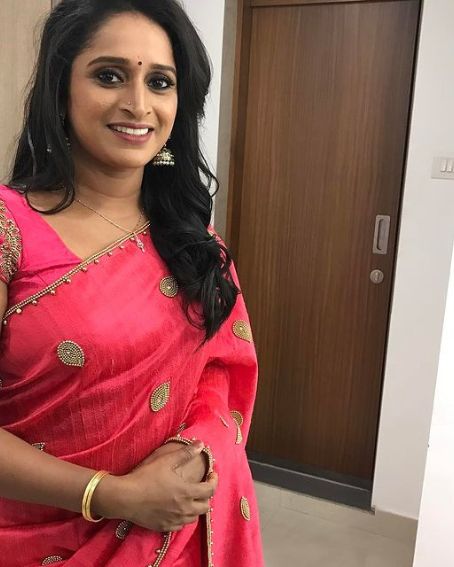 Simple beaded brocade gold thread embroidery work is done on a modern short sleeve. Matte finish gold beads on the sleeve view a unique and beautiful style.
11. Ruffle Modern Blouse Short Sleeve Design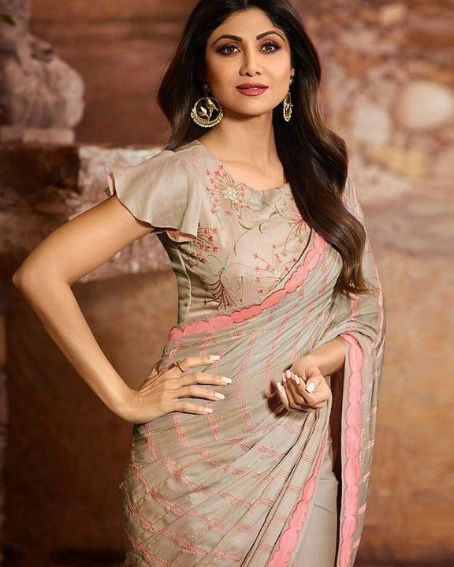 The short ruffle sleeve is now a day become trendy and it gives stylish look. the flowy sleeve blouse design gives you a better structure and a cool vibe.
[ Read: 20 Trendy Full Sleeve Blouse Designs To Make A Fashion ]
12. Polka Dotted Modern Blouse Short Sleeve Design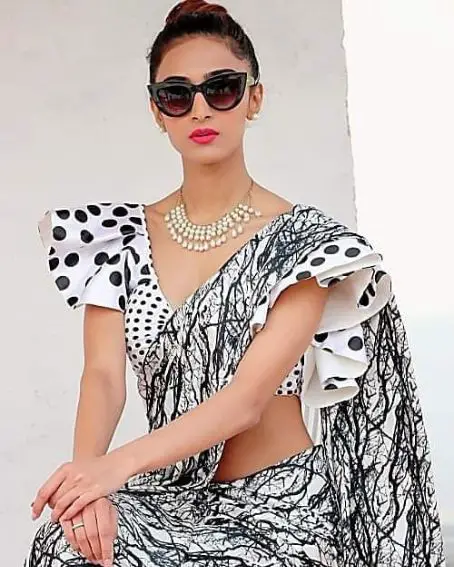 The big black polka-dotted ruffled short-sleeve blouse is a super gorgeous style. To update your style then follow this type of blouse to give a modern and chic look.
13. Designer Modern Blouse Short Sleeve Design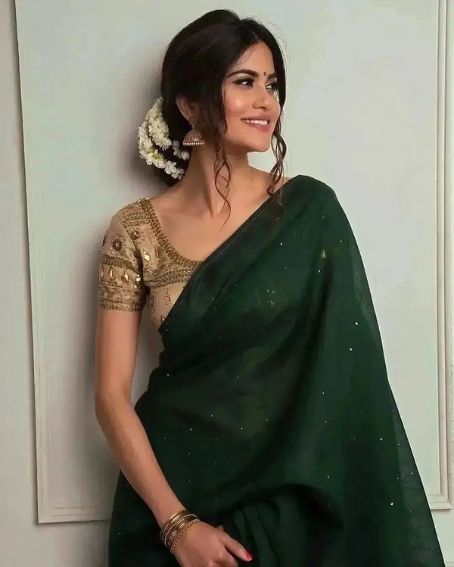 This golden designer blouse has a short sleeve. The entire sleeve is embroidered with a gotta Patti design which glitters at night time and gives graceful look.
[ Read: Top 20 Beautiful Golden Full-sleeve Blouses ]
14. Triple Layered Modern Blouse Short Sleeve Hand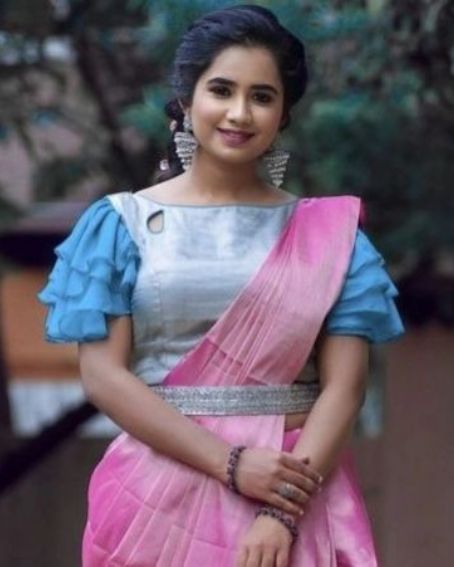 Breeze blue color blouse is designed with a triple layer of the modern short sleeve. silver shimmer blouse with a blue sleeve is a super combination and gives vibrant look.
15. Velvet Modern Blouse Short Sleeve Design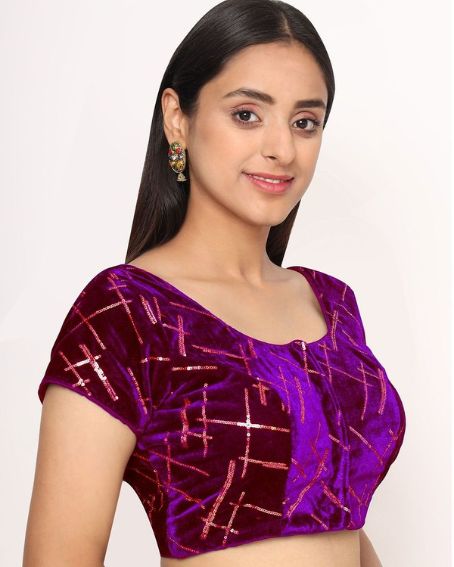 The plain velvet short sleeve blouse gives vibrant appeal. To form a wonderful aesthetic design, the glitter-thin lace is spotted all over the blouse with the sleeve.
[ Read: 20 Velvet Blouse Design for Silk Saree ]
16. Aari Work Modern Short Sleeve Design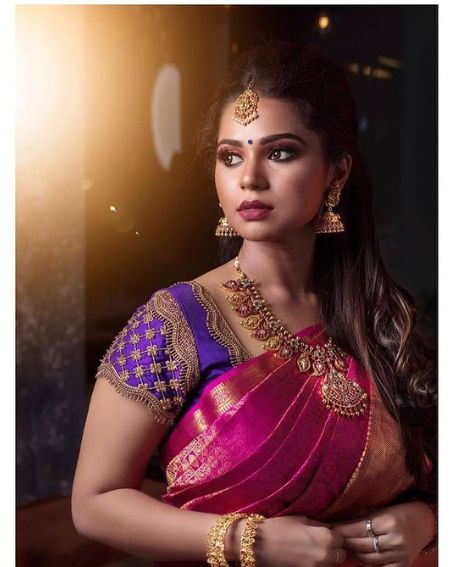 At the wedding time, for the silk saree, aari Kundan work is embellished in a full blouse which is intricate and beautiful and it gives traditional look.
17. Modern Short Sleeve Design With An Overcoat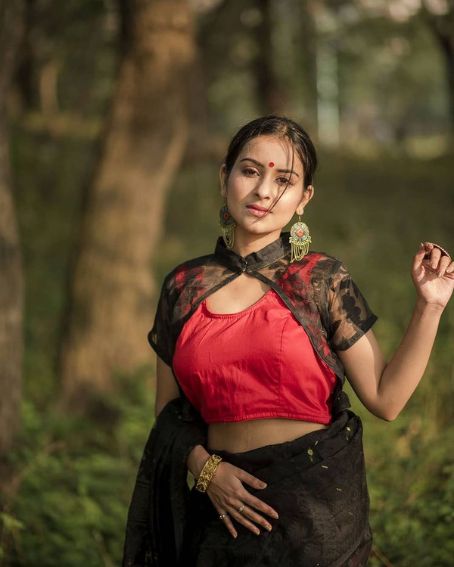 The black overcoat with a red minimal-sleeve blouse is the new trend. The coat is embroidered with tambour lace with a halter neck giving a classy and modern.
[ Read: 20 Stone Lacework Blouse Designs ]
18. White Frill Modern Short Sleeve Blouse Design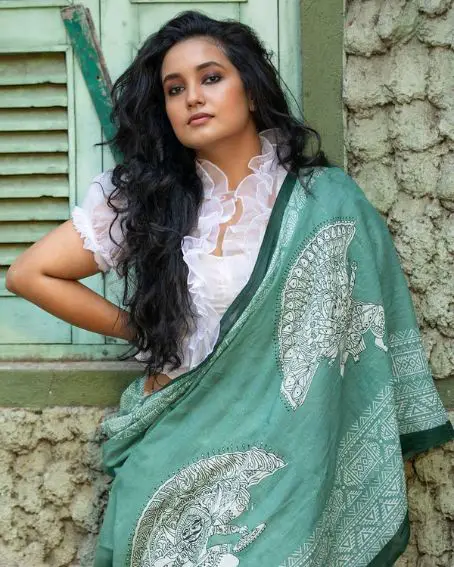 Go for white short sleeves frill pattern blouse embellished with a light shade designer saree. You appear fashionable thanks to the frill at the neck and sleeves.
[ Read: Top 20 Simple High Neck Blouse Back Designs ]
19. Silver Shimmer Modern Short Sleeve Blouse Design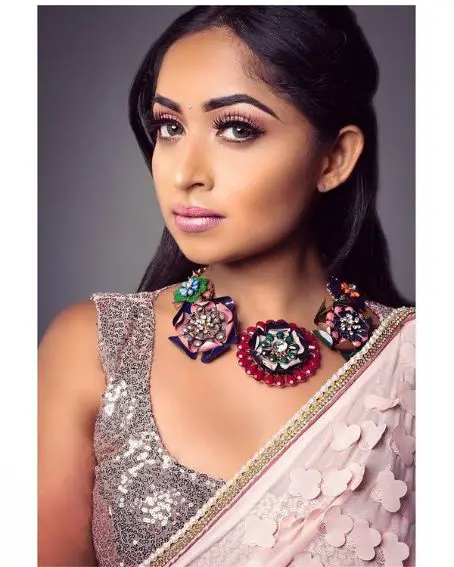 The minimal modern short sleeve blouse is detailed with silver sequin which gives a glitter and sparkling look. It is the perfect outfit for nighttime parties.
20. Hakoba Modern Short Sleeve Blouse Design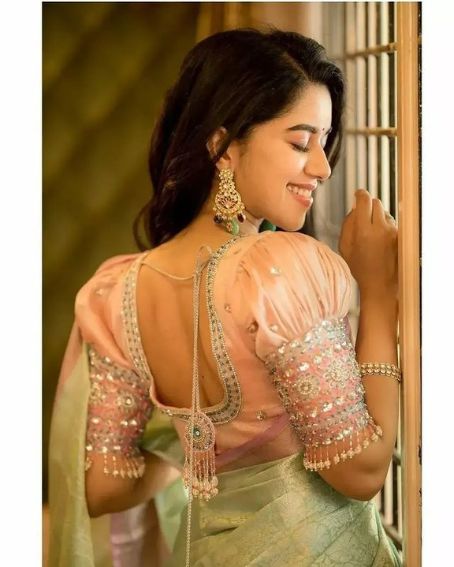 A peach blouse with a light green shade saree shows a massive look. Here, the short sleeve is designed with hakoba modern type. The full length of the elbow is defined with sequin embroidery giving luxury look.
You Might Also Like: