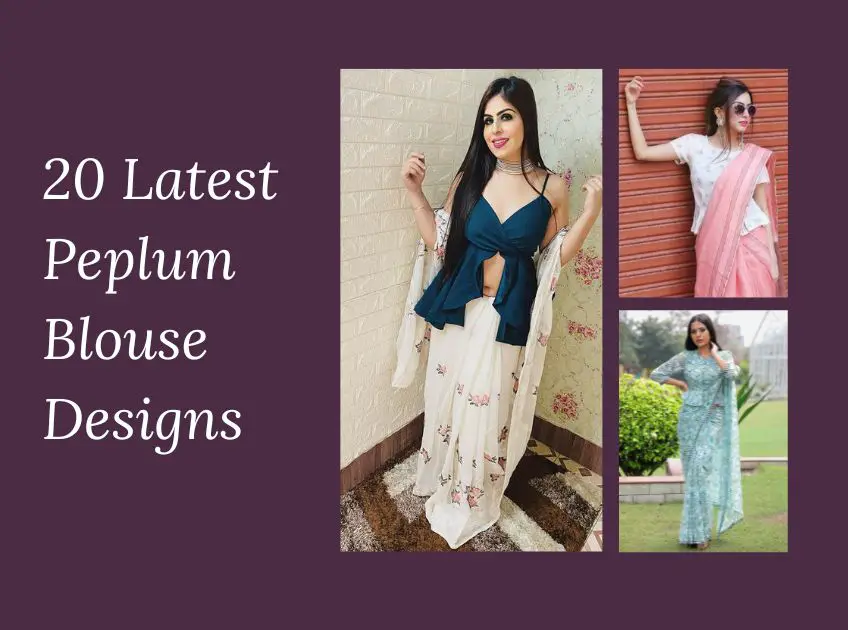 At the waistline, the peplum blouse has a ruffled or flared section. These peplum blouses can be made in a variety of lengths, from short to long, and can be made from a variety of fabrics, from sheer to opaque.
20 Alluring Peplum Blouse Designs
1. Pink Color Georgette Saree with Peplum Blouse Design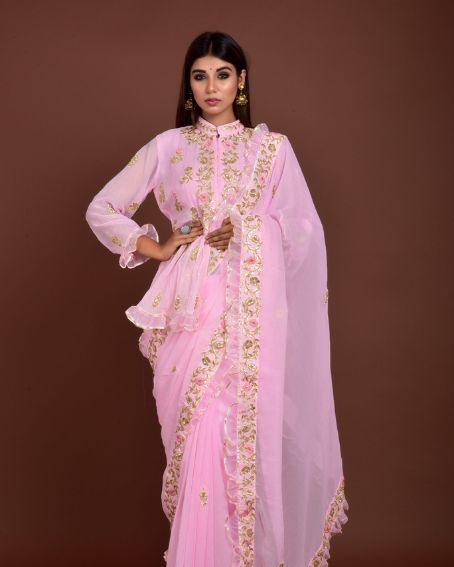 A soft and feminine pink georgette peplum blouse, adding elegance to any saree ensemble.
2. Maroon Vintage Banarasi Silk Brocade Peplum Blouse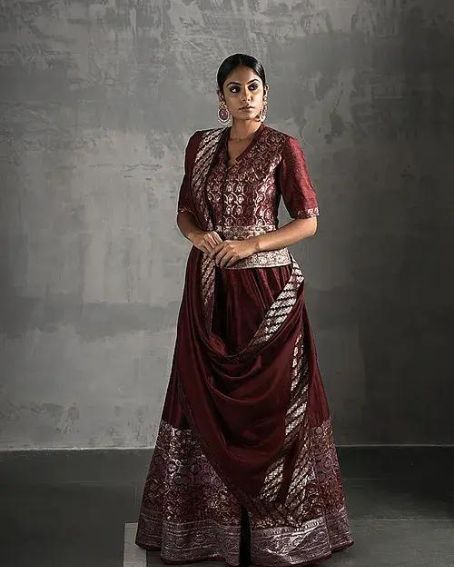 A blend of vintage charm and modern style, the maroon Banarasi silk brocade peplum blouse exudes timeless beauty.
3. Black And White Pre-Stitched Tie Dye Saree With Peplum Blouse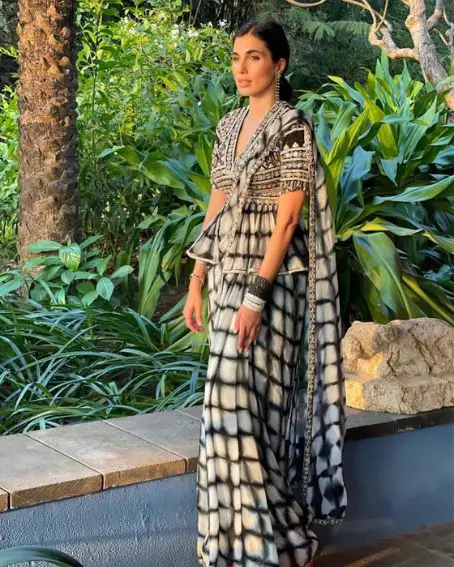 For women, young girls, and teenagers, this pre-stitched monochrome saree paired with a tie-dye peplum blouse offers a contemporary spin on a timeless ensemble.
4. Green Georgette Tropical Print Saree With Peplum Blouse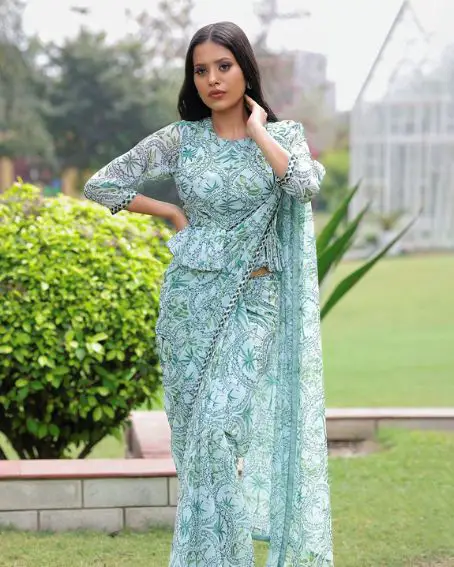 Experience a touch of the tropics with this green georgette saree, complete with a contemporary tropical print peplum blouse. This ensemble is perfect for women, young girls, and teenagers seeking a fresh and modern style.
5. Purple Mirror Embroidered Peplum Saree with Stitched Blouse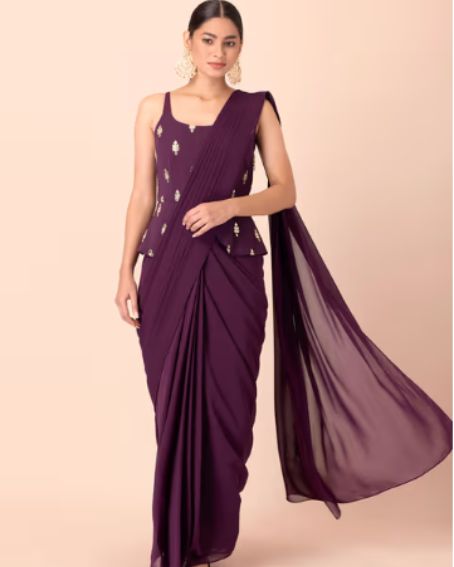 Elevate your fashion game with this purple peplum saree adorned with exquisite mirror embroidery, a blend of tradition and trend.
6. Stripe Print Peplum Top And Pants With Attached Drape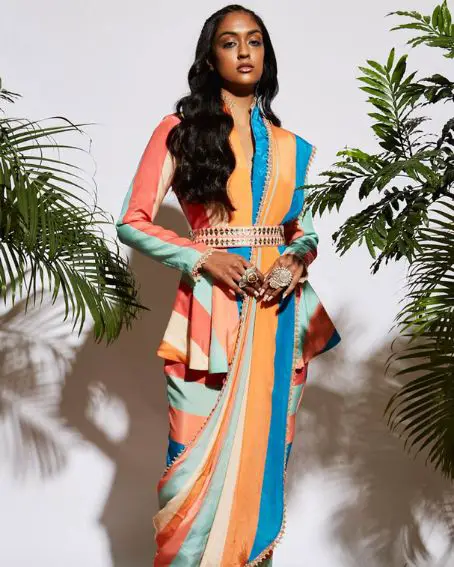 This ensemble includes a stripe print peplum top, pants, and an attached drape, providing a unique take on the classic saree.
7. Ivory Peplum Blouse With A Dyed Saree in Silk Organza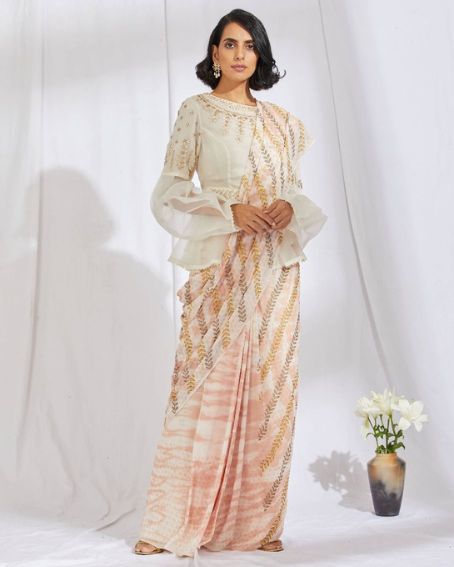 Achieve sophistication and trendiness with an ivory peplum blouse paired with a tie saree, perfect for special occasions.
8. Mustard Yellow And Green Half N Half Saree Peplum Blouse Design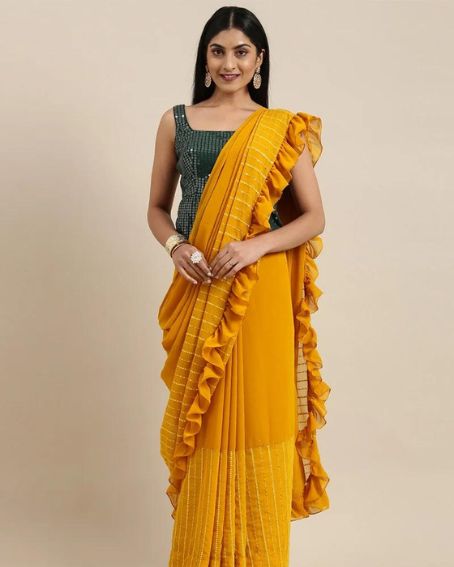 This ensemble combines mustard yellow and green, offering a captivating half-n-half saree look with a peplum blouse design.
9. Green Color Embroidery Work Peplum Blouse Design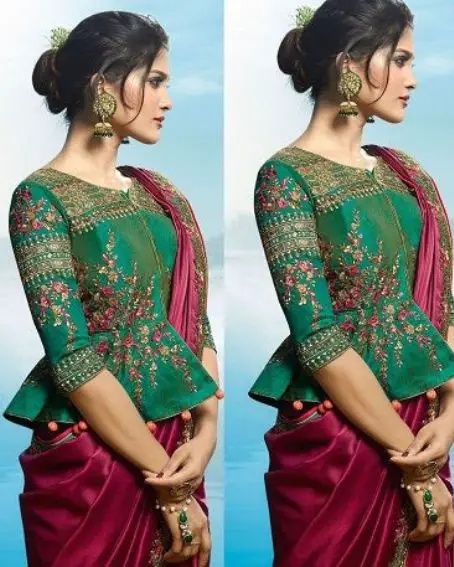 Embrace exquisite embroidery work with this green peplum blouse design, a perfect blend of tradition and contemporary style.
10. Mustard Draped Skirt And Bandhani Printed Peplum With Mirror Work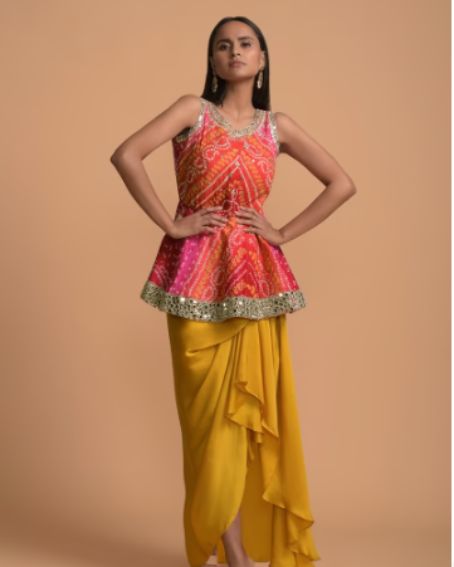 Combining a mustard draped skirt with a bandhani printed peplum top featuring mirror work, this ensemble is a fashion statement.
11. Dark Beige Color Embroidery Peplum Blouse Design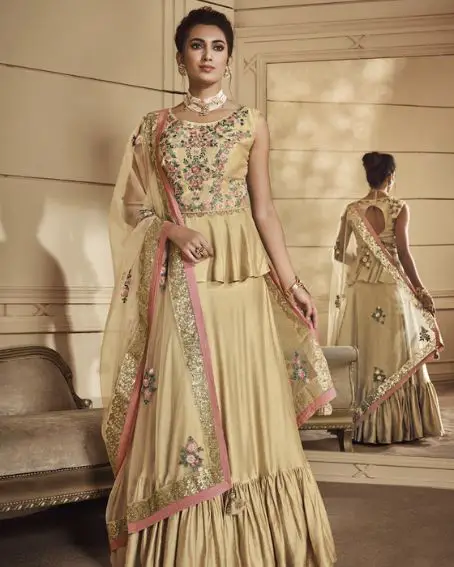 The dark beige peplum blouse with intricate embroidery offers a classic yet stylish look for various occasions.
12. Multi Color Stylish Peplum Blouse Design for Women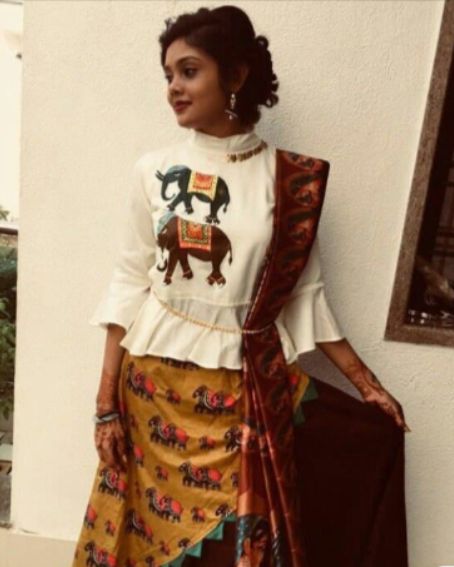 A multi-color peplum blouse design that is both vibrant and trendy, perfect for those seeking a unique and eye-catching style.
13. Teal Blue Pre-stitched Saree With Attached Sequin Peplum Blouse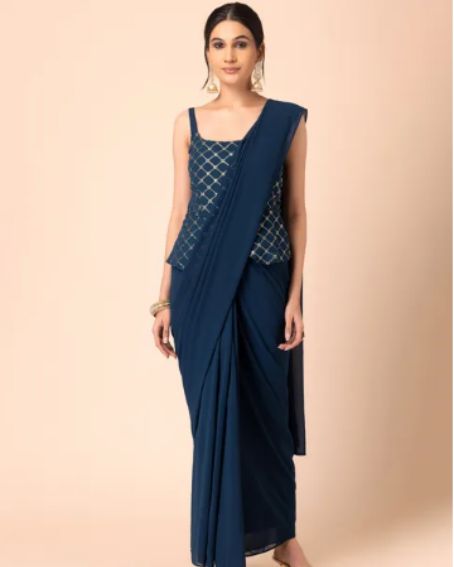 For women, young girls, and teenagers, this teal blue saree with a pre-stitched design is the epitome of convenience and elegance. It includes a sequin peplum blouse, combining both style and ease in a single outfit.
14. Pink Blended Georgette Pre-draped Saree With Peplum Blouse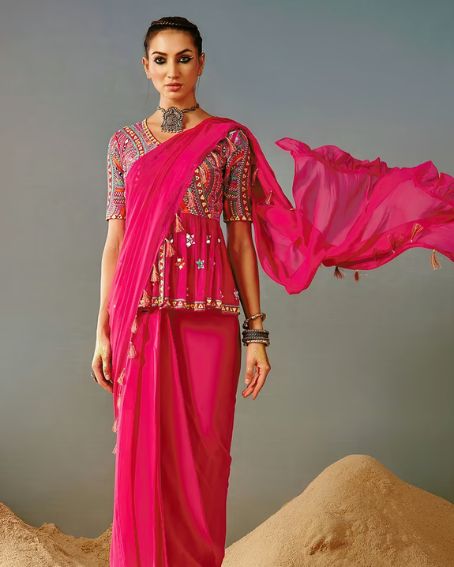 A stunning pink blended georgette saree with a pre-draped style and peplum blouse for a contemporary and elegant look.
15. Floral White Color Peplum Blouse Design With Pink Saree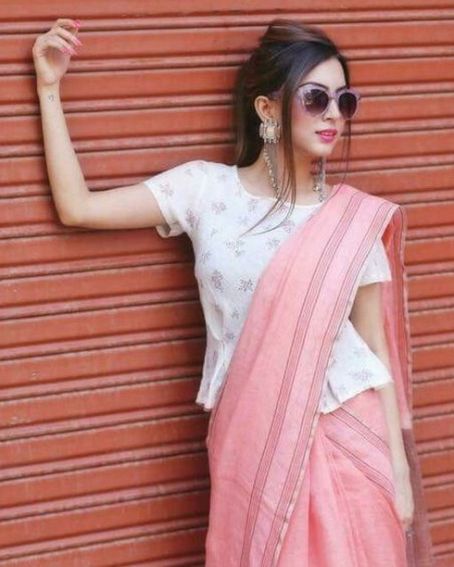 Embrace floral elegance with a white peplum blouse featuring intricate floral designs, perfect for a graceful appearance.
16. Stylish Blue Color Peplum Designer Blouse With White Skirt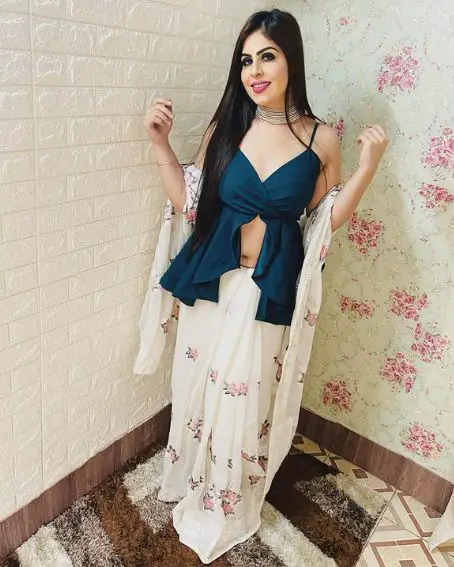 This stylish blue peplum designer blouse offers a modern and chic take on traditional saree attire.
17. Sky Blue Color Floral Peplum Blouse Design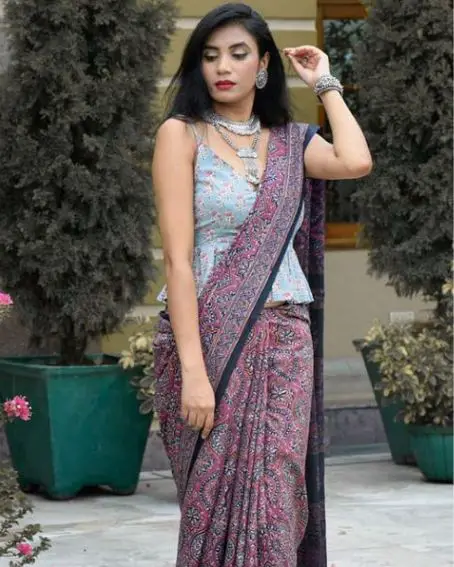 A sky blue peplum blouse adorned with delicate floral patterns, providing a touch of charm and sophistication.
18. Beautiful Pink Color Embroidery Peplum Blouse Design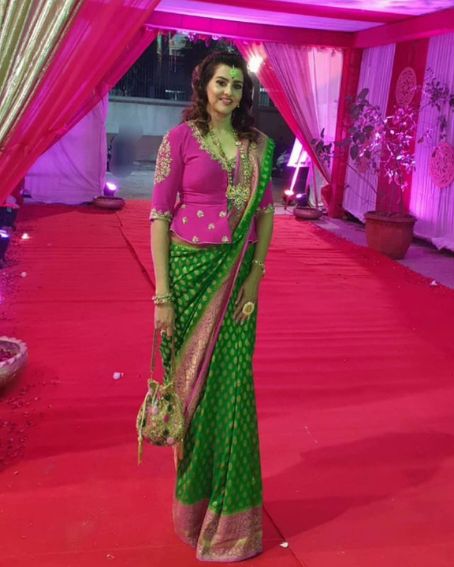 A beautiful pink peplum blouse with intricate embroidery, striking a balance between elegance and contemporary style.
19. Exclusive Peach Color Peplum Blouse Design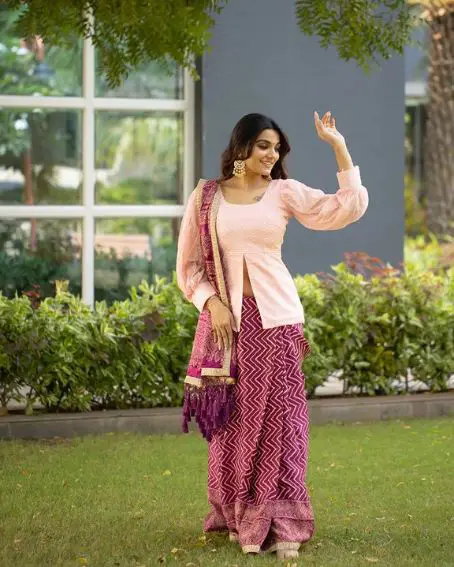 This exclusive peach peplum blouse design exudes sophistication and uniqueness, making it a standout choice for special occasions.
20. Bandhej Purple Saree Paired with Exclusive Peplum Red Sequins Blouse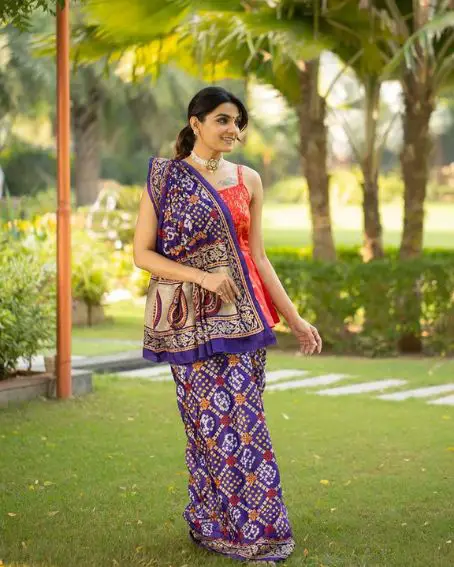 A fusion of Bandhej purple saree and an exclusive red sequined peplum blouse, creating a captivating ensemble that blends tradition with modern aesthetics.
What Are The Features Of Peplum Blouse Designs?
Distinctive peplum hemline, which can vary in length and volume.
Adds a flattering and fashionable silhouette to the blouse.
Neckline Variety
Available in a wide range of neckline styles.
Options include round necks, V-necks, off-shoulder, sweetheart, and more.
Sleeve Options
Offers versatility with various sleeve styles.
Choices include full sleeves, cap sleeves, sleeveless, and flutter sleeves.
Embellishments
Adorned with intricate embellishments for added glamor.
Embellishments may include embroidery, sequins, beads, or lace detailing.
Fabric Diversity
Crafted from a variety of fabrics to suit different occasions.
Options include silk, chiffon, satin, cotton, and more.
Color Variety
Available in a wide array of colors to match diverse outfits.
Options range from classic shades to vibrant hues.
Back Design
Features stylish back designs.
May include keyhole cutouts, tie-backs, or decorative back buttons.
Length Options
Peplum length varies, with options reaching the waist or hips.
Length choice impacts the overall look and style.
Versatility
Suitable for various occasions, from casual to formal.
Can be paired with skirts, sarees, pants, or jeans for different looks.
Modern and Traditional Fusion
Some designs blend contemporary and traditional elements.
Combines modern cuts with traditional motifs or embroidery.
Customization
Many designers offer customization options.
Allows for personalization of fit, style, and detailing.
Comfort and Fit
Designed for comfort with stretch fabrics and adjustable closures.
Ensures a comfortable and flattering fit while maintaining a fashionable appearance.
What Colors And Fabrics Are Commonly Used To Make Peplum Blouses?
White: A classic and versatile choice for peplum blouses, suitable for both formal and casual occasions.
Black: Another timeless option that can be dressed up or down.
Pastels: Soft pastel colors like blush pink, mint green, and lavender are popular for a feminine and romantic look.
Bold and Bright: Vibrant colors like red, royal blue, emerald green, or coral can make a statement and add a pop of color to your outfit.
Neutral Tones: Shades like beige, taupe, or gray offer a sophisticated and understated appearance.
Fabrics
Cotton: Cotton peplum blouses are comfortable and suitable for casual wear. They can come in various weights and textures.
Silk: Silk peplum blouses have a luxurious and elegant appearance, making them great for formal occasions.
Chiffon: Chiffon is a lightweight, sheer fabric that adds a delicate and airy feel to peplum blouses, often chosen for evening wear.
Lace: Lace peplum blouses have a romantic and feminine look, often used for special occasions and weddings.
Crepe: Crepe fabric drapes well and offers a polished appearance, making it suitable for both casual and formal peplum blouses.
Satin: Satin peplum blouses have a smooth, shiny surface and are often chosen for evening events or cocktail parties.
Peplum blouse designs are versatile and can be worn on a variety of occasions and parties, depending on the style, fabric, and embellishments.
On What Occasions Do Women Prefer to Wear This Peplum Blouse Designs ?
Weddings: For women, young girls, and teenagers, peplum blouses can elevate your style game, whether you're a bride, bridesmaid, or wedding guest. Pair them with sarees or lehengas to infuse traditional Indian and South Asian outfits with a dash of elegance and charm.
Cocktail Parties: Peplum blouses with a modern twist, perhaps in silk or velvet with intricate embellishments, can be a great choice for cocktail parties or evening events. They offer a contemporary and chic look.
Formal Events: For formal events like award ceremonies, galas, or corporate parties, a finely tailored peplum blouse made from luxurious fabrics like satin or lace can be a sophisticated option for both women and young girls, including teenagers.
Birthday Parties: Depending on the theme and formality of the birthday party, a peplum blouse with playful prints or vibrant colors can be suitable, especially for more casual or semi-formal gatherings.
Festivals: During festive occasions like Diwali, Eid, Christmas, you can opt for peplum blouses with festive colors and intricate embroidery to complement traditional attire.
Anniversaries: Whether it's your own anniversary or a loved one's, a peplum blouse paired with a skirt or trousers can make for an elegant and celebratory outfit.
Bachelorette Parties: For a fun and stylish bachelorette party, consider wearing a trendy peplum blouse with jeans or a skirt. It offers a fashionable yet comfortable option for a night out with friends.
Engagement Parties: An engagement party calls for a blend of sophistication and style. Peplum blouses with sequins or beadwork can be a glamorous choice for such events.
Baby Showers: If you're attending or hosting a baby shower, a peplum blouse with pastel colors and delicate details can create a sweet and feminine look.
Casual Gatherings: Peplum blouses aren't limited to formal occasions. You can also wear them casually when meeting friends or going to brunch by choosing a more relaxed style with denim or shorts.
Peplum blouse designs are versatile and can be worn on a variety of occasions and parties, depending on the style, fabric, and embellishments. Here are some occasions and parties where peplum blouse designs can be a fashionable choice:
Incorporating fashionable peplum blouses into your wardrobe is a creative way to express your style. These trendy blouse styles, combining modern a Traditional elements offer a wide range of options for both formal and informal occasions.
With unique peplum embellishments and innovative details, these designs have earned their place as versatile and stylish attire for women. Whether it's the runway-inspired peplum fashion or the chic peplum outfits for special occasions, these pieces are a must-have for any fashion-forward individual. So, embrace the elegance and flair of the latest peplum blouse designs and make a fashionable statement wherever you go.
Related Articles