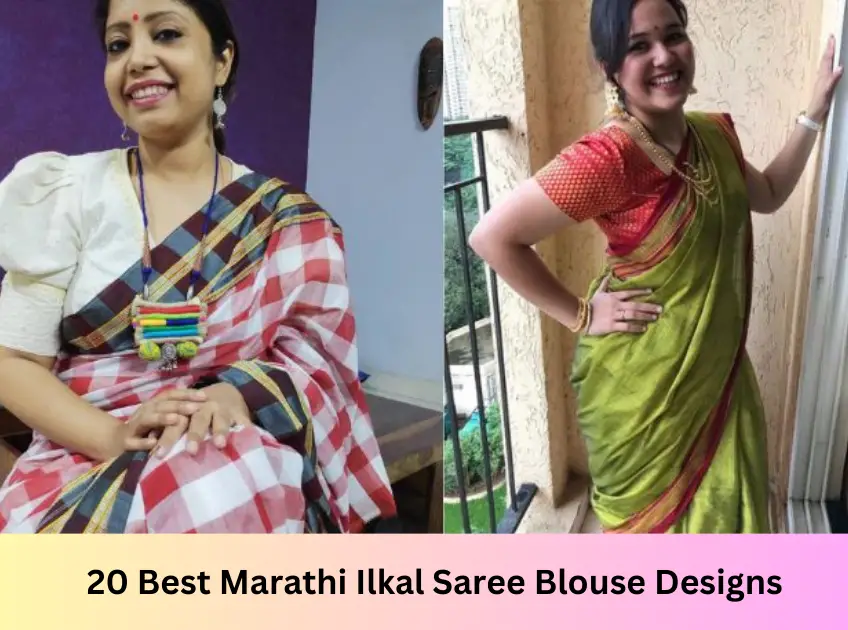 In India, we have different types of culture and traditions along with this each tradition have own outfits. In that way, women from Maharashtra follow a different style of saree draping. Here will see some of the Marathi ilkal saree blouse designs below.
20 Best Marathi Ilkal Saree Blouse Designs
1. Gold Border Marathi Ilkal Saree Blouse Design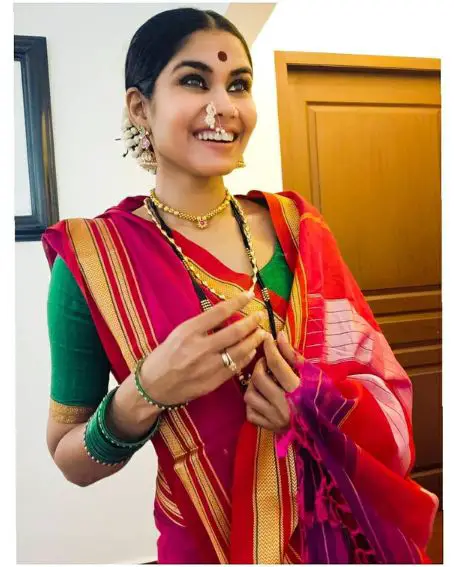 The presence of a green and red combo in all ceremonies and functions makes it more auspicious. Especially this ilkal saree paired with a green blouse and golden color border looks simple and traditional. The plain blouse with a round neck gives you a conservative glimpse.
2. Boat Neck Marathi Ilkal Saree Blouse Design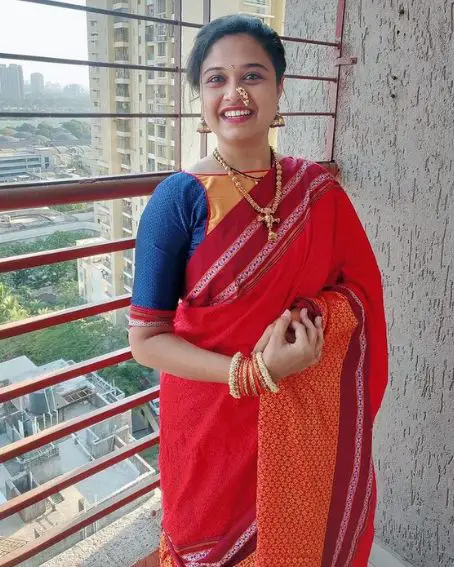 A fashionable and elegant look in this ilkal red saree with a navy blue blouse. A boat neck with a tri-color design gives you a bold outlook. Red thin border matching the saree color gives you a trendy to the single pleat saree.
[ Read: 30 Exclusive Collections of Navy Blue Color Sarees ]
3. Black Marathi Ilkal Saree Blouse Design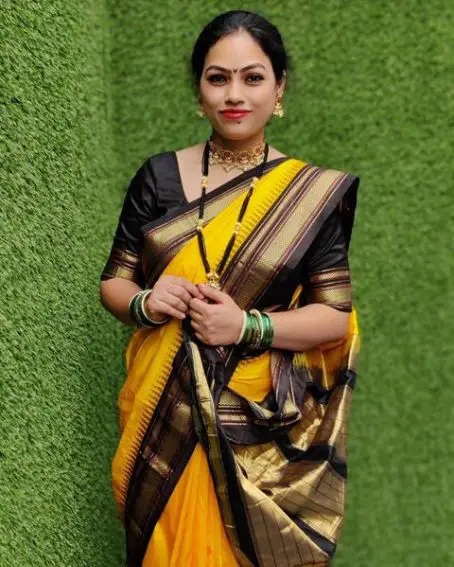 A great combination of yellow and black ilkal saree with a black-bordered blouse provides a perfect outfit for functions and events. The black blouse with the same sequence border of saree and golden color double border makes an eye-catcher in the group.
4. Girl Face Printed Marathi Ilkal Saree Blouse Design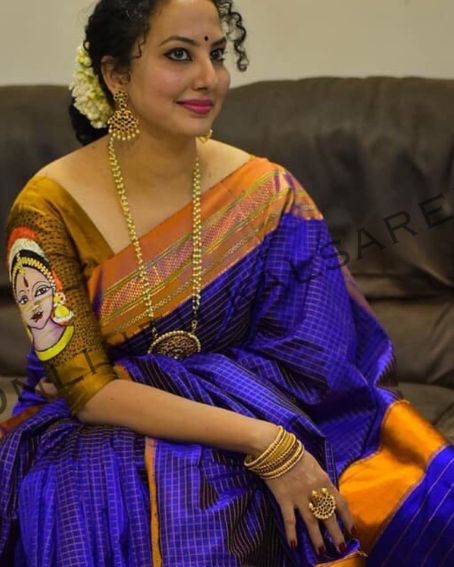 Beautiful ilkal saree blouses can decorate with different designs, here an Indian girl's face is printed on a blouse. The two different color combinations of brown and royal blue make a rich and traditional look; the face was printed on both arms of the blouse.
5. Gold Shade Red Marathi Ilkal Saree Blouse Design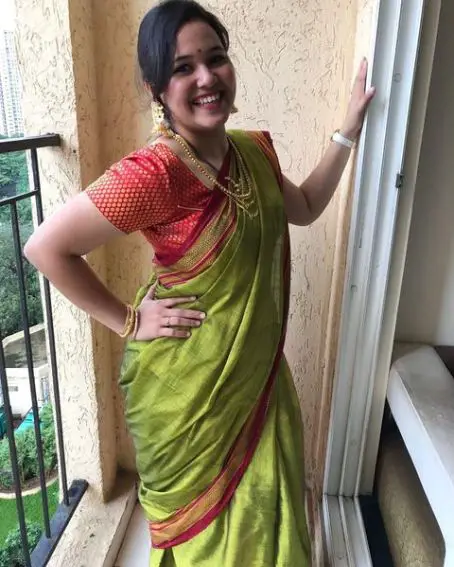 Beautiful olive ilkal bordered saree with red color blouse was fully shaded with a golden color is gorgeous. The half sleeve blouse with simple designs creates a calm feature and appears function-mode dressing outlook.
6. Collar Neck Ilkal Saree Blouse Design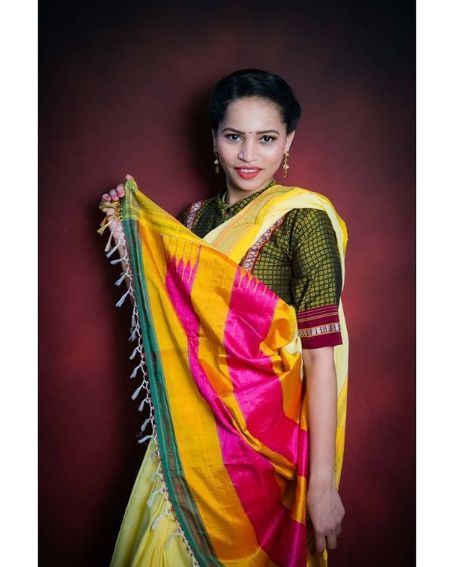 The colorful ilkal saree was more gleaming with this green color collar neck blouse design. The collar neck is a unique choice for a saree which gives you a more confident appearance and a trendy look.
7. Deep Neck Marathi Ilkal Saree Blouse Design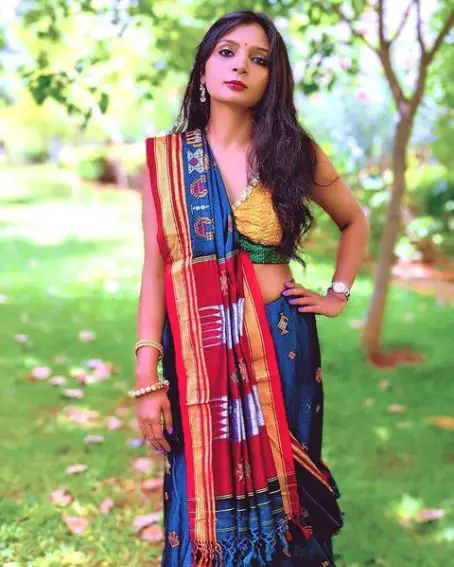 Very innovative styles apply in this ilkal saree blouse. All trendy girls go for deep neck designs and kasuti work done in blouses. A deep neck is suited to all girls and drapes the ilkal saree in a different style, so you can show the colorful weaves and designs
8. Base Black Marathi Ilkal Saree Blouse Design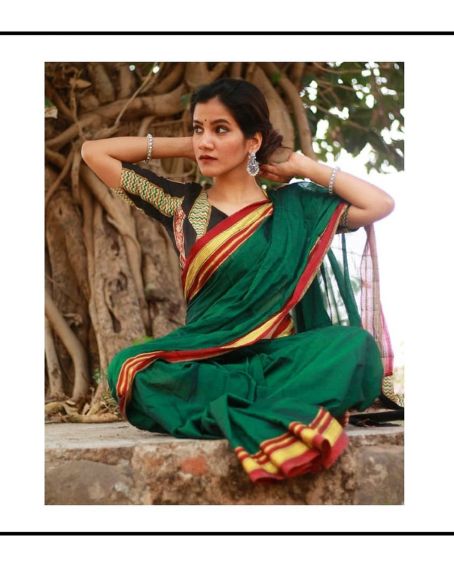 Perfect Marathi ilkal saree was matched with base black half sleeve. The black blouse was designed with a gold color design which can suit all types of sarees. To match with suitable jewels, show you more elegance and stylish.
9. Rayon Cotton Marathi Ilkal Saree Blouse Design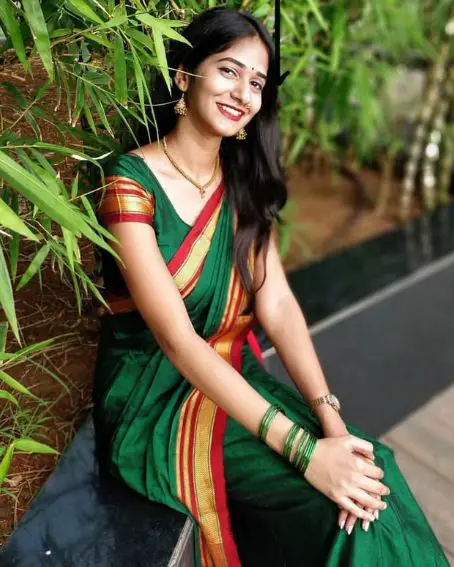 Seamless beauty in ilkal saree with matching blouse, it gazes simple and gorgeous. The short half-sleeve blouse with a border in the same pattern as the saree is always stunning. You can wear traditional jewels to create a more ethnic look.
10. Gold Sleeveless Marathi Ilkal Saree Blouse Design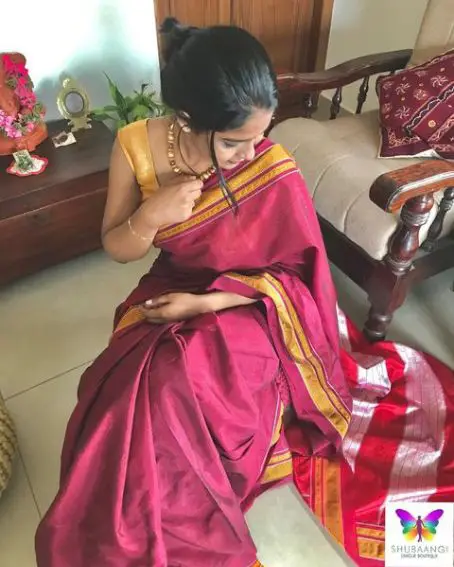 A sleeveless blouse creates a bold statement for every woman. A stylish and trendy woman goes for the choice of the sleeveless blouse, especially with the Marathi ilkal saree. A gorgeous red color saree was matching with a gold sleeveless blouse creating fashion and eye-catcher.
11. Handblock Printed Marathi Ilkal Saree Blouse Design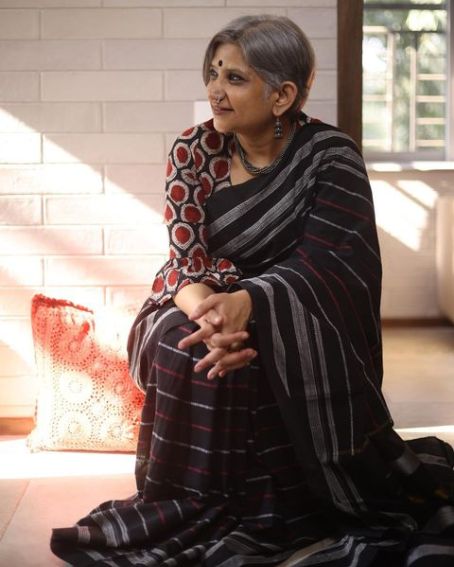 The black cotton ilkal saree was perfectly matched with a hand-block printed blouse is fabulous. Handblock print is from ancient times, the designs are unique and printed in an auspicious way. Using black metal ornaments is adding more grace to the outfit.
12. Black And White Checks Marathi Ilkal Saree Blouse Design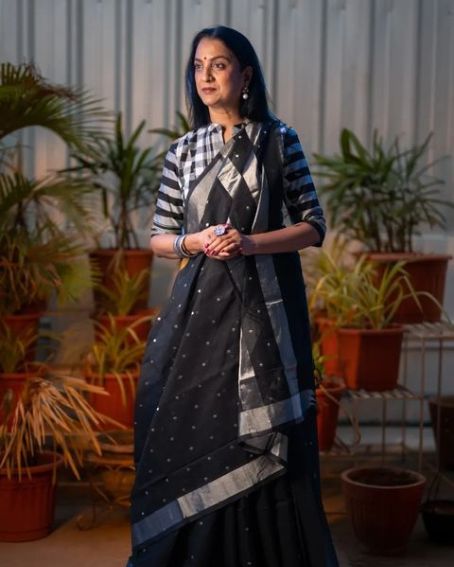 Every woman loves to wear this ilkal black saree with a trendy black and white checks blouse. The blouse is designed like a closed neck with an open cut in front. This blouse can match with all types of cotton-bordered saree, which embrace you.
13. Kalamkari Marathi Ilkal Saree Blouse Design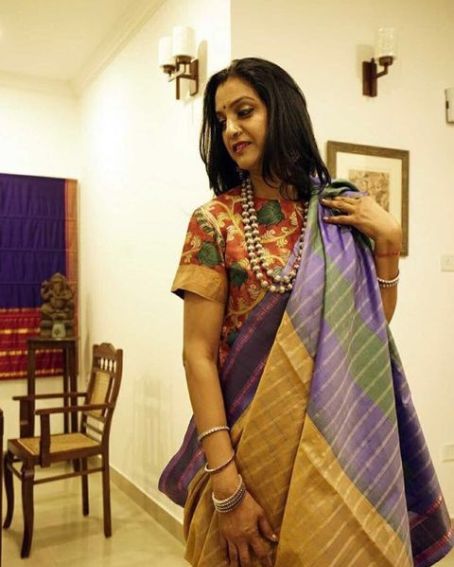 Amazing beauty in an ilkal saree with a kalamkari blouse design gives you a fascinating appearance. The red color silk blouse with golden colored weave and border brings you completely traditional and you look ravishing in the place.
14. Full Sleeve Marathi Ilkal Saree Blouse Design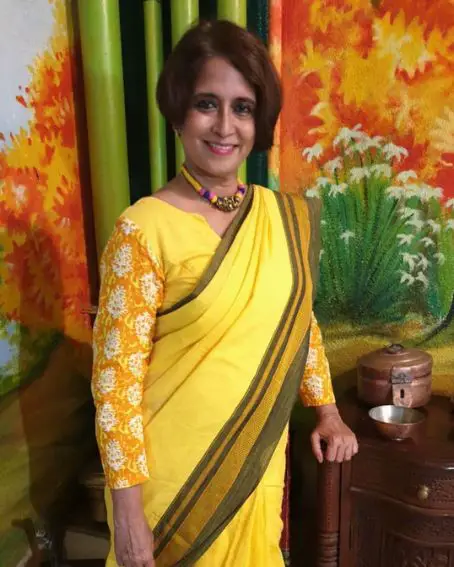 A Unique style of full sleeve blouse design paired with a Marathi ilkal saree creates fashion and graceful at the time. The yellow border saree is shining with full sleeves and decorated with matching metallic ornaments always stunning.
15. Puff Sleeve Marathi Ilkal Saree Blouse Design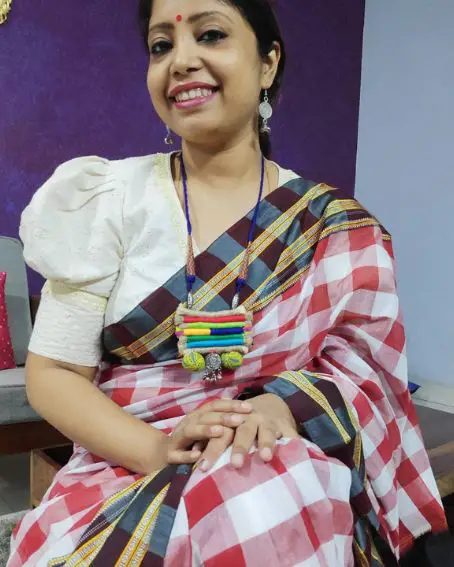 Impressive pure cotton hand-woven saree always makes you special and if you want to make it trendy, go for the option of a puff sleeve. This type of design shows you like a bold and joyous person.
[ Read: 20 Modern Cotton Saree Back Neck Blouse Design ]
16. Front Keyhole Marathi Ilkal Saree Blouse Design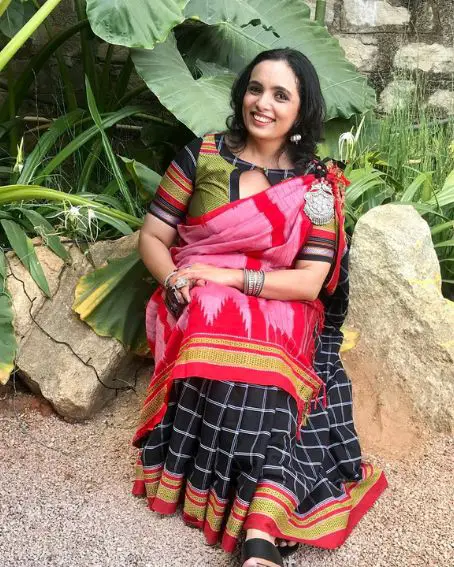 There is a color combination of black, red, green, and white to create a fascinating appearance in the keyhole blouse design with the ilkal saree. The front keyhole blouse design is the most stylish design for all trendy women.
17. Off-shoulder Marathi Ilkal Saree Blouse Design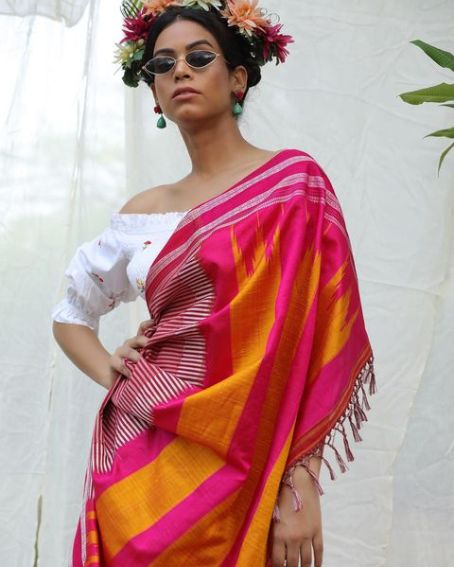 The most fascinating blouse design is off the shoulder, which is matching to the Marathi ilkal saree. The main feature of the off-shoulder is the hole extends below the shoulder and reveals the upper arms. The color combination of pink and mango yellow lines makes it more special in outlook.
18. Royal Blue Marathi Ilkal Saree Blouse Design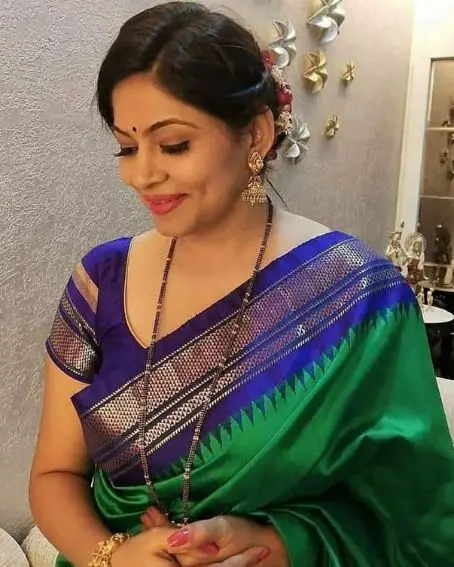 The attractive color of the royal blue border with the green ilkal saree is exactly matching for the festivals and temple visits. The half-sleeve border color blouse in a simple design with golden piping makes it pleasant looking.
19. Honeycomb Designed Marathi Ilkal Saree Blouse Design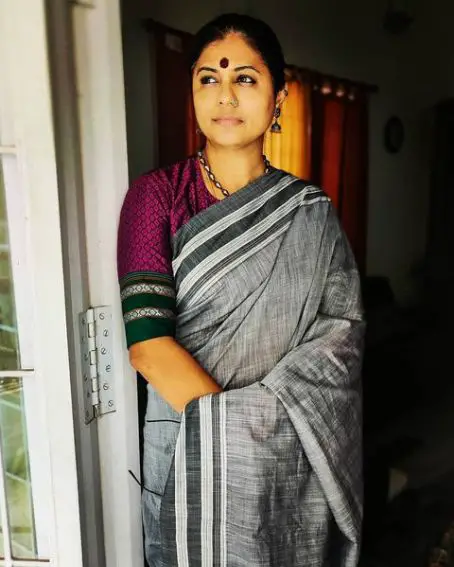 Very calm and professional looking in this grey with maroon color honeycomb design blouse gives you a stunning look, especially for professionals.
[ Read: 25 Trendy Maroon Color Sarees Collection ]
20. Multi-color Marathi Ilkal Saree Blouse Design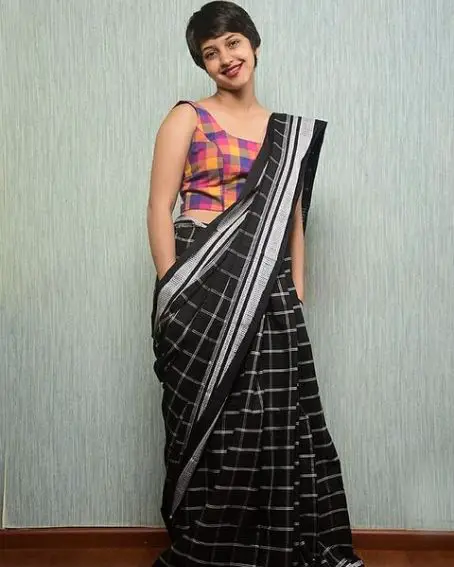 The black ilkal saree is gleaming because of the multi-color sleeveless blouse. It is creating a trend and gorgeous looking.
You Might Also Like: