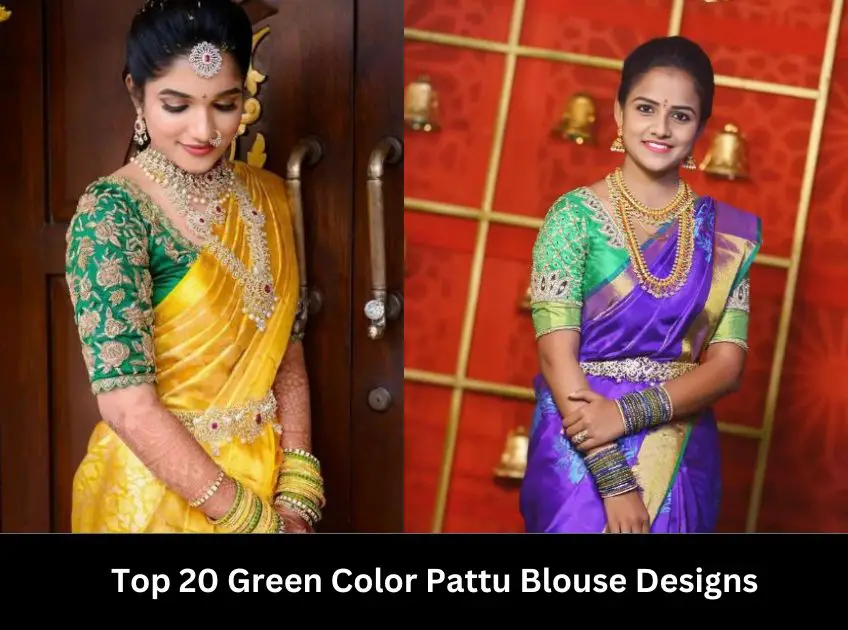 Pattu sarees are popular silk sarees in the southern part of India. Silk sarees convey elegance and Royal charm, which is why they are frequently seen in Indian weddings. You will need various types of blouses to wear the beautiful pattu saree styles. Hence try this green color pattu blouse which will enhance your beauty in pattu saree with embroidery and Aari work.
20 Green Color Pattu Blouse Designs
1. Dark Green Pattu Blouse With Elbow-length Sleeves
A mind-refreshing look this bride is in a dark green pattu saree with a golden zari border and looks adorable with the sequence pattu blouse. The blouse perfectly matches the bride with a deep neck design on elbow-length sleeves.
2. Green Wedding Blouse With Back Neck Design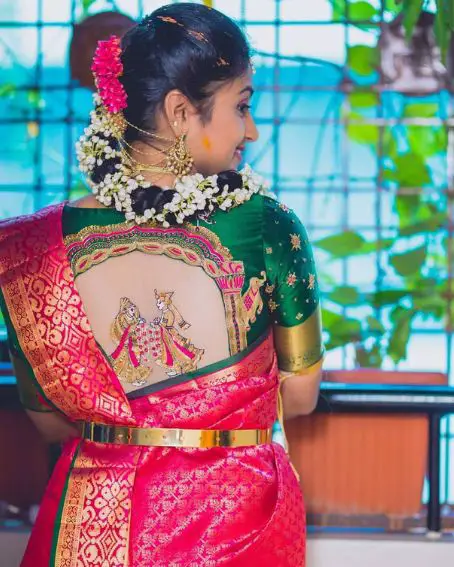 This wedding blouse is made of cutwork that has been patched with net fabric. The embellishment on this blouse is also exceptional considering how heavy it is. It could be for your wedding occasion.
[ Read: 20 Beautiful Pattu Saree Blouse Back Neck Designs ]
3. Kajol Agarwal In Green Aari Work Pattu Blouse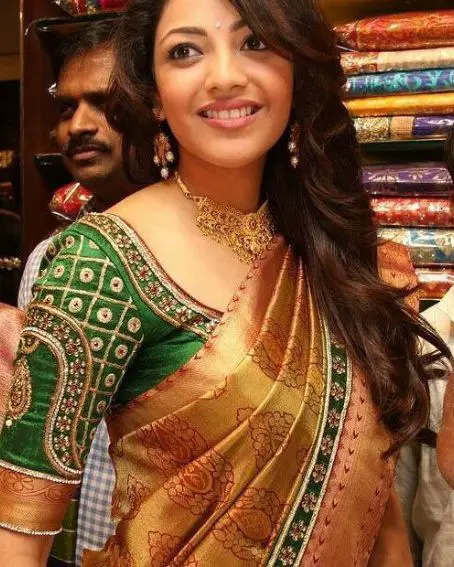 Actress Kajol Agarwal in this bordered silk saree blouse is definitely eye-catching and appealing. It even has jewelry-inspired embroidery on the sleeves. The front and back have a deep scoop neck.
4. Green Pattu Blouse Design With Beads Border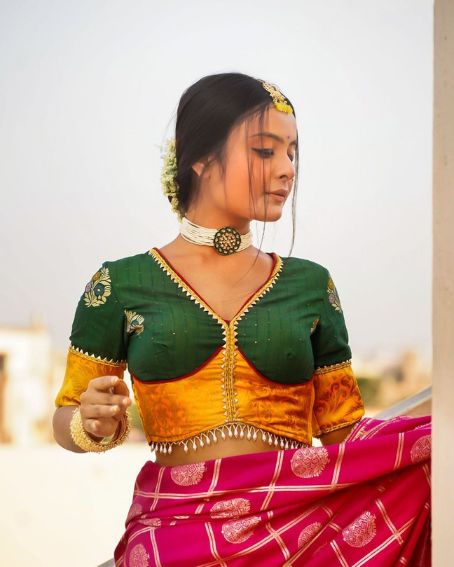 Even silk sarees with borders can really look very well and grand. This green blouse has a big border decorated with golden lace material and beads hanging the blouse front design which looks unique and trendy.
[ Read: 20 Pattu Big Border Blouse Design ]
5. Back Button Green Pattu Blouse With Lace Border
One of the simple yet beautiful green pattu blouses with back buttons. This blouse has a V shape neck design covered with a golden lace borderline. Which may be suitable on a white Kerala saree.
6. Green Pattu Blouse With Three-fourth Sleeves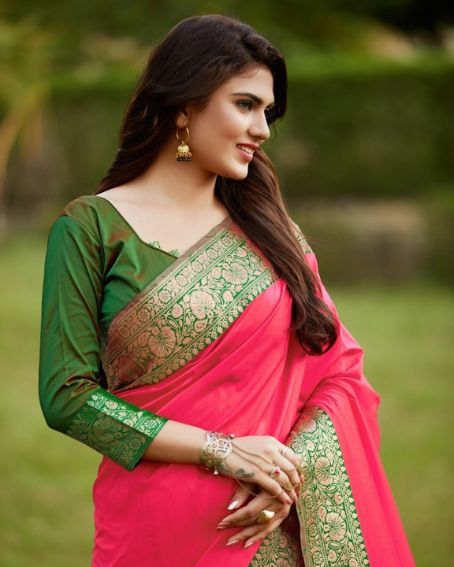 This plain green pattu blouse comes with a sequence of the saree border. Looks elegant with three-fourth sleeves and a broad front neck design. This pattern of blouse is suitable for small parties and events.
7. Pelham Pattu Green Blouse With Aari Work Design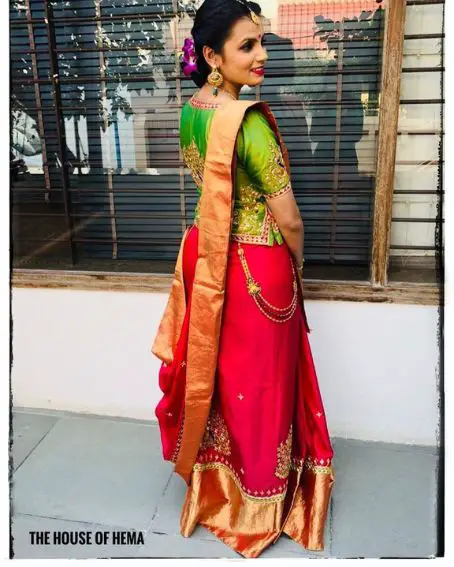 These days peplum blouses have become trendy. So try this green pattu peplum pattern blouse with a high neck design with Aari embroidery work on it. This will make you look grand at functions and parties.
[ Read: 20 Silver Aari Work Blouse Designs ]
8. Puffed Sleeves Green Pattu Blouse Design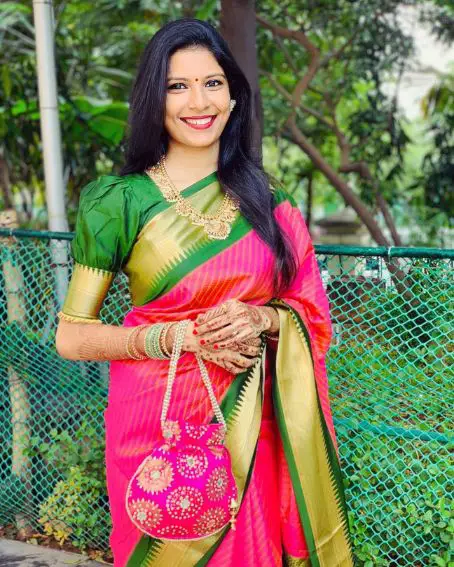 Here comes another wonderful puffed sleeve green pattu blouse design which comes on the sequel to the saree. This blouse looks very elegant and traditional and can be worn for pujas and family functions.
9. Back Button Green Patu Saree Blouse Design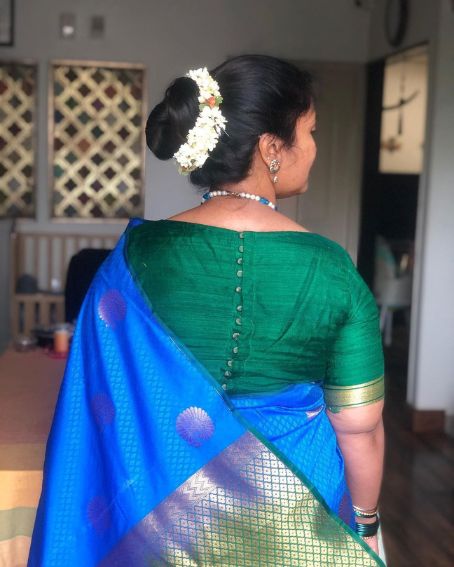 Here comes another simple and beautiful green pattu blouse with back buttons. This blouse comes with a boat neck design with elbow-length sleeves. The back button blouse is best suitable for fat ladies to look slim.
[ Read: 20 Latest Back Boat Neck Blouse Designs ]
10. Green Pattu Blouse With Aari Embroidery Work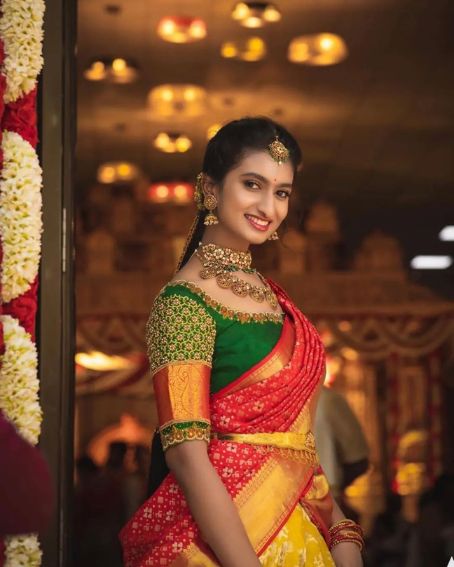 The glossy golden zari border of the green blouse is the attractive part of the blouse. This blouse looks elegant with Aari work on a half saree which is best suitable for pooja and functions.
11. Turquoise Green Pattu Blouse With Silver Thread Embroidery Work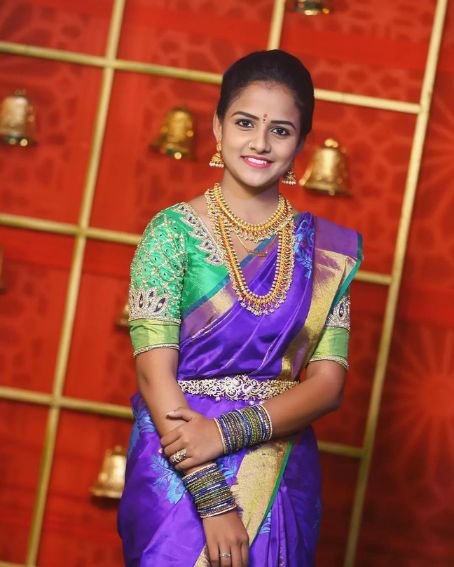 There are some heavy saree blouses in addition to the regular type. The blouse is appropriate for exquisite and elegant silk sarees. Combine this turquoise green blouse with Banarasi Pattu Silk and other pattu sarees.
12. Yellow Thread Embroidery Work Green Pattu Blouse Design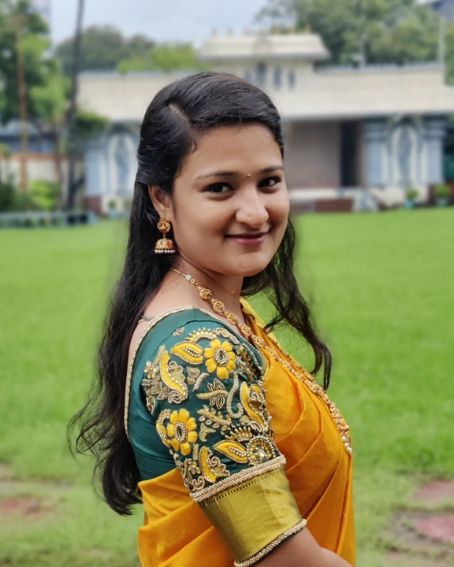 The dazzling yellow thread work on the green blouse comes with a floral pattern, which attracts with its good appearance and golden zari border. The yellow color flowers are the main attraction of the whole blouse.
13. Puffed Sleeves Green Pattu Blouse Front Design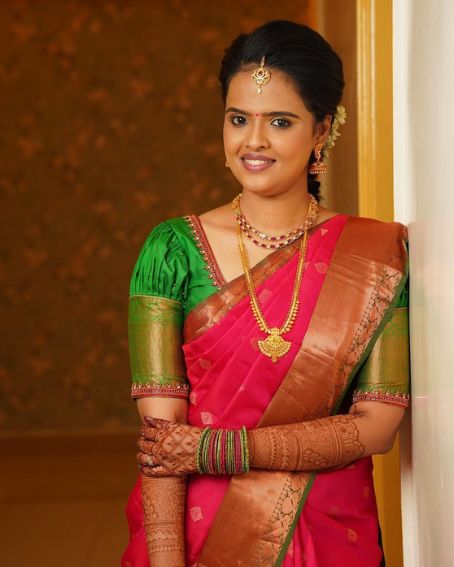 Most women would like to look traditional at weddings and functions, so here are a wonderful puffed sleeves green pattu blouse design that will suit all color sarees. This blouse looks very elegant and traditional
14. Round Cut Open Back Neck Design On Green Pattu Blouse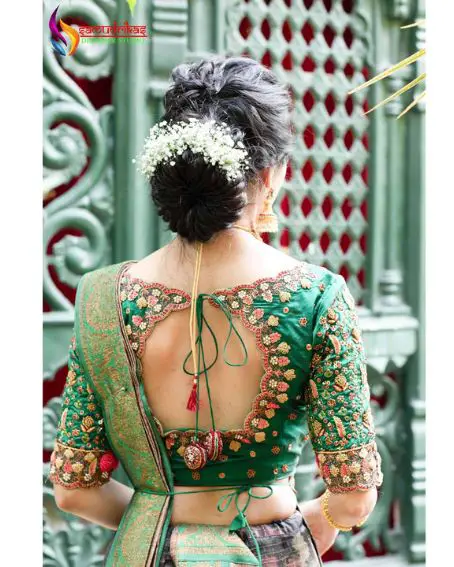 A stunning bridal green pattu blouse is Perfect with an embroidery work design around the cut-open round design. This blouse is created specifically for brides to appear more beautiful at their wedding.
[ Read: 20 Traditional Blouse Back Neck Design ]
15. Light Green Pattu Blouse With Aari Work Design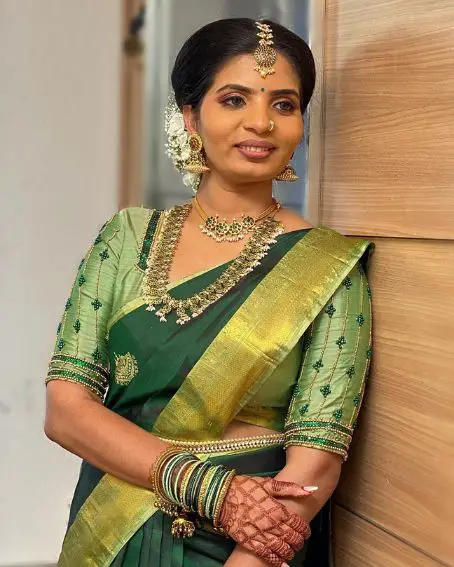 The attractive blouse is ideal for Pattu green silk sarees and other saree combinations. The beads embroidery loaded with beads and other embellishments make it appear quite rich and traditional.
16. Aari Embroidery Work On Green Blouse Neck And Sleeves
The embroidered Aari and Maggam work blended blouse is unquestionably pricey and opulent. This adorable and appealing saree blouse is a visual treat. The Aari work is finely decorated around the neckline and on the sleeves.
17. Stonework Design Green Pattu Blouse For Brides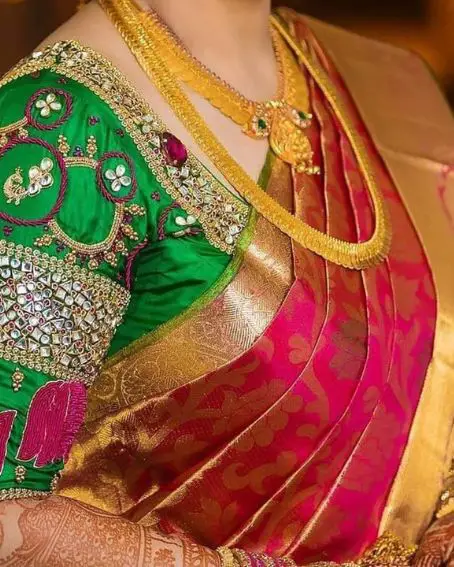 This blouse is so luxurious yet elegant that it will certainly win the hearts of those who see it. It is a stunning bridal blouse. The elegance and work done with zari, sequins, and stones are simply unique.
18. Golden Thread Embroidery Design On Green Pattu Blouse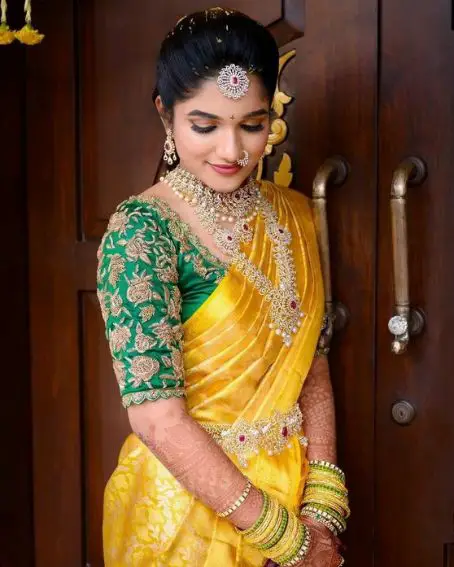 The embroidery on this blouse is truly amazing, and it is the main attraction. If you can have such lovely embroidery, with golden thread decorated all over the blouse sleeves and neckline then, you should definitely go for it.
19. Bridal Green Pattu Blouse Design With Kundans And Stones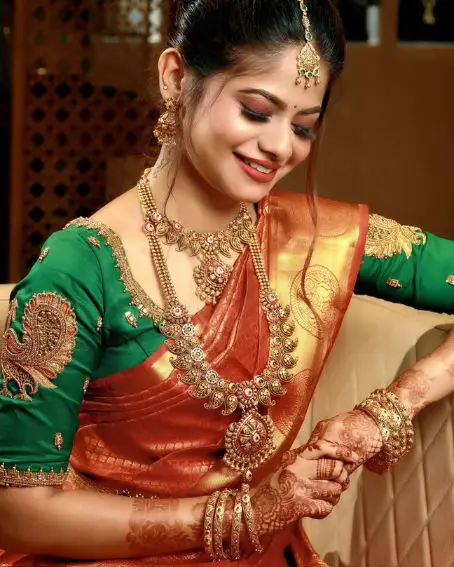 The sequin and Kundan combination is flawless, lending to the charming appearance of this silk blouse. The ethnic wear saree blouse is quite simple, but the embroidery and heavy Stone fall under the category of party wear blouse designs.
20. Elbow Length Sleeves Green Pattu Blouse Design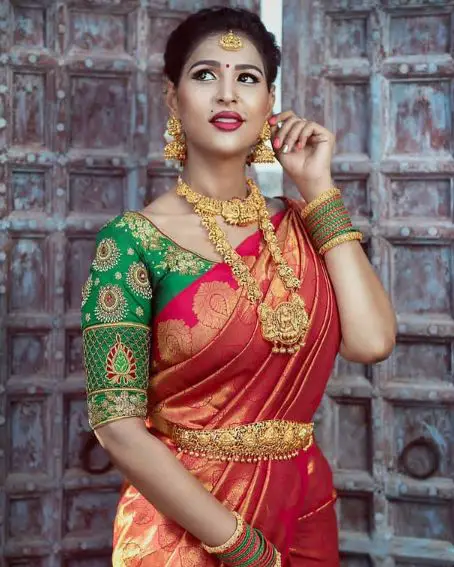 One of the best blouse designs to wear to a wedding or if you are the bride. This blouse is an excellent choice with green elbow-length sleeves. This blouse comes with nice and neat embroidery work.
You Might Also Like: