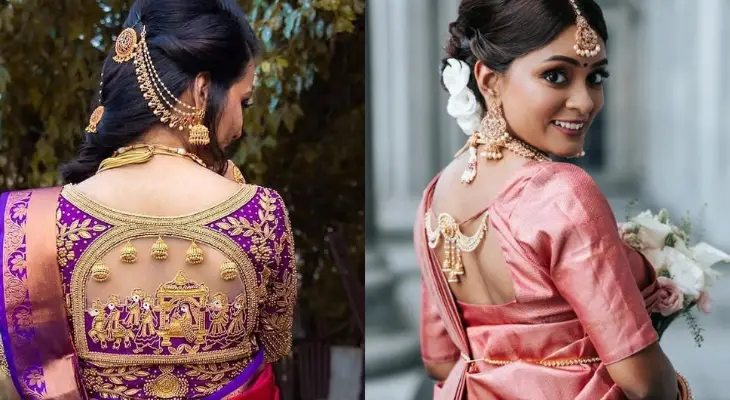 Brides infuse uniqueness and seasonality into the sarees and blouses they choose to look stylish and elegant in their wedding. Thus, their elegant wedding choices never fail to impress everyone. When looking at the blouse they choose to add color to decorate the sleeves and back of the blouse. Also they play with fabric, embroidery and borders to enhance the overall look of blouse designs. In this blog, you can know in detail how you can choose your blouse for your wedding and other auspicious events.
20 Best Pattu Saree Blouse Back Neck Designs for Marriage
1. U-shaped Simple Short Sleeve Buff Pattu Saree Blouse Design
If you love to wear a charming and feminine blouse, then this U-shaped simple short blouse is the best choice for you. This chic 'U' cut blouse hugs your back very comfortably and gives you the perfect feel. Its 'U' cut borders are elegantly embellished with kemp engravings.
[ Read: 15 Stylish and Trendy Neck Blouse Designs for Half Sarees ]
2. Purple Heavy Work Design Blouse With Dangling Jhumki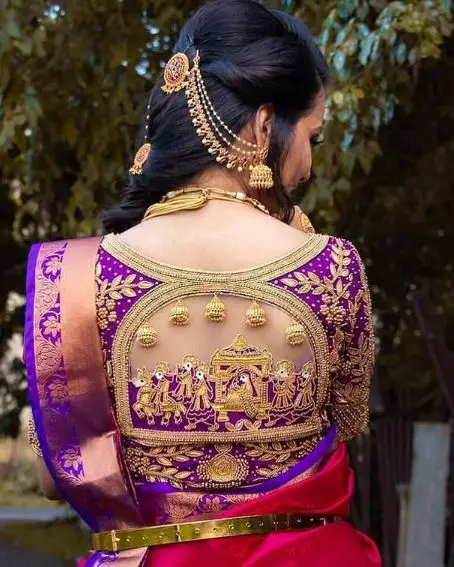 Do you want to wear a stunning blouse for your wedding? If yes, then this blouse will exceed your expectations in every way. This blouse features a cutwork design that the bride carries on a doli with hanging jhumki embellishments. Also, the heavy golden intricated design work on this purple blouse makes this blouse more popular among women than other blouses.
[ Read: 20 Amazing Pics of Western Look Sarees Designs ]
3. Pink Thread Work Designer Blouse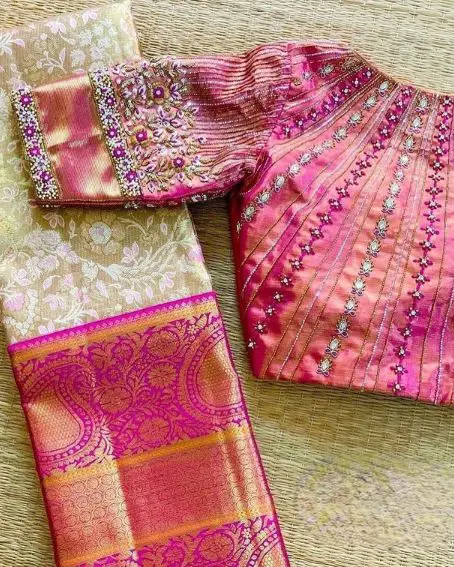 This pink thread work blouse is a perfect match for a stylish bridal saree. Its multi-coloured and intricate thread work studded with stones has a wonderful beauty. This blouse is completely made with delicate work of threads.
[ Read: 14 Gorgeous Pics of sri lankan wedding saree blouse designs ]
4. Round Neck Red With Gold Border Stonework Blouse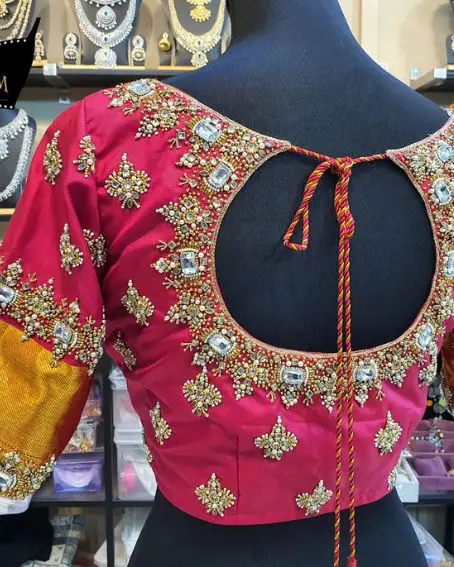 Some people call the round neck blouse a very old-fashioned design. There is no doubt that this is the choice of most people though. The back cut and sleeve gold borders of the blouse are made with beads and stonework.
[ Read: Gorgeous Pics of Red Saree Blouse Designs ]
5. Customized Bridal Blouse With Heart String And Bead On The Back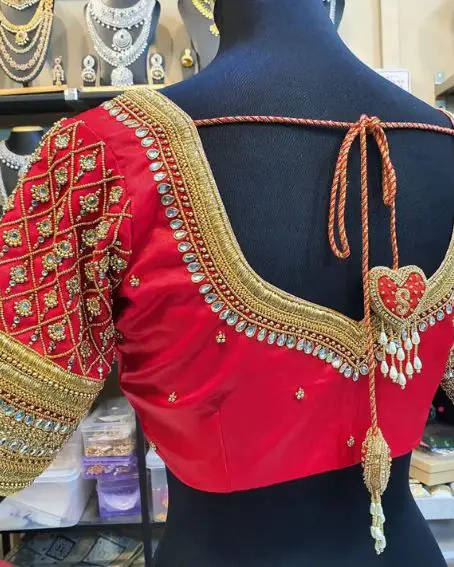 Beads look great when paired with sequins and lace. Studded Kundan stones add beauty to this blouse. This highly embellished blouse features a beautiful heart-shaped string with intricate work to fascinate everyone.
[ Read: 40 Latest Back Neck Blouse Designs ]
6. Unijewels Kalyanam Bridal Blouse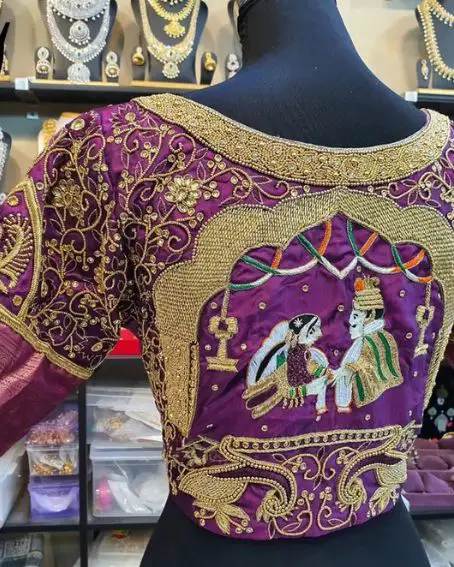 Unijewels Bridal Blouse brings together modern styling and traditional elements. These intricate carvings are mesmerizing to all who see them. This blouse will give you a unique charm when worn with a wedding saree.
7. Pink With Gold Thread Work Blouse Design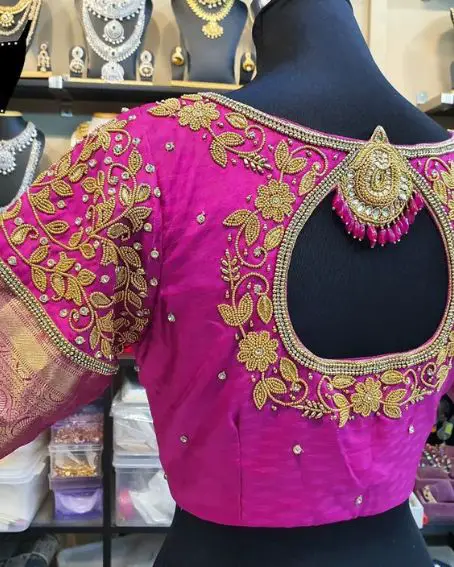 This beautiful pink blouse design is perfect for all brides. The exquisite stone work and gold thread work on this blouse makes it extraordinary and beautiful. This exclusive-looking blouse features beautiful bead work on the neckline and back cut.
8. Pink Elbow Sleeve Custom Made Bridal Blouse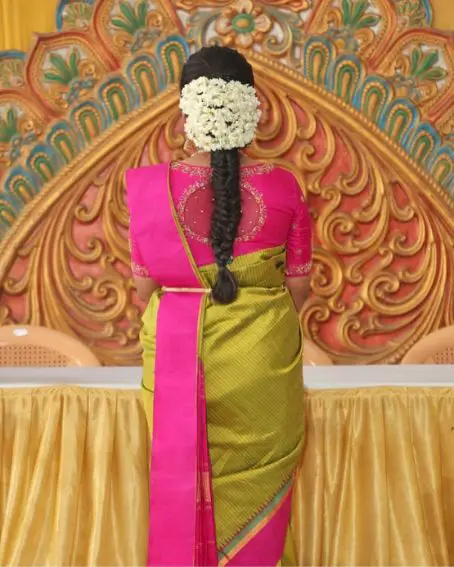 The pink elbow sleeve customized wedding blouse comes with delicate gold thread work on the sleeves and back. This blouse is very popular among South Indian brides. It looks traditional, simple and a favorite of all.
9. Heavy Work Pink Design Work With Silver Jhumka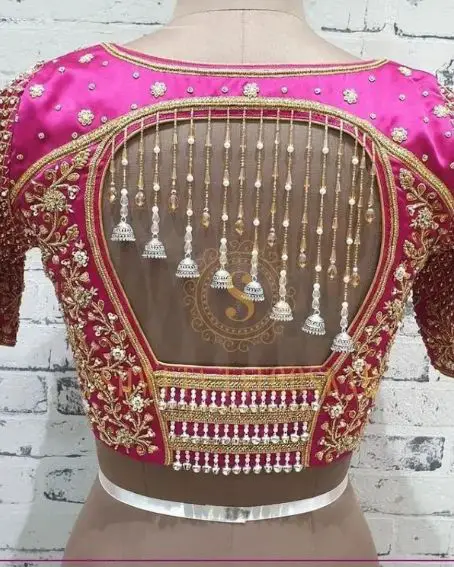 If you are looking for a modern blouse for your wedding with jhumka and intricate work of stones then this blouse is for you. This pink designer blouse looks very expensive as well as luxurious and looks amazing on others. This blouse has a beautiful silver jhumka hanging at the back, beating other blouses in beauty.
10. Leave Neckline Designer Pattu Saree Blouse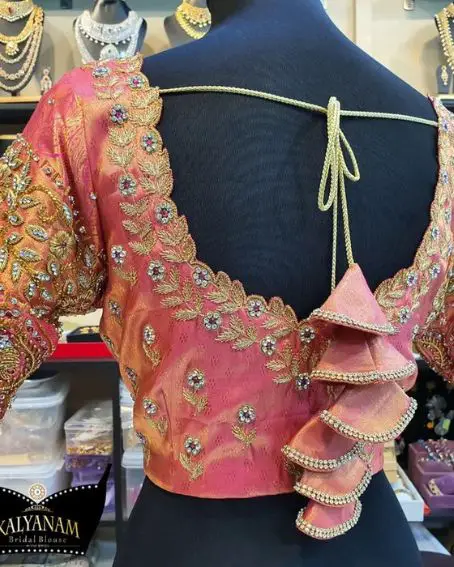 This neckline designer silk saree blouse's elegant design is attractive. It goes well with the wedding saree. Wear it at weddings with this stunning look. The back neckline of this floral embroidered blouse is very elegant.
11. Double Border Purple With Gold Designer Customized Bridal Blouse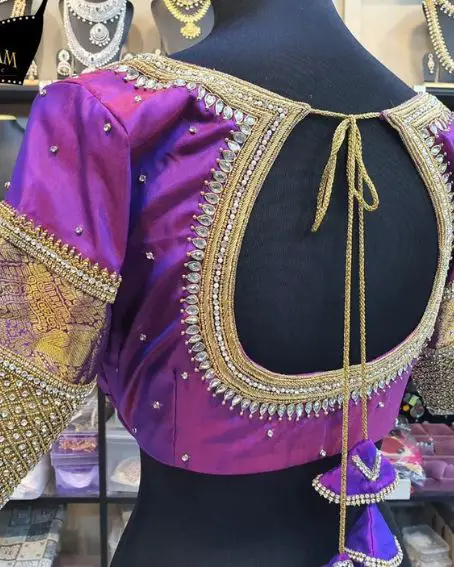 This gold designer customized bridal blouse comes in double borders. Intricate beads and stones work comes in cut design at the back of the blouse and borders above the elbows of the blouse. Golden borders come above the elbow's intricate bead work of the blouse.
12. Oval Cut Boat Neck Designer Blouse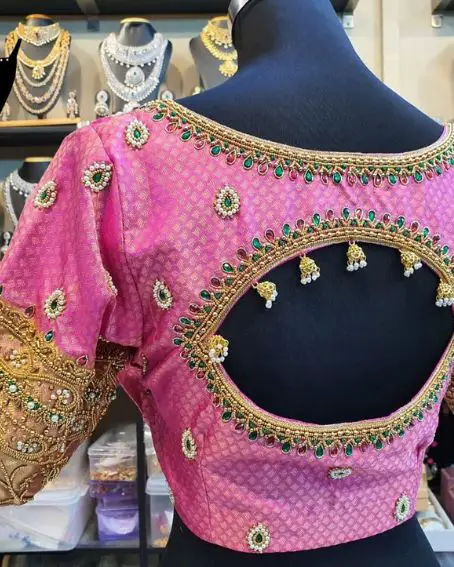 This oval cut boat neck designer blouse is embellished with golden beads. These gold bead embellishments look extraordinary, beautiful on oval cuts and elbow borders. Jhumka on the oval cut top of the blouse take the beauty of the blouse to another dimension.
13. Full White With Blue Kundan Stoned Designer Blouse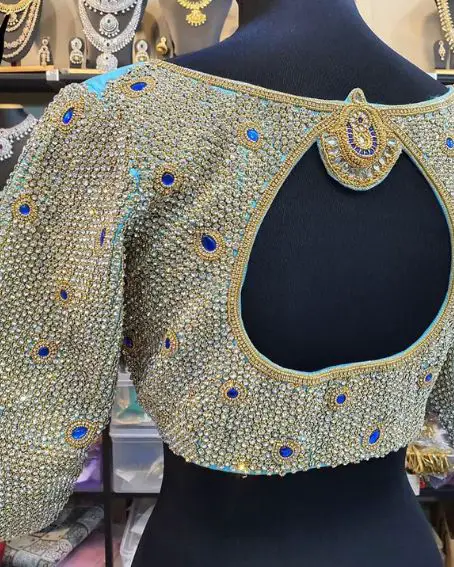 Kundan stone work gives this blouse a rich look. Kundan stone design originates from Rajasthan. Generally, these stones have a dull colored finish. Adding these dull colored Kundan stones double the charm of the blouse when studded on a designer blouse or a shiny silk blouse.
14. Royal Blue Full Sleeve Pattu Saree Blouse Design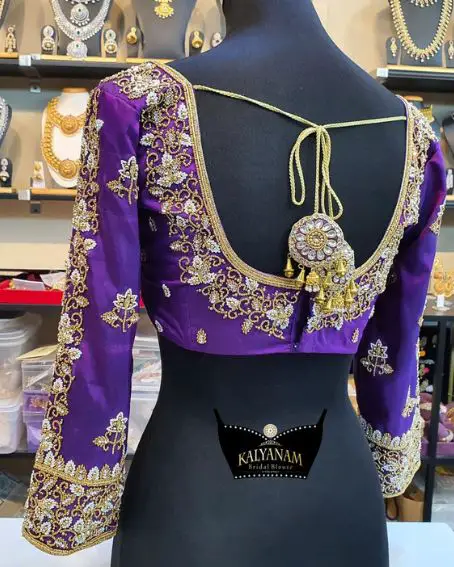 Do you want others to find your looks amazing? If yes. There is no doubt that this blouse will fulfill your expectations. Royal Blue Full Sleeve Silk Saree Designer Blouse with Deep Neck Back String. The sleeves and back of the blouse have delicate stones and fine embroidery work. This blouse will make you look like a beautiful princess when you wear it.
15. Ash Border Lace Work Designer Blouse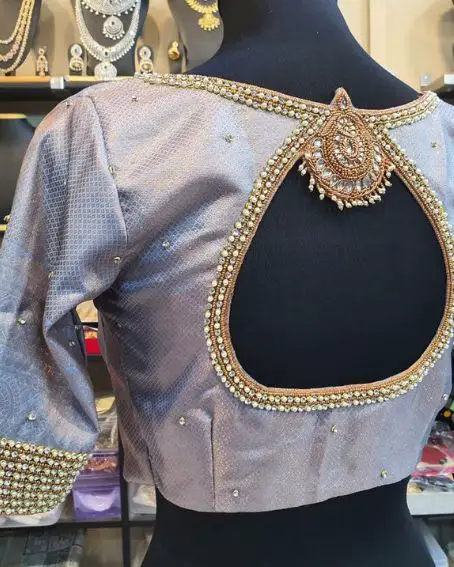 This beautiful ash border lace work blouse design is perfect choice for any special occasion especially weddings. The rich stone studded work and the neck design make this blouse very pretty. This ash border lace work gives a trendy look to the blouse.
16. Green Sleeve With Pearl Chain Back Neck Designer Blouse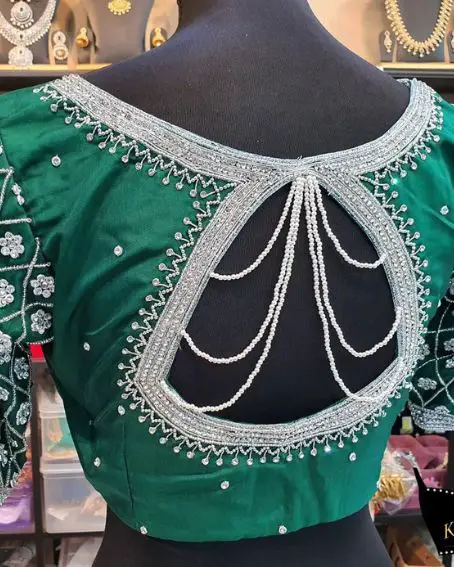 Fashionable, simple and stylish, this green blouse has a pearl touch chain design on the back. Wear this blouse with a silk saree for a pearly glow. This blouse gives you the adorable look you want and makes you glow.
17. Green With Red Patch Work Designer Blouse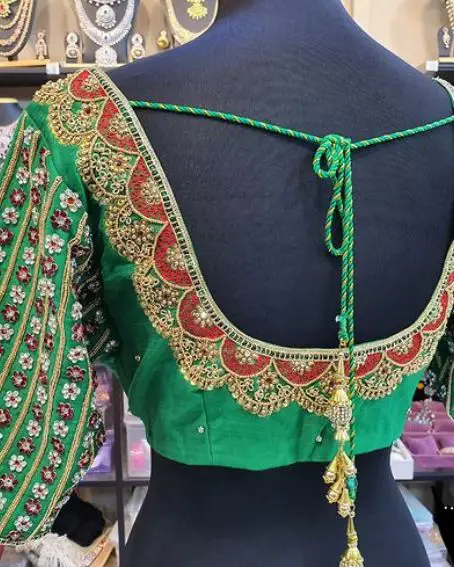 This type of patch work designer blouses with silk sarees gives a rich and royal look. Generally, blouse designers complement it with patchwork designs to give an attractive design to a blouse. Featuring kundan, zardosi and other intricate designs, this Green with red patch work blouse will be a perfect choice to wear at your family functions and festivals.
18. Pearl Chain Simple Bridal Pattu Saree Blouse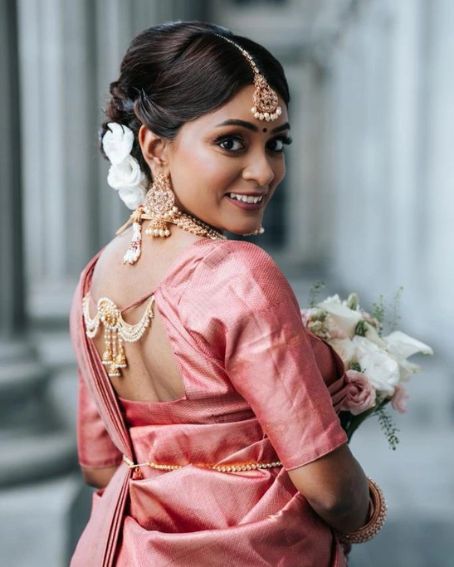 This pearl chain simple bridal silk blouse is the perfect choice for brides who love blouses that look simple and beautiful. The pearls embellished on it give it an elegant design that everyone loves. Beautiful pearl work blouse with silk saree will give you attractive look.
19. Long Sleeve Puff Back Knot Hanging Designer Blouse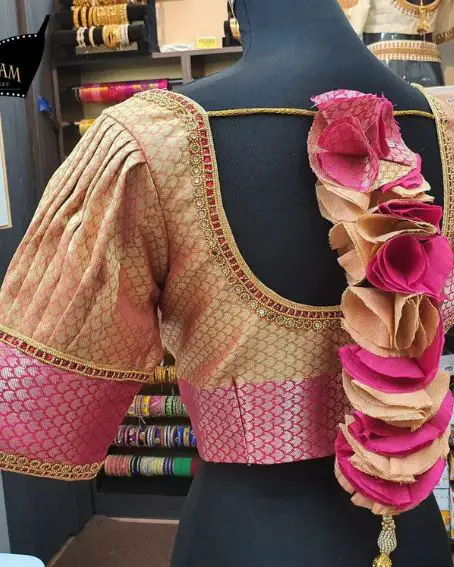 This blouse is a perfect example of a blouse design that blends traditional with modern. A bunch of fabric flowers hanging design with this beautiful back knot adds more beauty to the blouse. This beautiful blouse gives you a unique and beautiful look while wearing it in a gathering.
20. Red With Orange Border Patch Work Bridal Blouse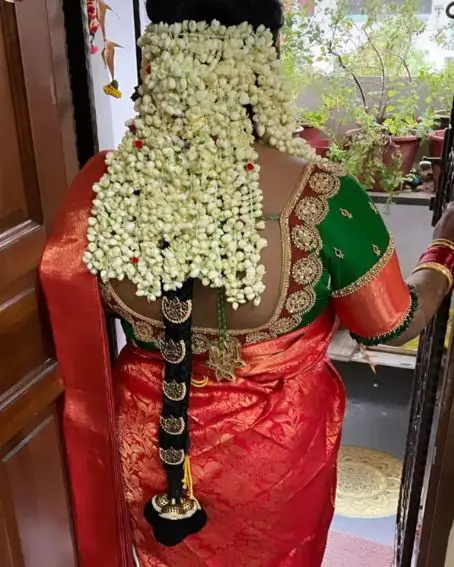 This silk wedding blouse with patch work gives you a glamorous look. The patchwork done on it will attract all eyes towards you. When you wear this blouse and go to the wedding hall it will give you a happy feeling like never before.
You Might Also Like: