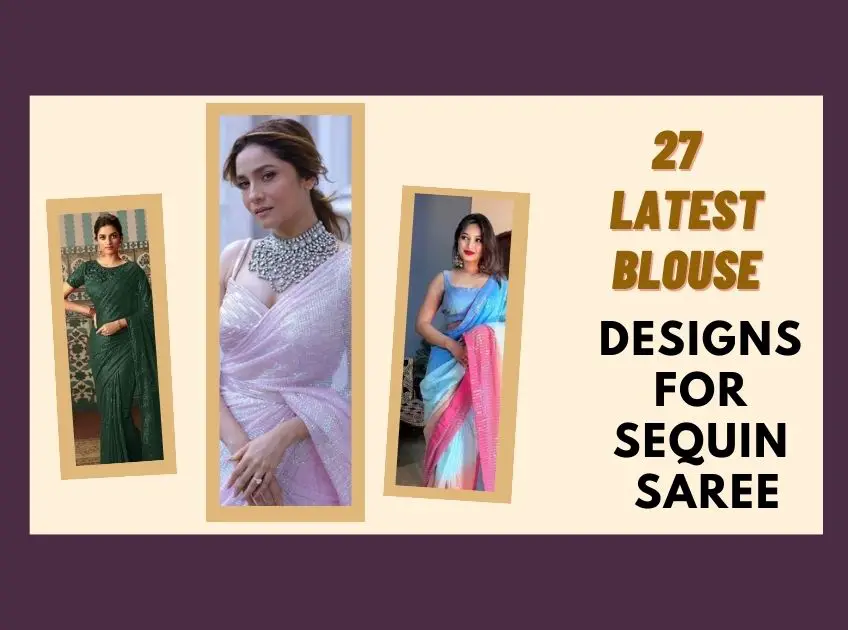 A sequin saree is a special kind of saree that's made extra beautiful by adding small, shiny discs called sequins to the fabric. These sequins are carefully stitched onto the saree to make it sparkle and look stunning. Sequin sarees are known for their dazzling and glamorous appearance, making them a popular choice for special occasions and events. When it comes to selecting the right blouse style to pair with a sequin saree, you'll want to balance the saree's ornate and eye-catching nature with a blouse that complements it well
27 Latest Blouse Designs For Sequin Saree
1. Coffee Color Sequin Saree with Velvet Blouse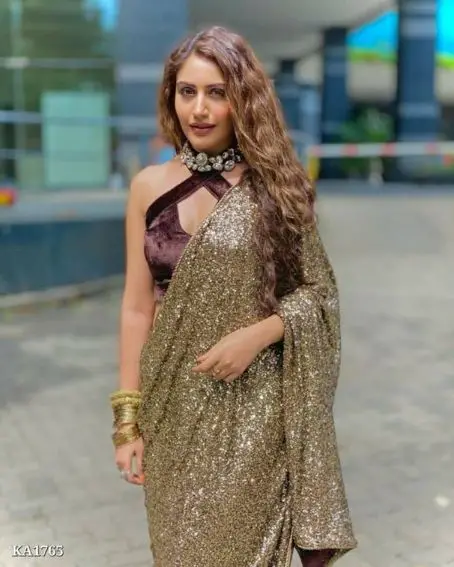 A stunning combination of coffee-colored sequin saree paired with a luxurious velvet blouse, ideal for glamorous evening affairs, adding sophistication and shimmer to the look of women and young girls.
2. Designer Exclusive New Heavy Butterfly Net Sequence Embroidery Work Saree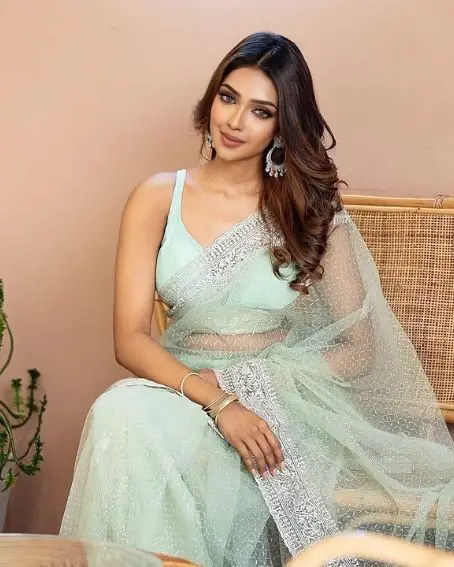 Designed with precision, heavy butterfly net sequin sarees with intricate sequence embroidery are highly coveted by women and teenage girls. These sarees are a true masterpiece, perfect for special occasions where you want to make a statement and showcase your impeccable style.
3. Jannat Zubair Mehendi Green Beautiful Sequin Saree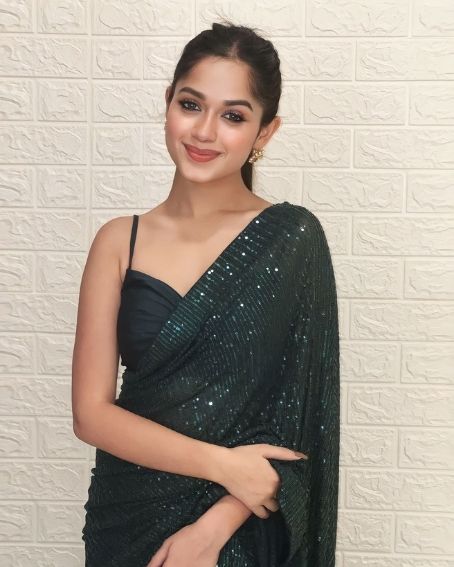 Inspired by Jannat Zubair's signature style, the mesmerizing mehendi green sequin saree is a popular choice among young girls and women alike. It radiates youthful elegance and is perfect for events where you want to exude charm and grace.
4. Latest Silver Color Sequin Work Saree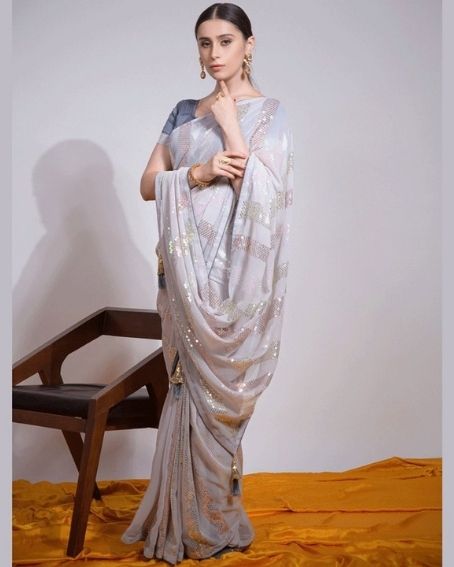 The latest silver sequin work sarees have become a fashion sensation among women and young girls who seek to stay on-trend. These sarees are a chic choice, offering a modern and glamorous look, making them perfect for various gatherings and celebrations.
5. Cream Color Exclusive Designer Sequin Saree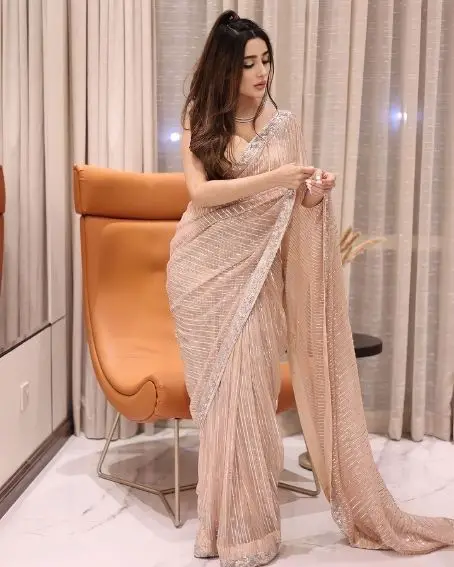 Cream-colored sequin sarees with exclusive designer elements are adored by women and young girls alike. They bring out the inner sophistication and grace in every woman, making them an excellent choice for those who appreciate a refined and elegant appearance.
6. Violet Sequin Saree with Velvet Blouse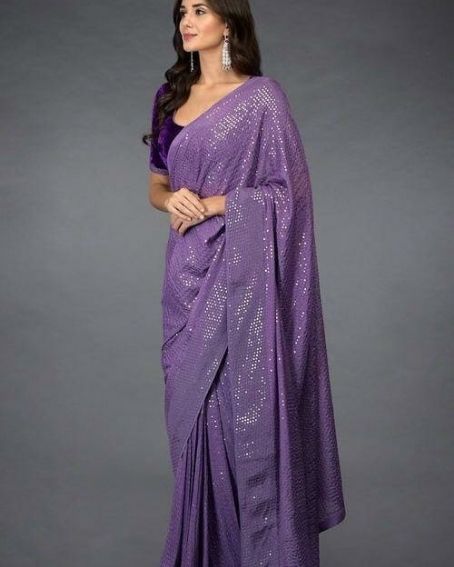 An elegant combination of violet sequin saree and a velvet blouse that caters to women and young girls, blending opulence and grace effortlessly.
7. Gray Designer Sequence Work Saree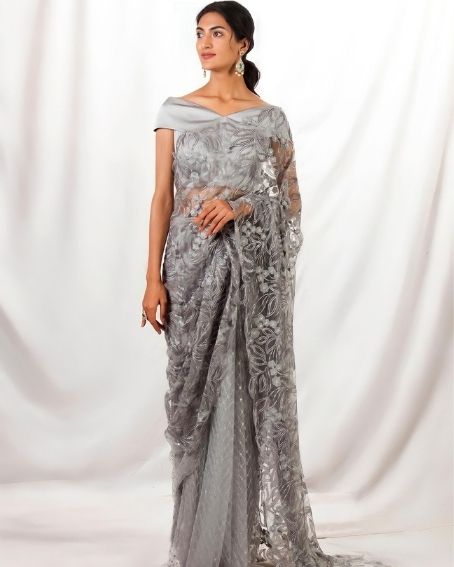 Gray designer sequence work sarees are contemporary favorites among women and teenage girls, offering a perfect blend of style and comfort for various occasions.
8. Heavy Embroidery Sequence Work Blouse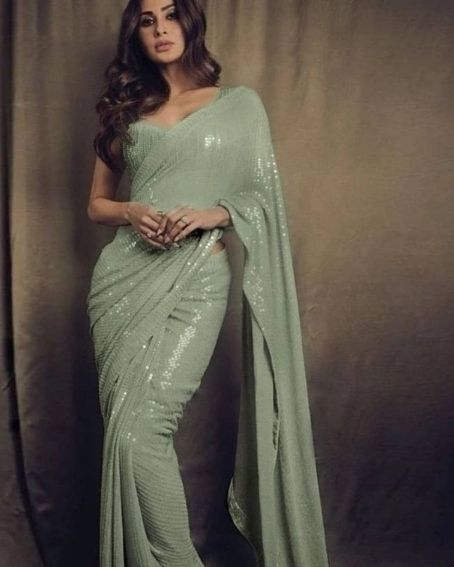 Explore the intricate beauty of heavy embroidery sequence work blouses that enhance the allure of sequin sarees, appreciated by women and young girls for their exquisite craftsmanship.
9. Velvet with Sequence Work with Beautiful Allover Sequence Work on Saree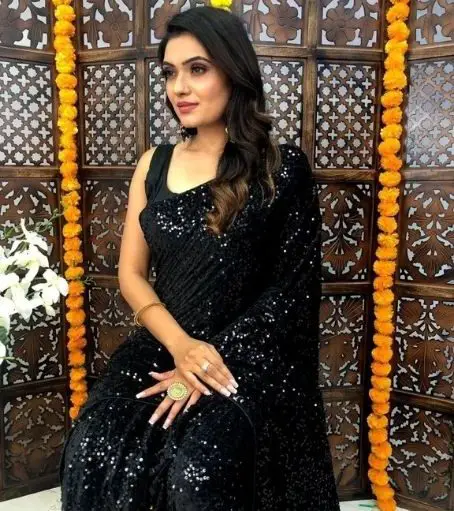 Indulge in the luxurious texture of velvet combined with allover sequence work on sarees, a regal choice that resonates with women and teenage girls looking for a complete ensemble.
10. Gold Color Sequence Saree with Blouse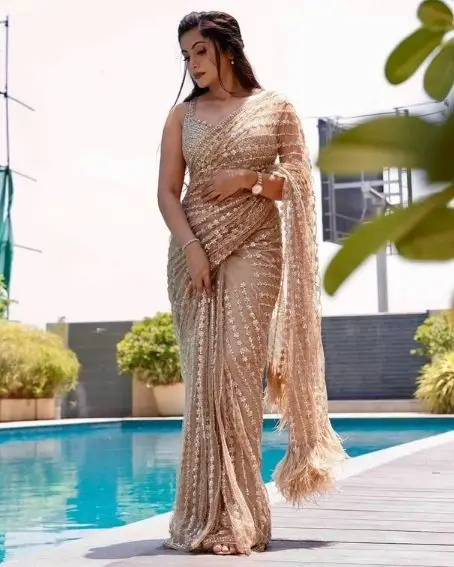 Shining like gold, this combination of a gold-colored sequin saree with a matching blouse is a timeless choice cherished by women and young girls. Se trend and shine bright at every occasion.
11. Baby Pink Sequin Saree with Blouse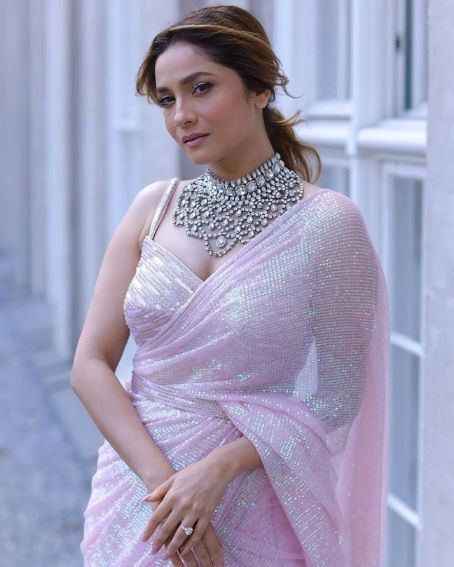 Embrace the soft elegance of baby pink sequin sarees with matching blouses, a delightful choice cherished by women, young girls, and even teenage girls for its charming appeal. It's perfect for events where a touch of femininity is desired.
12. Bollywood BlockBuster Sequins Design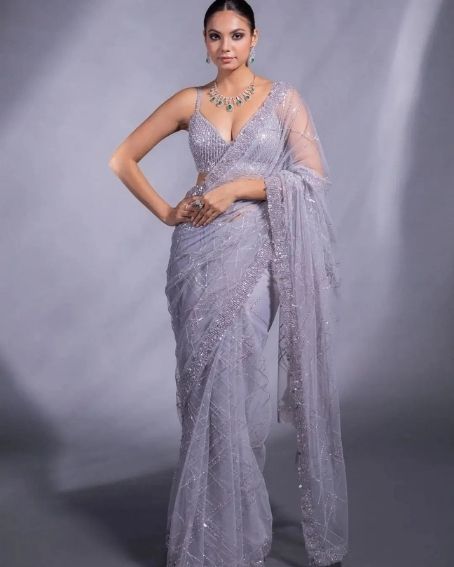 Channel your inner Bollywood diva with blockbuster-inspired sequin saree blouses that exude star-studded glamor. These designs are popular among women and young girls who aspire to capture the essence of cinematic fashion and make a statement at special occasions.
13. Black Sequins Saree Blouse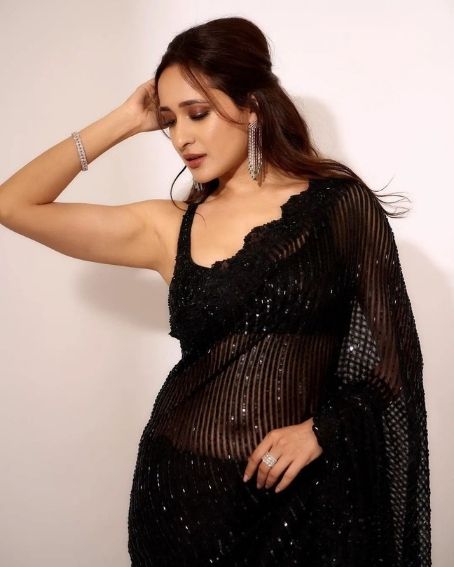 Black sequin saree blouses exude timeless elegance, making them a versatile choice that appeals to women, young girls, and teenage girls for a wide range of occasions. The classic black hue complements various saree colors and styles.
14. Blouse Viscose Velvet Sequins Work Blouse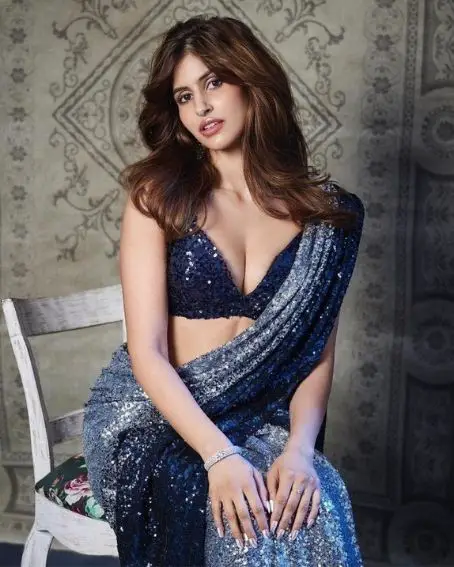 Experience the comfort and opulence of viscose velvet sequin work blouses, a perfect blend of style and comfort that caters to the preferences of women, young girls, and even teenage girls. These blouses offer a touch of luxury to any ensemble.
15. Gray and Black Combinated Dualtone Chiffon Sequins Saree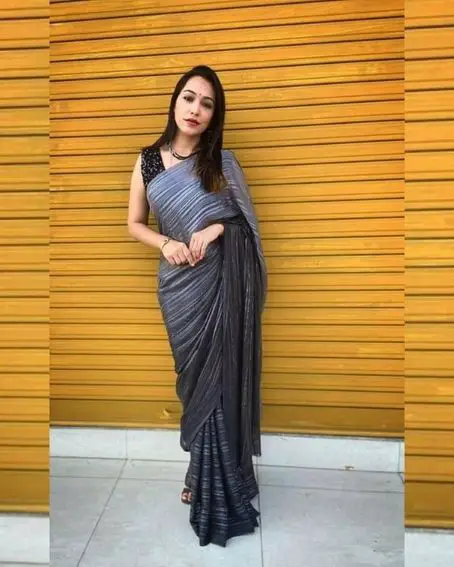 Option for the sophistication of dual-tone chiffon sequin sarees in gray and black, an exquisite choice loved by women and young girls alike. This design seamlessly combines elegance and contemporary style, making it suitable for various events.
16. Double Color Combination Sequins Saree Blouse Design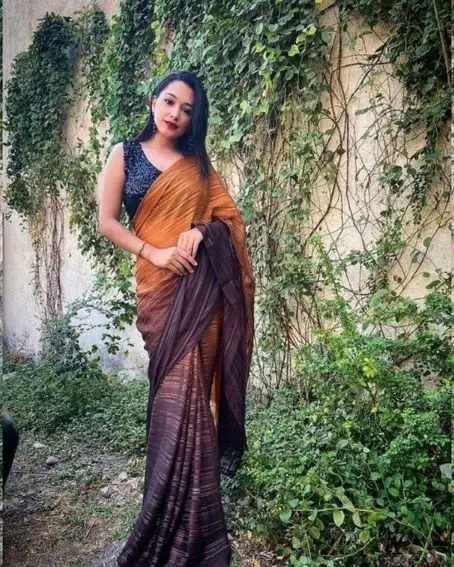 Experiment with double-color sequin saree blouse designs for a unique and eye-catching look, appealing to the fashion sensibilities of women, young girls, and teenage girls alike. These designs allow for personalization and creativity in styling.
17. Latest Palak Sidhwani Sequin Brown Saree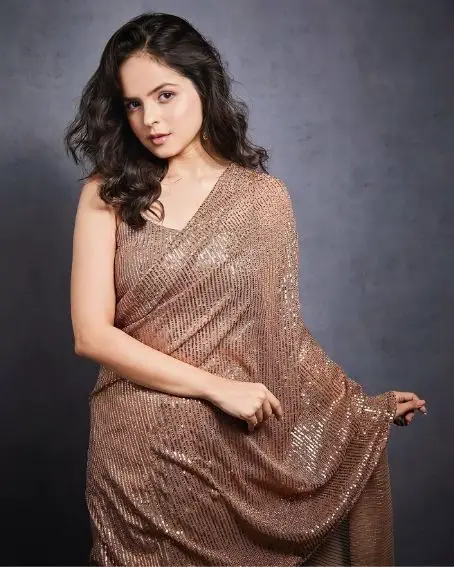 Get inspired by Palak Sidhwani's style with a trendy sequin brown saree, a fashion-forward choice suitable for women, young girls, and even teenage girls who aim to embrace contemporary trends and make a statement at special occasions.
18. Black and White Sequins Saree Blouse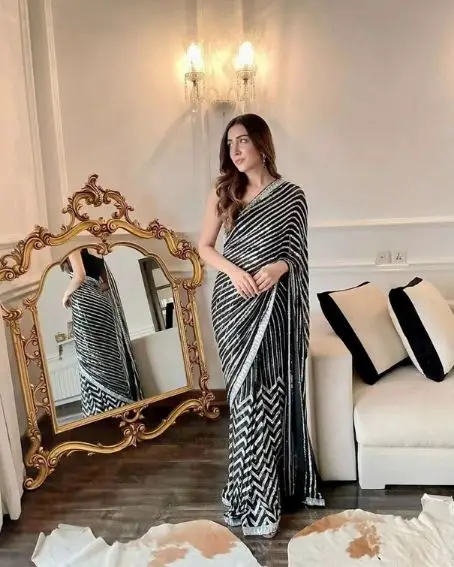 Embrace the classic combination of black and white in sequin saree blouses, capturing timeless elegance and simplicity. This versatile design is favored by women, young girls, and even teenage girls for its understated yet sophisticated appeal.
19. Light Gray Sequins Saree Blouse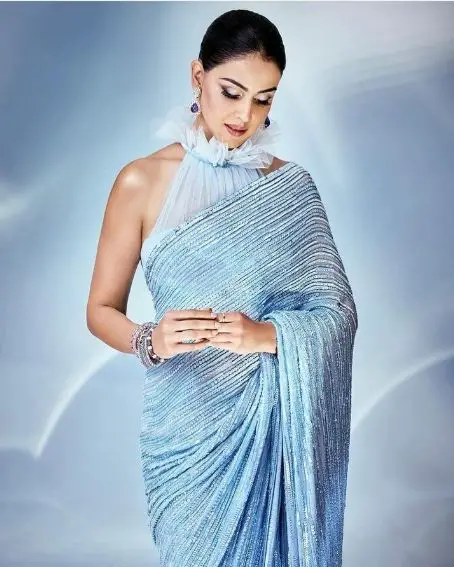 Option for understated sophistication with light gray sequin saree blouses, offering a minimalist yet chic look that resonates with women, young girls, and even teenage girls who appreciate subtle elegance and charm in their attire.
20. Black Color Sequins Saree Blouse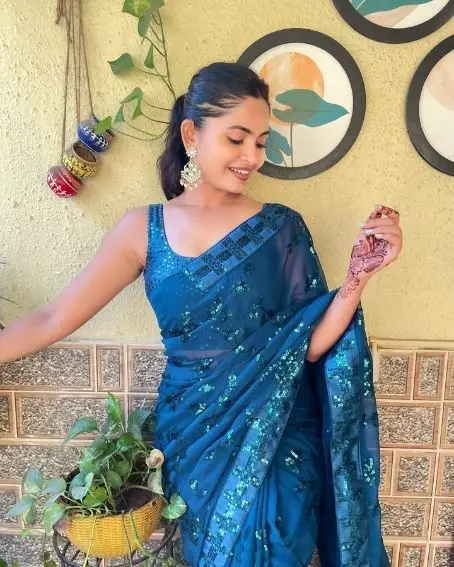 A black sequined saree blouse exudes elegance and glamor, making it a perfect choice for a special evening occasion. The sparkling sequins add a touch of sophistication to this classic black attire, ensuring you shine in style.
21. Blue and Pink Sequins Saree Blouse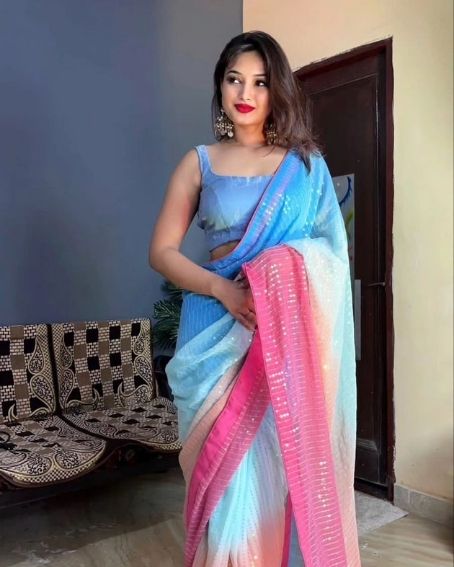 Infuse a pop of color with blue and pink sequin saree blouses, adding vibrancy and charm to your look. This design caters to women, young girls, and even teenage girls who want to showcase their vibrant and youthful personality.
22. Georgette Green Saree With Heavy Sequined Blouse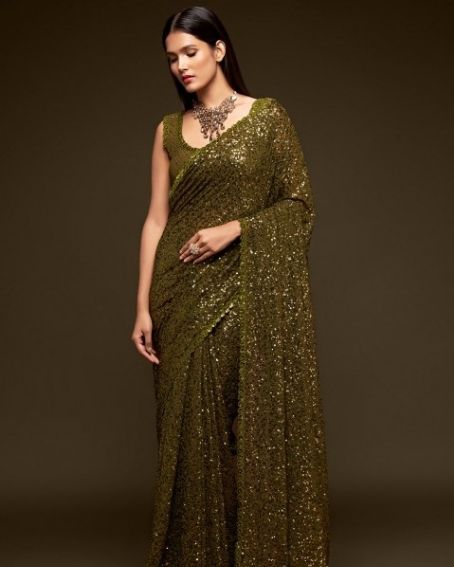 Elevate your style with a georgette green saree accompanied by a heavy sequined blouse, capturing a blend of grace and glamor that appeals to women, young girls, and even teenage girls seeking opulent fashion for special occasions.
23. Red Sequins Sari Party Wear Glitter Shimmer Festive Designer Saree Blouse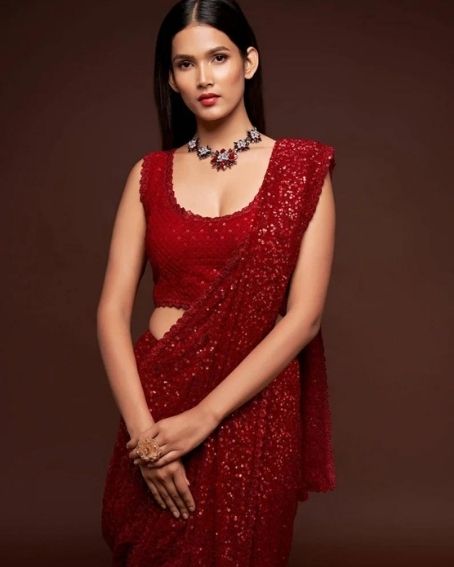 Embrace the festive spirit with a red sequin saree and a designer blouse, ideal for party wear with a shimmering touch that makes a style statement. This ensemble is loved by women, young girls, and even teenage girls for its festive charm.
24. Saree Blouse Online India Dark Blue Classy New Design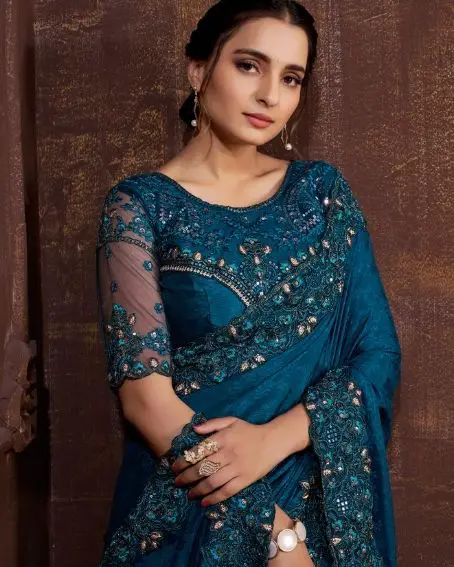 Explore the latest dark blue sequin saree blouse designs available online in India for a classy and fresh look. This convenient shopping option caters to the preferences of women, young girls, and even teenage girls who seek hassle-free access to trendy designs.
25. Dark Green Georgette Sequins Saree Party Wear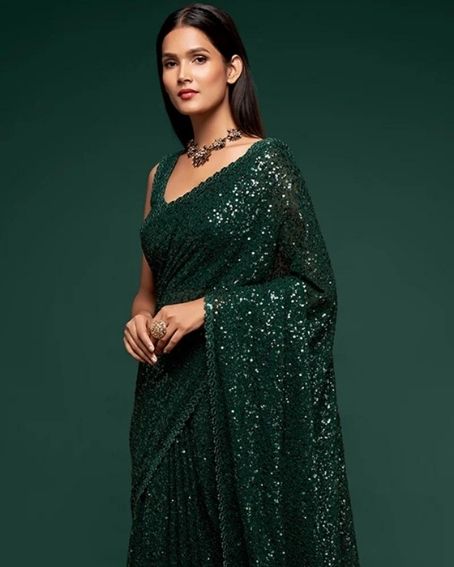 Elevate your party look with this exquisite dark green georgette saree adorned with shimmering sequins, a perfect choice for a sophisticated and glamorous appearance.
26. Buy Stylish Sequins Georgette Saree With Designer Blouse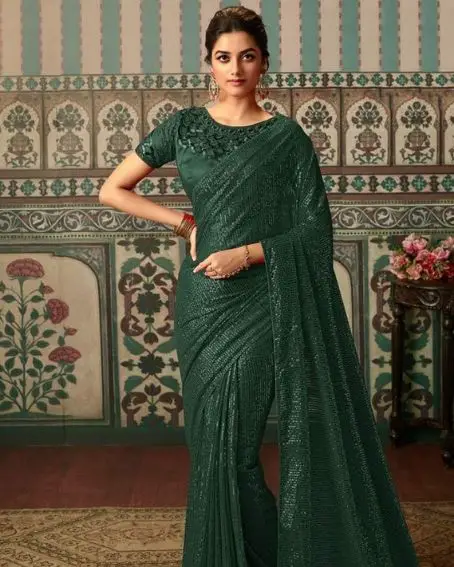 Shop for a stylish georgette saree featuring dazzling sequins, complete with a designer blouse, for a fashionable and elegant ensemble that's perfect for celebrations.
27. Navy Blue Thread & Multi Sequins Work Party Wear Saree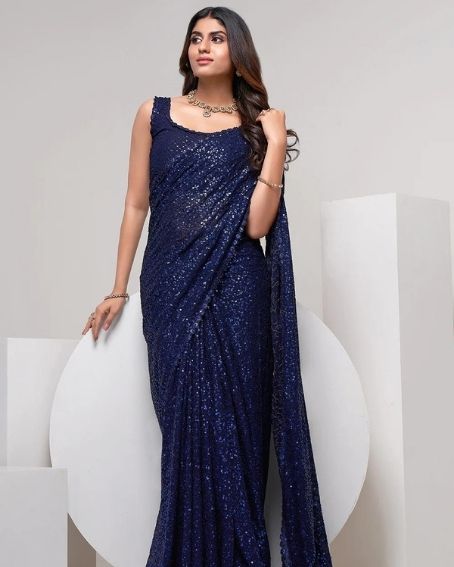 Embrace the charm of navy blue adorned with intricate thread and multi-sequin work, making this party wear saree a striking choice for those who appreciate exquisite craftsmanship and sophistication.
What Are The Features of Blouse Designs for Sequin Saree ?
Sequin Embellishments: These blouses are bedecked with intricate sequin work that adds a touch of shimmer and sophistication to your attire.
Versatile Neck Designs: From classic round necks to trendy halter necks, these blouses offer a plethora of neckline options to suit your style.
Exquisite Embroidery: Many designs feature delicate embroidery that complements the sequins, enhancing the overall look.
Contrasting Elements: These blouses often incorporate contrasting elements like velvet, net, or chiffon, creating a stunning visual contrast.
Custom Stitching: Tailored to perfection, sequin saree blouses offer the perfect fit for women and teenage girls alike.
What AreThe Fabrics and Colors Used to Make Sequin Saree Blouses?
Fabric: Velvet, net, chiffon, georgette, and silk are commonly used to craft these blouses, ensuring comfort and elegance.
Colors: Blouses for sequin sarees come in a spectrum of hues, ranging from classic blacks and reds to trendy pastels and metallics.
Designs for Brides
Bridal Elegance: Sequin saree blouses are a favorite choice for brides who want to radiate glamor on their special day.
What Are The Occasions Preferable to Wear the Sequin Saree Blouses?
These blouses are versatile and can be worn on various occasions:
Weddings: Perfect for brides and wedding attendees looking to make a statement.
Parties: Add a touch of glam to your party attire with sequin saree blouses.
Festivals: Celebrate with a sparkling ethnic look during festive seasons.
Special Events: From engagements to anniversaries, these blouses elevate your style.
Blouse designs for sequin sarees offer a captivating blend of tradition and trend, making them an ideal choice for women, young girls, and brides alike. With their intricate sequin work, versatile fabrics, and a spectrum of colors, these blouses have become the epitome of timeless elegance. Whether you're attending a wedding, party, or festival, these blouses will help you radiate a shimmering, chic charm that sets you apart from the crowd. So, embrace the sequin saree blouse.
The sequin saree blouse designs offer a dazzling array of options for women, young girls, and even teenage girls to elevate their style and make a statement at various occasions. These designs seamlessly blend opulence with grace, capturing the essence of timeless elegance and contemporary fashion.
Related Articles