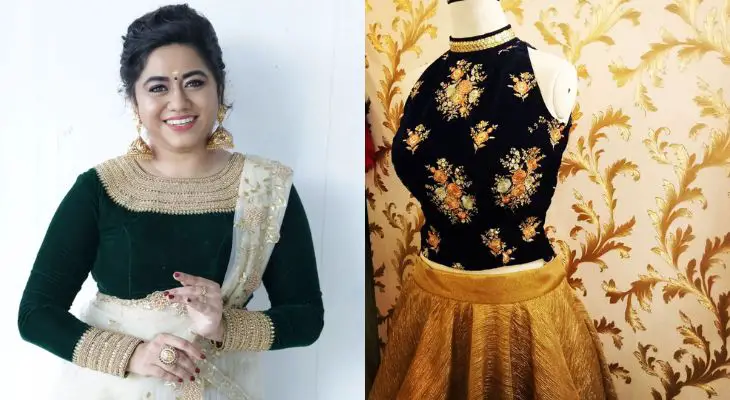 In a world of blouse fashion, velvet blouses stays on top of the trend for many centuries. Velvet blouses look so rich and fashionable. The softness of this velvet fabric provides a great comfortability and stylish appearance. Since velvet has a rich and luxurious look, it is a great option for weddings and festive wear. If you are looking to style your net saree or lehenga with a fancy blouse, then velvet blouse designs can be the ultimate choice. Here are the gorgeous pics of velvet blouse designs that will inspire you to come up with your preferable trendy designs.
25 Gorgeous Pics of Velvet Blouse Designs
1. High Neck Sleeveless Velvet Blouse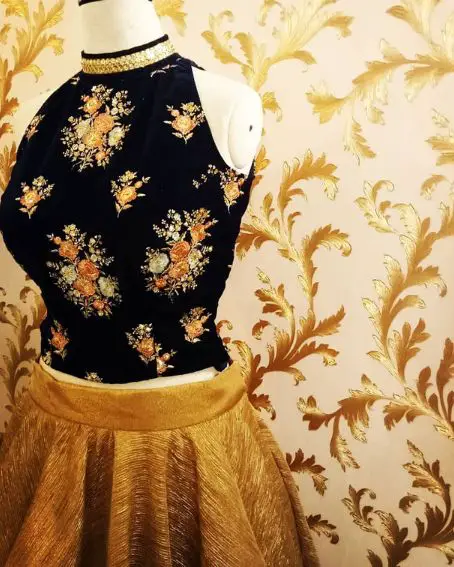 This beautiful velvet blouse is gorgeous looking with its high neck sleeveless pattern. It provides you with a fashionable and stylish appearance when paired with a saree.
2. Deep U Shape Blouse With Transparent Sleeves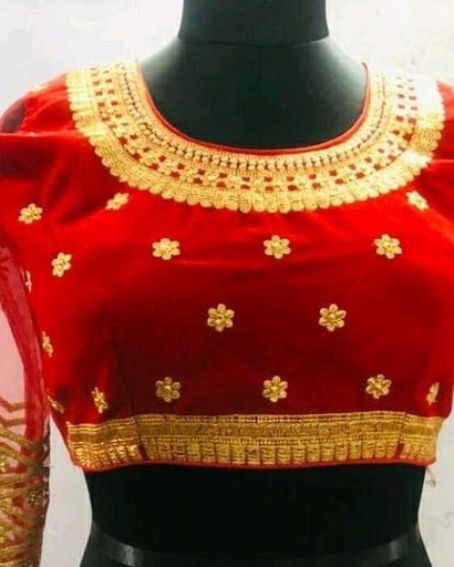 This velvet blouse with transparent sleeves goes smooth with any saree type or lehenga. It gives fantastic look for all age groups women. You will look more beautiful when you wear this velvet blouse.
3. Netted Sleeves On Cold Shoulder Velvet Blouse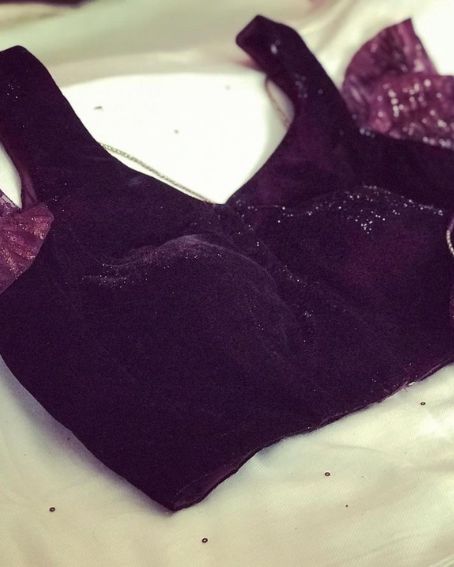 This netted sleeves on cold shoulder velvet blouse in wine color never fails to amaze you. It ideally matches with pastel-colored sarees. This shimmer model makes you look more fashionable and modernistic.
4. Plain Full Sleeve Velvet Blouse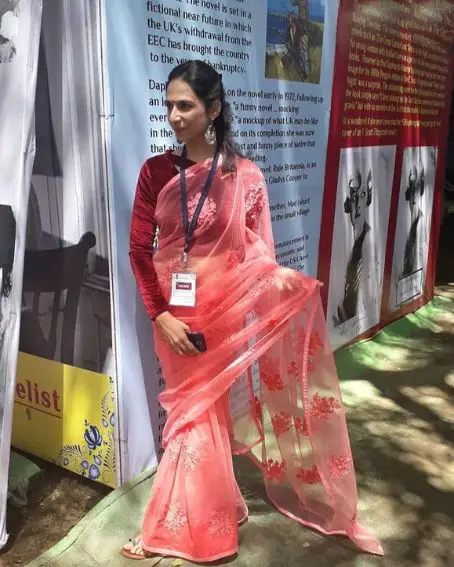 The Velvet fabric itself looks royal and stunning. The plain full-sleeve velvet blouse when paired with a saree or lehenga will give you a rich and royal appearance. This plain velvet blouse can be matched with any designer saree or lehenga that will look fantastic.
5. Embroidery Velvet Full Sleeve Blouse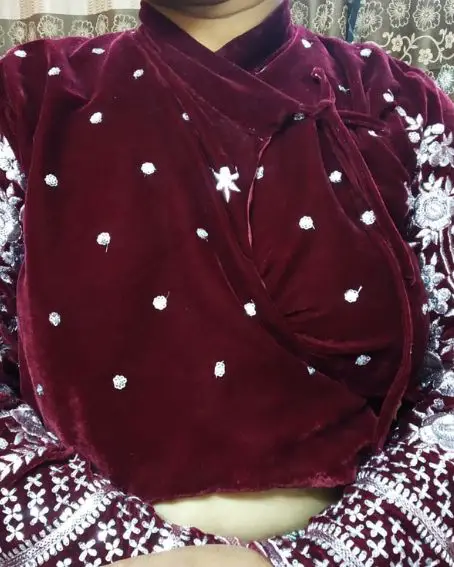 The embroidery work in velvet fabric looks grandeur and beautiful. It can be worn with any kind of saree that appears beautiful and fabulous. The silver color embroidery design in this maroon velvet blends well which looks amazing.
6. Maroon Color Worked Velvet Blouse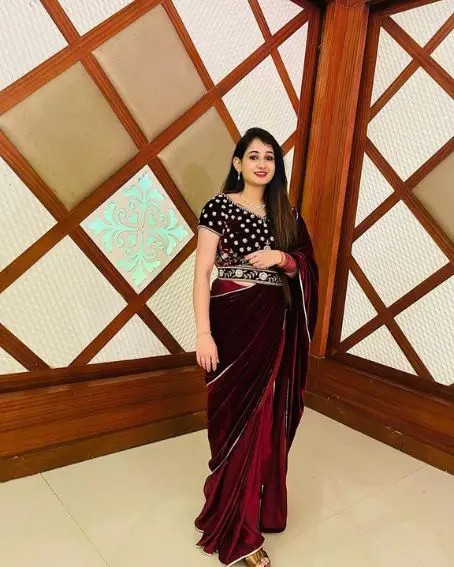 This stunning maroon color velvet blouse goes wonderful for any wedding function or event. The astonishing work on this maroon velvet blouse looks amazing as well as gorgeous.
7. Long Sleeved Velvet Blouse With Boat Neck And Embroidery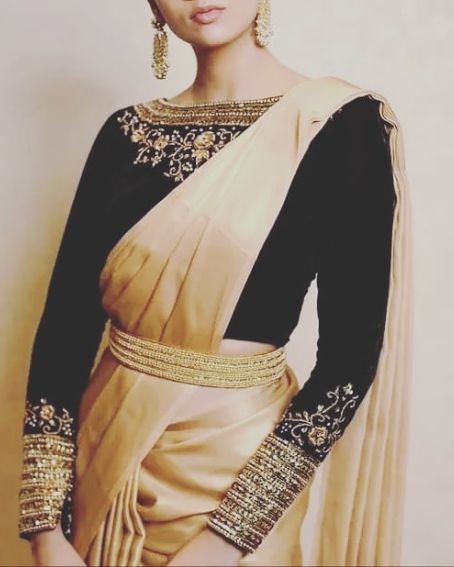 If you want to have a trendy fashionable look with the velvet blouse, then this long-sleeved velvet blouse with boat neck and embroidery is the best pick. It gives you that stylish and elegant look as well. This design fits perfectly with plain satin saree, georgette, and even with any type of sarees.
8. Puff Sleeve Elbow Length Velvet Blouse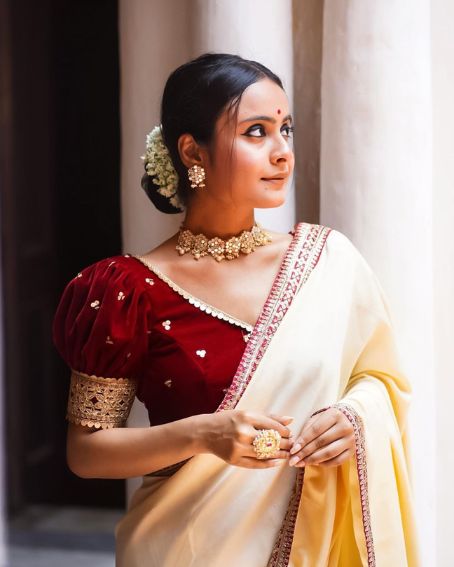 The puff sleeve elbow-length velvet blouse offers a traditional and as well as modernistic look. This perfectly goes well with a light work saree and suits broad-shouldered physique ladies that will look amazingly beautiful.
9. Heart Neck Velvet Blouse With Patch Work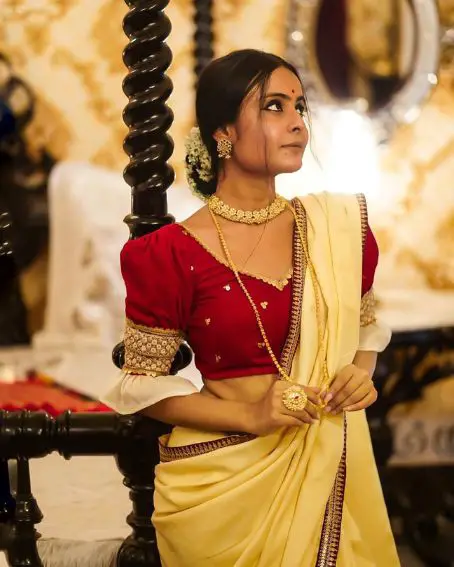 The velvet blouse comes in various designs with different works on it. This heart neck velvet blouse has a patchwork attached to its sleeves which looks uniquely different and mind-blowing. This beautifully crafted piece is elegant and fantastic.
10. Green Velvet Full Sleeve Saree Blouse Design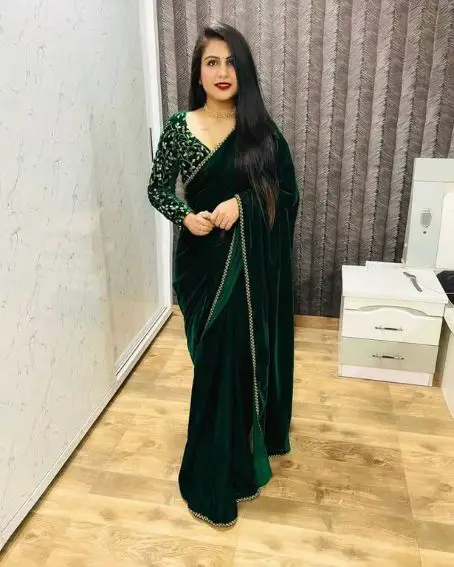 The green color velvet full sleeve saree blouse design is amazing that is suitable for women of all age groups. This can be worn for any day or night parties and events that will look absolutely gorgeous and mesmerizing.
11. Sleeveless Bra Style Velvet Blouse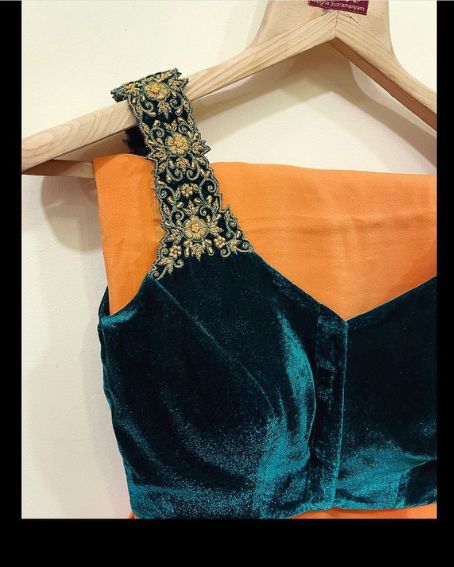 Like any other fabric, velvet can also be customized as you prefer, one such design is this glamorous bra-style velvet blouse. This offers you a sexy rich Bollywood look. This design best suits brides and can be paired with any kind of saree or lehenga.
12. Statement Ruffles Velvet Blouse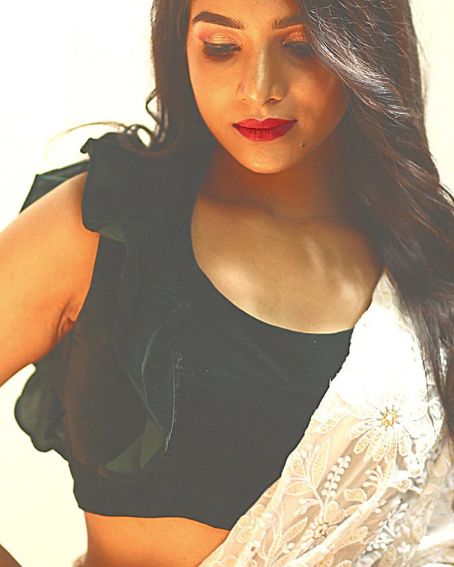 This elegant stylish looking velvet blouse in a bottle green color with statement ruffles fits well for those fashionable ladies. It looks modernistic as well as simple and can be worn with any kind of sarees.
13. Deep V Neck Heavy Embroidery Velvet Blouse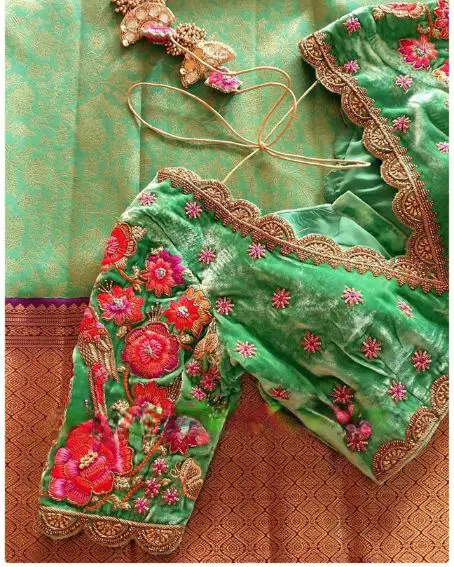 If you are a bride and looking for a beautiful as well as trendy blouse designs, then this velvet blouse is for you. The deep V-neck velvet blouse with amazing heavy embroidery work and pearl work is an absolute stunner that blends well with the silk saree.
14. Sheer Yoke Half Net And Half Velvet Blouse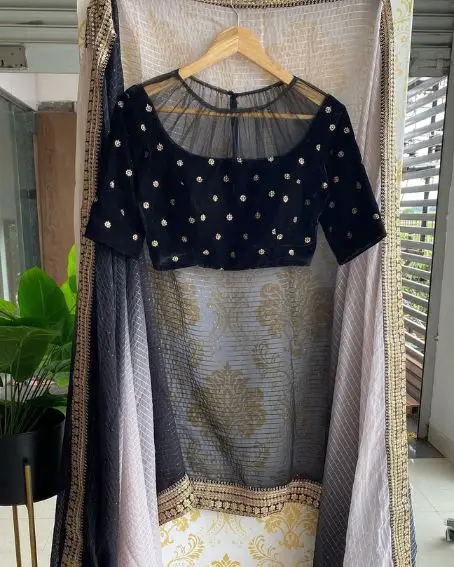 Black is the favorite go-to color for most ladies. The black velvet and black net is merged that look fabulous. This sheer yoke neck half net and half velvet blouse combination is something different that you have never seen which is a pretty trendsetter.
15. Full Sleeve Maharani Neck Velvet Blouse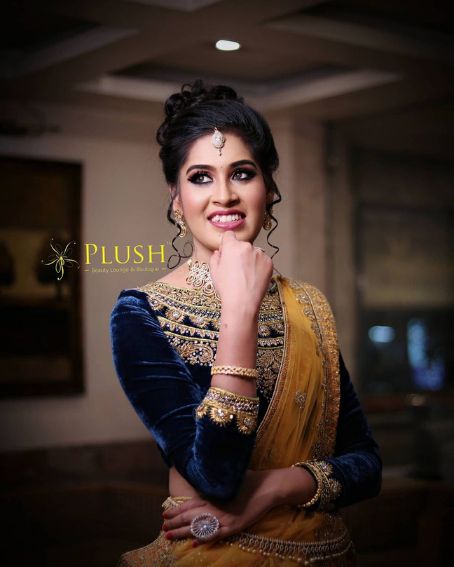 This heavy work Maharani neck embroidery design velvet blouse is grand looking and suitable for wedding events and ceremonies. Its lovely color and maharani patterned embroidery is mesmerizing and amazing.
16. Jewel Neck Sequins Velvet Blouse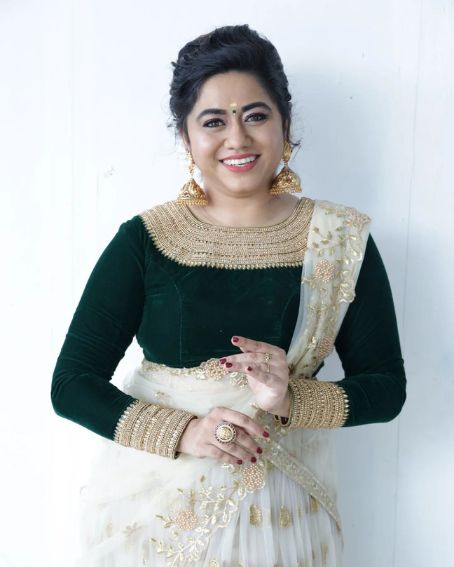 This beautiful sequin jewel neck velvet blouse is elegantly gorgeous. It not only suits saree but also goes well with lehenga and any charming skirts. It looks good on ladies of all age groups
17. Jacket Style Full Sleeve Velvet Blouse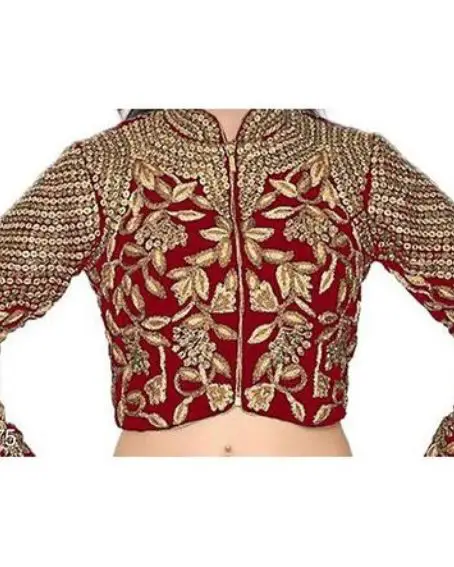 A jacket-style full-sleeve velvet blouse wows you with its heavy embroidery all over the blouse. This trendy Chinese collared velvet blouse looks at its best when worn with a plain saree of any type.
[ Read: Top 20 Half Collar Neck Blouse Designs ]
18. Boat Neck Velvet Blouse With Transparent Embroidery Full Sleeves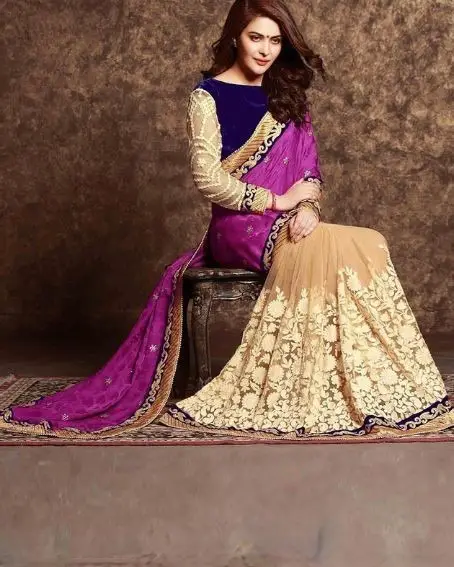 When you want to have something subtle yet fashionable, you can go for this boat neck velvet blouse. This blouse features beautiful embroideries on the transparent full sleeves.
19. High Neck Velvet Blouse With Semi Sleeves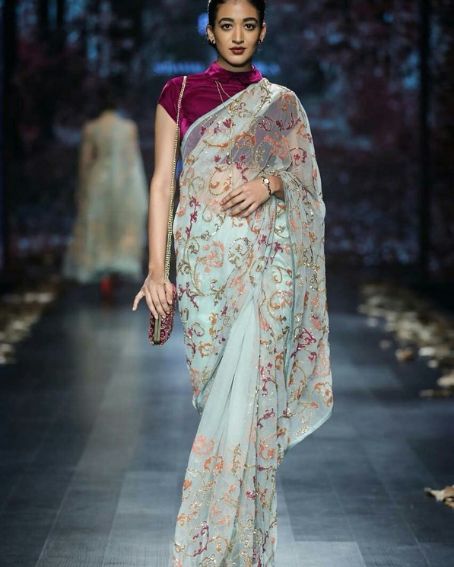 This plain blouse is all about elegance and simplicity. It can be matched with work sarees, Net Saree even with gorgeous floral sarees. This gives you that elegant look when you want to attend any simple events.
20. Backless Velvet Blouse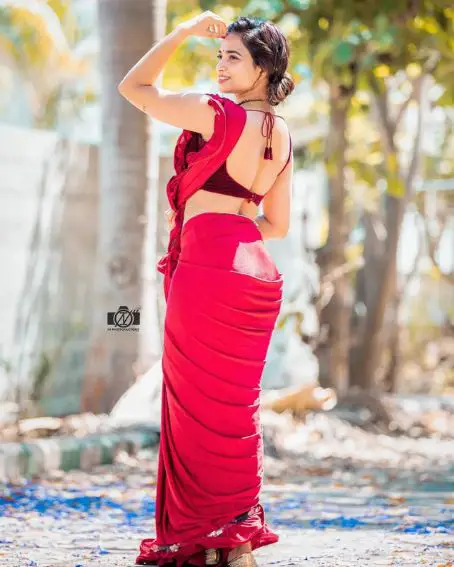 Pick this simple bra-style backless velvet blouse when you want to have a glamorous look. This amazingly shows off your sexy back. Women with slim physique can wear this which looks alluring and charming.
21. Heavy Work Bridal Velvet Blouse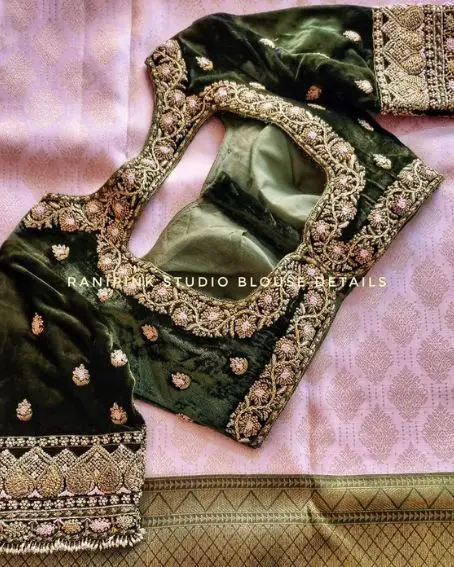 This blouse is perfect for brides and for those who are planning to attend weddings. The intricate designs and heavy aari work with the box-shaped back neck on this velvet blouse is marvelous.
22. Navy Blue Velvet Booti Blouse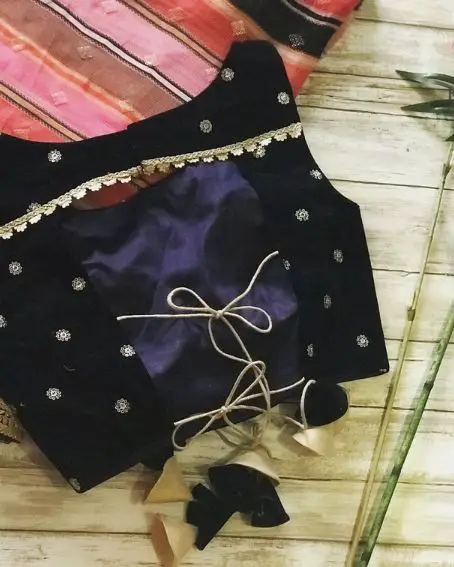 The booti velvet blouse in navy blue color is best suitable for day or night parties which you can pair with printed or solid color sarees most preferably contrast colors. The backless open is complemented with a bunch of cone tassels.
23. Sheer Yoke Back Keyhole Velvet Blouse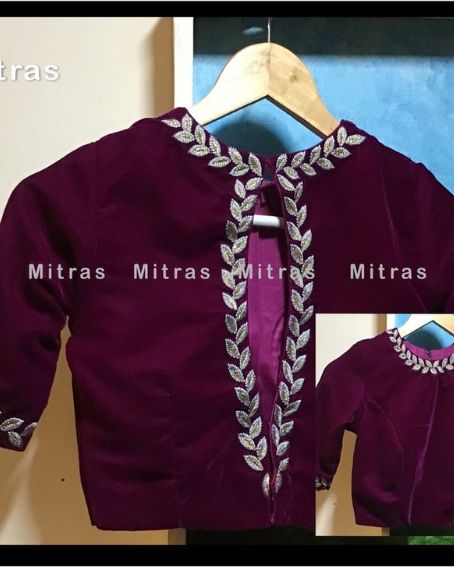 The elegant and rich-looking velvet blouse with a sheer yoke neck and the back keyhole is the trendiest pattern. The silver leaf embroidery design around the neck, sleeve ends, and back keyhole is lovely and attractive.
24. Aari Worked Bridal Velvet Blouse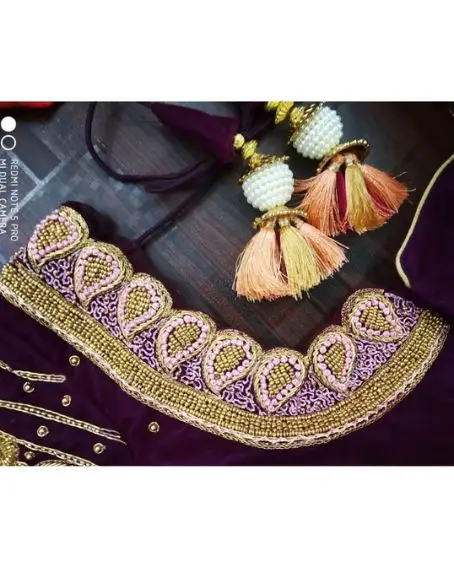 This heavy aari worked velvet blouse is impressive that it attracts and influences the brides. The mesmerizing aari work on this velvet blouse looks stunning and mind-blowing.
25. Maharani Style Velvet Blouse With Zari Work And Studded Cut Crystal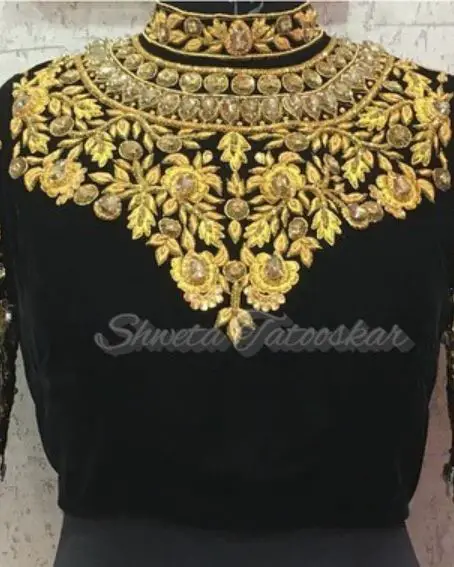 A High neck blouse is the top trendiest fashionable pattern. The maharani style design on this velvet blouse with heavy zardozi gidda zari work with studded cut crystals appears grand and traditional.
You Might Also Like: