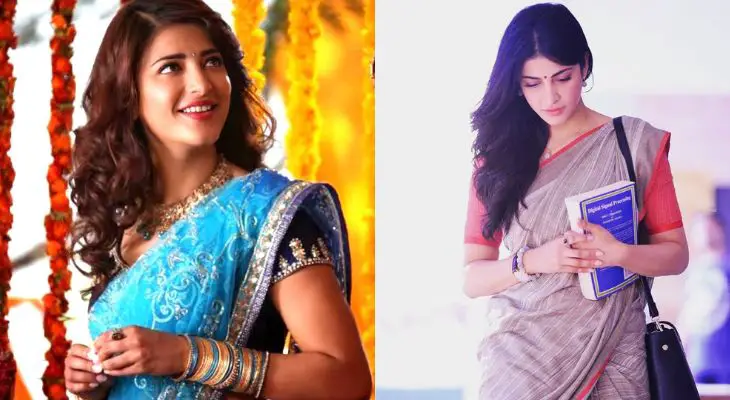 A saree is one of the most elegant outfits that a woman can wear. It gives both traditional and modern touch. Though draping a saree takes time, it can completely transform our look. Indian actress and playback singer Shruti Hassan primarily appears in Tamil, Telugu, and Hindi films. Her outfit in saree is a fabulous one. There are some of the beautiful models of Shruthi Hassan are given below.
18 Most Beautiful Pics of Shruti Hassan in Saree
1. Shruti Hassan In Pink Merged White Color Saree With Boat Neck Blouse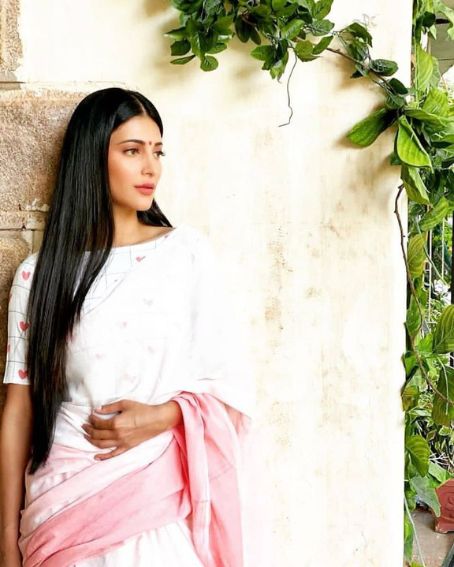 The white and pink color is the best combination for the saree which suits actor Shruti Hassan very well, this saree is full of white color and it gradually moves to pink shade. The boat neck blouse is aesthetic to this saree.
[ Read: Amazing Pics of Sonakshi Sinha in Saree ]
2. Shruti Hassan In Sage Green With Silver Embroidery Saree With Sleeveless Blouse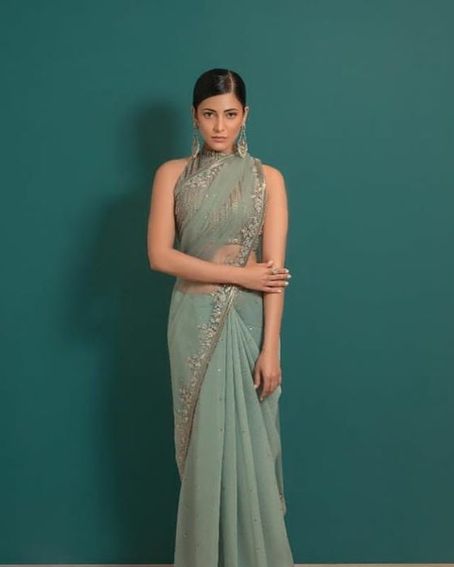 This saree color is different, sage green with a silver border. In this saree, Shruti Hassan will be so beautiful and the silver border will highlight her beauty. The patterned sleeve-less blouse is highlighted her fashion sense.
[ Read: 14 Awesome Pics of katrina kaif in saree ]
3. Shruti Hassan In Black Saree With Full Sleeve Velvet Blouse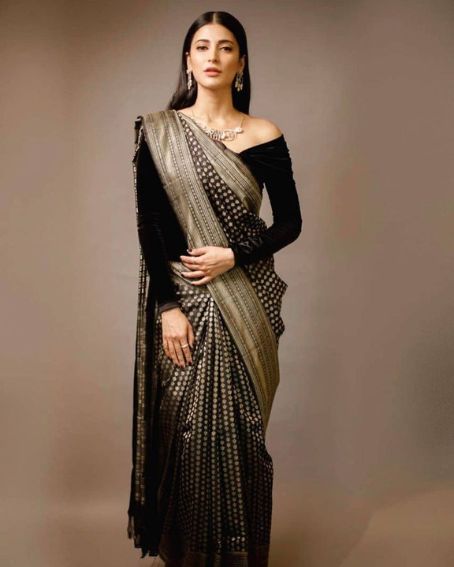 The black printed saree with a full sleeve shows a good look of Shruti Hassan, for her skin tone, the black color saree shows her bright and beautiful. The velvet blouse is the most attractive and it gives luxurious look.
[ Read: Amazing Celebrity transparent sarees ]
4. Shruti Hassan In Yellow Saree With White Embroidery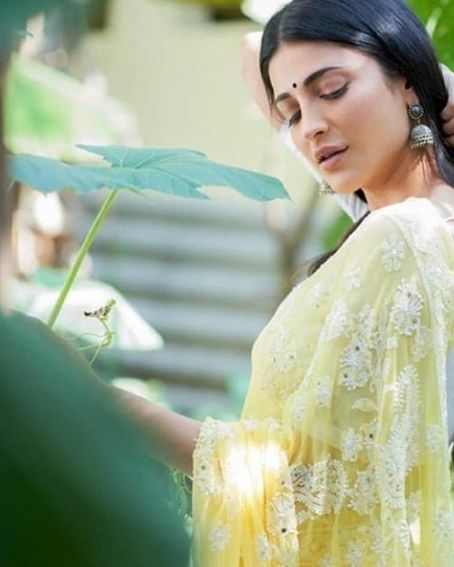 Shruti Hassan in a yellow saree gives mild look to her tone. Her saree is embellished with a beautiful embroidery design with mirrorwork. The transparency of the saree is fully covered with a white thread embroidery design.
[ Read: 15 Trendy Pics of Rashi Khanna in Saree ]
5. Shruti Hassan In Green Saree Golden Patch Embroidery
The Green and gold color combination is a versatile one. Shruti Hassan in green and gold patched embroidery saree is fabulous and classic. The round patch is somewhat gold and metallic color is mixed which attracts the saree beautifully.
[ Read: 20 Beautiful Pics of Kajal Agarwal in Saree ]
6. Shruti Hassan In Floral Saree With Floral Pattern Blouse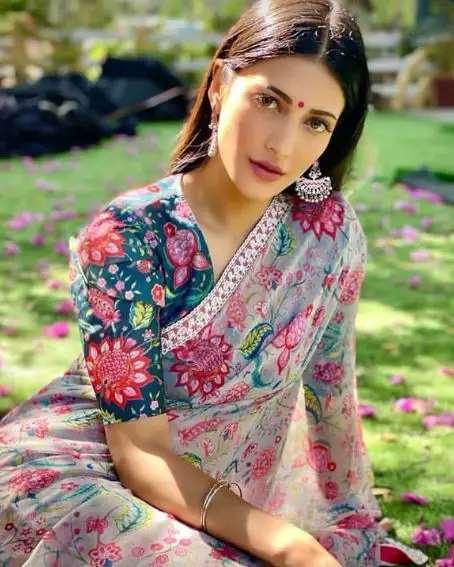 Now a day, the floral saree is liked by many women. Here Shruti Hassan wearing a floral saree is super lightweight. The flower pattern includes various colors and it is matched with a floral pattern blouse to give pleasant look.
7. Shruti Hassan In Pure Silk Saree With The Yellow Blouse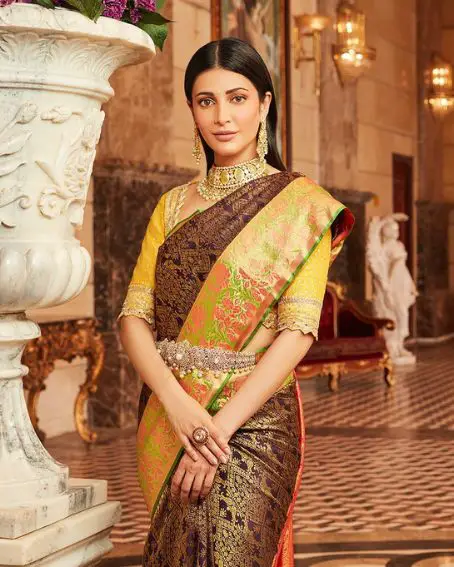 When we wear silk saree it shows our traditional and cultural effects. For actor Shruti Hassan the silk saree give an ethereal and elegant charm look. To feel the vibe of celebration, our outfit should be pure silk saree. The contrast yellow blouse is pretty super.
8. Shruti Hassan In Pink And Purple Printed Saree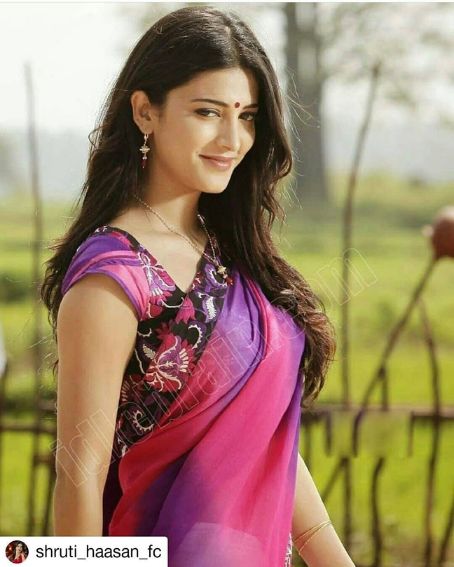 When choosing a saree two color combination is a skilled one. A pink and purple color saree is fantastic for Shruti Hassan. This saree is printed in the same color and it is highlighted with simple embroidery in white thread is gorgeous.
9. Shruti Hassan In White Silk Saree With Red Golden Border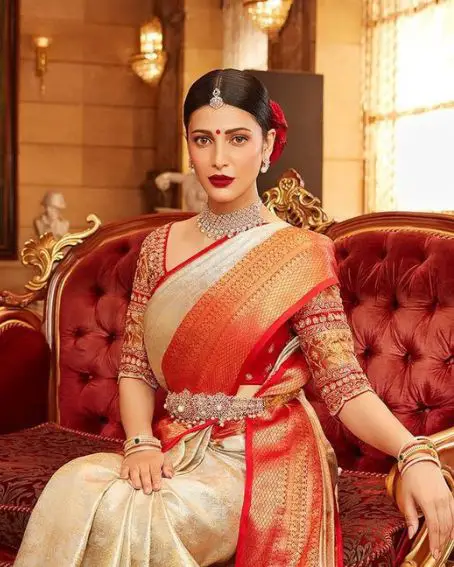 There are many colors in silk saree, particularly the white color silk saree show purity. The saree border is a red color with gold printed, the saree border is wide so that it gives luxurious look to Shruti Hassan, the blouse is embroidery with zari work is beautiful and incomparable.
10. Shruti Hassan In Pink Silk Saree With Gold Printed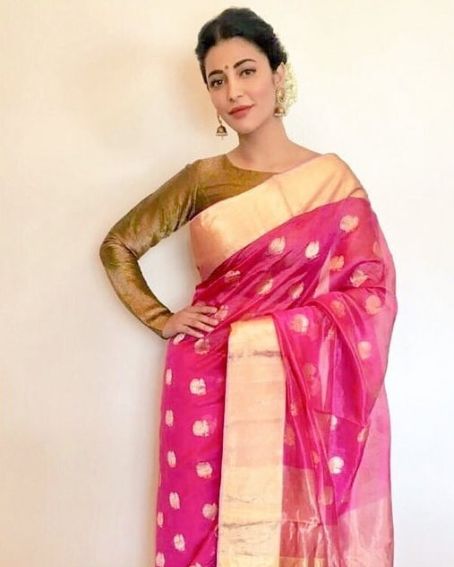 A pink silk saree is the perfect choice for Shruti Hassan, highlight is gold round print is wide and effective on the saree, and the full sleeve green velvet blouse is different from the regular style making it simple to wear for her.
11. Shruti Hassan In Sea Blue With Silver Border Saree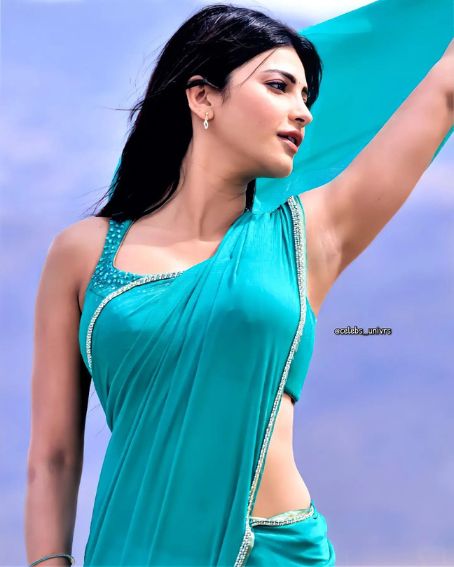 The sea blue color gives vibrant look to actress Shruti Hassan. This color gives a cool and breeze style to her, silver embroidery involves making embroidery stitches done on the outline of the saree. It grants a glamorous look to her.
12. Shruti Hassan In Georgette With Digital Printed Saree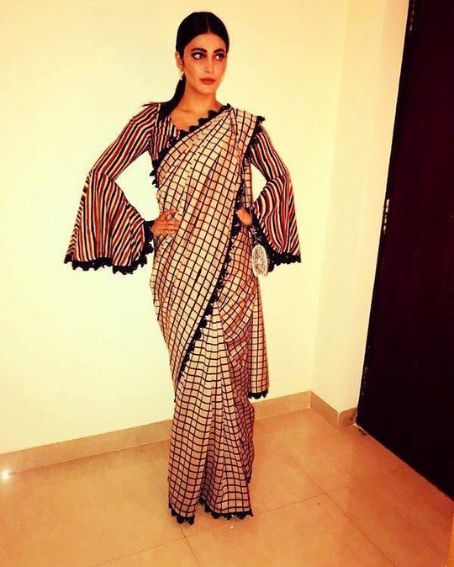 Georgette is one of the thin silk dress materials, which shows incredible style to Shruti Hassan. It adds big checked boxes with a black zig-zag border. The design of the blouse shows retro style and gives graceful look.
13. Shruti Hassan In White Saree With Black And Silver Border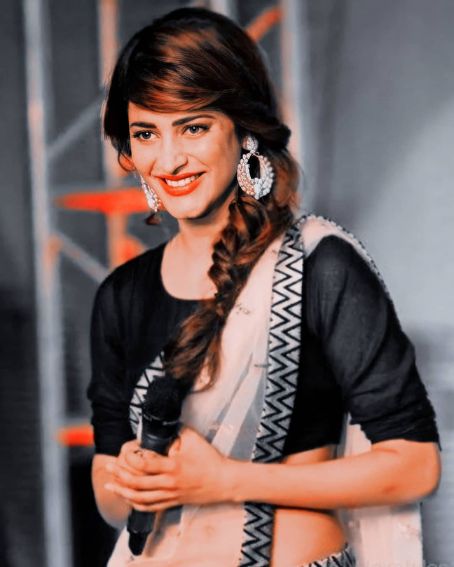 The white and black color combination is contrasted, this white saree with black and silver board gives glamorous look to Shruti Hassan. It is light weighted saree with a filmy look, silver designed border is the spotlight of this saree.
[ Read: 22 Amazing Pics of Shriya Saran in Saree ]
14. Shruti Hassan In Grey Cotton Saree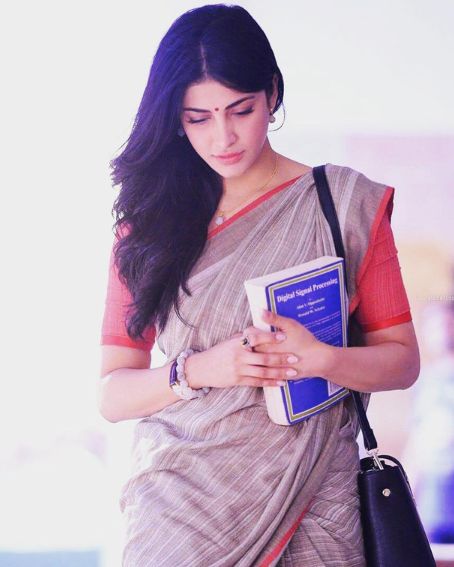 Cotton saree is highly dependent on women. Shruti Hassan in grey cotton saree is attractive. To feel comfortable and breathable, surely our outfit should be in cotton only. For her, it renders a neat and clean-cut look.
15. Shruti Hassan In Pure Red Silk Saree With Green Blouse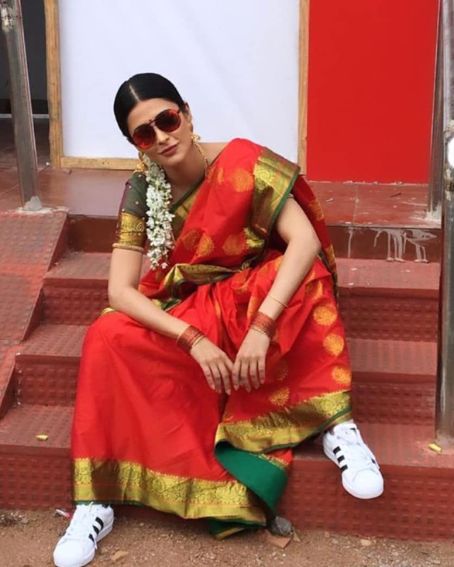 This red silk saree with green blouse gives dazzling look to Shruti Hassan. It creates festive vibes. The green blouse is a perfect match for a pure red silk saree.
16. Shruti Hassan In Heavy Embroidery Blue Color Saree
This saree is full of embroidery work. Using silver color stones and threads, the embroidery work has been designed. In this saree, Shruti Hassan is in the grand look. This saree is fully covered with beadwork and it makes marvelous style to her.
17. Shruti Hassan In Full Plain Black Transparent Saree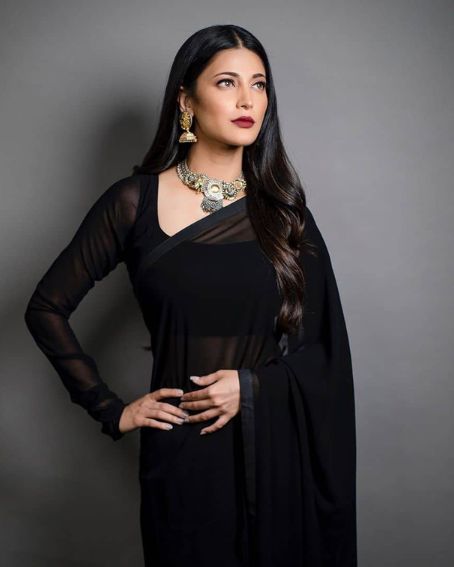 This saree is full of plain black color saree which easily adapts with Shruti Hassan's skin color. It shows her as bright and beautiful. The plain saree with a plain black blouse with a transparent hand is gorgeous and offers a outstanding look.
18. Shruti Hassan In White Pink Linen Saree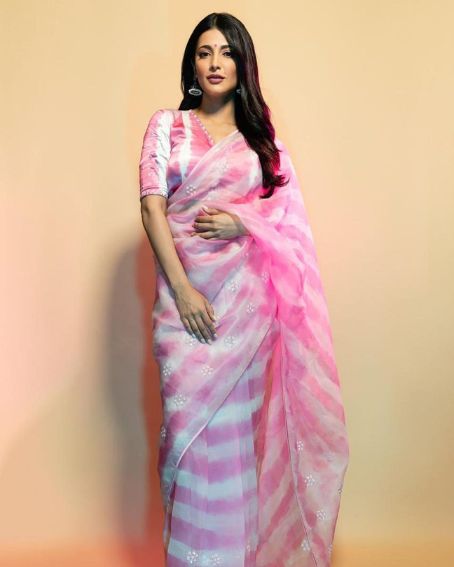 White and pink are the super color combinations. Then linen is one of the cotton materials. This linen saree is patterned with white pink horizontal lines and small thread flowers are randomly embroidered, it impart a graceful style to Shruti Hassan.
You Might Also Check: