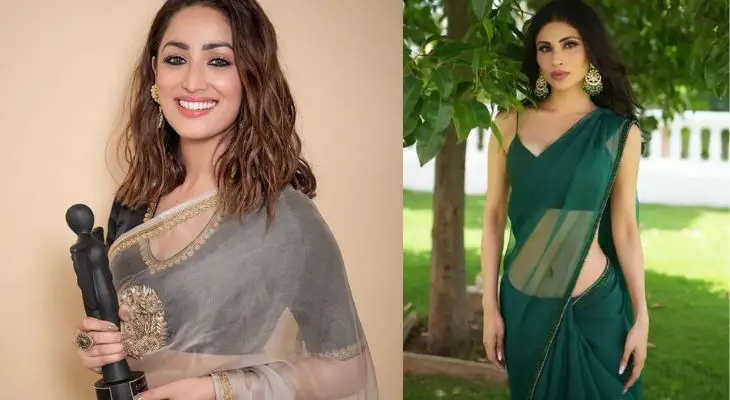 These days saree looks have been modified in various ways, but transparent sarees are very much preferred for any occasion. The super stylish transparent sarees are mostly loved by women to beautify their saree attire.
The best collections of transparent sarees are given below for an idea on when to wear and how to drape them.
15 Amazing Celebrity Transparent Sarees
1. Charming Sonam Kapoor In Off White Transparent Saree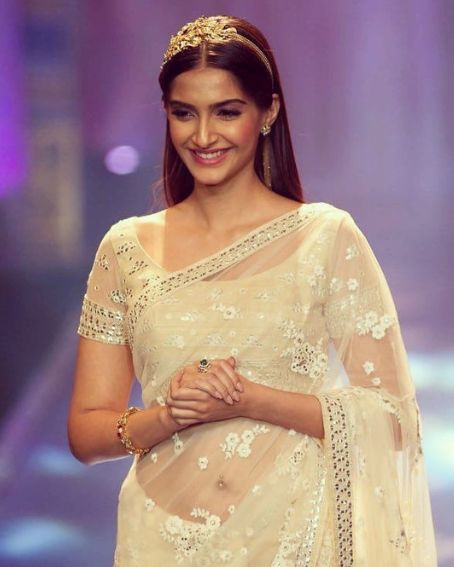 The attractive off white transparent saree of Sonam Kapoor looks very pretty and beautiful. It has an artistic handloom of embroidery work .This saree has a very lovely border with a silver lace.
[ Read: 14 Awesome Pics of katrina kaif in saree ]
2. Stunning Rani Mukherjee In Dark Beige Transparent Saree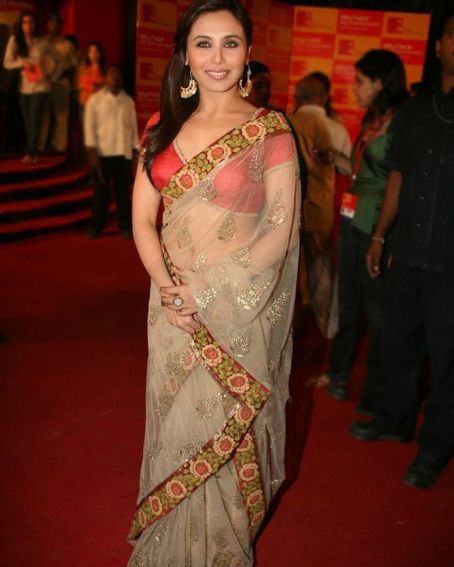 The bollywood actress Rani mukherjee flaunts the dark beige transparent saree. It has nice detailing of floral embroidery border. The blouse is matched with red color and gold lace to give an extra fine look.
[ Read: 15 Trendy Pics of Rashi Khanna in Saree ]
3. Glamorous Deepika Padukone In White Netted Transparent Saree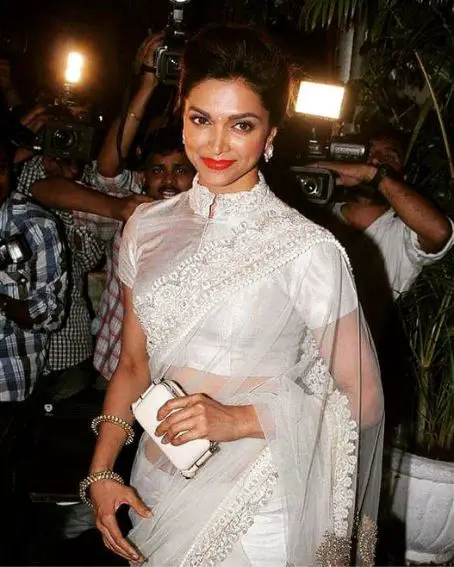 The unique white transparent saree of Deepika Padukone is mesmerizing everyone. This saree has a striking broad design of white lace to make it more fabulous.
[ Read: 20 Beautiful Pics of Kajal Agarwal in Saree ]
4. Gorgeous Mouni Roy In Green Transparent Saree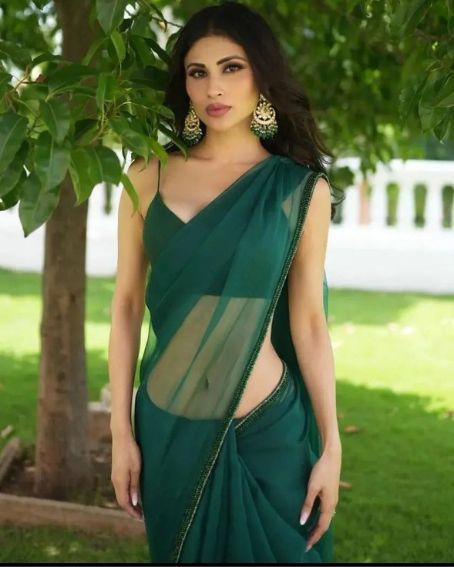 The divine look of Mouni Roy in green transparent saree with gold lace is amazing. The special blouse is designed in such a way that it has a single stripe to give a bright look. It is preferred for parties and cultural programs.
[ Read: Amazing Pics of Sonakshi Sinha in Saree ]
5. Elegant Nora Fatehi In White And Gold Transparent Saree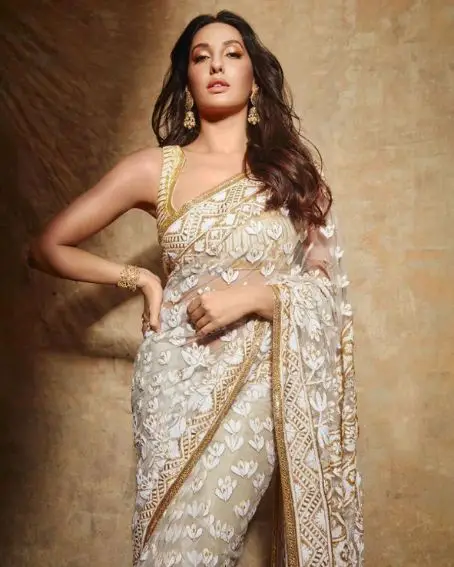 The coolest actress Nora Fatehi is in white and gold mix transparent saree. The glowing zigzag pattern of the border looks fancy. Women crave for this kind of saree to wear them on grand occasions and ceremonies
[ Read: Amazing Pics of Sonakshi Sinha in Saree ]
6. Adorable Sonakshi Sinha in Fancy cream Designer Transparent Saree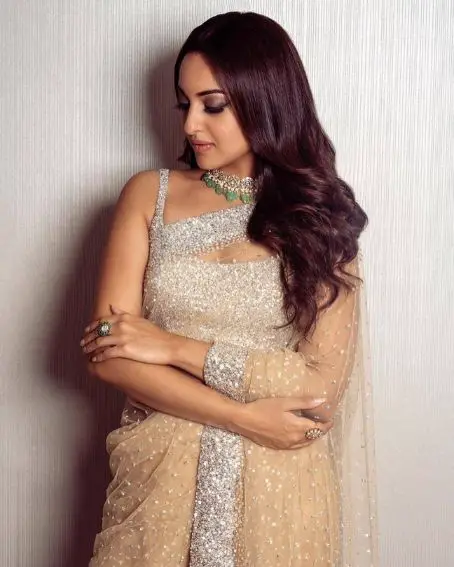 The lustrous transparent saree of Sonakshi Sinha in cream and silver combination. This saree has silver lace as a border for a new look. The amazing blouse is totally in silver with a single strap.
7. Fascinating Trisha in Beautiful blue Net Saree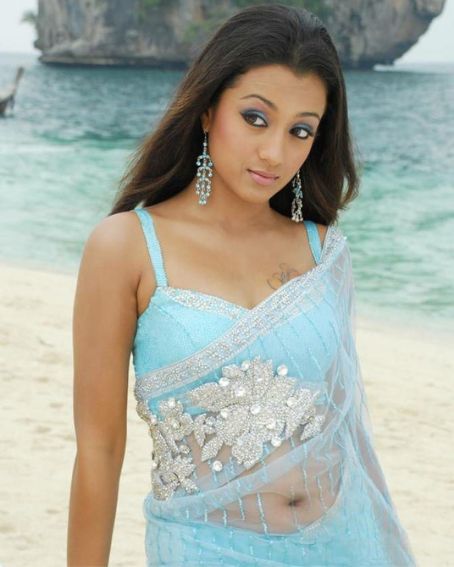 The awesome transparent saree look of Trisha has silver finish along with kundan work. The blue netted saree is marvelous with a paired blouse with a single strap.
8. Classy Aishwarya Rai In White Transparent Saree With Heavy Embroidery Work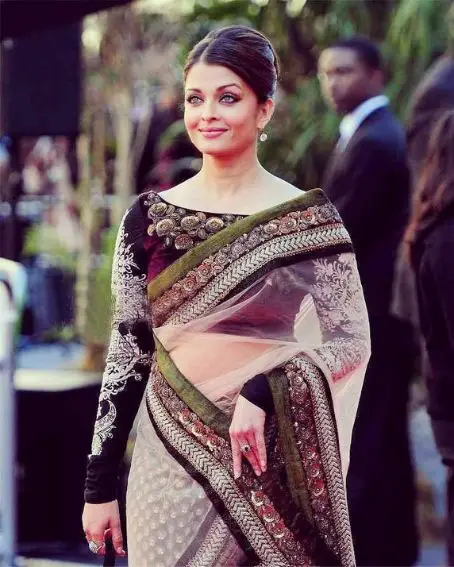 The dignified look of bollywood actress Aishwarya Rai in white transparent saree with netted fabric stuns magical. It has a colorful and shiny border appearance.
9. Fabulous Anasuya In Pale Green Transparent Net Saree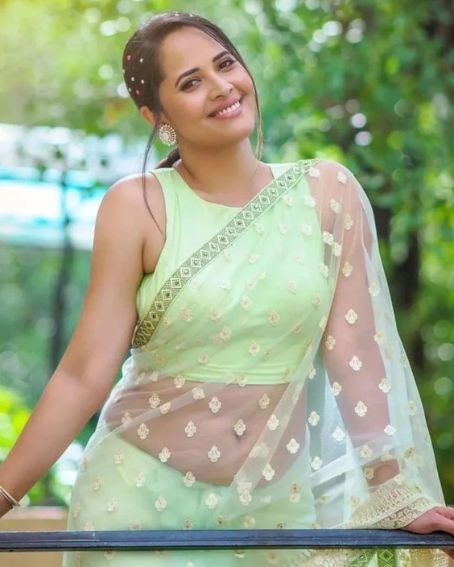 The cute pie of tollywood industry is Anasuya with pale green net saree. This transparent saree looks outstanding with a silver border. The sleeveless blouse rocks with a round neck. Every woman wears this for parties and events.
10. Modern Glance Of Kiara Advani In Black Transparent Saree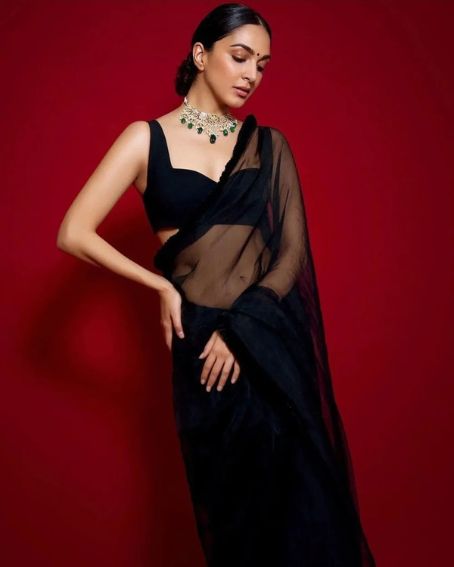 The unique saree pic of Kiara advani is in black transparent saree. This is very much preferred for parties and events. The blouse has been loved by many women for the best finishing.
11. Mesmerizing Vaani Kapoor In Off White Transparent Saree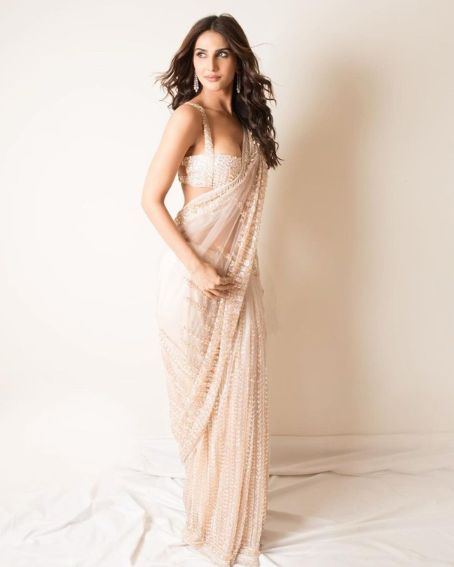 The simple look of Vaani Kapoor in off white transparent saree is attractive. This is one of the best collections of transparent sarees. The blouse of this saree has a single piece of strap that gives a trendy look.
12. Admiring Katrina Kaif In Pink Fancy Transparent Saree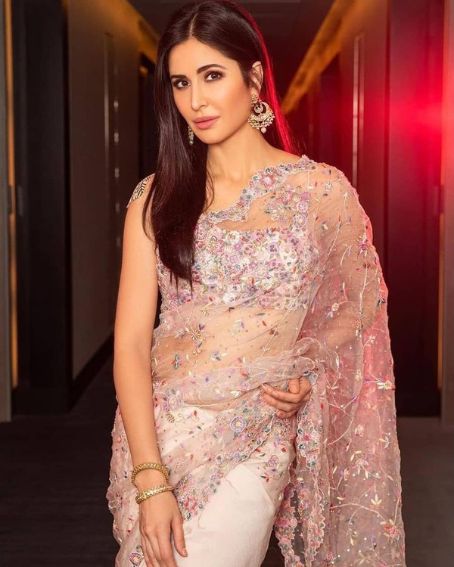 The good looking transparent saree of Katrina Kaif is in pink color. The finest embroidery work on the pallu of the saree is crazy. This is most loved by women and is preferred for parties and events.
13. Mind Blowing Yami Gautam In White Transparent Saree With Embroidery Work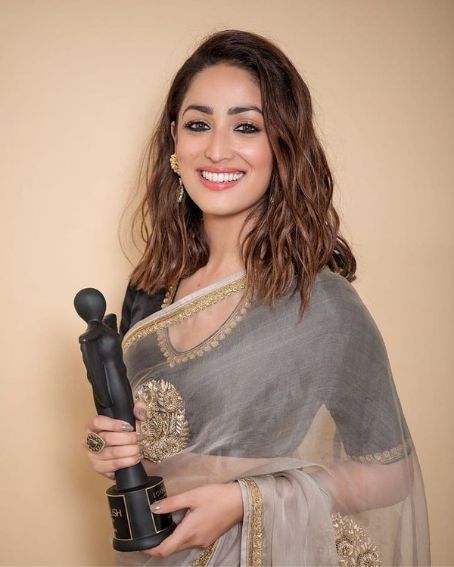 The sensational actress Yami Gautam comes in white transparent saree for the award function. The coolest appearance is all because of the gold embroidery work of flower design. The black blouse has gold borders for a rich look.
14. Superb Actress Karishma Kapoor In Black Transparent Saree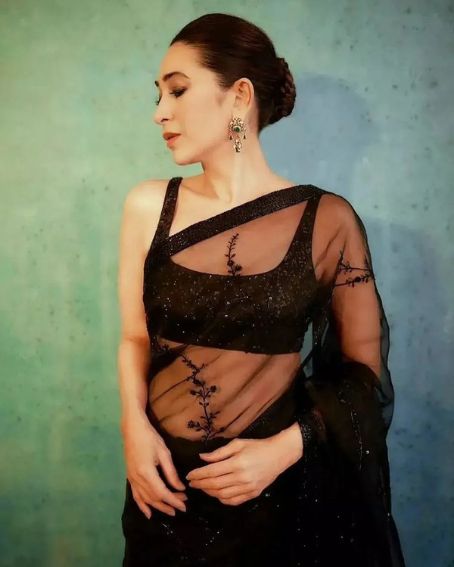 The fashionable black saree transparent look of Karishma Kapoor is looking fabulous. The netted fabric gives a fancy texture along with a shiny blouse.
15. Elegant Look Of Kajol In A Cream Net Saree With Gold Embellished Work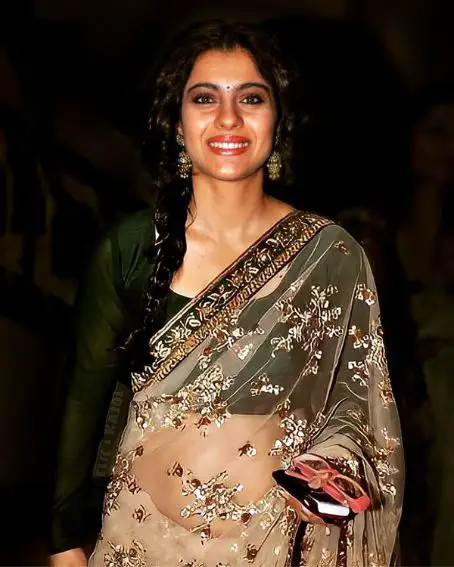 The vibrant Bollywood actress Kajol is in a cream net saree with transparent look. The glittery gold finish grabs the attention of every woman. This saree is worn at weddings and cultural programs.
You Might Also Like: