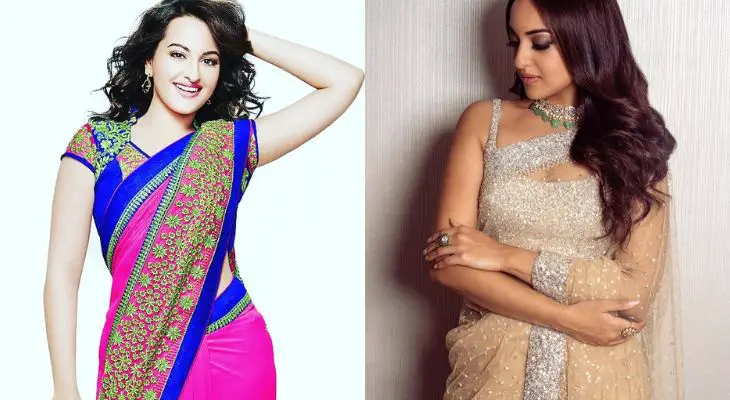 Sonakshi Sinha is a beautiful Bollywood actress who burst out with her talent and beauty with fashion. In this article we have listed some of Sonakshi Sinha in different types of sarees which brings out her beauty with traditional costume.
Now let us roll down and look at some of her best and beautiful pictures that were taken of sonakshi on sarees which you may also like and try them on.
15 Amazing Pics of Sonakshi Sinha in Saree
1. Beautiful Sonakshi Sinha in Red Saree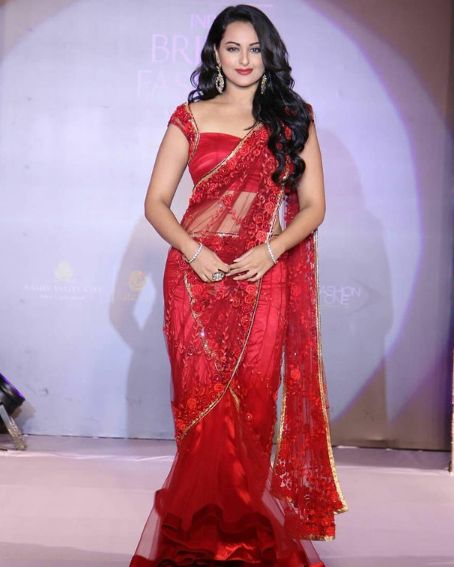 The gorgeous actress Sonakshi Sinha looks amazing in this radiant Red netted saree. This red saree is decorated with embroidery work in red thread along with golden lace border and short sleeves blouse.
[ Read: Amazing Celebrity transparent sarees ]
2. Gorgeous Gray Shades Saree With Blouse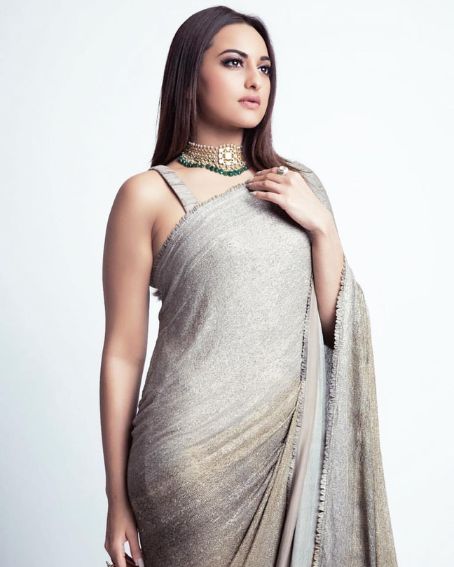 This is a wonderful saree design with gray shades and looks awesome on Sonakshi Sinha. This saree is with a sleeveless blouse, and is suitable for all occasions.
[ Read: Awesome Pics of katrina kaif in saree ]
3. Fantastic Off White And Green Saree with blouse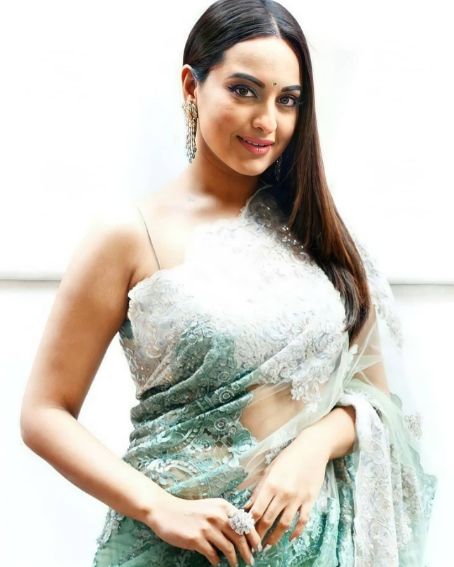 The beautiful of white and green Lace pattern saree which looks beautiful on Sonakshi Sinha. This lace material has been decorated on a netted saree and the blouse has a sling on the shoulder with blouse sleeveless.
[ Read: 20 Beautiful Pics of Rakul Preet Singh in Saree ]
4. Good Looking Black Floral Pattern Silk Saree And Blouse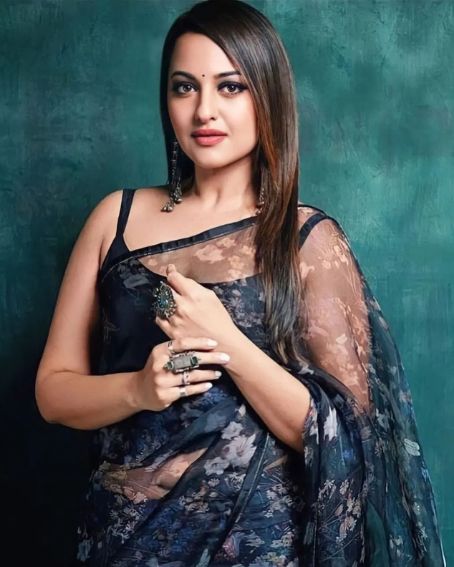 The most trending collection of Silk Blend saree is in black with floral pattern and lace border. This is a transparent fabric saree which looks best on sonakshi with a gorgeous and cute appearance.
[ Read: Awesome Images of Slim Sarees ]
5. Sonakshi-sinha In Blue Floral Pattern Silk Saree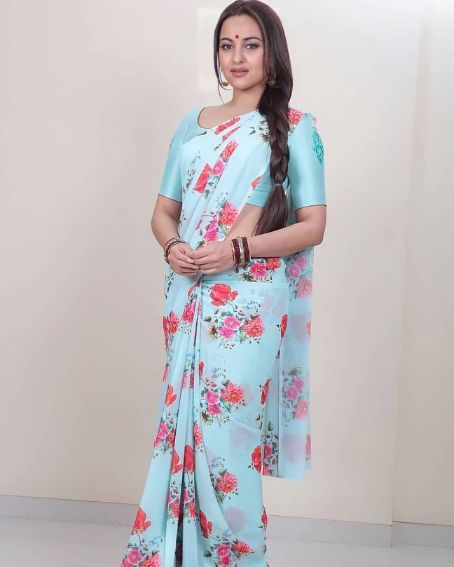 The famous actress Sonakshi Sinha looks very traditional and simple and this sky blue color floral pattern saree, which is very simple and sweet with medium length sleeves of running blouse.
[ Read: Awesome Pics of Nayantara In Saree ]
6. Unique Pattern Saree Of Sonakshi Sinha Silk Saree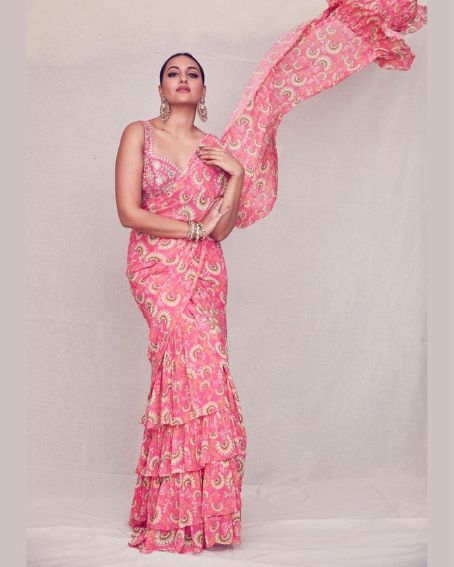 Here comes another trendy and layered pattern pink saree which is with printed pattern running all over the saree along with the sleeveless Pink embroidered blouse which can be tried for parties and events.
7. Cream Saree With Gold Zari Border Saree With Blouse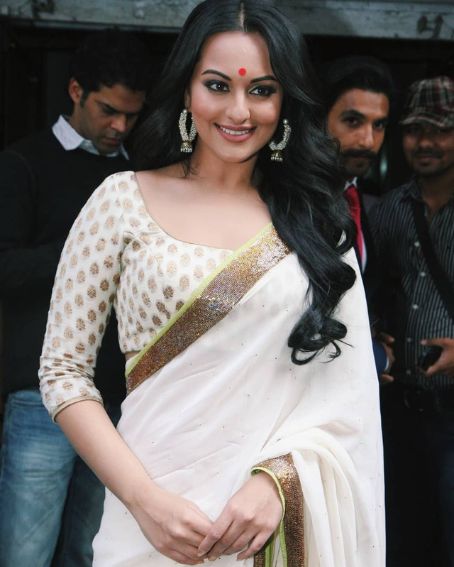 Sonakshi Sinha flaunts a simple and cute appearance with white saree which has a zari border, along with three fourth length sleeves blouses. Sonakshi Sinha gives a tremendous appearance in this white saree.
8. Blue And White Checkered Pattern Saree And Blouse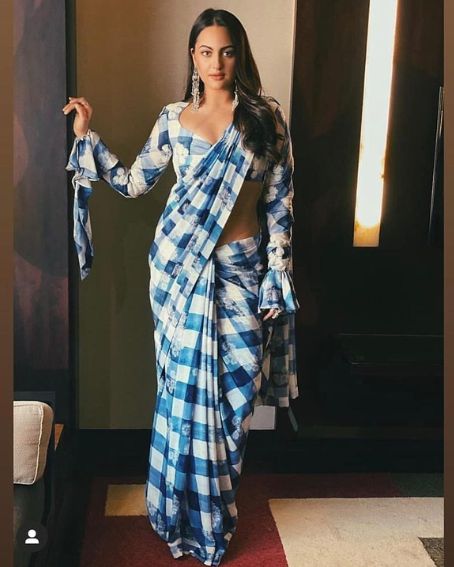 This is a Chakkar pattern blue and white combination saree which looks fantabulous on Sonakshi Sinha this saree has a full sleeved blouse with Bell near hands. .This is a very Fancy saree that can be tried on by tenagers.
9. Sonakshi Sinha In Beautiful Netted Saree With Stone Work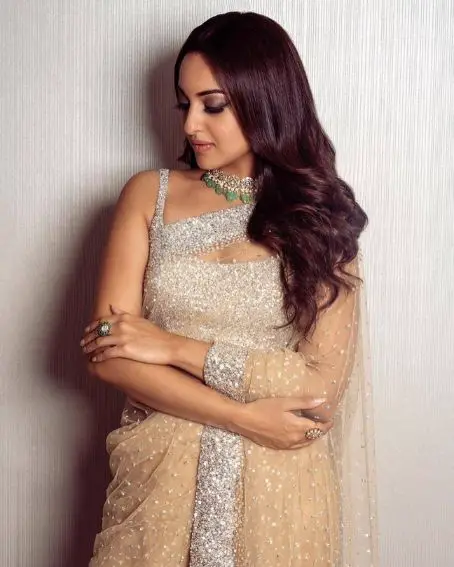 This is a very fancy and trendy saree which is a beige color and decorated with stone work along with stone lace border. The blouse also comes in the same pattern as sleeveless.
10. Pink Floral Saree With Gold Zari Border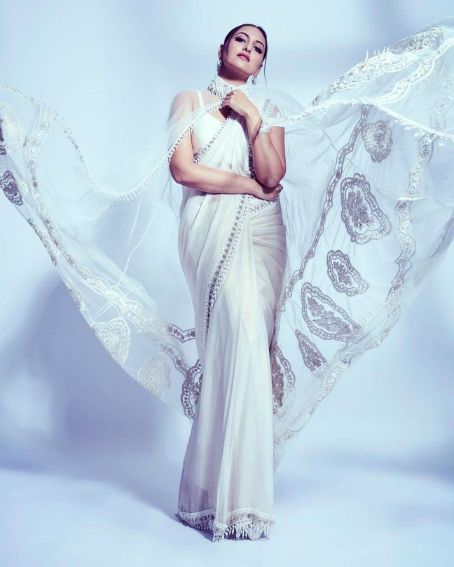 Sonakshi Sinha emerges in a beautiful white saree which is decorated with stone work the lace border along with a netted embroidered shrug which covers the hands. This is a different and varied type of saree which catches everyone's attention.
11. Sonakshi In White Saree With Beads Lace Border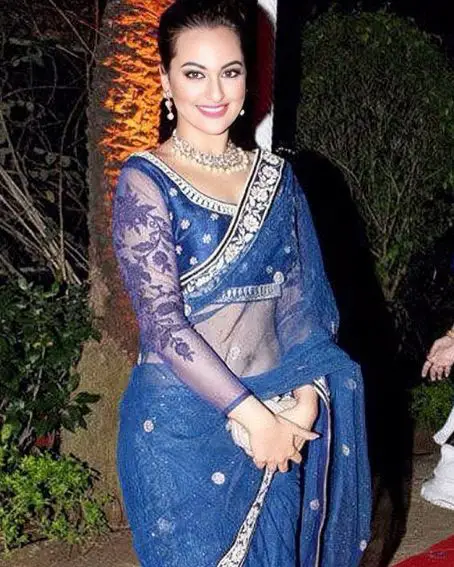 Good looking actress Sonakshi Sinha pops up in a navy blue netted saree which is decorated with embroidered lace along with a full sleeves blouse. This is a Fancy saree which can be worn at parties and festivals.
12. Black Half Saree With Elbow Length Sleve Blouse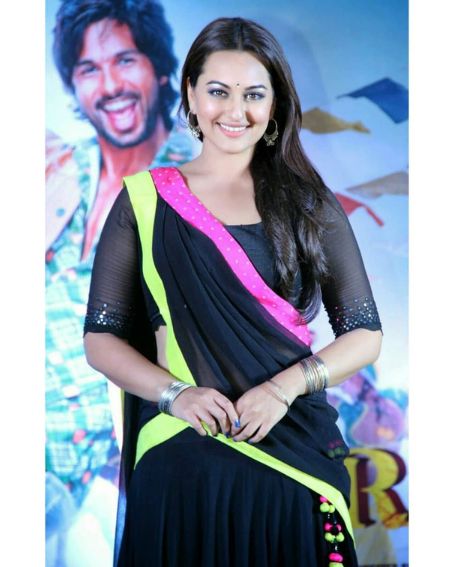 Sonakshi Sinha gives a great appearance with a half saree which is in black lehenga set that comes in dual coloured border with pink and green border, along with elbow length sleeve blouse.
13. Embroidery Party Wear Saree With Blouse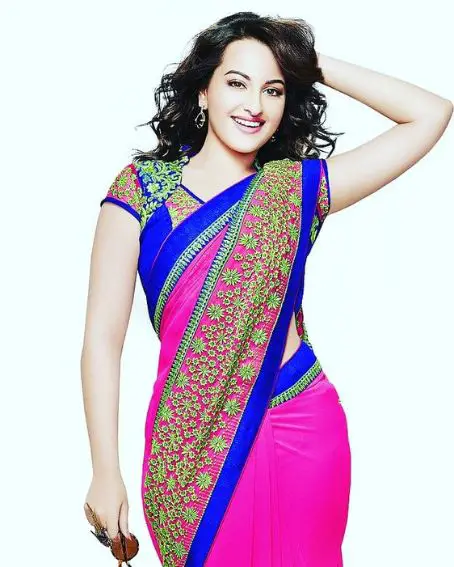 This is a heavy embroidery border pattern pink color saree with blue border line along with short sleeves blouse. This saree looks great on sonakshi and attracts everyone to try this pattern saree.
[ Read: 15 Trendy Pics of Rashi Khanna in Saree ]
14. Sonakshi Sinha In Orange Saree With Corset Blouse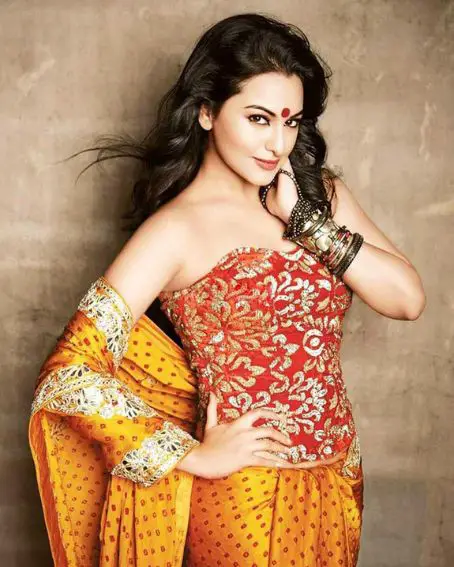 This is a yellow and orange Banarasi saree which has a mirror work embroidery border along with an orange corset blouse, which is long and sleeveless. This saree suits Sonakshi very well with the corset blouse.
15. Classy Pink Shaded Saree With Blouse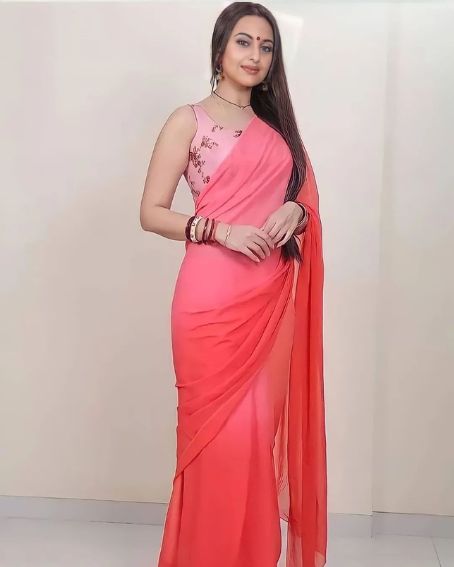 This is a simple and sweet dual pink shaded saree along with floral printed pink blouse which look great on Sonakshi Sinha. This style of hers looks classy with plain saree.
You Might Also Like: