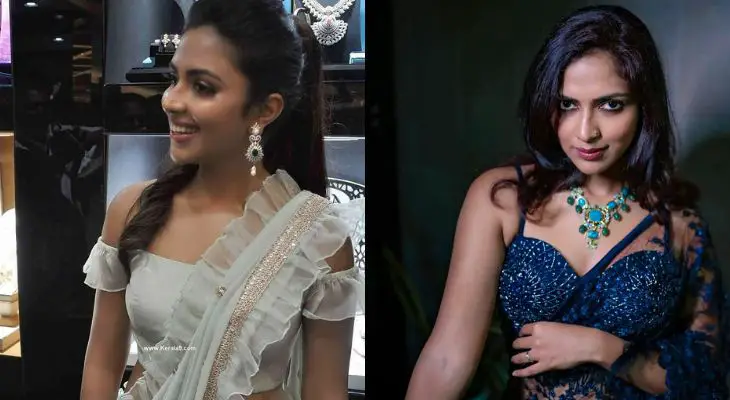 The celebrity always goes back with trends and fashion. Amala Paul the great South Indian actor tried many outfits. But the saree is one of the best outfits of all time. All the fashion outfits will suit her best, but compared to all saree look gorgeous on her. Here we see some of the varieties and designs in this article.
16 Beautiful Pics of Amala Paul In Saree
1. Amala In Kerala Best Style Saree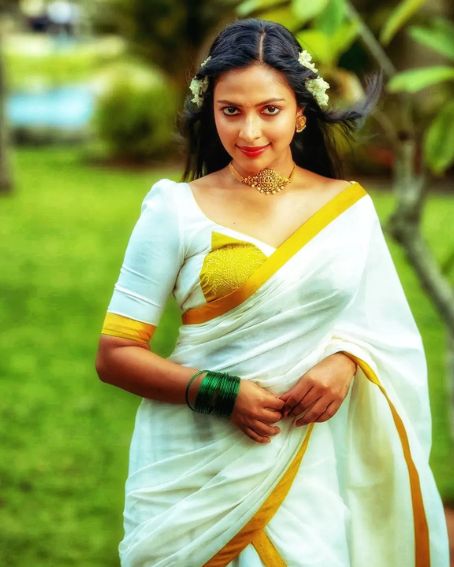 The Onam saree is well-known by everyone throughout India. Especially, Amala paul from Kerala, so she enchanted with this saree in a fashioned way. The blouse is stitched in a great manner which gives more glamorous and gleaming.
[ Read: Beautiful Maroon Sarees ]
2. Amala Paul Looks Hot In A Black Saree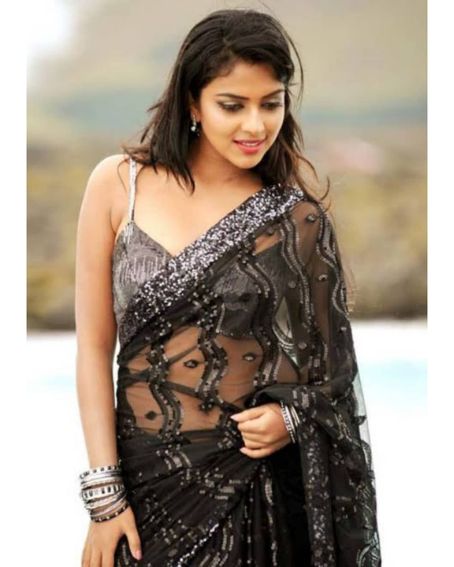 Her stunning appearance makes her always gorgeous and trendiest. Here, the net black saree with embroidery work gives a mesmerizing look. The embellishment is a blouse that is unique in shape cut and sleeveless. Overall, it gives gratitude and trend.
[ Read: Traditional Maheshwari Sarees ]
3. Border Orange Colored Cotton Saree In Amala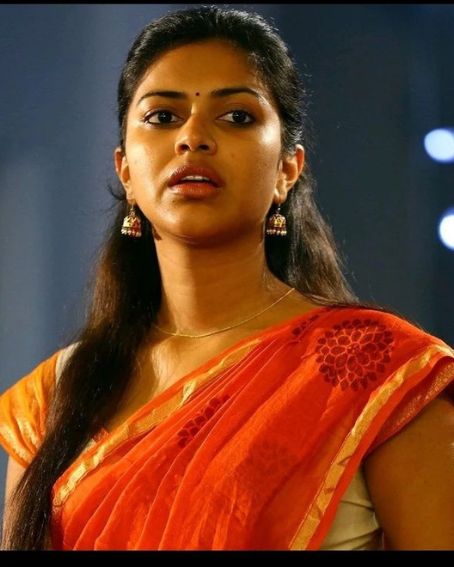 Very casual and simple wear, everyone like this. Very conservative and traditional touch with this saree. Cotton and the slim border with short sleeve makes her very hometown girl appearance. We can go with different colors with different patterns in this same material.
[ Read: Latest Collection of Tant Sarees ]
4. Amala Paul Donned In This Shiny Blue Saree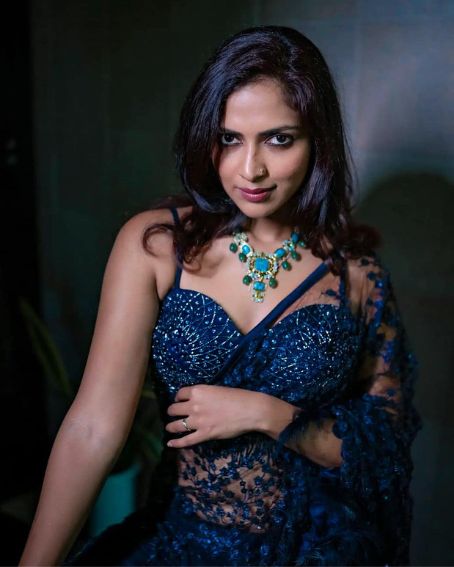 The full grand and transparent view in this saree make Amala gorgeous. Have to notice the sleeveless blouse was closely embroidered with the same color. Love this outfit and it can be worn at all parties and events.
[ Read: 24 Gorgeous Pics of Tamanna Bhatia In Saree ]
5. Amala In Smokey Green With Sleeveless Blouse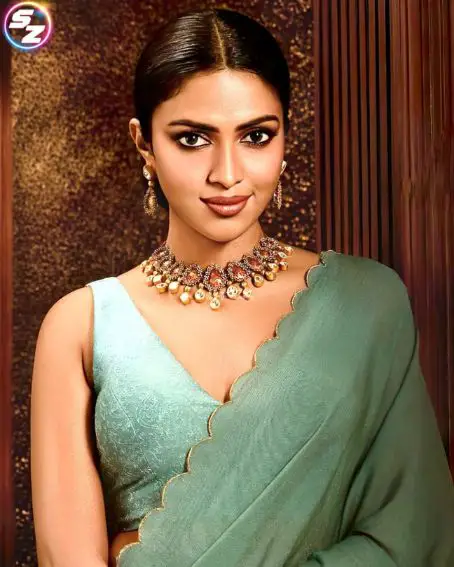 The illustrious actress gives a stunning pose with a gentle plain saree with sleeking blouse. She looks great and the accessories she used for the saree make her the cutest celebrity. The sleeveless blouse makes it more fashionable and flattering.
6. Amala Paul In A Pre-stitched Saree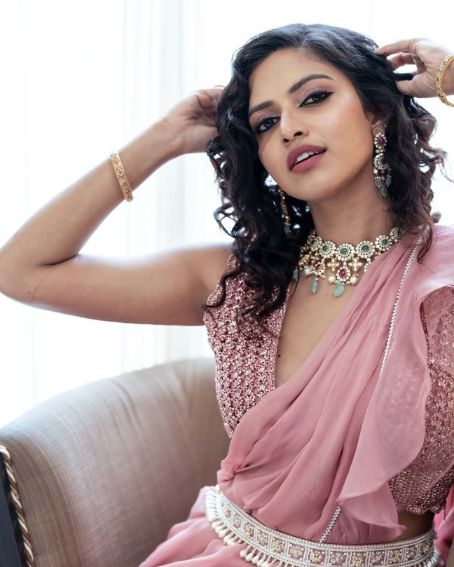 Marriage ceremonies are the best time to show off the fashioned dress and jewels. Amala Paul's make-up at her brother's wedding gives an amazing look. This enchanting pink-colored saree is meandering the whole body. The saree is added with ruffle and lace giving you awesome glam.
7. Orange With Border Colored Saree In Calm Looking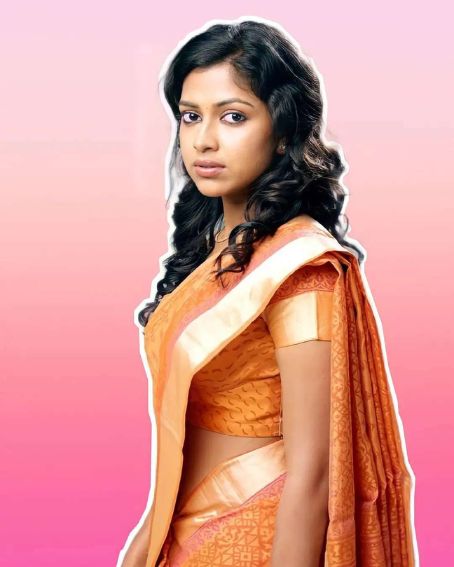 A smart tweak appearance in the costume, which makes Amala Paul get a perfect outfit. The pleats are tamed in a seamless way which gives her modes look. The medium-sized golden borders look professional and every homemaker loves this saree type.
8. Amala Paul In Light Orange Color With Silver Stripes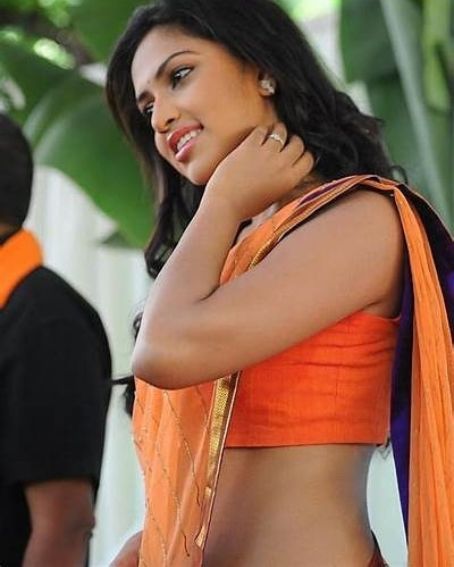 The famous actor shows her best outfits in all her shows and interviews. When we talk about this saree, the sales stiped all through the body and the blue line in between the golden border renders a magnificent look.
9. Famous Onam Saree With Pleats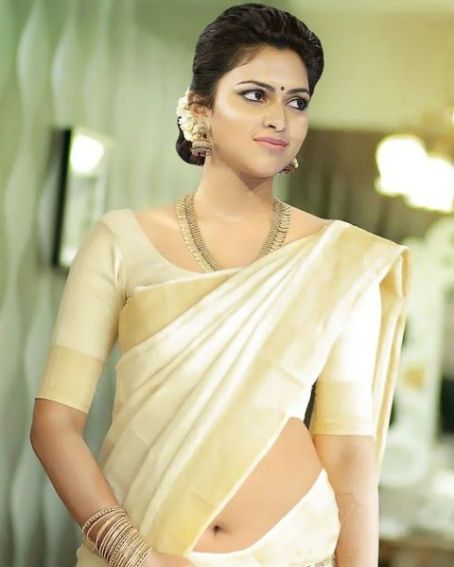 It is also the Kerala Style saree, which is popular over the State. Amala stands like a fashion model, which shows her confidence, especially with this outfit. The saree has two thick golden borders with a plain candle-colored weave in the whole saree is said to be very ttraditional and trendy.
10. Amala In Peach Weightless Saree With Sleeveless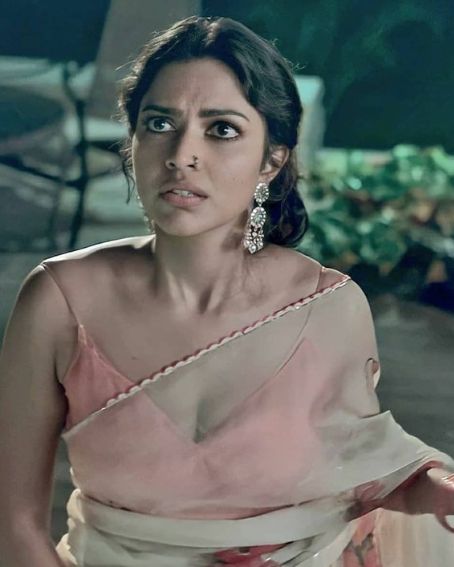 The modest but glamorous appearance in this peach mode was always good-looking. The welcoming way gives you a trendy and appealing view overall. The blouse is very elegant and the sleeveless blouse makes elegant and charming beauty.
11. Amala In Full Parrot Green With Purple Border Saree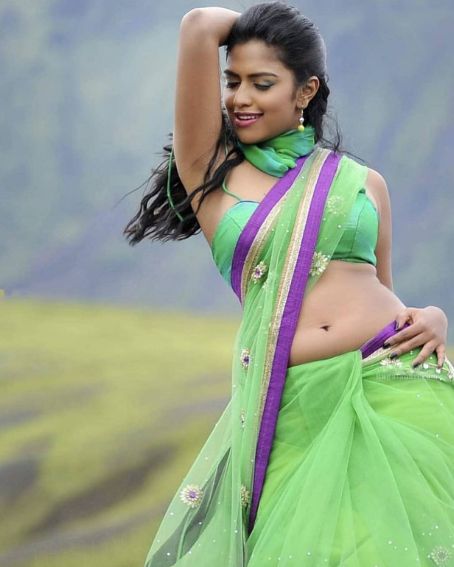 In this saree, the picture may be taken in the shooting spot, and the actress wears full accessories and ornaments. The purple border with the net saree is visible and embroidery gives seamless beauty to Amala Paul.
12. Amala Paul In Royal Blue With Stoned Blouse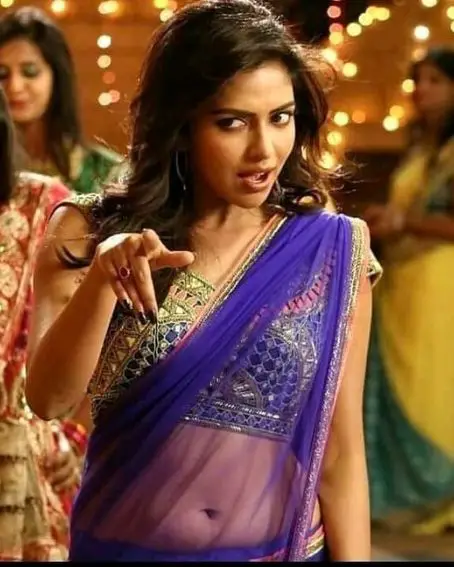 Royal blue makes a romantic and glamorous view in light weighted saree. The blouse is added with many mirror works which makes it grand. It is perfect for all parties and events. Mostly all the celebrities like this combination.
13. Amala Paul In Pinkish Color With White Knot Back Blouse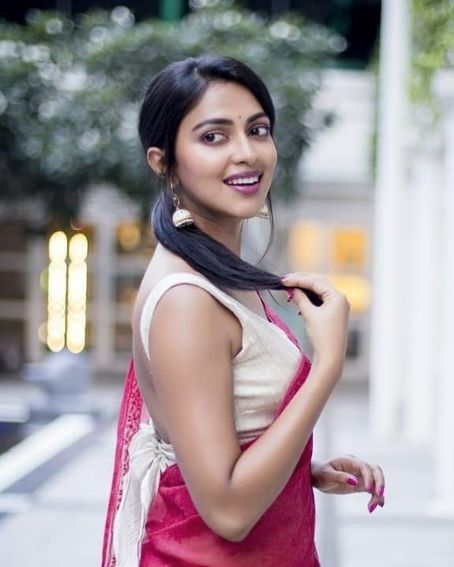 We have many celebrities' gallery pictures, when we cross this Amala Paul pink saree with knot blouse giving an enchanting stunning outlook. Fully shining and matching ornaments make Amala shows a glimpse of the day
14. Amala Paul In Pastel Blue With Raffle Blouse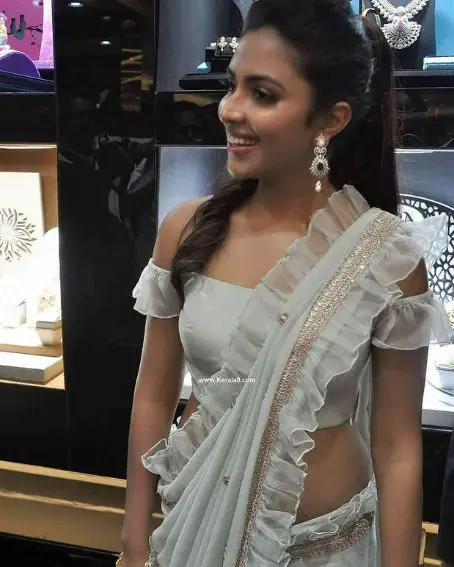 Amala wearing this pastel blue with half shoulder raffle blouse are meandering effect with a full view. She used some diamond ornament embellished more. This was a smart tweak of her carrier to make an attractive and eye-catching.
15. Amala In Greenish Blue Saree With Golden Sleeveless Blouse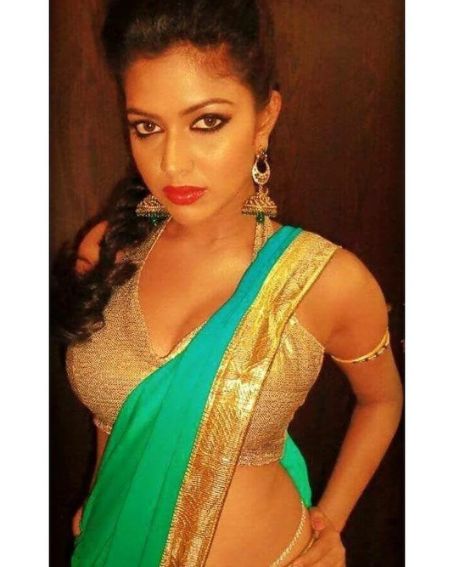 Grand and rich appearance in greenish blue saree, it looks shiny and pretty. The border of the golden color is match with golden blouse. Amala Paul used many matching ornaments to add a more gleaming appearance. The contrast color blouse in gold color gives you an eye-plucking view of her.
16. Amala Paul Wears Orange Colored Saree With Silver Embroidery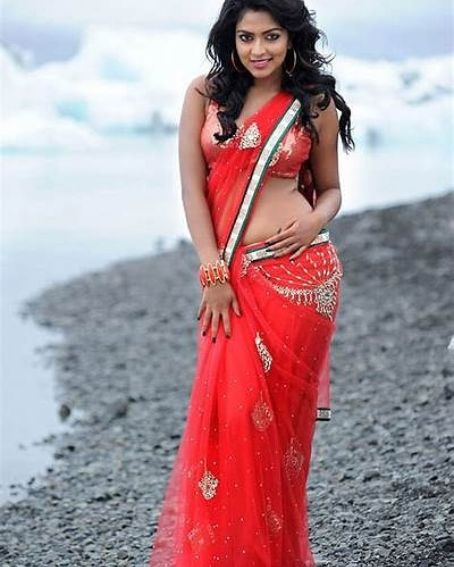 Glittering and stunning draped saree with matching jewels make Amala Paul fabulous. It is from her shooting gallery but she chooses the costumes that always suit her height and skin color.
You Might Also Like: