The most beautiful tollywood actress Trisha shows herself with traditional sarees. She looks Gorgeous and unique with each and every pattern saree which attracts everyone's attention to try those kinds of sarees.
Hence we have listed some saree pictures of Trisha which will satisfy you, and try them today to make your day great.
15 Amazing Pics of Trisha In Saree
1. Trisha In Black Plane Saree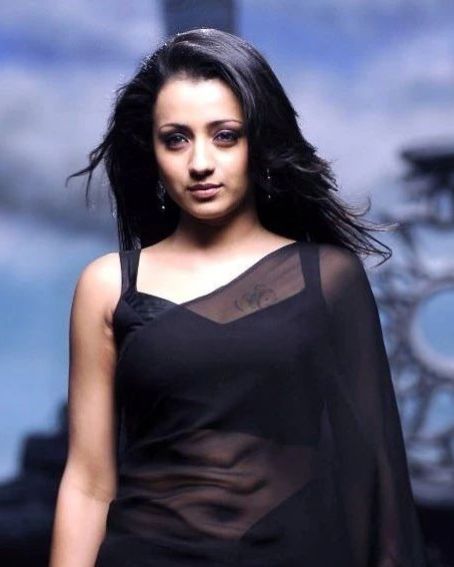 The classic black coloured saree looks pleasant on trisha with a sleeveless blouse. That brings out the hidden beauty of her, and makes her look bright and elegant in this plain silk fabric saree, in black.
[ Read: Most Beautiful Pics of Shruti Hassan in Sarees ]
2. Trisha In Light Purple Saree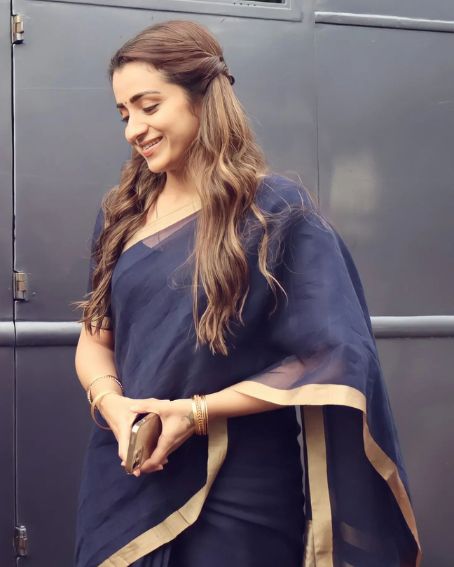 Beautiful actress Trisha looks amazing in navy blue saree with small golden zari border and running blouse with medium length selves. This plain cotton blended silk saree looks great on events and occasions.
[ Read: Amazing Celebrity transparent sarees ]
3. Trisha In Light Blue Saree White Embroidery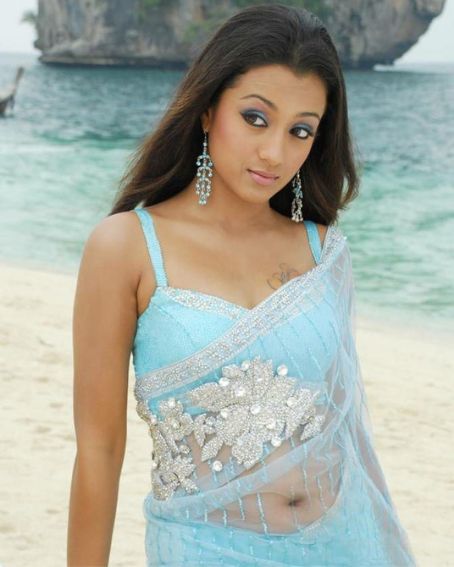 The awesome light blue coloured saree of Trisha has floral silver patch work design on netted saree along with glitters lace border. This is the beautiful saree which gets attracted by its fantastic colour and design.
[ Read: Awesome Pics of Nayantara In Saree ]
4. Trisha In Plain Red Saree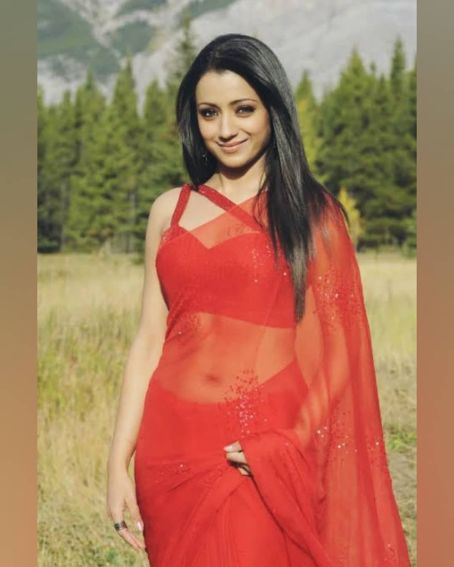 The radiant red coloured plain saree looks gorgeous on trisha with a sleeveless blouse. That brings out the hidden beauty of her, and makes her look bright and elegant in this plain silk fabric saree.
[ Read: Amazing Pics of Sonakshi Sinha in Saree ]
5. Trisha With Red Cotton Saree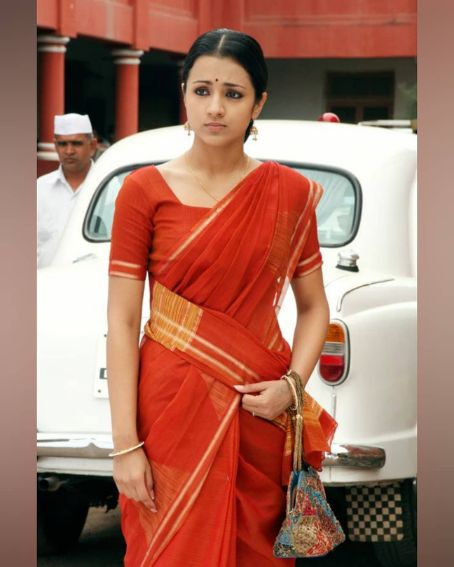 The coolest appearance of Trisha is in red cotton saree which has temple motifs on the border and the order has a thin layered zari bord which look great for regular office purposes and poojas.
[ Read: 14 Awesome Pics of katrina kaif in saree ]
6. Trisha In Maroon Colour Traditional Saree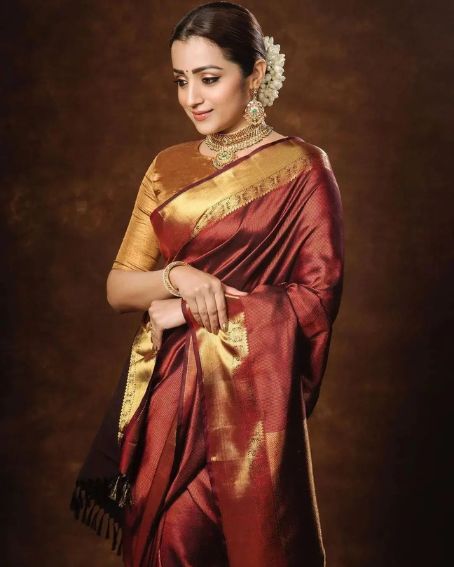 The traditional look of Trisha is in glossy thick texture maroon saree with golden zari border and pallu has kuchus. which has a grand look, mostly preferred to wear in traditional functions, weddings and festivals.
7. Trisha In White Net Saree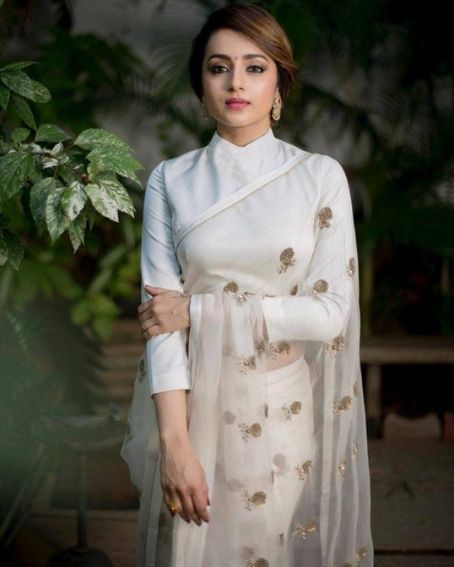 The energetic actress Trisha is in a pure white saree with gold chamki embroidery pack work and a thin border, along with a plain three fourth sleeve blouse which perfectly matches the saree. blouse.Mostly preferred to wear in kitty parties and official meetings.
8. Trisha In Peach Pattu Saree With Green Border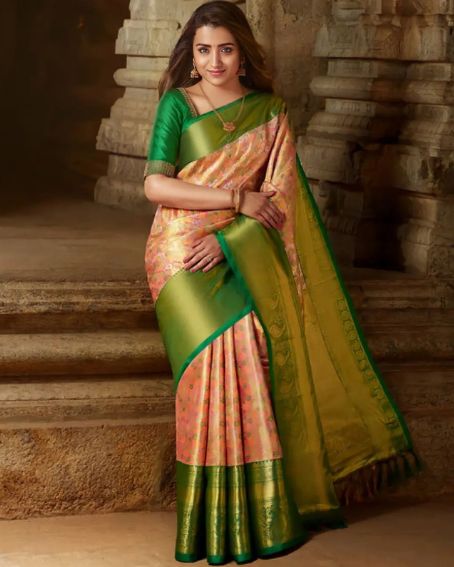 The amazing picture of Trisha is in a creamy peach floral pattern pattu saree with a big golden green border along with a green elbow length sleeve blouse. Womens love to wear these pattu sarees for Indian traditional wedding ceremonies.
9. Trisha In Peach Saree With Purple Floral Border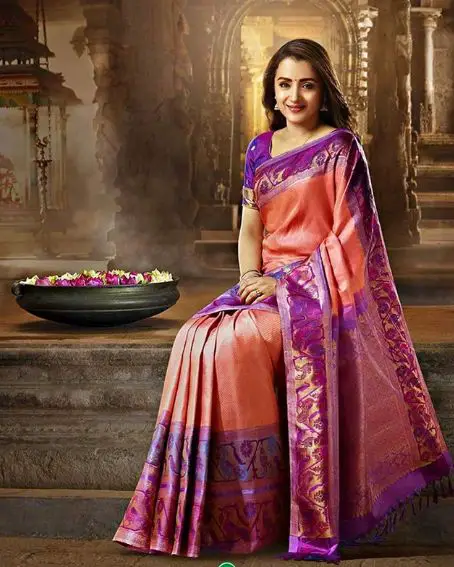 The attractive saree of Trisha comes with self design and zari work shining purple border. As its poly silk material makes it easy to carry. Most women love to wear it at weddings and special events
10. Trisha In Grey Shades Saree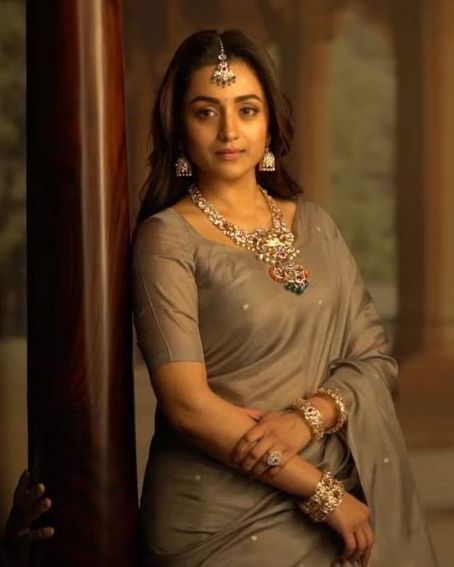 The gorgeous actress Trisha is in Grey colour that emits trendy vibes. This saree looks unique and simple with a regular blouse. This saree perfectly suits all events and function with simplicity and naturality.
11. Trisha In Off White And Pink Saree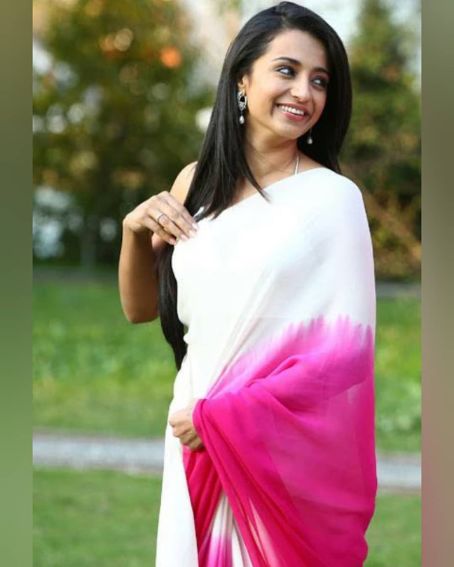 The dual shaded saree of trisha with white and pink combination saree looks mesmaring with sleeveless blouses. This colour combination saree is rare and easily gets attracted with its lightweight and pattern.
12. Trisha In Turquoise Green Embroidered Saree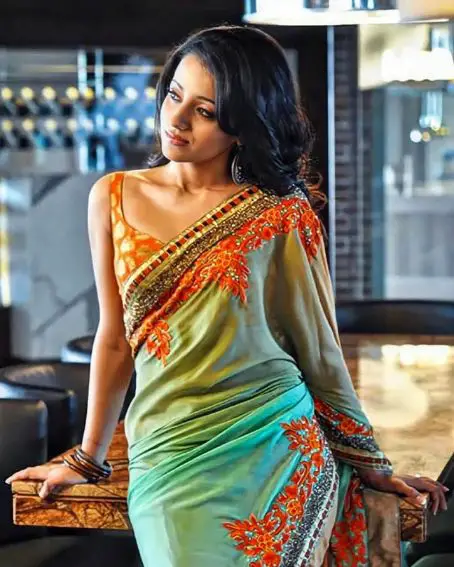 The marvellous actress Trisha is in a lite turquoise green embroidered saree which has a trendy look with sleeveless blouse. The saree has an orange machine made embroidery work on borders and pallu that gives the best finishing.
13. Trisha In Dark Purple Textured Colour Saree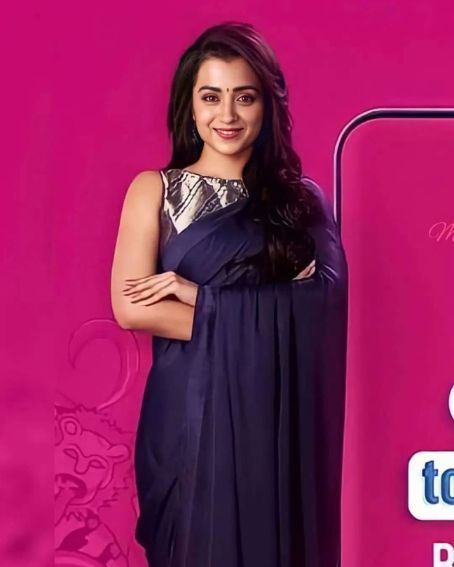 The mesmerising saree of Trisha has dark navy blue saree along with contrast silver striped sleeveless blouse. This is a chiffon plain navy blue saree which is lightweight and easy to handle. This saree looks gorgeous and is preferred mostly for travelling.
14. Trisha In Pink Saree With Chamki Work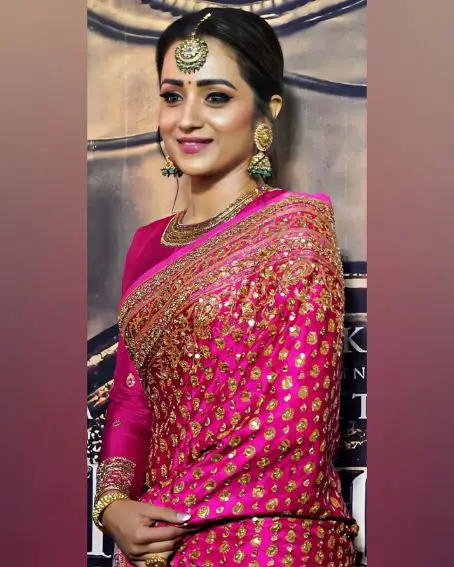 The attractive saree looks of Trisha is beautiful with golden chamki embroidery and full sleeve blouse. The golden petals are arranged in the border to make it more special and give a grand look in all parties and events.
15. Trisha In Grey And Red Saree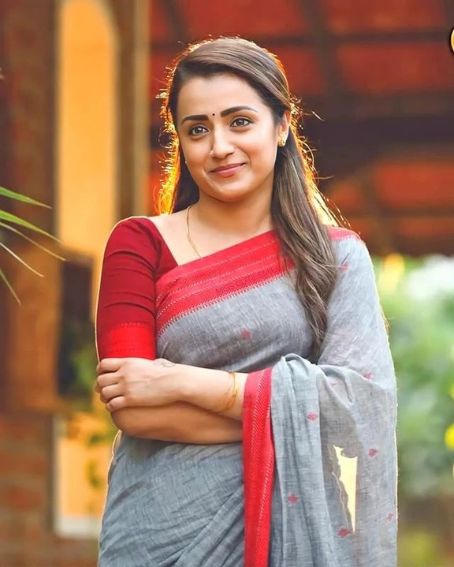 This is a simple and nice saree of Trisha, in grey and red border cotton blended saree, and is with a self design pattern. This saree can be worn on regular and for office purposes.
You Might Also Like: