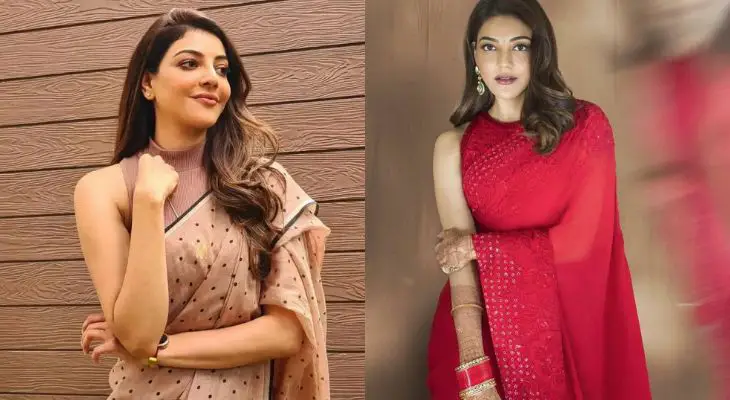 Kajol Agarwal is a cute and lovely south indian actress who burst out with her talent and beauty with fashion. In this article we have listed some of Kajol Agarwal in different types of sarees which brings out her beauty with traditional costume
Here we have shortlisted some of the best pics in which she flaunts her in saree wearing style with tradition and western style.
15 Beautiful Pics of Kajal Agarwal in Saree
1. Gorgeous Kajal Agarwall In Off White And Black Printed Pattern Saree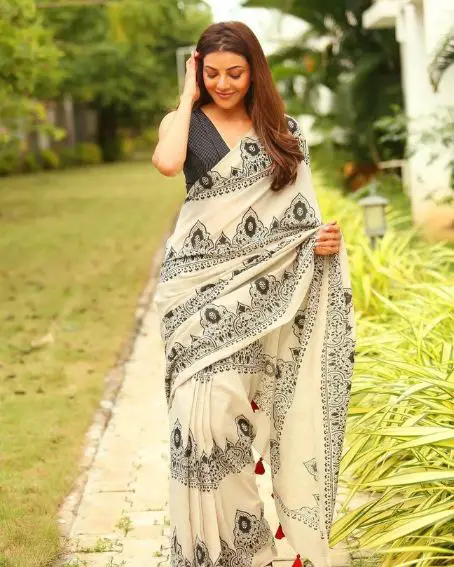 Kajal Agarwal looks gorgeous and this off white and black printed saree with a striped pattern blouse. This saree has a printed pattern of Motifs which is the best suit for poojas and visiting temples.
[ Read: Most Beautiful Pics of Shruti Hassan in Saree ]
2. Floral Pattern Peach Color Saree Of Kajal Agarwal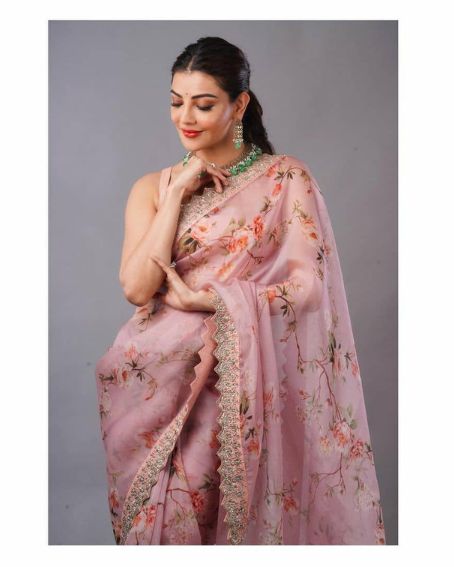 This is an amazing 3D floral print pattern on a peak color saree in which Kajol Looks amazing with a zigzag pattern lace border with chamki work. This saree blouse is in sequins with sleeveless.
[ Read: Amazing Pics of Sonakshi Sinha in Saree ]
3. Gray And Silver Shiny Saree Of Kajal Agarwal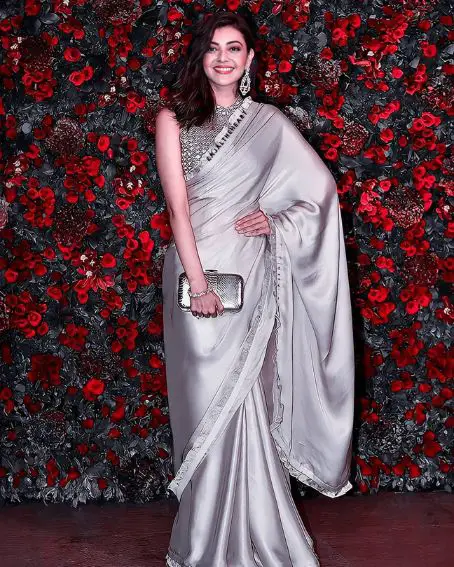 The eye-catching silver shade Gray glossy saree looks so attractive and brings out the beauty of Kajal Agarwal in this flawless gray Shiny saree. The blouse is with a sequence, round neck and sleeveless self design blouse.
[ Read: Amazing Pictures of Shraddha Kapoor in Saree ]
4. Gray Saree With Black Velvet Border Saree And Blouse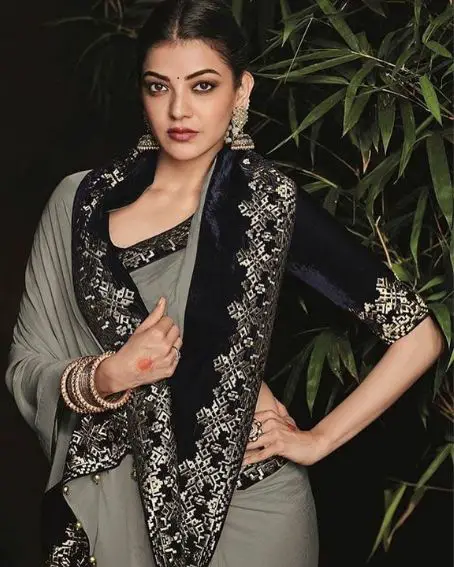 The most stylish gray and black combination saree has mind blowing looks with velvet border and digital print on it and blouse comes in sequins. This designer saree looks great on parties and festivals.
[ Read: Gorgeous Pics of Tamanna Bhatia In Saree ]
5. Kajol Agarwal On Brown And Gold Mix Saree With Blouse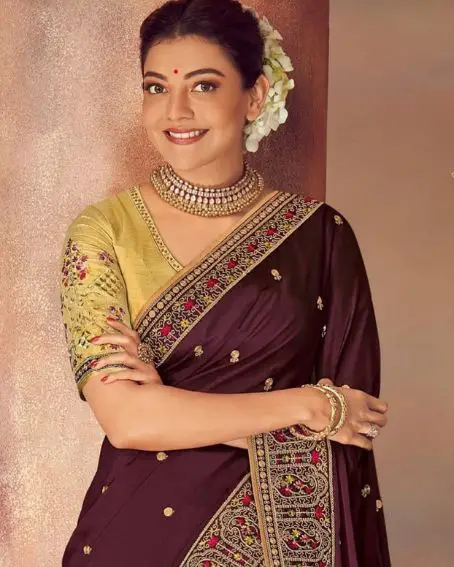 Kajal agarwall looks gorgeous in this bright and Radiant red wedding saree which looks very glossy with a zari finishing border along with a self design pattern pattu saree with a regular red blouse. This saree suits Yamini very well with her jewelry set.
[ Read: Bollywood Actress in sarees ]
6. Amazing Green Floral Saree Of Kajol Agarwall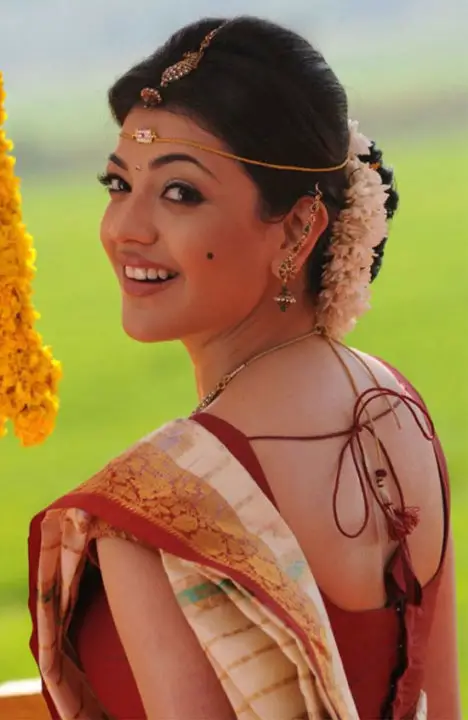 This is an amazing floral print pattern on a green saree of Kajal Agarwal, which looks amazing with an embroidery lace border. This saree blouse has a sequin with embroidery pattern and sleeveless.
7. Radiant Red And Gold Border Kajol Saree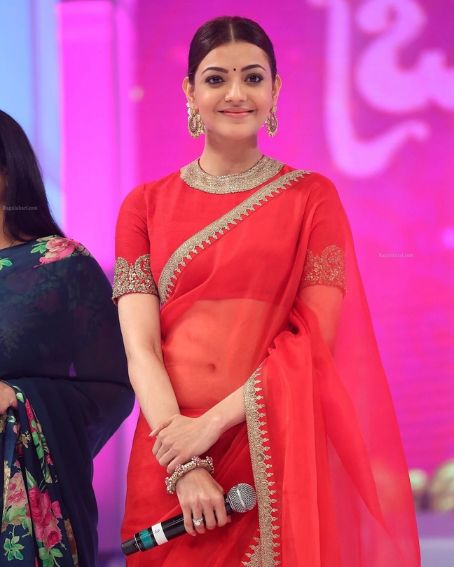 Kajol Agarwal cuteness is overloaded with her beautiful smile, she looks stunning in this thich cherry red chiffon saree is embellished with golden lace border and with sequin blouse with round bordered neck line.
8. Kajol Agarwall In Brown Cotton Saree With Blouse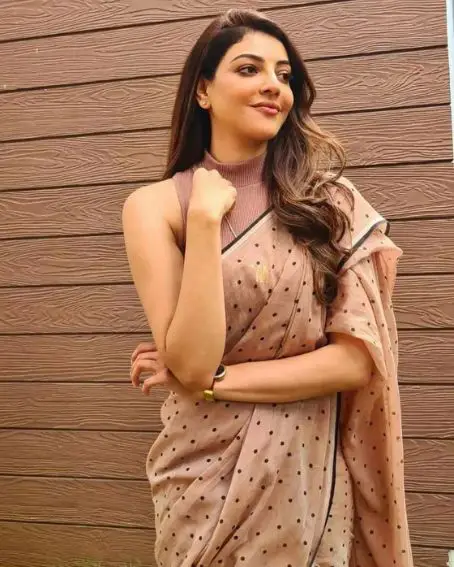 Kajol agarwall choses a simple and elegant brown cotton saree which is with black spots all over with black border line printed saree. The blouse is with a modern touch in sleeveless turtleneck.
9. Western Style Saree Of Kajal Agarwall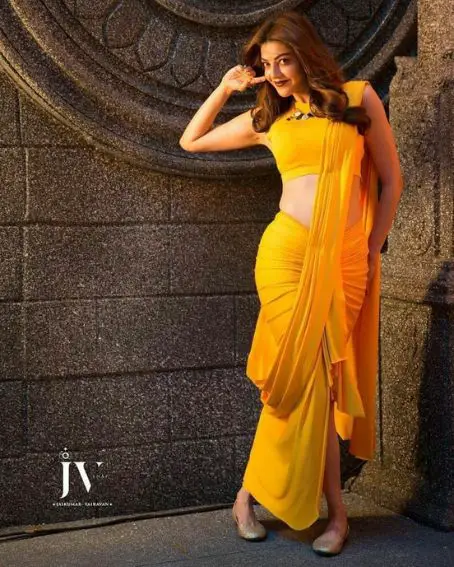 The Majestic look of gorgeous yellow western saree is designed with flawless elegance. This saree is with a beautiful assigned pleated pattern with sequined blouse that exudes a retro vibe with fancy and trendy style of wearing saree.
10. Traditional Peach Saree And Gold Border Pattu Saree With Blouse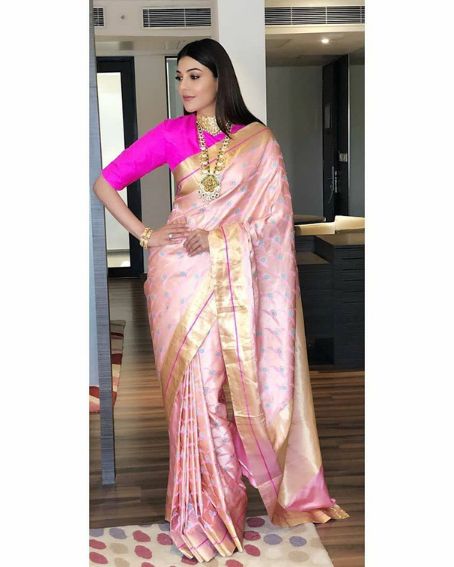 This is a traditional peach color saree which has zari work on borders. The saree looks very bright and elegant with a jewelry set of Kajol agarwal. This saree can be worn on Grand occasions like weddings and festivals.
11. Bright Lemon Yellow Netted Saree With Blouse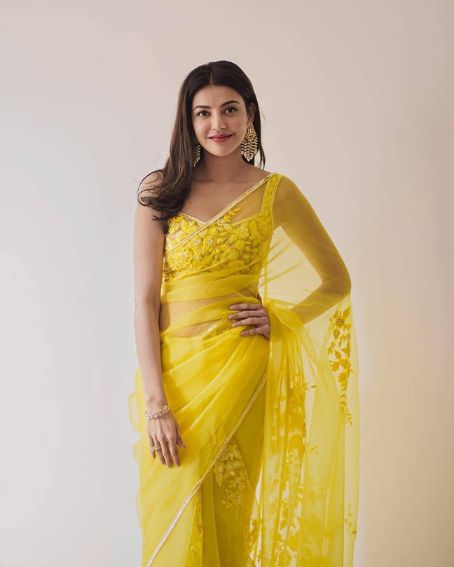 The elegant yellow coloured saree brings out the glow and charm on the face of kajal agarwal. This is a yellow netted saree with lace border and embroidery work and blouse is with sleeveless and embroidery pattern.
12. Traditional Sea Blue Saree With Western Pattern Blouse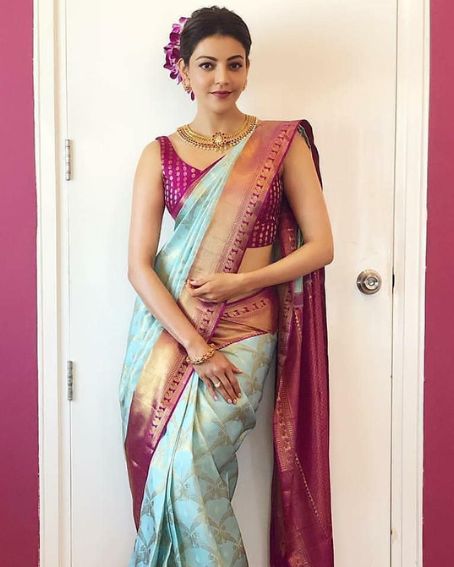 The awesome sea blue color traditional pattu saree is embellished with a selfdesign pattern along with golden zari on pink border and Pallu. This saree looks traditional on weddings and festivals with sleeveless pink off pattu blouses.
13. Gorgeous Kajal Agarwal In Gray Ruffle Saree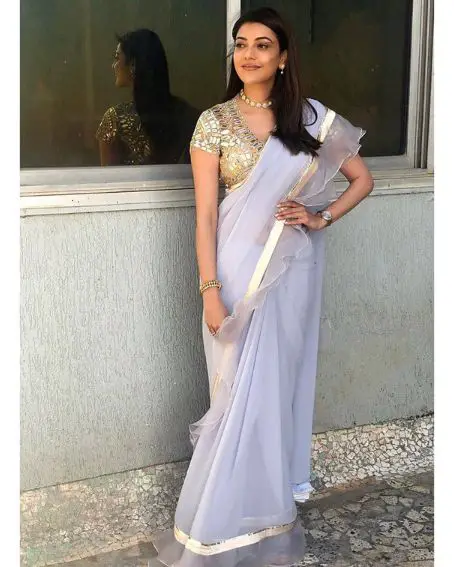 The charming beauty Kajal agarwal is with simple feathered pleated ruffles, which are attached to the border on a plain gray saree along with golden lace border. The blouse is decorated with heavy stone work.
14. Kajol Agarwal In Flawless Red Saree With Blouse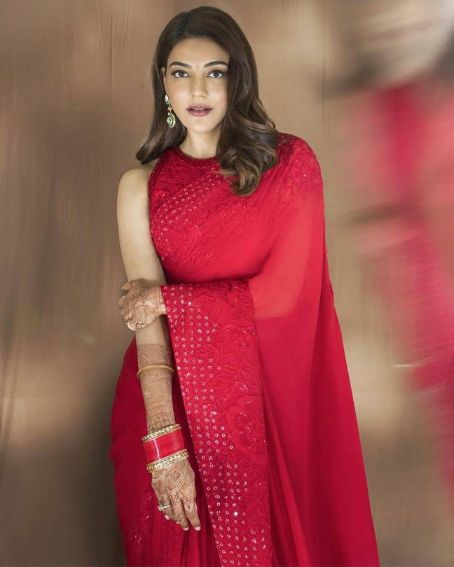 Kajol Agarwal gives a stunning look with a beautiful red chiffon saree embellished with chemki and embroidery pattern on the border and with a sequin blouse with sleeveless and round bordered neck line.
15. Pink And Orange Combination Striped Pattern Saree And Blouse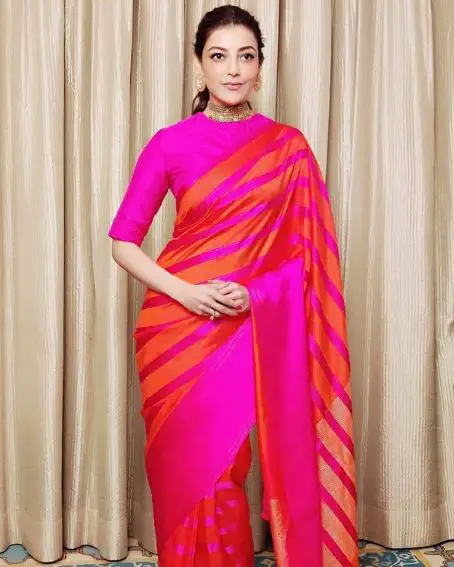 The cultural look of the pink and orange mix striped pattern saree of Kajol Agarwal looks awesome with this pattern running all over the saree and pink sequin three fourth sleeve blouse.
You Might Also Like: