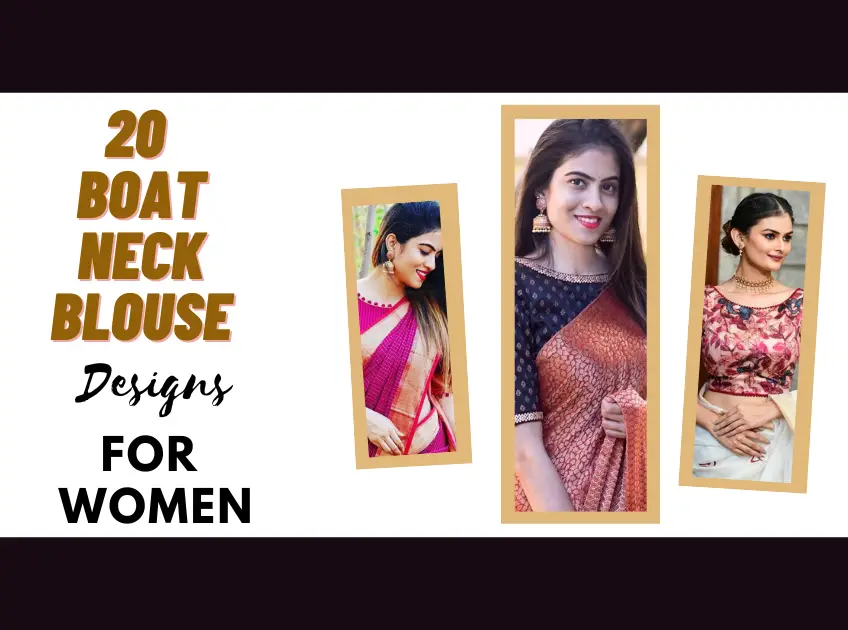 The blouse neckline which comes with the Boat shape is Boat Neck blouse design. This blouse design can be paired with any variety of kurtis, sarees, lehengas. For these designs embroidery can be done from simple to elaborate.
Boat neck blouse designs, also known as boatneck attire styles, feature a wide neckline that gently curves from shoulder to shoulder, resembling the shape of a boat. This neckline showcases the collarbone and shoulders, adding a touch of sophistication to any outfit.
20 Latest and Trendy Boat neck blouse design
1. Red Boat Neck Blouse With Tie Back With Gold Zari Sleeves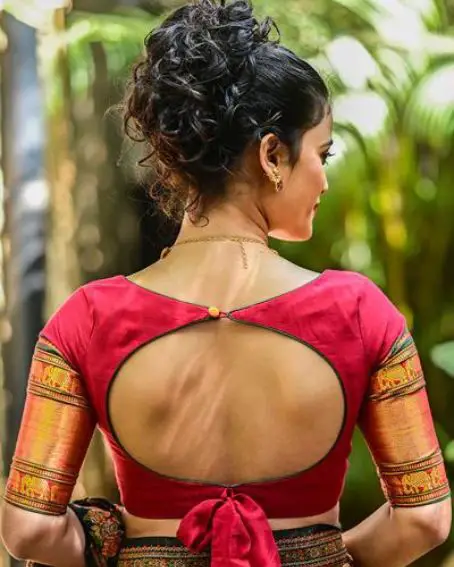 Embrace elegance with this red boat neck blouse, featuring a charming tie-back detail. A fusion of boatneck fashion trends and stylish blouse cuts creates a modern silhouette that captivates with its contemporary allure.
2. Black Pure Chiffon Boatneck Blouse with Brocade Border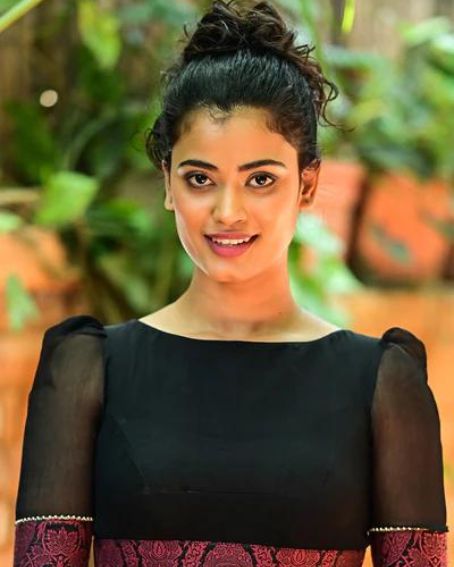 This black chiffon blouse seamlessly combines boat neck attire styles and designer blouse necklines. The brocade border adds a touch of elegance, making it an exquisite choice for sophisticated events.
3. Beige Floral Pure Raw Silk Boat Neck Blouse with Maroon Floral Print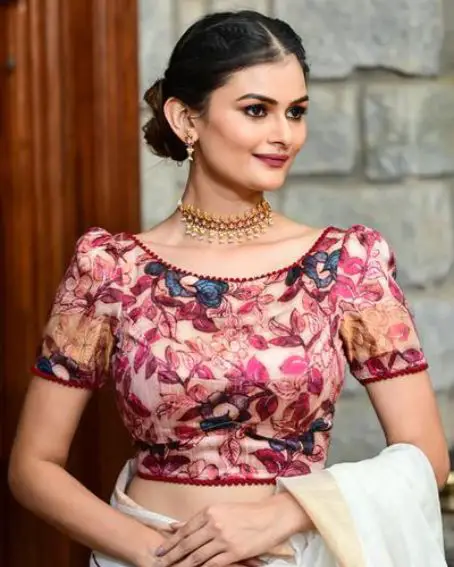 Radiate grace in this beige floral raw silk blouse, merging chic blouse styling with boatneck clothing aesthetics. The intricate floral design embodies both modern and traditional elements.
4. Maroon Boat Neck Blouse in Chiffon with zari detailing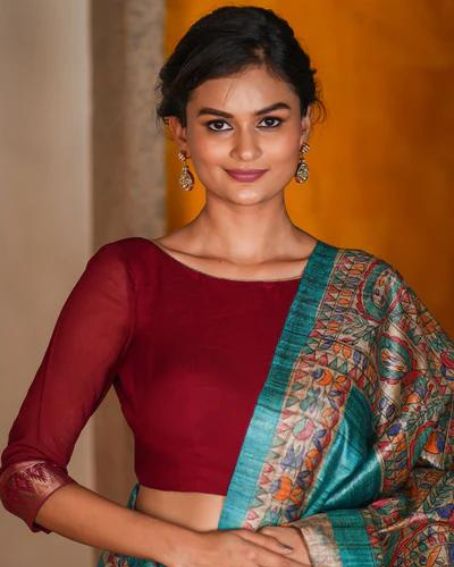 A maroon boat neck blouse epitomizes timeless blouse neck designs. Its classic appeal aligns with boatneck garment inspirations, creating an ensemble of understated elegance.
5. Orange and Reddish Pink Checked Pure Raw Silk Boat Neck Blouse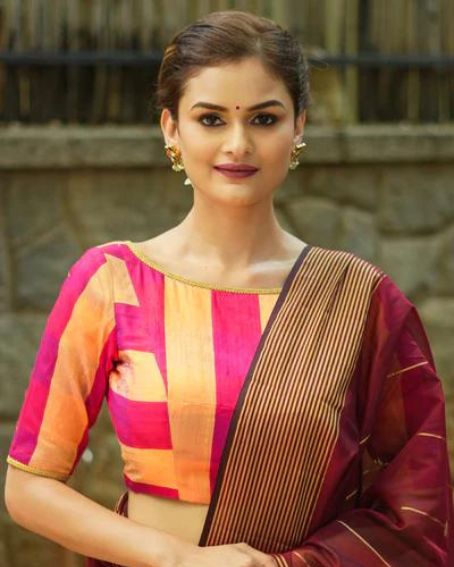 Explore contemporary blouse concepts with this orange and reddish pink checked blouse. The boat neckline accentuates the pure raw silk fabric, blending modern blouse silhouettes with chic aesthetics.
6. Multicolor Boat Neck Cotton Blouse with Kutch Embroidery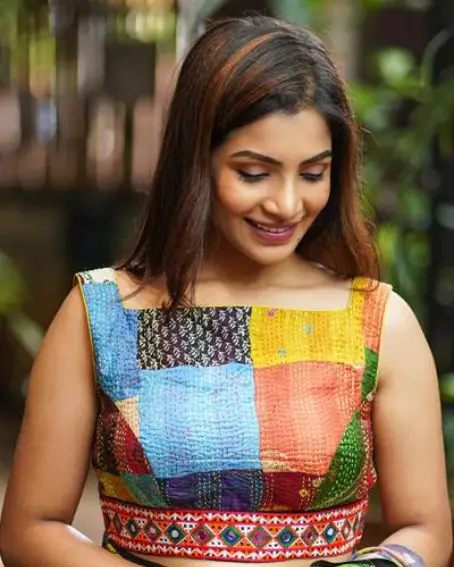 Experience the synergy of colors and traditions in this multicolor cotton blouse. Kutch embroidery and boatneck top ideas intertwine, resulting in a vibrant masterpiece of elegant blouse variations.
7. White Boat Neck Chikankari Embroidered Sustainable Tunic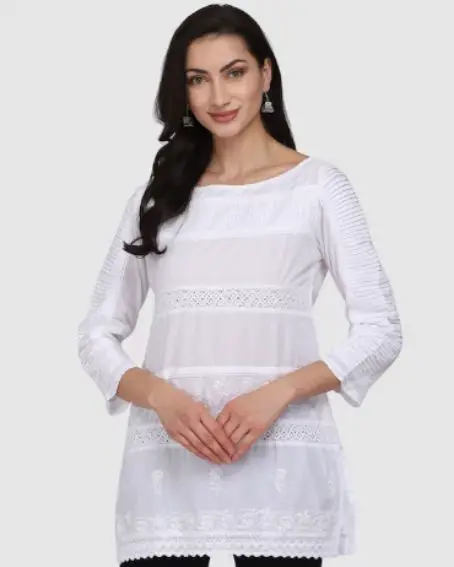 Infuse heritage into your attire with a chikankari boatneck blouse. This blend of boat-necked top ideas and traditional craftsmanship celebrates the allure of blouse neck designs.
8. Cream And Gold Brocade Boatneck Blouse With Border Detailing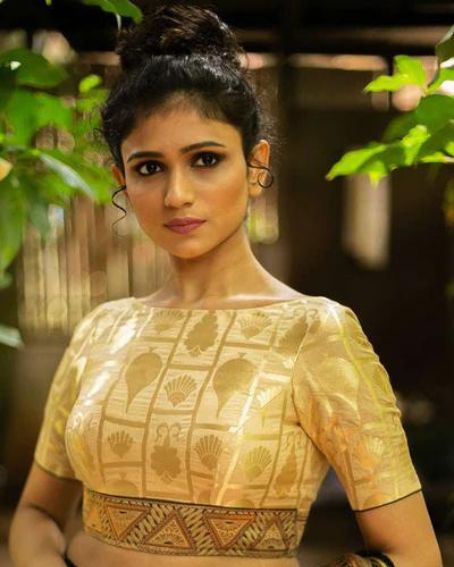 The amalgamation of boat neckline outfit options and embellished detailing creates a resplendent look.A cream and gold brocade boatneck blouse can be a beautiful and elegant choice for young girls and teenagers.
9. Pinkish red raw silk boatneck sleeveless blouse with Silk saree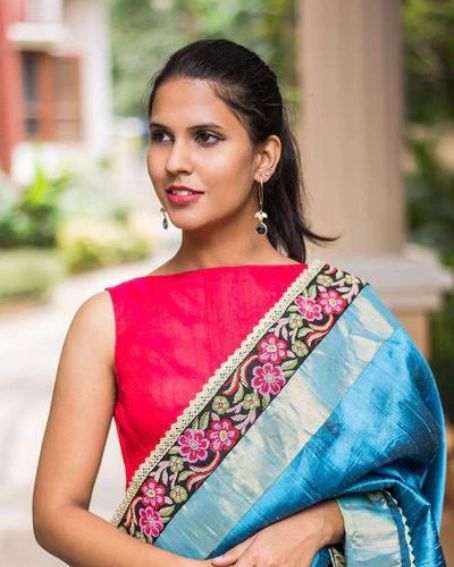 This sleeveless boatneck blouse gracefully combines boatneck clothing aesthetics with modern blouse silhouettes. The pinkish red raw silk fabric exudes sophistication in a minimalist design.
10. Pink Silk And Purple Ikat Sleeveless Boatneck Blouse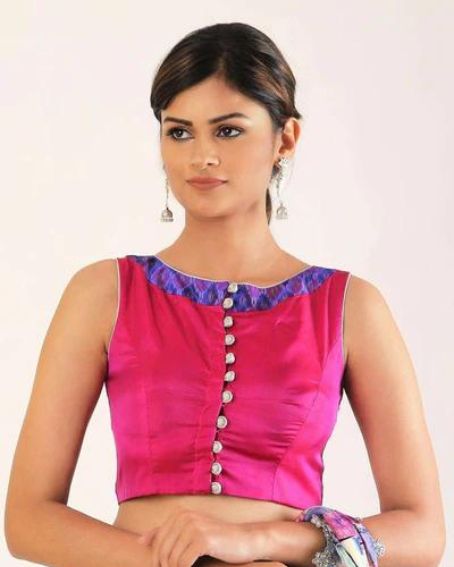 Embrace versatile elegance with a sleeveless boatneck blouse, a style that appeals to women, young girls, and teenagers alike. It's simple yet refined design resonates with boat neck attire embellishments, providing a canvas for personalized chic blouse styling
11. Stunning Pink Color Boat Neck Blouse with silk saree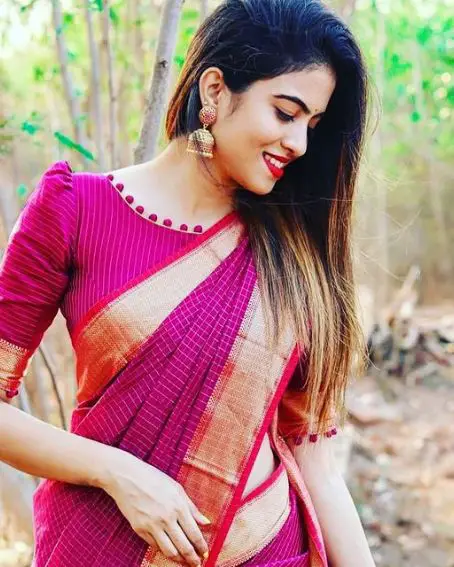 This stunning pink boat neck blouse is a testament to elegant blouse variations. Its timeless design and boatneck garment inspirations create an ensemble that transcends trends.
12. Boat Neck Blouse checks Design Red Color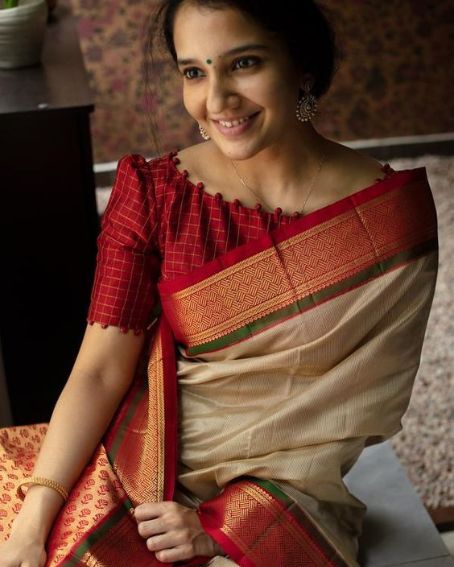 Dive into classic charm with a red boat neck blouse. The incorporation of boat-necked top ideas and a vibrant red hue captures attention while maintaining an enduring appeal.
13. Beige Boat Neck Pure Silk Mark With Tussar Silk Blouses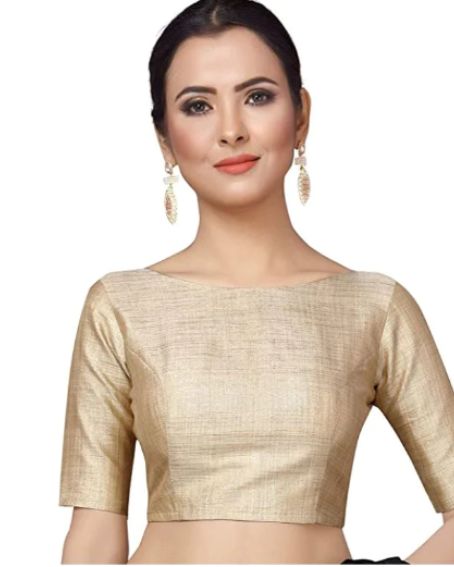 Experience elegance and luxury with our Beige Boat Neck Pure Silk Mark saree paired with exquisite Tussar Silk blouses. Elevate your style quotient with this timeless combination of pure silk craftsmanship, perfect for any special occasion.
14. Red Boat Neck Blouse with Puff Sleeves with green saree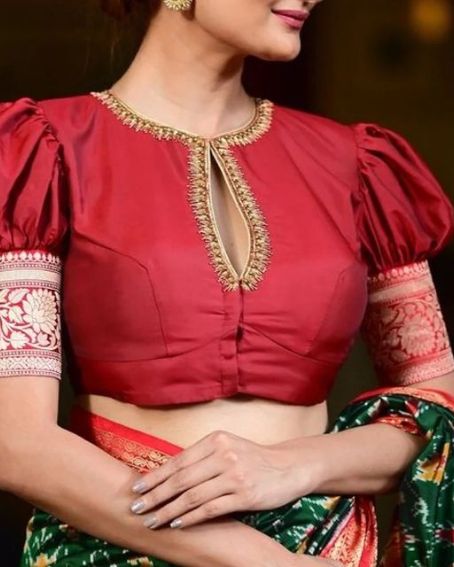 Chanel timeless sophistication with a red boat neck blouse featuring puff sleeves. The fusion of boat neckline outfit options and elegant blouse variations exudes graceful allure.
15. Brocade Boat Neck Elbow Length Blouse In Pink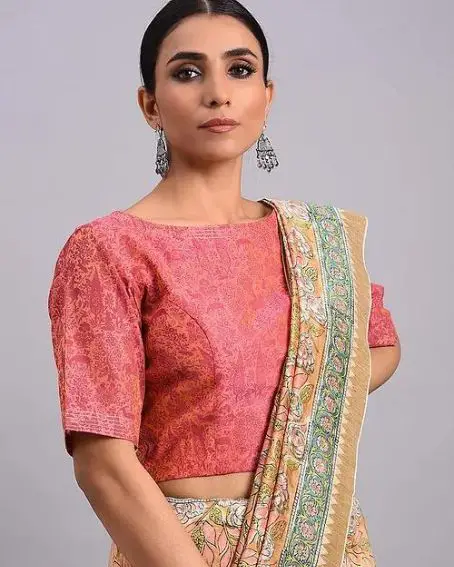 Immerse yourself in the charm of chanderi fabric with a pink boat neck blouse. The blend of boatneck attire styles and intricate prints creates a delightful ensemble.
16. Benaras Boat Neck Blouse Design in Black Color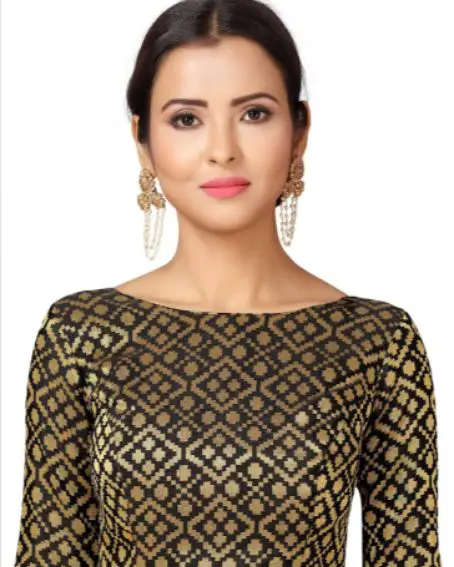 A Benaras boat neck blouse in black epitomizes classic chic. Boatneck clothing aesthetics merge flawlessly with traditional design elements, showcasing a perfect harmony.
17. Blue Color Boat Neck Blouse Design with Kundan Work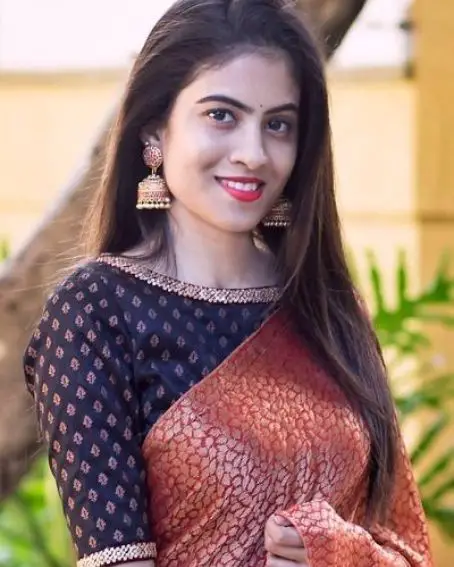 Indulge in regal elegance with a blue boat neck blouse adorned with Kundan work. This creation interweaves boatneck garment inspirations with opulent embellishments.
18. Kalamkari Red and yellow Color Boat Neck Blouse Design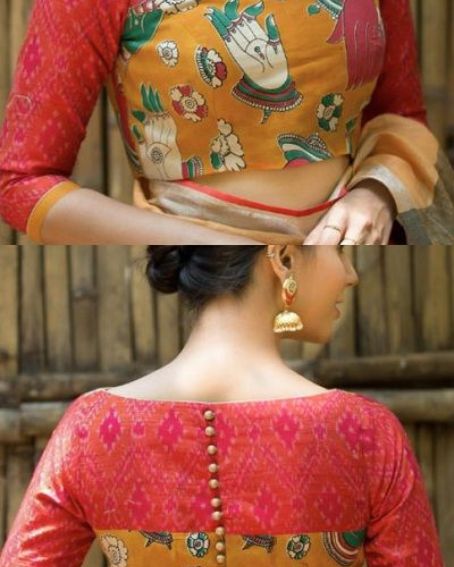 A Kalamkari red color boat neck blouse design can be a beautiful and traditional choice for women, young girls, and teenagers. Kalamkari is a traditional Indian textile art form known for its intricate hand-painted or block-printed designs.
19. Ivory Pure Raw Silk Blouse with Kemp Work Detailing on Boat Neck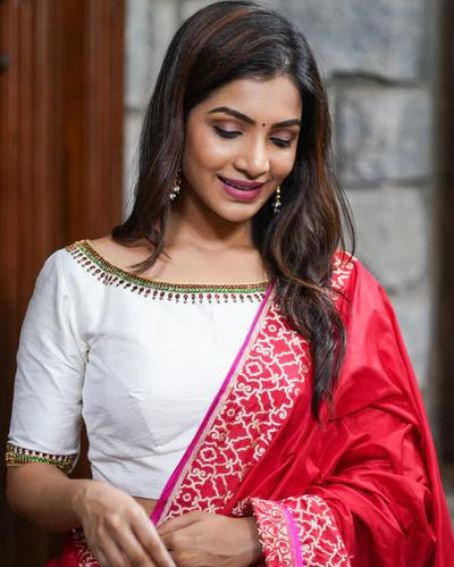 Experience grandeur in an ivory raw silk blouse featuring Kemp work on the boat neck and Jadau back buttons, a luxurious choice that appeals to women, young girls, and teenagers alike. The fusion of boatneck attire embellishments and traditional elements exudes opulence and elegance.
20. Women Blue Floral Rayon Cotton Boat Neck Blouse Design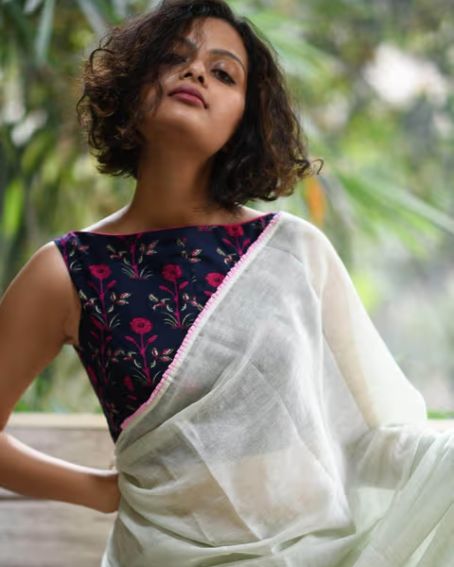 Discover comfort and style in a blue floral rayon cotton blouse. Boatneck top ideas merge effortlessly with modern fabrics, showcasing a blend of chic blouse styling and casual elegance.
What Are The Features Of The Boat Neck Blouse Design?
Boat neck blouse designs, also referred to as boatneck attire styles, are characterized by a broad neckline that gently arcs from one shoulder to the other, resembling the shape of a boat.
This unique neckline design elegantly highlights the collarbone and shoulders, imparting a touch of refinement to the overall ensemble.
Boat neck blouse patterns are available in various depths, offering women the flexibility to opt for a style that aligns with their comfort level and personal preferences.
The boatneck fashion trend encompasses both sleeveless and sleeve variations, catering to a wide range of style choices and seasonal considerations.
These blouse designs exhibit diverse cuts, ranging from minimalist and contemporary to more conventional and ornate, accommodating different fashion sensibilities.
What Fabrics And Colors Are Commonly Used For Boat Neck Blouses?
Boat neck blouses can be made from a variety of fabrics, depending on the desired look, comfort, and occasion. Here are some common fabrics used to make boat neck blouses:
Silk: Silk is a popular choice for boat neck blouses, especially for traditional and formal occasions. It has a luxurious feel and a natural sheen that adds elegance to the outfit.
Cotton: Cotton boat neck blouses are comfortable and breathable, making them suitable for casual and everyday wear. They can be simple and versatile or adorned with prints and embellishments.
Chiffon: Chiffon is a lightweight and sheer fabric that adds a delicate and feminine touch to boat neck blouses. It's often used for semi-formal or formal occasions.
Georgette: Georgette is another lightweight fabric that drapes well and has a slightly textured surface. It's a good choice for boat neck blouses with a flowy and ethereal appearance.
Velvet: Velvet boat neck blouses can add a rich and luxurious feel to an outfit. They are often chosen for festive or special occasions.
Lace: Lace fabrics are used to create intricate and delicate boat neck blouses that can range from vintage-inspired to contemporary styles.
Brocade: Brocade fabrics are woven with raised patterns that give a luxurious and textured appearance. They are often used for boat neck blouses in traditional and ethnic wear.
Satin: Satin offers a smooth and shiny surface that gives boat neck blouses a polished and formal look. It's commonly used for elegant and evening attire.
Net: Net fabric can be used to create a sheer and see-through effect for boat neck blouses. It's often layered with other fabrics for a unique look.
Crepe: Crepe fabric has a crinkled texture and drapes well. It's commonly used for boat neck blouses with a modern and sophisticated appeal.
Jacquard: Jacquard fabrics feature intricate woven patterns and textures, making them suitable for adding depth and visual interest to boat neck blouses.
On What Occasions Do Women Prefer To Wear This Boat Neck Design Blouse?
Women typically wear boat neck blouses on various occasions, especially in the context of traditional and cultural attire. Here are some occasions where boat neck blouses are commonly worn:
Indian Weddings: In Indian ethnic fashion, boat neck blouses are often paired with sarees and lehengas for wedding ceremonies, receptions, and other festive events. They add a touch of elegance and modernity to the traditional attire.
Festivals: During religious and cultural festivals like Diwali, Durga Puja, Eid, and Christmas, women, young girls, and teenagers often opt for boat neck blouses as part of their ethnic outfits to celebrate in style.
Family Functions: For family gatherings, such as engagement parties, anniversaries, and special celebrations, boat neck blouses can be a popular choice to create a sophisticated yet traditional look.
Cultural Events: Women might opt for boat neck blouses when attending cultural events, dance performances, or theater shows, especially if they want to showcase a blend of modern and traditional aesthetics.
Formal Gatherings: In some cases, boat neck blouses can be worn at formal events like award ceremonies, galas, and fundraisers, where a fusion of traditional and contemporary styles is desired.
Fashion Shows: During fashion exhibitions and runway events, designers often showcase boat neck blouses as part of their collections, demonstrating how this style can be incorporated into different ensembles.
Art Exhibitions and Openings: When attending art-related events or gallery openings, women might choose boat neck blouses paired with artistic or cultural-themed outfits to reflect their appreciation for creativity.
Cocktail Parties: Boat neck blouses can also be worn with modern, chic bottoms like skirts or palazzo pants for semi-formal cocktail parties or upscale social gatherings.
Bridal Showers: For bridal showers or pre-wedding events, boat neck blouses can be an option for the bride or her close friends who want to embrace a mix of traditional and contemporary fashion.
Graduation Ceremonies: Some young girls, teenagers might choose boat neck blouses to wear under academic gowns during graduation ceremonies, adding a touch of their personal style to the formal attire.
What Is The Origin Of Boat Neck Blouses?
Origin
The boat neck blouse was first designed by French fashion designer Coco Chanel in the 1920's, Chanel was known for her stylish designs.
In the world of fashion, boat neck blouse designs stand as a testament to the seamless blend of tradition and contemporary allure. These versatile pieces of elegance not only highlight the neckline but also enhance the overall charisma of women, making them ideal for various events, weddings, and parties. With diverse styles and innovative embellishments, boat neck blouses hold the power to reflect the wearer's personality while embracing the ever-evolving landscape of fashion trends. Explore these variations, and let your wardrobe resonate with the captivating essence of boat neck attire.
Related Articles