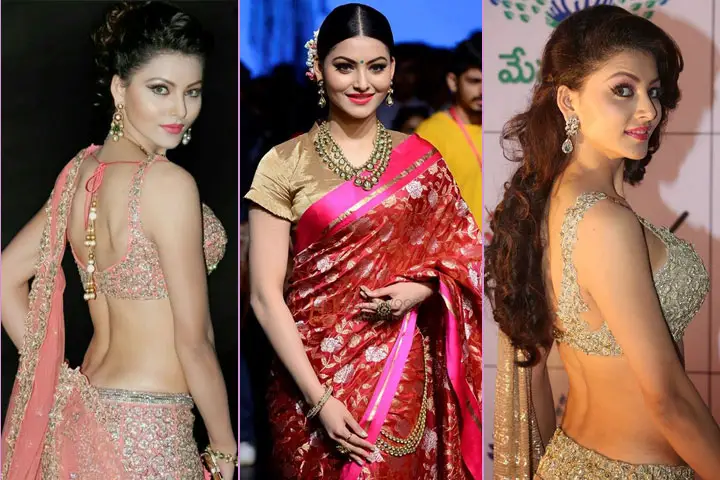 The love for different saree has been redesigned, styled, and even merged with other attires without losing its original make. Most celebrities wish to wear saree for their special events. Urvashi Rautela is one of the celebrities who love to wear a saree very much. The beauty of Bollywood wears several designer sarees which make her fan to pull a similar saree look as her. You can dress up with a saree for a Pooja ceremony or get-together or any function. Saree won't lose their popularity. it will come in multiple colors with different splendid designs. Some of the prettiest Urvashi Rautela stunning saree designs for you.
20 Awesome Pics of Urvashi Rautela In Saree
1. Urvashi Rautela In Beautiful Designer Saree On Premium Satin Fabric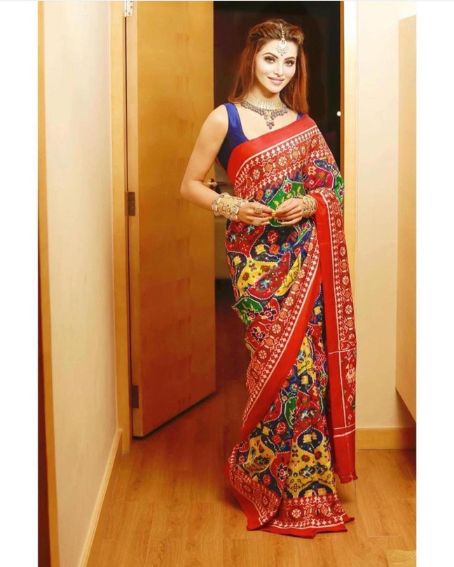 Urvashi Rautela looked gorgeous in this satin fabric designer saree. Anything and everything are good for her because she used to have such a unique body feature. Various design with contrast blue blouse is ravishing on her.
[ Read: Most Beautiful Pics of Shruti Hassan in Sarees ]
2. Urvashi Rautela In Soft Linen Unique Fabric Saree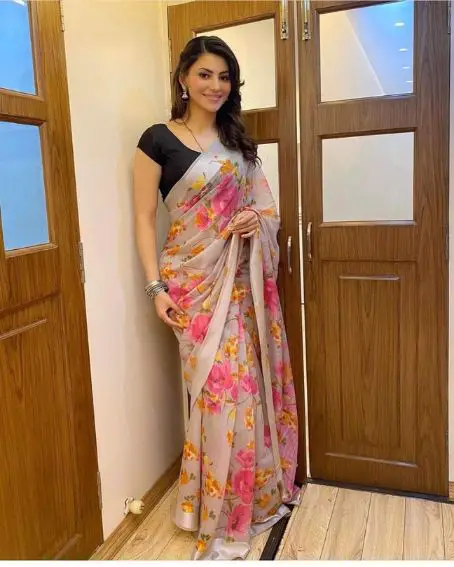 This mesmerizing actress is always wonderful in Indian attire. Floral design gives her extra prettiness and she wore a simple black blouse which is suitable for all sarees. Go ahead for this type of saree to look like Urvashi Rautela.
[ Read: 14 Awesome Pics of katrina kaif in saree ]
3. Urvashi Rautela In Grand Dark Pink Saree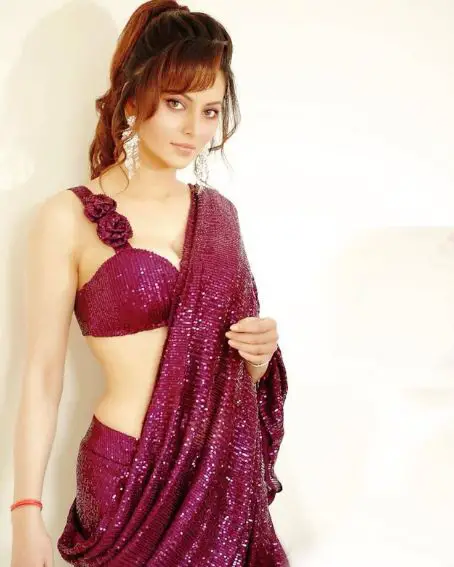 Sarees play a major role in Indian tradition, particularly in marriage, and also it is an excellent costumes. If you want to go to any grand parties pick a grandeur saree like Urvashi Rautela. This pink suits her very well for her beautiful face.
[ Read: Crazy Pics of Deepika Padukone In Saree ]
4. Urvashi Rautela In Sequence Work Saree With Velvet Blouse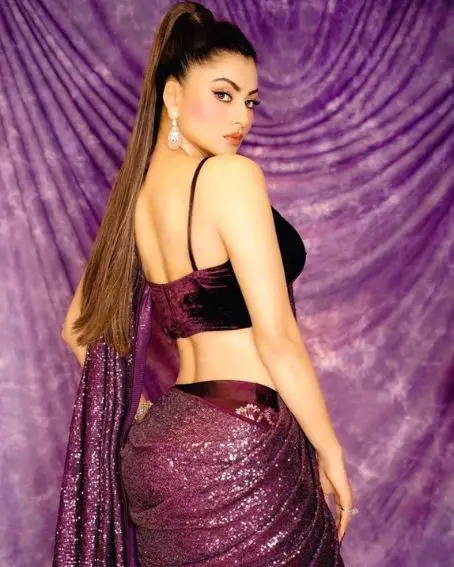 Here is another innovative Urvashi Rautela sequence work saree that gives an extraordinary cuteness overall. Sequence sarees never fail to impress. When comes to flaunting a gorgeous look, this style is an ideal option.
[ Read: Amazing Celebrity transparent sarees ]
5. Urvashi Rautela In Black And Gold Net Saree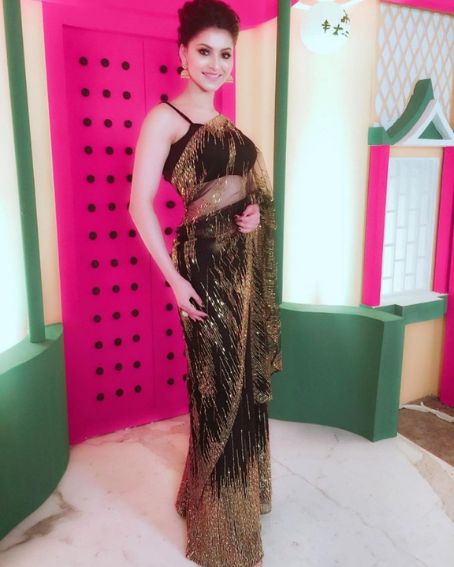 If you are looking for an elegant outfit for occasions like a day wedding, a cocktail party, or an office party pick a black and gold net saree like Urvashi Rautela, it is a great decision that you won't regret at any point.
[Read: 22 Graceful Pics of Simple Thread Work Blouse & Saree Designs ]
6. Urvashi Rautela In White Pearl Stoned Saree With Grand Net Blouse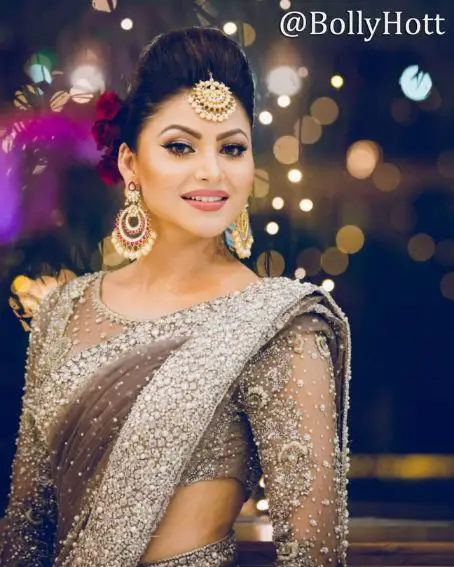 Urvashi Rautela ash saree is a perfect Indian ethnic wear and suits excellent for every occasion. Pearl-stoned design in her is absolutely stunning, you must have this style in your wardrobe.
7. Urvashi Rautela In Green Square Checked Saree With Sleeve Black Blouse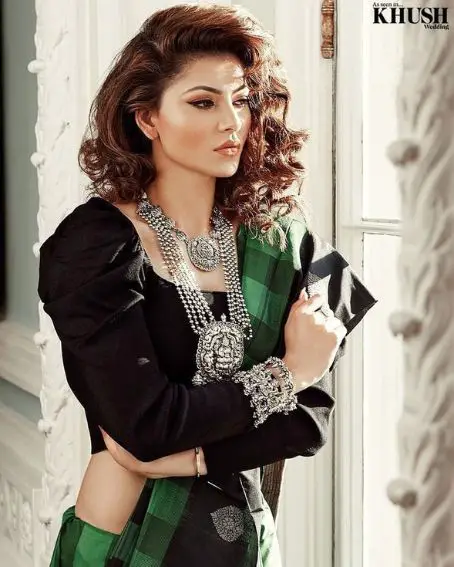 No matter how many years go by, some designs never fall out of trend, square checked saree is one on that list. It is almost impossible to beat the amazing green square-checked saree. When paired with a black blouse is more than perfect.
8. Urvashi Rautela In Ethnic Tamil Traditional Saree
New saree trends may come and go but ethnic Tamil traditional saree always deserves a special place in your heart. Urvashi wore a yellow with pink bordered saree, in which she looks very gorgeous with elegant jewelry.
9. Urvashi Rautela In White Colored Sequin Work Saree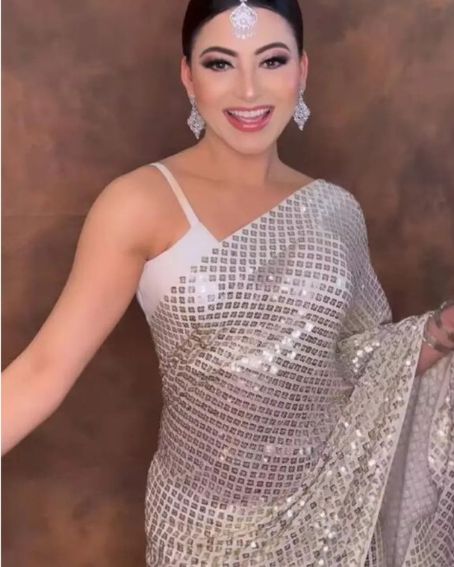 If you are going to have to earth look yet want a marvelous saree, why not opt for this white-colored sequin saree that is Urvashi Rautela wearing gorgeously? This is a good choice for formal office parties as well as social gatherings.
[Read: 20 Best Georgette Saree Designs For Women]
10. Urvashi Rautela In Stunning Yellow Designer Saree With Net Sleeve Blouse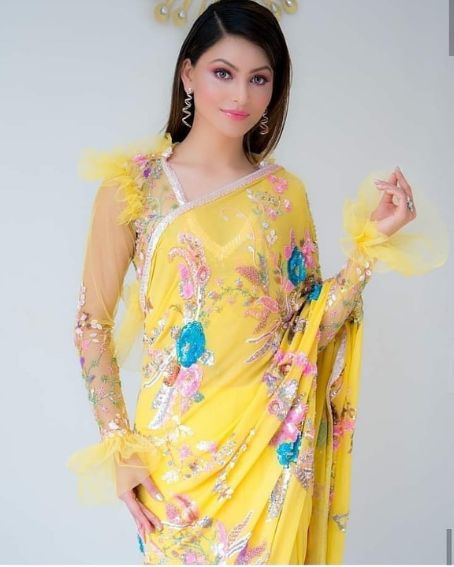 The yellow designer saree looks brilliant when paired with a puff end-sleeve net blouse. This transparent saree is an excellent option for the evening party and you can wear it without any jewels like this beautiful Bollywood actress.
11. Urvashi Rautela In Simple Blue Paisley Designed Saree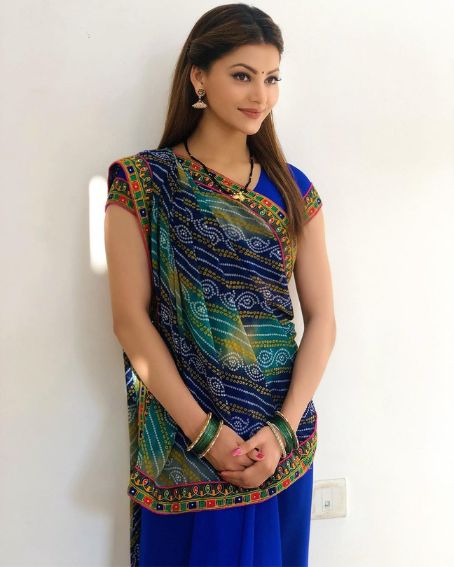 Do you like to have a simple and fabulous saree? Then why you are waiting, go ahead with Urvashi Rautela wearing a simple blue Paisley-designed saree. This style is absolutely fit for party wear.
12. Simple Red Saree With Gold Blouse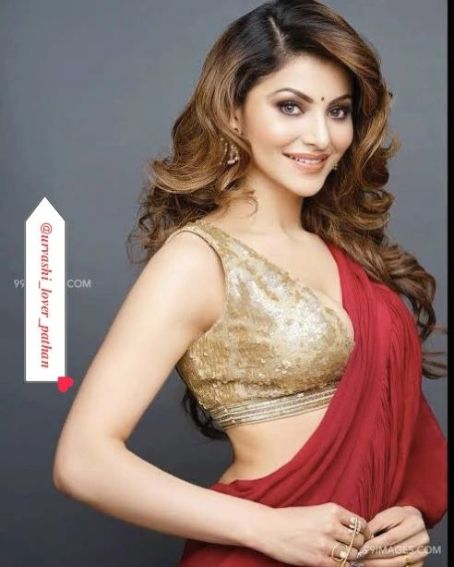 Red saree with gold blouse has always been a striking combo that makes other heads turn. Urvashi Rautela's red saree can adorn your wardrobe and come out right during the party season.
13. Plain Yellow Saree With Designer Blouse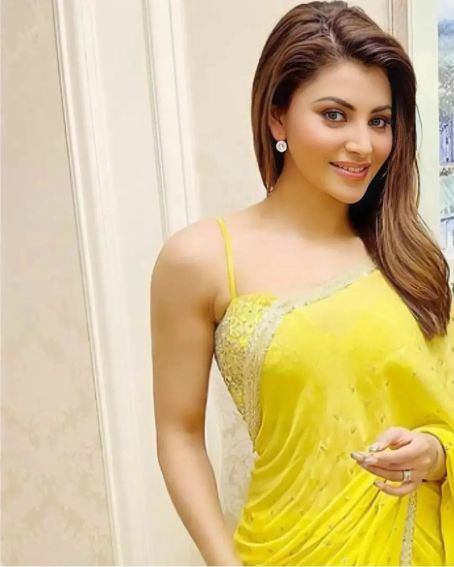 Urvashi Rautela wearing a plain yellow saree with a designer blouse is one of the most soothing hues to be worn that can give you elegant vibes. It gives a great look for a classy evening or a friend's wedding night look.
14. Light Green Saree With Sleeveless Blouse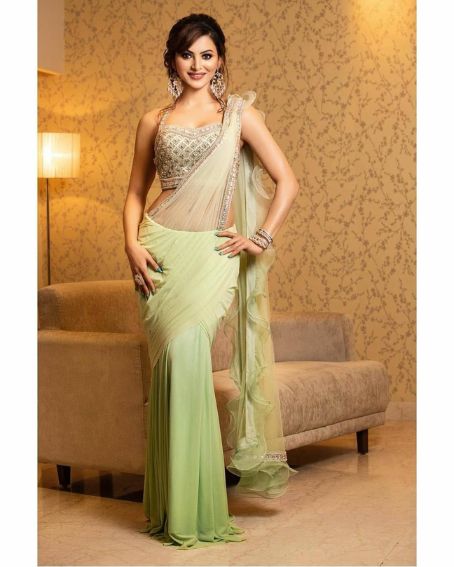 You can rock any event with this light green saree with a sleeveless blouse. If you want to keep things light surely you can have this Urvashi Rautela style. Match it with pretty earrings and a bangle to obtain a magnificent look.
15. Urvashi Rautela In A Saree With A Peplum Belt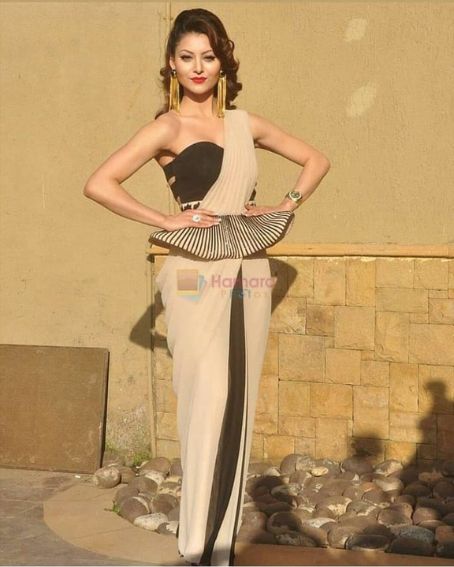 Urvashi Rautela's fashionable saree with a peplum belt around the waist gives a very elegant look. This saree design with a peplum belt is one of the most popular in the current fashion world.
16. Elegant Baby Pink Designer Saree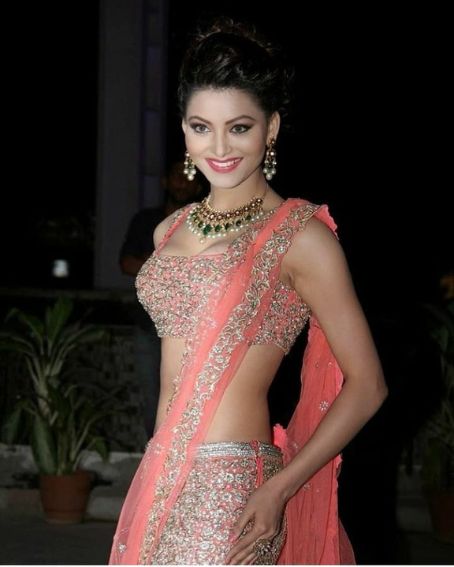 This eye-catching pink colored saree enhances Urvashi Rautela's beauty and gives her a stunning look. The glittering designs on her saree and blouse are adorable.
17. Amazing Pink Saree With Maggam Work Blouse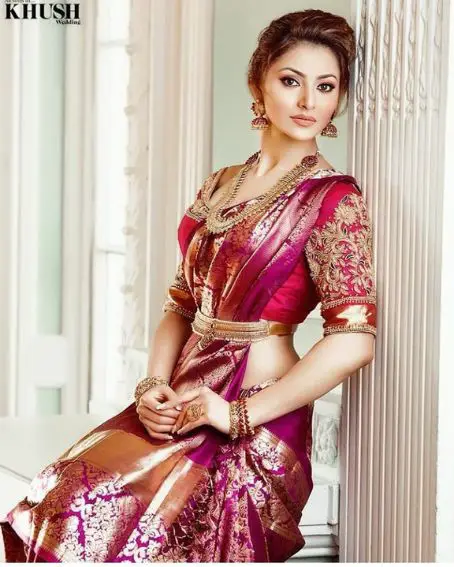 Urvashi Rautela's a saree and blouse with maggam work blouse, giving off a look of gorgeous that makes others forget to blink. The color of the saree and the design of the blouse enhances the beautiful look to the extent that the onlookers are amazed.
18. Stunning Peacock Blue Grand Saree Without Strap Blouse
Urvashi Rautela's huge peacock-colored saree gives this grand look that will leave everyone in the fashion world speechless. The designs on the saree are mesmerizing to the viewer.
19. Pink Lycra Shimmer Wedding Saree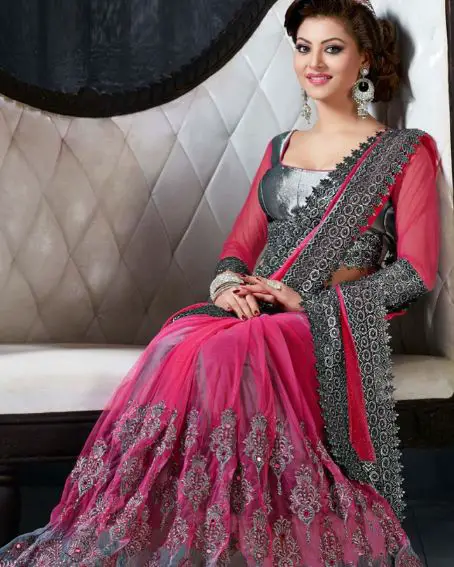 Are you a person who likes to dazzle others with your beauty on your wedding day? If yes, then this exquisite pink lycra shimmer wedding saree worn by Urvashi Rautela is definitely your choice.
20. Urvashi Rautela In Traditional Silk Saree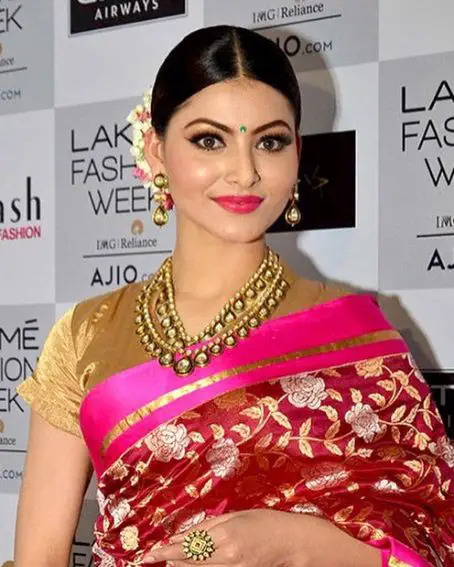 This traditional floral design silk saree worn by Urvashi Rautela will refresh your beauty and give you a unique and elegant look when you wear it on festivals and special occasions.
You Might Also Like: