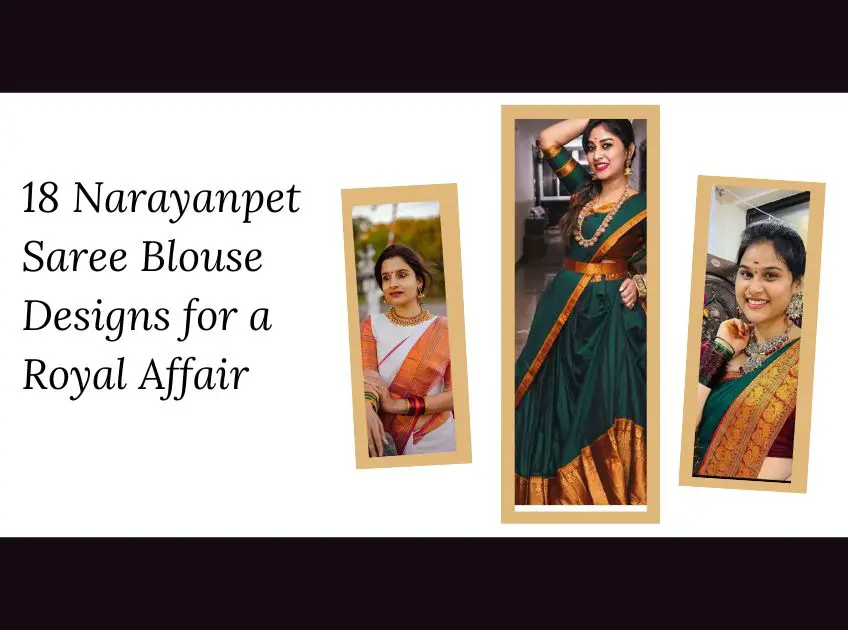 Narayanpet saree blouse designs seamlessly blend tradition with contemporary fashion, hailing from Telangana's Narayanpet town. These blouses showcase handloom craftsmanship, cultural richness, vibrant colors, and intricate patterns, enhancing the allure of Narayanpet sarees. Whether adorned with traditional Kutch work or modern boat neck styles, they remain timeless symbols of grace and elegance for women of all generations in the ever-evolving fashion landscape.
18 Narayanpet Saree Blouse Designs for a Royal Affair
1. Woven Dharmavaram Green Color Cotton Silk Saree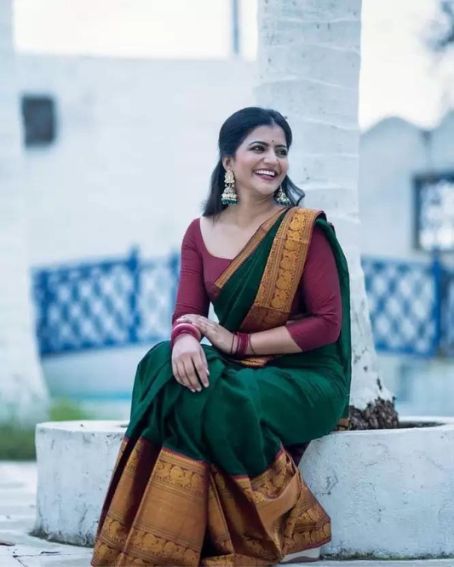 The green Dharmavaram cotton silk saree boasts a blend of comfort and style, suitable for women seeking a versatile attire. It's an excellent choice for young girls attending special occasions, offering a fresh and vibrant look.
2. Fabulous Narayanpet Cotton Saree with Running Blouse Piece for Women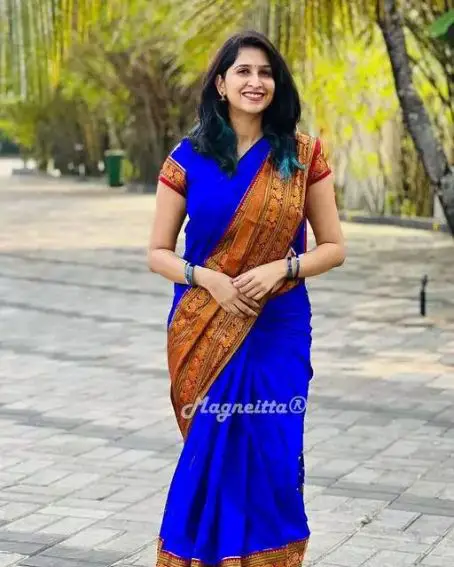 This fabulous Narayanpet pure cotton saree, complete with a running blouse piece, caters to the needs of women of all ages. Whether for daily wear or casual outings, it's a go-to option for both teenagers and young ladies seeking comfort and elegance.
3. Emerald Green SweetHeart Neck Armband Blouse in Narayanpet Cotton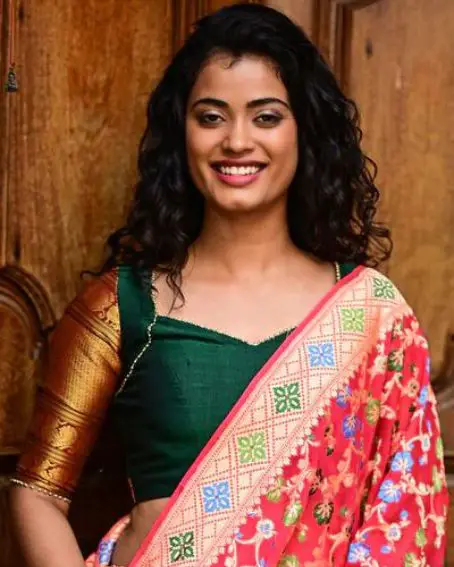 Featuring an emerald green saree and a sweetheart neck armband blouse, this ensemble appeals to women with a taste for contemporary fashion. It's a trendy choice for young girls looking to make a fashion statement.
4. Pure Narayanpet Hand-Woven Mercerized Cotton Saree with Rich Border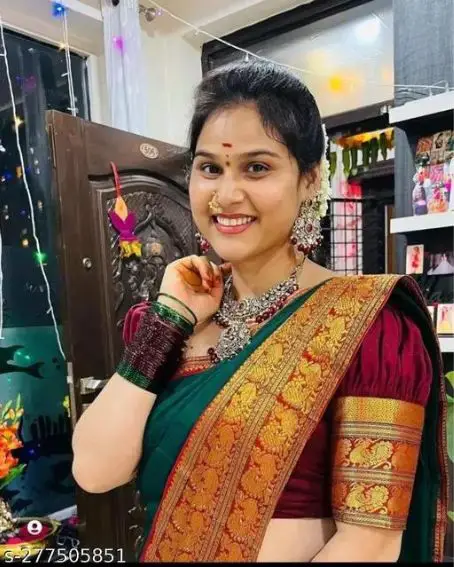 This hand-woven Narayanpet saree, with its rich border, is a symbol of traditional craftsmanship cherished by women of all generations. It's a timeless piece that can be passed down from mothers to daughters, adored by teenagers and young ladies alike.
5. Green Narayanpet Saree with Maroon Blouse Design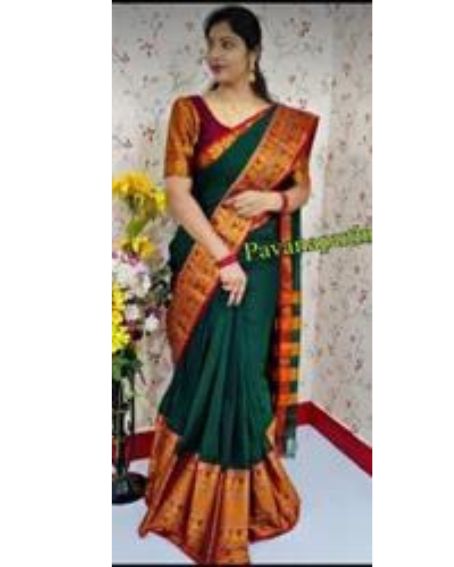 The green Narayanapeta saree with a maroon blouse design offers a sophisticated look for women attending special events. Its timeless appeal suits both young girls and teenagers, allowing them to stand out gracefully.
6. Purple Latest Kanchi Pattu Half Sarees with Kutch Blouse Design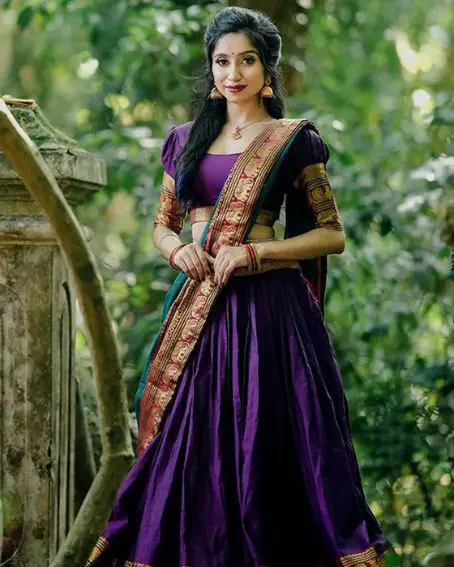 The latest Kanchi Pattu half saree in purple, complemented by a Kutch blouse design, is an excellent choice for women who appreciate contemporary twists on traditional attire. It's a fashionable option for young ladies and teenagers seeking a blend of tradition and trend.
7. Bottle Green Narayanpet Half Saree with Blouse Design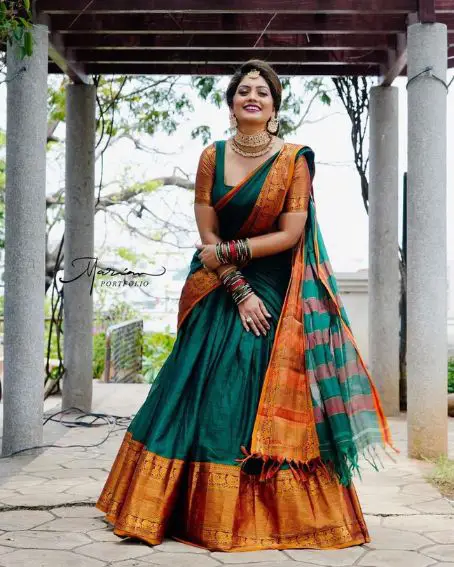 The bottle green Narayanapeta half saree with an exquisite blouse design is a charming choice for women seeking elegance. Its versatility makes it a favored option for young girls and teenagers attending various occasions.
8. South Indian Traditional Unstitched Narayanpet Half Saree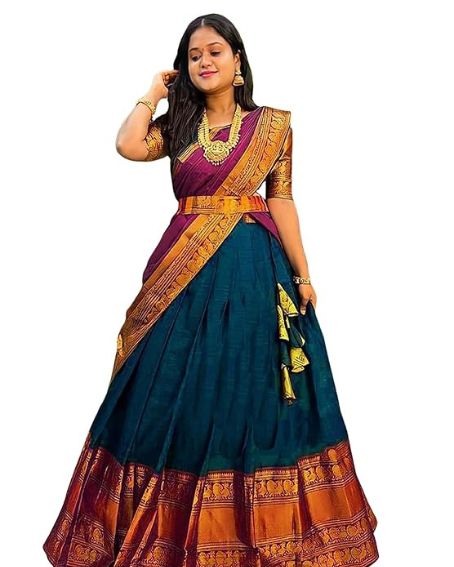 Embracing South Indian tradition, the unstitched Narayanpet half saree holds timeless appeal for women of all ages, from young girls to teenagers. It's a symbol of cultural heritage and grace.
9. Red Colour Narayanpet Cotton Saree with Black Blouse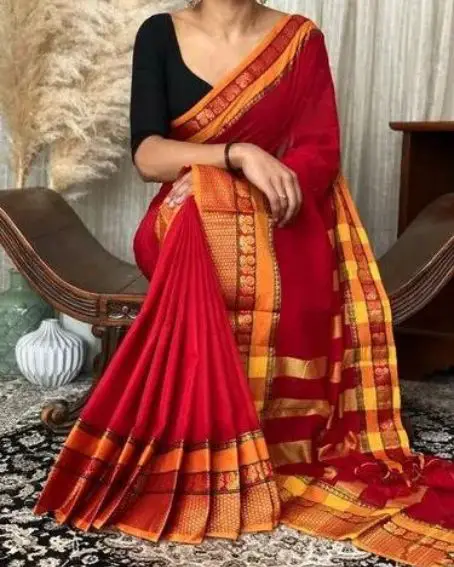 The red Narayanpet cotton saree, paired with a black blouse, radiates a bold and striking aura, making it suitable for confident women, including young girls and teenagers, who wish to make a statement with their attire.
10. Narayanpet Cotton White Cotton Saree with Boat Neck Blouse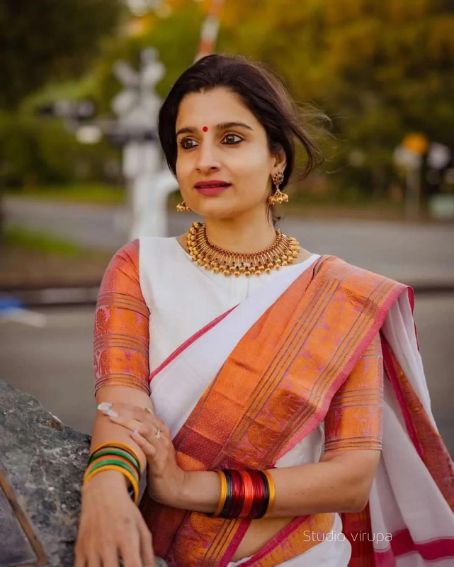 A white Narayanpet cotton saree with a boat neck blouse offers a pristine and elegant look that transcends age. It's a classic choice for women, from young girls to teenagers, looking for timeless beauty.
11. Narayanpet Cotton White Cotton Half Saree with Kutch Blouse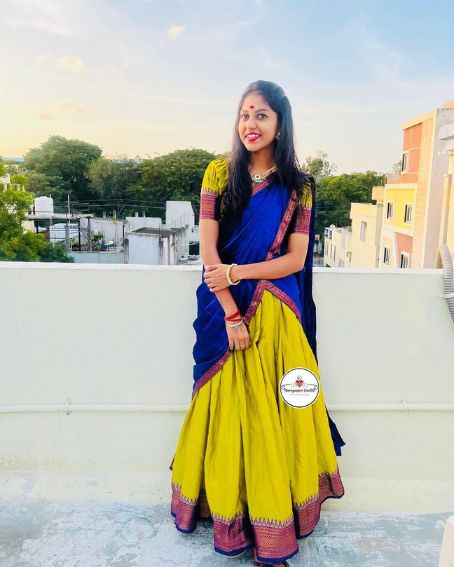 The white cotton Narayanpet half saree with a Kutch blouse design is a charming choice for women who appreciate intricate detailing. It's a graceful option for young girls and teenagers looking to embrace tradition.
12. Narayanpet Mercerized Cotton Lehenga with Dupatta and Belt Set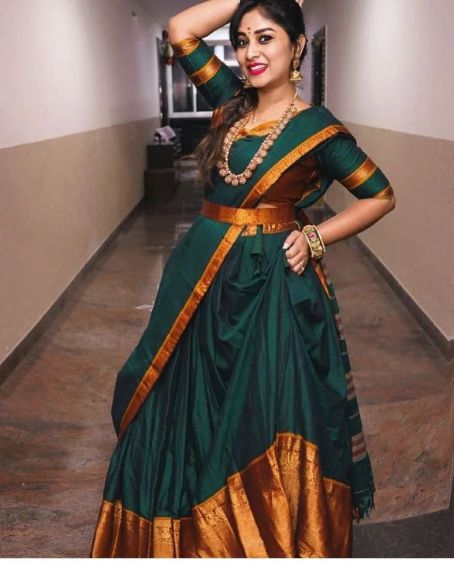 The Narayanapet mercerized cotton lehenga set, complete with a dupatta and belt, adds a touch of modernity to traditional wear, appealing to women who wish to stand out. It's a fashionable choice for young ladies and teenagers attending festive occasions.
13. Handloom Pure Silk Narayanpet Saree with Gold Blouse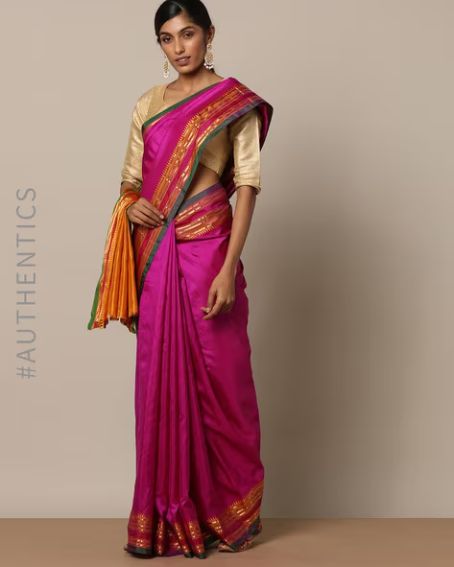 This handloom pure silk Narayanpet saree, paired with a gold blouse, exudes timeless beauty and luxury, making it a coveted choice for women seeking sophistication, including young girls and teenagers.
14. Yellow Cotton Silk Narayanpet Saree with Blouse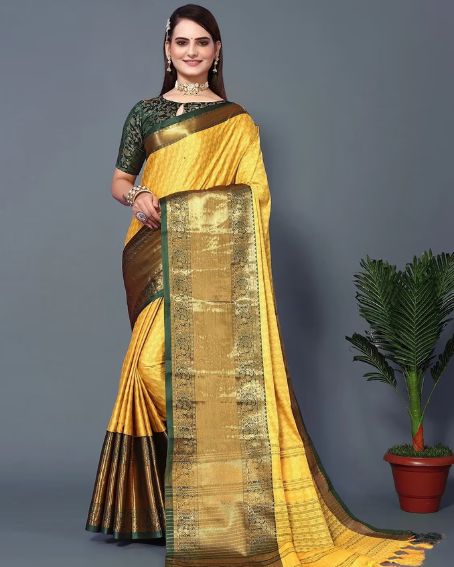 The yellow cotton silk Narayanpet saree, paired with a matching blouse, offers a vibrant and cheerful look suitable for women of all ages, from young girls to teenagers, who want to add a pop of color to their wardrobe.
15. Narayanpet Mercerized Cotton Half Saree with Green Blouse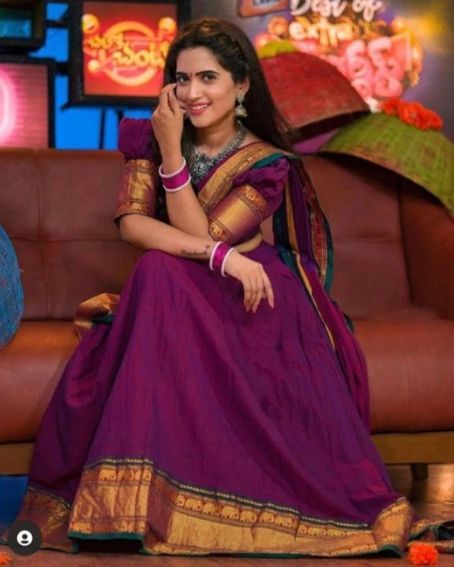 The Narayanapet mercerized cotton half saree, complemented by a green blouse, is a perfect blend of tradition and style. It's a versatile choice for women, including young girls and teenagers, attending diverse events.
16. Narayanpet Orange Saree with Pink Sleeveless Blouse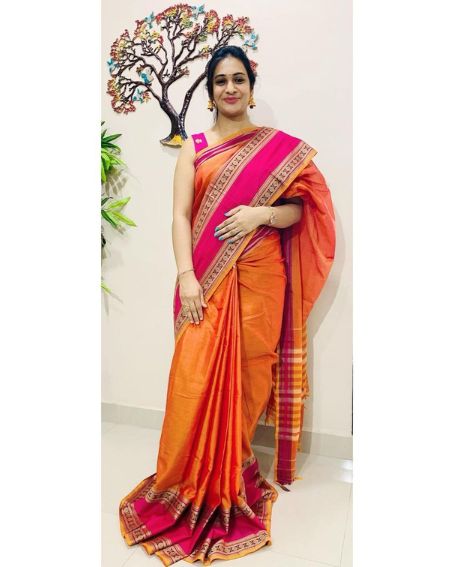 The Narayanapet orange saree with a pink sleeveless blouse combines contrasting colors for a striking look, appealing to women who want to make a bold fashion statement, including young girls and teenagers.
17. Pure Handloom Narayanpet Mercerized Cotton Saree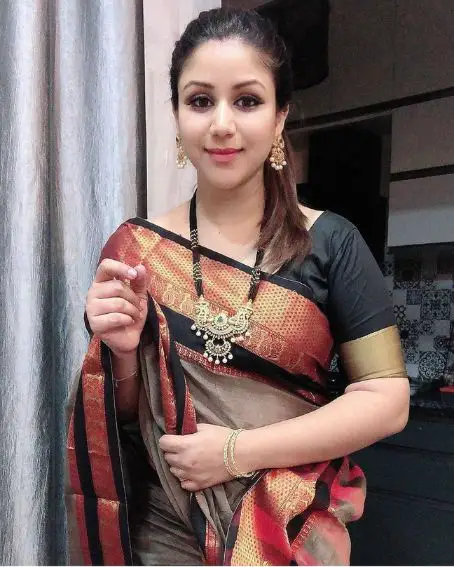 This pure handloom Narayanpet mercerized cotton saree is a testament to traditional craftsmanship. Its timeless charm resonates with women of all ages, from young girls to teenagers, seeking grace in their attire.
18. Blue Cotton Blend Narayanpet Saree with Blouse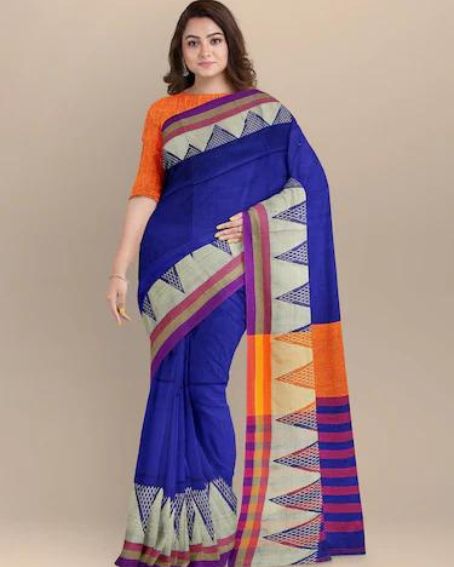 The blue cotton blend Narayanpet saree, paired with a matching blouse, offers comfort and style. It's an excellent choice for women of all ages, from young girls to teenagers, looking for a chic and easy-to-wear ensemble.
What Are Features Of The Narayanpet Saree Blouse Designs ?
Rich Handloom Weaving: Narayanapet saree blouse designs are crafted using traditional handloom weaving techniques. This meticulous process results in unique and intricate patterns that are a hallmark of these blouses.
Vibrant Color Palette: These blouses often feature a vibrant and eye-catching color palette, with bold and contrasting colors that make them stand out. The use of bright hues adds a lively and festive touch to the attire.
Intricate Embroidery: Many Narayanapet saree blouses are adorned with intricate embroidery work, including Kutch work, zari work, and mirror work. These embellishments enhance the overall aesthetic appeal and create a sense of opulence.
Variety of Neckline Styles: Narayanapet blouse designs offer a wide range of neckline styles, catering to different preferences. You can find boat necks, sweetheart necks, square necks, and more, allowing women to choose the one that complements their body type and personal style.
Sleeve Options: These blouses come with various sleeve options, from full sleeves to sleeveless and everything in between. This versatility allows women to select blouses that suit the occasion and their comfort level.
Modern and Traditional Fusion: Narayanapet blouse designs seamlessly blend traditional aesthetics with modern fashion trends. They incorporate elements of both worlds, making them suitable for a wide range of occasions, from weddings to casual gatherings.
Comfortable Fabrics: These blouses are typically made from comfortable and breathable fabrics like cotton and silk, ensuring that women feel at ease while wearing them, even in warm climates.
Customization: Many Narayanpet blouses are designed to be customized, allowing women to tailor them to their specific measurements and preferences. This ensures a perfect fit and personalized style.
Versatile Pairing: Narayanpet saree blouse designs can be paired not only with Narayanpet sarees but also with various other saree types and even lehengas, making them versatile additions to a woman's ethnic wear wardrobe.
Timeless Appeal: These blouses have a timeless and enduring appeal, making them suitable for women of all ages. They are cherished for their ability to combine tradition with contemporary fashion sensibilities.
What Fabrics Are Commonly Used To Make Narayanpet Blouses?
Narayanpet blouses are known for their comfort and elegance, and they are typically made from a variety of fabrics to cater to different preferences and occasions. The choice of fabric can significantly influence the overall look and feel of the blouse. Some common fabrics used to make Narayanpet blouses include:
Cotton: Cotton Narayanpet blouses are popular for their breathability and comfort, making them ideal for casual and everyday wear. They often feature vibrant colors and intricate designs.
Silk: Silk Narayanpet blouses exude luxury and are often chosen for formal events and weddings. They have a smooth and glossy texture, which enhances the richness of the blouse design.
Cotton Silk: Cotton silk blends offer the best of both worlds, combining the comfort of cotton with the sheen of silk. They are versatile and suitable for various occasions.
Mercerized Cotton: Mercerized cotton blouses have a lustrous finish and are known for their durability. They can be worn comfortably for extended periods.
Chanderi: Chanderi Narayanpet blouses are lightweight and feature a sheer texture. They are often embellished with delicate embroidery and are a great choice for semi-formal gatherings.
Linen: Linen blouses are breathable and have a relaxed, natural look. They are suitable for casual occasions and hot weather, offering comfort and style.
Georgette: Georgette Narayanapet blouses have a slightly sheer quality and a fluid drape. They are often chosen for their elegant appearance and are suitable for formal events.
Banarasi Silk: Banarasi silk Narayanapet blouses are opulent and richly textured. They are often adorned with intricate zari work and are preferred for grand occasions and weddings.
Art Silk: Art silk, also known as synthetic silk, is a more affordable option that mimics the look of silk. Art silk Narayanpet blouses are budget-friendly yet stylish.
Organza: Organza blouses have a sheer and delicate appearance. They are often chosen for their lightness and are suitable for contemporary blouse designs.
For Which Occasions Do Women And Girls Prefer To Wear Narayanpet Blouses ?
Women and girls prefer Narayanpet blouses for a variety of festivals and occasions, including:
Weddings: Narayanpet blouses are a popular choice for weddings, both for brides and wedding guests. Their intricate designs and rich colors complement the festive atmosphere of the wedding celebrations.
Festivals: Narayanapet blouses are often worn during traditional Indian festivals like Diwali, Dussehra, Navratri, and Pongal. They add a touch of cultural richness to the festive attire.
Poojas and Religious Ceremonies: Many women choose Narayanpet blouses for religious ceremonies and rituals as they reflect a sense of reverence and tradition.
Family Functions: Whether it's family gatherings, engagements, or housewarming parties, Narayanapet blouses are a preferred choice for women and girls who want to look elegant and traditional.
Sangeet and Mehendi Ceremonies: During pre-wedding events like sangeet and mehendi ceremonies, Narayanapet blouses with vibrant colors and intricate designs add to the celebratory spirit.
Cultural Events: Narayanapet blouses are suitable for cultural events, dance performances, and music festivals where traditional attire is encouraged.
College and School Events: Young girls often choose Narayanpet blouses for college or school functions, especially when they want to showcase their ethnic style.
Casual Gatherings: Depending on the design and fabric, Narayanapet blouses can also be worn casually for outings with friends, family get-togethers, and other informal occasions.
Poojas and Homams: For religious rituals like poojas and Homams, Narayanapet blouses are a common choice due to their traditional and auspicious appeal.
Temple Visits: Many women and girls prefer Narayanpet blouses when visiting temples as they are comfortable and respectful attire for such spiritual outings.
Conclusion
Narayanpet saree blouse designs are a testament to the enduring charm of Indian ethnic wear. These blouses not only complement the beauty of Narayanpet sarees but also reflect the evolving fashion trends while preserving the essence of tradition. Whether you're a young girl looking for a trendy blouse or a woman seeking timeless elegance, Narayanapet saree blouse designs offer a wide range of options. They not only enhance the visual appeal but also celebrate the rich heritage of Indian craftsmanship. With their versatility and artistic detailing, Narayanapet saree blouse designs continue to be a captivating choice for women who appreciate the beauty of cultural amalgamation in fashion.
Related Articles