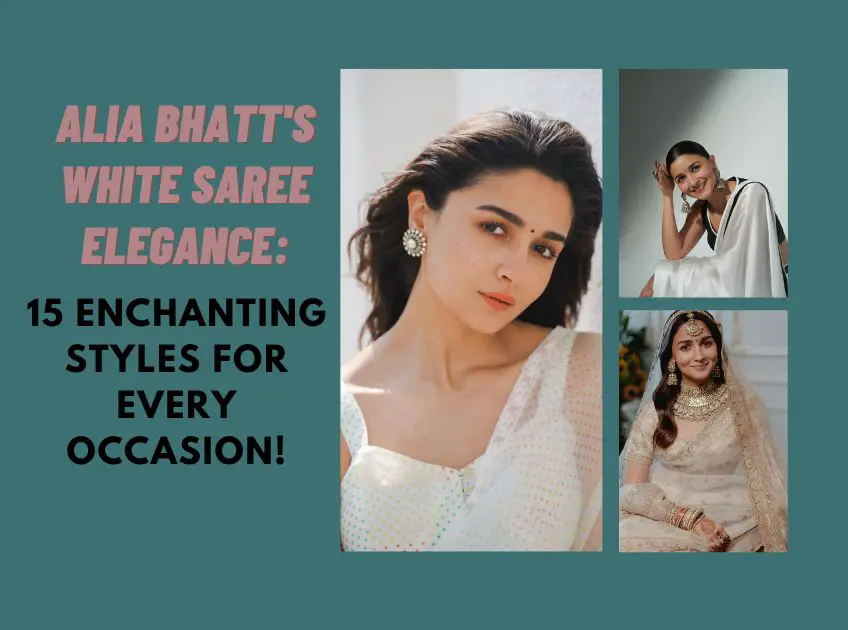 Alia Bhatt is a famous Indian actress known for her talent and pretty looks in sarees. She was born on March 15, 1993, in Mumbai, India. She started acting in 2012 and did great in movies like "Highway" and "Raazi." People love how she looks in sarees, which are traditional clothes. She's a fashion icon because she combines tradition and modern style in her outfits.
Alia Bhatt's White Saree Elegance: 15 Enchanting Styles for Every Occasion!
1. Alia Bhatt in Ecru Chand Saree Set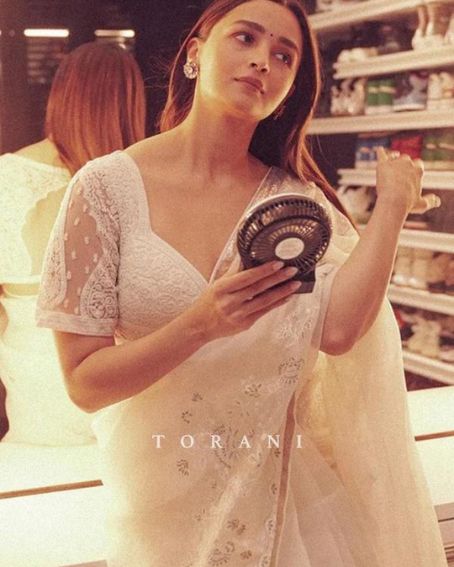 Alia Bhatt's appearance in the Ecru Chand Saree Set showcased her timeless beauty and style, featuring an ecru chand saree adorned with intricate embroidery and traditional motifs, blending tradition with modernity.
2. Alia Bhatt in White Saree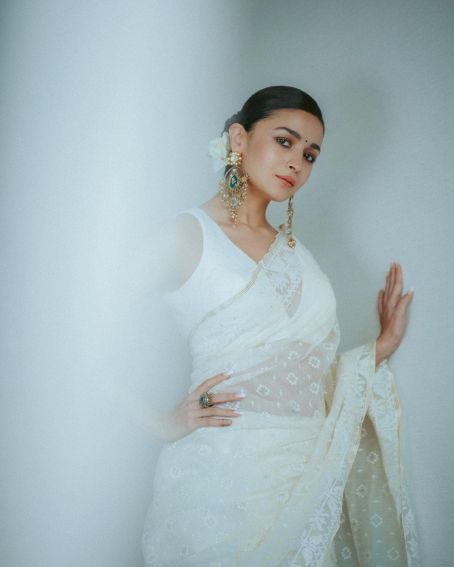 Alia's choice of a simple white saree exuded understated sophistication, emphasizing her natural grace and elegance.
3. Alia Bhatt in White Saree with Lace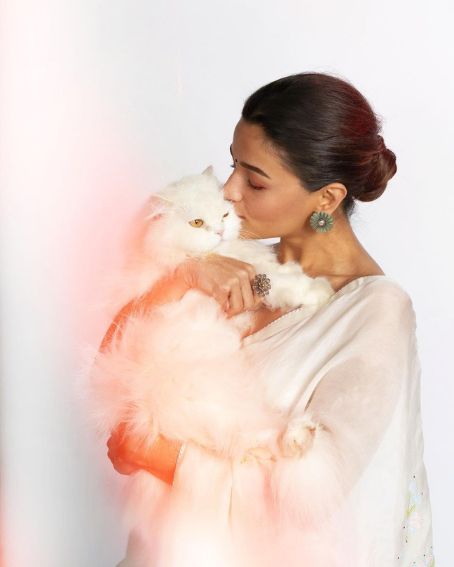 Alia Bhatt's appearance in a white saree adorned with lace is a captivating choice that appeals to women of all ages. For young girls, it offers a glimpse into the world of timeless elegance, encouraging them to embrace the beauty of traditional attire from a young age.
4. Alia Bhatt in Black & White Combination Saree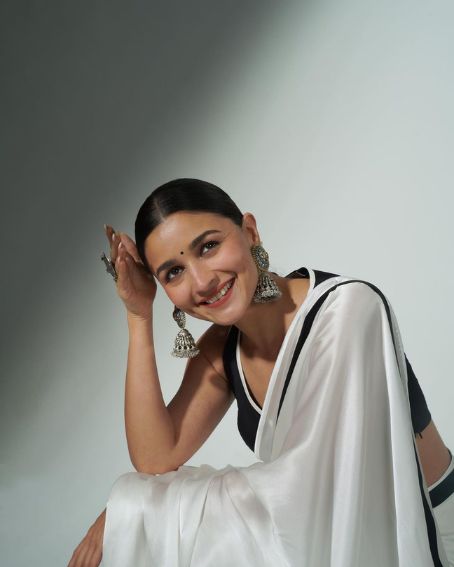 Alia's black and white combined saree made a bold yet sophisticated statement, showcasing her ability to experiment with contrasting colors.
5. Alia Bhatt in Off White Silk Saree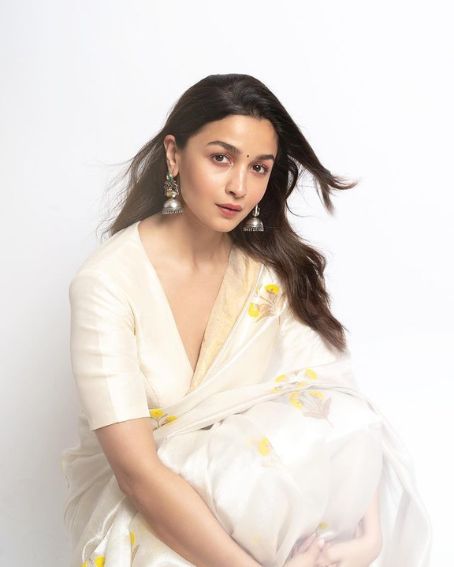 Alia Bhatt's stunning appearance in an off-white silk saree is a fashion statement that resonates with teenagers, young girls, and women alike. The timeless elegance of the silk saree appeals to women of all ages, while the soft off-white hue adds a touch of grace and sophistication.
6. Alia Bhatt in White Silk Saree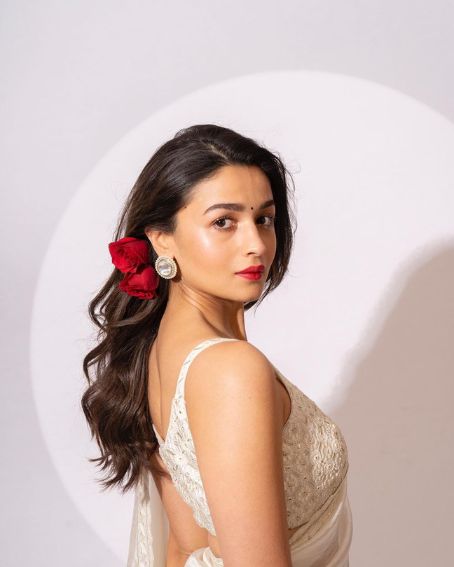 Alia's affinity for white silk sarees reaffirmed her penchant for timeless elegance, showcasing her natural beauty and sophistication.
7. Alia Bhatt in White and Yellow Color Embroidery Silk Saree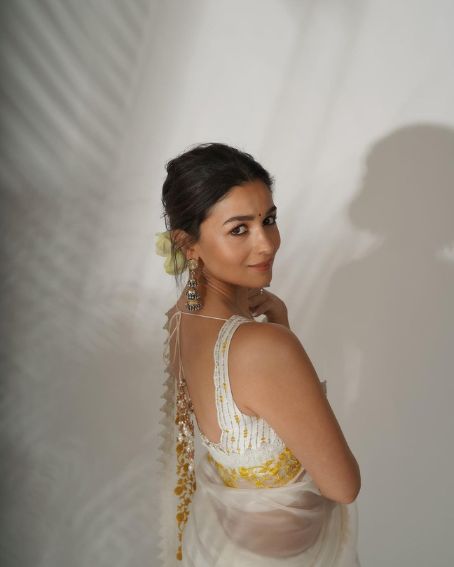 Alia Bhatt looked stunning in a pristine white silk saree adorned with a delicate yellow border, exuding timeless elegance and grace. Her choice of attire showcased her impeccable fashion sense and innate charm, making her a true style icon.
8. Alia Bhatt in White Saree with Gold Dots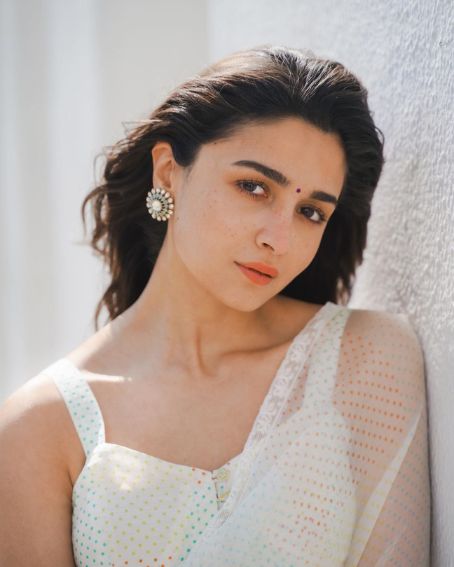 Alia's white saree with gold dots added glamour and festivity to her look, striking a balance between traditional and contemporary styles.
9. Bollywood Alia Bhatt inspired White Floral Saree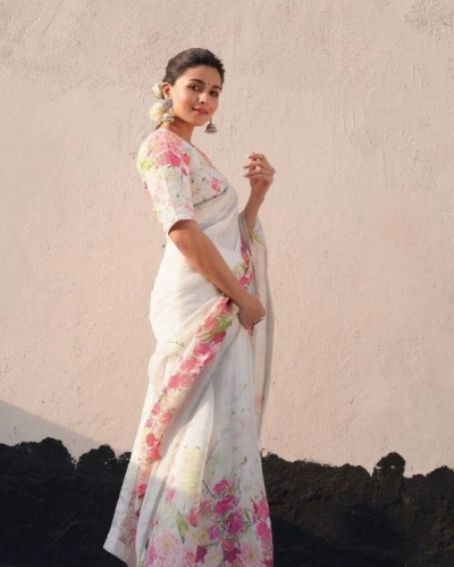 Alia's influence on fashion trends was evident in her white floral saree, reflecting her impact as a style icon in Bollywood.
10. Alia Bollywood Designer Saree with Blouse New Trending Organza Silk Saree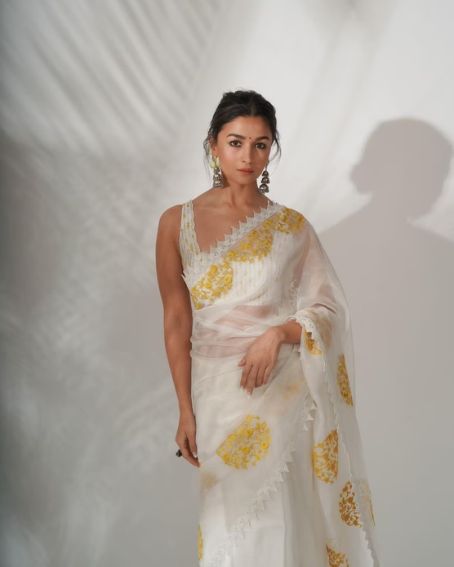 Alia's choice of a designer organza silk saree showcased her fashion-forward sensibilities and fusion of tradition with contemporary design.
11. Bollywood Actress Alia Bhatt Wedding Wear Off White Saree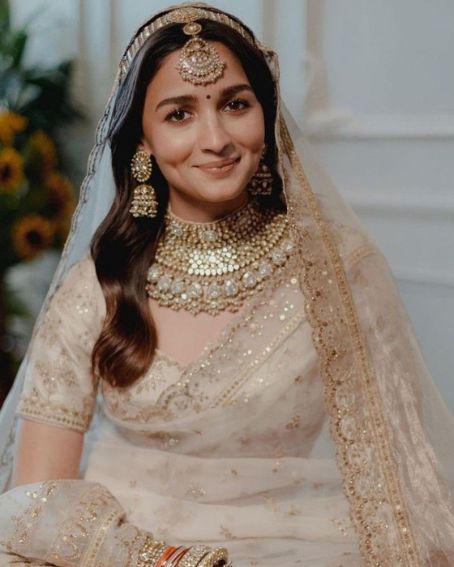 Alia's off-white wedding saree exuded elegance and grace, making it a fitting bridal ensemble with intricate work and radiant presence.
12. Women's Digital Floral Printed Alia Pure Cotton Linen Saree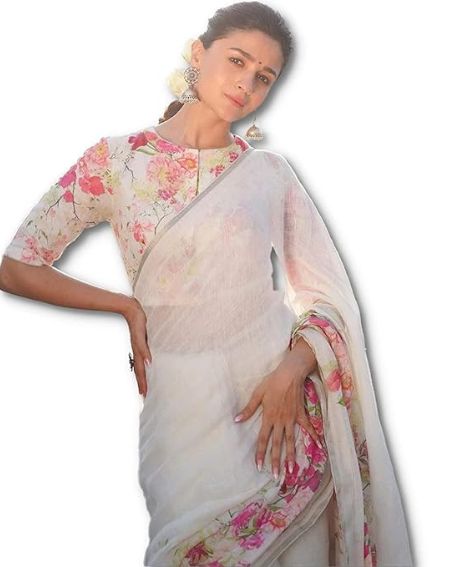 Alia's pure cotton linen saree with digital floral prints showcased her comfort and style, reflecting her adaptability to modern fashion trends.
13. White Saree with Sleeveless Blouse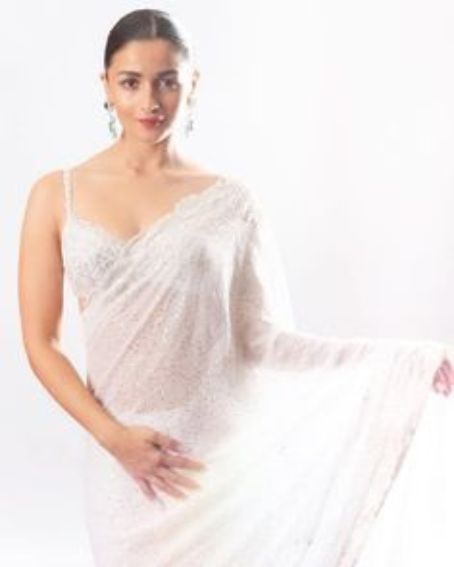 Alia's saree paired with a sleeveless blouse exuded modernity and confidence, redefining traditional saree looks.
14. Alia in White Kerala Style Saree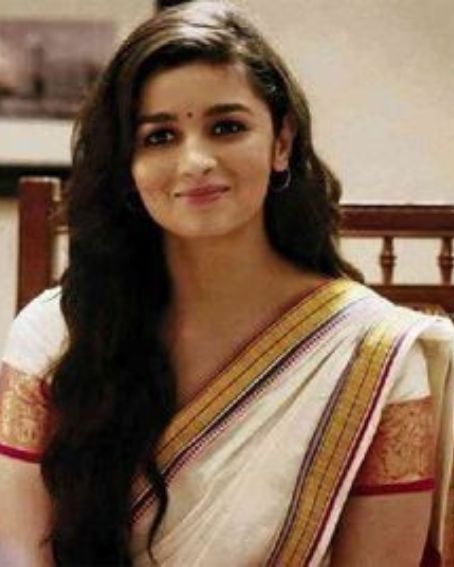 Alia Bhatt's enchanting appearance in a white Kerala-style saree resonates with women of all ages, from teenagers to young girls and mature women. This traditional attire reflects the rich cultural heritage of Kerala and its timeless appeal in the world of fashion.
15. Ali Bhatt in Silver Tissue Saree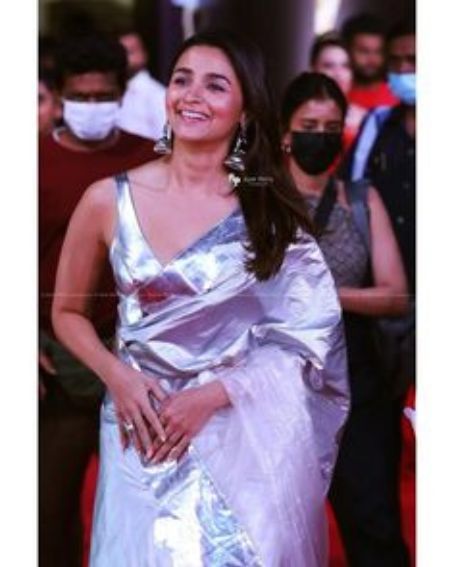 Alia's silver tissue saree radiated glamor and sophistication with its metallic sheen, making a bold fashion statement.
Conclusion
Alia Bhatt wears sarees in many different styles, showing how fashionable and versatile she is. She can look stunning in a simple white saree, a traditional silk one, or a modern designer piece. She mixes old and new, tries out different colors and patterns, and even starts fashion trends. Alia Bhatt is a big star in Indian movies, and her saree looks help us appreciate the beauty of this classic Indian outfit, making her a true fashion icon.