All woman's closets and blouses have a special and imperative part.  From teenage to senior women likes their outfits should be pleasant and comfortable. The blouse is not only for a cover shoulder to the waistline, but it is also our pride, and in our modern world many fashionable businesses are invasion the world of a blouse. There are hundreds of designs and embellishments are creating style statements. Not only for simple occasions but also a marriage ceremonies, brides are concentrating on their sarees and intricately embellished blouses. This article shows the different types of blouses and types listed below.
20 Awesome Pics of Party Wear Saree Blouse Designs
1. Royal Blue With Zari Golden Flower Thread Work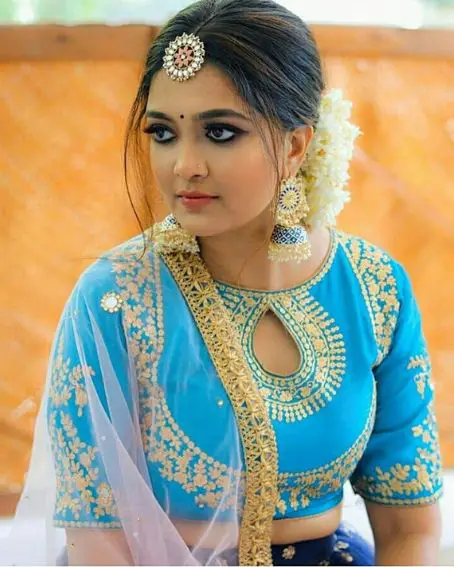 This trendy sleeve closed neck style blouse with embroidery work was an attractive and mind-blogging way. This is the finest party wear and the best one in the crowd.
[ Read: 40 Latest Back Neck Blouse Designs ]
2. Elbow Sleeve Black Embroidery Blouse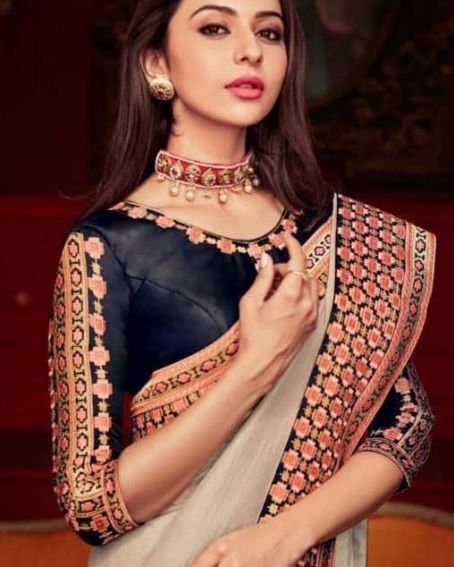 With this black elegant blouse with embroidery in a cream color lace border,  one who likes simplicity and pride with this outfit is enough to show them always versatile look.
[ Read: Gorgeous Pics of Red Saree Blouse Designs ]
3. Party Wear High Neck Blouse With Full Sleeve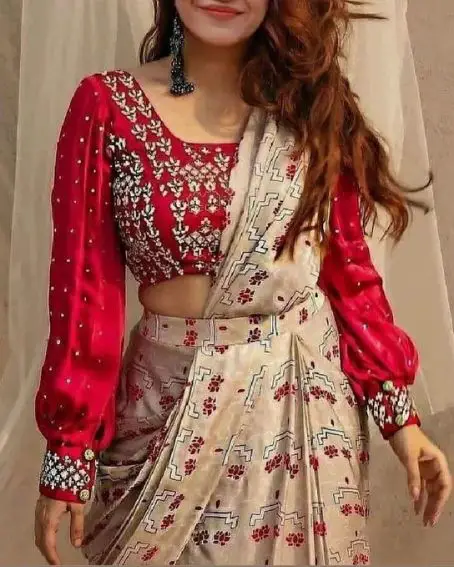 Perfectly matched to an elegantly simple and plain saree.  The dark maroon silk material with a decoration of hand embroidery work in a silver thread with mirror work. Real party wear in a new stylish look.
[ Read: 14 Gorgeous Pics of sri lankan wedding saree blouse designs ]
4. Wave Layered Half Sleeve Blouse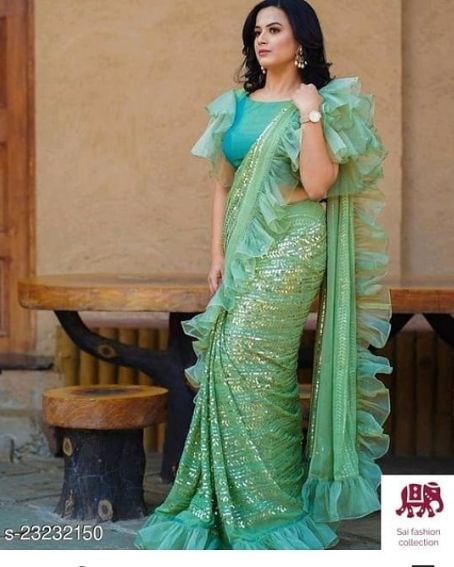 New trendy Layered half sleeve is popular in recent fashioned culture. It is distinctive sleeves give minimalistic look. This outfit is mostly light colored  And also looks exotic drape saree appears good on occasions.
5. Golden-colored Sheer Yoke Gold Blouse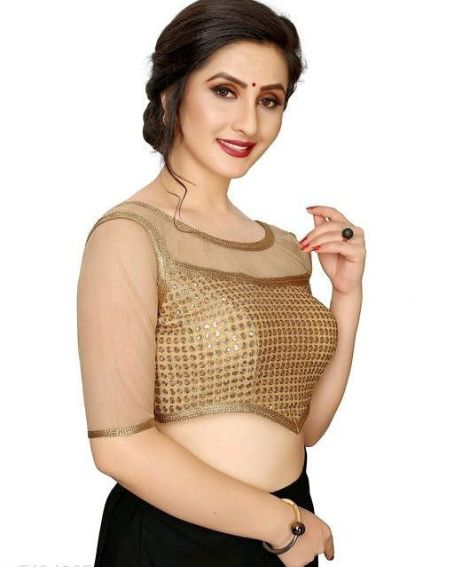 This dash of elegance is added to this half sleeve  Gold colored blouse. It can wear with all plain sheer net saree and also match with all fancy sarees.  Looks stylish and stupendous outfit.
6. With Heavy Work Designer Blouse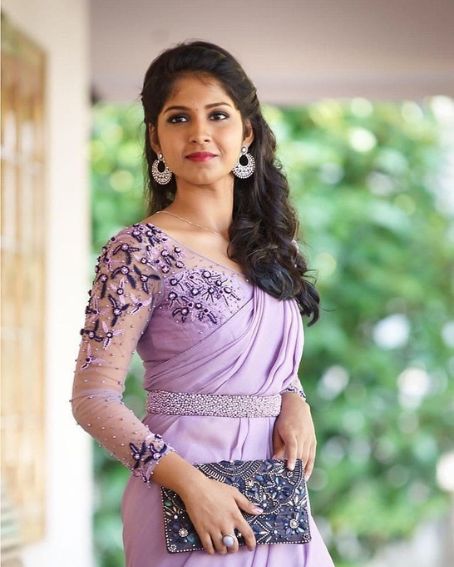 Gorgeous lavender thread work blouse decorated with embellishments on sleeves in transparent material.  3D thread work done in the top sleeves looks grand and exactly suits all party wear and ceremonies.
7. Red Party Wear Mirror Work Blouse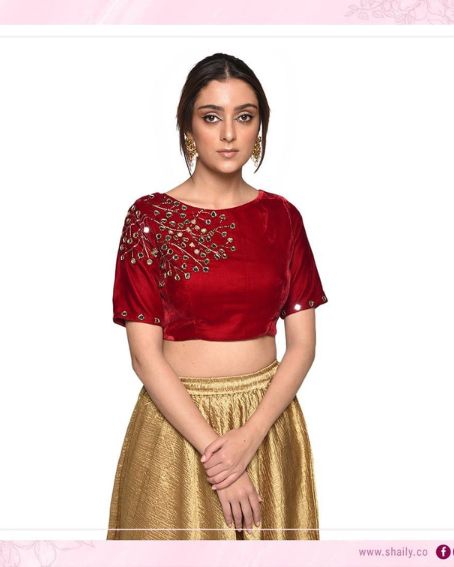 This simple half sleeve party wear blouse for all types of chiffon sarees. Its infusing with glittering mirrors is like exquisite work. This is perfect for casual and parties.
8. Silk Saree With Heavy Work Designer Blouse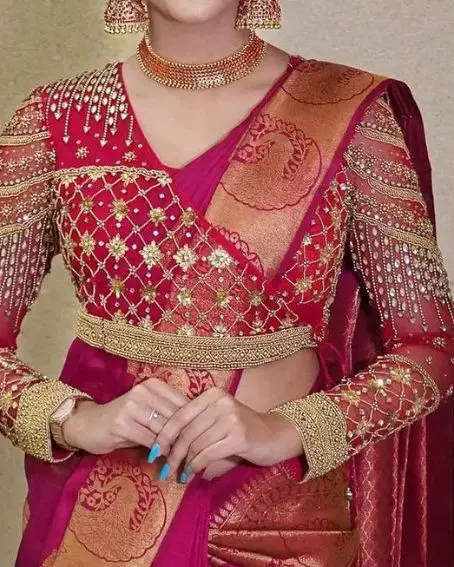 Heavy zari thread work design on a blouse in a silk material for bridal blouse design. The translucent exquisite work is done in this blouse. Small beads and kundans are decorated from shoulder to sleeves. This should be the best collection of brides.
9. Bright Yellow Deep V-neck Net Blouse Design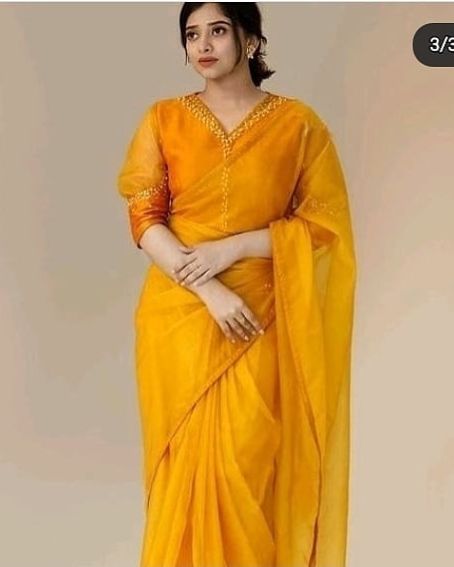 A stylish woman has always fallen with this  Deep-V neck nowadays. This yellow full sleeve work with embroidery yellow color thread work on the neck and edge of the sleeves.  Very calm and worn for ceremonies and casuals.  Wear with same color saree looks stylish and pretty in the group.
10. Bordered Saree With Sleeveless Round Neck Blouse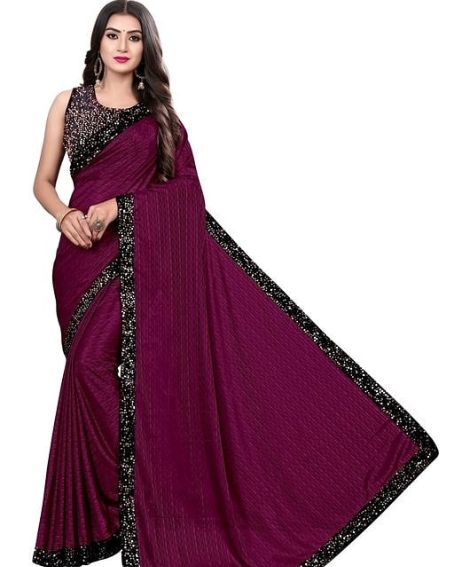 In particular, this black sleeveless round neck will suit all fancy and embroidery work sarees to the modern outfit. It always makes you stylish and gorgeous. Use this to the parties and don't need neck jewels for this outfit.
11. Round Collar With Half Sleeve Blouse
The trendy blouse with a collar looks professional and casual. Simple and weather trendy fit for a woman looks stylish. The printed stuff is very calm and light. We can use this collar half sleeve and can do embroidery work according to the festivals.
[Read: 12 Different Types of Blouse Designs For Net Sarees]
12. Key-hole Closed Neck Blouse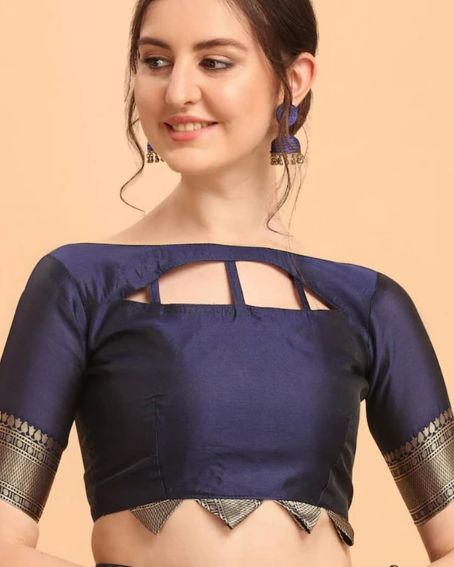 Today's trend is about the key-hole neck. It fit on the front and also the back of the blouse. But, the fashions are now in front and use this key-hole neck in all types of material with an intricately embellished blouse. This image looks pattu saree, use this Key-hole neck in all types of material saree with the decoration works.
13. High Collar Half Sleeve Blouse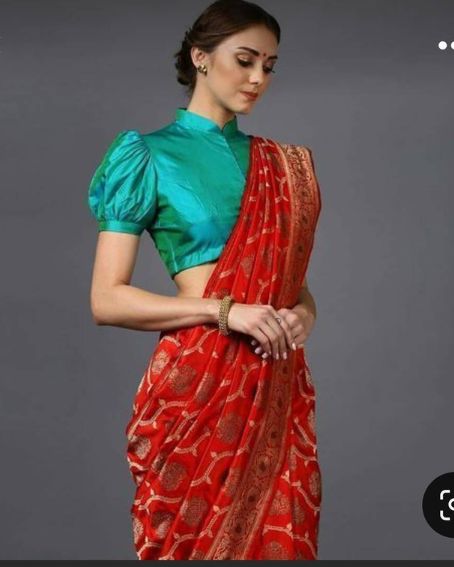 Always contrast combination works for outfits. This combo of royal blue closed collar half sleeves with a puff is stylish and classy. This fancy stuff for festivals and ceremonies will grab all others' attention and very pleasing outfit at end of the day.
14. Embroidery Full Sleeve Net Blouse Design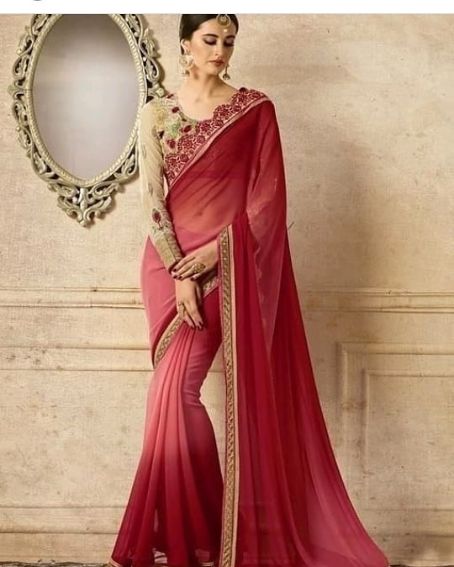 It is a good option for most stylish wear, will always be fond of this full-hand blouse design. These images of the blouse are soft chiffon material and fully threaded work done with the design of the 3D work. And the front round neck shows a simple and trendy outfit.
15. Parrot Green Saree With Knot Style Jacket Blouse Design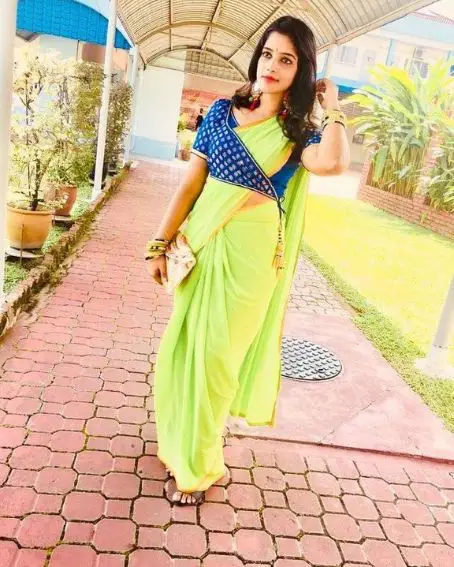 Parrot green saree with knot style jacket blouse takes your look to an entirely new level in the fashion world. This Jacket style blouse was a massive hit as well as they are very much trendy this season. A contemporary side knot is one way to add some class to the saree.
16. Traditional High Neck Collar Full Hand Blouse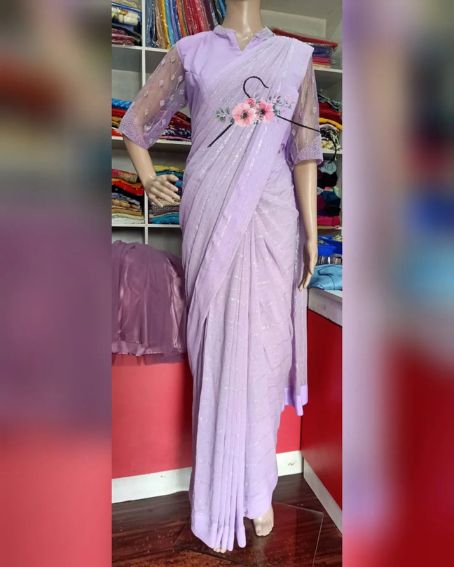 Something silky and elegant with the stylish blouse of this fit. This combo of crushed mango-hued saree with a maroon-colored collar blouse makes it simple and vibrant. Use this type of blouse with the cotton and silk materials and contrast color more attractive and very embellished.
[ Read: 20 Beautiful Black Saree Blouse Designs]
17. Fully Embroidery Butterfly Sleeve Blouse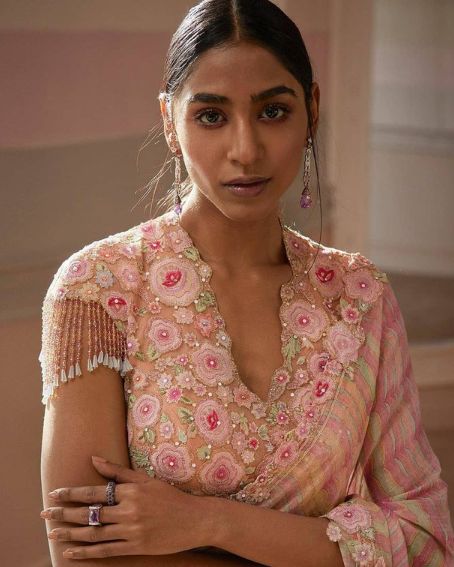 This peach color blouse-rich outfit is a very truculent work of thread work with Kundan. The beautiful pinkish color flowers are like sequinned florals embroidery with white stones. This is also collar shape neck with a low cut on the front side of the blouse. This stylish wear is used in Party wear and get-together parties.
18. Lovely Mirror Work Embroidery Blouse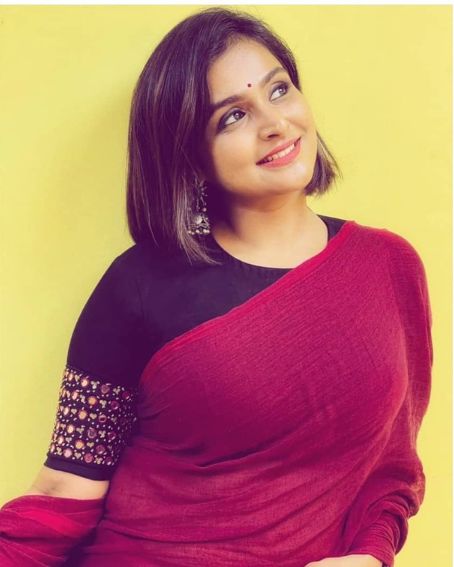 Ready-mades make lifestyle easier. This outfit is a simple and half sleeve blouse. Smooth velvet material with bright stone works gives a more stylish and confident feel. It is always a casual party outfit.
19. Skin-colored Net 3d Embroidery Half Sleeve Blouse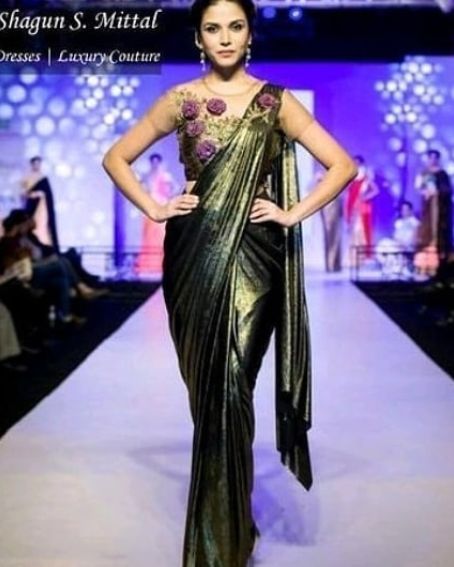 Gorgeous looking and stylish party wear blouse. Trendy and majestic way of stitching. 3D flower embroidery on the right side of the blouse makes a treat to the eye. It may use in contrast and also for occasional wear.
20. Key-hole Front Neck Sleeveless Blouse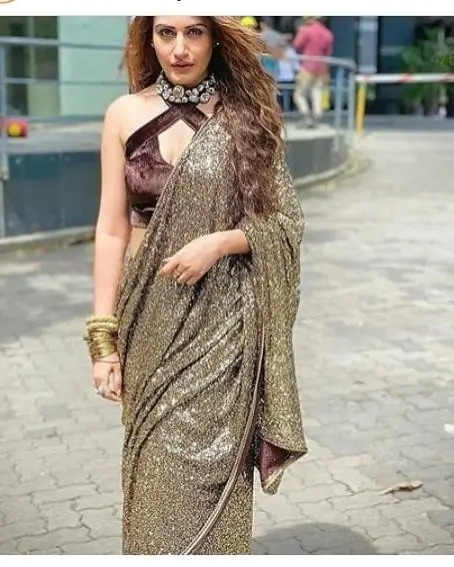 This glamorous stylish outfit is for young trendy people like nowadays. Usually, it is worn by modes and fashion people. But it looks dazzled and pretty looks.
You Might Also Like: