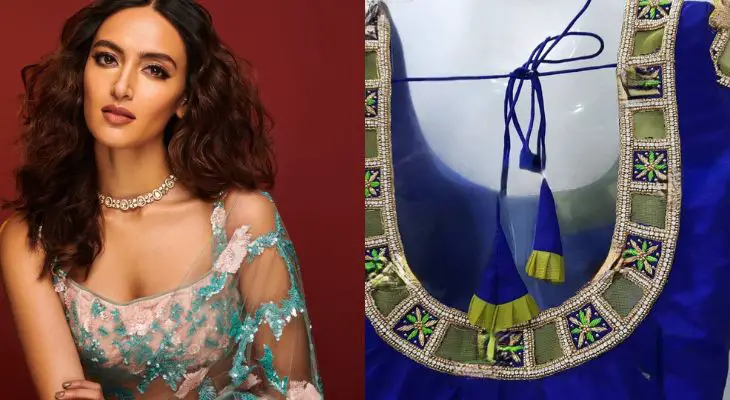 Do you love to wear a saree and traditional lehngas? There is no doubt that you are following the latest trends and styles which are coming up in the fashion world of ethnic garbs. A great part about blouse design is that it pairs with a beautiful saree or lehenga to keep the fashion game on point. Hope that you always have some excellent blouse designs in your wardrobe collection already. To make you more comfortable and trendier we have come up with an incredibly cute blouse design, specifically in princess cut. These prominent and gorgeous princesses cut designs are available in distinct variations and styles to fit the need of young ladies and women. If you wish to have an excellent princess cut, then here is the list for you.
21 Beautiful Pics Of Princess Cut Blouse Design
1. Teal Sequins Embroidery Blouse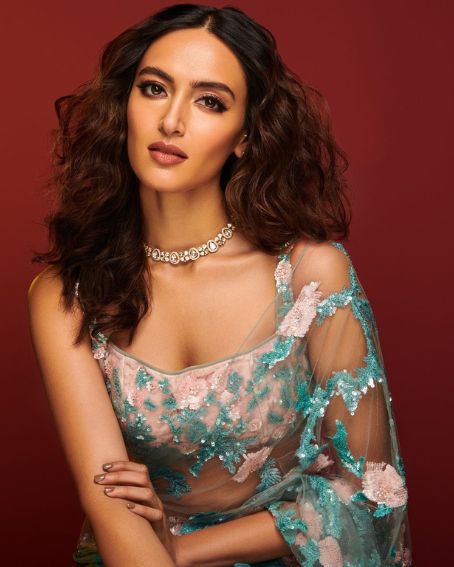 The bold and splendid teal sequins embroidery blouse is definitely an amalgam of comfort as well as trendy style. This stylish blouse is a perfect blend to improve your beauty for any occasion.
2. Princess Cut Sleeves With Bell And Pleated Sleeve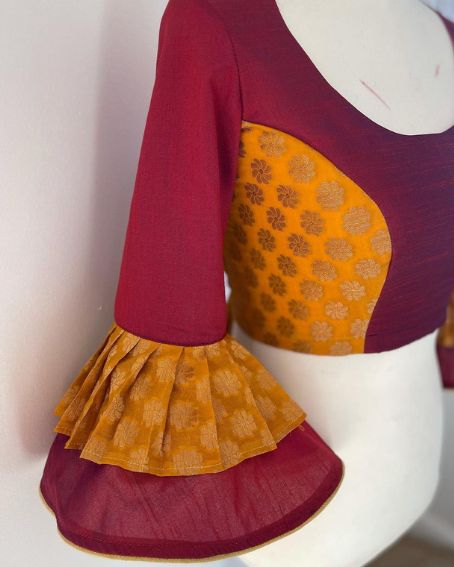 The stylish and amazing princess cut sleeves along with the combination bell and pleated sleeve blouse design is what you actually need to add to the wardrobe collection this season. 
3. Princess Cut Blouse With Hazing Work On Ends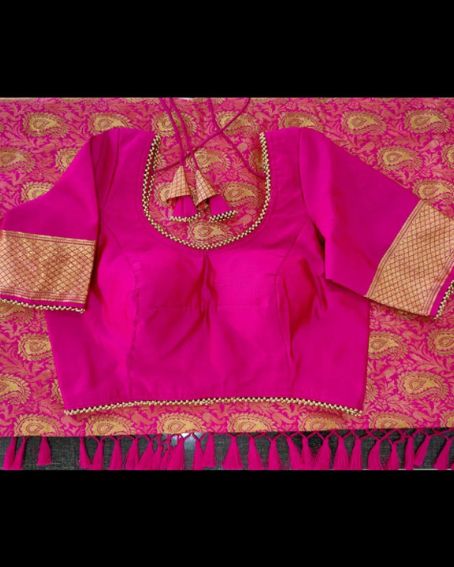 This all-time favorite and stunning hazing work on ends in a blouse can make any ordinary style blouse an outstanding one. Moreover, you can pair any of the beautiful blouses with a lehenga or any designer saree to add vitality to the entire appearance.
4. Designer Saree Blouse With Customized Pattern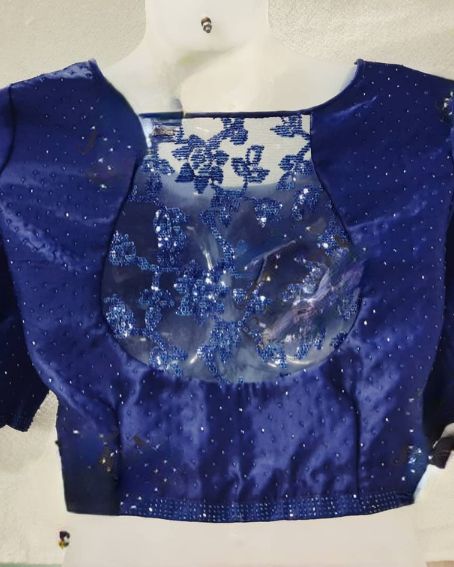 Designer saree blouse with net customized pattern is definitely mesmerizing for every girl. This net design on the back enhances the beauty of traditional attire. To make a fashion statement on any special occasion you can choose this style for sure.
5. Gold Hand And Pink Padded Blouse With Back String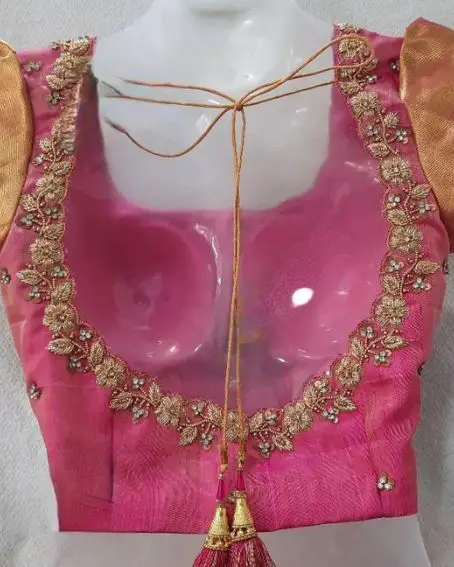 Gold hand and pink padded blouse with back string are perfect for women in all groups. An excellent and fast-selling blouse design of this style makes you spruce up your outfit entirely. Just ensure to pair it with a cute lehenga or saree.
6. Customized Sleeve And Pink Heavy Kundan Stone Work Blouse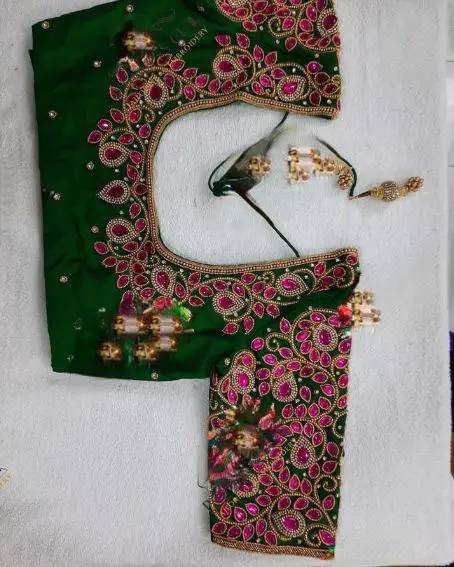 If you are seeking for modish and trendy blouse design, then this customized sleeve and pink heavy Kundan stonework blouse is the correct choice to go with it. The princess-cut blouse with heavy stonework will leave any girl to go outstanding on special wedding occasions.
7. Royal Blue Bridal Work Blouse With Stone On The Neckline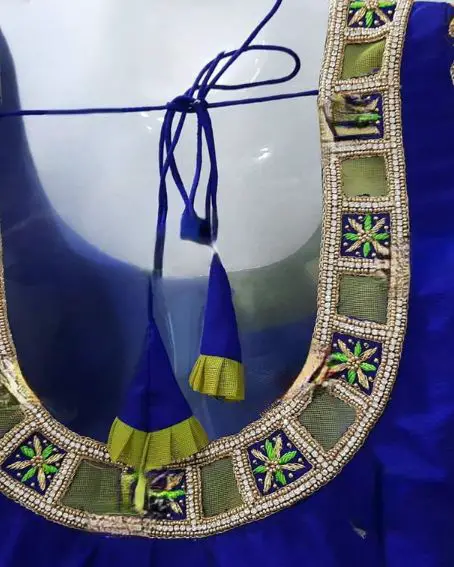 The combination of a royal blue Bridal blouse with a beautiful and stunning princess cut design will leave you in gorgeous and exquisite style. The stone stitched on the neckline adds extra beauty to the blouse to wear happily
8. Red Blouse With Green Thread Work Design On Hand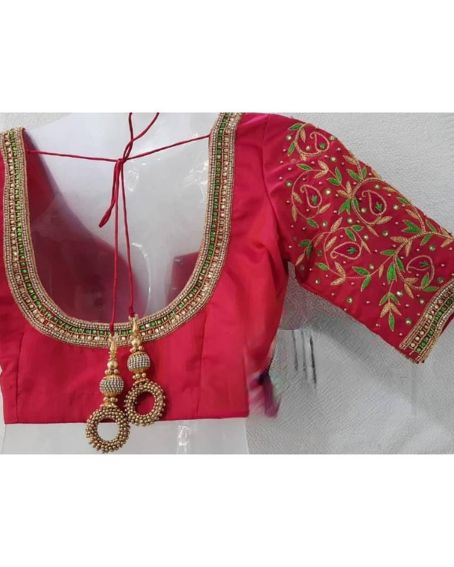 Usually, middle-aged women like to wear the thread work designer blouse. This red blouse with green thread work and princess cut design in front will give your dress a statement looks. For the best part, wear a choker necklace to match it.
9. Blue And Gold Princess Cut Work Blouse Design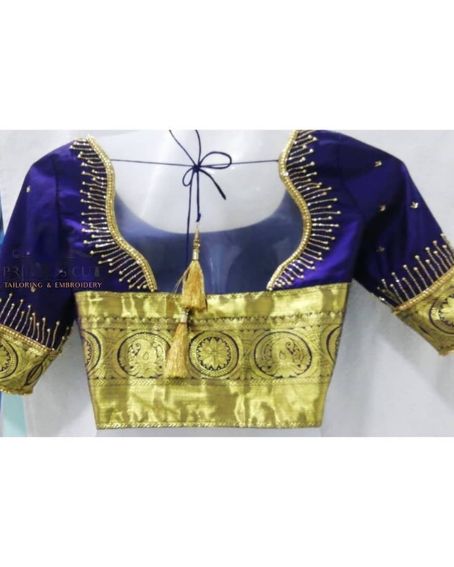 In order to give a long-lasting impression on others every time, pick up this blue and gold princess cut work blouse design. It will make a bold and charming appearance at the party or on different occasions.
10. Simple Embroidery Design With Puff Hand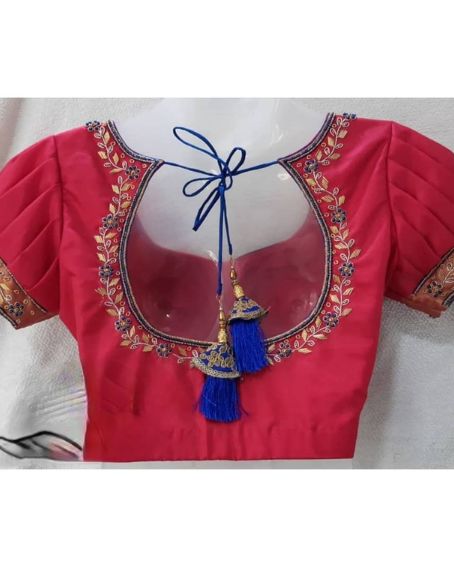 The vintage and classic style sleeves are among the latest fashion nowadays. If you like to be an absolute fashionista, then go for this simple embroidery design with puff style. Princess cut blouse design with a puff is quite a popular one among women.
11. Heavy Thread Work On Hand Princess Cut Blouse Design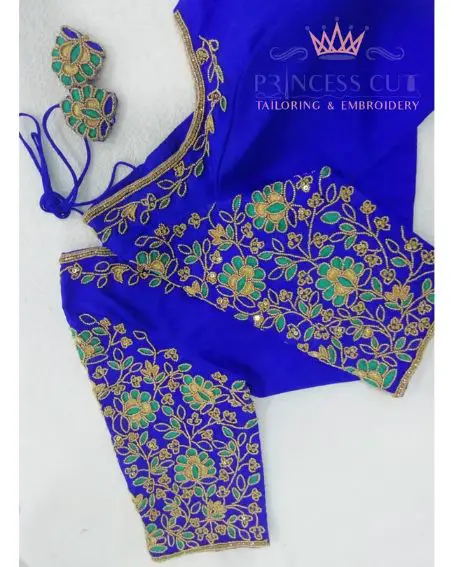 This super sassy, as well as super stylish princess cut blouse design, is a great solution for parties and for several occasions. You may easily pair this excellent blouse with any of your designer and stunning sarees which leaves everyone stunned at the party.
12. Oval-shaped Simple Blouse Work Design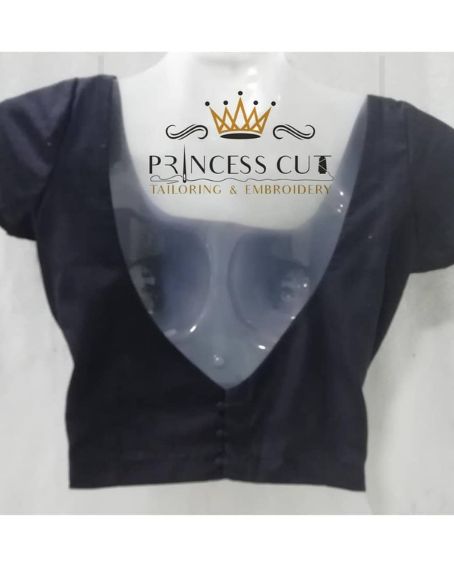 The oval-shaped simple princess cut blouse design will give an exceptional look and you can definitely pull off this blouse work with an outstanding saree. Before stitching or purchasing one, select a favorite one that matches you well.
13. Pink With The Black Diamond-shaped Patchwork Blouse Design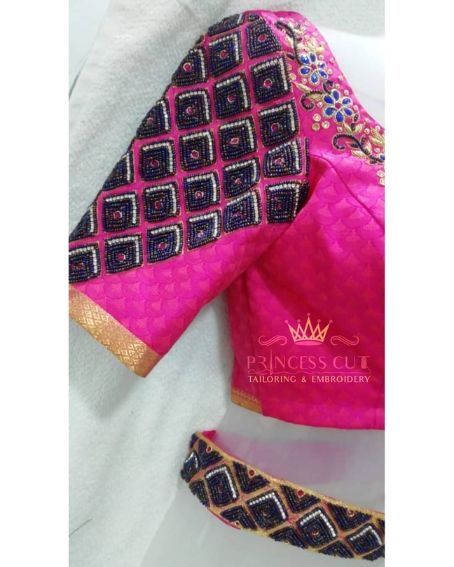 The design of Pink with a black diamond-shaped patchwork blouse gives a classy look that holds the key. The cut of the blouse makes women feel incredibly comfortable. This black diamond-shaped patchwork blouse type creates an unexpected level of charm.
14. Plum Embroidered Blouse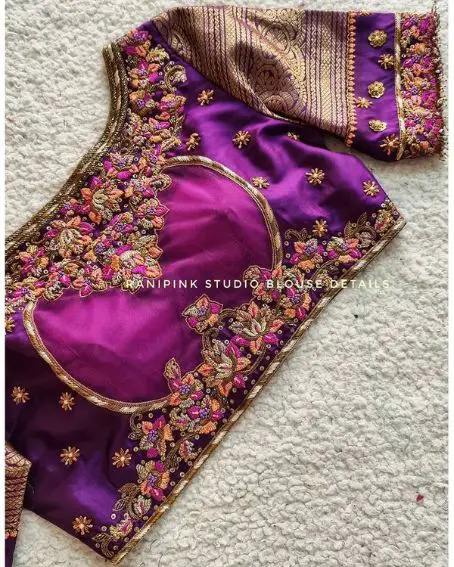 If you love an innovative and trendy blouse design, then this plum embroidery blouse is your perfect choice. The heavy and intricate embroidery work of this blouse as well as its design will make any girl look great at festivals and any other special occasions.
15. Kundan Heavy Stonework Design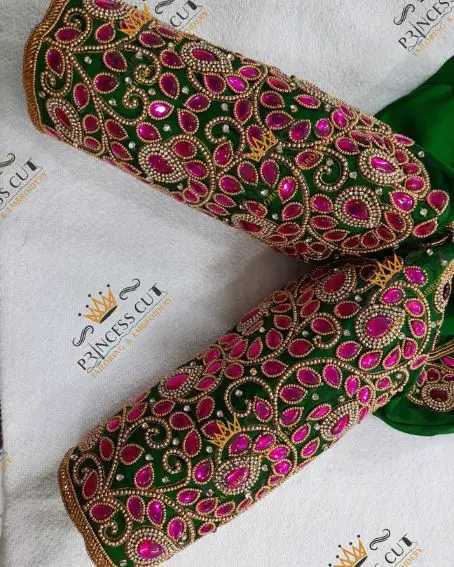 Kundan heavy stonework design blouse is one of the most popular blouses among thousands of brides. Kundan's heavy stonework design on this blouse creates a perfect and royal look. When you wear this blouse, it will give you a traditional blouse feel and a gorgeous look.
16. White Princess Cut Design Blouse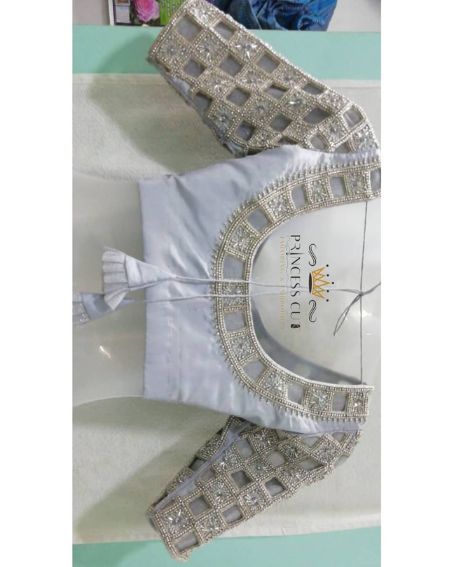 This White princess cut design blouse has the potential to enhance your beautiful look. It has a strong connection to the fashion world. It will be a perfect choice for any event like a wedding, parties, festivals, etc. You can dazzle others by wearing these white princesses cut design blouses.
17. Gold Work Purple Designer Blouse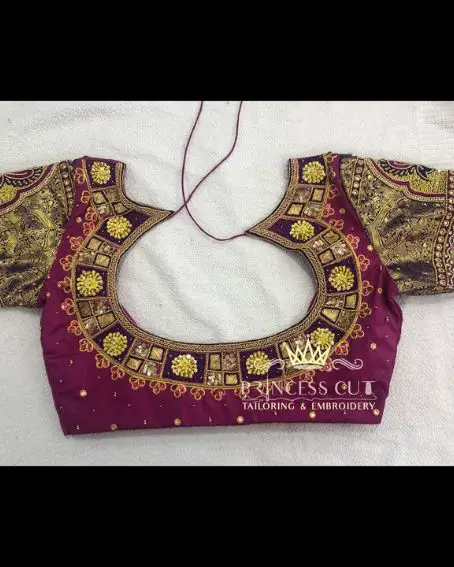 Goldwork purple designer blouse intricately embellished with zari, sequins floral thread, and stones. This beautiful purple-colored blouse will look amazing when paired with a lehenga or saree and will be a perfect choice for your wedding and reception.
18. Orange Blouse With Back Bow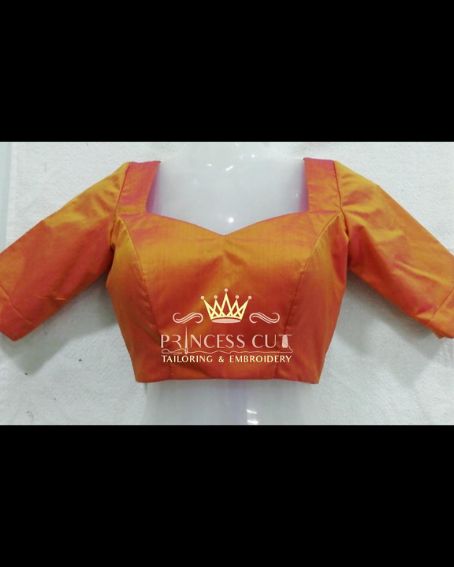 If you love beautiful bow blouses, then this orange blouse with a back bow blouse will be your perfect choice. This elegant blouse with its beautiful orange color and low back bow design is a great choice.
19. Pink Blouse With Oval-shaped Back Cut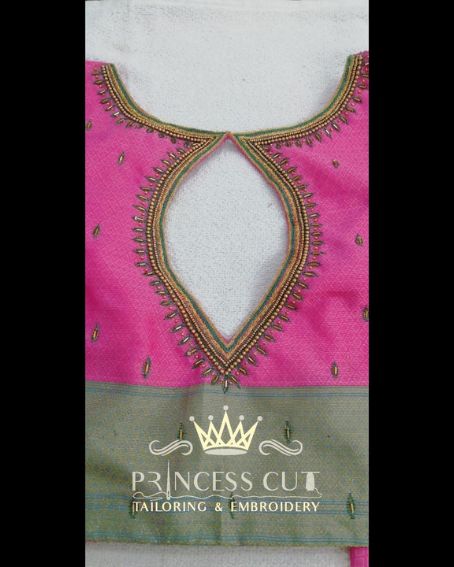 The oval-shaped back-cut blouse is very popular recently. The stylish back cut of this blouse takes the design to the next level. Its embroidered oval-shaped back cut looks amazing. Also, the pink color of the blouse is very famous among women.
20. Half Sleeve Red Princess Cut Blouse With Flower String At The Back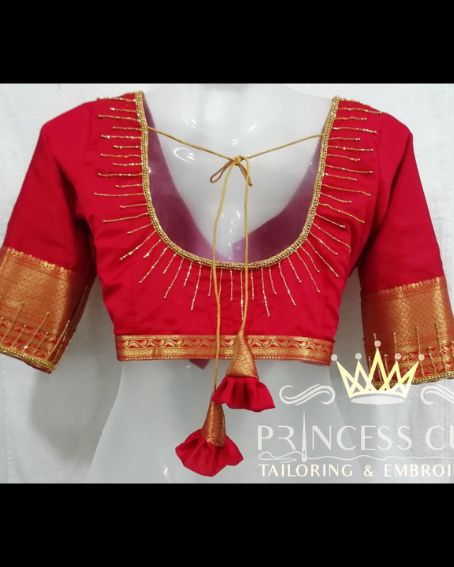 An alluring and charming princess cut blouse design is the best choice to pair with your beautiful sarees. The flower string design of the blouse back will make you look elegant and beautiful. When you wear heavy choker necklaces with this blouse, you will look bold at a party or occasion.
21. Side Pattern Blouse With Patches And Beads Work – Puff Sleeves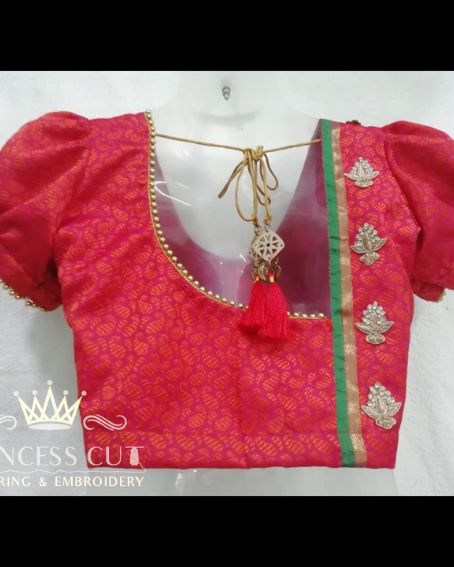 Patches design and puff sleeves with beadwork make the hue and texture of the blouse dramatic. You can pair this blouse with as many colorful sarees as you like. Generally wearing this blouse at functions and festivals will give you a gorgeous look.
You Might Also Like: