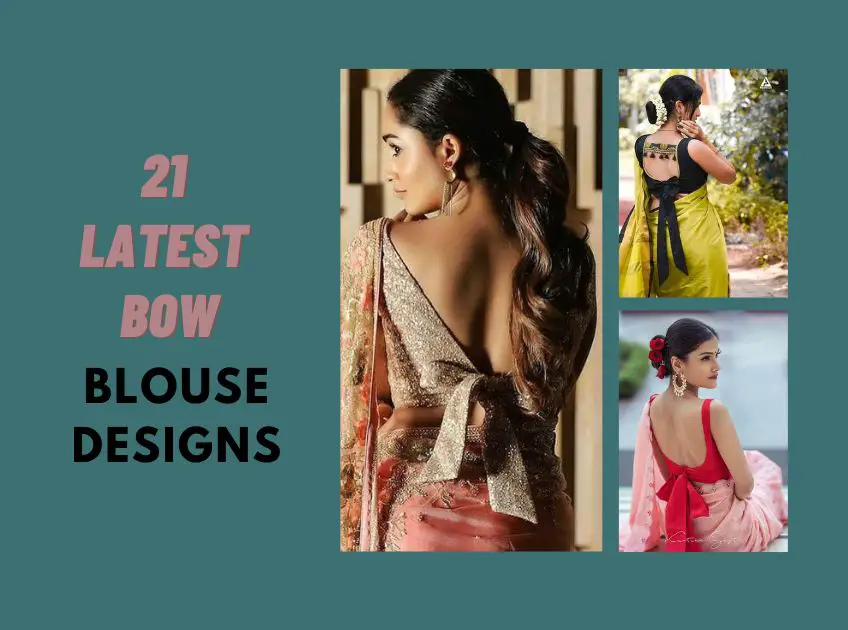 A blouse design with a bow detail at the back of the neck is called Bow blouse design. The bow can be made from fabric, ribbon, or lace. Bow blouse designs are popular for formal and semi-formal occasions, and they can be dressed up or down depending on the fabric and style.
21 Latest Bow Blouse Designs
1. Maroon Cotton Silk Designer Blouse with Contrast Bow at Back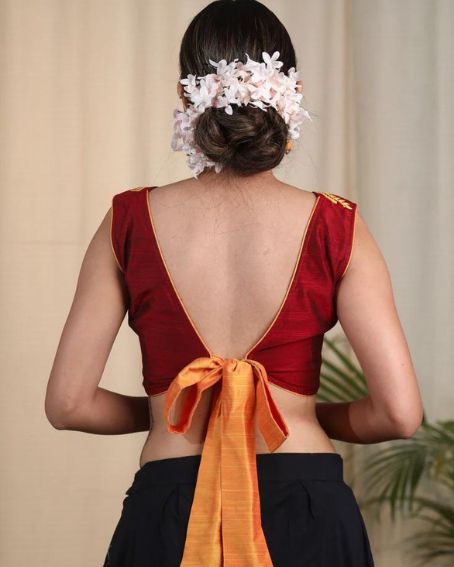 A sophisticated choice for women, this blouse combines maroon silk with a stylish bow detail at the back for an elegant touch.
2. Bow Designer Blouse With Soft Green Color for Cream Colored Saree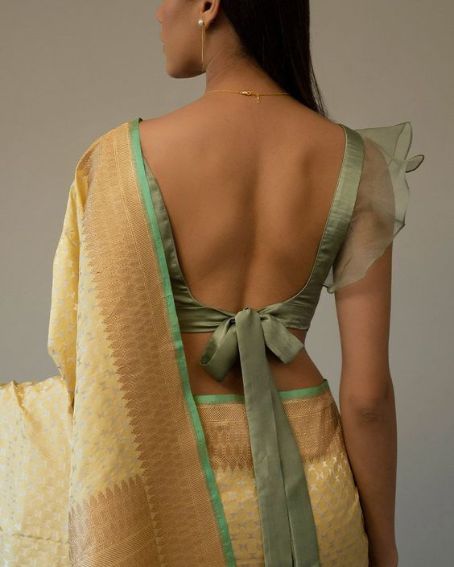 Ideal for young girls, this soft green blouse complements a cream saree beautifully, offering a fresh and youthful look.
3. Simple Bow and Patch Work Back Neck Party Blouse Pink and Sky Blue Color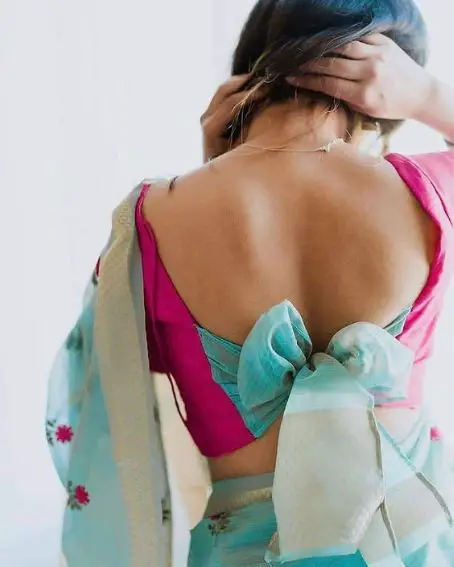 Teenage girls can rock this party blouse featuring a simple bow and patchwork design in pink and sky blue, adding vibrancy to their attire.
4. Full Sleeve and Bow Back Neck Party Blouse Dark Blue Color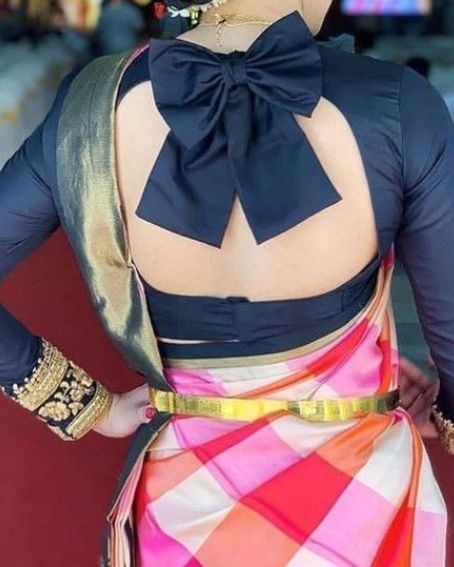 A classic choice for women attending formal events, this dark blue blouse with full sleeves and a bow detail exudes sophistication.
5. Knotted Back Saree Blouse Back Bow Design Black and Pink Color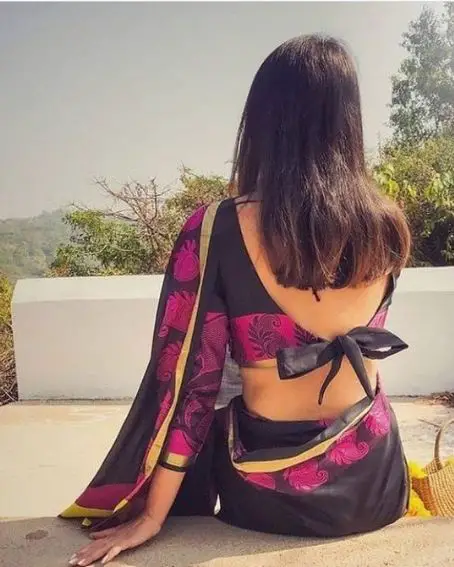 A chic pick for young girls, this black and pink blouse with a knotted back and bow design adds a playful touch to their saree ensemble.
6. Blouse With Sequins Embroidery On Georgette With Bow At The Back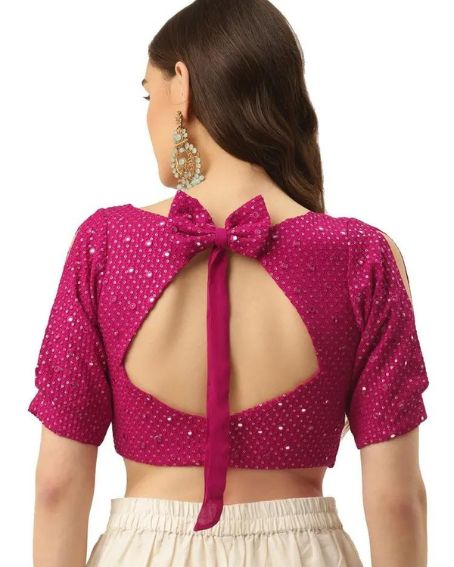 Women can dazzle in this georgette blouse adorned with sequin embroidery and a bow at the back, perfect for special occasions.
7. Sky Blue Color Bow Blouse Design with Green Saree Combination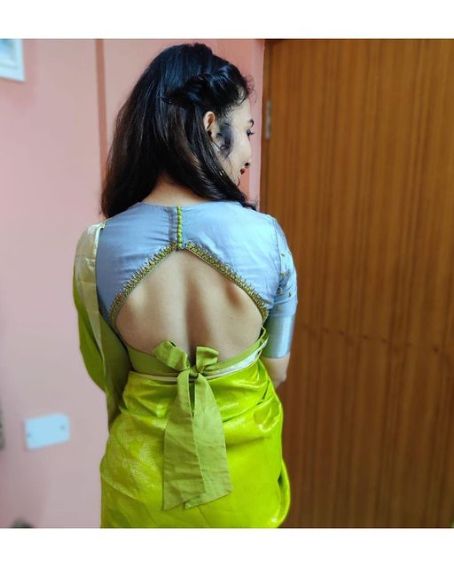 Young girls can embrace a fresh look with this sky blue bow blouse, paired beautifully with a green saree for a vibrant contrast.
8. Black Color Bow Blouse Design Pink Color Triangle Design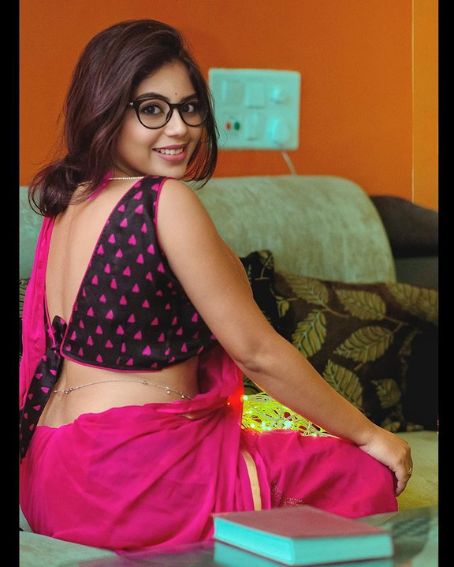 A trendy choice for teenage girls, this black blouse features a pink triangle design and a bow, adding a touch of contemporary style.
9. Bow Design Part Blouse Black Color With Parrot Combination Saree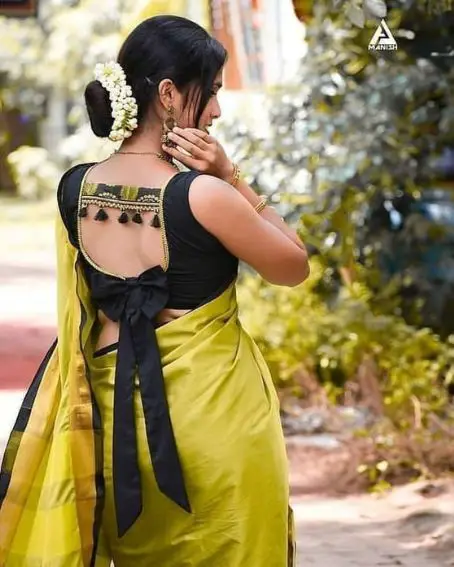 For a unique look, women can opt for this black blouse with a bow and pair it with a saree featuring a parrot color combination.
10. Party Wear Cream Color Bow Blouse Design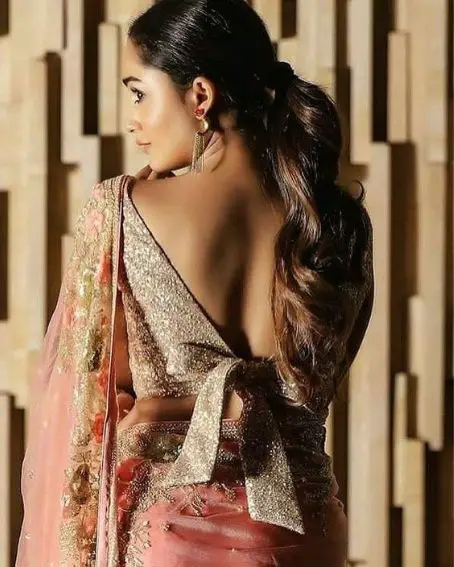 A timeless choice for women attending parties, this cream-colored bow blouse adds a touch of elegance to their outfit.
11. Maroon Plain Silk 3/4th Sleeves Blouse with Tie Back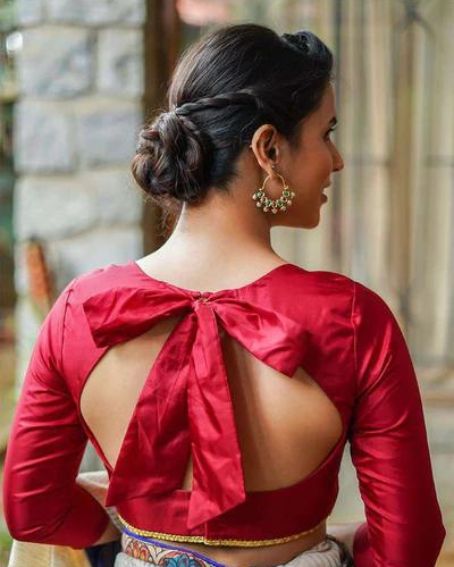 Ideal for women, this maroon silk blouse with 3/4th sleeves and a tie-back detail offers a classic and versatile option.
12. Red Color Sleeveless Bow Blouse Design With Pink Saree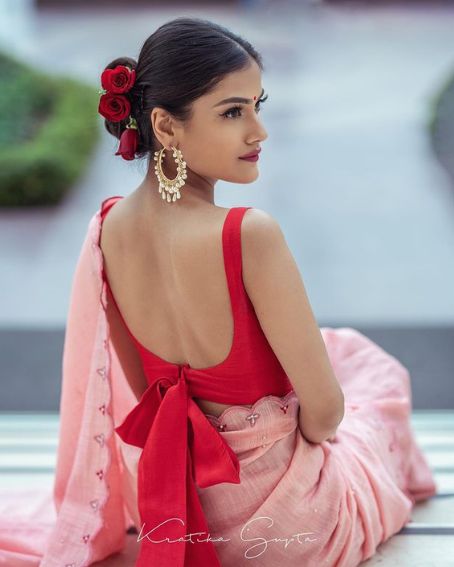 Young girls can go for a bold look with this red sleeveless blouse featuring a bow, perfectly matched with a pink saree.
13. Beige Color Sleeveless Bow Back Blouse Design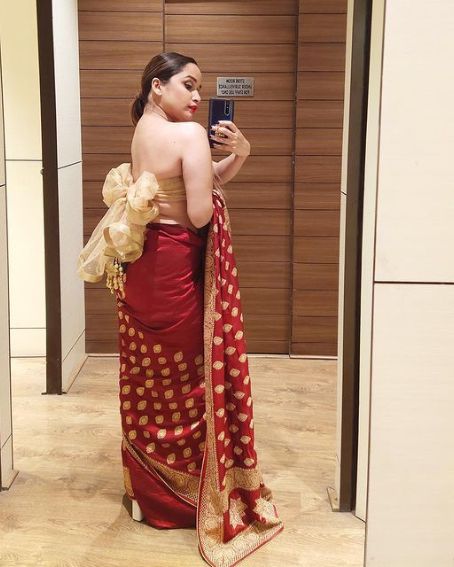 Women can opt for this beige sleeveless blouse with a bow at the back for a chic and minimalistic style.
14. Red Color Bow Sleeveless Blouse Design With Yellow Floral Saree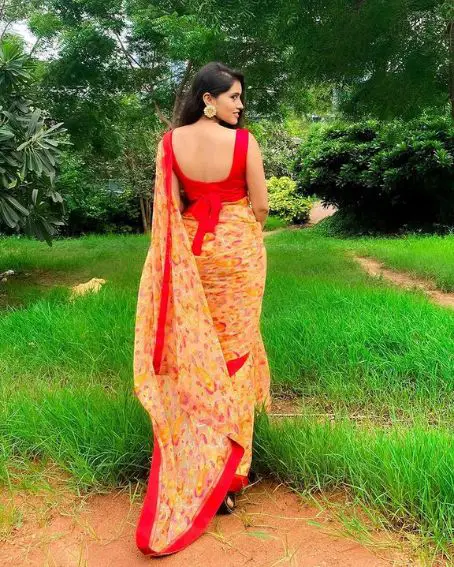 Teenage girls can embrace a vibrant style with this red sleeveless blouse paired with a yellow floral saree for a fresh and youthful appearance.
15. Maroon Color Bow Blouse Design With Black Saree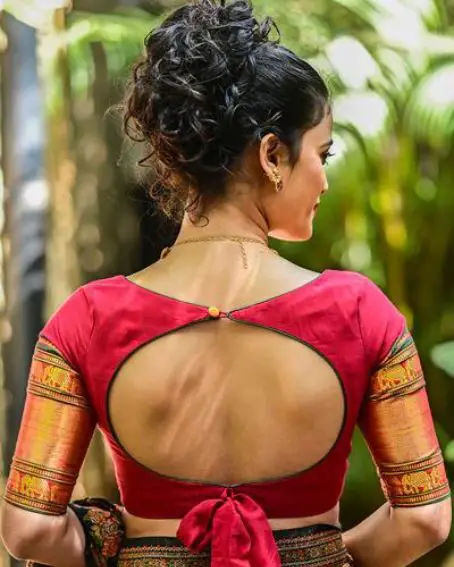 Women can look elegant in this maroon blouse with Black Saree and a bow design, creating a striking contrast.
16. Gold Color Blouse Bow Design With Pink Saree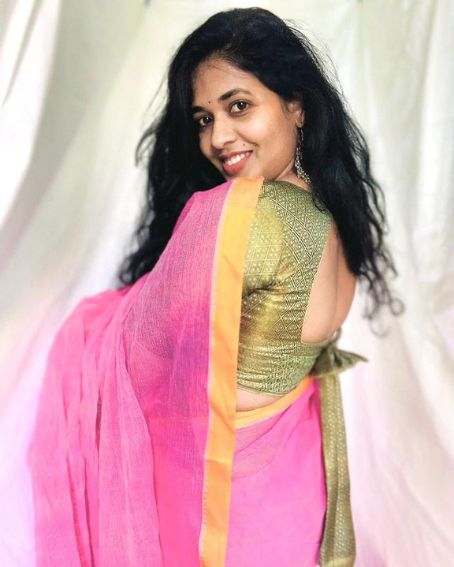 A luxurious choice for women, this gold-colored blouse with a bow design pairs beautifully with a pink saree for a regal look.
17. Silver Color Bow Blouse Design With Sky Blue Saree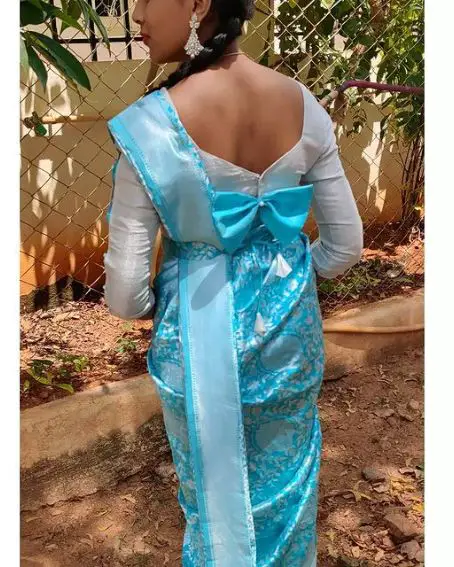 Women can dazzle in this silver blouse with a bow detail, perfectly complementing a sky blue saree for a glamorous appearance.
18. White Color Bow Blouse Design For Printed Saree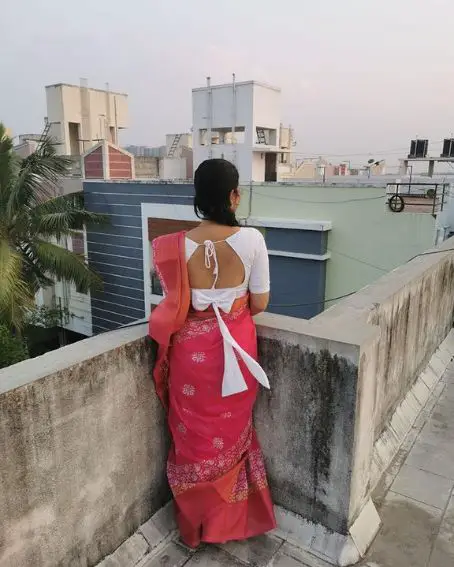 A versatile choice for women, this white bow blouse pairs well with various printed sarees, offering a timeless and elegant look.
19. Black Color Sleeveless Bow Blouse Design For Partywear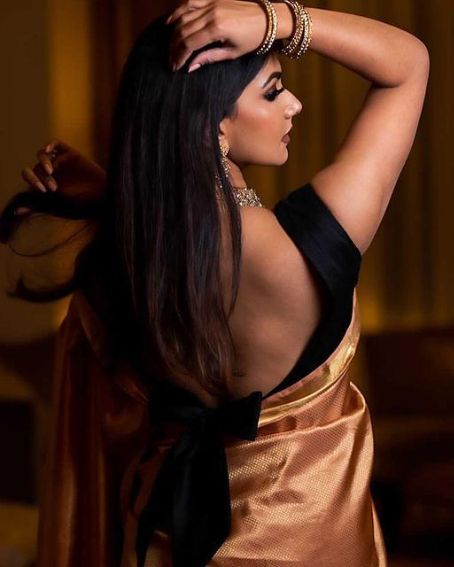 Young girls can make a bold statement at parties with this black sleeveless blouse featuring a bow design.
20. Mehndi Green Bow Blouse Design With Purple Saree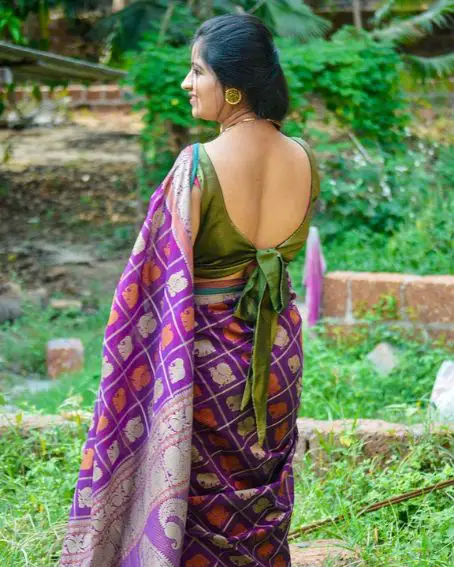 Women can opt for this mehndi green bow blouse, adding a pop of color when paired with a purple saree.
21. Baby Pink Color Checks Bow Blouse Design For Modern Look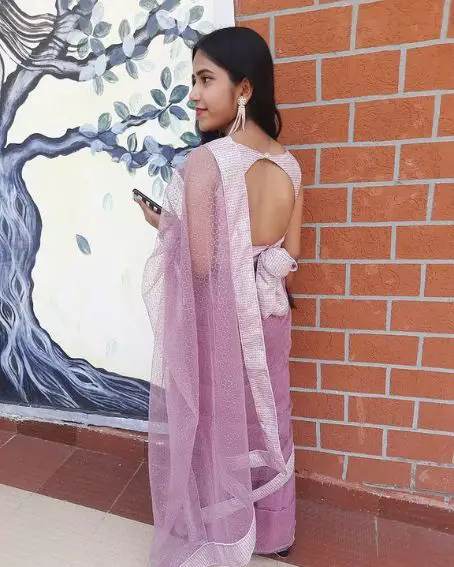 Teenage girls can achieve a modern and stylish look with this baby pink checks bow blouse, perfect for contemporary fashion.
What is The Importance of Bow Blouse Design?
Bow blouse designs bring a touch of femininity and sophistication to any outfit. These delicate bows, resembling neckties or ribbons, have become an essential element in Indian women's apparel. They transform a simple blouse into a fashion statement, adding a timeless and elegant touch to your saree ensemble.
What Are Features Of The Bow Blouse Design?
A Bow Blouse Design typically includes several key features that make it distinctive and stylish. These features can vary in style and complexity, but some common elements include:
Bow Detail: The most prominent feature is, of course, the bow itself. The blouse design incorporates a bow, which can be placed in different locations, such as the back neck, front neck, or sleeves, depending on the design.
Variety of Fabrics: Bow blouses are made from various fabrics, including silk, cotton, georgette, chiffon, or even velvet, allowing for a wide range of looks from casual to formal.
Sleeve Styles: Bow blouses can have various sleeve styles, such as full sleeves, three-quarter sleeves, cap sleeves, or sleeveless options, depending on the desired look and occasion.
Neckline Variations: The neckline of a bow blouse can be customized, ranging from a simple round or V-neck to more intricate designs like high necks, boat necks, or sweetheart necklines.
Back Detail: In addition to the bow, some designs feature unique back details, like keyhole cutouts, knotted backs, or low-cut backs, enhancing the blouse's style.
Color and Patterns: Bow blouses come in a wide range of colors and patterns, from solid colors to prints and patterns like stripes, polka dots, florals, and more, catering to different tastes and occasions.
Sizing and Fit: These blouses are available in various sizes and fits, including tailored, loose, or fitted styles, ensuring that they flatter different body shapes and sizes.
Occasion Suitability: Bow blouses can be versatile, suitable for both casual and formal occasions, depending on the design, fabric, and accompanying saree or outfit.
Embellishments: Some bow blouse designs feature additional embellishments like sequins, embroidery, lace, or beadwork, adding a touch of elegance and glamor.
Button or Hook Closure: Depending on the style, the blouse may have buttons, hooks, or zip closures for ease of wearing.
Sleeve Length: The sleeve length can vary from full sleeves to sleeveless or anything in between, allowing for customization based on personal preference and the season.
Overall Aesthetic: Bow blouses come in a range of aesthetics, from classic and sophisticated to modern and trendy, catering to different fashion sensibilities.
Versatility: Bow blouses can be paired with various outfits, including sarees, lehengas, skirts, or even pants, making them a versatile addition to a wardrobe.
Why Choose A Bow Blouse Design For A Saree ?
Bow blouses enhance the traditional saree look with charm and grace.
They make you stand out at any event, adding a touch of elegance.
Bow blouses offer versatility by allowing you to tie them in various ways, catering to your personal style
preferences.
These blouses complement the intricate designs of a saree, elevating its overall appeal.
They effortlessly exude both classic and contemporary vibes, making them an essential wardrobe item for
Indian women.
For Which type of occasion women wear bow blouse designs?
Women can wear bow blouse designs for a variety of occasions, depending on the specific style and details of the blouse. Here are some common occasions where bow blouse designs are often chosen:
Formal Events: Elegant and sophisticated bow blouses are suitable for formal occasions such as weddings, receptions, gala dinners, and other black-tie events. They can be paired with sarees, lehengas, or skirts to create a polished look.
Office or Work: Bow blouses in more subtle and professional styles are appropriate for office wear. They can be paired with tailored trousers, pencil skirts, or blazers to create a stylish yet work-appropriate outfit.
Cocktail Parties: For semi-formal gatherings or cocktail parties, women can choose bow blouses with unique details, such as sequins, lace, or sheer fabrics, paired with chic skirts or pants.
Casual Outings: Bow blouses in casual styles, like those made from cotton or featuring playful patterns, can be worn for everyday outings, lunch with friends, or shopping trips when paired with jeans, shorts, or casual skirts.
Festive Occasions: During festivals or cultural celebrations, women often opt for bow blouses with traditional or ethnic designs. These blouses can be paired with sarees, lehengas, or ethnic skirts.
Date Nights: A stylish bow blouse can make for an eye-catching outfit choice for a romantic date night. Pair it with a skirt, jeans, or trousers to create a memorable look.
Birthday Parties: Depending on the dress code and the ambiance of the party, women can choose bow blouses that suit the occasion, whether it's a relaxed backyard barbecue or a more formal dinner party.
Bridal or Bridesmaid Attire: Bow blouses can be incorporated into bridal or bridesmaid ensembles, especially when paired with sarees or lehengas. They add a touch of sophistication and style to wedding celebrations.
Fashion Shows and Events: Fashion-forward bow blouse designs with unique and trendy details can be worn to fashion shows, runway events, or fashion-related gatherings to showcase personal style.
Cultural and Traditional Events: In cultures where sarees or traditional attire are worn regularly, bow blouses can be chosen for cultural events, family gatherings, or religious ceremonies.
Bow blouse designs are a fantastic fashion choice, especially for women, young girls, and teenagers. They instantly add a touch of elegance and style to any outfit. Whether you tie a bow at your neckline or in a different spot, they let you express your unique fashion sense. Bow blouses are versatile, suitable for both casual and fancy occasions, making them a must-have in every woman's, young girl's, or teenager's wardrobe. So, if you want to look trendy and classy, consider adding bow blouses to your collection.
Related Articles