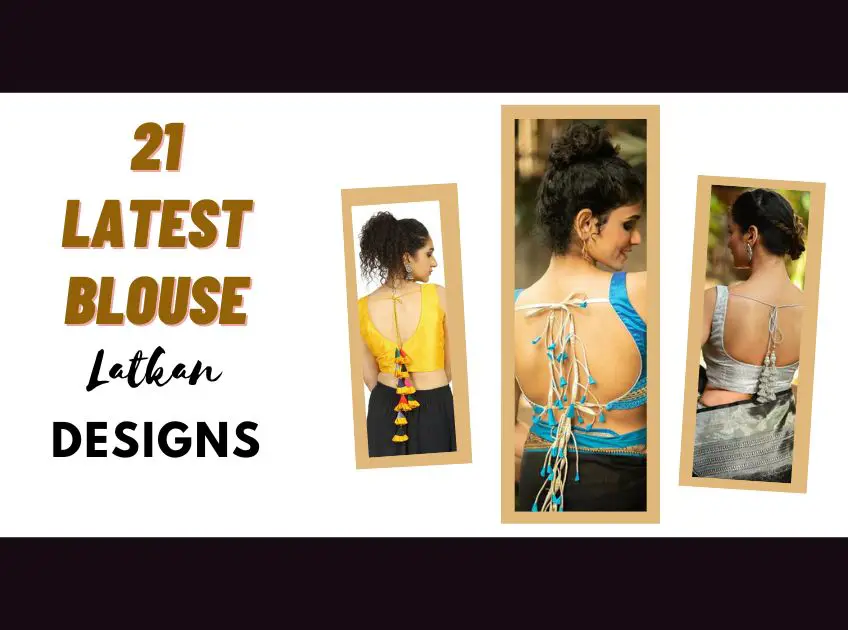 The blouse design in which the latkans used for embellishment of the blouse . Usually latkans are placed on the back side of the blouse. These latkans are hanging decorative embellishments for traditional apparels such as blouses and lehenga. These latkans are made with beads, strings, tassels, pearls, and kundans.
21 Latest Blouse Latkan Designs
1. Bridal Blouse U Neck Blouse Latkan Design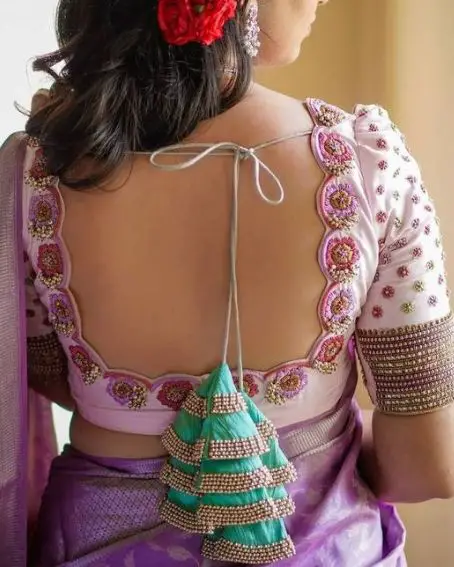 These U-neck bridal blouses with intricate Latkan designs are a perfect choice for brides looking to add a touch of elegance to their wedding attire. They are equally adored by bridesmaids, young girls, and teenage girls, enhancing the overall bridal look. The addition of Latkans provides a traditional and charming element to these sleeveless and backless blouses, making them a coveted choice for weddings and special occasions.
2. Sleeveless Backless Tied & Fabric Latkan Detailing Blouses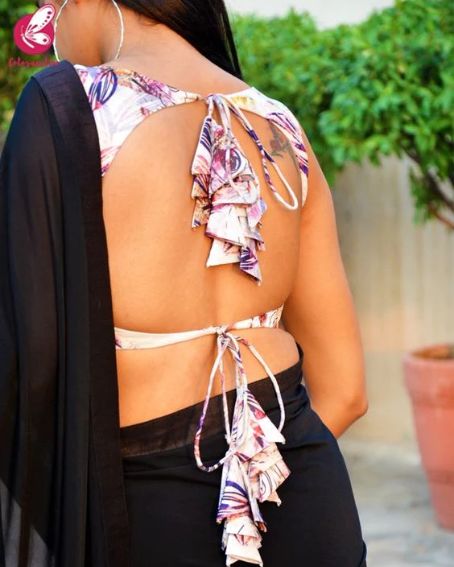 Sleeveless backless blouses with fabric Latkan detailing are highly popular among women of all ages, especially young girls and teenage girls attending parties and special events. The tied back design adds a trendy and contemporary twist to traditional blouses, making them a favorite choice for those who want to stand out. These blouses are known for their versatility, effortlessly complementing various sarees and lehengas.
3. Classic Backless Strings & Fabric Latkan Detailing Blouse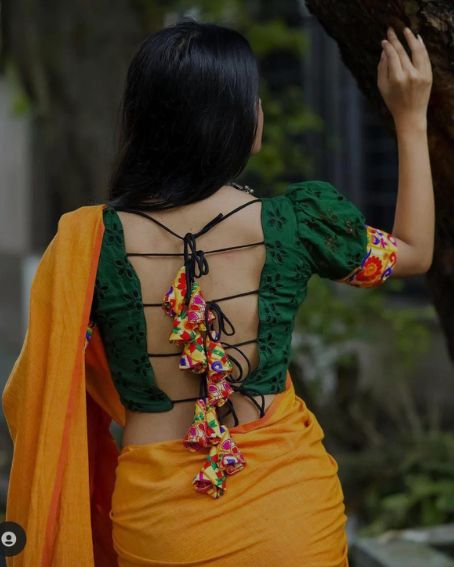 Classic backless string blouses with fabric Latkan detailing are timeless classics that are beloved by women of all ages. Their appeal spans generations as they manage to strike a perfect balance between sensuality and tradition. These blouses are versatile, making them suitable for both casual gatherings and formal events, catering to a wide range of tastes and preferences.
4. Black Khadi With Multi Fabric Latkan Sleeveless Blouse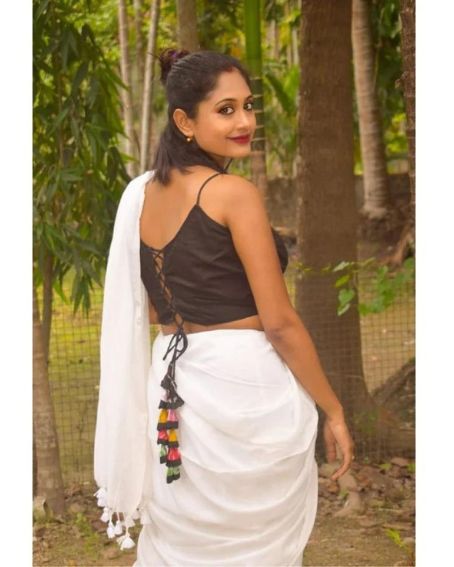 Sleeveless black khadi blouses adorned with multi-fabric Latkans are stylish and contemporary choices, particularly favored by young girls looking to make a bold fashion statement. The striking contrast of black fabric with vibrant Latkans creates a visually appealing and trendy look. These blouses are ideal for pairing with colorful sarees or skirts, making them a chic addition to any wardrobe.
5. Black Cotton Silk Backless Blouse With Latkan With Red Saree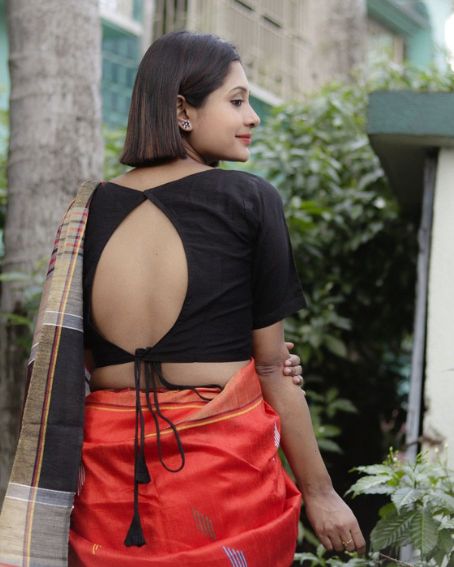 For a sophisticated yet captivating look, the combination of a black cotton silk backless blouse with Latkans paired with a red saree is a winning choice. This ensemble appeals to women of all ages, offering a blend of sensuality and traditional charm. The contrast between the black blouse and the rich red saree creates a stunning visual impact, making it a go-to option for special occasions.
6. Black Yellow Green Ikkat Material With Latkan Blouse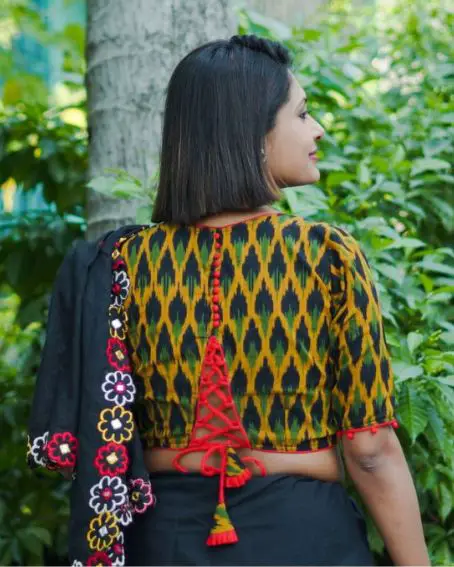 The combination of black, yellow, and green Ikkat material with Latkan detailing creates a vibrant and eye-catching blouse that appeals to women of all ages. The Ikat pattern adds a touch of tradition to the design, while the colorful Latkans make it suitable for festive occasions. This blouse pairs beautifully with sarees or skirts for a trendy ethnic look.
7. White Khadi With Weaving Line Multi Latkan Backless Blouse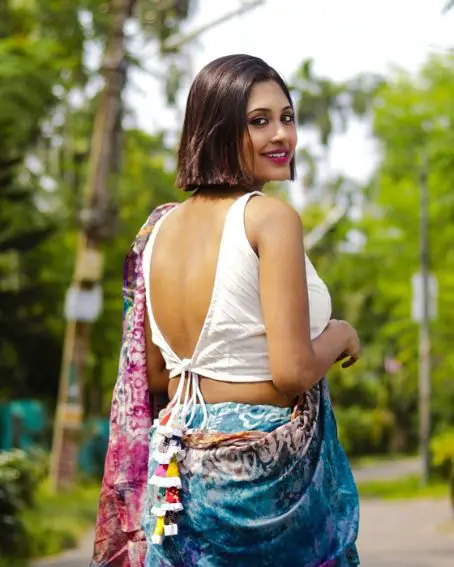 The white khadi backless blouse with multi Latkans featuring weaving lines is a chic and stylish choice for women, especially young girls and teenagers. This design seamlessly blends traditional elements with contemporary fashion. The white base allows for versatile pairing with sarees or lehengas, making it a versatile addition to any wardrobe.
8. Blue Jamdani Criss Cross Glass Sleeve Blouse With Latkan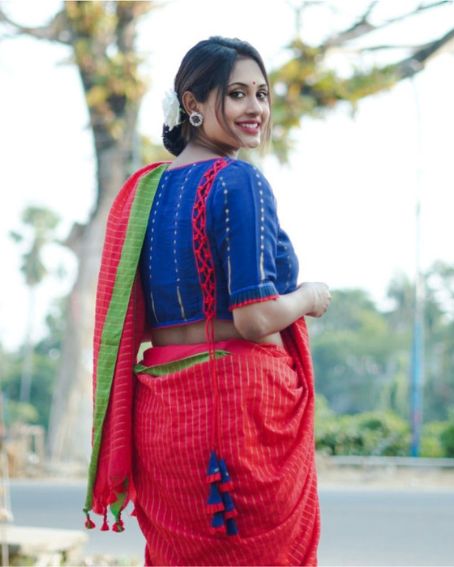 The blue Jamdani blouse with criss-cross glass sleeves and Latkan detailing is a unique and elegant choice for women seeking a distinctive look. The Jamdani weave adds sophistication, while the glass sleeves and Latkans create an alluring appeal. This blouse is perfect for upscale events and celebrations.
9. Reddish Brown And Yellow Half Half Ikkat Blouse With Latkan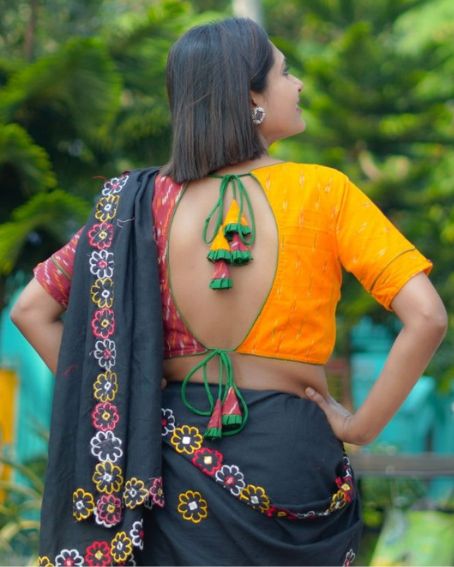 The reddish-brown and yellow half-half Ikkat blouse with Latkan detailing offers a fusion of colors and patterns that attract women of all ages. The Ikkat design adds a traditional touch, while the vibrant color combination makes it suitable for festive occasions. It pairs beautifully with sarees or skirts for a stylish ethnic ensemble.
10. Bird Motive Blue Maggam Work Blouse With Latkan For Women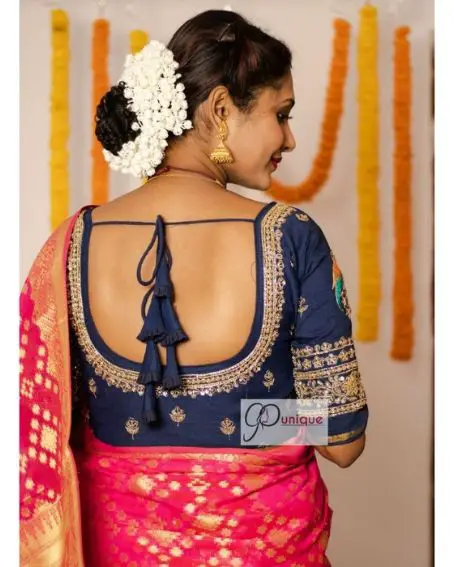 The blue Maggam work blouse with bird motifs and Latkans is a stunning choice for women looking for intricate detailing. Maggam work adds a touch of opulence, and the bird motifs create a unique visual interest. This blouse is a favorite among women attending weddings and grand events.
11. Red & Pink Upcycled Patchwork Blouse With Embroidered Fabrics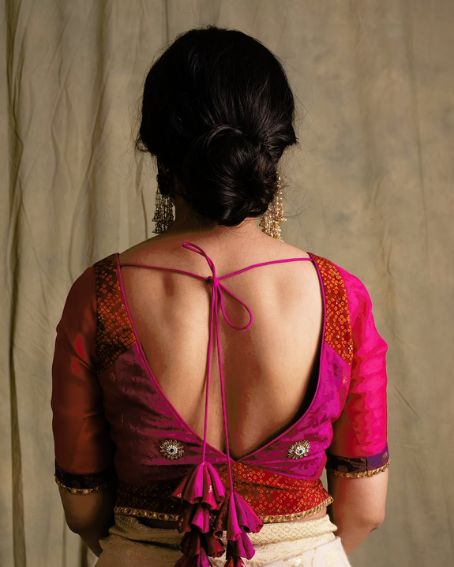 The red and pink upcycled patchwork blouse with embroidered fabrics is an eco-friendly and fashion-forward choice for women who appreciate sustainability and style. Upcycled patchwork adds character, and the embroidered fabrics make it visually appealing. This blouse is a statement piece for women of all ages who value creative fashion.
12. Vintage Kalamkari Blouse With Golden Piling And Colorful Tassels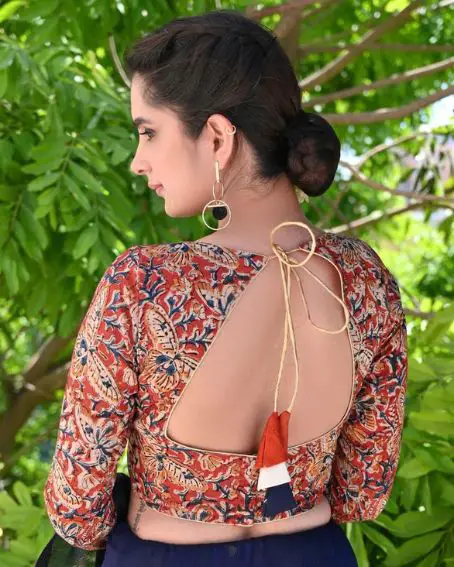 The vintage Kalamkari blouse with golden piling and colorful tassels is a classic choice for women who appreciate the beauty of traditional Indian artistry. Kalamkari prints exude timeless charm, while the golden piling and tassels add a touch of glamour. This blouse is a favorite among those seeking a blend of heritage and style.
13. Sky Blue Raw Silk Sleeveless Tie Back Blouse With Tassel Detailing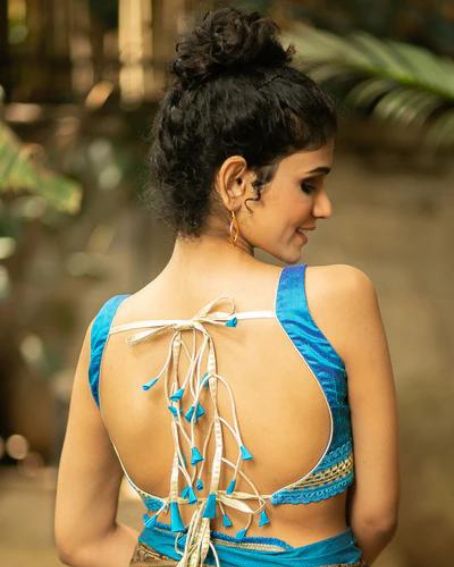 The sky blue raw silk sleeveless tie-back blouse with tassel detailing is a trendy and youthful choice for women, especially young girls and teenagers. The sky blue color exudes freshness, while the tassel detailing adds a playful touch. This blouse pairs well with sarees or skirts for a modern ethnic look.
14. Silver Brocade Sweetheart Neck Sleeveless Blouse With Black Saree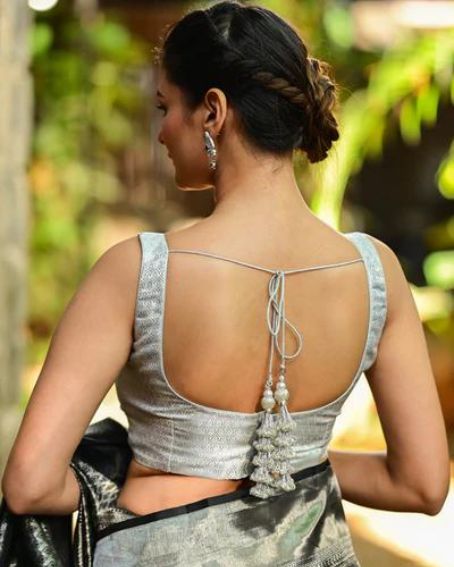 The silver brocade sweetheart neck sleeveless blouse paired with a black saree is a classic and glamorous choice for women attending formal events. The silver brocade adds richness, and the sweetheart neckline adds a touch of femininity. This ensemble is a timeless favorite for special occasions.
15. Green Blouse Designs With Blue Colored Latkans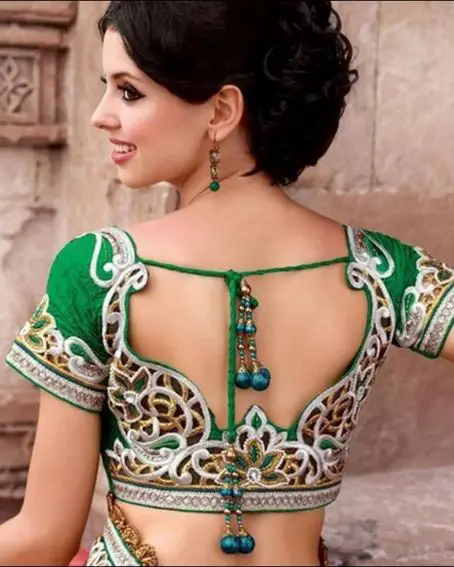 Blouse designs in green with blue-colored Latkans offer a refreshing and vibrant look that appeals to women of all ages. The combination of green and blue creates a harmonious contrast, making the Latkans stand out. These blouses are versatile and can be paired with various sarees or skirts for a stylish ethnic outfit.
16. Green Spun Dupion Blouse With Dangling Thread Tassels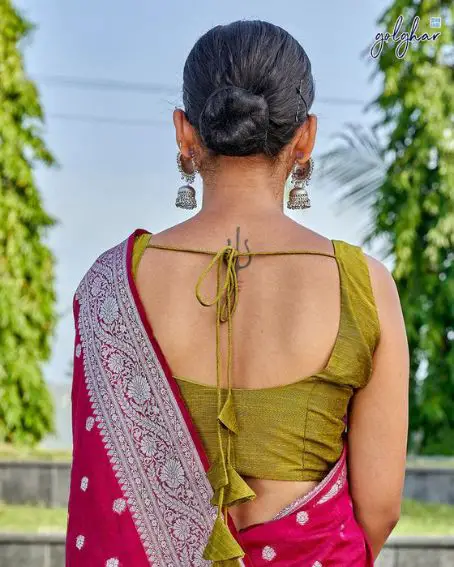 The green spun Dupion blouse with dangling thread tassels is a contemporary and playful choice for women who enjoy unique designs. The spun Dupion fabric adds texture, and the dangling thread tassels create dynamic movement. This blouse is perfect for adding a touch of flair to any traditional ensemble.
17. Brown Georgette Blouse With Floral Embroidery And Sequins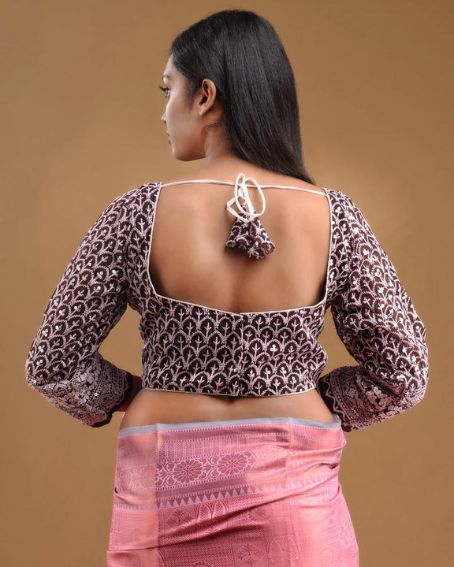 The brown Georgette blouse with floral embroidery and sequins is a graceful and opulent choice for women who appreciate intricate detailing. The Georgette fabric drapes beautifully, and the floral embroidery with sequins adds a touch of glamour. This blouse is ideal for elegant occasions and gatherings.
18. Golden Sweetheart Neck Ruffled Sleeves Blouse By Estonished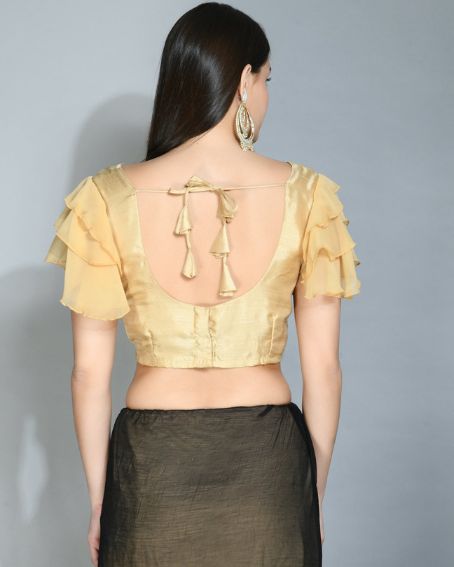 The golden sweetheart neck blouse with ruffled sleeves by Estonished is a statement piece for women seeking a bold and glamorous look. The golden hue exudes luxury, while the sweetheart neck and ruffled sleeves add drama. This blouse is a favorite among those aiming to make a grand entrance at formal events.
19. Pink Colored Bridal Blouse With Latkans For Wedding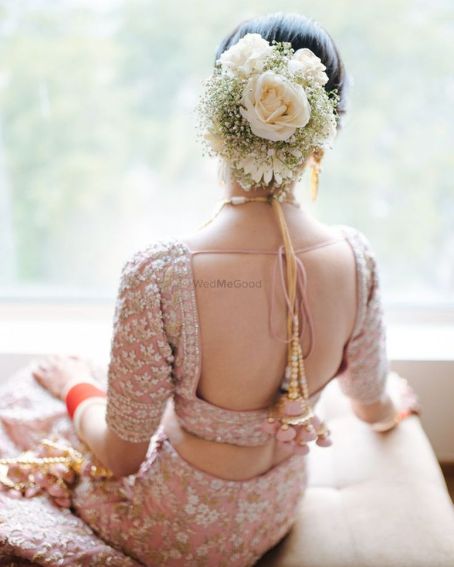 The pink-colored bridal blouse with Latkans is a quintessential choice for brides looking to embrace a traditional yet vibrant aesthetic for their wedding day. Pink signifies love and celebration, making it a popular choice. The Latkans add a charming touch to complete the bridal look.
20. Yellow Color Blouse With Multi Colored Latkans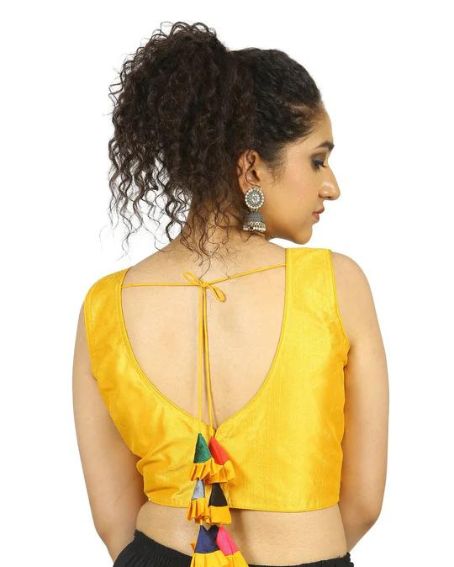 Blouses in yellow with multi-colored Latkans offer a cheerful and lively option that suits women of all ages. Yellow symbolizes positivity and energy, making it an attractive choice. The multi-colored Latkans create a playful and festive look, perfect for joyful occasions.
21. Red Color Full Sleeve With Gold Latkan Blouse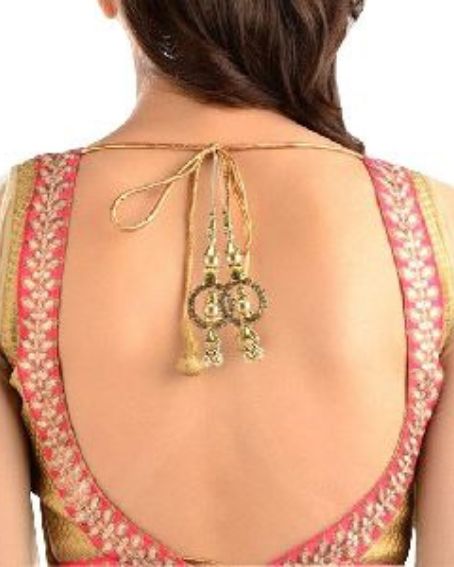 The red color full-sleeve blouse with gold Latkans is a regal and sophisticated choice for women seeking a traditional and elegant look. Red is a color of significance and beauty, often chosen for special occasions. The gold Latkans add a touch of opulence to the ensemble, making it ideal for formal events and weddings.
What Are Some Popular Latkan Designs That Brides Often Consider?
Tassel Latkans: Tassel Latkans are versatile and can be customized in various colors and lengths to match the bridal outfit. They can be made with silk threads, beads, or pearls for a traditional or contemporary look.
Traditional Ghungroo Latkans: Ghungroo Latkans are adorned with small bells, which create a melodious sound when the bride moves. They add a traditional and cultural touch to the outfit.
Mirror Work Latkans: If the bridal outfit has mirror work or is heavily embellished, mirror work Latkans can complement the look beautifully. They reflect light and create a stunning effect.
Feather Latkans: For a whimsical and bohemian look, feather Latkans can be an excellent choice. They come in various feather types and colors to match the bridal ensemble.
Floral Latkans: Latkans designed with silk or fabric flowers can add a soft and romantic touch to the blouse. They are especially suitable for floral-themed weddings.
Pearl and Kundan Latkans
These decorative ornaments have pearls and kundan stones and are ideal for women, young girls, and teenagers who want to add a bit of luxury and sophistication to their look, especially brides.
Personalized Latkans: Some brides opt for personalized Latkans that may have their initials, wedding date, or special symbols that hold sentimental value.
Theme-Based Latkans: If the wedding has a specific theme, such as vintage, Bollywood, or beach, consider Latkans that match the theme. For example, vintage-inspired Latkans can have lace and antique-style embellishments.
Minimalist Latkans: If the bride prefers a minimalistic look, simple and small Latkans with a touch of embroidery or sequins can be a good choice.
Traditional Motif Latkans: Incorporate traditional Indian motifs like peacocks, elephants, or paisley patterns into your Latkans for a classic look.
What Are Common Colors And Fabrics Used For Blouse Latkan Designs?
Colors
Gold and Silver: Metallic gold and silver threads or fabrics are commonly used to create a rich and traditional look.
Bright and Vibrant Colors: Depending on the saree or lehenga being paired with the blouse, bright and contrasting colors may be used to create a pop of color.
Matching Colors: Some latkans are designed to match the primary color of the blouse or the outfit for a coordinated look.
Pastel Shades: For a more subtle and understated look, pastel shades like blush pink, mint green, or baby blue can be used.
Fabrics
Silk: Silk is a popular choice for blouse latkans due to its sheen and luxurious feel.
Velvet: Velvet adds a plush and royal touch to the latkan design.
Brocade: Brocade fabrics often have intricate patterns woven into them, making them suitable for ornate latkan designs.
Beaded and Sequined Fabrics: These add a lot of sparkle and can be used to create dazzling latkan designs.
Cotton: Cotton latkans are more casual and comfortable and can be used for everyday wear blouses.
Blouse latkan designs are a beautiful and versatile addition to traditional Indian blouses, adding a touch of elegance and charm to the overall look. These designs come in various styles, colors, and materials, allowing for creativity and personalization to match individual tastes and the occasion. Whether it's a classic tassel design with intricate beadwork, a contemporary fabric rosette style, or a mix of traditional and modern elements, blouse latkans can enhance the aesthetics of your attire and make a statement.
Related Articles