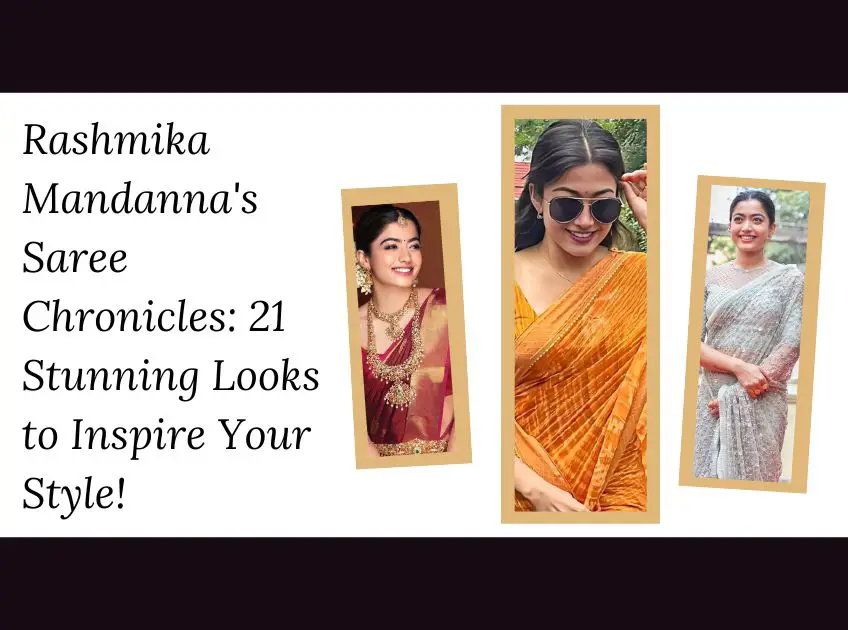 Rashmika Mandanna is a famous actress from India who acts in Telugu and Kannada movies. She was born on April 5, 1996, in Karnataka, India. People really like her acting, and she's in many different types of movies. Besides acting, Rashmika is known for wearing beautiful sarees. Sarees are a kind of pretty clothing. She wears them at important events and looks very stylish. Rashmika has many sarees with different designs and colors, which are liked by women of all ages. Her sarees are a big fashion inspiration, and she wears all kinds of sarees, from traditional ones to modern ones. This makes her look beautiful and fashionable.
Rashmika Mandanna's Saree Chronicles: 21 Stunning Looks to Inspire Your Style!
1. Rashmika in White Heavy Border Saree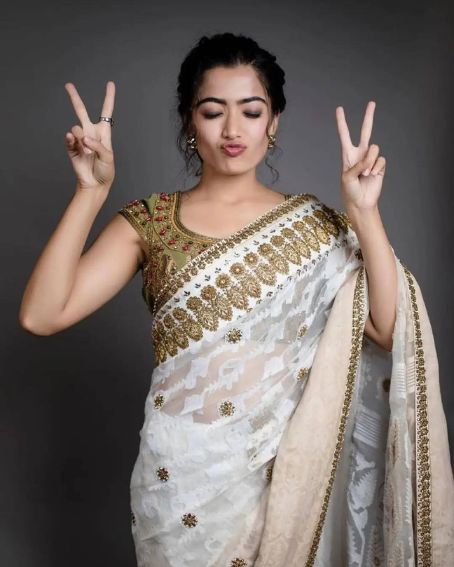 A classic white saree with intricate heavy border work that exudes grace and sophistication.
2. Rashmika in Pastel Saree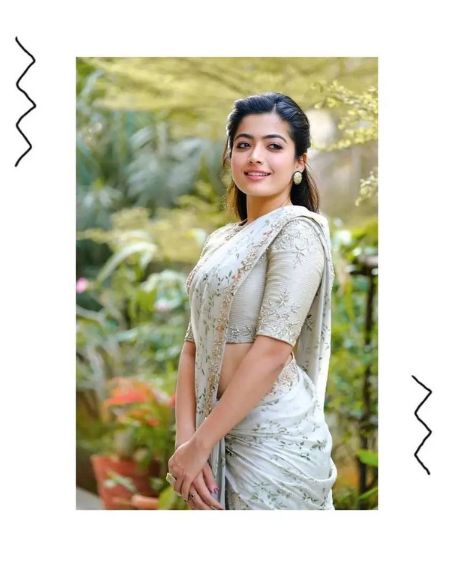 Embracing pastel shades, Rashmika looks ethereal and delicate in a pastel-colored saree.
3. Rashmika in Beige Saree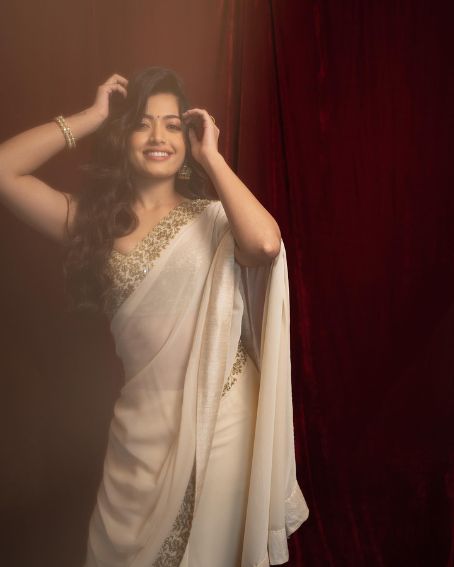 The beige saree brings out her timeless beauty, offering a subtle yet captivating look.
4. Rashmika in White Saree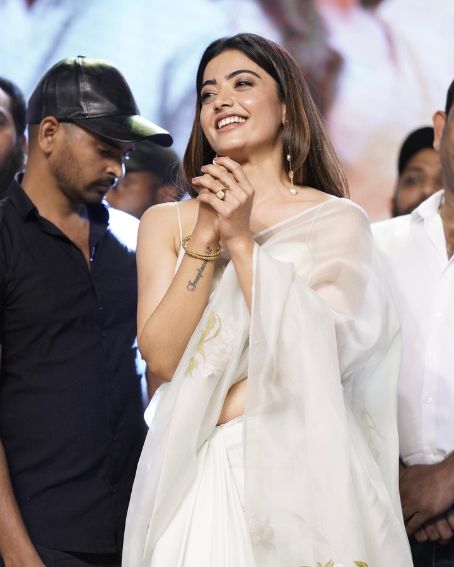 Rashmika shines in a pristine white saree, showcasing elegance and purity.
5. Rashmika in Pink Cut Work Saree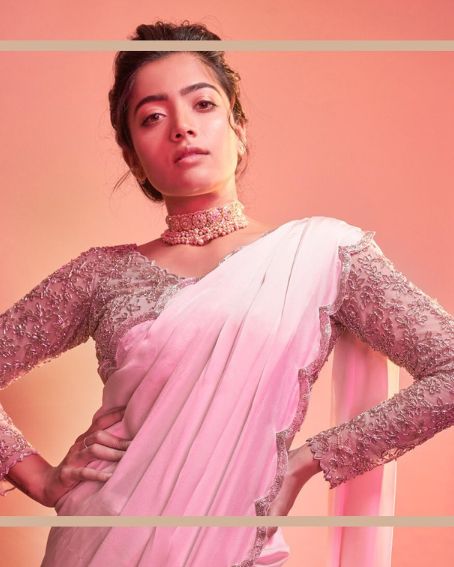 A pink saree with delicate cutwork, adding a touch of intricacy to her attire.
6. Rashmika in Purple Saree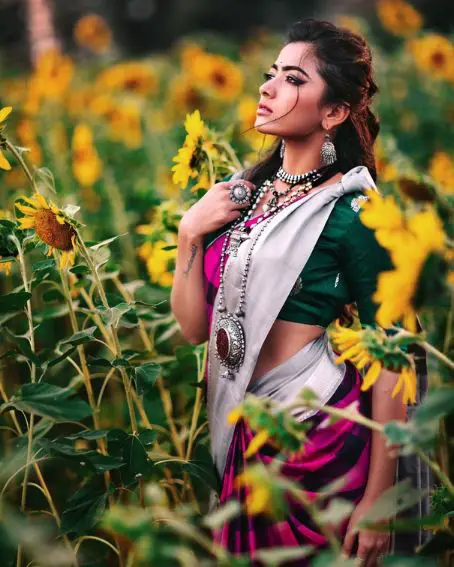 Rashmika Mandanna's stunning appearance in a purple saree has captured the attention of women, young girls, and teenagers alike. Her choice of a purple saree not only exudes elegance but also showcases the versatility of this regal color.
7. Rashmika in Violet Saree with Jacket Model Blouse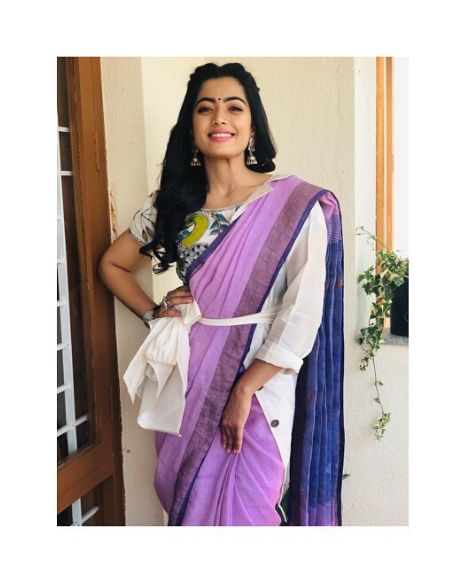 A unique ensemble with a violet saree paired with a jacket-style blouse, blending traditional and contemporary elements.
8. Rashmika in Venkatagiri Maroon Saree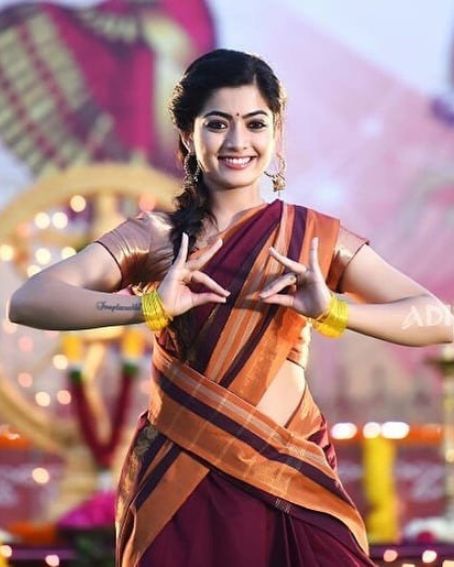 She looks mesmerizing in a maroon Venkatagiri saree, showcasing the rich heritage of Indian textiles.
9. Rashmika in Pink Saree with Black High Neck Blouse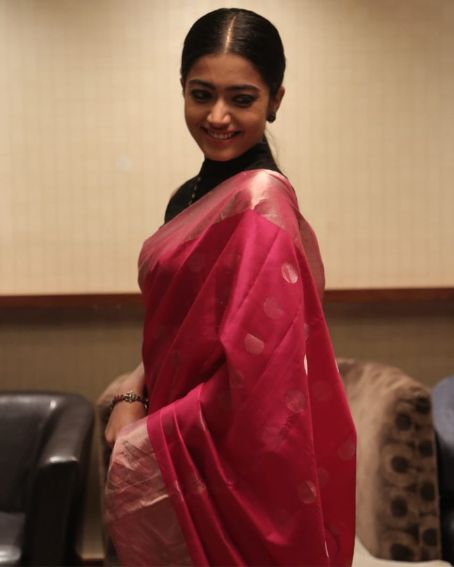 Rashmika's stunning look in a pink saree paired with a black high-neck blouse is a striking ensemble that appeals to both women and young girls, including teenagers. This choice exemplifies a perfect blend of youthful vibrancy and sophistication.
10. Rashmika in Red Gorgeous Saree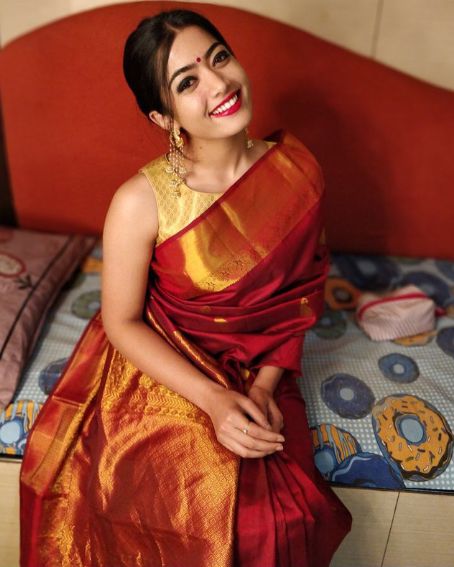 Red symbolizes passion, and Rashmika looks absolutely stunning in a gorgeous red saree.
11. Rashmika in Gold Saree with Pink Blouse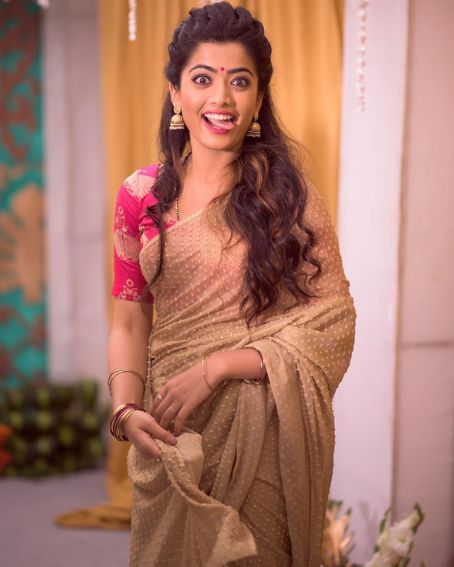 A gold saree paired with a pink blouse creates a striking contrast, highlighting her radiant beauty.
12. Rashmika in Yellow Silk Saree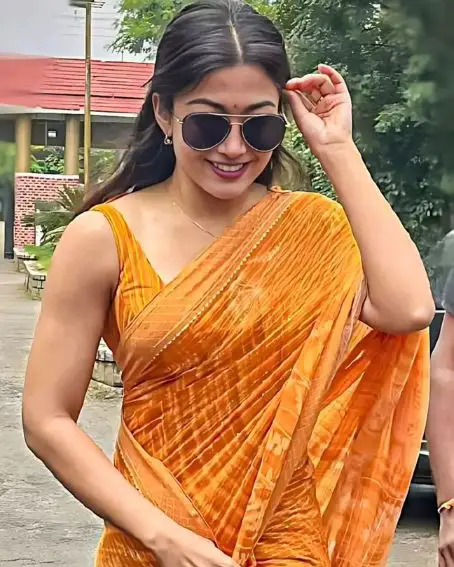 She dazzles in a vibrant yellow silk saree, epitomizing grace and charm.
13. Rashmika in Blue Double Color Saree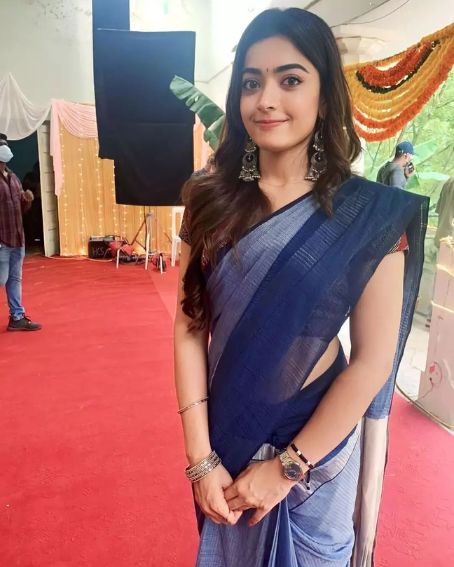 A dual-toned blue saree adds depth to her look, showcasing her style versatility. For young girls and teenagers, women, it presents an opportunity to explore the fusion of colors and textures in saree fashion, offering a trendy and graceful option for their wardrobe.
14. Rashmika in Coffee Color Saree with Red Blouse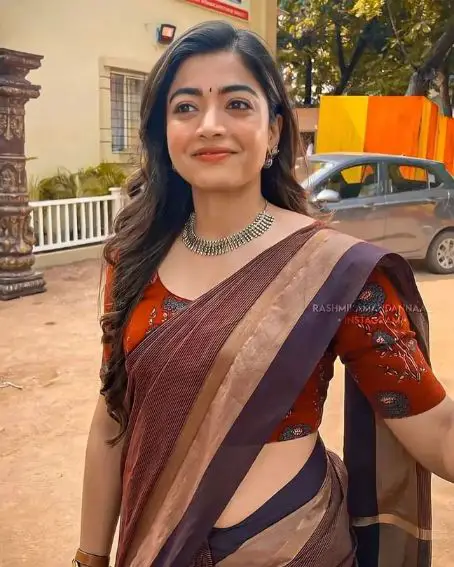 This earthy coffee-colored saree paired with a red blouse reflects a unique fashion sense.
15. Rashmika in Shiny White Silk Saree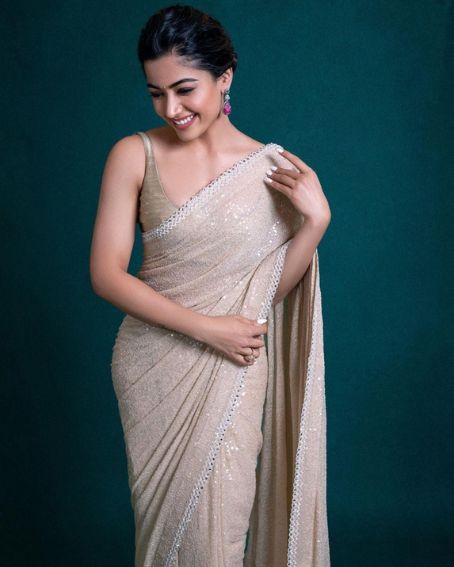 Rashmika's white silk saree radiates elegance and sophistication.
16. Rashmika in Multi Embroidery & Hand Stone Work on Blouse With Sleeves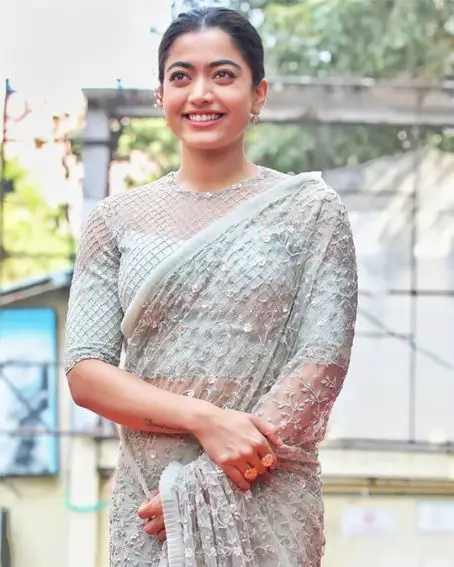 She shines in a saree with intricate embroidery and hand-stone work, adding a touch of glamour.
17. Tussar Georgette Real Zari Saree Paired with a Hand-Embroidered Blouse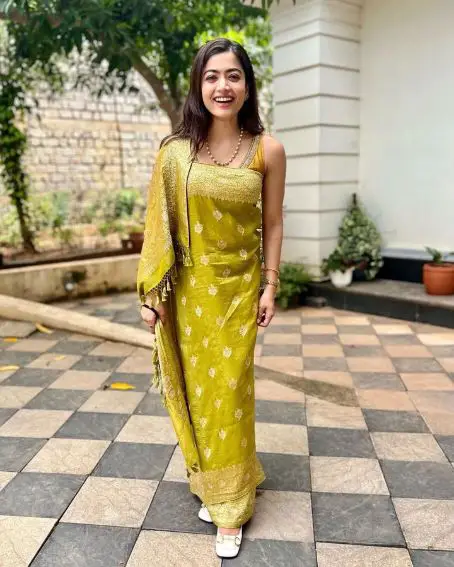 Rashmika's choice of a tussar georgette saree with real zari and a hand-embroidered blouse showcases her appreciation for craftsmanship.
18. Rashmika Looks Elegant in our Magenta Shaded Hand Embroidered Saree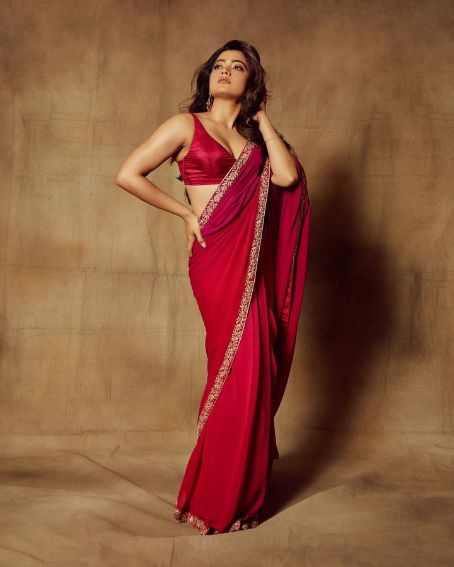 Her magenta shaded saree with hand embroidery exudes elegance and sophistication.
19. Stunning actress Rashmika Mandanna in Kanchi Pattu Saree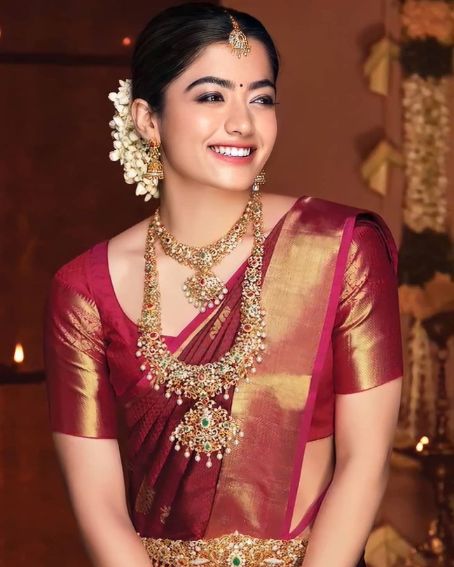 She embraces the cultural heritage of Kanchi Pattu sarees, looking absolutely stunning.
20. Cotton Banarsi Rashmika Blue Saree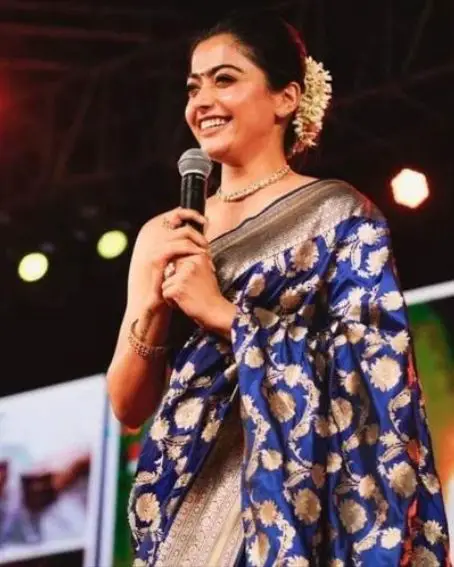 A cotton Banarasi saree in blue reflects her affinity for traditional fabrics.
21. Rashmika Mandana in Green Net Saree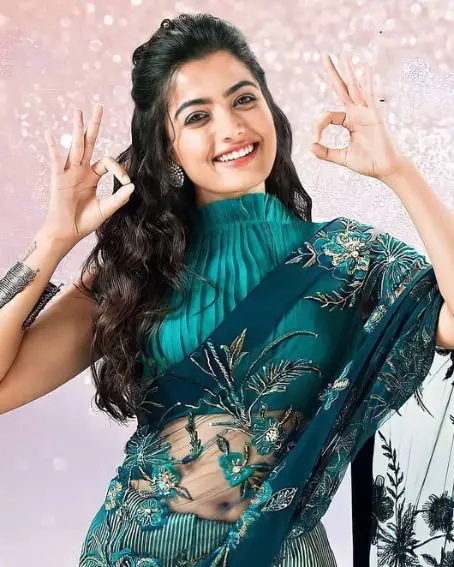 She looks enchanting in a green net saree, showcasing her impeccable fashion sense.
Conclusion
Rashmika Mandanna always looks lovely in her sarees! She wears all kinds of colors and designs, from classic white to bright and bold ones. She's great at mixing old and new styles, and her sarees have beautiful details like embroidery. Rashmika is a fashion star, and she's also a talented actress. She shows us how to look amazing in sarees and inspires lots of people with her fashion.