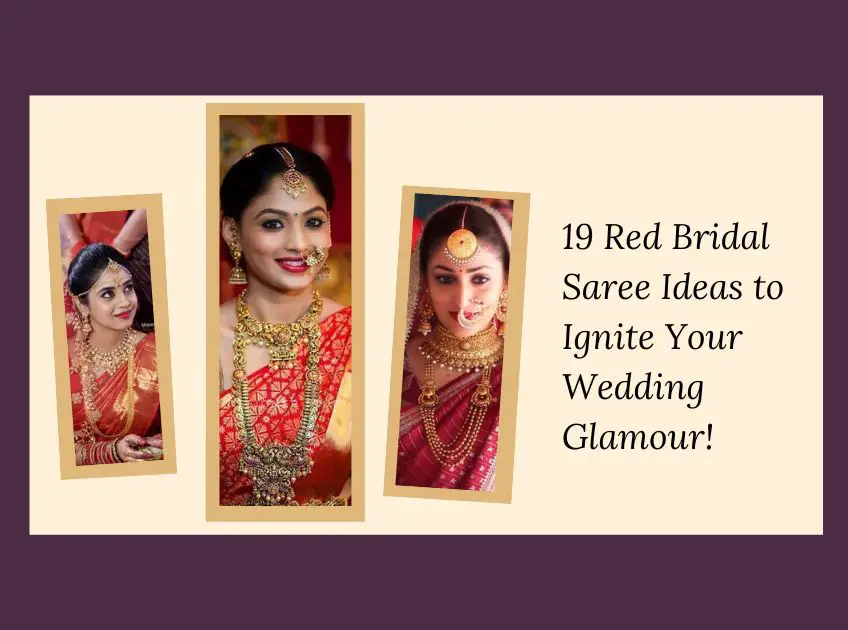 The red bridal saree stands as a timeless classic, symbolizing love, auspiciousness, and new beginnings. It remains the top choice for Indian brides for its association with passion, fertility, and good fortune, believed to usher happiness and prosperity into the bride's new life.
Red bridal sarees come in diverse styles, spanning from traditional to contemporary. Some brides opt for a simple and elegant look, while others embrace a more elaborate and glamorous attire.
19 Red Bridal Saree Ideas to Ignite Your Wedding Glamour!
1. Red Bridal Saree For Elegant Look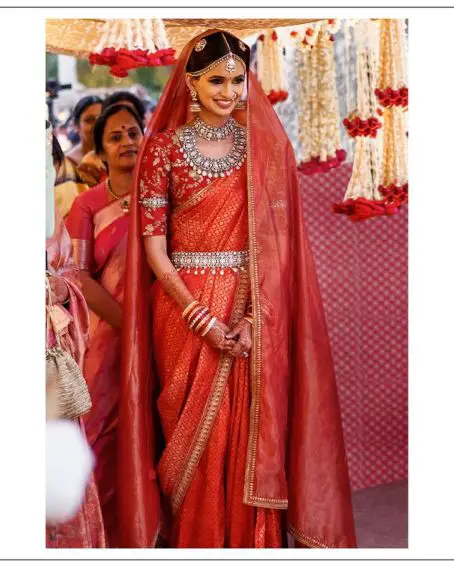 A red bridal saree epitomizes timeless elegance and has long been associated with the essence of marriage. The deep, vibrant hue symbolizes love and passion, making it the perfect choice for a bride looking to make a statement on her special day.
2. Banarasi Pure Soft Silk Red Saree For Bride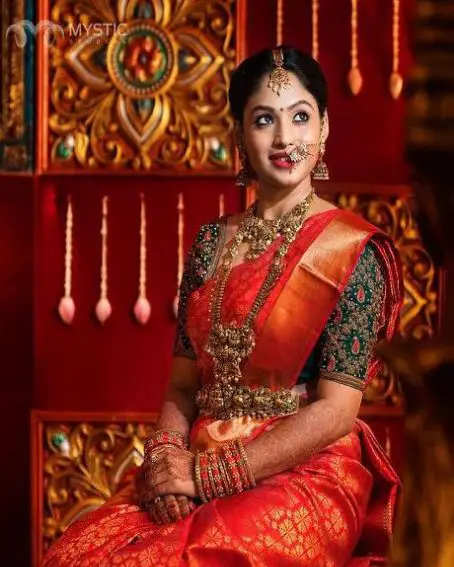 A Banarasi red silk saree exudes a sense of tradition and opulence, fitting for a bride who values her cultural heritage. Draped in this exquisite piece, a bride weaves her love story into the fabric, creating a lasting memory of her wedding day.
3. Yami Gautham in Crimson Silk Saree in Red Color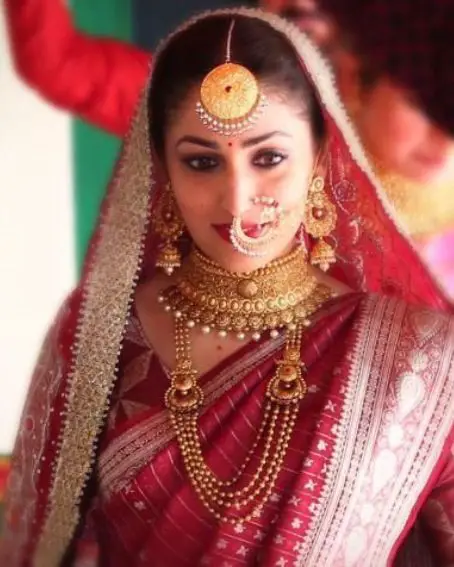 When a celebrity like Yami Gautam chooses a crimson silk saree for her wedding, it sets trends on fire. This iconic choice serves as inspiration for brides-to-be who seek a glamorous yet classic look for their big day.
4. Bridal In Red Banarasi Saree For Stunning Look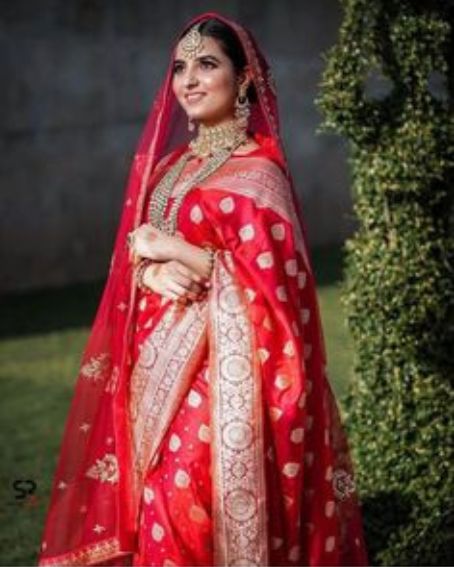 A stunning red Banarasi saree elevates a bride's wedding ensemble, bringing a touch of grandeur to the occasion. It showcases the bride's impeccable taste and radiates the rich cultural heritage that weddings celebrate.
5. South Indian Bride Looks Gorgeous In Red Saree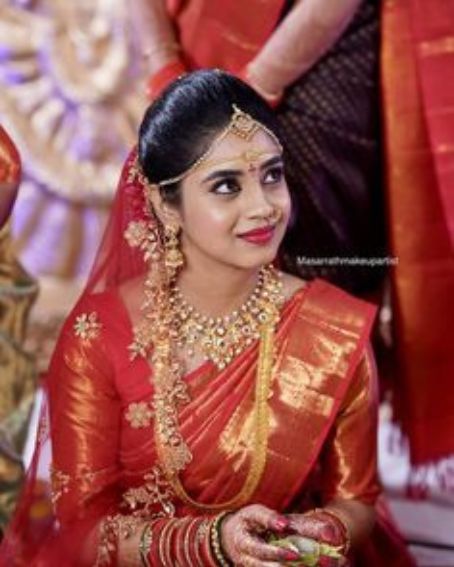 A South Indian bride's beauty shines in a red saree, representing prosperity and joy. Adorned with traditional jewelry and intricate embellishments, she captivates all with her resplendent charm on her wedding day.
6. South Indian Bridal Look In Red Saree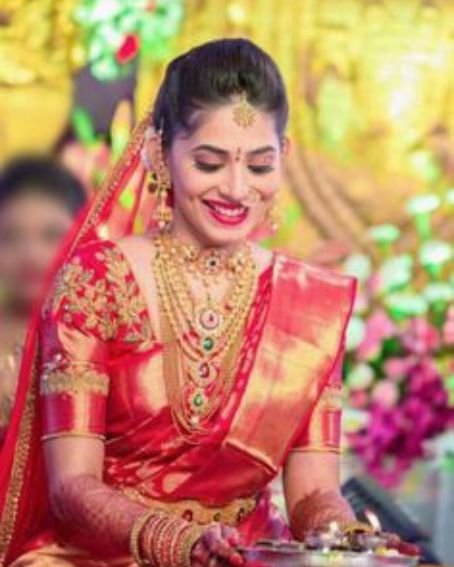 The traditional attire of a South Indian bride, the red saree, is a symbol of her readiness to embark on a new journey with her partner. It reflects her cultural roots, and she embodies grace and purity on this momentous occasion.
7. Beautiful & Enchanting Nikah Ceremony With Bride In A Red Saree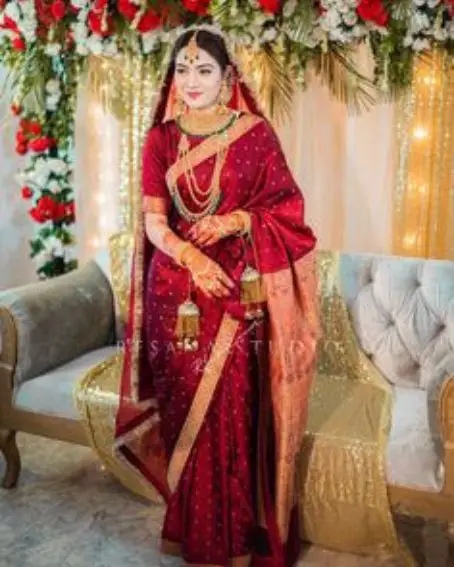 A Nikah ceremony is made even more enchanting when the bride dons a red saree. The color represents devotion and commitment, underscoring the sacred nature of the wedding vows.
8. Marathi Bride in Royal Red Paithani Saree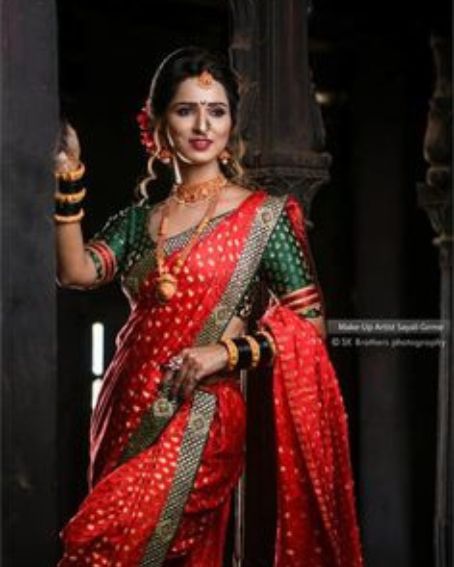 A Marathi bride looks regal in a royal red Paithani saree. This choice showcases her majestic presence, and the saree's vibrant colors reflect the enthusiasm and energy of a Marathi wedding.
9. Bengali Bride in Red Saree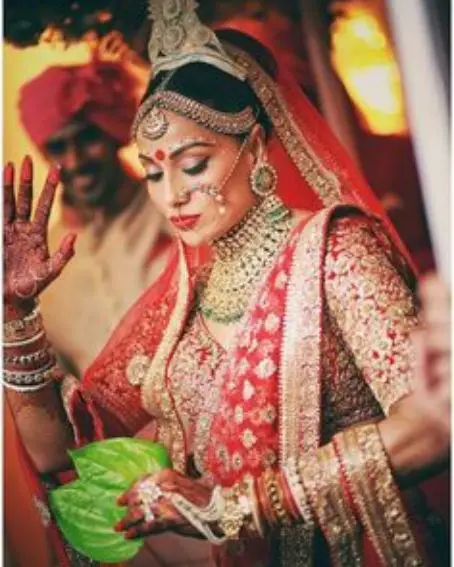 A Bengali bride's red saree, often with intricate gold embroidery, is a symbol of love and passion. It complements her traditional wedding rituals and is a testament to the rich cultural tapestry of Bengal.
10. Sabyasachi Red Bridal Beautiful Saree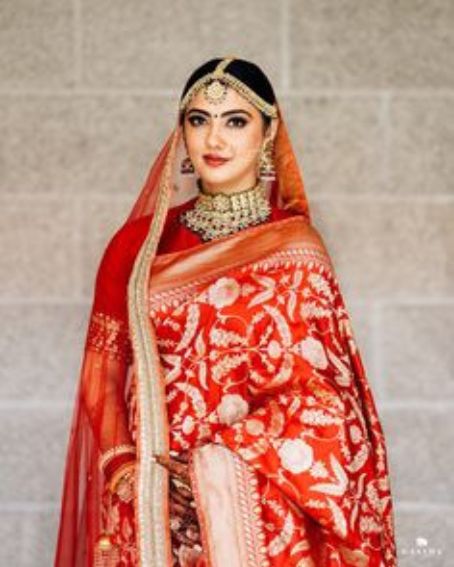 A Sabyasachi red bridal saree is synonymous with timeless beauty. His creations are sought after by brides worldwide, making them feel like a work of art on their wedding day.
11. Bridal Look In Red Saree With Green Blouse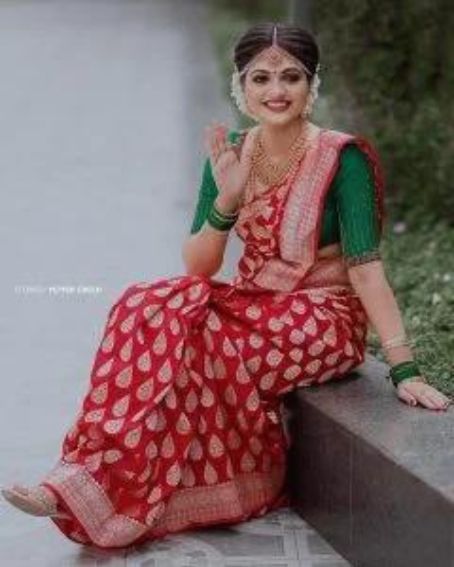 The combination of red saree with a green blouse adds a vibrant and contrasting element to a bride's look. It symbolizes harmony and balance, making the bride a vision of serenity and elegance.
12. Red Litchi Silk Saree For Bride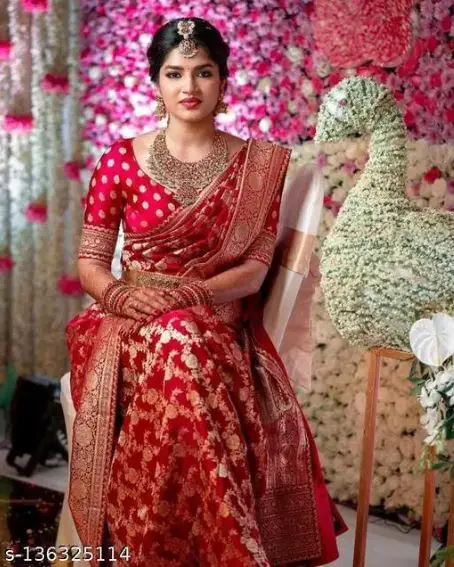 A red litchi silk saree adds a touch of modernity to the bridal ensemble while retaining the essence of tradition. It caters to brides who wish to celebrate their heritage with a contemporary twist.
13. Beautiful Bride in a Red Printed Saree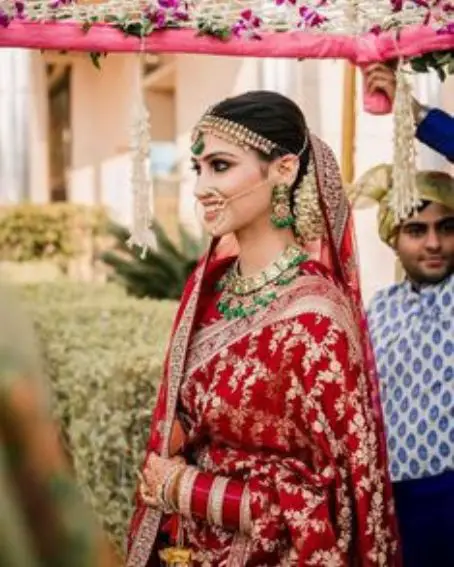 A bride in a red printed saree exudes an aura of simplicity and grace. The prints often narrate a story, and the bride becomes the embodiment of a new chapter in her life.
14. Bridal Wedding Red Saree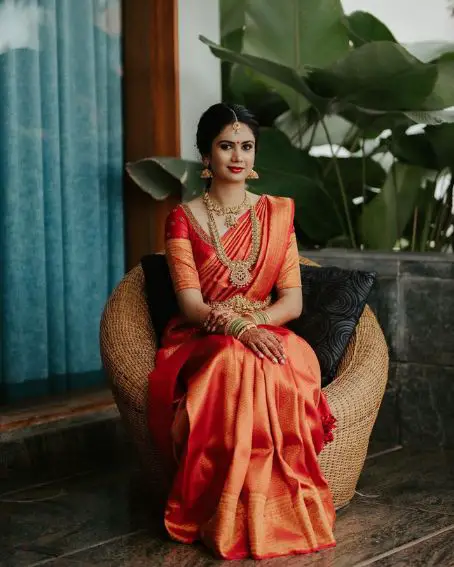 A red bridal wedding saree is a testament to love's ardor. As a bride steps into her new life, the red saree wraps her in the promise of a joyous journey with her partner.
15. Chilli Red Kanchipuram Bridal Saree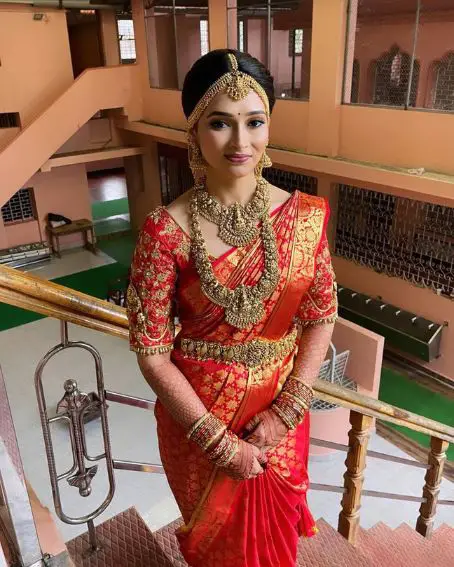 A Kanchipuram red saree, also known as "chilli red," is a masterpiece that reflects the bride's deep emotional connection to her roots. It adds a sense of tradition and auspiciousness to her wedding attire.
16. Kanjivaram Red Saree For Wedding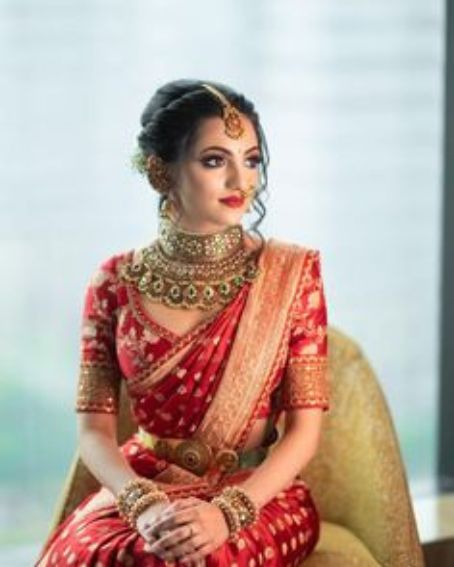 A Kanjeevaram red saree for a wedding is a testament to the bride's respect for tradition. The intricate craftsmanship and rich red hue make it an ideal choice for brides seeking a deeply rooted cultural experience.
17. Red Indian Bridal Saree For Beautiful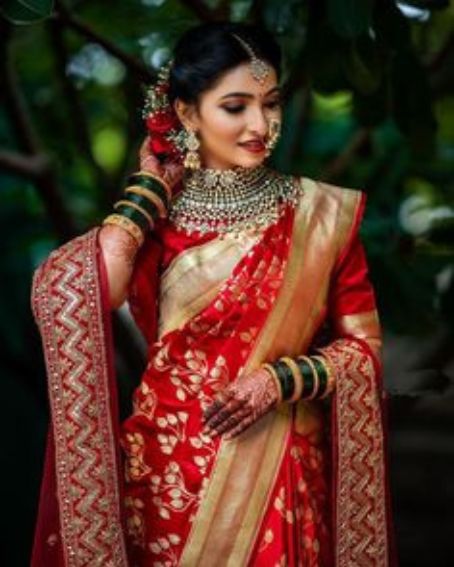 An Indian bride's red saree is a symbol of her inner and outer beauty. It tells the story of her transition from a single soul to a beloved partner, marking the beginning of a beautiful new chapter.
18. Red Bridal Wedding Saree With Green Blouse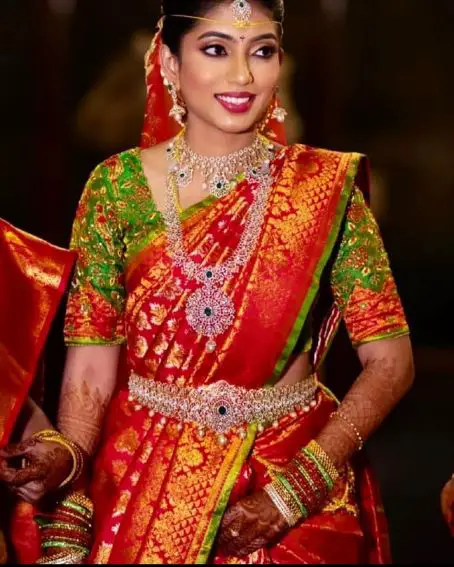 The combination of a red bridal saree with a green blouse symbolizes the harmonious union of love and growth. The bride's attire is a reflection of her evolving journey as she steps into married life.
19. Red Color Wedding Saree Blouse Designs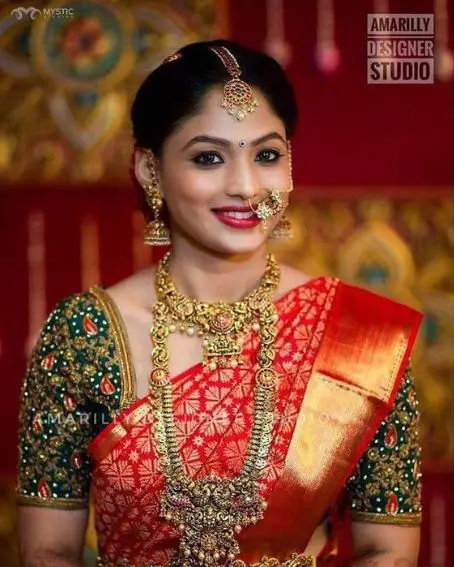 The intricate designs on the red wedding saree blouse serve as a canvas of the bride's dreams and aspirations. Each pattern and motif holds meaning, making the attire a piece of art that celebrates love and commitment.
What Are The Features of Red Bridal Saree ?
A bridal red saree is a traditional and popular choice for Indian weddings, especially in cultures like Hindu and Sikh weddings. It symbolizes love, passion, and prosperity. Here are some common features and characteristics of a bridal red saree:
Color: The primary feature of a bridal red saree is, of course, its color. It is typically a rich and vibrant shade of red. While there can be variations in the shade, the most common choice is a deep or bright red.
Fabric: Bridal red sarees are often made from luxurious and opulent fabrics that enhance the overall look. Popular choices include silk (especially Banarasi silk, Kanchipuram silk, or Banarasi silk), velvet, georgette, chiffon, or satin.
Embroidery and Embellishments: These sarees are heavily embellished and embroidered to make them look ornate and exquisite. Common embellishments include intricate zari work, sequins, stones, beads, and resham embroidery. The designs can range from traditional motifs to more contemporary patterns.
Border: A prominent feature of a bridal red saree is a heavily designed border. This can be a broad and intricately decorated border with gold or silver zari work, or it can be adorned with stone or beadwork.
Pallu: The pallu (the decorative end of the saree) is often given special attention. It may have elaborate embroidery, motifs, or a different color contrast to make it stand out.
Blouse: The blouse that accompanies a bridal red saree is usually designed to complement the saree. It may have matching embroidery or patterns to create a cohesive look.
Traditional vs Contemporary: While traditional designs are popular for bridal red sarees, some brides opt for more contemporary or fusion styles. This might include experimenting with the draping style, blouse design, or incorporating modern elements into the overall look.
Symbolic Importance: In many Indian cultures, the color red is considered auspicious and symbolizes love, passion, and marital bliss. It is believed to ward off evil spirits and bring good luck to the couple.
Regional Variations: While red is a popular choice for bridal sarees across India, there may be regional variations in terms of the specific shade of red, weaving techniques, and embroidery styles.
Conclusion
A red bridal saree embodies tradition and love, symbolizing a significant life event. Across cultures, red represents passion, commitment, and auspiciousness, making it a universal choice. When a bride wears a red saree, it signifies her anticipation of a journey filled with love and happiness. This choice reflects cultural richness, unifying diverse bridal traditions worldwide in the celebration of unique stories and shared desires